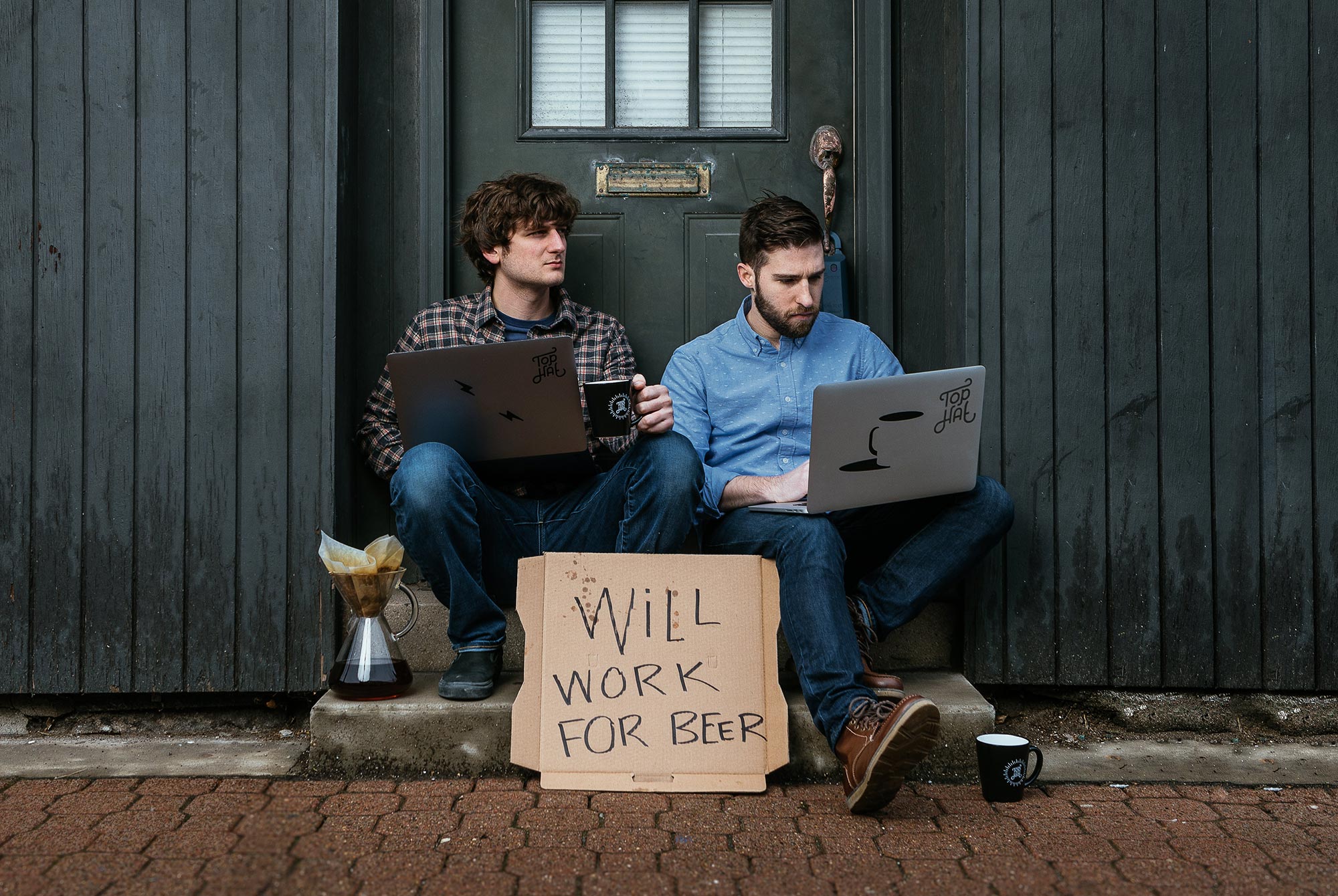 Photography courtesy of Top Hat
WILL WORK FOR BEER.
That's the tagline that made Top Hat famous. And if not famous, then certainly well-known enough in the right circles so that breweries needing an identity glow-up started knocking on their door.
Top Hat was founded by Pittsburgh-native Ben Butler in 2013. Started while Butler was still in college, the company saw the young entrepreneur skipping classes to take business lunches and meet with prospective clients.
"We started by doing branding, design, web development, and marketing," Butler said. "I didn't tell anyone how old I was, and people didn't ask."
Butler's first client was the Pittsburgh International Auto Show, an annual event at Pittsburgh's David L. Lawrence Convention Center. That led to a gig with a local auto dealer, and another with Pittsburgh Raceway Park. To keep himself from getting pigeonholed as a developer for automobile clients, Butler took a few projects with Allegheny Commercial Real Estate Services. After that, it was a marketing campaign for an egg company called Nature's Yolk, as well as a musical theatre in Pittsburgh.
"It went from highly specific to extremely open-ended, and that's how it has been since then," Butler said.
In 2016, Butler expanded the team by bringing on Joseph Brown, a photographer, and Aaron Easler, the company's current Creative Director. Brown has since left the company, but Easler has been made a partner. The company also employs Bobby Baker, a Brand Specialist and Designer, as well as Ian George, Senior Graphic Designer, Photographer Pamela Butler, and Front End Developer Benji Kostenbader.
As the story goes, the team was drinking beers after work when Easler was hit with a flash of inspiration:
"Why can't we work with a brewery?"
The question launched the WILL WORK FOR BEER campaign, which saw Top Hat give away a "holistic selection of services" to the winning brewery. The winner could choose services that ranged from naming to branding to web development to marketing and packaging, or all of the above.
"You need one or two good case studies and that's when people want to trust you," said Butler.
Within 48 hours, the WILL WORK FOR BEER campaign had been picked up by AdWeek, and applications started pouring in. By the end of the campaign, the firm had seen 47 submissions from breweries as far away as Brazil. After internal deliberation, they chose Lord Hobo, a Woburn, Massachusetts-based brewery that was en route to being named "America's Fastest Growing Regional Brewery of 2017."
"Choosing Lord Hobo was quantitative and qualitative," Butler explained. "We were looking for a brewery with the means to do something cool and impactful. We wanted people to say, 'Wow, you did work for these people, good for you.' If all we got were startup breweries, we would've picked one of those. But we had so much interest, we were able to really analyze who would be the best fit."
Top Hat began a comprehensive redesign of Lord Hobo's website, including their visual media and web positioning. Brown, an accomplished photographer, lent his skills in photography and videography.
"We still get leads almost every day from people who say, 'I saw your work on the Lord Hobo website,'" said Butler.
The results were equally positive for Lord Hobo.
"Conveying our goals to the Top Hat team over pints and projections was as easy and enjoyable as could be," said Drea Hudson, the company's former Brand Manager. "From bullseye diagram planning sessions, to warehouse photoshoots, the team was flexible, reliable and most importantly on top of their shit."
From that viral campaign, Top Hat emerged as a powerhouse of beer branding, design, and marketing. Between the launch of the campaign in April 2017 and today, the company has worked for 18 different clients, creating award-winning can designs for a brewery in North Carolina as well as industry-leading websites and brand refreshes for breweries as far away as Washington.
By far Top Hat's biggest project — and the one that will undoubtedly solidify their place as one of the country's foremost agencies for the beer industry — kicked off January 2018, when a mysterious entity got in touch about a brand redesign.
"I'll never forget it," said Butler. "I got a website form submission from a company I'd never heard of. They said, 'We're trying to keep our company and client secure and confidential, but would you submit a proposal?'"
The company turned out to be Pittsburgh Brewing, a local brewing company which had just come under new ownership after a century of changing hands. Founded as Iron City Brewery in 1861, the brewery joined eleven other Pittsburgh and Allegheny County Breweries and nine additional breweries from outside the county in an 1899 trust that, collectively, came to be known as Pittsburgh Brewing Company. With a collective worth of about $11 million, the company survived Prohibition by making soft drinks and ice cream, and running a cold storage business.
However, after many years of declining sales and mismanagement, the company entered Chapter 11 bankruptcy in 2007. The brand changed hands several more times before finding a home with Pittsburgher Cliff Forrest, founder of Rosebud Mining, who was committed to bringing the iconic brand back to glory.
"As soon as I had the first phone call, I drove out to the local beer distributor and bought a case of Iron City and all their competitors, like Bud and Miller," Butler said. "I conducted a blind taste test with the team. They picked one beer they all liked the best. I said, 'That's Iron City. They asked us to submit a proposal. In the next two hours, we're going to come up with a pitch.'"
Although the exact components of the pitch remain a company secret, Butler revealed that his final proposal was actually submitted as a custom, over-the-top "thing" they got a friend to help weld.
"We submitted it in person," Butler said. "Next thing you know, we were sitting at the table with the entire staff. By all means, we were the underdog compared to everyone else I imagine they asked to participate in the process. They really took a chance on us, but it worked out for everybody."
Top Hat's plan for the iconic Pittsburgh brewery was to rebrand their three core products: Iron City, I.C. Light, and I.C. Light Mango. Starting with Iron City, they redid the packaging as well as the core seal, and asked a local hand letterer to look at the typography. Notably, they also brought Iron City back to white cans. They launched 40 billboards, started Iron City's Instagram from scratch, and did TV ads with the Steelers.
Once that was done, they moved onto I.C. Light, rebranding from the logo out. They did specialty packaging with the Pittsburgh Pirates, and packaging with the Pittsburgh Penguins is coming soon.
A bit after Top Hat began work with Pittsburgh Brewing Company, they received a call from much further away — this time from Reuben's Brews in Seattle, Washington.
"I don't know how Reuben's found us," said Butler. "They really could've gone forever without tweaking their brand, but they're masterful perfectionists and wanted to evolve their visual look and feel to reflect their growth and future."
In late September, Reuben's launched a comprehensive brand evolution during their seventh-anniversary party. For months, the Reuben's crew kept everything completely secret — then, overnight, they replaced every square inch of their two primary taprooms with the new branding, from exterior signs to merch to packaging and even bathroom doors. New can designs hit the shelves soon after.
"We're still looking to keep a significant direction in the beer space," said Butler. "We have so much experience here. There's certain industry knowledge that just makes you better and better — how to format packaging, how to align work with TTB requirements, how to source materials, what to look for and what to avoid."
If you're a brewery looking for help with your branding and marketing, Top Hat might be your agency. Drop them a line via their website if you're interested in learning more.
Liked this article? Sign up for our newsletter to get the best craft beer writing on the web delivered straight to your inbox.