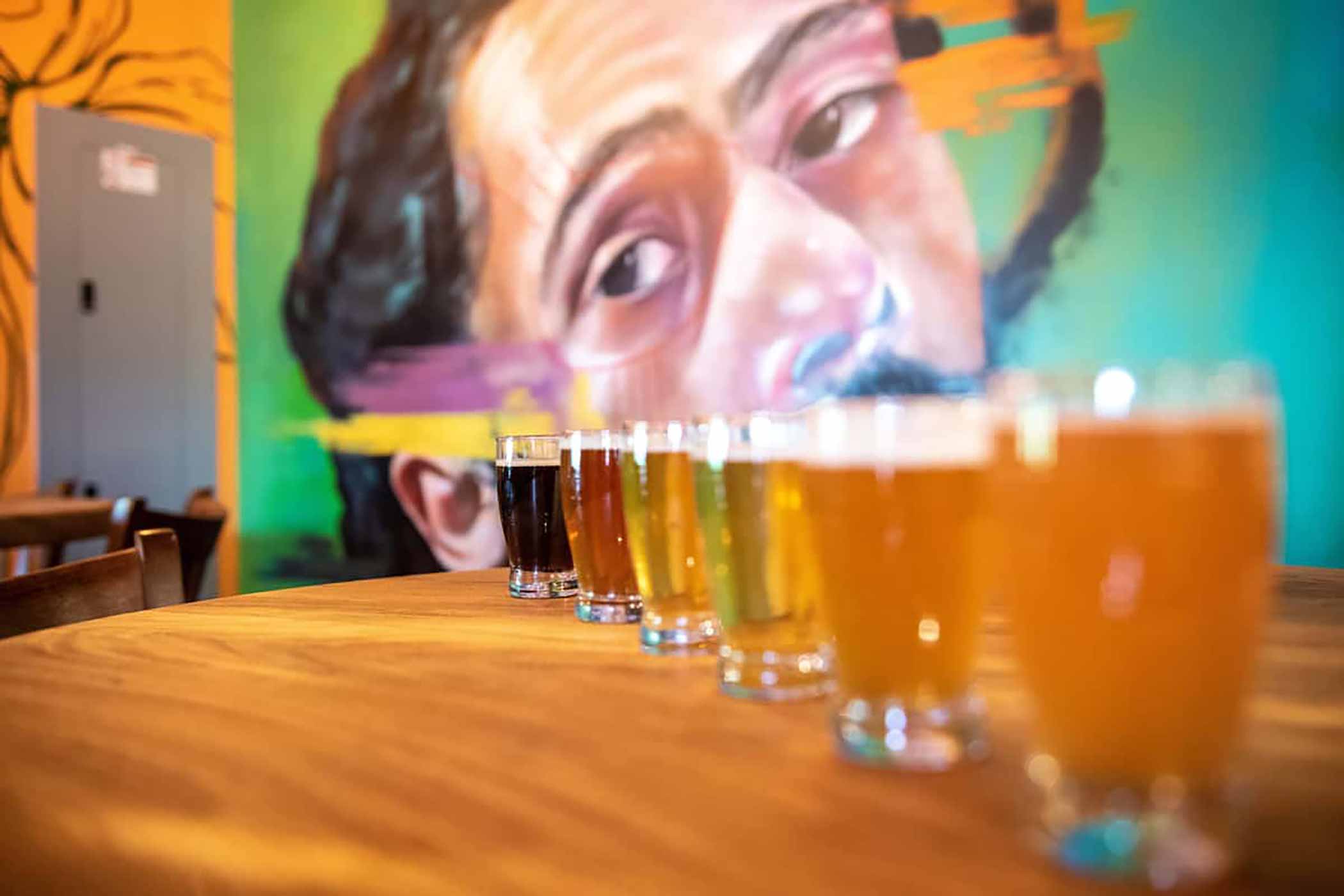 Jamaican-Indian and BIPOC-owned Wah Gwaan Brewing Company | Photography courtesy of Wah Gwaan Brewing Company
Jackfruit, soursop, hibiscus, guava, and even durian. Take a brief glance at the tap list at Wah Gwaan Brewing Company in Denver, CO, and you'll find four or five ingredients you might never have seen before in beer.
Here amongst vibrant murals of Jamaican Grammy-winning singer Koffee, Damien Marley, and Shaggy, you'll find folks sipping on IPAs, hefeweizens, lagers, NEIPAs, cream ales, kölsches, and more filled with ingredients reflecting co-founders Harsha Maragh's Jamaican-Indian culture and Jesse Brown's bi-racial heritage. Even their head brewer Dick (affectionately called Dickie) Tucker's Thai background works its way into some of the offerings (hence the durian!).
Because at Wah Gwaan, Maragh and Brown don't just want to run a brewery; they want to create a community.
"From the very beginning Wah Gwaan has been about community," says Maragh. "Bringing together the Caribbean community, the Black community, the Queer community… It's ultimately building a community space where people can feel at home, feel safe, feel included, and feel they have a place to come to [drink.]"
Or as Brown, a veteran who served as a U.S. Marines in Afghanistan, likes to describe Wah Gwaan, "It's beer for all."
An ambitious goal that speaks volumes about Maragh and Brown, who have faced countless challenges starting a minority-owned business in a predominantly white industry. (For example, both still work full-time jobs during the day to make ends meet.)
But at the end of the day, the sacrifices have been worth it. Because at Wah Gwaan, Maragh and Brown have a unique opportunity to share their culture and to create a safe space for everyone to drink.
This brewery is a magical, spirited oasis exuding culture and creativity in the midst of a fairly homogenous metropolitan Mountain West city and industry.
What's Going on With Wah Gwaan?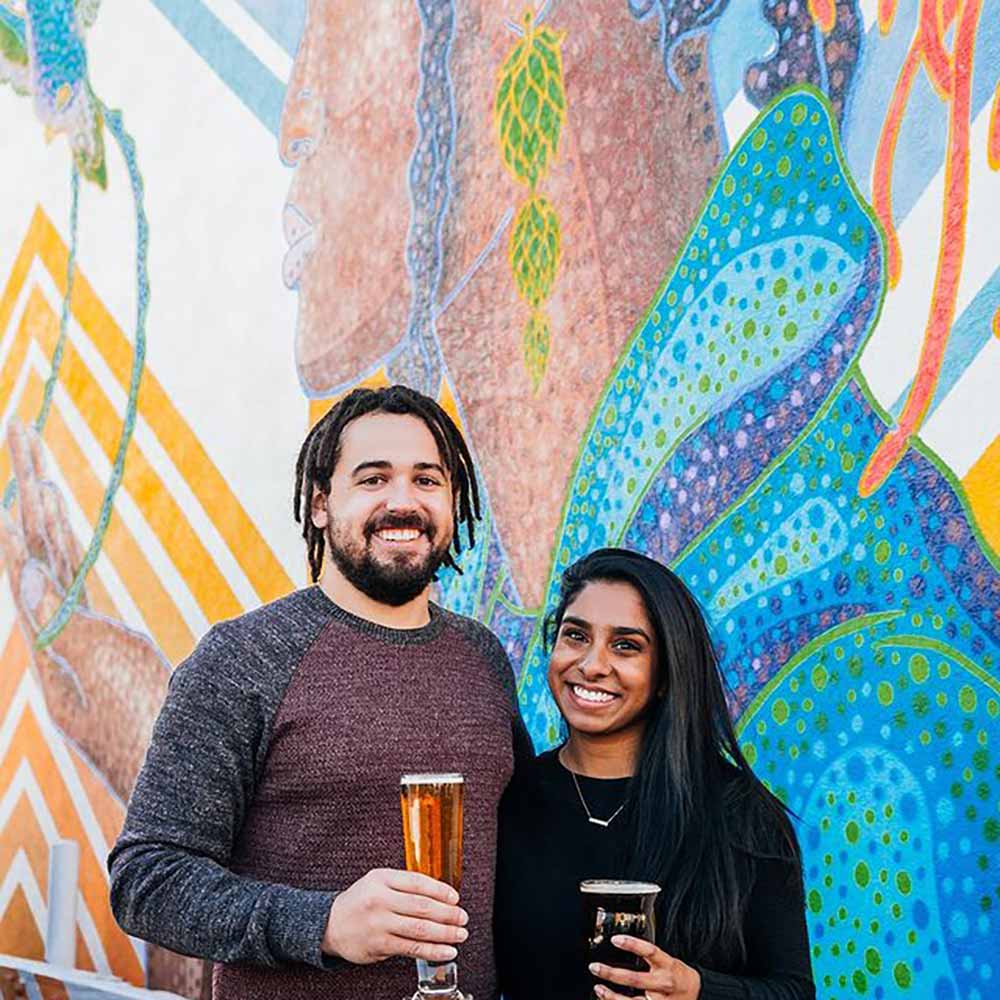 Translating to "what's going on" in Jamaican Patois, an amalgamation of different cultures in Jamaica, wah gwaan is a customary way to say hello.
"It's a greeting you say to everybody whether you know them or not," says Maragh, who notes that Jamaica has been home to people from West Africa, India, China, and Portugal. "Just like 'what's up' or 'how are you,' it's an inviting phrase. We want everyone to feel like they're at home here."
Because at BIPOC- and Veteran-owned Wah Gwaan, inclusivity is key. Especially in Denver, where, according to the most recent 2020 U.S. Census, residents are 72.24% white and only 9.18% Black or African American.
That was a bit of a shock for Maragh, who grew up in a thriving West Indian and Caribbean neighborhood in the Bronx.
"Once we moved out here, it was difficult to find that same type of community," she recounts.
So the duo brought miles of culture to the Mile High City. "We're the hub for folks who were missing what I was missing—the music, the flavors, and the food," says Maragh.
In fact, during Wah Gwaan's opening weekend, a Jamaican-American couple flew all the way from South Carolina to visit. "They were so excited to see their culture represented in beer that they came to our grand opening," says Brown.
Maragh laughs, recalling folks saying, "That can't be a Jamaican brewery? What is that?"
But that's Wah Gwaan: a place where Maragh and Brown can share their traditions, flavors, and heritage with the world. All through beer.
What Does It Mean to be a Jamaican Brewery?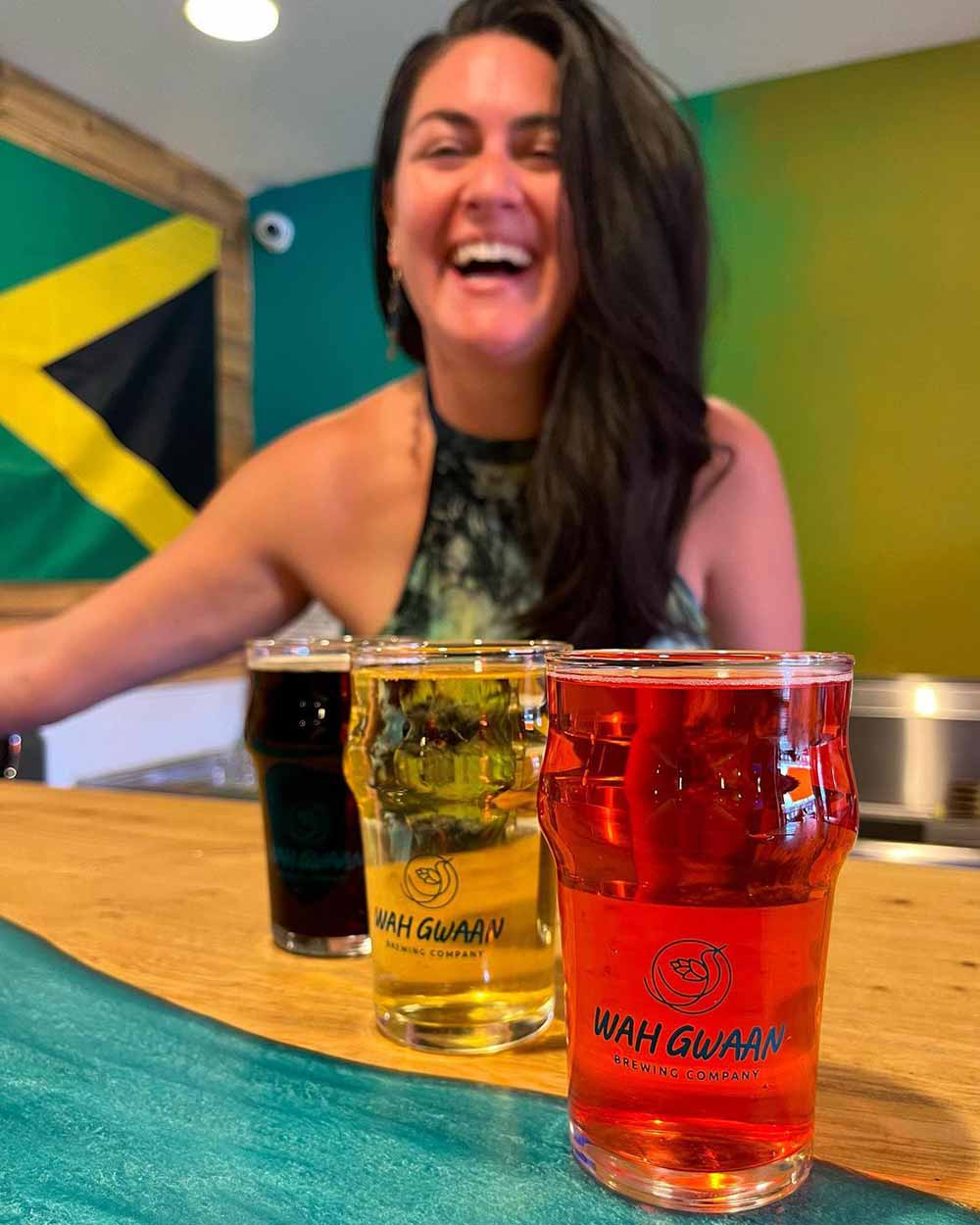 We haven't forgotten that Wah Gwaan is a brewery at heart.
Both Maragh and Brown fell in love with beer in different ways.
A veteran who served in the U.S. Marines in Afghanistan, Brown's love of craft beer began when he was stationed out in California, where he started homebrewing.
Maragh began to experiment with beer after moving from New York City to Boulder, CO, for graduate school. "I feel like New York was very cocktail-centric and moving here was very beer-centric," she says.
Maragh had to adapt, traveling with Brown to different breweries, trying different beers, and even starting to homebrew herself. Together the two even took brewing science courses to try and fine tune their own skills.
But when it came to opening Wah Gwaan, they knew they wanted to hire someone with a bit more professional experience.
And they made that decision very intentionally.
"You want to put your best foot forward when you're a minority and people might question your skill, especially when you look at how white the brewing industry is," says Brown. "We definitely wanted to come out and say we're serious about making good beer."
Hiring Tucker, the trio of Wah Gwaan set about developing recipes that reflected each person's own culture in different ways.
Beers With Curry, Soursop, Durian, and Coconut Milk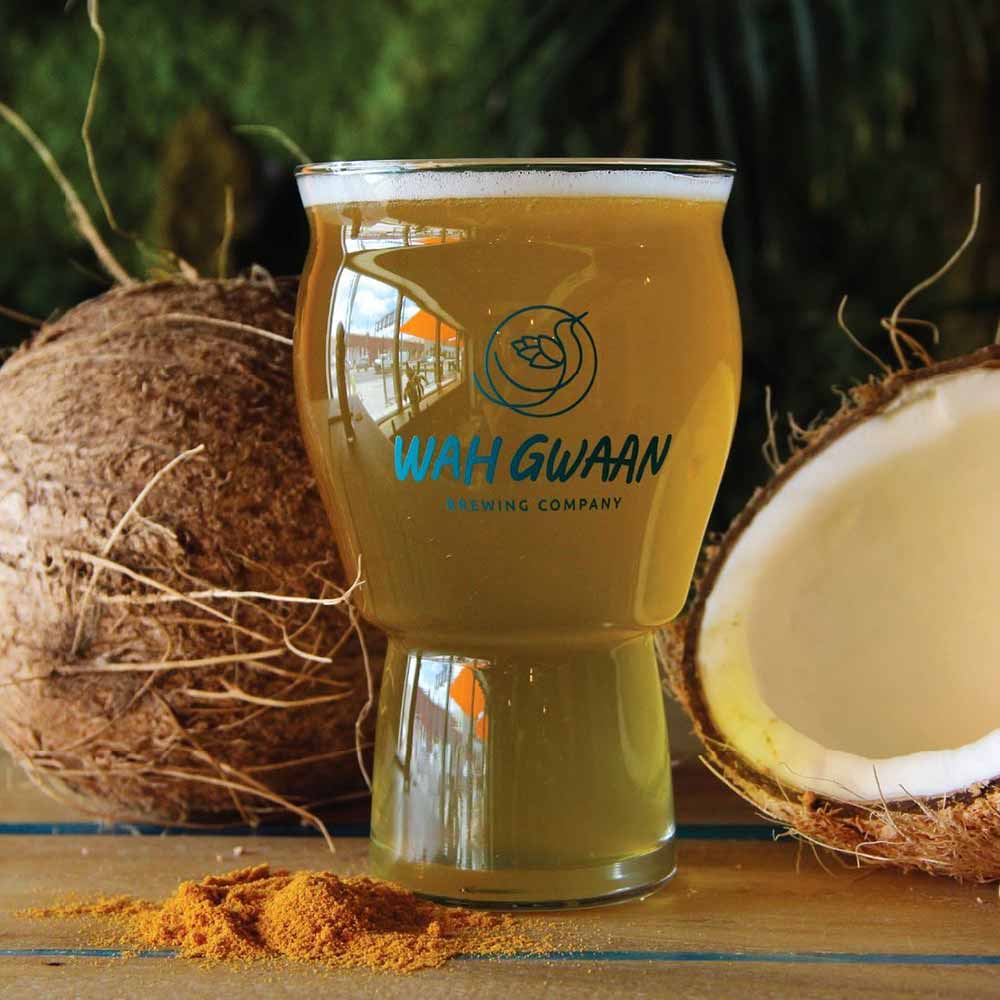 For instance, Don't Curry Be Happy, a mango curry blonde ale symbolizing Indian Heritage Day celebrated in Jamaica every May 10th. The holiday honors India's impact on the island. "It was really important for me to celebrate it here because it's my heritage and how my family grew up in Jamaica and how they were affected and influenced by Jamaican culture," says Maragh. Both mango and curry were brought to Jamaica by people from India, "so we wanted to put them together to make a sweet and earthy but also little lighter…blonde ale," says Maragh.
Or Jamrock, a hazy IPA made with soursop, a fruit native to tropical climates that "tastes kind of like a pineapple with sweetness and acidity but smells like a strawberry," says Maragh.
Oh, and look out for Three Little Birds, a sorrel tripel. Sorrel (also known as hibiscus) is a holiday drink found all over the Caribbean and West Africa similar to mulled wine. Wah Gwaan makes a really strong tripel base before adding a concentrated sorrel blend from a local friend who is a Caribbean chef. Maragh's favorite beer, Three Little Birds only comes out once a year, so if you happen to be in the taproom when it's on, ask for it.
Or Like a Boss, a hefeweizen with durian, a popular Southeast Asian fruit known for its distinct smell, that touches on Tucker's Thai culture.
Tucker's influences can also be seen in Where's My Elephant, a coconut curry IPA with coconut milk and curry powder fashioned after a thai curry.
Beers Celebrating Juneteenth, Jerk, and Jackfruit
Wah Gwaan's beers also reflect certain holidays and dishes.
For Juneteenth, Brown and Maragh brewed Sweet Chariot, a passion fruit pale ale collab between six different Black-owned breweries across the country. Named after a slave song called "Swing Low, Sweet Chariot," this beer is "about redemption and about bringing yourself up out of slavery and emancipation," says Brown. "We thought it was a fitting name for beer because it's a representation of the freedom the African American community didn't have and is still fighting for in a lot of ways in this country."
Then there's Brown's personal favorite, Jerk, a rauchbier that includes smoked malts, jerk seasoning, allspice, fresh ginger, and scotch bonnet. "We're trying to capture the flavor of jerk chicken, jerk pork, the jerk seasoning that Jamaicans use," says Brown. "I don't like chili beers…however, this is the best chili beer I've ever had and I drink it all the time"
And finally Trop Queen, a kölsch made with jackfruit that the brewery buys in cans and crushes by hand in the brewery.
We think you probably get the idea: Every beer is meaningful, every beer has a purpose. And no matter what you order, these are beers that engender learning and provoke conversation.
Beer Is Broken Bread, Brewing in a Broken System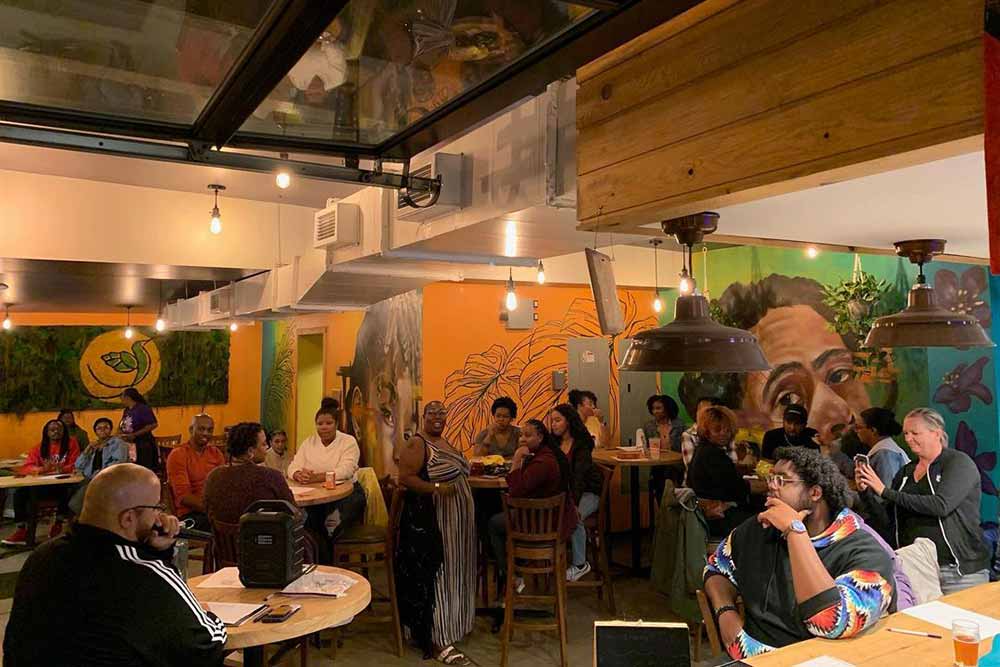 Drinking a beer provides space for conversation, and conversation can lead to change.
"Beer is broken bread," says Brown. "Breaking bread is what creates a situation where we can be more empathetic with each other. Beer is just as powerful or more powerful a platform for social change than food."
Something Brown and Maragh have fought incredibly hard to create at Wah Gwaan since moving to Denver.
When I spoke to Maragh and Brown on a Thursday evening, both had come to the brewery after working full days in other jobs—Brown as a business intelligence developer and Maragh as a sustainability and energy expert at Energy Outreach Colorado.
"We work full-time jobs not because we want to, but because it's a necessity," says Maragh. "It's very difficult to find funding as a startup particularly owned by minorities and People of Color."
Brown continues, "It's systemic racism. The whole concept of equity doesn't really exist for us and is part of the reason why we have to do it all. If you talk to any minority-owned business across all businesses in America, not just in beer, that's the case. We constantly have to work multiple jobs and find creative ways to fund and tap our community to have a voice in the industries we represent."
Wah Gwaan has certainly found a voice, and it's shouting from the mountaintops across the Front Range.
Shouting From the Mountaintops
Beyond the unique beers, Wah Gwaan's sense of community extends throughout the taproom.
From the murals on the wall showcasing artists such as Chelsea Lewinski (@chelsealewinski), Austin Zucchini-Fowler (@AUSTINZART), Lindz and Lamb (@lindzandlamb), and Klone (@klonism) to rotating food trucks to special events.
For instance, once a month the brewery runs a Black People Know Things Trivia night hosted by Darian Wilson that focuses on Black culture, media, and music. According to Maragh, it's the most well-attended event the brewery hosts. On a random Tuesday, a typically slow night in the middle of the week, they attract upwards of fifty people, many who have never been to the brewery before.
She says, "It's the day every seat is full and the day that everyone sings with every song that's played… That's beautiful and awesome to me because I don't know if there is another brewery that has that vibe on any day of the week… It's my favorite day every month."
Beyond that, Maragh says the event attracts a lot of folks who don't traditionally drink beer. However, after visiting the brewery and enjoying beer in an approachable way, they change their views. She says a bunch of people from trivia nights come back on a regular day just to drink.
What's the Future Look Like for Wah Gwaan?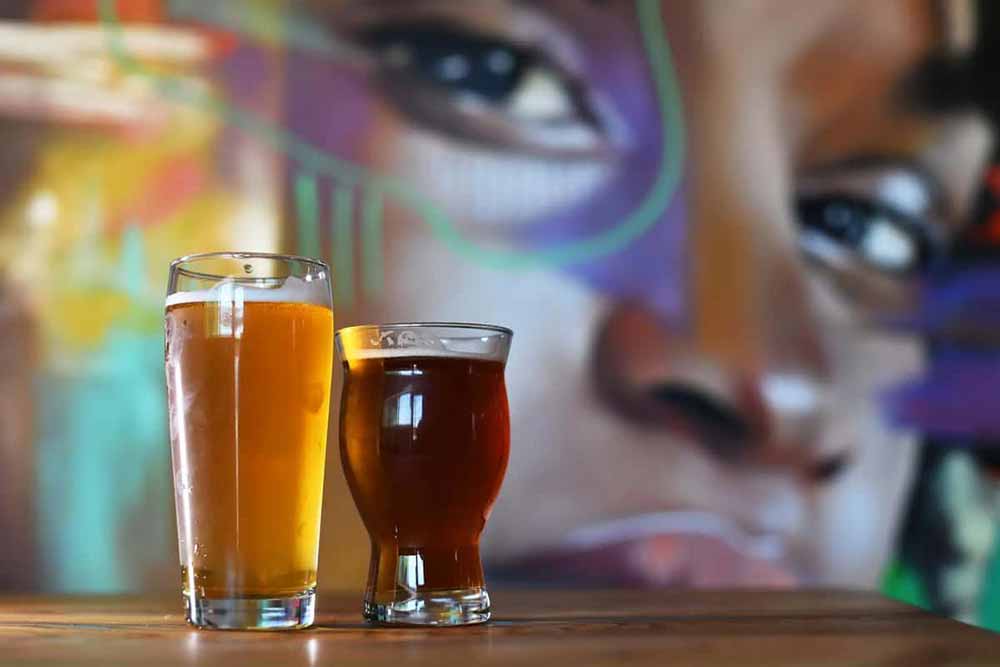 It's as bright as the purple, green, and gold mural of Damien Marley that greets you as you walk in.
Wah Gwaan has become a pillar of perseverance and a beacon of not only breaking boundaries, but breaking bread.
And even after a full day spent working different jobs, Maragh and Brown can wander into their brewery to find folks asking about soursop in their Jamrock hazy or learning about jackfruit in their Trop Queen kölsch.
The concept of "beer for all" drives Wah Gwaan. And in turn, the community continues to power the brewery.
Perhaps Maragh sums it up best: "Having the community come out for us…that's the part that keeps us going and knowing we're heading in a good direction."