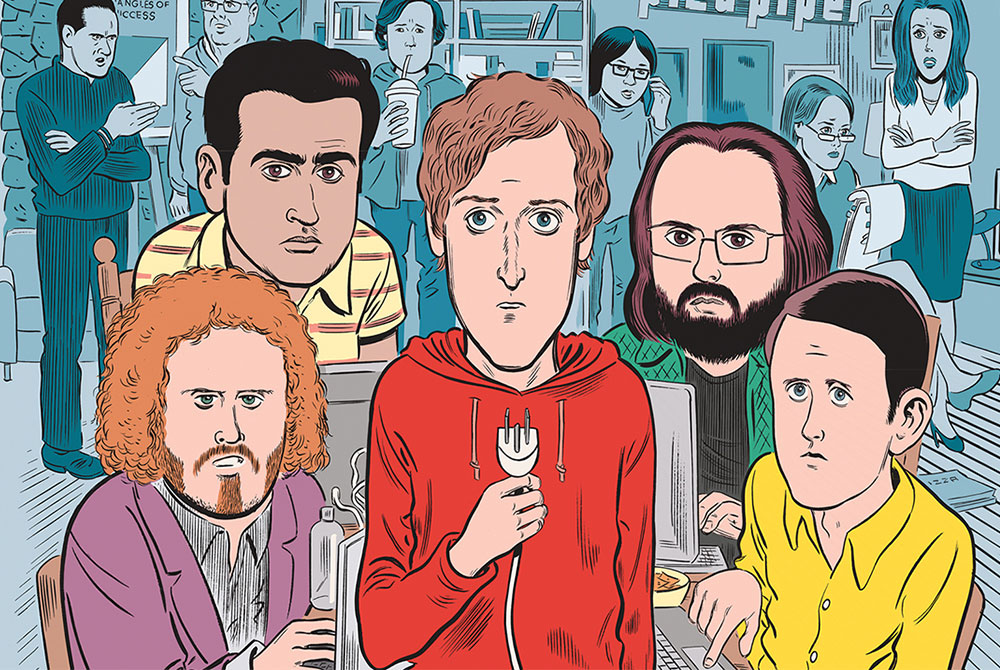 The best films and television, especially comedy, reflect the times. Recently, few satires have received as much critical praise and attention as HBO's hit show Silicon Valley, due in large part to the show's ability to keep up with the continuously evolving world of Palo Alto. The tech seems like something you'd read about in this month's Wired. The characters could live in the house next to your own. And craft beer, coconut water, and weed feature prominently throughout the show.
Of all the show's vices — Erlich's weed, "The Carver's" adderall, Big Head's soda — it's craft beer's inclusion that was most surprising when the show debuted in 2013. Something that just a decade before hung near the fridges of American culture had suddenly planted itself squarely alongside those who were creating its future. Craft beer, not wine and cocktails, are in the hands of the shakers and movers of America's most technologically advanced city.
This is what success looks like now: Erlich is a (somewhat) high-functioning stoner; Pappy Van Winkle arrives as a recruitment perk for Gilfoyle; the house's fridge is stocked with the most expensive, unpasteurized coconut water money can buy; and a case of Pliny the Elder sits on the kitchen counter. Silicon Valley captures the new and the future of American culture. And in this world, craft beer is front and center. With this in mind, I spoke with Jared Scardina, the prop master for Silicon Valley, about why the show has embraced craft.
J. Travis Smith: Why is craft beer featured so regularly in Silicon Valley?
Jared Scardina: I made the choice after the pilot was made. If you look back at the pilot, they were drinking Mexican and domestic [big beer] brands. I came on board to redo some of the pilot and I established a relationship with a local microbrewery. That's what people drink now. In Northern California, you won't find any coders drinking Miller or Coors.
JTS: How does the setting play into this?
JS: I grew up in Northern California and did the whole trail running and ultra running thing. Back then, craft beer wasn't as blown up as it is now. But those runners would be drinking IPAs after their races. Big beards and IPAs. So I went out and integrated those beers into the show. My assistant had a contact at North Coast Brewery and we reached out. I saw that they had Old Rasputin, and I immediately thought of Gilfoyle.
Gilfoyle's character doesn't believe in any [traditional] religion. He's a LaVeyan Satanist. What kind of beer would that guy drink? There was no better mystic character than Grigori Rasputin. If Gilfoyle had more tattoos he'd have Rasputin. His character is like: 'This is my beer.'
JTS: Why North Coast Brewing?
JS: At the time of shooting, it was one of the few established breweries up north. Now there are hundreds. So we used it to set the geography.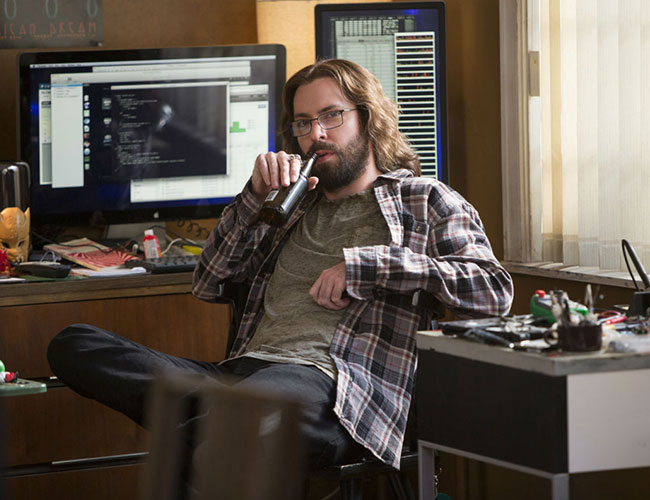 JTS: What's the process like for picking props?
JS: In the script, it'll call for "beer," and then I'll come with four different choices…I try to establish characters with something that's relatable and that's not commercial. Then those choices go through the creative process, [approval by writers and actors and designers,] and then bam it's a done deal. It could be headphones, computers, laptops. Anything they interact with in a scene is our department.
JTS: It seems like each of the characters have their own beer brand. What's the logic?
JS: I matched them up to their personalities. Erlich has Old Stock Ale and, for a minute, Pranqster. Gilfoyle has Old Rasputin. The other's don't drink as much as those two.
JTS: Jared never really drinks, but if he did, what would he drink?
JS: I'd have to ask the actor what he thought. Maybe there's a history to that character that the actor knows. Like when he's sleeping he's talking in German, so maybe he'd be into some weird German brand. Something most people don't like but a select few do. Like those Danish people that eat that salty liquorice, with the ammonia taste.
JTS: Have any breweries paid to be on the show?
JS: None of those beers are "paid product integrations." The companies you see more often are just companies that we reached out to because we liked the product.
JTS: How do the show creators and actors feel about the props you choose?
JS:
The creators are happy with it and they understand it. They're very "in the know" and they're artists so they understand modern culture and the urban lifestyle. They let the actors do what they think the characters would do. Just like my choice in bongs and pipes and whatever. It's all from me. I reach out to companies that I think make interesting products.
In Northern California, you won't find any coders drinking Miller or Coors.
JTS: I see you're a fan of Grav Lab and Illadelph bongs.
JS: laughing I've used both and liked them. So, I'm going to try to get them some exposure.
JTS: As the beer scene has evolved, why haven't the beers on the show? Why do I never see a Mikkeller beer, for instance?
JS: I've thrown in other brands through bomber bottles, but to answer the question, it's kind of a weird show this way: The timeline is linear to the technology. Think about season one. We are only like nine months into the future from that. Which is interesting, because they still write things that wouldn't be in the show in 2013. But, we try to stay in [the show's] reality. That's why the guys keep drinking the same bottles. But for technology….Tesla wasn't out yet but now we have it in the show.
JTS: Favorite breweries in California?
JS: Lagunitas, Figueroa Mountain, and Ballast Point.
JTS: What's next?
JS: Next season, if I'm on Silicon Valley, I'd like to integrate a growler. I saw this really cool product that just came out: it's a growler mixed with a beer stein that keeps your beer cold. It's very steampunk.