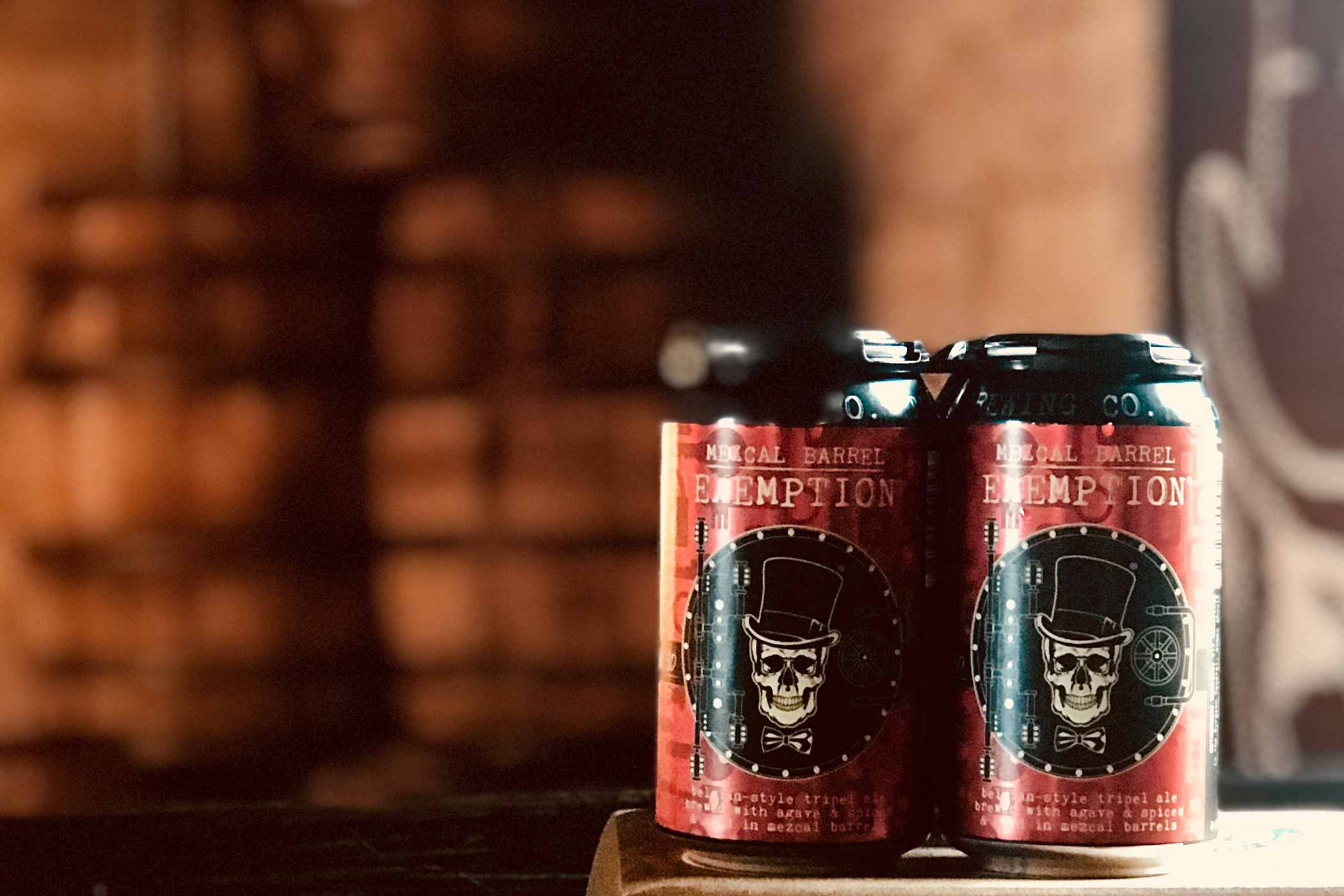 Photography courtesy of Taxman Brewing Company
Roll over, bourbon barrel-aged beers, and make room for mezcal-aged ones. The availability of mezcal barrel-aged craft beers follows a sharp rise in mezcal production and consumption. Beer app Tavour reports that the number of beers aged in mezcal barrels, such as limited-release Return to Oaxaca Wheatwine from The Alementary Brewing Co. in Hackensack, NJ, has more than doubled over the past two years. Brewers are securing mezcal barrels to age craft beer with a different spin from stouts and other styles aged in bourbon barrels.
Used mezcal barrels have become more plentiful in recent years. As reported in the New York Times article "If You Sell 'Oaxaca in a Bottle,' What Happens to Oaxaca?", more than $413 million worth of mezcal was produced in 2020 compared to $350 million in 2019, according to Mexico's mezcal regulatory council Consejo Regulador del Mezcal. Resourceful brewers are putting some of those mezcal barrels to good use by aging a variety of beer styles.
What Exactly Is Mezcal? And How Is It Different from Tequila?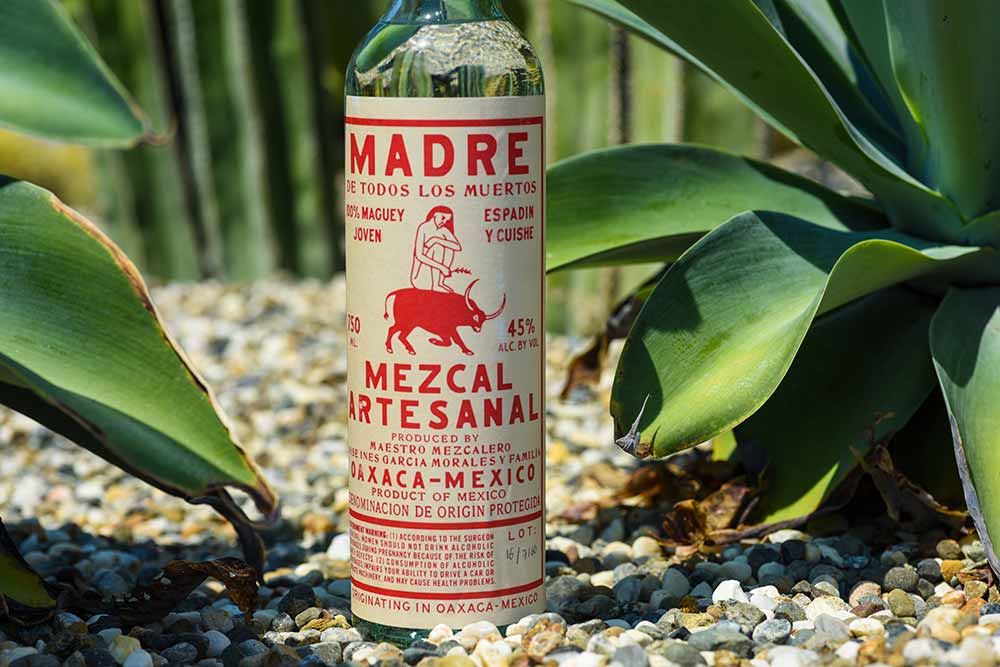 Before we dive into mezcal barrels, let's briefly study the spirit.
Mezcal is a distilled spirit made from agave, a succulent plant that grows wild and cultivated in various regions of Mexico.
What's the difference between tequila and mezcal? Far more popular and well known, tequila is a type of mezcal that can only be made from Webster blue agave.
On the other hand, mezcal can be produced from forty to fifty different types of agave. Each agave species has different traits and even regional terroir that can impact mezcal's flavor profile. It's comparable to how varieties of hops used in beer (or grapes grown for wine) that are sourced from specific regions change flavor and aroma based on where they're sourced.
Production methods of the mezcalero, or mezcal distiller, also accentuate inherent flavor profiles of fermented agave. For example, earthy, fruity, mineral, spicy, and green or herbal.
Additionally, mezcal comes in three classes: Joven, Reposado, and Añejo.
Joven, synonymous with Blanco, means unaged and unadulterated mezcal bottled within two months of distillation. In other words, this type of mezcal does not age in any barrels.
Reposado, meaning rested, refers to mezcal aged in oak barrels for a minimum of two months but less than a year. And Añejo mezcal is aged in oak for one to three years.
When brewers talk about aging beer in mezcal barrels, they are referring to either Reposado or Añejo. Beers aged in these barrels derive their notes from the residual mezcal as well as the wood itself.
How Is Mezcal Made? And Why It's Important to a Brewer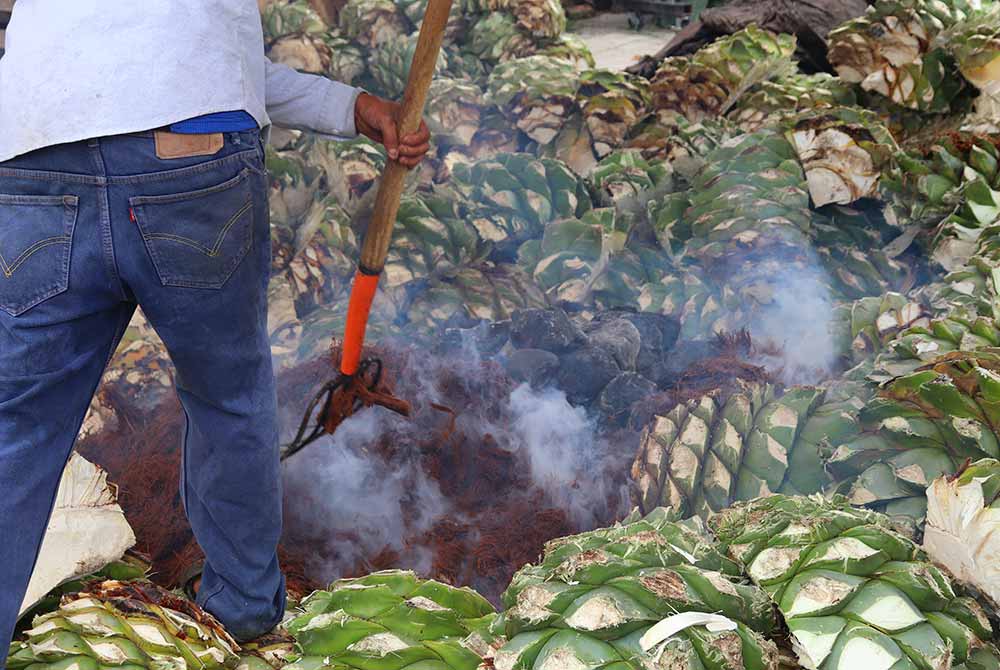 Oaxaca, one of more than a half-dozen Mexican states officially authorized as a denomination of origin, produces most of Mexico's mezcal using the agave variety espadín.
To make mezcal, a mezcalero will roast agave in underground pits for up to a week. This gives mezcal its signature smoky flavor. The producer then pulverizes the cooked agave from these earthen ovens, ferments it, and distills it to yield mezcal.
Typically, barrels used to age mezcal absorb the spirit's dominant smoky and subtle characteristics. For this reason, much like bourbon barrels, brewers seek out mezcal barrels to enhance a beer's sensory profile.
How Do Mezcal Barrels Differ From Bourbon Barrels?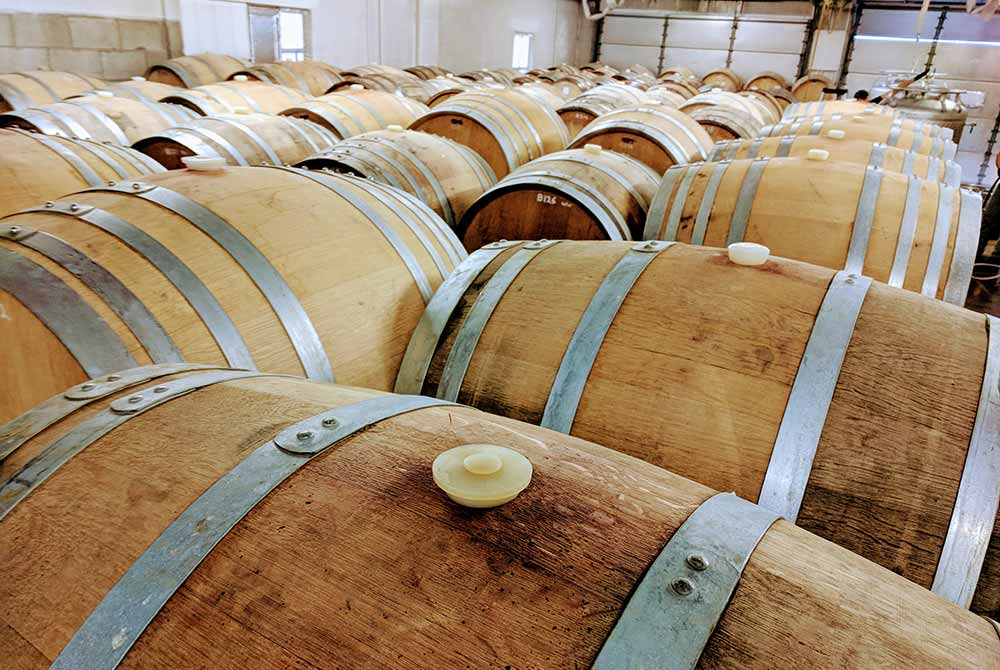 The rules around making bourbon are pretty strict. Straight bourbon, a type of American whiskey, must be aged in a new charred oak barrel for a minimum of two years, but can spend up to a dozen years-plus in the barrel.
Used bourbon or whiskey barrels are the types of barrels brewers love to age beer in because they still retain "life" from the spirit-soaked oak.
Compared to those requirements, mezcal may be aged in a wood vessel of any type, size, or age. Reposado and Añejo may age in new barrels. But it's common to store them in used spirits or wine barrels made of French or American oak with little to no oakiness and tannin.
"Almost all of the barrels used for aging mezcal and tequila come from First World sources. The U.S. certainly provides an extensive amount [of barrels] from major cooperages and quality oak sources found here," says Brandon Cummins, director of education at distiller/importer Altamar Brands.
In other words, the provenance of mezcal barrels likely began in the U.S. as a bourbon, whiskey, or wine barrel. Mexico imports those barrels to age mezcal. Then the barrels make a return trip north, where U.S. craft breweries procure them from brokers for further use.
"We work with a few different barrel brokers and cooperages to find the freshest and best-quality barrels," says David Yancey, former head brewer and director of brewing operations at Taxman Brewing Company in Bargersville, Indiana. Taxman Brewing began producing mezcal barrel-aged beer in 2016, including a single small-batch release of mezcal barrel-aged farmhouse IPA. The brewery now only uses Belgian-style ales for mezcal barrel-aged projects.
How Long Do Brewers Aged Beer in Mezcal Barrels?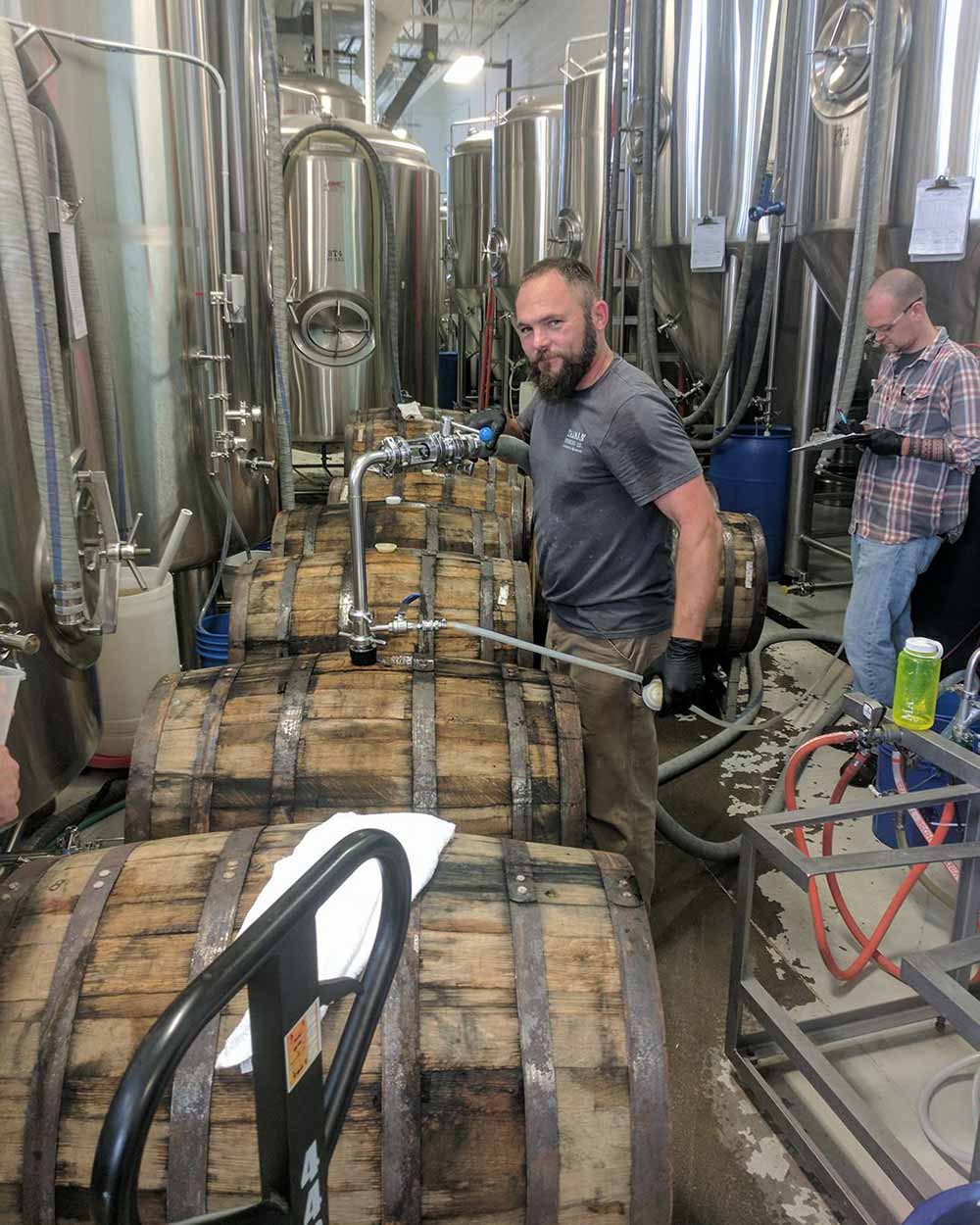 The characteristics of the barrel will impact a beer's aging time and sensory profile. So, it's helpful for the brewer to understand the barrel's lineage and the mezcalero's usage.
For example, a mezcalero that prefers "a more barrel-heavy [mezcal] distillate will probably turn to second-use bourbon or Tennessee whiskey barrels with lots of char," says Arturo Vera-Felicie, a cocktail expert and bar manager at The Restaurant at 1900 in Mission Woods, Kansas. "If you want little to no barrel flavors, and just want the distillate to rest and mature in complexity, you use a neutral vessel like glass, steel, or a first-use neutral oak barrel. Wine and fortified wine barrels will have toast, not char, so they will also age differently."
The spirit's character and how the beer evolves in the barrel affects the aging process. "Aging time differs wildly, depending on several factors, but is roughly half a year," says Hoppin' Frog Owner and Brewer Fred Karm. "It usually takes a little longer than a bourbon barrel. Barrels from some distilleries create more flavors than the barrels from other distilleries. The actual product greatly affects the result as well."
Hoppin' Frog Brewery aged a version of Pentuple, a fruity complex Belgian-style tripel, in mezcal barrels, discovering that mezcal barrels impart "less impact as the months pile on." Accordingly, the brewery does not reuse its mezcal barrels.
At Taxman Brewing, Yancey also ages beer in mezcal barrels for only up to six months and uses the barrels once. "This is a similar timeframe to our bourbon barrel-aged projects," says Yancey. "In our non-sour barrel program, we only use barrels for one project, and then they are retired."
What Flavors Do Mezcal Barrels Offer?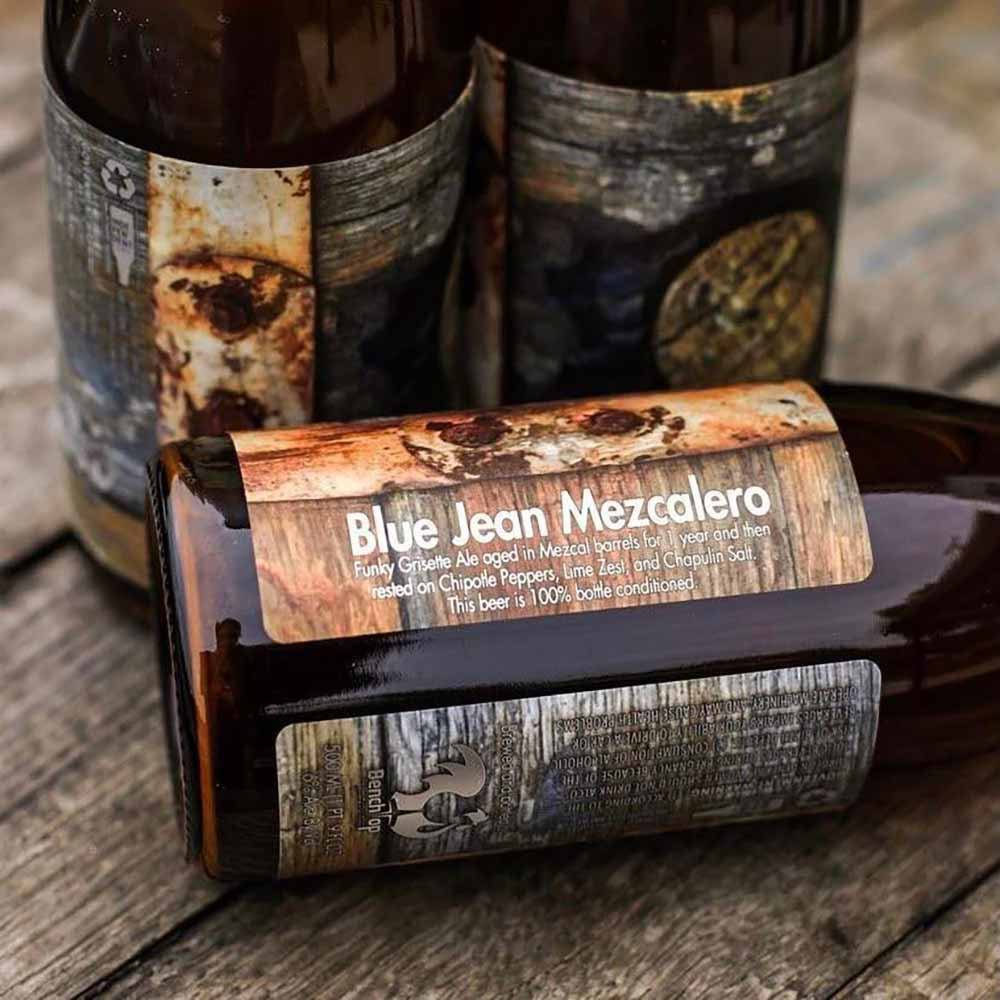 The barrels themselves are often similar to the ones used for bourbon production, explains Yancey, "[But] it is the mezcal's sugar source and how it is processed by roasting that imparts the strikingly different sensory characteristics from bourbon barrels." Mainly, a distinctive smokiness.
According to Yancey, the flavor profile they're looking for in the finished beer helps them determine whether mezcal barrels are right for the project. For example, for Taxman Brewing's projects involving its Belgian-style ales, "We prefer a fairly smoky character in the mezcal that was aged in barrels," says Yancey, meaning mezcal barrels worked well.
"Mezcal barrels add a cooked, caramelized agave, and lightly toasted character," says Karm, who noted that Hoppin' Frog chose to age Pentuple in mezcal barrels because they wanted a spirit that didn't overwhelm the flavor of the beer, but struck a perfect balance. "It's really worth the comparison [to bourbon barrels] because they both add their own complementary flavors, adding depth and complexity in their own ways."
What Styles of Beer Would Age Well in Mezcal Barrels?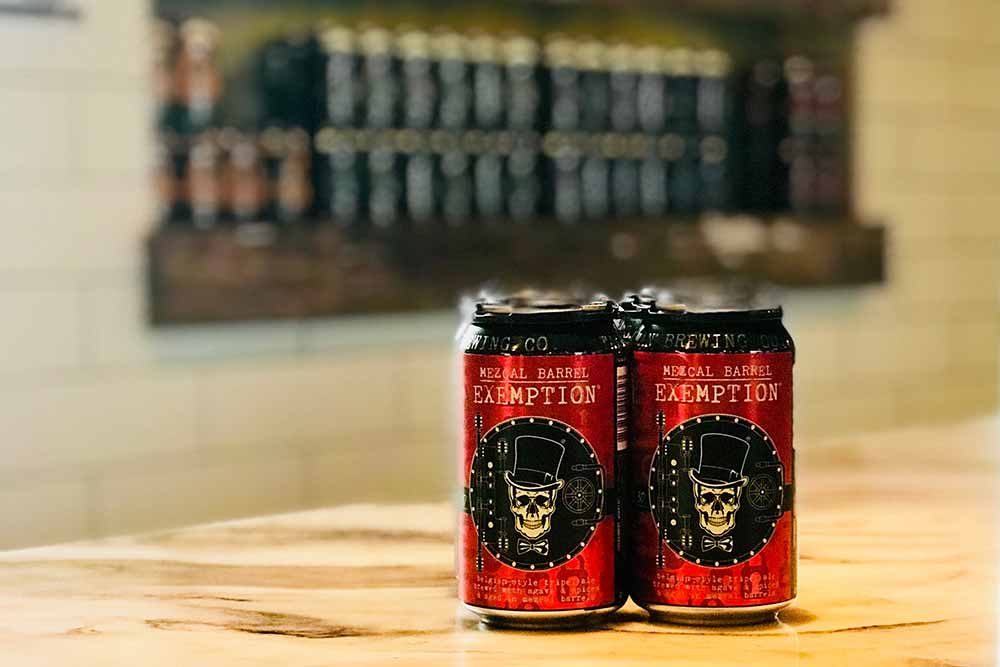 Bourbon barrels are often used to complement the boozy character of strong ales, tart fruity lambics, and stouts with a roasted chocolate, coffee, or nutty profile.
When it comes to aging beer in mezcal barrels, Karm thinks of "mellower, lighter beers that could showcase the sometimes delicate flavors" that mezcal adds.
Taxman Brewing currently sticks to only aging the brewery's Belgian tripel, Exemption, in mezcal barrels. "[But] I bet a barleywine aged in mezcal would be interesting," says Yancey.
Taxman Brewing brewed and released its Mezcal Barrel Exemption tripel in 2021. While no longer available, Yancey says, "We rotate releases like this and will certainly bring them back in the future."
What Are Some Mezcal Barrel-Aged Beers to Try?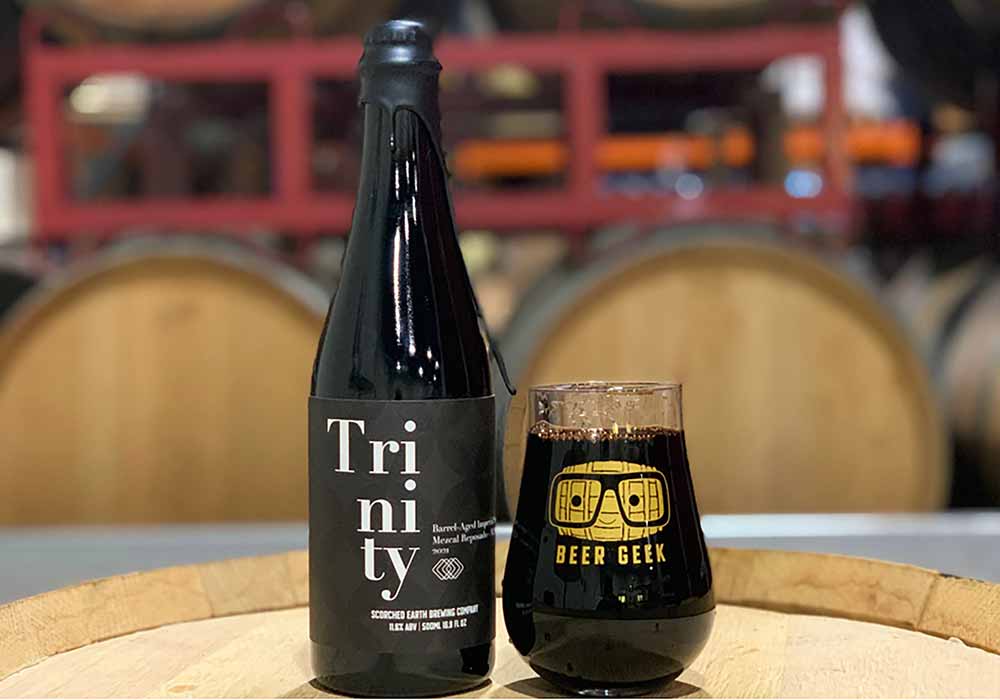 TRINITY Barrel-Aged in Mezcal Reposado Barrels
Scorched Earth Brewing Company – Algonquin, IL
Imperial / Double Stout – An imperial stout aged two full years in mezcal Reposado barrels, plus another year of extended aging, TRINITY's aromas hit a blend of rich chocolate and mezcal with hints of stone fruit and sweetness. Flavorwise, look for a kiss of heat, chocolate, and smoky mezcal with a subtle salinity and fruitiness.
Mezcal Barrel Aged Pentuple
Hoppin' Frog Brewery – Akron, OH
Belgian Tripel – Available as part of a four-pack bundle of Pentuple, Hoppin' Frog's 2021 gold medal-winning beer clocks in at 15.4% ABV. The bundle consists of ten-plus-year Bourbon Barrel-Aged Pentuple, Malbec Barrel-Aged Pentuple, Mezcal Barrel-Aged Pentuple, and Port Wine Barrel-Aged Pentuple.
Massive! (Anejo Mezcal 2021)
Gigantic Brewing Company – Portland, OR
Barleywine – A stout with decadent notes of coffee and caramel bolstered by Añejo mezcal barrel aging. This is a 16.9-oz bottle of barrel-aged boldness. Available by the bottle and case, other Massive! variants include Bourbon Barrel Aged, Islay Scotch Barrel Aged, and Highland Scotch Barrel Aged.
Mezca-Limón (2021)
Firestone Walker Brewing Company – Paso Robles, CA
Strong Ale – Inspired by Mezcalita, a mezcal-based cocktail, Mezca-Limón is brewed with agave, chile peppers, and sea salt. Aged for more than a year in barrels sourced from Oaxaca, Mexico-based mezcal producers, the beer also takes a nap in orange bitters barrels. A touch of lime zest adds yet another pop of flavor.
Blue Jean Mezcalero Brett Grisette
Benchtop Brewing Company – Norfolk, VA
Farmhouse Ale – Grisette – A Brett grisette aged in mezcal barrels for more than a year and rested on chipotle peppers, lime zest, and Chapulin salt, Blue Jean Mezcalero is an incredibly creative beer. Native to Oaxaca, savory chapulin salt is made with toasted grasshoppers and exhibits an earthy, spicy, and smoky flavor. While Blue Jean Mezcalero isn't currently available, the brewery plans to produce more this year. Keep an eye out for this one!