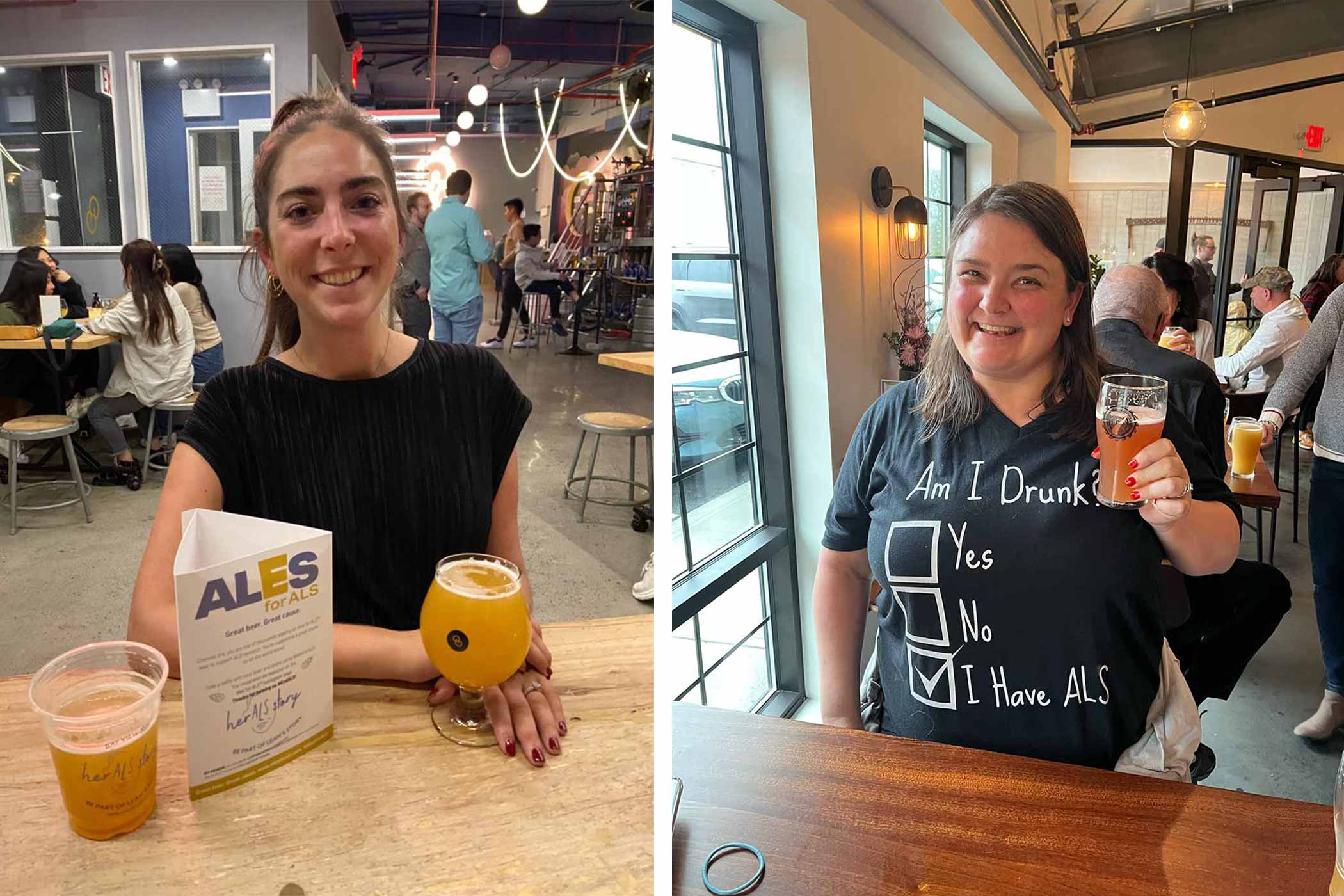 Photography courtesy of Her ALS Story
Editor's Note:
Hop Culture's fifth annual Beers With(out) Beards will take place April 9th, 2022, at Brick South in Portland, ME. You can get tickets here.
At the age of 25, Leah Stavenhagen started waking up with leg cramps in the middle of the night. Over the course of several months other strange things happened: random trips and falls, walks that took longer than normal. Overall, Stavenhagen's legs grew weaker.
Nine months later, after consulting with specialists around the world, Stavenhagen finally got an answer.
She had ALS, a degenerative neuromuscular disease that slowly destroys the neurons that control voluntary muscles in the body.
For years, ALS has been viewed as affecting only white men.
For instance, perhaps you know ALS by another name…Lou Gehrig's disease.
But this simply isn't the case.
There are other women like Stavenhagen all over the globe battling this debilitating disease.
Faced with an extremely isolating illness, Stavenhagen started speaking up and speaking out.
In April 2021, Stavenhagen founded Her ALS Story, a group of women diagnosed with ALS before their thirty-fifth birthday, challenging the stereotype that ALS is an older white man's disease.
It's a mission that resonates with Hop Culture as we get ready to celebrate our fifth annual women in craft beer festival Beers With(out) Beards in Portland, ME, on April 9th, 2022. Our festival strives to create a safe space for women and femme-identifying folks to come together to enjoy craft beer.
Similarly, Stavenhagen created a welcoming community for women living with ALS.
Together Beers With(out) Beards and Her ALS Story are drinking to make a difference.
ALS Affects Everyone, Not Just White Men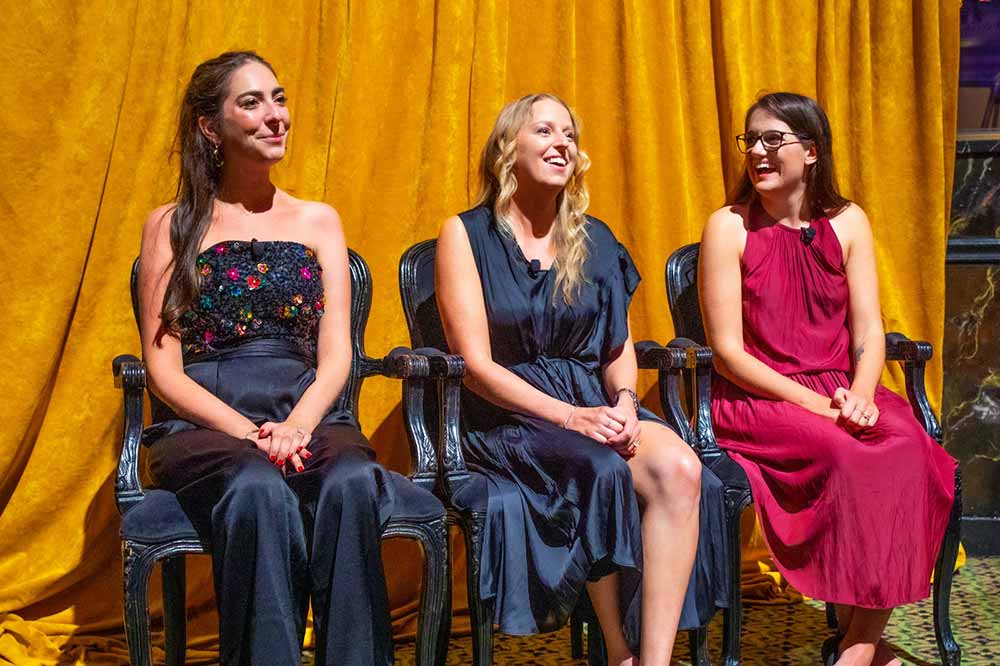 Historically, ALS has been widely stereotyped as a disease that affects only white men.
The gender divide is actually much closer than you think. And while the exact numbers can vary, many national surveillance and epidemiologic studies report that sixty percent of those diagnosed with ALS are men while forty percent are women.
Women are only twenty percent less likely to contract ALS than men. Yet they have very little visibility in the community.
For example, tick off famous people you know who have ALS and you'll probably name the following: Lou Gehrig, Stephen Hawking, and Pete Frates.
All white men.
"There are movies and media that seem to portray the male veteran," says Kate Nycz, a member of Her ALS Story. Four years ago, Kate was working as a nurse practitioner when she found out she had ALS at the age of thirty two.
Nycz points out that it's common for doctors, especially male ones, to misdiagnose women or delay their diagnosis.
When Nycz first started experiencing symptoms—slurred speech, trouble at work with unscrewing medications and working with syringes—she hoped it was something simple. For instance, nerve compression in her neck or carpal tunnel in her wrist.
She visited a male orthopedic doctor looking for clarity.
He took one look at her hand and abruptly told her she had a neurological issue, sending her away without any explanation or consideration.
"If a man walks in and says something is wrong, they take it more seriously," says Nycz. "But with so many women in our group there was misdiagnosis with hysteria, anxiety, and all these bullshit answers."
Because Nycz worked in the medical field she started ordering the right tests, receiving a diagnosis in just three months. But that's largely unheard of. "A lot of people chase the answer for years," says Nycz.
It's an anxious, heart-wrenching journey that can leave one feeling alone with a disease that already, by its very nature, isolates someone. And already, by its very stereotypes, excludes women.
"From the beginning, I looked out at a community interested in only white men," says Stavenhagen, who had to wait nine months until a doctor confirmed she had ALS. "[There was] nobody that looked like me, nobody I could identify with. This disease is so isolating, but on top of that, I'm the only one like me out there; it made it really tough."
So Stavenhagen set out to change the status quo.
To create a place where women under thirty-five years old diagnosed with ALS could come together to share stories, to be a family to each other, to cultivate awareness, and perhaps most importantly to raise money for research to find a cure.
This is her story to break through barriers. Her story to create a safe space for women with ALS to connect. Her story to fight for a cure. This is Her ALS Story.
Her ALS Story: Learning to Live with ALS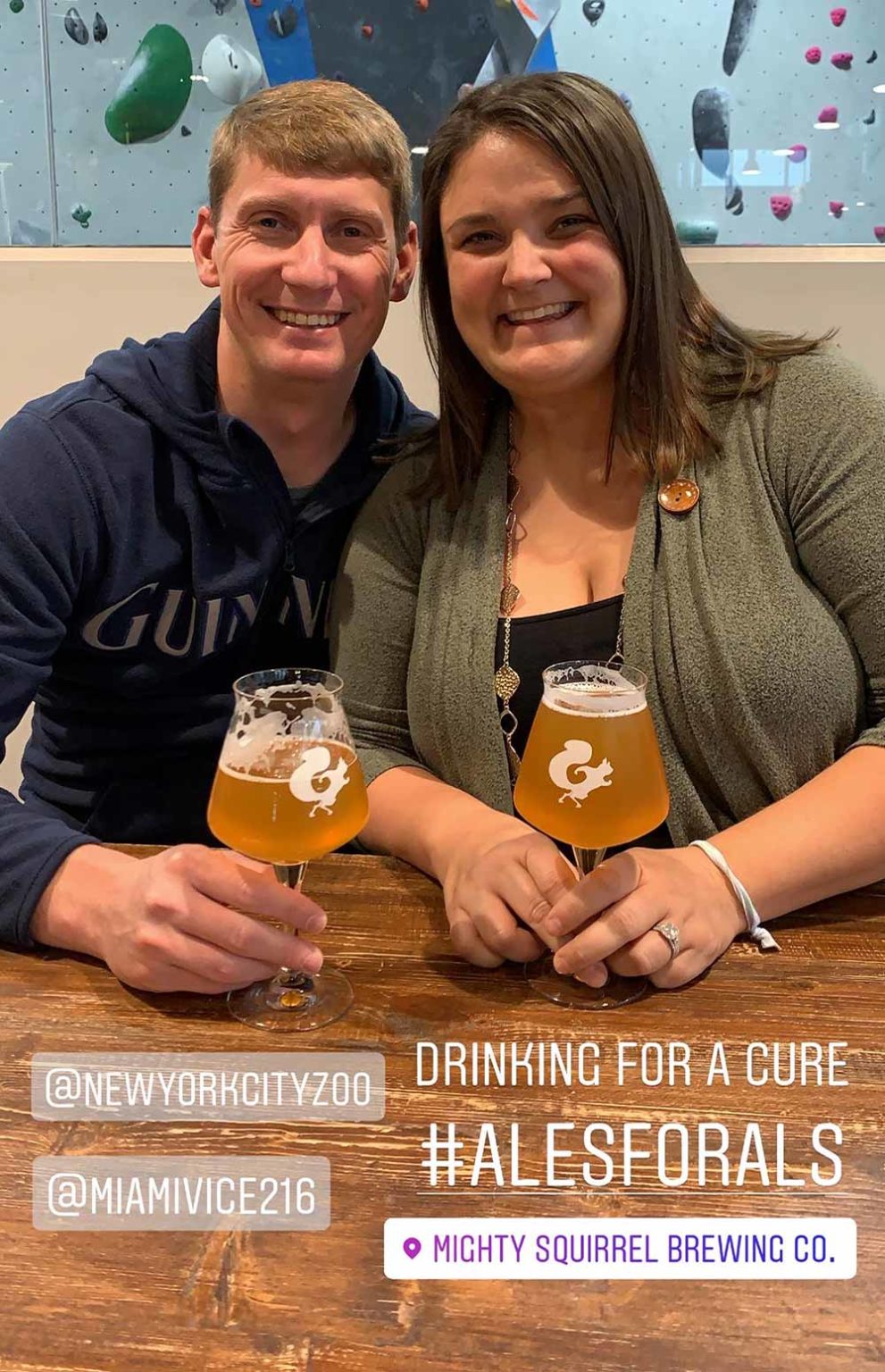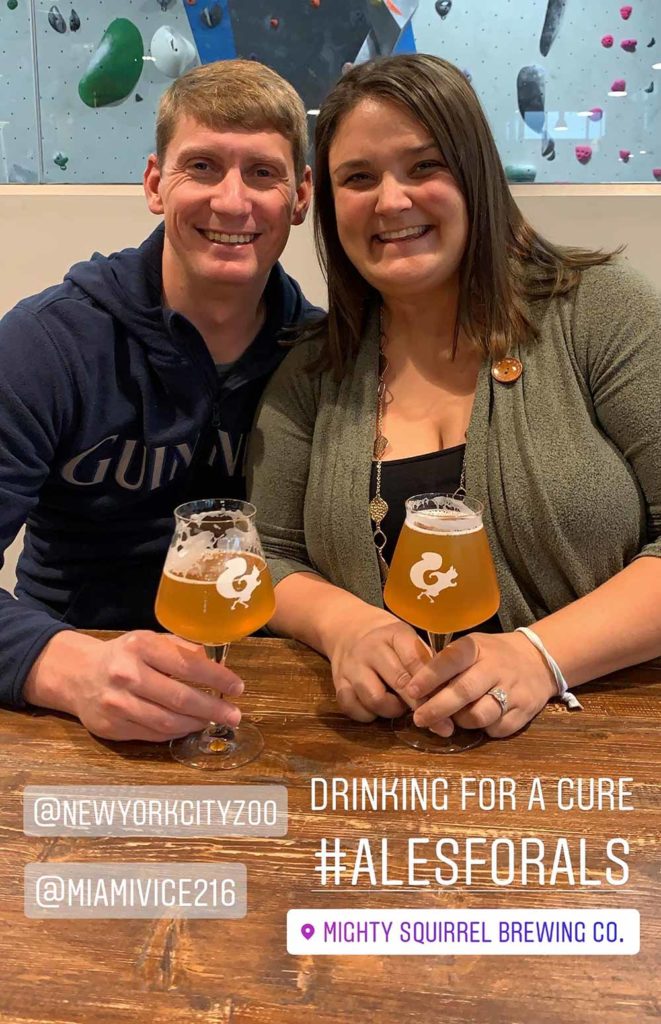 Stavenhagen started Her ALS Story to be a place for women living with ALS.
And she does mean living.
"We're putting ourselves out there, so when people look online or hear about ALS they'll come across us and not just a page of Stephen Hawking," says Stavenhagen. "They won't see women living with a terminal disease, but doing silly TikTok videos or a caregiver makeup challenge. That's not to say life with this disease is easy, but it's not just sad."
Since her diagnosis, Stavenhagen has continued to live her life, traveling and advocating for other women living with ALS. For instance, this summer she has several trips to Paris planned with her husband.
"Leah reminds us that you can travel to Paris and love life," says Nycz, who herself retired from work this past October but has continued to pursue her passions.
An avid craft beer lover, Nycz can often be found drinking with her husband Kevin, who is always by her side and ready to hold her beer.
She drinks based on the season: a good stout in the winter, a hefeweizen in the summer, an IPA in the fall. Although she admits IPAs can make walking more challenging. And while she enjoys a sour, she has to be careful with those styles too because the pucker can trigger a spasm in her throat. "But I love them, they're so good!" says Nycz.
ALS may have changed the course of their lives, but it hasn't stopped Nycz and Stavenhagen from living.
"For us first and foremost, Her ALS Story is about raising awareness, showing what it's like to be a young woman having to rethink your dreams, having to deal with disability, things you never thought you'd come across," says Stavenhagen.
So far Stavenhagen's tenacity and courage have caught fire. What began with only nine or ten women has grown four-fold in just about a year to over forty women.
All who are now speaking up and sharing their own story, unapologetically.
Her ALS Story: Bringing Women Together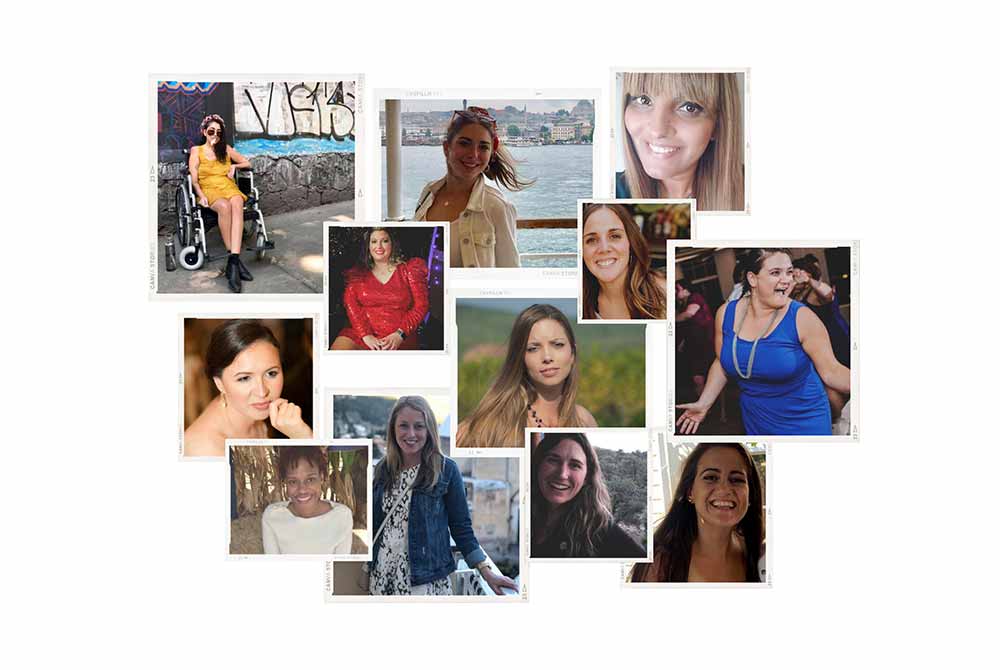 Nycz laughs when she says she considers the women of Her ALS Story to be "the best family I never wanted."
But that's exactly what they are: a family. It isn't easy to open up about your personal experience with ALS, but at Her ALS Story the community welcomes one with humor and humility.
"A lot of us grew up in a place where we wanted to be strong and independent women where asking for help is not easy," says Nycz. "But you get diagnosed with this and completely throw your filter out the window… This community is really encouraging me to speak up and have a voice in a new way."
Now, Nycz doesn't shy away from sharing details of her life and journey. In fact, Stavenhagen affectionately calls her the queen of the welcome wagon.
Spend less than five minutes with Nycz and it's easy to see why she's the one in charge of introducing folks to Her ALS Story.
Smiling and gregarious, Nycz doesn't shy away from cracking a joke or serving a bit of inspiration.
For example, the group recently started a WhatsApp chat, where according to Nycz they talk about everything from sex with their partners to medications or alternative treatments to how to communicate with caregivers.
"The girls are just completely wide open and it's a safe space," says Nycz.
Keyword: safe space.
In a predominantly white male space, Stavenhagen and the women of Her ALS Story have created a place all their own.
It's a mission that resonates strongly with Hop Culture, whose women in craft beer festival Beers With(out) Beards seeks to create safe spaces for women working in or drinking beer in a historically white, male world.
"We're all in the same shitty boat," says Nycz. "[But] hanging with other women celebrating femininity in general in all the different ways that can be expressed…I think that community aspect is my favorite"
Her ALS Story and Beers With(out) Beards Creating Safe Spaces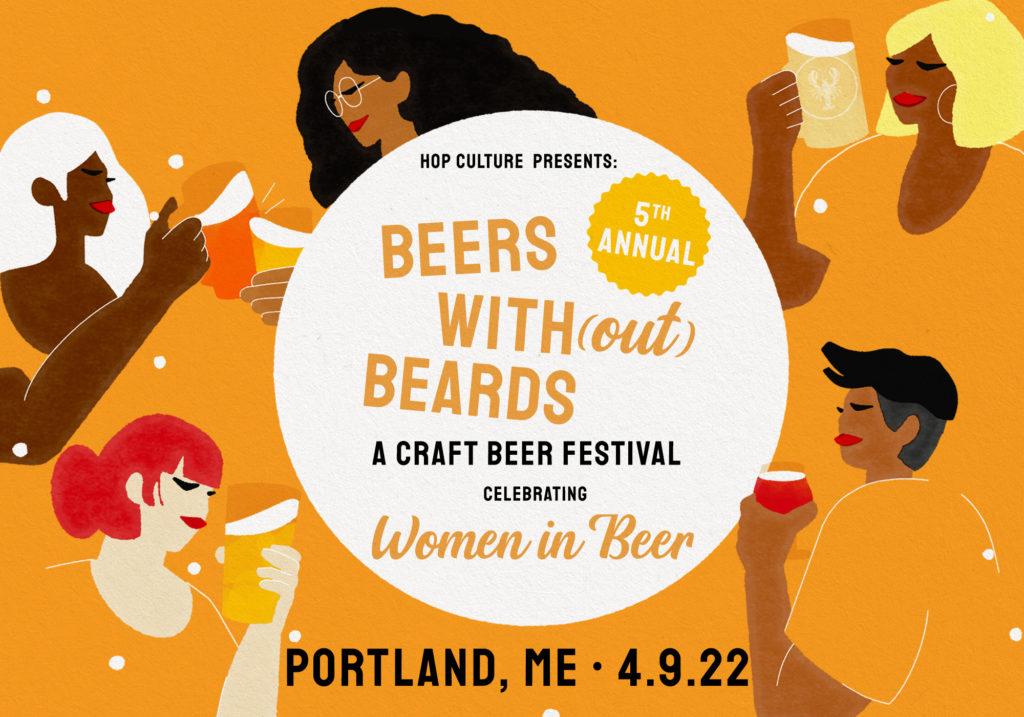 We're thrilled to announce that Hop Culture partnered with Her ALS Story for its fifth annual Beers With(out) Beards.
In 2018, I started BW(O)B to create a space where everyone felt welcome to show up, taste amazing beers, and cultivate conversations around how to break through barriers. And now more than ever, we need Beers With(out) Beards. It's a festival for everyone asking to be heard in a predominantly white, male industry.
Just like Stavenhagen, Nycz, and the ladies of Her ALS Story are asking to be heard and to be seen in a community that for so long has been perceived as affecting only white men.
As a part of our partnership, Hop Culture has pledged to donate a portion of all ticket sales to Her ALS Story.
Nycz herself will be attending along with four other women warriors and Andrea Devitt Sheehy, a brewer at Mighty Squirrel in Waltham, MA, whose dad died from ALS and carries the gene herself.
Devitt Sheehy and Nycz share a special bond. Mighty Squirrel participates in Ales for ALS™, a program that encourages breweries to brew a special beer featuring a free hop blend from Loftus Ranches and Yakima Chief Hops. The breweries receive the courtesy ingredients and in return promise to donate at least $1 from the sale of every pint to the ALS Therapy Development Institute (ALS TDI). The nonprofit biotech focuses solely on research to find treatments for ALS.
Devitt Sheehy brewed the first Ales for ALS beer Nycz ever tried. A killer double IPA called DAD.
"I remember seeing her and thinking you really brewed this… Badass!" says Nycz. "And she had that feeling about me. You are really living your life the way you are with ALS… Badass!"
Together Beers With(out) Beards and Her ALS Story have the power to change the narrative.
Creating Change Through Craft Beer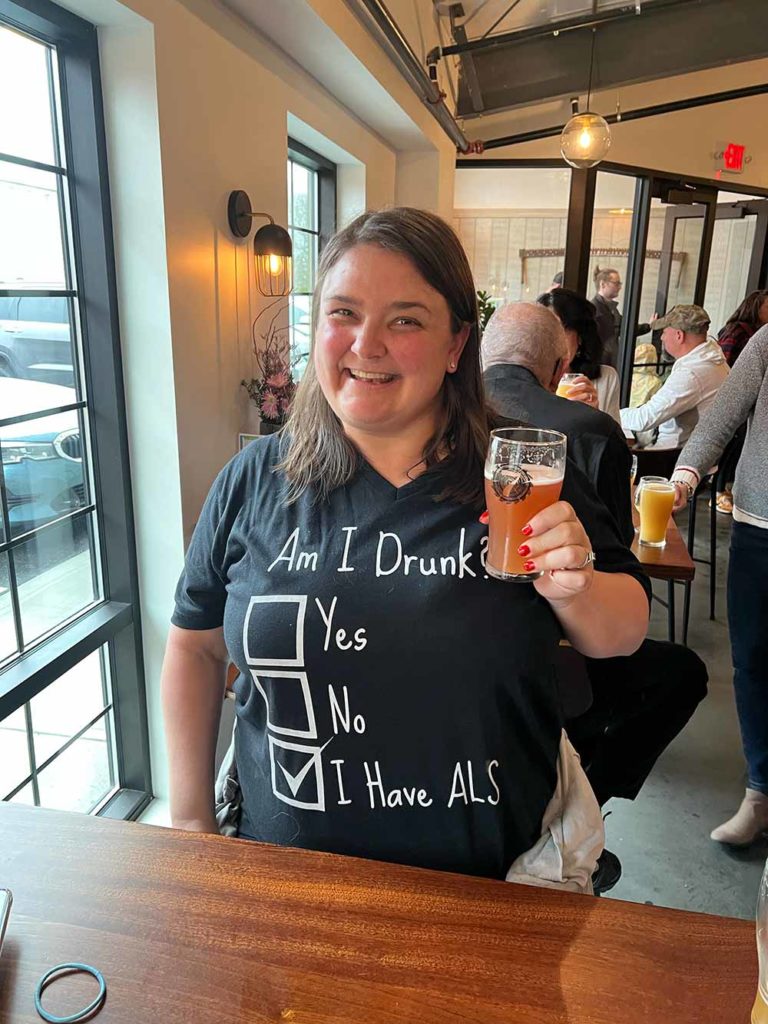 There is an interesting parallel that runs between drinking and ALS. Slurred speech is often a common symptom. In fact, when Nycz first began slurring her words people thought she was drunk. "I was like, that's so weird, I've only had one glass of wine, I'm fine don't worry about it," says Nycz.
Her ALS Story took that narrative and ran with it. One of their fundraising t-shirts sports the words "Are You Drunk?" with three checkboxes underneath: "Yes. No. I Have ALS."
And one of Nycz's favorite personal taglines is, "Get drinking until you sound as drunk as I do!" laughs Nycz. "Getting out there and drinking beer to raise awareness is combining two of my greatest passions at this current moment."
We've said time and again that beer has the power to change people. Not inebriate, but actually change minds, change hearts, and change perceptions.
Come Drink with Hop Culture and Her ALS Story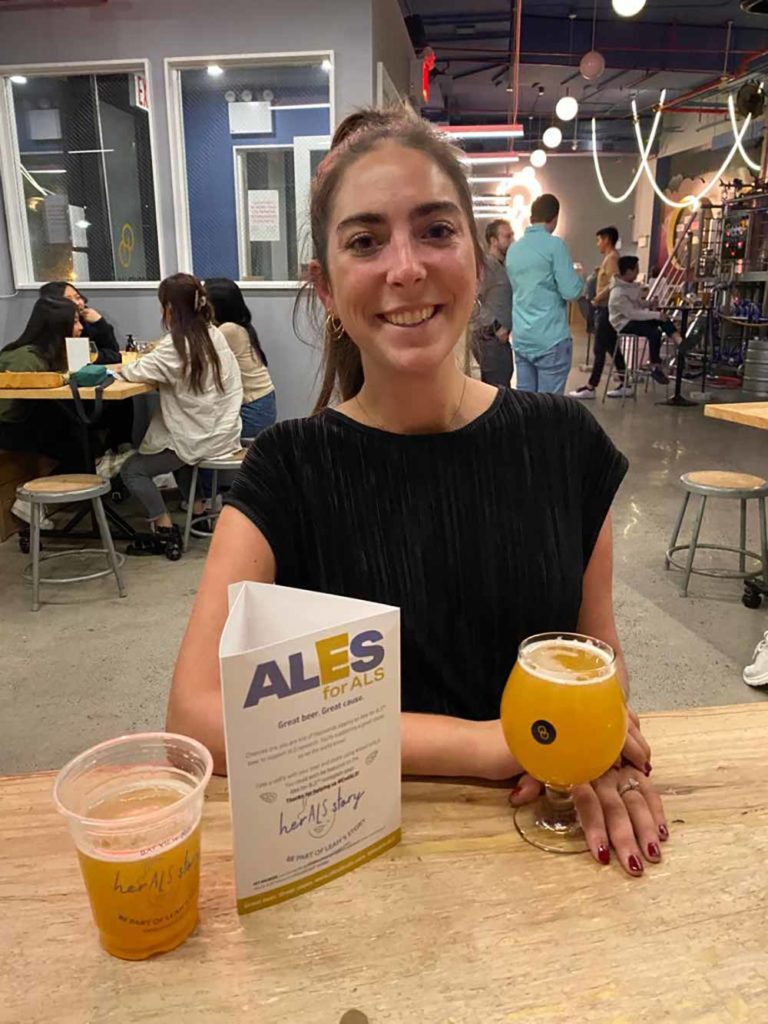 Join us at Brick South in Portland, ME on April 9th, 2022, to drink for a cause with Hop Culture and Her ALS Story.
If you see Nycz at Beers With(out) Beards, maybe you'll take her advice and get drinking until you sound like she does.
Or maybe you'll donate to Her ALS Story to support finding a cure for ALS.
Perhaps you'll buy one of Her ALS Story's Am I Drunk? t-shirts where all proceeds go directly to fund research at Project ALS.
Or maybe you'll just share a hefeweizen with her.
Together Beers With(out) Beards and Her ALS Story are drinking to make a difference.
We hope we'll see you there!
Editor's Note: Hop Culture's fifth annual Beers With(out) Beards will take place April 9th, 2022, at Brick South in Portland, ME. You can get tickets here.