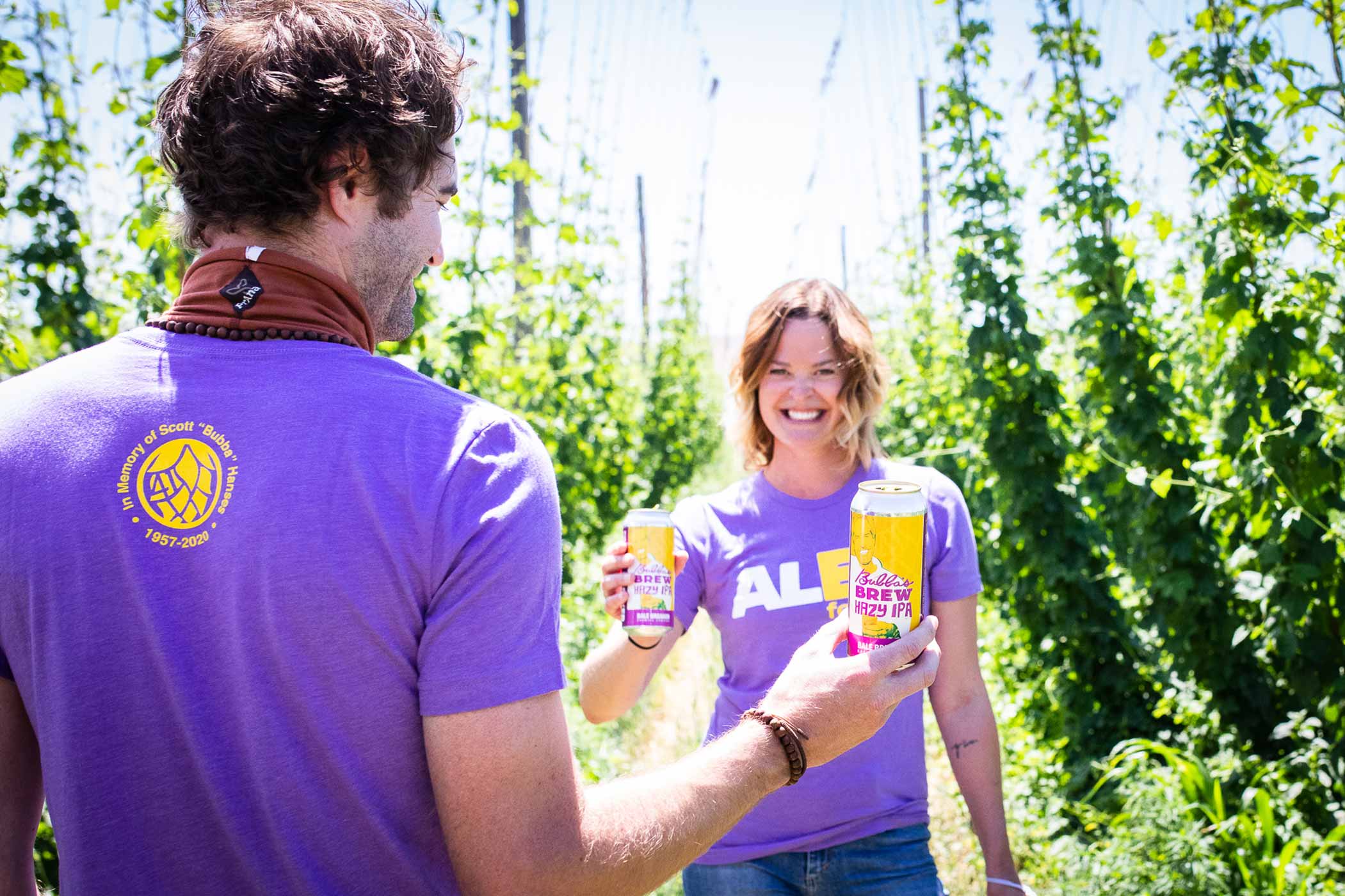 Photography courtesy of Bale Breaker
Editor's Note:
Help raise a pint and a dollar for Ales for ALS™ by drinking a beer from one of these participating breweries. Find one near you!
Beer has the power to create change. Over the past year, we've seen beer leveraged to fight racial injustice and police brutality, to raise money for first responders, and to create scholarships to address the racial gap in the beer industry. But even before a global pandemic and a call for social change, breweries have been exploring how to use their platforms to cultivate support for various causes. In 2013, co-owners of Bale Breaker Brewing Company — Meghann Quinn, her husband Kevin Quinn, and Meghann's brother Kevin Smith (known as "Smitty") — helped start the Ales for ALS™ program with Mike and Cheryl Smith from YCH Hops and Loftus Ranches.
Designed to raise awareness and money to find treatments for amyotrophic lateral sclerosis (ALS, also called Lou Gehrig's disease), the initiative personally hit home for the Quinn and Smith family. Meghann, Smitty, and their parents have nine family members who have passed away from the disease.
And while ALS can be devastating on those it effects and the family around them, Ales for ALS™ is proof that hops, beer, a little ingenuity, and a lot of elbow grease can help change the course of a degenerative disease. And hopefully, eventually, even lead to cures.
What Is ALS?
More commonly known as Lou Gehrig's disease, ALS is a degenerative neuromuscular disease that slowly destroys the neurons that control voluntary muscles in the body. Eventually, people with ALS are no longer able to walk, talk, or even breathe on their own. The disease has no prevention, no current known cure, and no treatments to stop or reverse disease progression. Ten percent of cases are known as familial ALS,in which a specific genetic mutation is inherited and passed down from generation to generation. The remaining 90 percent of cases are known as sporadic ALS, meaning there is no known history of the disease in a family. Dr. Stan Appel, MD, a neurologist, co-director of the Houston Methodist Hospital Neurology Institute and board member at the ALS Therapy Development Institute (ALS TDI), once said, "ALS is not an incurable disease. It is an underfunded one."
Currently, research around ALS remains severely underfunded, but programs like Ales for ALS™ are trying to change that.
What Is Ales for ALS?
In 2011, Meghann Quinn, Kevin Quinn, and Kevin Smith were getting ready to open a brewery. Beer is something that flowed in their veins; Meghann Quinn and Kevin Smith's parents, Cheryl Hanses Smith and Mike Smith, owned Loftus Ranches, a fourth-generation hop farm in Washington's Yakima Valley.
"At the time, people were getting really excited about IPAs," says Meghann. "All of the sudden, growing up on a hop farm seemed pretty cool. That got the wheels in motion."
However, that same year, Cheryl's older brother Scott Hanses received a diagnosis.
He had ALS.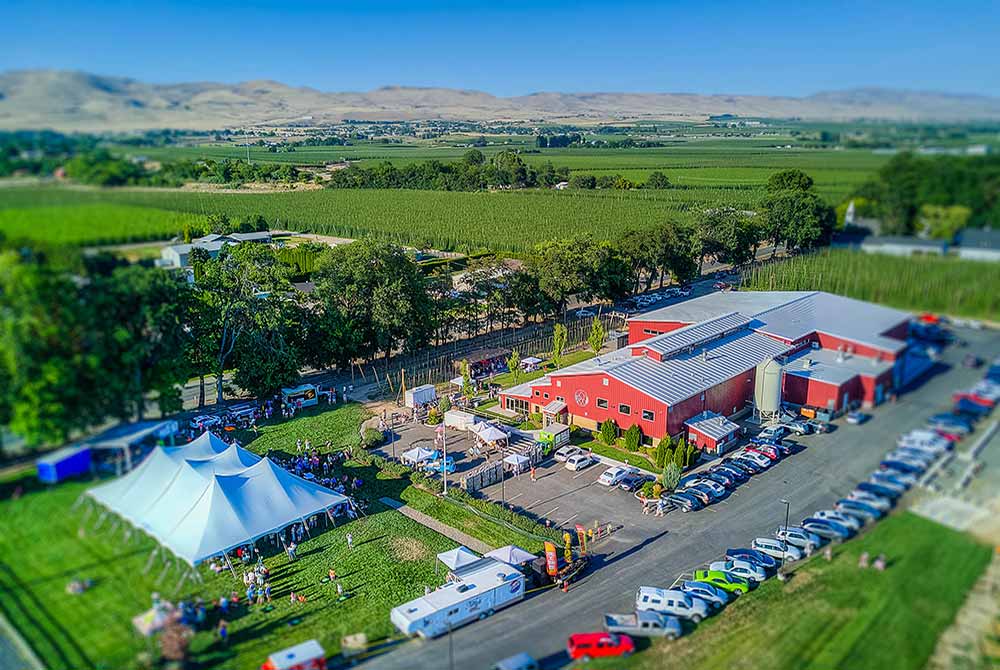 "That really hit home," says Meghann. Cheryl's family carries one of the familial ALS gene mutations, and growing up, Meghann and Smitty were aware of family members passing away from the disease. But it was always a grandfather, a great grandfather, or a great uncle, and the disease seemed a full generation away.
But with Scott — or Bubba, as he was affectionately known — reality set in. As her uncle's new condition became real, Meghann realized she needed to do something. She planned to use her brewery to create a beer that would raise awareness and money to help Bubba.
But her parents said, "Why would we stop at something in Yakima? Why not go bigger?" And so Ales for ALS was born.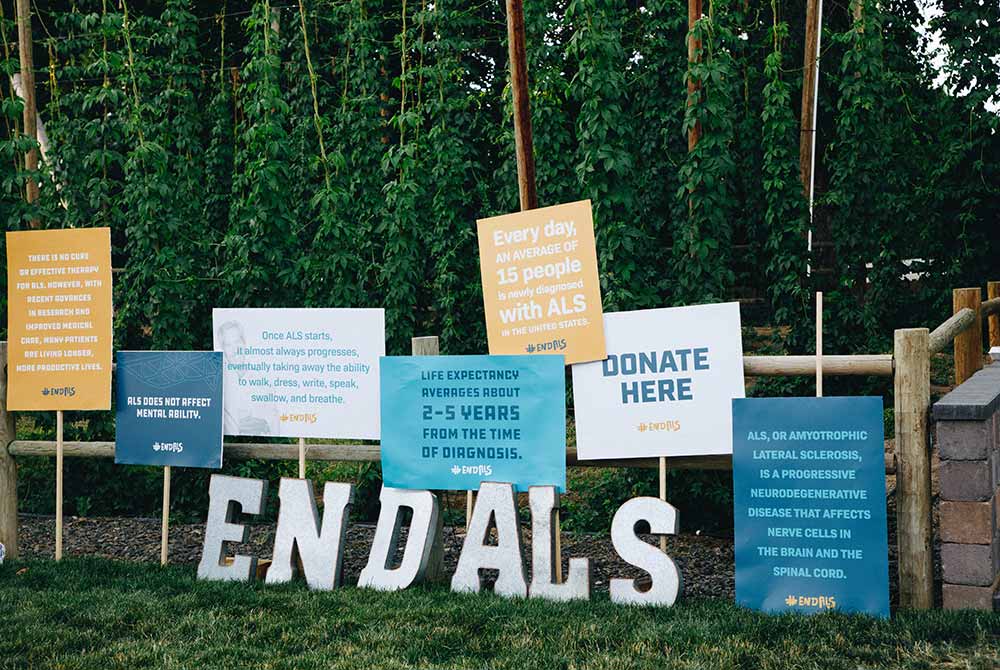 How Does Ales for ALS™ Work?
At its core, Ales for ALS™ is a very simple idea that has helped an entire community get involved in the fight to end ALS.
Every year, the family's hop farm Loftus Ranches donates hops to create a unique blend. Another big hop purveyor in the area, Yakima Chief Hops (YCH), scales things up, adding to the blend, pelletizing the hops, packaging them, and shipping them to any brewer around the country who asks. In receiving the free hops, the brewery agrees to brew a beer using the blend and donate at least $1 from the sale of every pint to the ALS Therapy Development Institute (ALS TDI).
As a rare nonprofit biotech, and the most comprehensive drug discovery lab dedicated to ALS, ALS TDI focuses solely on research to find treatments for ALS. All of the research at ALS TDI takes place in its Boston-area lab funded by donations from the global ALS community, including those from programs like Ales for ALS™.
So far, the program's impact has far exceeded everyone's expectations.
Growing Ales for ALS™ Beyond the Yakima Valley
In 2013, which was the year Bale Breaker and Loftus launched Ales for ALS™, Meghann said they would've been happy raising a couple thousand dollars. But with the help of 33 breweries and a special festival they hosted at Bale Breaker, they raised $130,000 dollars.
Only six years later, in 2019, the program had over 190 participating breweries. Simultaneously, the donations rolled in. Over the past seven years, Ales for ALS™ has raised $3.5 million dollars for ALS TDI.
But more than the money, the Quinns and Smiths have been blown away by how many people in the craft beer community have been eager to participate.
"Ales for ALS™ is really near and dear to our hearts," says Meghann. "It's first and foremost in our minds because it affects our family but we didn't think anyone else would connect with it."
Kevin Quinn notes that during the first year of the program, major craft breweries across the country brewed a beer for Ales for ALS™. This included Odell Brewing, Russian River Brewing, Sierra Nevada, Samuel Adams, Bell's Brewery, and more.
"Overall the number of people diagnosed with ALS every year is fairly low compared to other diseases, but it seems to touch a lot more people," says Quinn.
In fact, so many breweries looked to participate after that first year that Ales for ALS™ actually had trouble keeping up with the demand.
"Honestly, the biggest problem in the first couple of years was that the hop blend would run out," says Kevin Quinn. "So many people wanted to join and we just didn't have enough hops."
Why Does Ales for ALS™ Give Away Hops For Free?
As a signature part of the program, event organizers make the hop blends free to any participating brewery.
"We know hops are a very expensive product," says Smitty. "If we can help brewers with the cost, they're more willing to match that $1 per pint donation. We thought this way would boost fundraising or boost participation because people wouldn't need to worry about the [cost]."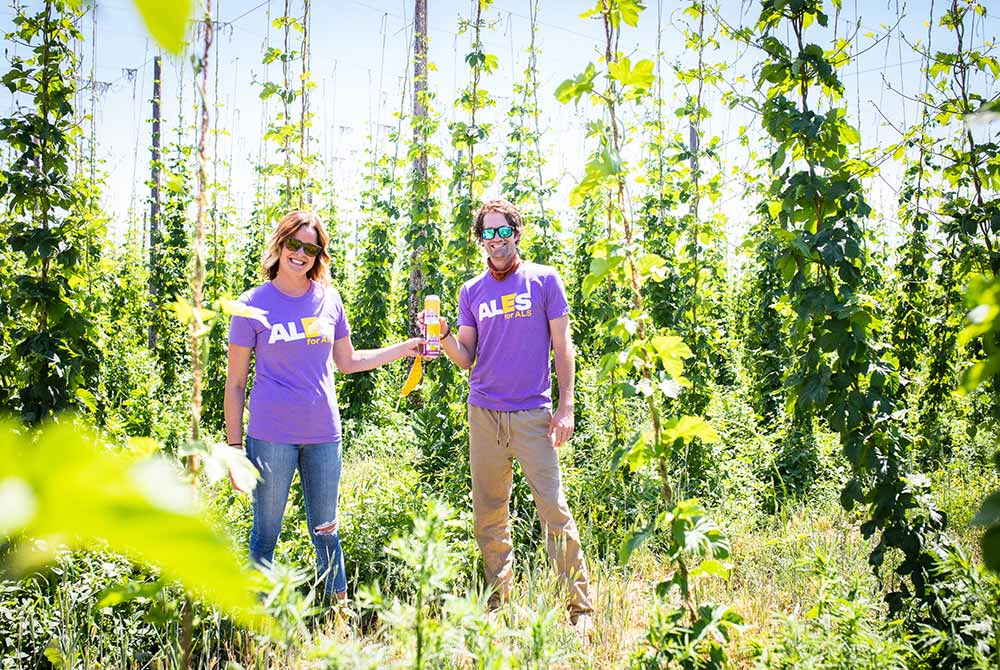 Hosted on the patio of the original farmhouse at Loftus Ranches, that first hop selection was a casual affair. In fact, it was so casual that no one remembered to bring a notepad. Kevin Quinn recalls that instead, the team of well-known brewers wrote down the exact hop blend on a broken armrest from one of the deck chairs. That original group included Vinnie Cilurzo from Russian River, John Mallett from Bell's Brewery, and Ken Grossman from Sierra Nevada, who'd been buying hops from Loftus Ranches since 1980.
Today, the busted patio furniture has been replaced with pens and paper. Every year, the big names in beer gather at Sierra Nevada's annual Single, Fresh, Wet & Wild Harvest Festival in Chico, California, to pick out a hop blend. Oftentimes, the blend includes experimental hops that brewers are excited to use.
This year, Ales for ALS™ offers brewers a choice between two different blends. Option one includes Talus, Sabro, HBC 344, Citra, Mosaic, and HBC 630. Option two offers HBC 630, Loral, Citra, Mosaic, Sabro, Ekuanot, Simcoe, and Ahtanum.
Over the years, the expressive and experimental hops have produced some fantastic beers. Perhaps unsurprisingly, most have been IPAs or double IPAs.
What is Bubba's Brew?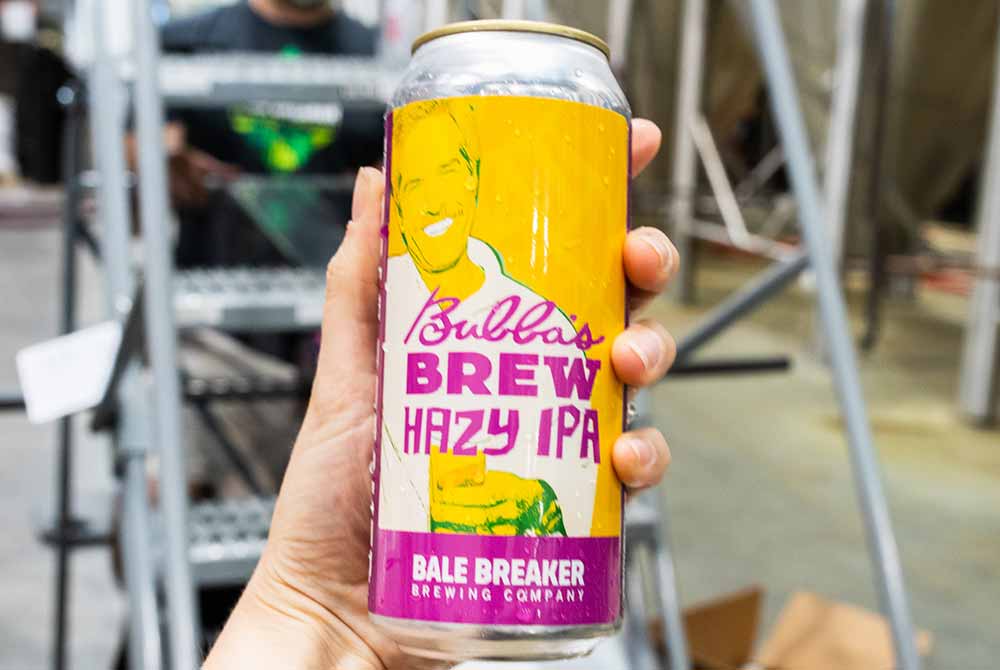 Every year, Bale Breaker makes its own version of the Ales for ALS™ beer. Called Bubba's Brew in honor of Uncle Scott's nickname, the beer is usually some type of IPA. However, the very first year of the program, the Yakima-based brewery made a rye pale.
"We'd never done anything like that before," says Smitty. "When we opened, we only had a couple offerings — pale ale, IPA, and DIPA — so doing something different like a rye pale ale was a fresh offering. This was the pre-hazy IPA days, so we thought we were branching out."
Generally, Bale Breaker's Ales for ALS™ offering stays true to IPAs. Over the years, they've experimented with a session IPA and a double IPA. For the last two years, they've made hazy IPAs. However, this year, Smitty says he's brewing a traditional West Coast-style clear IPA.
"We try to brew something popular that people will drink," he says.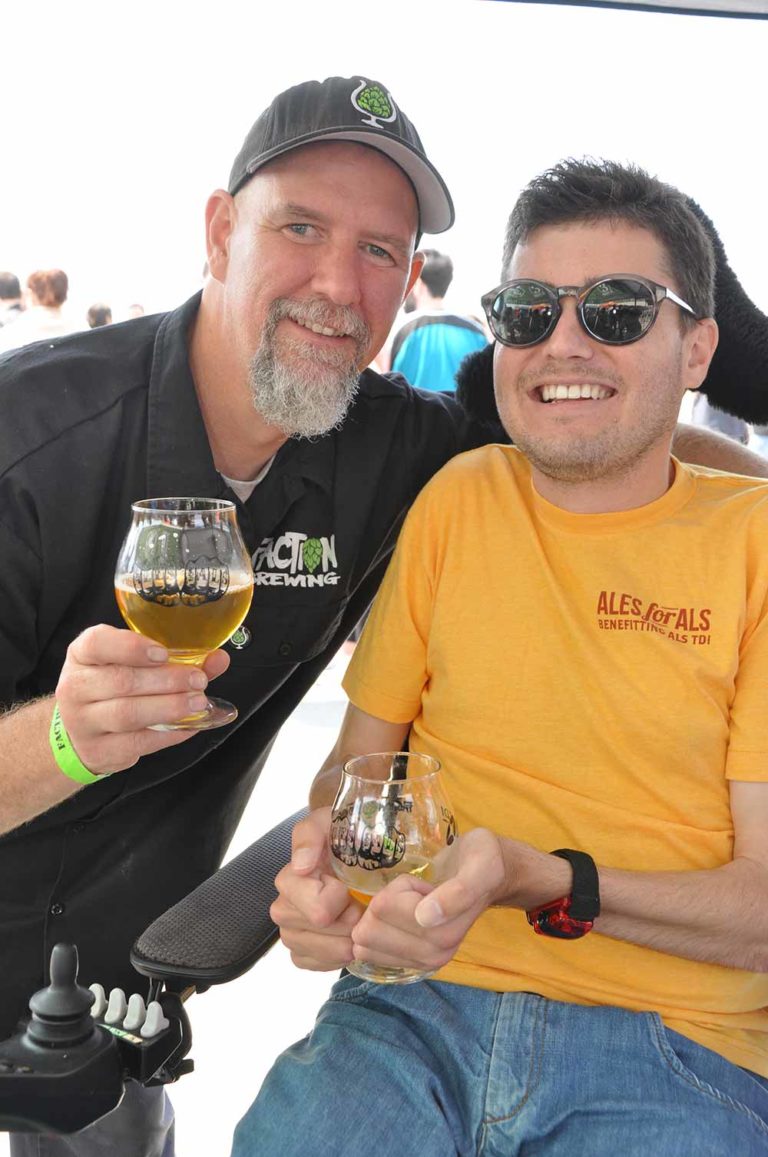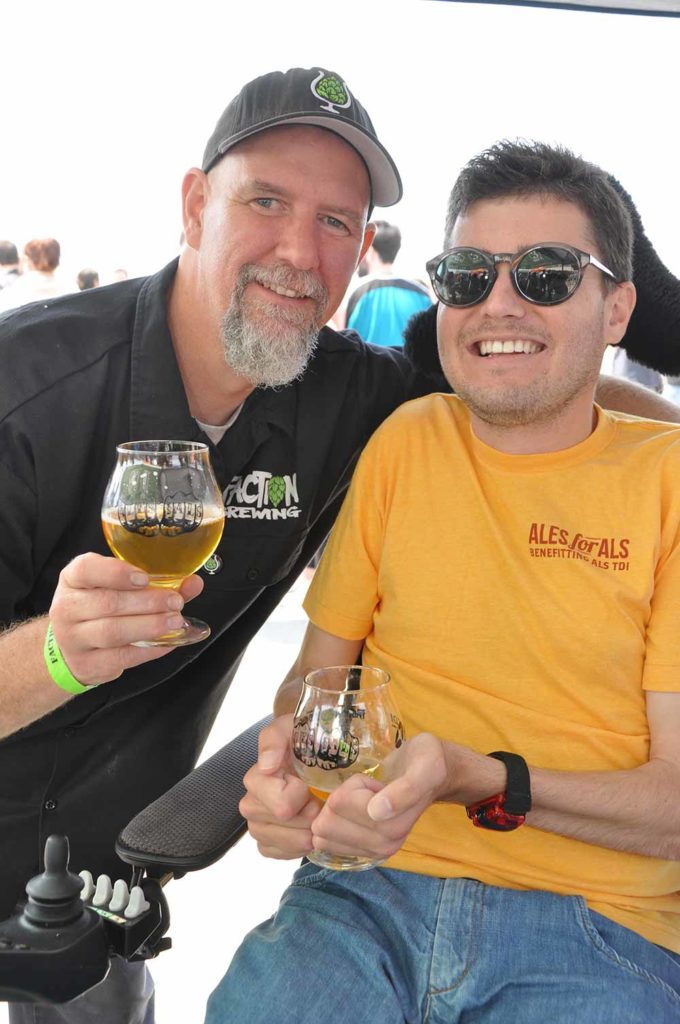 Faction Brewing and Ales for ALS™ Fest
When the time came for Faction Brewing Co. of Alameda, California, to open its doors in the fall of 2013, they debuted with their Ales for ALS™ Pale.
Rodger Davis and Claudia Pamparana, the husband and wife owners of Faction Brewing Co., had attended an event in Iron Springs, California, and met Corey Reich, who had been diagnosed with ALS at only 21-years-old. An assistant coach for the local Piedmont High School Men's and Women's varsity tennis teams, Reich was well-known in the community.
"We met Corey's whole family and they were so incredible," says Pamparana. "We ended up becoming friends with them and realizing we could do more."
For those who haven't been to Faction, the brewery sits in an old Alameda Naval Air Station. The huge hangar sits right on the waterfront with incredible views of the San Francisco skyline and Bay Bridge, and ample space to host large events.
"When we came up with the idea for Faction, we wanted to give back to the community," says Davis. "Once we locked in on a location, we realized it was the ideal spot for a beer fest and to raise money for the community and charities. We put those two together and decided to start with Ales for ALS™."
In 2014, the brewery owners took things a step further. Their Ales for ALS™ Fest invited all the breweries in California that participated in the program to come pour at their warehouse in Alameda.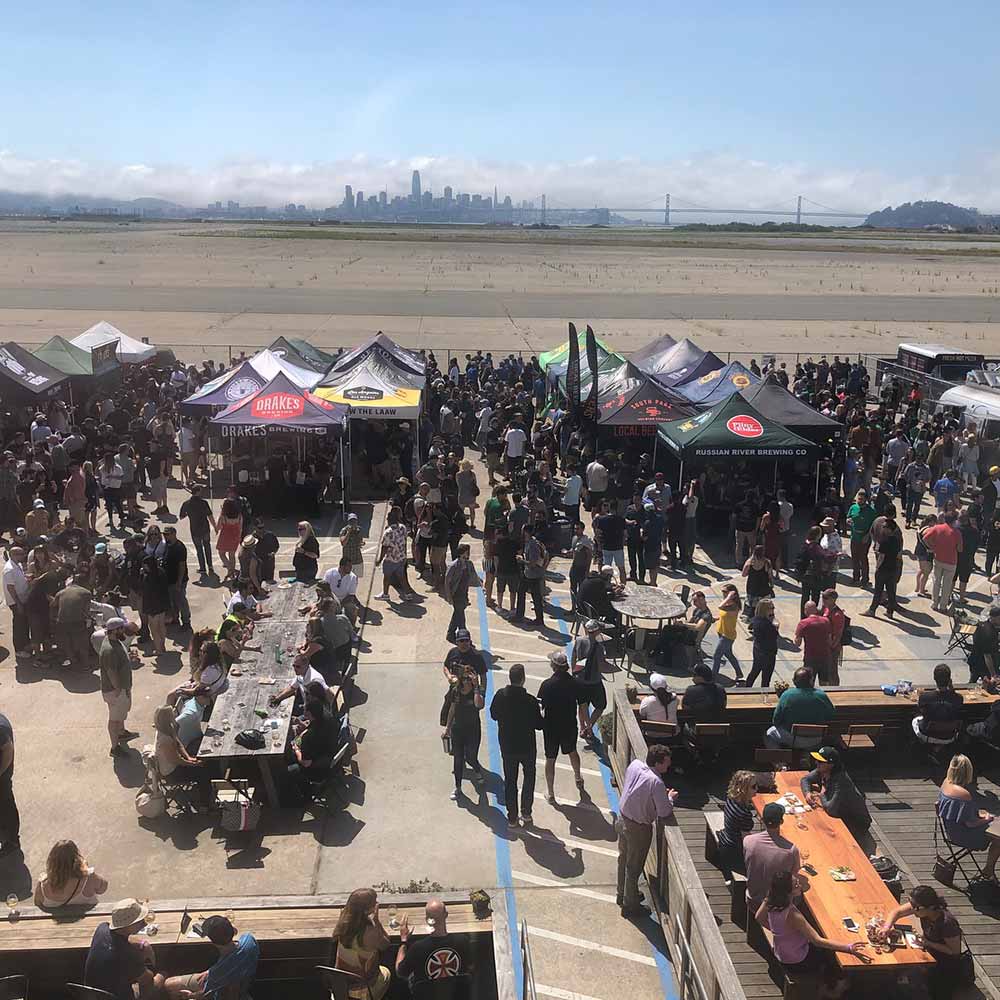 "It gets the word out and connects the dots," says Davis. "It's not about how many beers you can down in four hours, it's about sitting around sipping beer and talking about why we're all here."
In addition to raising awareness, Davis and Pamparana donate all of the proceeds from ticket sales (along with any additional money raised from a raffle) to fund research at ALS TDI. Each year since its inception, Faction's Ales for ALS™ Fest has attracted on average 1,200 to 1,300 folks and raised close to $50,000 dollars each year.
"Beer is a great way to get people involved and we try to make them feel good about spending money," says Pamparana. "That's our goal: to put it in people's faces, not hide behind it."
How Can You Get Involved With Ales for ALS™?
The global pandemic had a big impact on the Ales for ALS™ program. Last year, with breweries focusing on the aftermath of city shutdowns, Ales for ALS™ saw a 25 percent dip in participation. Additionally, Faction and Bale Breaker had to postpone their own in-person festivals, which have historically been huge money makers for the program (according to Meghann and Kevin, this fest can single-handedly raise in the neighborhood of $75,000 to $85,000 dollars in just one day). And although both breweries found virtual ways to continue to raise money, the results weren't quite the same.
This year, Ales for ALS™ looks to rebound in a big way. According to Mike Shannon, the National Director of Ales for ALS™, the program has set an ambitious mission of finding 225 breweries to participate and raising $650,000 to $750,000.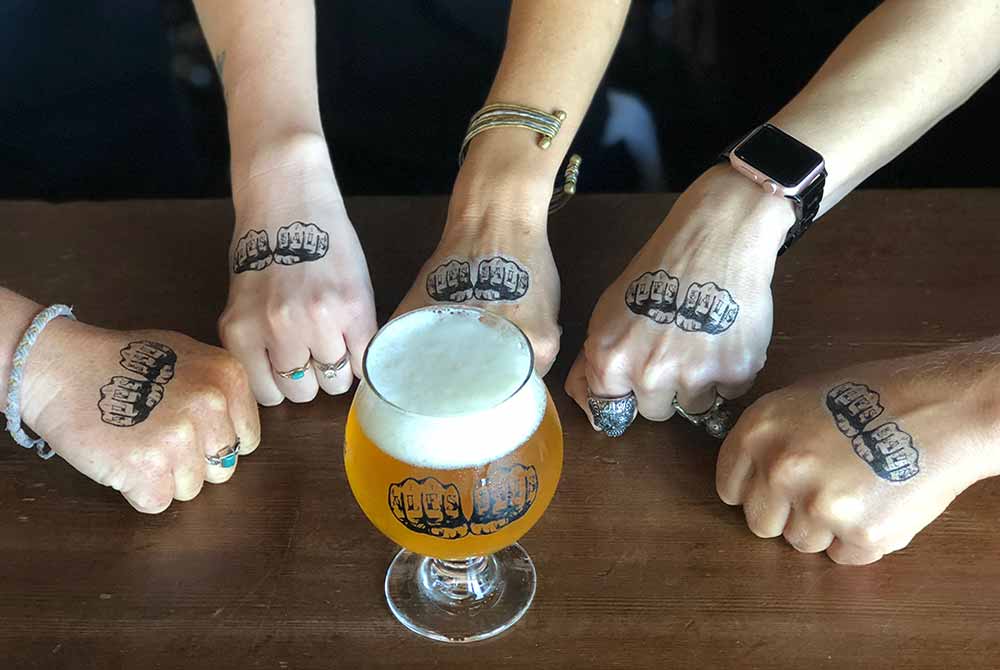 Throughout the last eight years, Meghann and her family have been continually inspired by meeting people affected by ALS, as well as the eagerness of breweries to participate in the Ales for ALS™ program. And she — along with so many others in the beer industry — has been instrumental in creating a community where people can recognize the disease, name it, and figure out ways to advance its research. All by brewing or drinking a beer.
"Our biggest goal is to find a cure," says Meghann.
You can help Ales for ALS™ reach its target. All you have to do is drink a beer. Find a participating brewery on the Ales for ALS™ map and safely enjoy a pint or donate directly to ALS TDI. While the Ales for ALS™ program tends to hit its full stride over the course of the summer, ALS TDI accepts donations year round.
And if you're a brewery interested in participating you can join the program by contacting the Ales for ALS™ team.