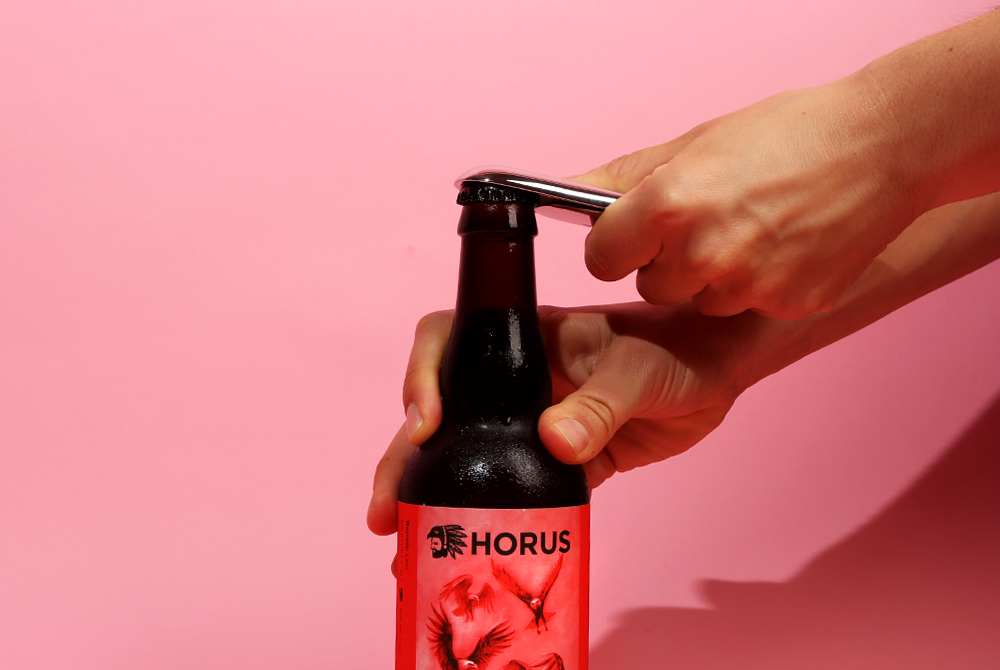 The great poet and philosopher Beck once said "Bottles and cans, just clap your hands, just clap your haaaaaands". We applaud all the hard work that beer workers did bottling (and canning) suds for us in such a year of need. And what better way to celebrate than cracking open another bottle? Sure you could just twist off the caps but where's the fun in that? We've put together a list of openers that will put a little pizazz in your popping.
Best Bottle Opener for Dino Lovers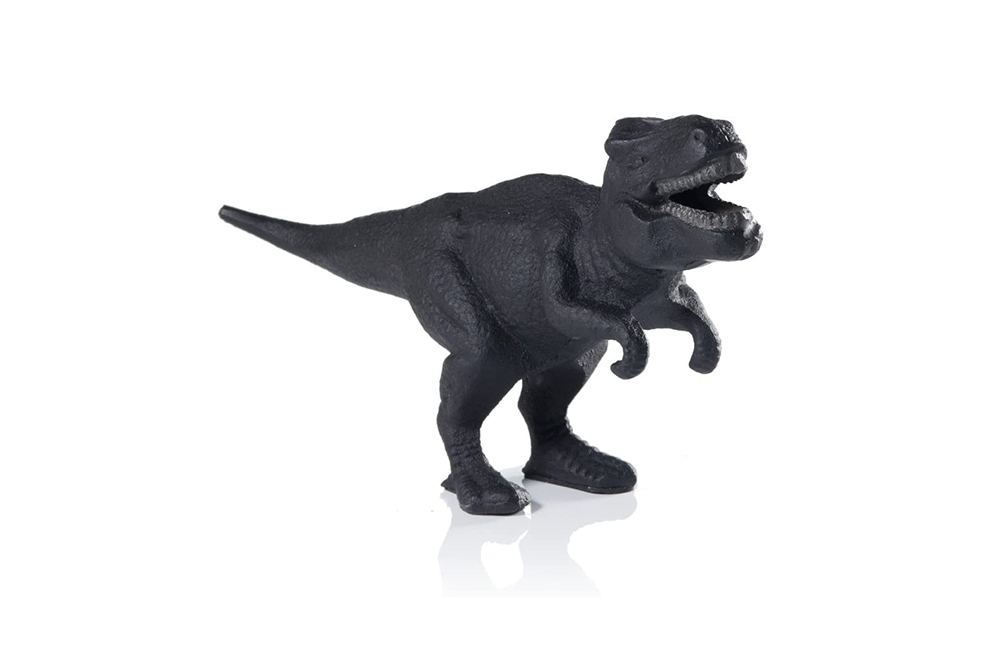 Have you recently heard the beer lover in your life exclaim "MUST go faster" or ask the question "You bred raptors"? If so, the Jurassic drinker in your crib will love this cast iron T-Rex. Not only does it look amazing, but it can also peel the top off any bottle with ease. This little conversation starter is available from Suck UK who also makes a non-extinct Hippo version to help you get back to drinking before the next comet comes.
Best Nostalgic Bottle Opener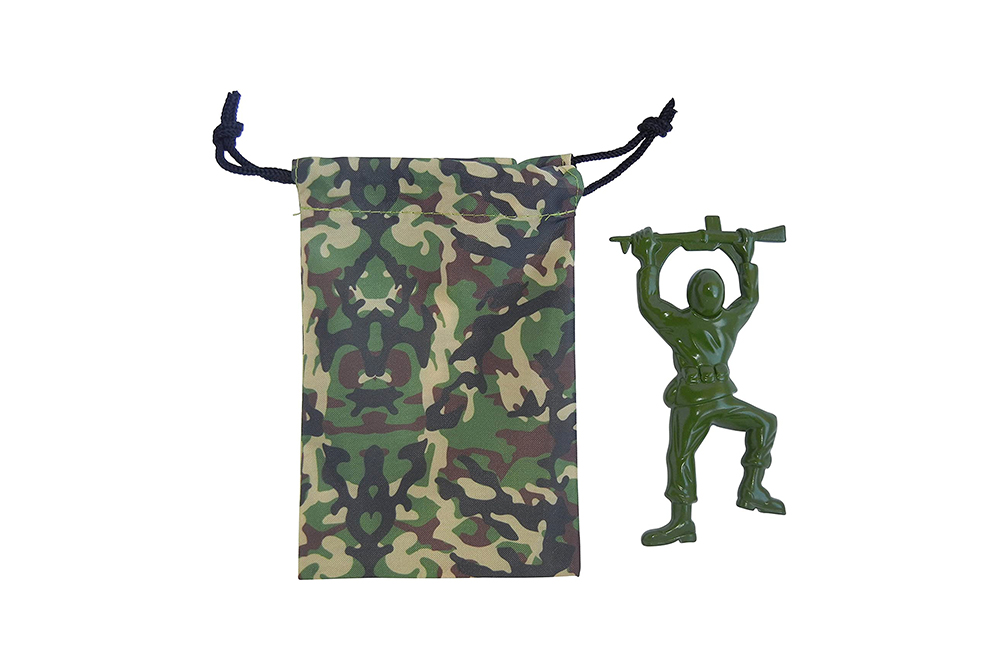 Little green Army men are a staple toy in most American Households. These cheap little toys didn't do much and they were frozen in one single position. But, apply a little imagination and they came to life just like they did in Toy Story.This weighty top popper is perfect for Andy now that he's all grown up. The extra-large Army guy can be crawling his way behind enemy lines on your bar. And, unlike the plastic childhood version, it comes with a lifetime warranty.
Best Bottle Opener to Party With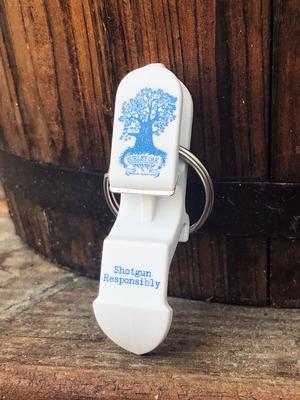 Head to Burley Oak Brewing in Berlin, MD and you're sure to have a good time. Well known in the beer world for their JREAM series of sour beers the brewery also makes a crushable "beer-flavored" Pilsner dubbed Bilsner. It's not uncommon to see patrons shotgunning cans of it in the taproom or beer garden at Burley Oak. You'll have so much fun that you'll want some merch to commemorate your visit. Shirts can shrink and hats fade but you can keep the party going and flowing with this bottle opener/shotgun tool keychain.
Best Ergonimc Bottle Openers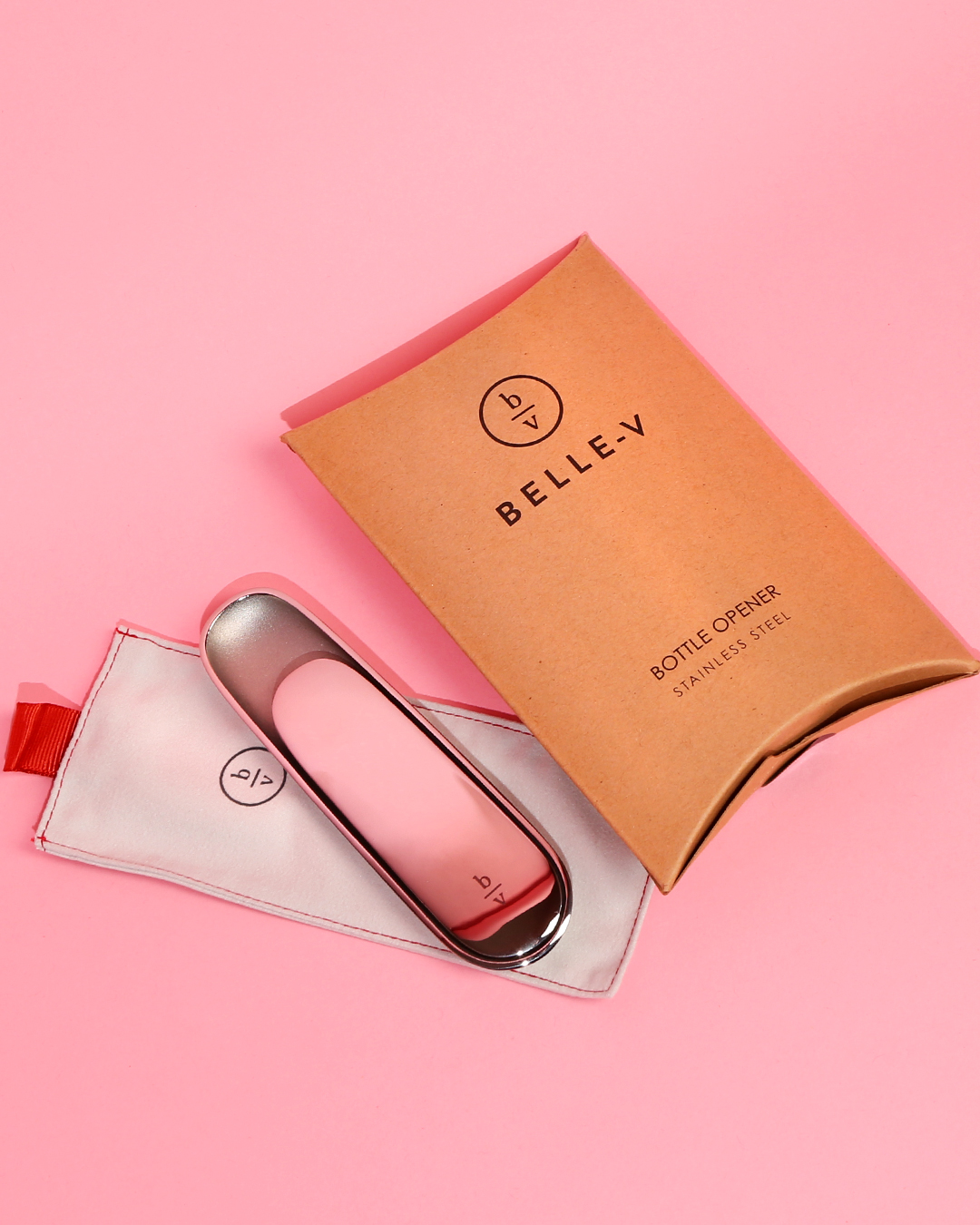 Belle-V Kitchen started off by making one thing: an ice cream scoop. And they did it exceptionally well. Since then, they've added one more thing: a bottle opener. Take a look at both products and you'll understand Belle-V Kitchen's sensibilities. Sleek design, ergonomics, functionality. We tested our Belle-V's bottle opener in an Instagram giveaway and we can confidently say it's the best bottle opener we've come across.
Best Magnetically Mounted Bottle Opener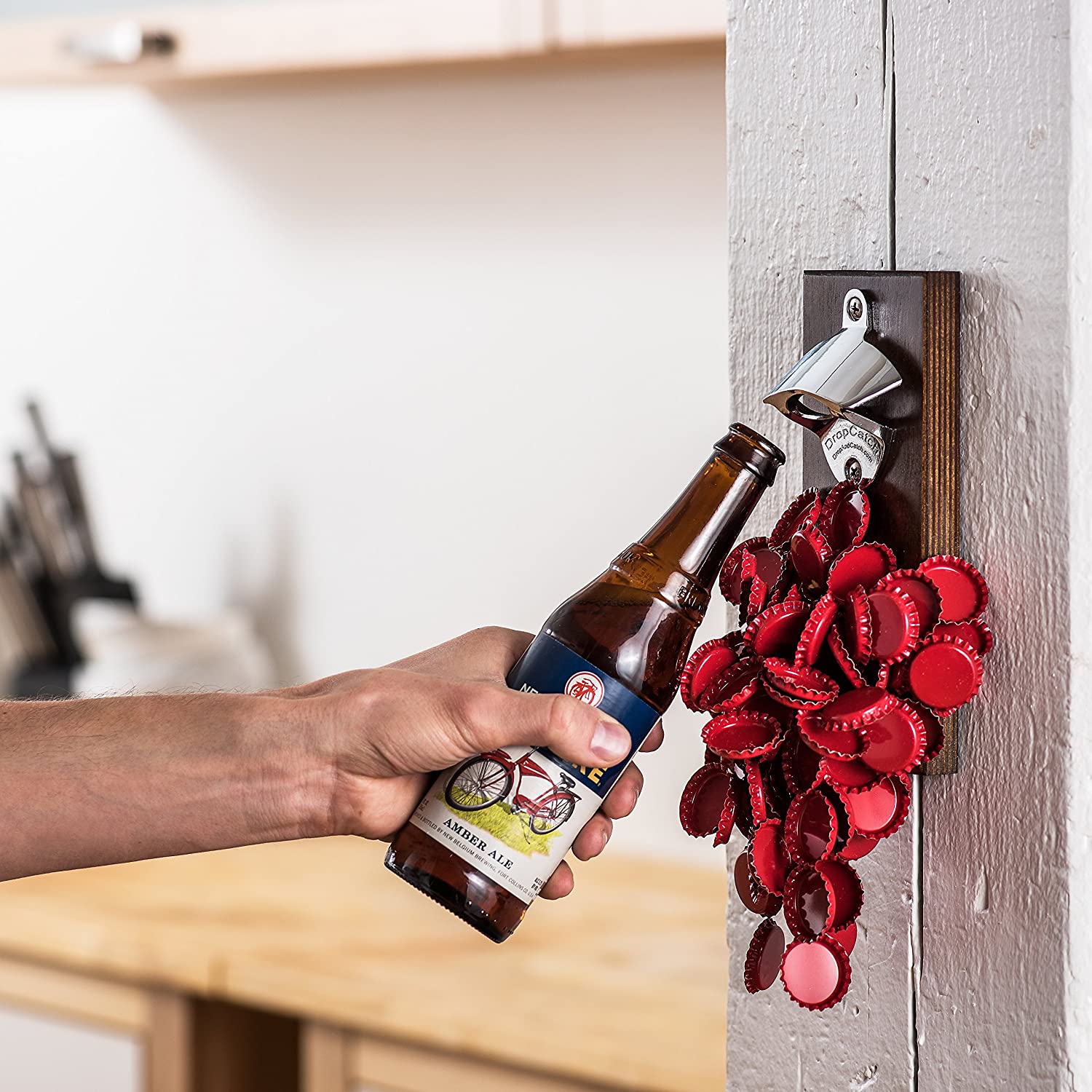 After a night of drinking, midwesterners Joe Walsh and Kent Frayn, woke up to find a pile of over 20 bottle caps stuck together by a set of magnets. With enough brain cells still functioning, the pair came up with DropCatch, a fun way to open bottles with just one hand. Plus, you can keep up to 40 caps suspended underneath with the magic of magnets just by letting them drop into place. The magnets also make mounting this bottle opener to the side of a refrigerator a cinch. And, it can be easily wall mounted with the provided screws and pre-drilled holes.
Best Pandemic Bottle Opener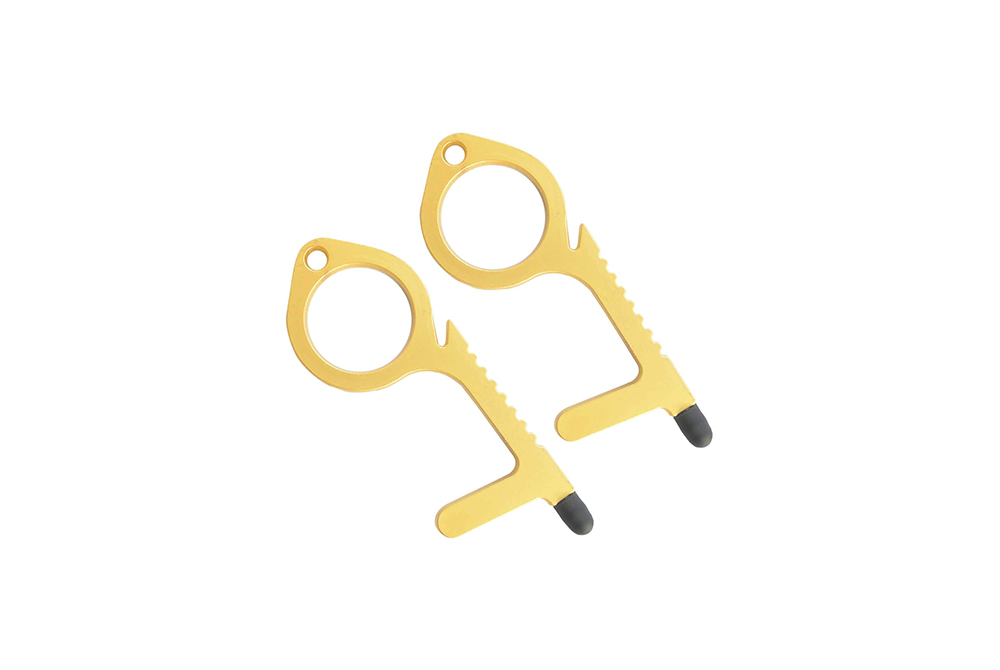 2020 was the year we all became clean freaks. In lockdown, we were armed with masks, gloves, wipes, and of course beer! We also saw the rise of the clean key, a small hook with a stylus on the end. Clean keys are great tools to get around our old ways of sharing door handles, pin pads, and touch screens. It features a hook to pull open door handles and a stylus to do any signing or button-pushing. Plus, it allows us to keep the party going by sneaking a bottle opener into the design. These make for the perfect stocking stuffer for both the germaphobe and drinker in your life.
Best Multitasking Bottle Opener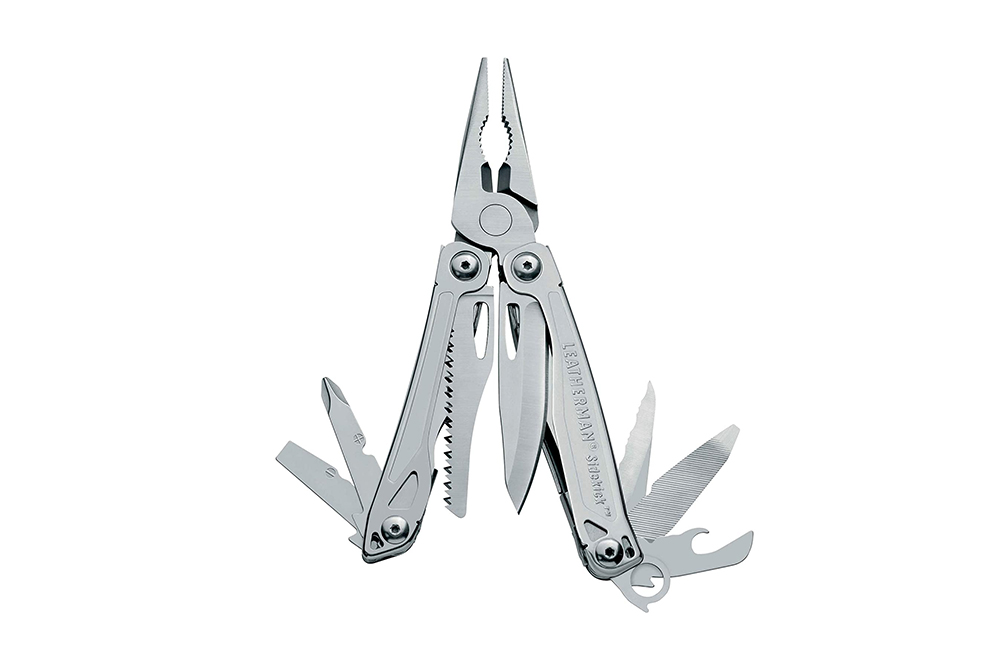 I received my first Leatherman tool on my eleventh birthday. And it's served me more than well for over 20 years. There may have only been a few buying options for this multi-tool back in those days but now we are flush with options that include a bit driver or vice grips. But the Eagle Scout in your life probably doesn't need that. Get back to the basics with the Sidekick. Not only does it have a bottle opener but also a set of pliers, two knives, a saw, Phillips and flathead screwdrivers, and a file. This tool will come in handy even if it's just opening a Bud.
Honorable Mention Best Can Opener
We felt the need to include The Draft Top, a rad can opener on the bottle opener list because most breweries tend to stay away from glass when it comes to their four- and six-packs. But, if the hole the can tab provides leaves something to be desired from the drinking experience and you find yourself pouring that heady triple IPA into a glass, let's save you a step. The Draft Top can be used on most 8 or 16oz cans and cuts away the top leaving a smooth edge for you to sip, instead of pouring into a teku. Also turns any soda can into a potential cocktail.
Unless otherwise noted, all of the products featured on Hop Culture are independently chosen by our editorial team. However, Hop Culture may earn a commission from purchases made through affiliate links on the site.
Liked this article? Sign up for our newsletter to get the best craft beer writing on the web delivered straight to your inbox.