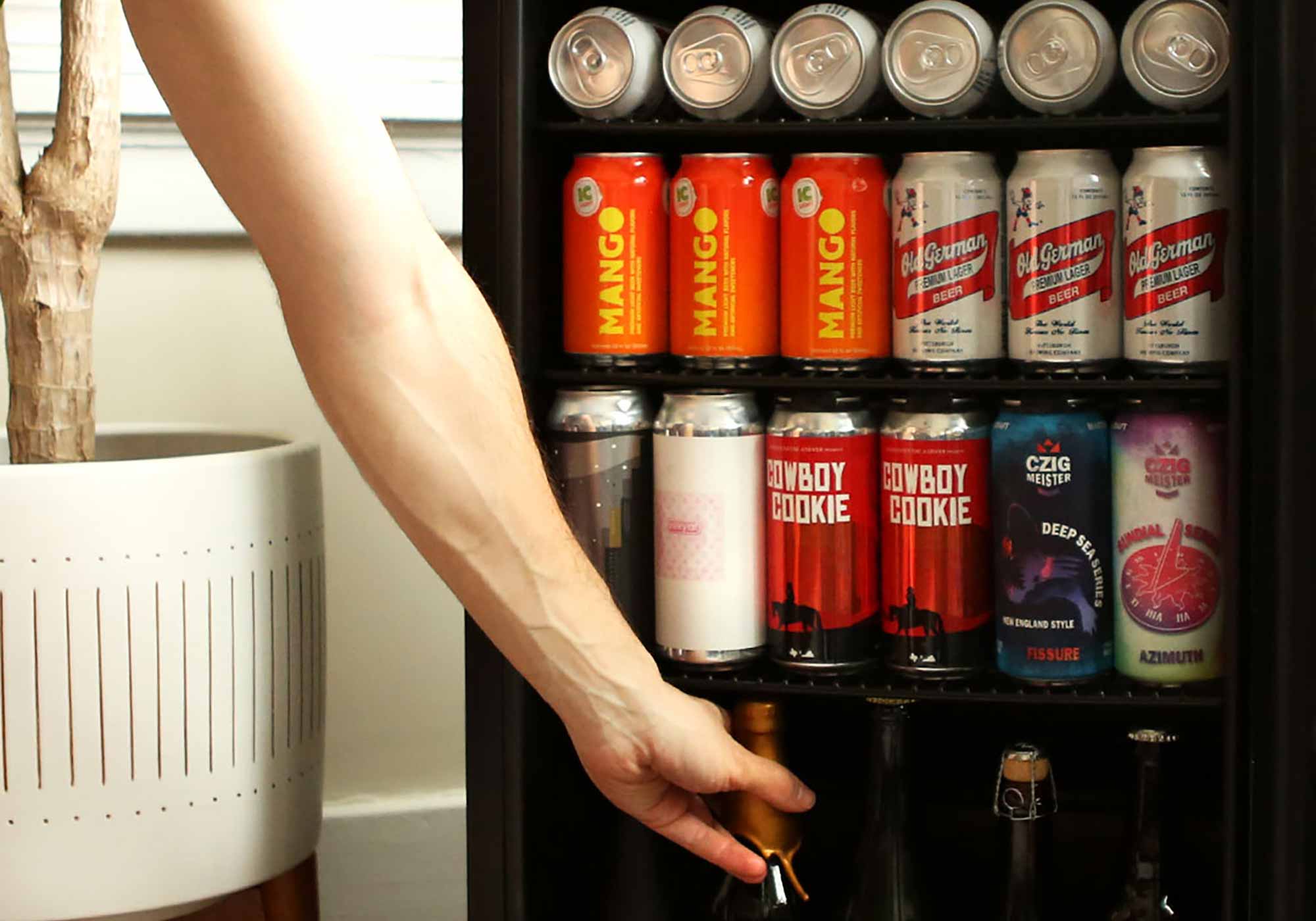 Photography courtesy of John A. Paradiso
It all started in a garage. Think you've heard this story before? Maybe you have. But not quite like this. Because this isn't the tale of a Silicon Valley startup but that of a couple who wanted to make the best beer fridges in the world. Now the global leader in high-quality beer and wine fridges, Newair® started as a side hustle out of Luke and Mariella Peters' garage in 2001.
For the last twenty years, Newair® has survived the .com bubble burst, the Great Recession, and the COVID-19 pandemic. Throughout that time, they've morphed from a scrappy home project to an innovative appliance company developing some of the best beer fridges on the market.
Think of how beer starts with simple ingredients: water, hops, grains, and yeast. But from that simplicity comes something magical. Similarly, Newair® turned a DIY company into a dominant force making fridges that care for your prized beer collections.
The History of Newair® Beer Fridges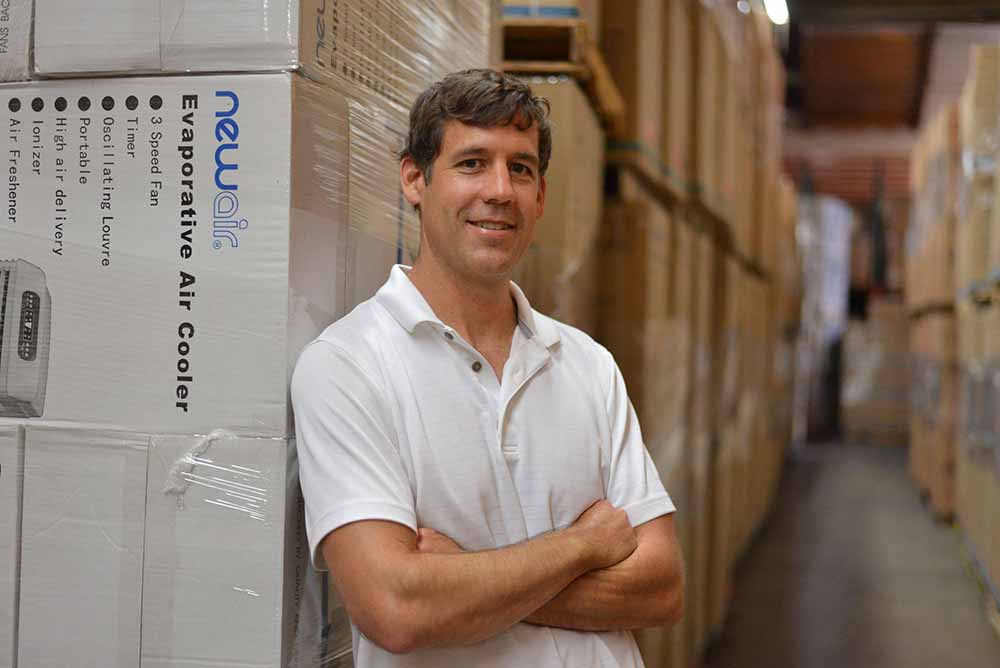 As a lifelong entrepreneur, Luke Peters started his first business in high school. It was a pool cleaning service focused on residential pools and repairs that he grew to over 100 accounts.
In the story of every entrepreneurial venture, business leaders talk about finding opportunities. And in 2001, Luke noticed Yahoo listed its most searched keywords on the bottom of the page. Number three was "portable air conditioner."
"I had no idea what a portable air conditioner was, but I figured people wanted them and I better learn," says Luke.
After a crash course, Luke began buying portable ACs and dropshipping them as a side hustle. However, the business became so lucrative that Luke quit his full-time job and dedicated himself to Newair® full time.
Over the years, the company added new products to its portfolio, like ice makers and misting fans. And eventually, they featured their first fridge.
"The term 'Beer Fridge' has been getting increasingly popular," says Luke. "I do love a good beer, so when I saw the terms trending around beer and saw how that could fit into the brand, it clicked instantly."
What Makes Newair® the Leaders in High-Quality Beer Fridges?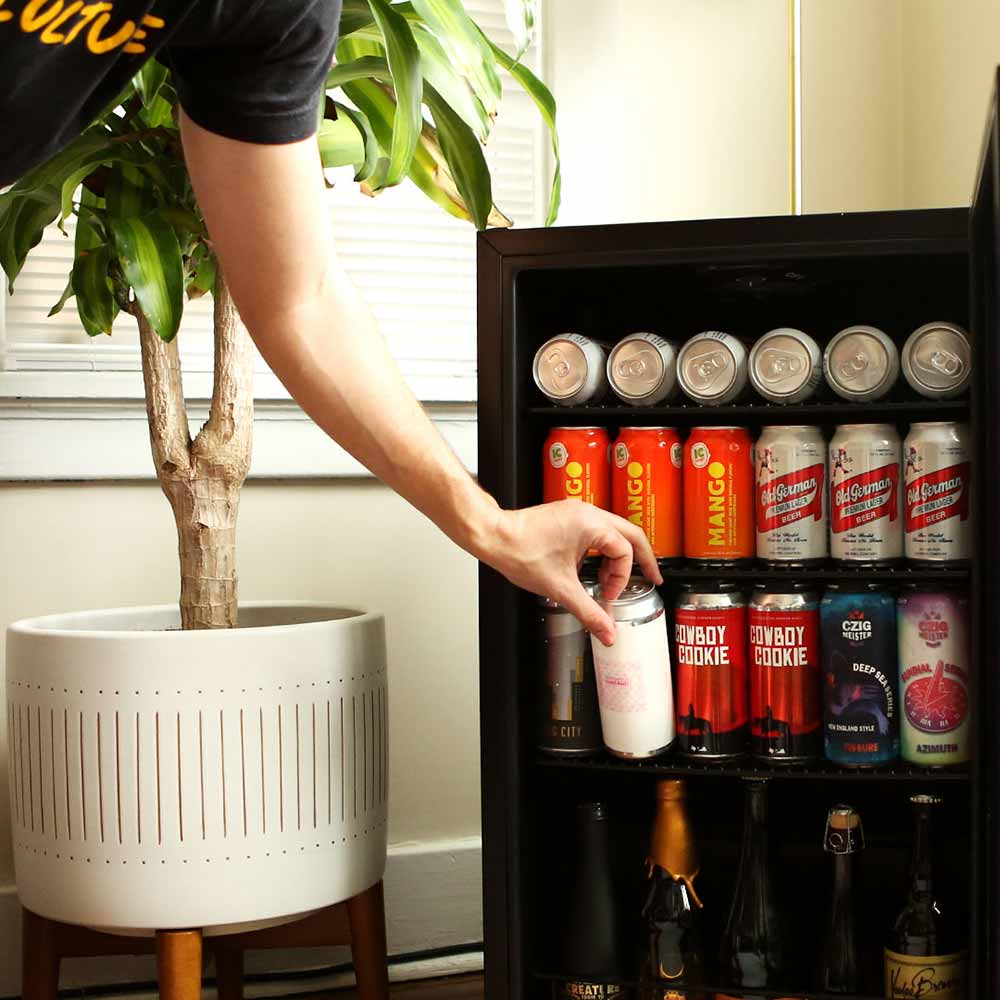 Since that initial click, Newair® has become a global leader in high-quality beer fridges. Their products include perfect little details like adjustable shelving, temperature control, and sleek design–just a few of the reasons why they're loved by the Hop Culture team. Hop Culture Founder Kenny Gould even has one in his own home!
Wondering exactly why we love Newair® fridges?
Here are the top five things we found that set Newair® beer fridges apart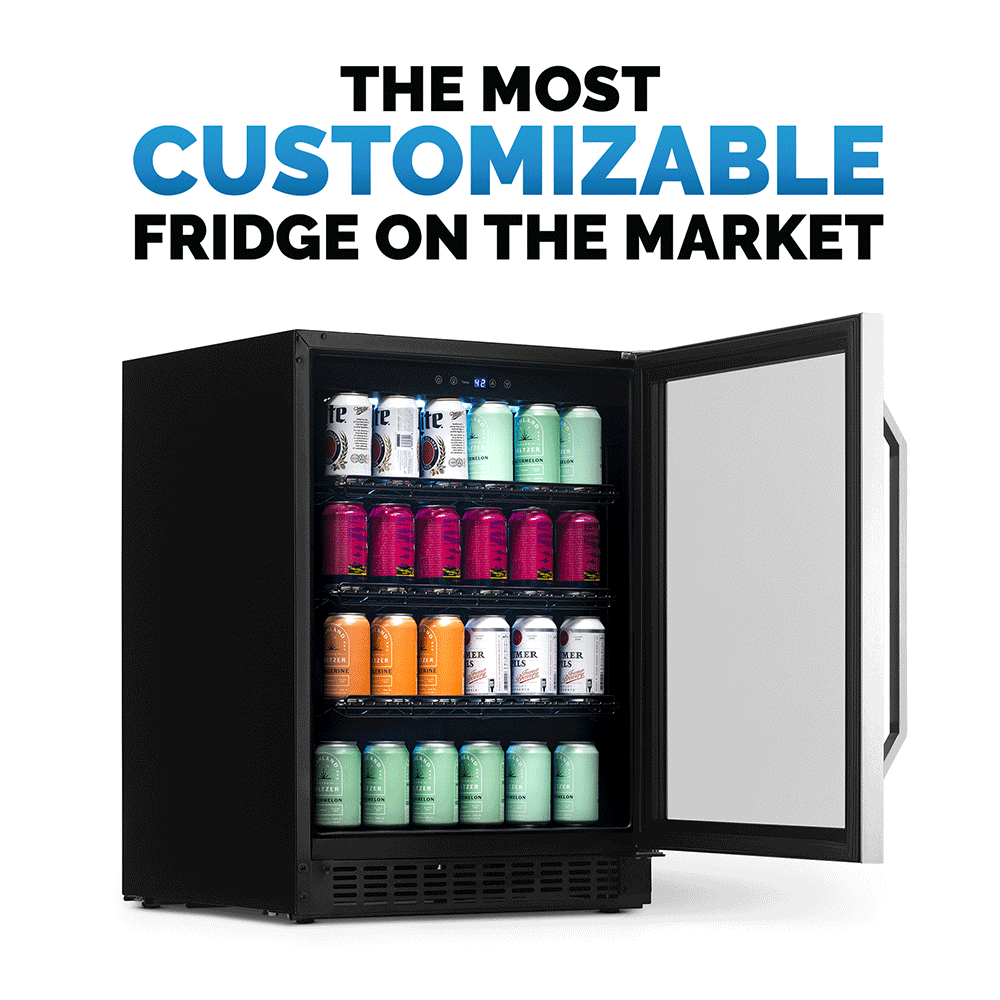 1. The Newair® Way
At its heart, Newair® is a scrappy company.
"We're lean, we're fast-paced, and we love experimenting," says Kate Rogers, Associate Product Manager at Newair®. "[We have] an attitude of doing whatever it takes to get things done."
Often, the company refers to this approach as "The Newair® Way".
"We're very much a people company," says Vanessa Badia, Account Manager at Newair®. This means that the Newair® team is dedicated to creating the best possible product through surveys, talking to customers, and figuring out what product their customers want. "We have the self-proclaimed title of the most trusted compact appliances company."
Because of the company's dedication to consumer research, they've been able to stay ahead of trends, adding unique features to their beer fridges for craft beer fans.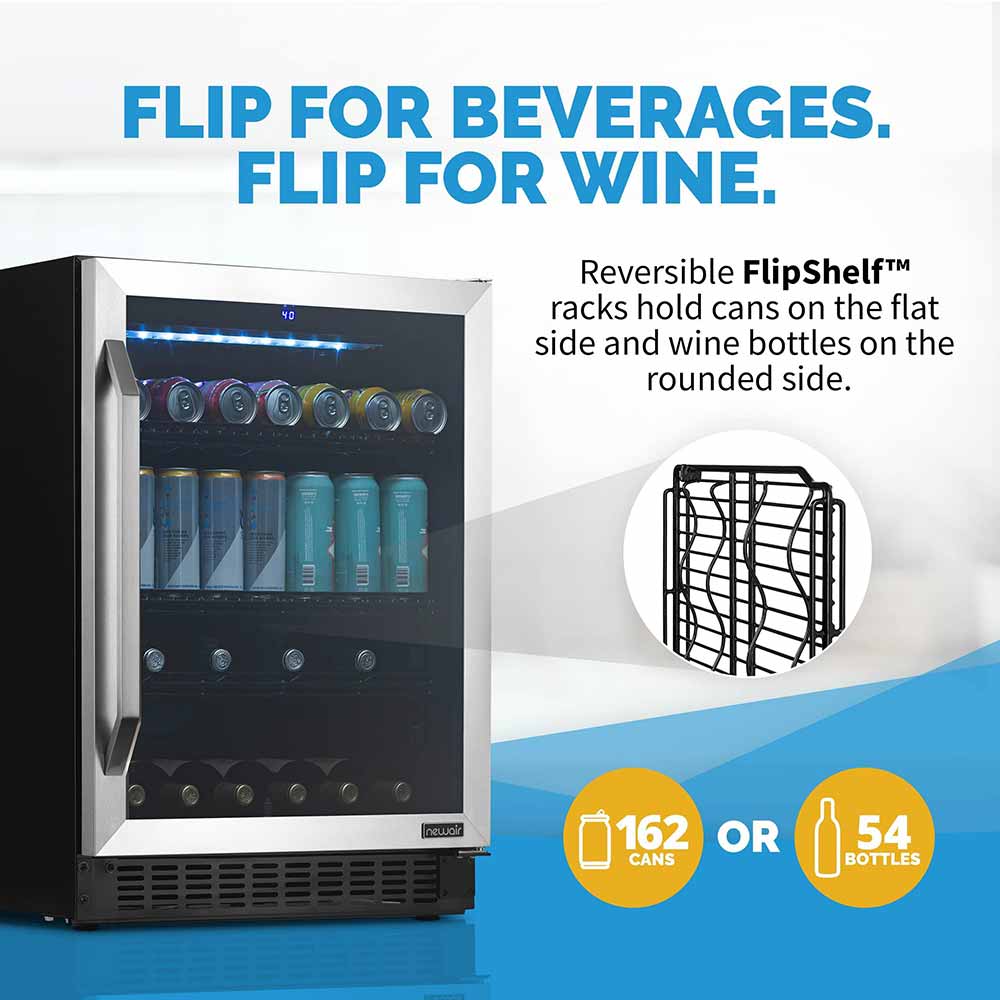 2. A Variety of Shelving Options and Adjustable Shelving
Look–we love craft beer. We're the people who want to take as much care of our cans and bottles as the brewer took in making the beer inside.
"We noticed that people who are buying beer [and wine] care about their bottles," says Badia. "People care about the art."
With that in mind, Newair® created versatile shelf technology that creates the perfect place to house a craft beer collection.
"Through our research, we noticed that it's really important to beer lovers to have a bunch of different shelving options for their beer because there are so many different ways to store growlers, 12oz standard cans, bottles, and even kegs," says Rogers.
Providing different shelving options and adjustable shelving is a feature that has defined Newair® beer fridges. For example, the Newair® FlipShelf™ fridge features a reversible shelf. On one side, the shelf is flat, "so you can stand cans and bottles upright," says Rogers. However, the other side is grooved to help store larger-sized bottles such as wine or 750mL beer bottles.
Check Out the Newair® FlipShelf™
Additionally, many Newair® fridges such as the Newair® Froster fridge feature a SplitShelf™ design, a half shelf that allows you to store standard-sized cans in the back and larger bottles in front.
"It's the best storage option for beer and gives people the most customization out there," says Rogers.
Regardless of the type of shelf, Newair® ensures you can adjust the shelves as high or low as you want.
"Our fridges are really good for people who have those specially curated collections of beer," says Rogers. "Whatever your needs, you're going to find the right capacity and the right shelving to store your beer optimally."
3. Precise Temperature Control in Newair® Beer Fridges
For most people, being able to control the temperature inside their fridge is crucial.
"We're aware our customers know what temperature their beers need to be, whether they're storing a stout, an IPA, or something lighter," says Rogers.
The aforementioned Newair® FlipShelf™ lets consumers set their inside climate anywhere from 37°F to 65°F. The Newair® Froster can go as low as 23°F and as high as 72°F. Depending on the model, you can find the right temperature range for your beer.
"Little details like that give people the best experience with our products," says Rogers.
4. Even Cooling, Quiet Technology
Essentially, there are two ways to cool down a fridge: with thermoelectric technology or with compressors. However, thermoelectric technology doesn't cool a fridge evenly, so Newair® only uses compressors.
"Compressor technology is much stronger because of its even distribution," says Winnie Sidhu, Account Manager at Newair®. "Thermoelectric doesn't cool evenly throughout the fridge so you'll get different areas with different temperature zones."
Each Newair® fridge uses a quality compressor that is reliable, durable, and usually on the quieter end.
"It's definitely quieter than any standard fridge," says Rogers.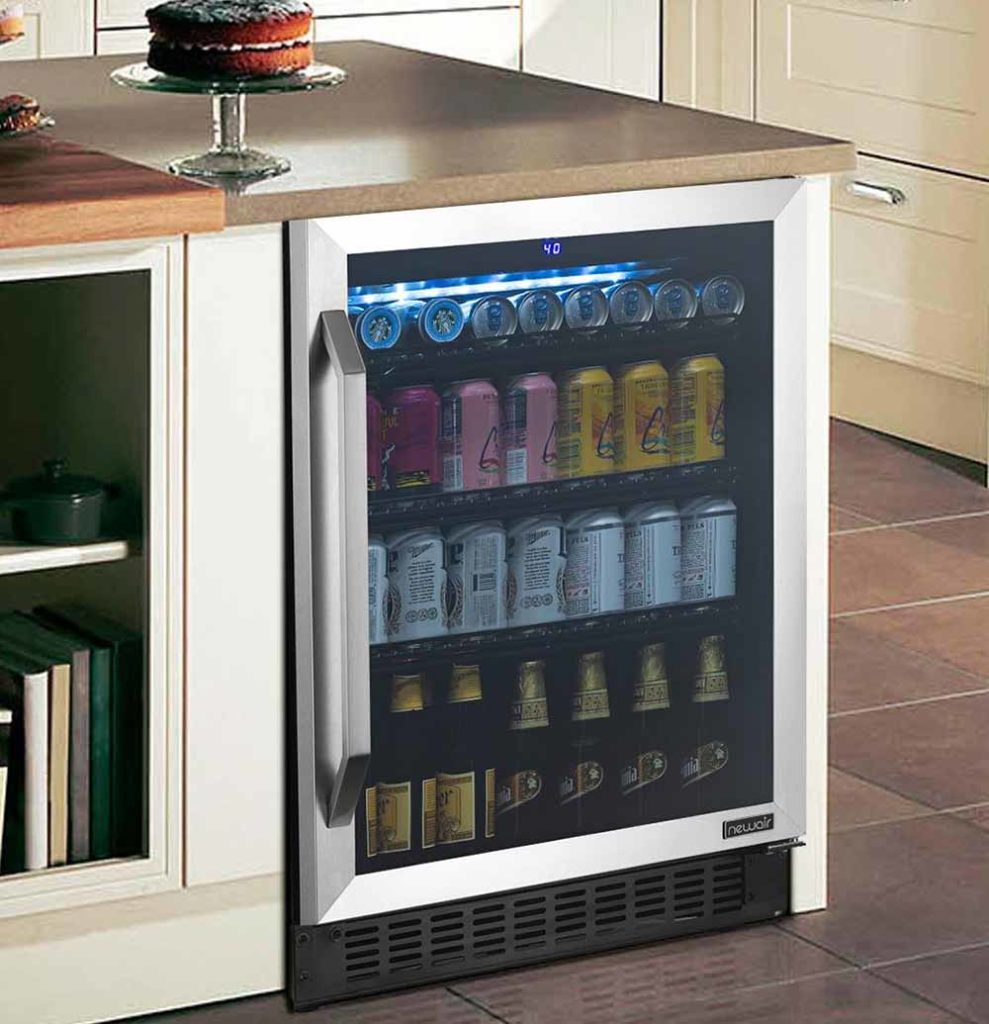 5. Sleek, Versatile Design in Newair® Beer Fridges
Versatility is another defining characteristic of a Newair® fridge. With two options — either freestanding or built-in — you can find the perfect design for your space. On the other hand, a built-in model is meant to be placed in a single spot.
"You can slide it under your kitchen counter to be built-in seamlessly with the rest of the kitchen," says Rogers.
Go for this fridge if you want that "built-in" look in either your kitchen or home bar.
Newair® Celebrates 20th Anniversary with Limited-Edition Beer Fridge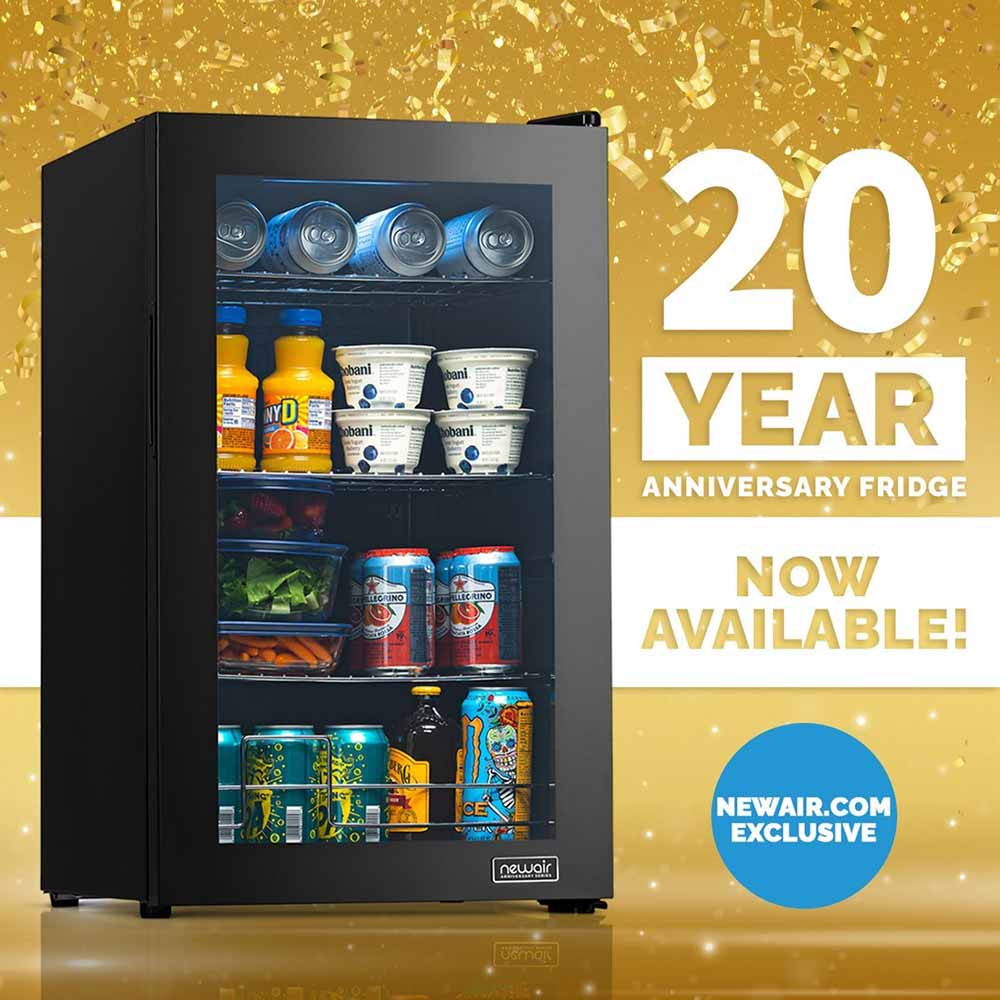 When Newair® first started twenty years ago, the craft beer industry was in a state of wild growth. Allagash Founder Rod Tod had just started to see his now-iconic Allagash White take off. And Bell's Founder Larry Bell began to see his revered Two Hearted Ale rise to become one of the best beers in the country.
Similar to those innovators, Newair® set the stage for craft beer cooling technology. To celebrate their twentieth anniversary, the company released a special 20th Anniversary Limited Edition fridge.
The Newair® 20th Anniversary Limited-Edition beer fridge will include a special badge, a sleek black glass door, adjustable shelves, adjustable temperature dial, and a slick LED light.
"I'd say it's the combination of features that we felt were needed if someone wanted the go-to beer fridge," says Rogers.
This is the first time a Newair® product will be offered only on Newair.com and not any other retail partner sites such as Amazon.
"It makes it very exclusive for Newair®," says Sidhu.
All in all, it's a sign of what's to come for the company.
What's Next for Newair® and its Beer Fridges?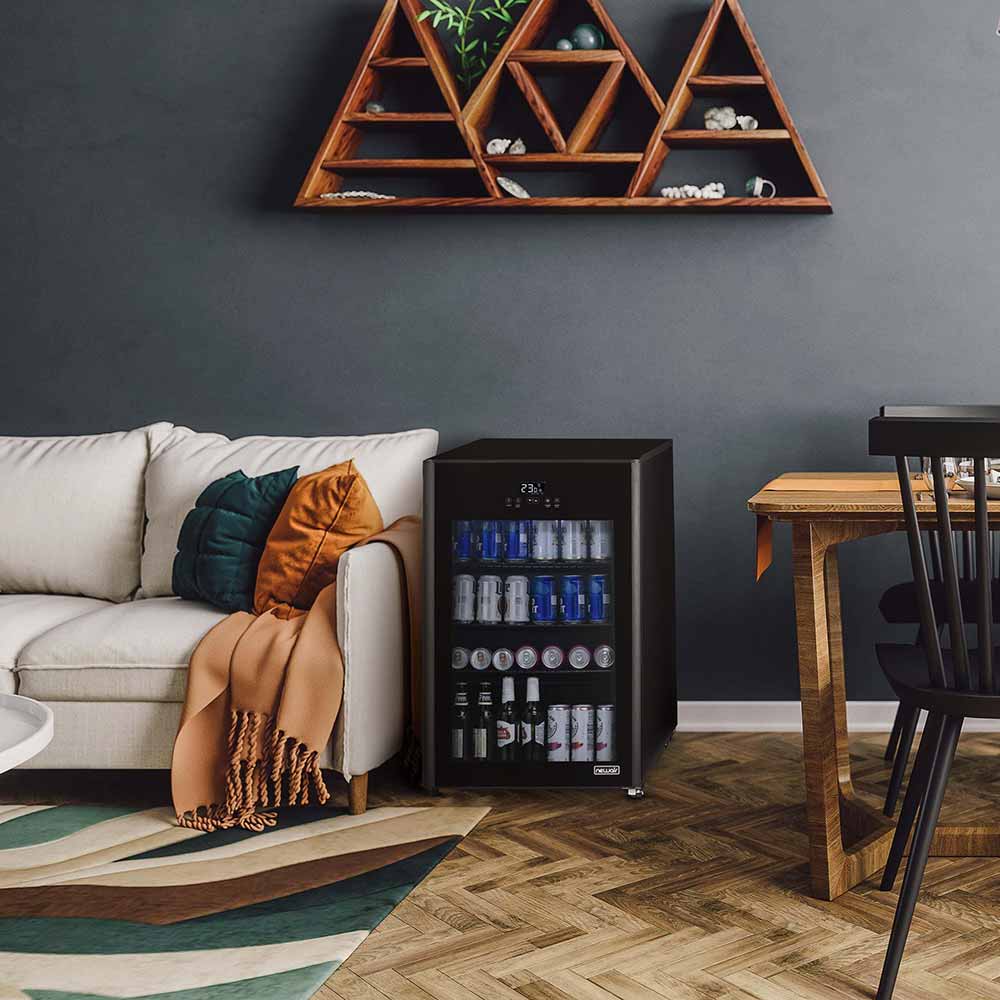 Looking ahead, Newair® hopes to expand its line of items only available on Newair.com. This will be a huge shift for a brand that built itself by dropshipping from a garage and later selling to accounts like Best Buy and Home Depot.
Additionally, Newair® will continue innovating on its beer fridges. At the time of publication, Newair® couldn't release all the details on its new product ideas, but Rogers shared that they're looking to expand the overall options.
"We want to continue to speak with our audience and see what unique features we can add and areas where we can improve," she says. "You can expect new designs, new color options, and potentially some new features."
Above all, Newair® will continue to set the standard for the industry.
"We're all really excited for the next two to three years because there are a lot more products coming out," says Rogers. "I think we're definitely going to have the title of one of the most trusted compact appliance companies in the world."
Luke continues, saying, "The future is bright and really exciting. New fun categories, expanding supply chains, and new sales markets. We will continue to hire and hopefully add more great leaders to our culture. I feel very fortunate and blessed to own a company and lucky to have the team that we do."
Hop Culture's Favorite Newair® Beer Fridges
Newair® FlipShelf™ 24" 162 Can or 54 Bottle, Built-in or Freestanding Wine and Beverage Fridge with Reversible Shelves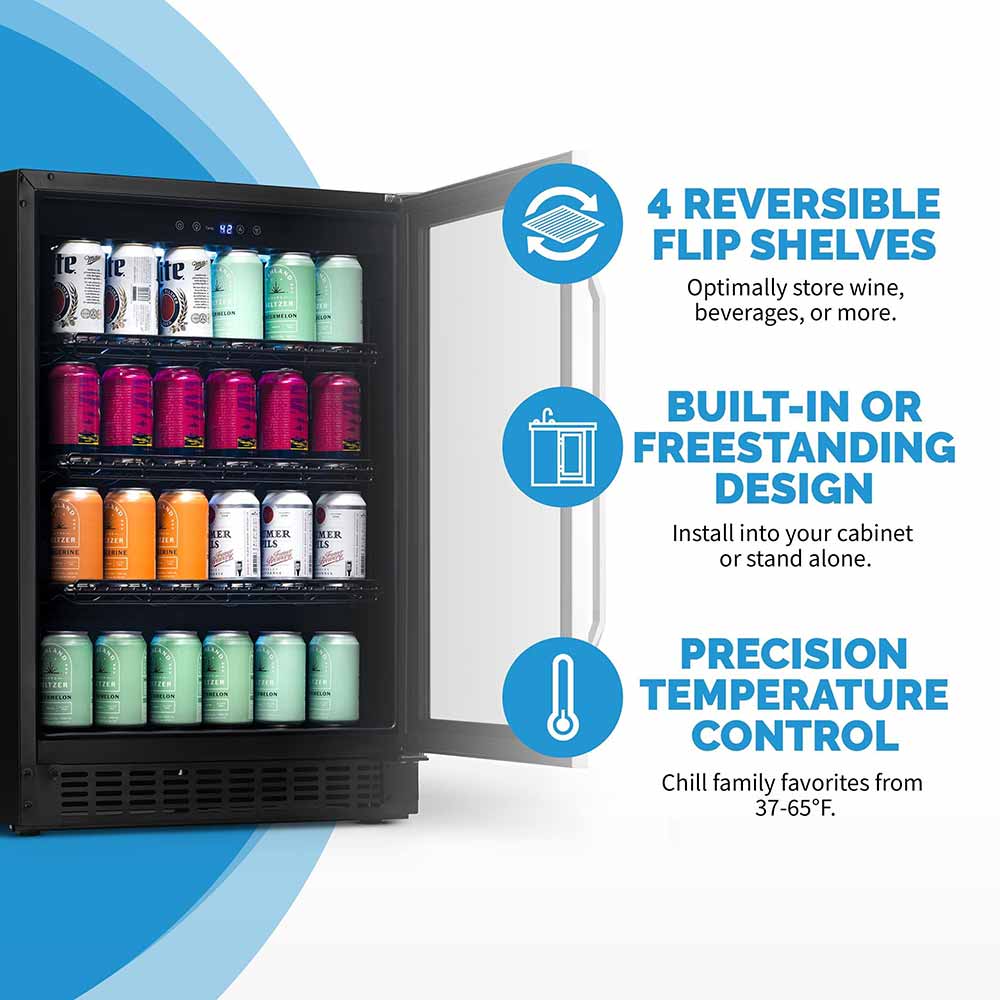 We'll put it simply: This beer fridge is a game-changer. Here, you'll see Newair®'s innovative FlipShelf™ in action. Need to cool down a six-pack for the big game on Sunday? Use the flat side for traditional cans. Or, did you buy a couple 750mL bottles of The Rare Barrel's stunning sours or Primitive's spontaneously fermented creations? Flip the shelf and nestle them into the grooved surface to prevent unstable rolling and clinking.
You can find this fridge in both freestanding or built-in, so it works in any room in your house. Lastly, the temperature control between 37°F and 65°F means you can set the best temperature for your milkshake IPAs, sours, pilsners, or whatever else you've got. How long they stay in the fridge before you crack into them is up to you.
Newair® Froster 125 Can Freestanding Beverage Fridge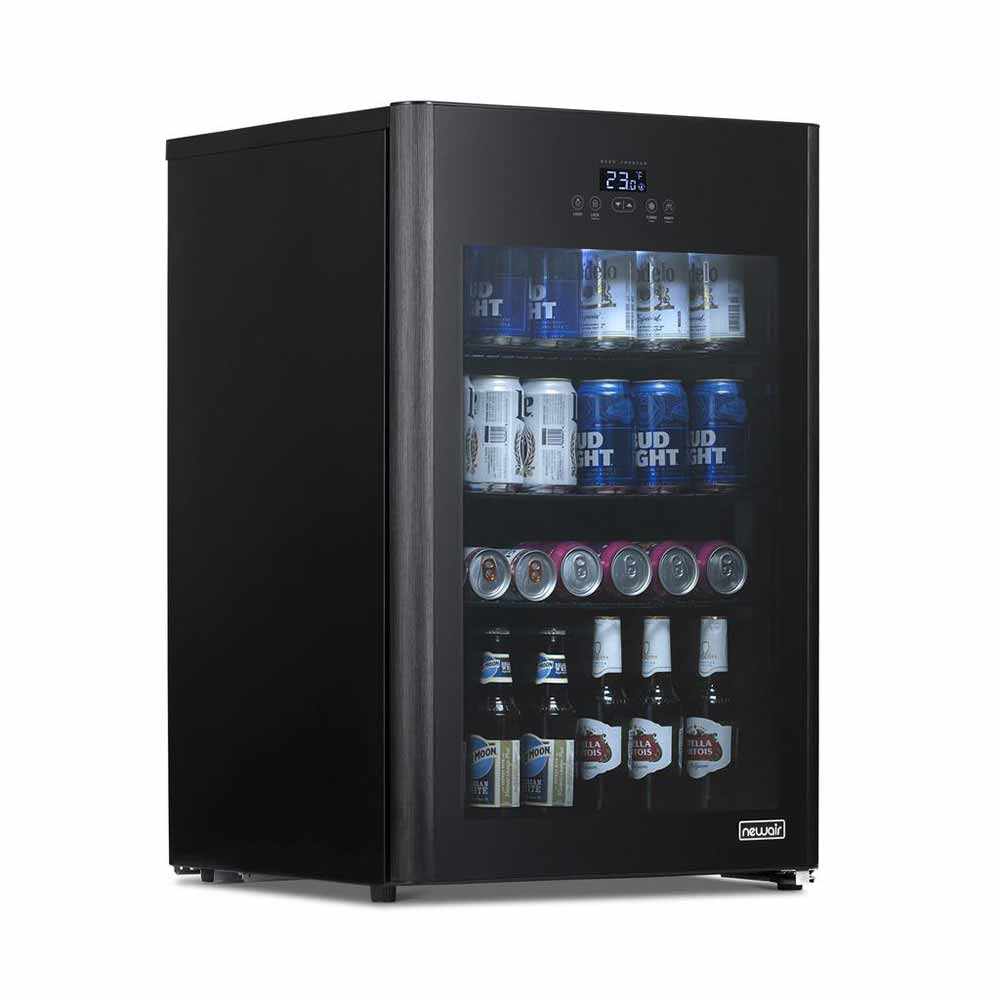 Newair® calls this one, "The world's first fridge that protects against party fouls." We like to avoid party fouls if possible… such as warm beer (unless, of course, we're warming up one of our favorite stouts).
The key to this beer fridge is right in the name: The Froster chills beer down to twenty-three degrees. Warm beer beware! This beer fridge works hard to keep each of your beers frosty cool.
Limited-Edition Newair® Anniversary Series 100 Can Beverage Fridge
Celebrate Newair®'s twentieth anniversary in style. Available only on Newair.com (psst… hit the button below), this limited-edition mini fridge puts all of Newair®'s best design ideas and features into one complete fridge. That means a reversible double-paned glass door, adjustable shelving, LED lighting, and easy temperature control that chills your beer down to an icy 37° F.
Capable of storing 100 cans, this is the perfect fridge for well just about any aficionado whether an ale amateur or hardened hophead. There are only a limited number of these available. And once they're gone… they're gone. This could be your only chance to buy a fridge that features twenty years' worth of innovation.
Newair® 24" Built-in Premium 224 Can Beverage Fridge with Color Changing LED Lights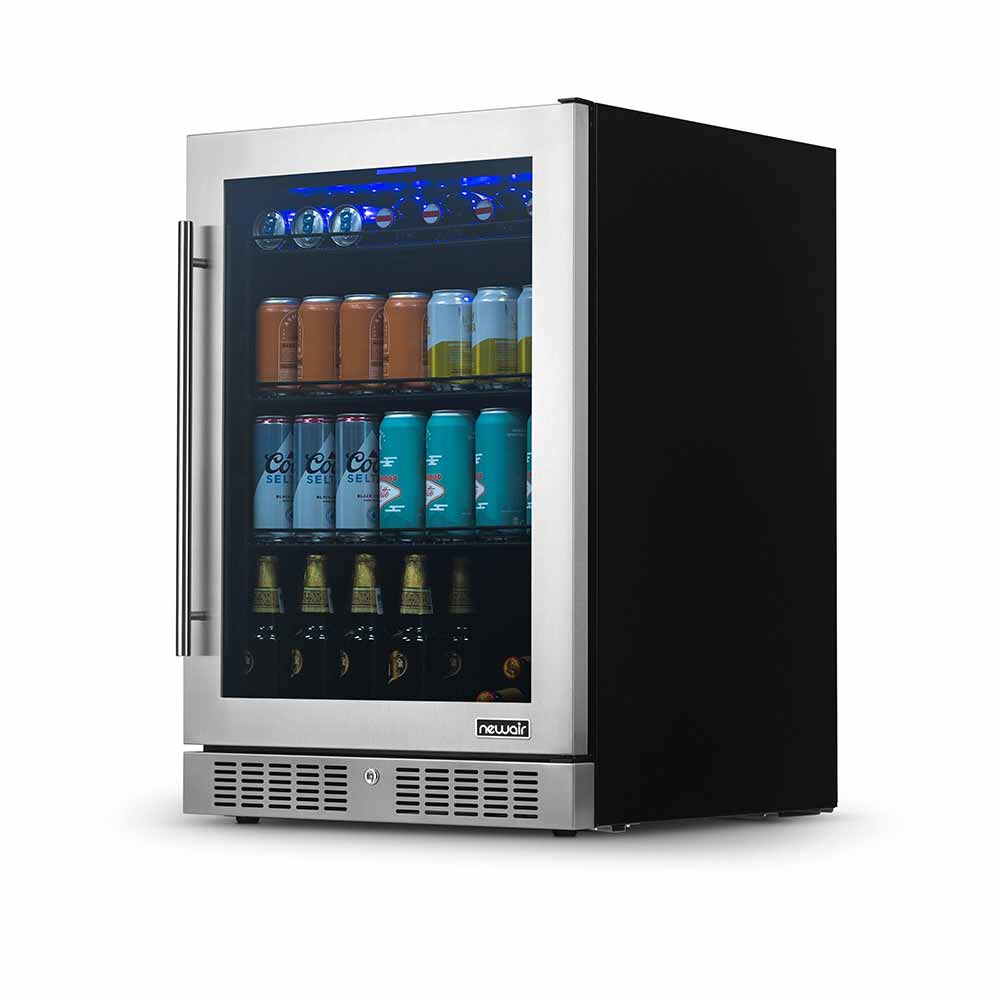 If you're building out the perfect game room or designing your dream man or woman cave, this is the beer fridge you want. Featuring multicolor LED lights that illuminate cans and bottles, this stylish fridge is a must-have accent to any fun home bar space. A seamless stainless steel door and pro-style handle complete the effect for an elevated look and sleek design. We think this fridge is just so freaking cool!
Newair® 15" Premium Built-in Dual Zone 9 Bottle and 48 Can Wine and Beverage Fridge in Stainless Steel with SplitShelf™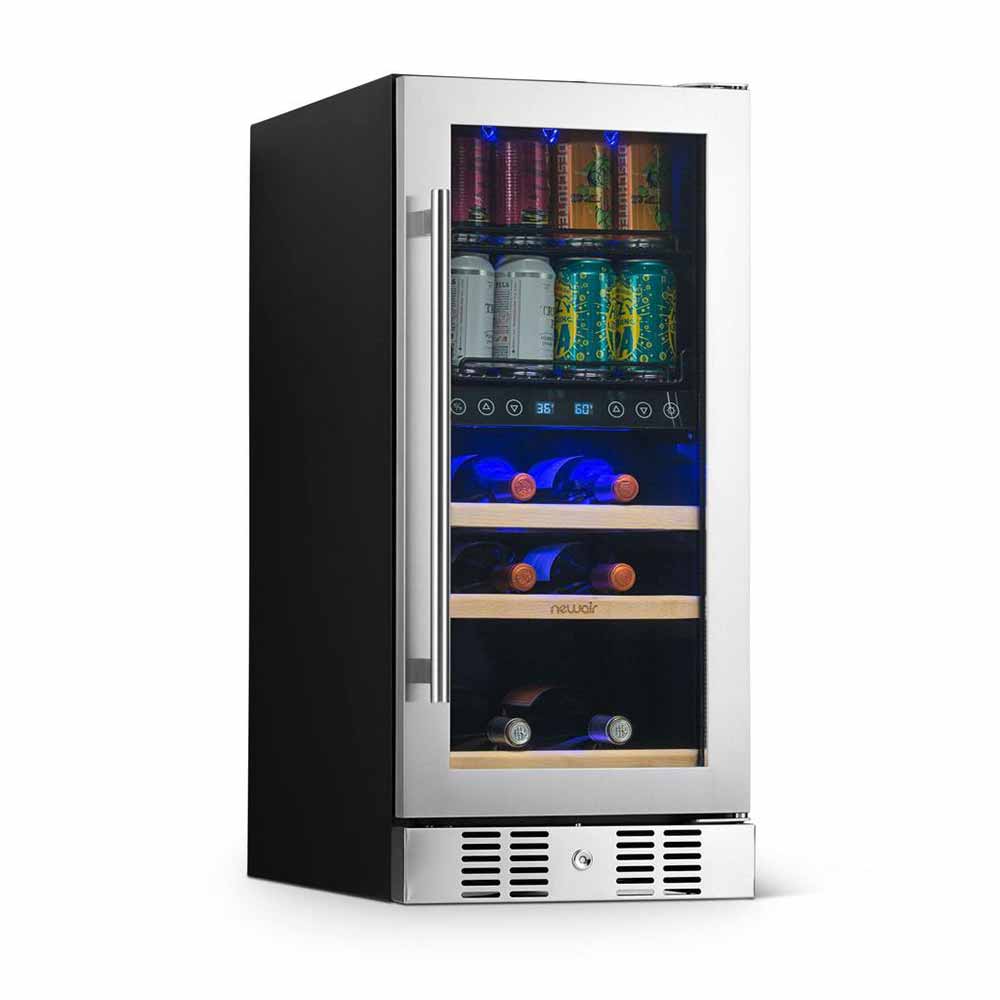 Newair® has the perfect way to describe this fridge: "Entertaining with elegance." Showcasing beech wood wine racks and a seamless, stainless steel door, this fridge is elevated in every way. Think of this one like The Bruery's Black Tuesday. Or Russian River's Pliny the Younger.
Entertaining elegance.