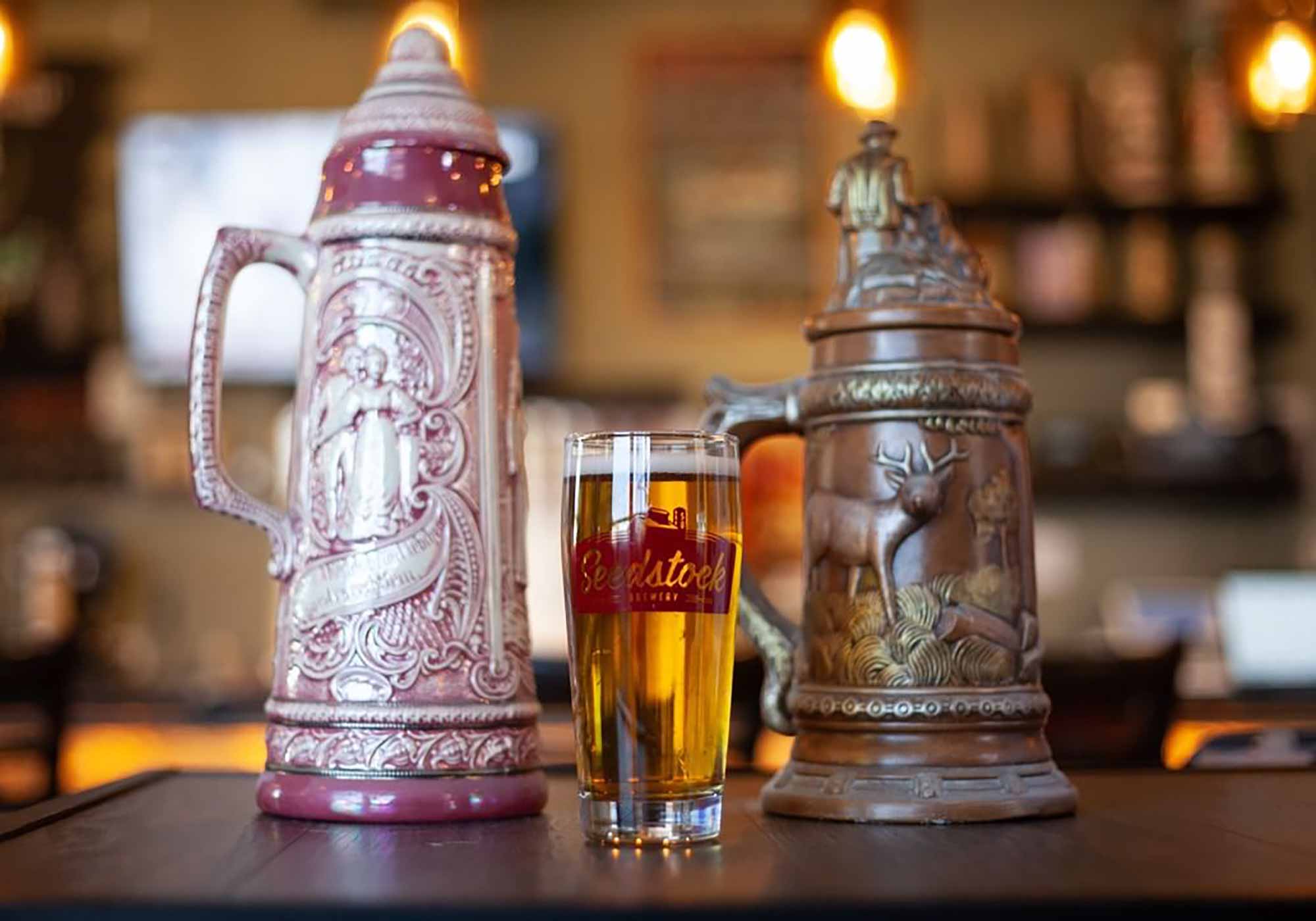 Photography courtesy of Seedstock Brewery
Disclaimer: I f***king love fall. In fact, as I'm writing this, I'm watching the Minnesota Vikings beat the Seattle Seahawks. I just poured a Copper Legend Octoberfest from Jack's Abby Craft Lagers into a stein. And I have the window cracked to let in that zippy autumn air. Is that a hint of smoke I smell? Maybe it's just my imagination. But in addition to the crisp weather and great sports, fall means terrific beers. And we've got a list of the best beers to drink in Fall 2021.
Because the end of August to the beginning of November means hikes through the foliage, huddles around fire pits and charcoal grills at tailgates, and rounds of Oktoberfests, Märzens, festbiers (what's the difference between these three, anyway?), Vienna lagers, porters, dark lagers… you get the idea. And yes, I'll also be drinking the occasional wet-hop IPA.
This year, I encourage you to embrace the equinox. Get outdoors, gather friends around the fireplace, host an Oktoberfest party, or start an inaugural cornhole tournament. Whatever you do to celebrate the harvest, each of these handpicked beers will go hand-in-hand.
As we always say with our "best of" seasonal lists, this isn't definitive. Rather, it's a mix of local releases, new breweries we've found, and some more widely available beers that we enjoyed. Use this guide to point you in the right direction. If there's something you can't get nearby, try your local brewery to see if they have something similar.
The best beers for Fall 2021 are presented below in alphabetical order by brewery.
Our Favorite Beers for the Fall of 2021
Bake & Break
Brockton Beer Co. — Brockton, MA x Trillium Brewing — Boston, MA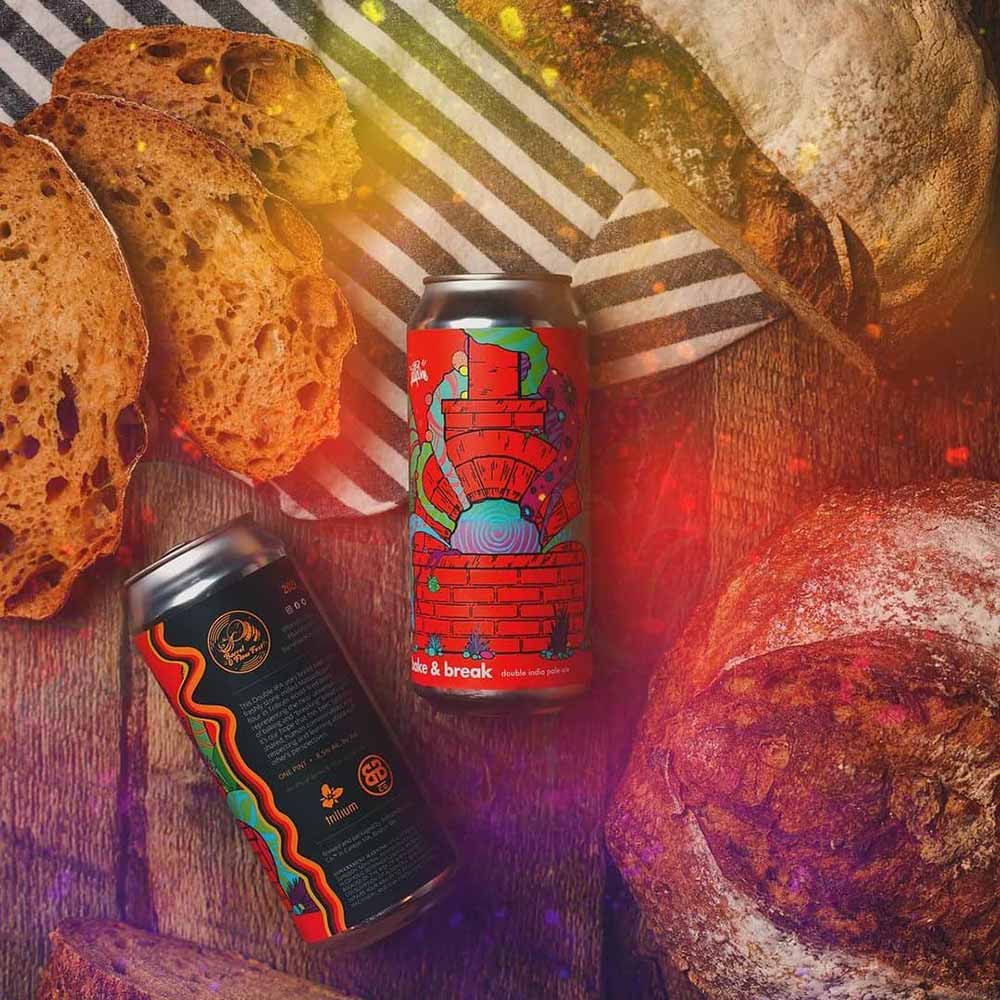 DIPA — Typically, we don't drink a lot of IPAs in the fall. However, we recently wrote about the Haitian, Puerto Rican, Filipino, Canadian, Jamaican, Trinidadian, and Mexican-owned Brockton Beer Co., and damn if they didn't blow us away with this one.
Brewed exclusively for Barrel & Flow, a Pittsburgh-based festival dedicated to highlighting BIPOC-owned breweries across the country, Bake & Break works magic with a duo of Mosaic and El Dorado hops. A gorgeous bouquet of "tropical fruit salad, blueberry sorbet, sugar-dusted citrus gummies, and canned peach" (according to Brockton Beer), this is an easy-drinking 8.5% ABV DIPA. But, one of the main reasons we included this DIPA on the list is that the beer features bread made from stone-milled Massachusetts flour and baked in Trillium's wood-fired ovens 🤯 And isn't fall a great season to bake some bread? This may be our only IPA on the list, but it's well-deserved.
Eko Pale 1
Eko Brewery — London, England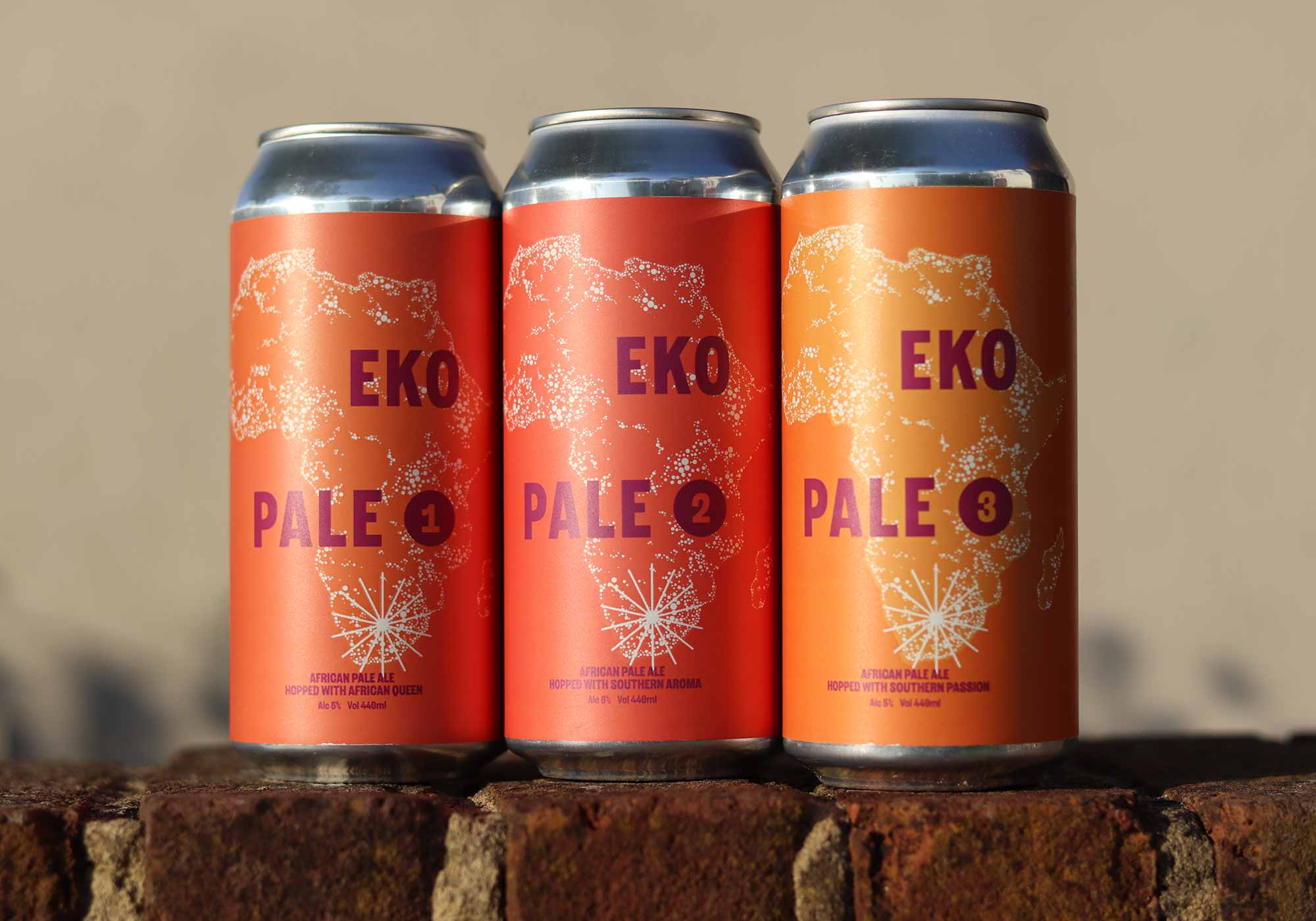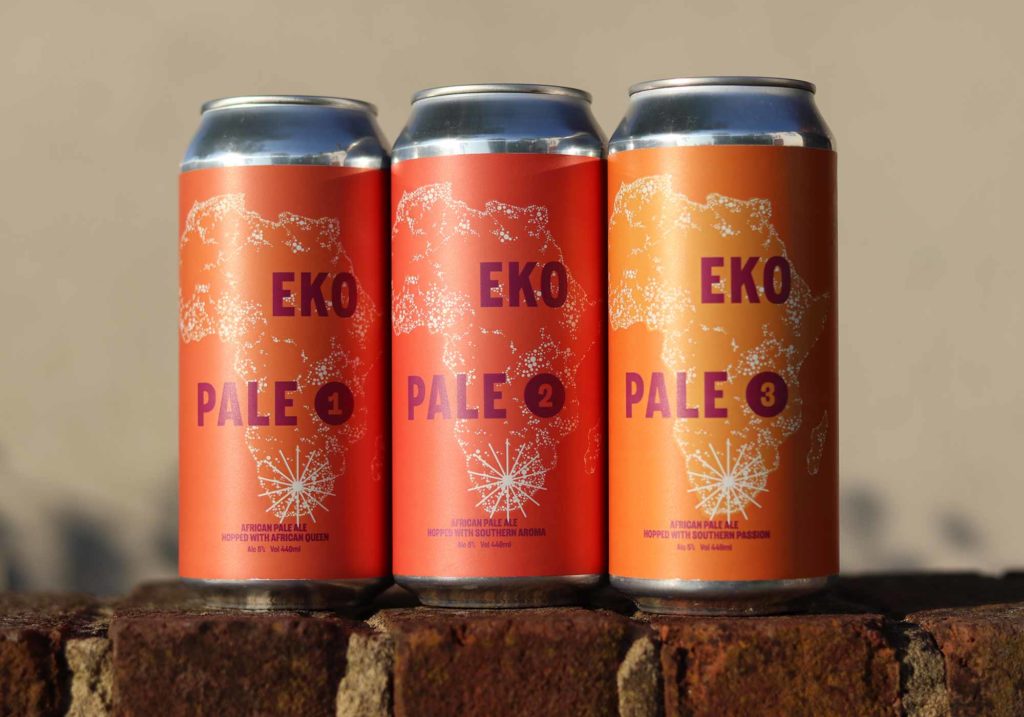 Pale Ale — The first in a series of three African pale ales (APAs), Eko Pale 1 comes from the husband-and-wife team of Anthony and Helena Adedipe. The Co-Founders of Eko Brewery started the London-based brewery to highlight traditional African brewing techniques and ingredients, and this beer certainly does the trick.
Eko Pale 1 features a South African hop called African Queen, which is known for berry and stone fruit flavors, and the beer is a great opportunity to try new flavors from a hop (and brewery!) that's still relatively unknown. Unfortunately for our US-based team, beer from Eko Brewery is currently only available in the U.K. But, we're hopeful that as Eko Brewery continues to grow, so too will their distribution.
Promised Marvels
Elsewhere Brewing — Atlanta, GA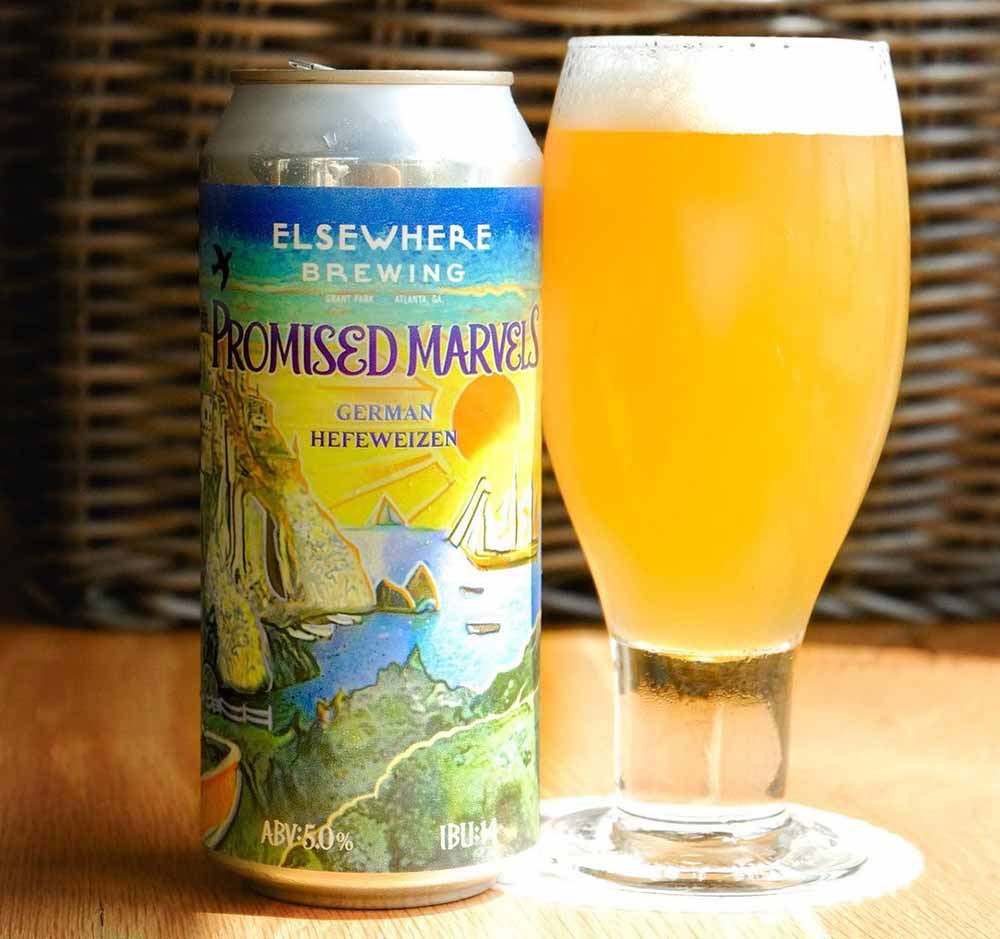 Hefeweizen — At the beginning of 2021, we named Elsewhere Brewing one of the 10 hidden gem breweries to watch this year. And for good reason. The brewery has flourished. Inspired by their travels through North America, South America, and Europe, Sam and Sara Kazmer started Elsewhere Brewing with the idea that a beer alongside food and neighbors is a memorable experience. And memorable experiences are exactly what fall promises, too.
Promised Marvels is a German hefeweizen to a T. Using a decoction method, Sam extracts notes of clove, bubblegum, and banana alongside more floral alfalfa. The beer is crisp, hazy, and heavenly. It's exactly what you want alongside a large soft pretzel.
In addition, I'm including a bonus note here: Elsewhere Brewing just released its seasonal Oktoberfest called Zicke Zacke, which is also worth checking out!
Quantum Immortality
Good Word Brewing & Public House — Duluth, GA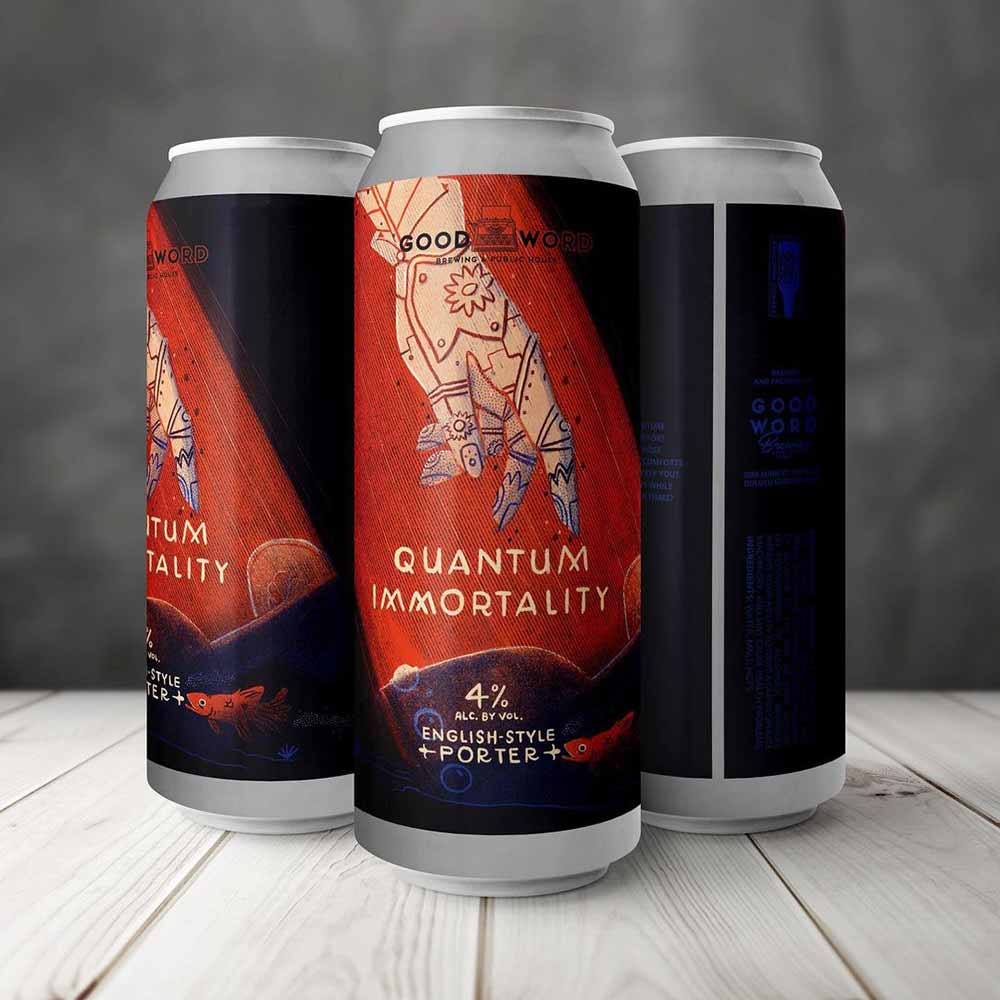 English Style Porter — What impresses us most about Good Word is the breadth of European lagers and ales brewed by Owner and Brewer Todd DiMatteo. That is to say, we had a hard time narrowing down our choice to just one. The brewery makes English dark milds, smoked wheat lagers, helles style lagers, English-style bitters, pre-prohibition lagers, hefeweizens, and more.
Eventually, we choose this English porter because porters are such an underrepresented style. Constantly in the shadow of their older brother, the stout, porters are excellent for fall. Don't get us wrong — Good Word also crafts excellent stouts. But we'll save those for the winter. Quantum Immortality executes complex chocolate perfection with a velvety finish that goes down oh so smooth. On the other hand, at only 4% ABV, you can have a few of these guilt-free around the fire.
Hella Sea
Hella Coastal Brewing Co. — Oakland, CA x Humble Sea Brewing Co. — Santa Cruz, CA
Dark Mexican Lager — Several months ago, our friends at Humble Sea opened up a new location in Pacifica, CA. Consequently, we cruised down one afternoon to imbibe those perfect pale ales and foggy IPAs. And while these styles are Humble Seas' bread and butter, for fall we were drawn to this collab with Hella Coastal, a BIPOC-owned brewery that contract brews at Federation Brewing in Oakland, CA.
I virtually met Chaz Hubbard, one of the founders of Hella Coastal, when we both participated as judges for the beer category of the Good Food Awards here in Northern California. Hella Coastal has been making waves in the Bay Area as Oakland's only Black-owned brewery. Pretty crazy when you consider that according to the 2020 U.S. Census, Oakland is the fastest-growing region in California with Blacks or African Americans, composing 23.75% of the population.
Most importantly, Hella Coastal will seek to be a safe space for all in the Bay Area. Beyond breaking barriers, Hella Coastal has made a name for itself with a series of fantastic collaborations.
For instance — this gem they made with Humble Sea. Hella Sea is a dark Mexican lager with Perle and Motueka that reminds us of s'mores. Or actually, more like "s'mores light." That is to say, dark graham cracker, chocolate, and toasted marshmallow dance around aromas of cinnamon, nutmeg, and roast coffee. But, this beer is dry and light-bodied. We sea you Hella Coastal and Humble Sea… we sea you.
Copper Legend
Jack's Abby Craft Lagers — Framingham, MA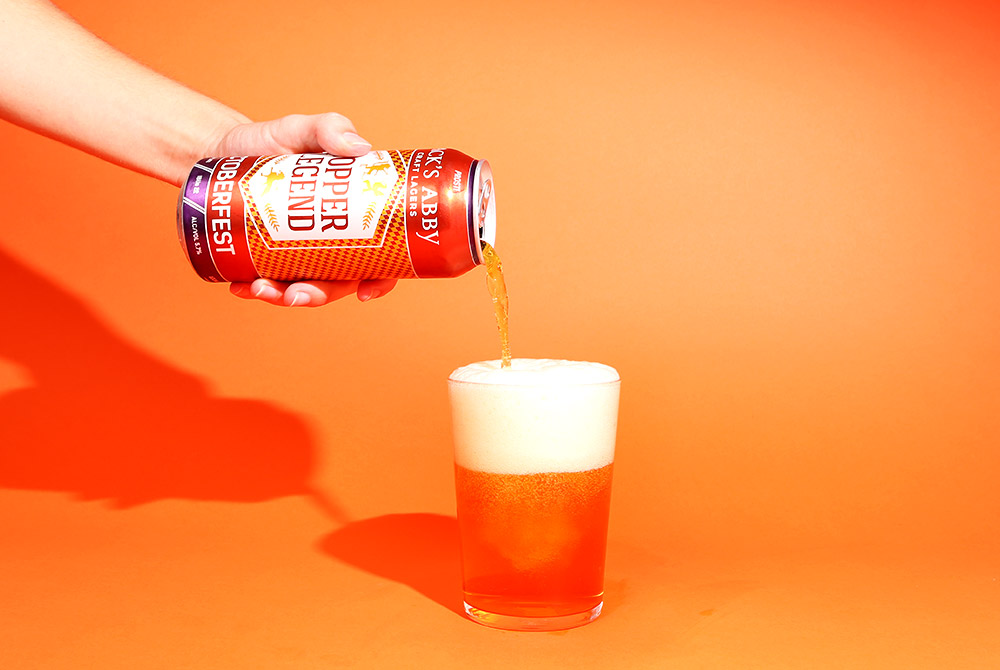 Octoberfest — When the colder months approach Jack's Abby's Copper Legend becomes a must stock on the shelves of my fridge. Year after year we've recognized Copper Legend as one of the best American versions of Oktoberfest to drink during the season. Copper Legend is just everything I want in an Oktoberfest style. Pouring a gorgeous burnished copper, this beer delivers a pinpoint balance of maltiness, breadiness, and sweetness. In conclusion this beer is like Simone Biles, nailing that balance beam routine every time. Drink a Copper Legend in front of the fire. To clarify there is no other move here.
Fuji
Japas Cervejaria — Sao Paolo, Brazil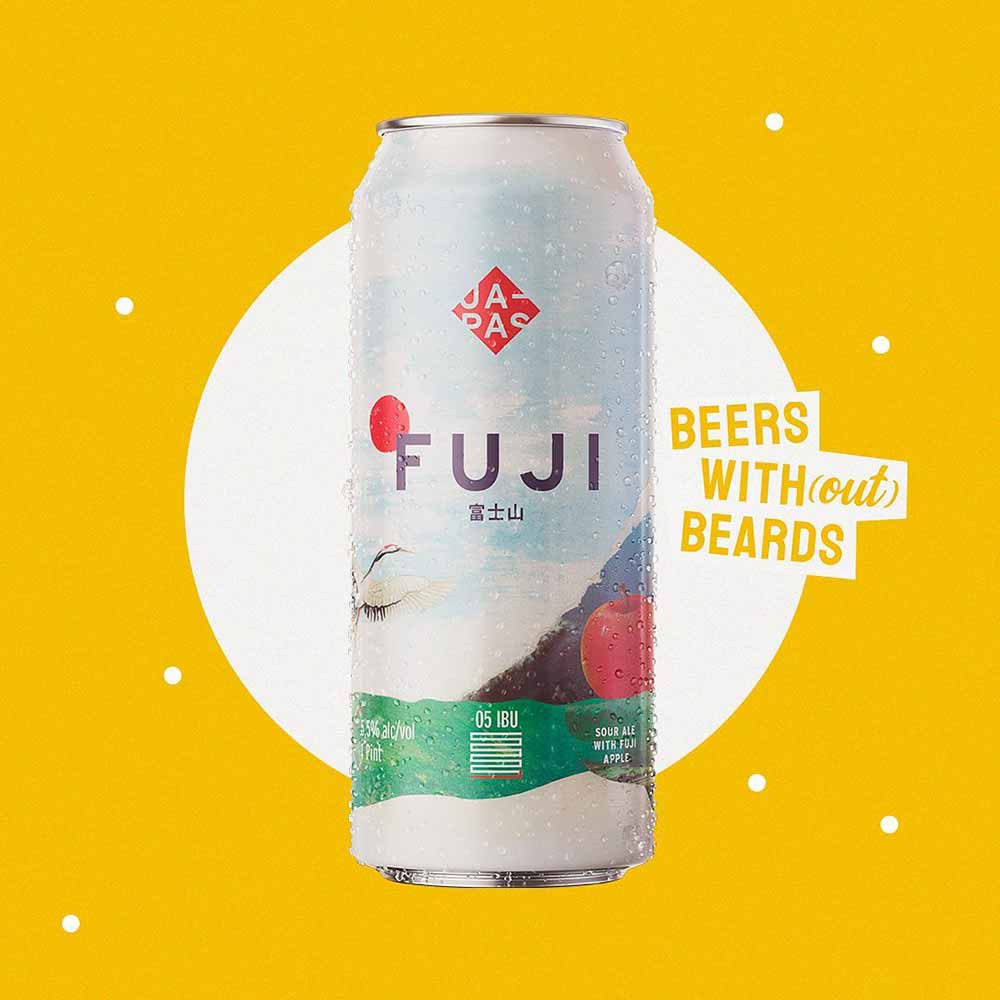 Fruited Sour — Nothing says autumn like apples. When those gorgeous Braeburn, Gala, Macintosh, and Fuji fruits brandish themselves for picking, my wife and I always make a trip out to the orchard. We spend the afternoon munching on apples, nibbling cider donuts, and sitting on bales of hay as we're pulled along in horse-drawn carts. After that, we most likely find a local taproom to enjoy a beer. In other words, it's the perfect weekend activity to decompress and enjoy the beauty of fall.
Japas Cervejaria, an all-star team of Brazilian women of Japanese descent, uses the humble indigenous ingredient to accentuate a refreshing, tart sour. The name is actually a double entendre that recognizes the Fuji apple as well as Mount Fuji, one of Japan's greatest symbols.
The harmony of this boundary-breaking trio's Japanese and Brazilian backgrounds are expressed brilliantly in this unique ale. During Hop Culture's women in craft beer festival, Beers With(out) Beards, we had the chance to experience this sour, and we were blown away. Likewise, we hope to try more from this pioneering brewery in the future.
Oaktoberfest and Smoaktoberfest
Live Oak Brewing Company — Austin, TX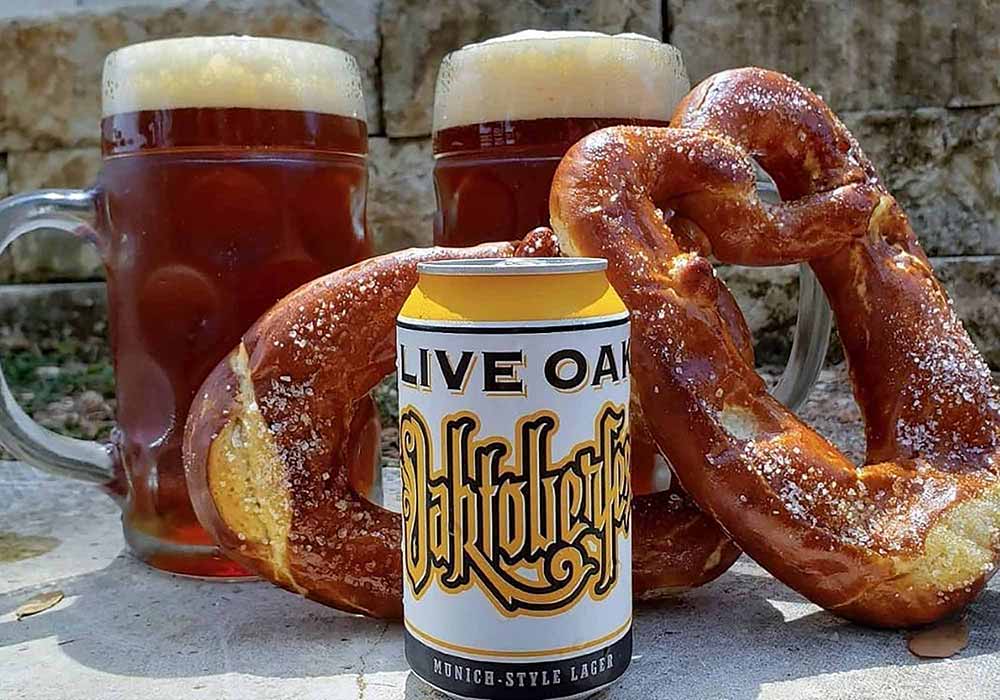 Munich Style Lager and Smoked Beer — When it comes to Live Oak, we couldn't just pick one beer. Two of our favorites, Oaktoberfest and its smoky cousin, Smoaktoberfest, feature fall in a their respective cans. With Oaktoberfest, Live Oak decocts for a complex classic that's superbly smooth. The velvety construction carries a satisfying breadiness from the beginning all the way through a subtle hop character to the end of the sip. Meanwhile, the brewery lowkey releases Smoaktoberfest, a smoked version of Oaktoberfest that uses traditional beechwood-smoked barley malt to give the autumnal lager a pleasant barbecue haze.
Daydreaming
Perennial Artisan Ales — St. Louis, MO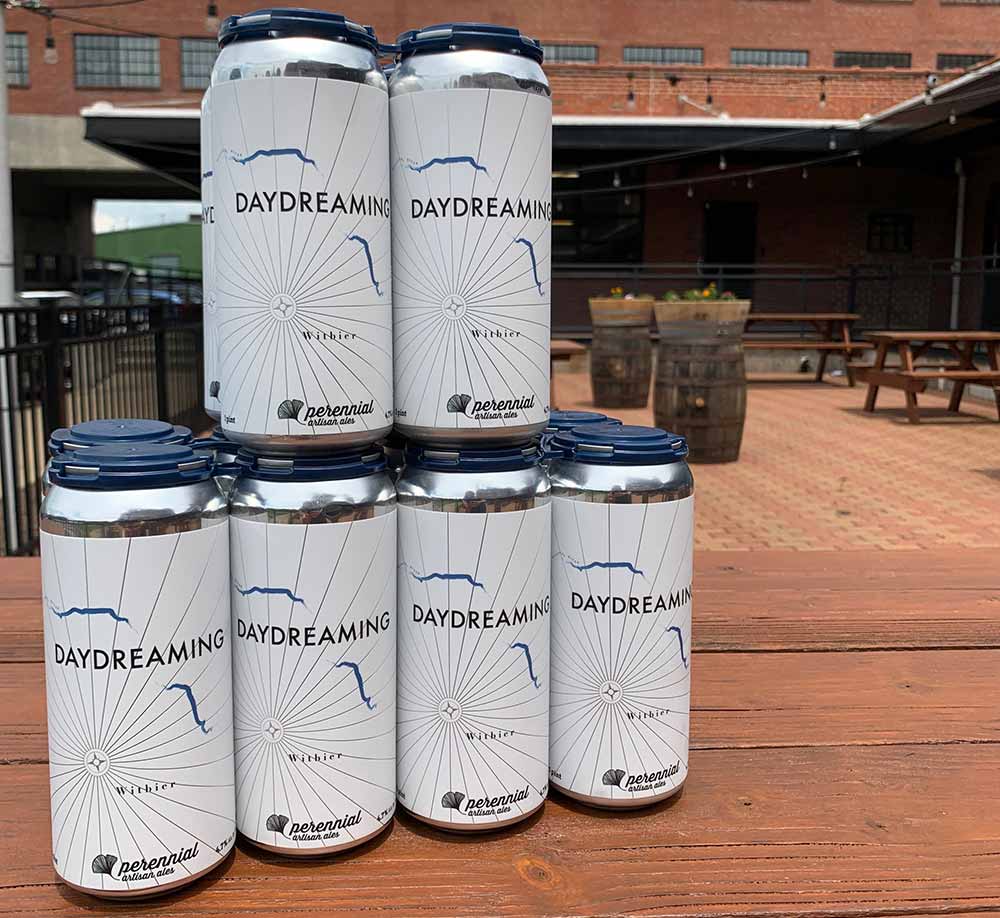 Witbier — A beer style fit for all months, witbiers are a noble yet unassuming Belgian style. But although witbiers aren't flashy, they certainly deserve respect. And fall is similar. It's not a garish time of year, but a modest, simple season.
Perennial Artisan Ales makes a wonderful witbier with a few subtle flourishes. For example, witbiers traditionally incorporate orange and coriander. But Perennial's iteration adds a pop of ground pink peppercorns. Fermented with a blend of Belgian yeasts, Daydreaming is fruity, spicy, and malty, and the perfect beer for a cool fall day.
A Toast to Legends
Primitive Beer — Longmont, CO x Beer Kulture — St. Petersburg, FL
Lambic — Whether making one of the best beers we drank in 2020 or one of the five best beers we drank during the week, Primitive Beer keeps one thing consistent: quality. Primitive Co-Founders Lisa and Brandon Boldt use Méthode Traditionnelle to brew spontaneously fermented beers (Not sure exactly what "spontaneously fermented" means? We've got you covered).
Often, the results are stunning. Such is the case with A Toast to Legends, a collab with Beer Kulture, a nonprofit working with local and national breweries to foster a more diverse and inclusive industry. Moreover, one hundred percent of the proceeds from this collab went to the Sparks Foundation, an organization formed by Beer Kulture in response to the systemic and structural barriers facing the Black men and boys.
The beer itself is a blend of two- and three-year matured Méthode Traditionnelle spontaneous beer that ferments in Château Montelena Chardonnay barrels on Colorado Allstar Peaches and pits. In addition, the Boldts add a shot of Colorado Wildflower Honey. The final product is part nutty, part fruity, and all parts delicious.
Cafecito
Raíces Brewing Company — Denver, CO
Coffee Blonde Ale — Latinx-owned Raíces Brewing made our list as one of the most important voices in craft beer in 2020. Now, they're back again with Cafecito.
Leveraging coffee from indigenous, women-owned, fair-trade farms in Huehuetenango, Guatemala, Cafecito shows how this brewery pushes boundaries. Usually when you hear coffee, you think big, bold porters and stouts. And that certainly would have made for an amazing autumn beer. But the blonde color of Cafecito belies a bevy of rich chocolate, berry, and umami flavors from the coffee.
We consider this beer kind of like the first blush of changing leaves. The colors aren't deep and dark yet, but you can see the rich complexity underneath the golden coat.
OktoBEARfest
Red Bear Brewing Co. — Washington, DC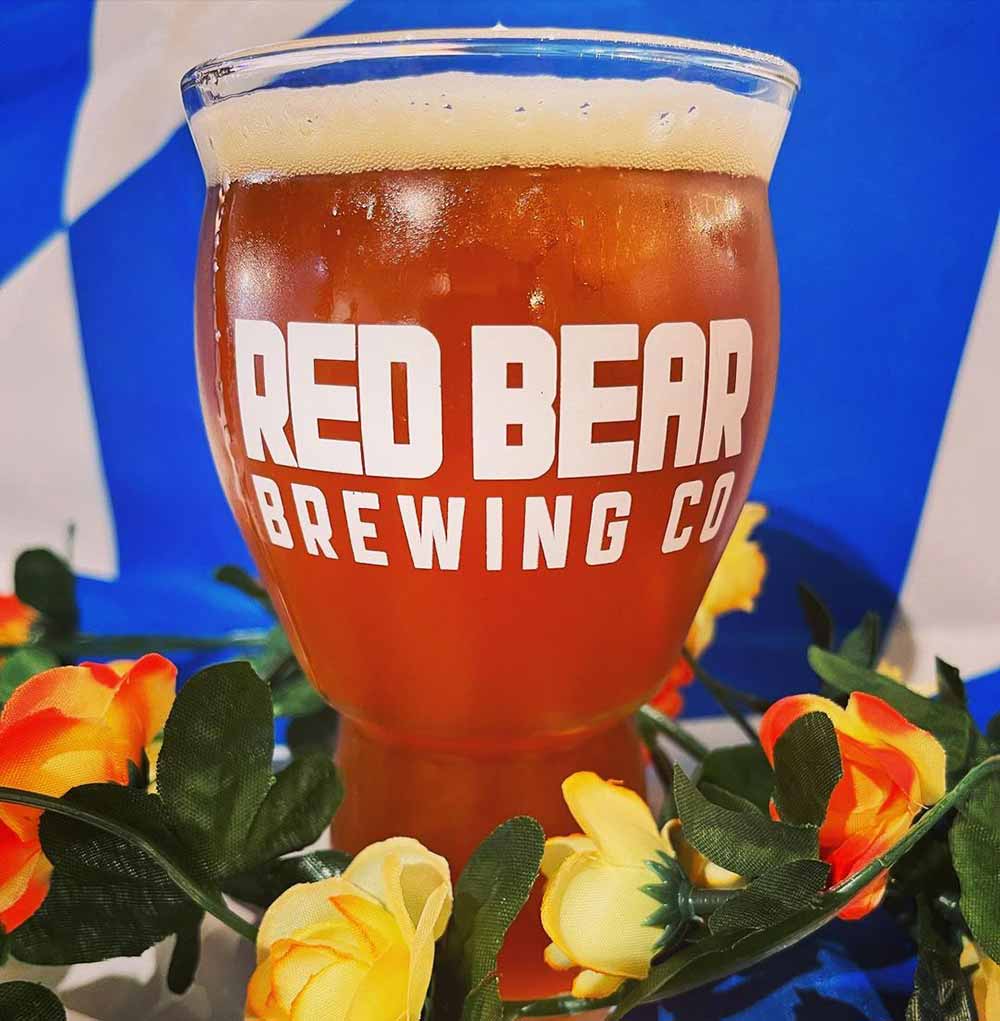 Märzen — Because Pride should be celebrated 365 days each year and not just in June! And also because this beer is fantastic.
Bryan Van Den Oever, Director of Marketing & Events and Owner at the gay-owned Red Bear Brewing joined us for Hop Culture's inaugural Queer Beer Fest earlier this year, which celebrated the vibrant, colorful, and diverse voices of the queer community in craft beer. Through him, we got a chance to try Red Bear beer including OktoBEARfest. It's an instant fall classic that hits all the right bready and malty notes!
Konstantin
Schilling Beer Co. — Littleton, NH
Märzen — Named one of Hop Culture's most underrated breweries of the year and one of the top breweries in New Hampshire, Schilling Beer Co. specializes in European-style lagers and ales. All year round, they produce clean, crisp Czech- and German-inspired lagers.
But come the fall, the seasonal Konstantin actually swerves across the Southern German border to Austria. Pouring a gorgeous ruby, this lager excites with rich caramel and toasted cereal notes. Moreover, with just a slightly drier finish than the traditional German-style to the north, Konstantin keeps you tantalized sip after sip.
Dusseldorf Alt
Seedstock Brewery — Denver, CO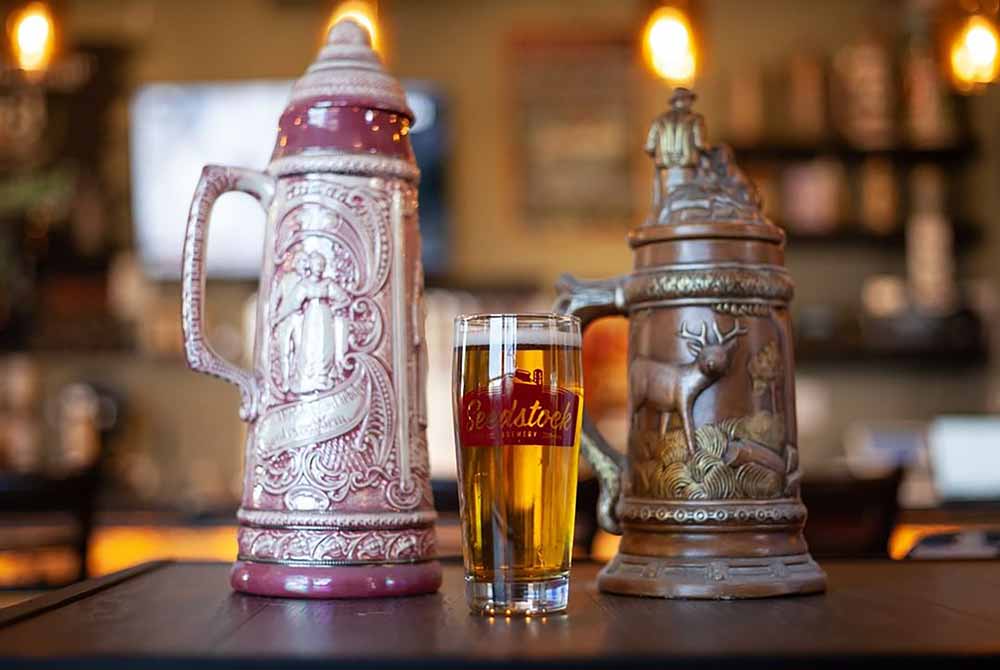 Altbier — Named the 38th Best Beer of All Time by Beer Connoisseur Magazine, Seedstock's altbier follows the Dusseldorf tradition. Whereas a traditional Northern German-style alt is sweeter, Dusseldorf Alt ups the bitterness for a clean, malty beer that's balanced by assertive hoppiness.
Still, at only 5% ABV, it's a sessionable beer. And overall, Seedstock focuses on some intriguing old-world recipes. We enjoyed quite a few crowlers from this Denver-based brewery, including the Crop Circles cream ale, a perfect version of a slightly baffling style, as well as Bohemian Dunkel, Amber Kellerbier, and Baltic Porter. But we liked this altbier for fall because — like the equinox — it toes that line between summer and fall. On the one side, you have a harvest of hops, and on the other, a mountain of malt. Plus, it was just damn tasty.
Kitsune Sour Series #1
Shōjō Beer Co. — Miami, FL
Fruited Sour — Started during the COVID-19 pandemic, Shōjō Beer Co. combines the Lebanese-American heritage of Haidar Hachem aka @thirsty_samurai_piggy with his wife Marilyn "Mari" Orozco aka @littlemarii's Nicaraguan background and their shared love of Japanese culture. Somehow, the duo expertly blends all these customs together for beers that are truly unique.
For instance, take the first beer in the brewery's sour series, Kitsune. Brewed with Dragonfruit, yuzu, and watermelon, this particular beer reminded Hachem of times he spent in Lebanon with his family eating watermelon. Pouring a gorgeous dark pink, Kitsune Sour Series #1 stunned us not only in hue but also in acidity. Plus, a percentage of sales from this beer were donated to Beer Kulture and Equality Now, an organization fighting for women's equality.
Bonanza!
The Ale Apothecary — Bend, OR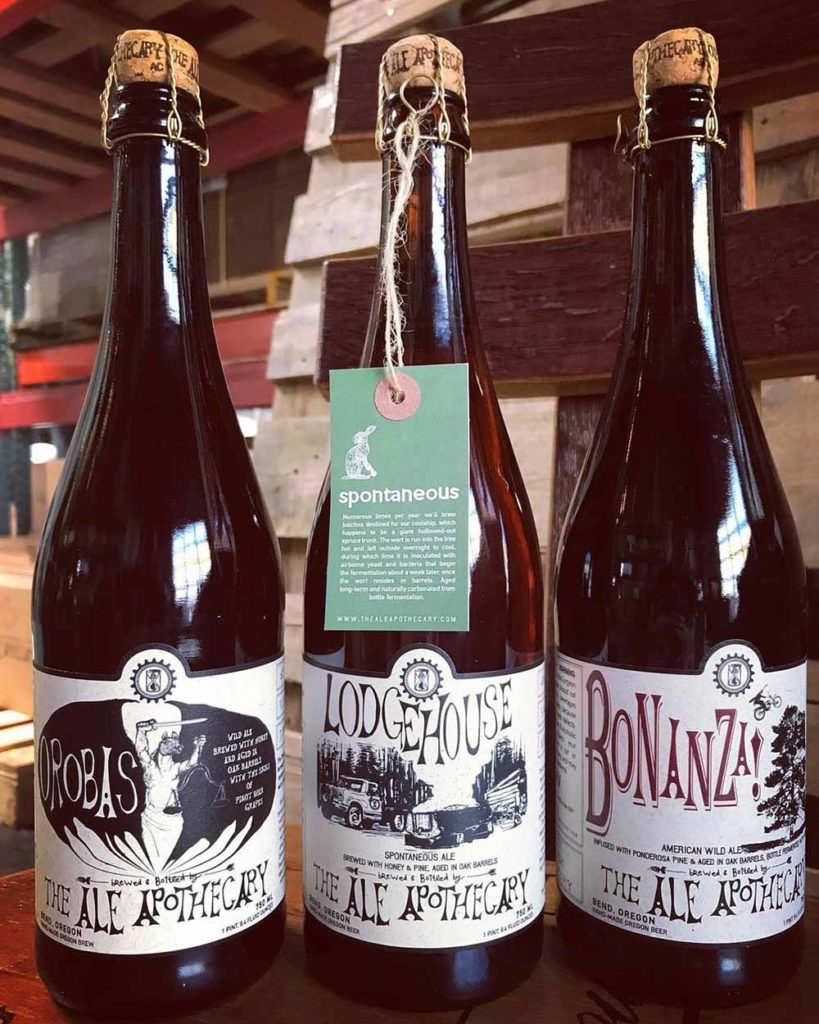 American Wild Ale — One of our favorite breweries in Bend, OR, The Ale Apothecary delights the senses. Co-Owners Staci and Paul Arney plopped their brewery down in the middle of a forest, and they're making the most of the wilderness. For example, many of their beers feature foraged ingredients like black currants and spruce tips.
Bonanza! is a three-year-aged, unblended American wild ale nestled together with ponderosa pine needles. Above all, the French word terroir — which means of the earth — comes to mind here. Vibrant, earthy, and complex, Bonanza! mimics the magic of Bend and the changing of the seasons.
Still Woods
The Drowned Lands Brewery — Warwick, NY
Wheat Pilsner — Wheat pilsner? We're intrigued! We love pilsners, but we also love wheat beers. So we knew we had to try this one and we weren't disappointed.
In the past, we've named Drowned Lands beer to our top beers to drink this past summer, best beers we had in all of 2020, and best new brewery of 2020 lists. But we can't help ourselves. Every beer we've tried from The Drowned Lands has been superb. Still Woods features Weyermann Floor Malted Pilsner and Weyermann Pale Wheat Malt along with Zuper Saaz, Petit Blanc, and Hallertau Blanc hops, putting a subtle spin on the traditional pilsner.
Fermented low and slow with one of the brewery's favorite yeast strains, Still Woods is pillowy perfection but with a firm, dry, doughy bite. And just a hint of fruit. In other words, it's kind of like a toasted English muffin with a thin layer of apricot jam. Drink this in the woods around the campfire after a day outdoors.
Smultronstället
The Referend Bier Blendery — Pennington, NJ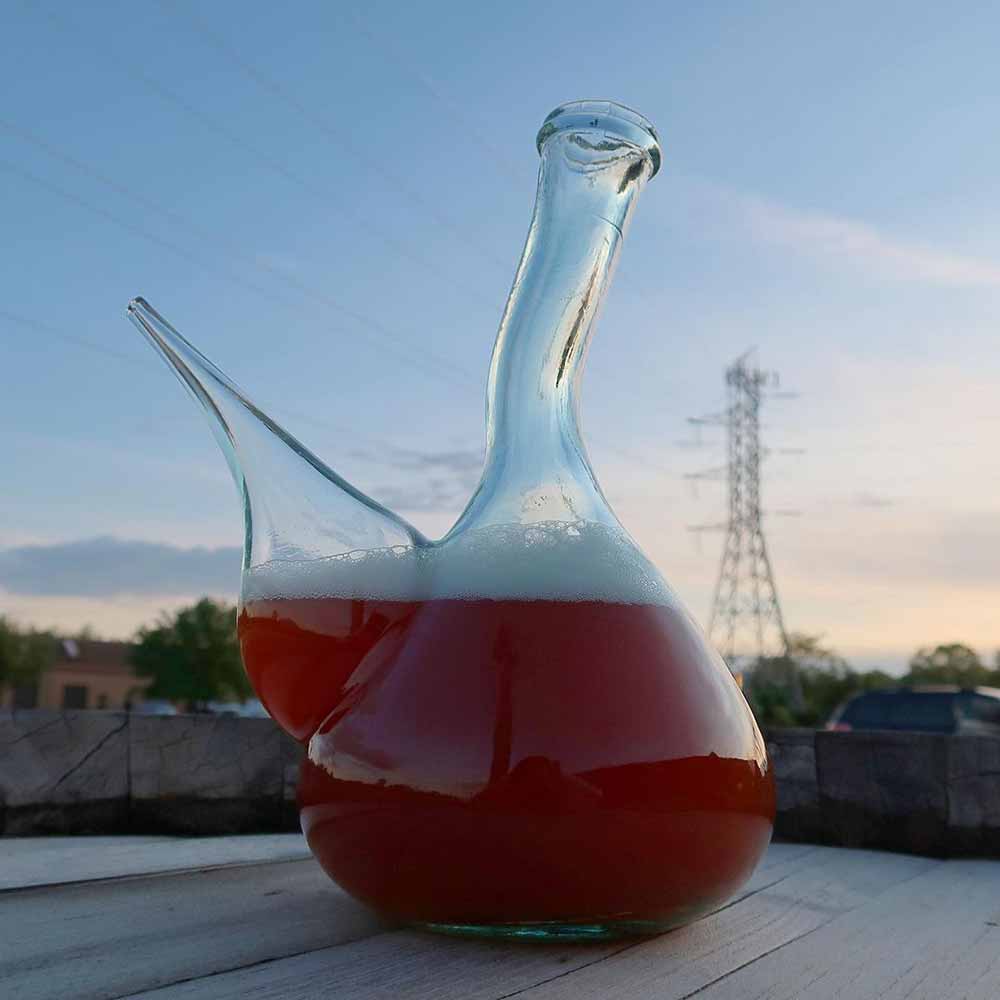 Lambic — Former Hop Culture Managing Editor John Paradiso passed on this lambic to me after he took up a new position as Managing Editor at Cool Hunting. I'll admit I only recently got around to trying this spontaneously fermented gold ale with Delaware strawberries. But the beer was worth the wait.
I mean, founder James Priest treats beer like a religion. Consequently, this beer is saintly. Delicate fruit weaves throughout for a funky, finessed adventure. To me, this beer is like a fall hike. I'm not sure exactly where I'm going. But, I just know I want to stick with the path until I make it to the top for that perfect foliage view.
Stick with this beer and you'll be rewarded.
DreamWeaver
Tröegs Independent Brewing — Hershey, PA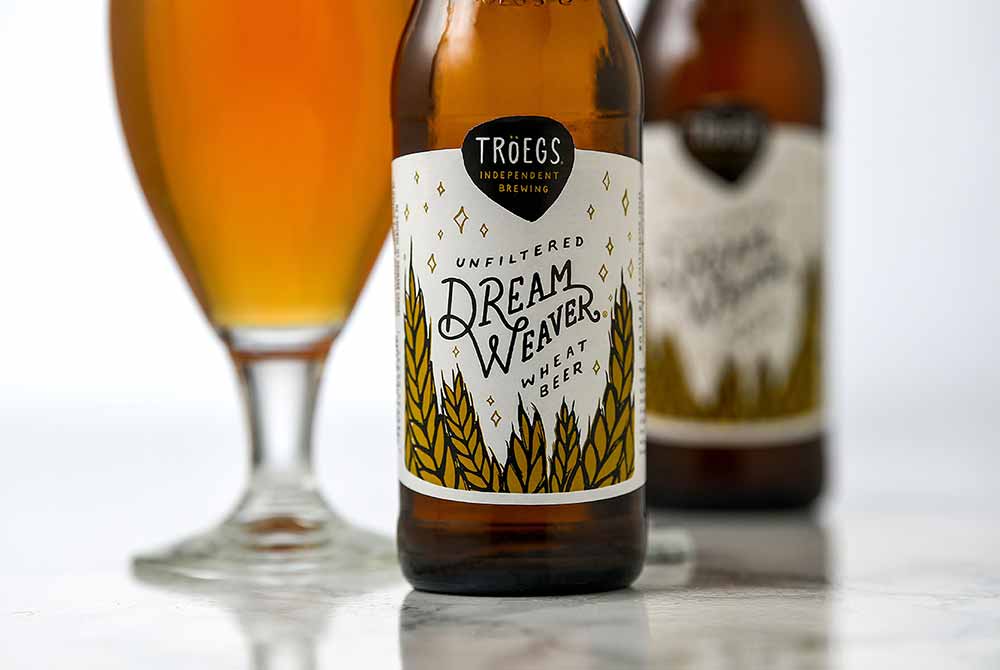 Hefeweizen — During construction on his second brewhouse, Tröegs Co-Founder John Trogner traveled overseas to check out brewing equipment, and the German team he met with took him all over to try the local beers. Consequently, when he returned to Hershey, PA, Trogner knew he wanted to brew a hefeweizen. The result? DreamWeaver.
Literally translating to yeast wheat, hefeweizens are iconic for their clove, bubblegum, banana, and even pepper flavor profile. For instance, Trogner differentiates his version by teasing out more predominant black pepper qualities from a special yeast strain. After that, you're left with a wheat beer that's silky, crackery, and punctuated by peppery pops.
Wermut
Von Ebert Brewing — Portland, OR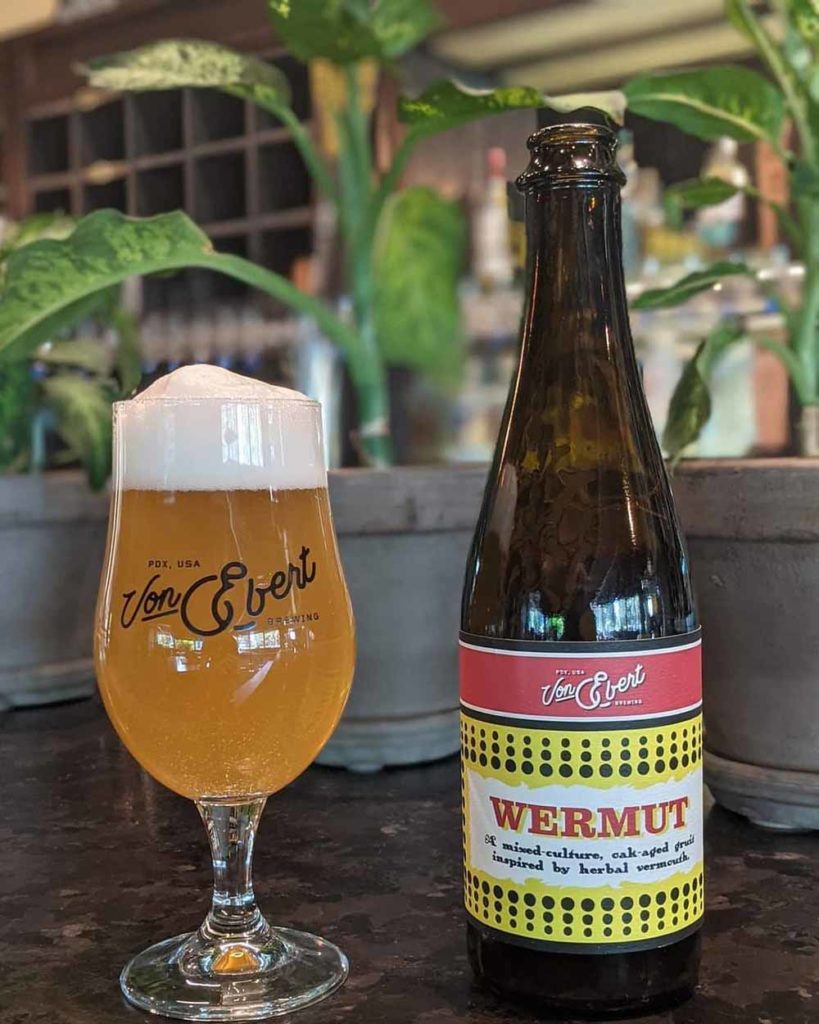 Gruit — A beer without hops? Blasphemy! On the other hand, this style — known as gruit — is actually very historical. In place of hops, brewers used herbs and spices.
Released as a part of the brewery's Heritage Beer collection, Wermut is a mixed fermentation oak-aged gruit packaged in 500mL bottles. Mimicking the herbal notes of vermouth, Wermut is an 8.9% ABV beauty that hits on lemon verbena and citrus with a warming undertone of oak and earth. We've squirreled away a couple of bottles to get us through the fall!