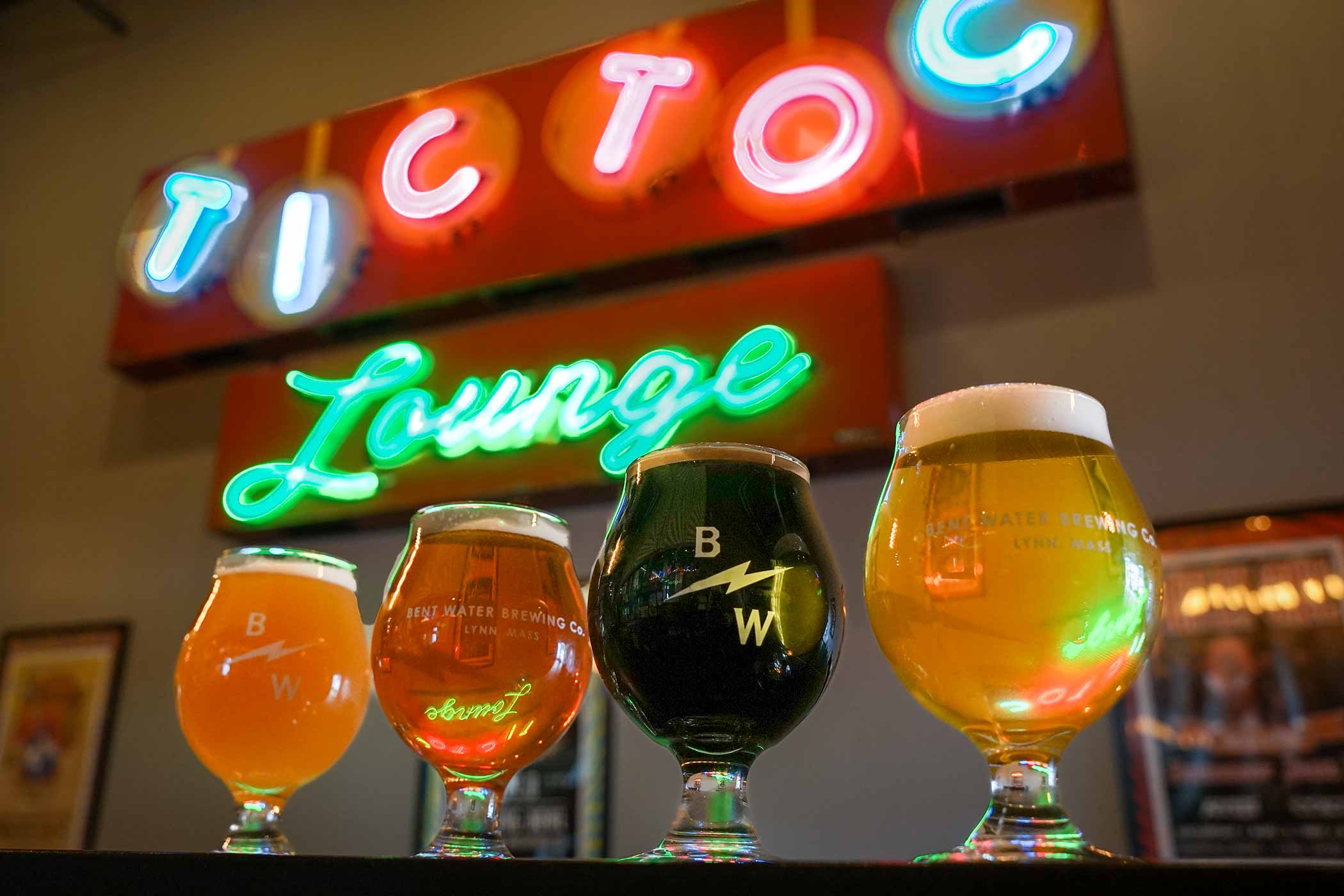 Photography courtesy of Bent Water
The roots of Boston run deep. Boston and history are synonymous with each other. Heck, this is the town home to the Sons of Liberty that helped kickstart the American Revolution. Who founded the Sons of Liberty? Samuel Adams. And all along the way, beer has been the backbone of Beantown, producing some of the best breweries in the Greater Boston area.
Just think about it. This blue-collar town has a rich beer history—notably the likes of Harpoon Brewery and Boston Beer Company, the latter of which names its flagship beer Samuel Adams Boston Lager.
Jim Koch, now considered the father of the modern craft beer movement, founded Boston Beer almost forty years ago in 1984. And while the craft beer scene grew immensely in the decades following, it wasn't until the past decade-plus that Koch's backyard in Massachusetts started to grow.
Now, when you visit the city, you can check out dozens of incredible beer spots in and around town. If you've got a couple of days (and probably a 🚗), here's a short list of the best breweries to visit in the Greater Boston area.
Don't see your favorite spot on this list? Just drop us a line at comments@hopculture.com with your suggestion and why you love it. Who knows, we could add your spot to this piece!
Hop Culture's 11 Best Breweries in Greater Boston
Night Shift Brewing Company
87 Santilli Hwy, Everett, MA 02149 | (617) 294-4233
1 Lovejoy Wharf #101, Boston, MA 02114 | (617) 456-7687
1 Broadway, Everett, MA 02149 | (857) 770-3463
1235 Worcester St Suite #3330, Natick, MA 01760 | (617) 865-8599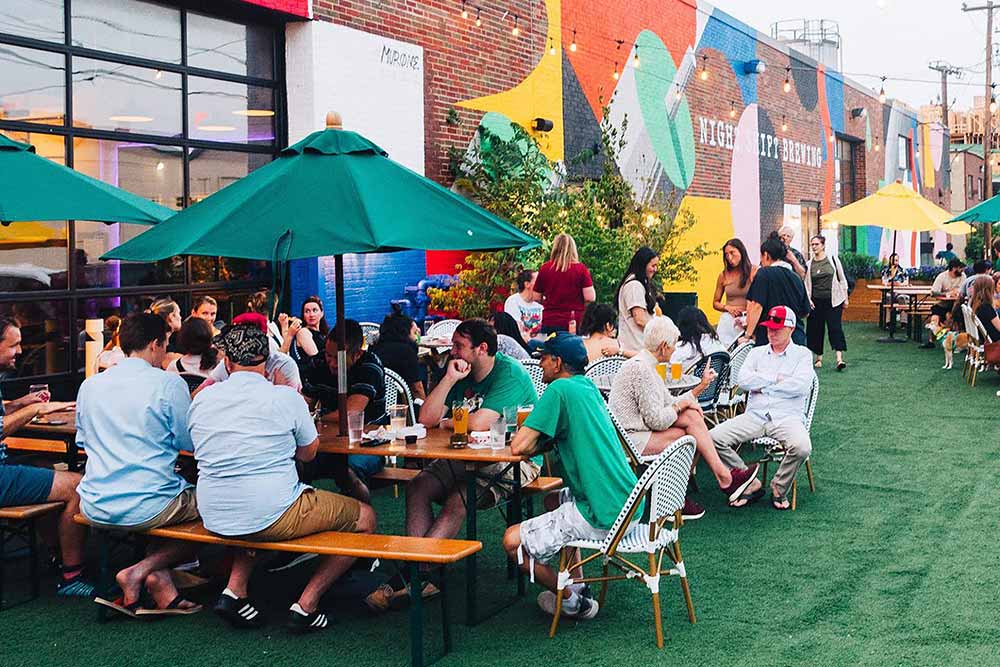 Night Shift Co-Founders Michael Oxton, Mike O'Mara, and Rob Burns started homebrewing in their dorm room in Somerville before launching their own brewery in 2012.
"About four years into home brewing, we're like, let's just give this a shot," Oxton says. "We don't love our desk jobs, we want to work for ourselves, and we were doing this at night three times a week, and we were calling ourselves the night shift brewers, kind of as a joke."
After raising about $100,000, they opened the first brewery in Everett. Now, Night Shift has four locations, including Night Shift Brewing Kitchen & Tap in Encore Boston Harbor, a taproom at Lovejoy Wharf, and another satellite brewery in Natick, MA, at Level99 (plus seasonal beer gardens around the city).
Tens of thousands of people visit Night Shift for its popular beers like the flagship Whirlpool, Santilli, and Nite Lite.
But it's not just the traffic causing a Night Shift boom—brewing 40,000 bbls a year and distributing to 11 states (80 percent of which are still in Massachusetts)—it's the consumer.
"When we started, the [craft beer] scene was exploding," Oxton says. "Now, the industry and customer have matured and are more knowledgeable."
Despite the growth, Oxton says that Night Shift, which brews about 5,000 bbls per year at its Lovejoy Wharf location, remains grounded in its locals.
"The focus is our backyard, and our future is very much focused on Boston," Oxton says. "They got us to where we are."
Widowmaker Brewing Company
220 Wood Rd., Braintree, MA 02184 | (781) 849-0205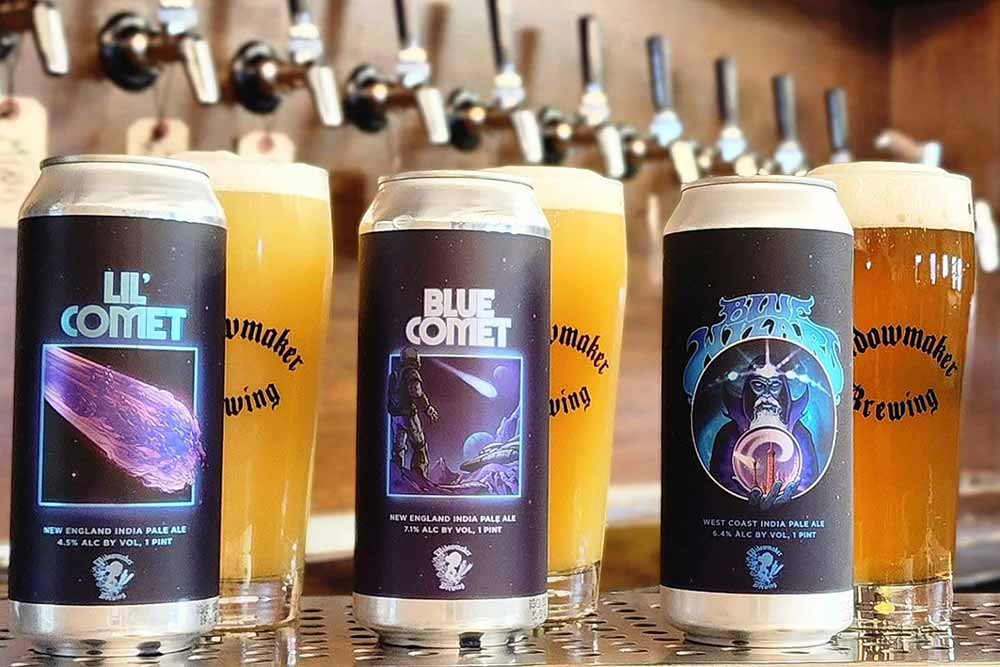 Since opening its doors in the fall of 2017, Widowmaker cranked out one great beer after another—none in higher regard than its flagship, Blue Comet, according to Co-Founder Ryan Lavery.
"Two hundred and fifty bars have that one beer," he says.
Like the Night Shift brewers, Lavery started homebrewing in 2015. He teamed up with fellow Co-Founders Colin Foley and Kenny Semcken in 2016 before opening the brick-and-mortar spot in rural Braintree, MA, in September 2017.
The company's success—brewing 5,000 bbls a year—led to the expansion into Brighton, which Lavery says serves as a 1,000-bbl-per-year R&D facility. The central location has daily food trucks and music, another passion of Lavery's, who always wanted to be in a band.
"I always had a list of [potential] band names and song names, and Widowmaker was always on it," Lavery says.
Loud rock music is "a true representation of us," says Lavery, noting the brewery hosts concerts three to four times a year. But music is just one part of the brewery.
Necromania might be the other. Also a name for a massive heart attack, Widomaker, keeps a hearse parked out front of the taproom!
"We have fun and are just being us," he says. "It took us some time to figure out who we are, but now we are authentically us."
Idle Hands Craft Ales
89 Commercial St., Malden, MA 02148 | (781) 333-6070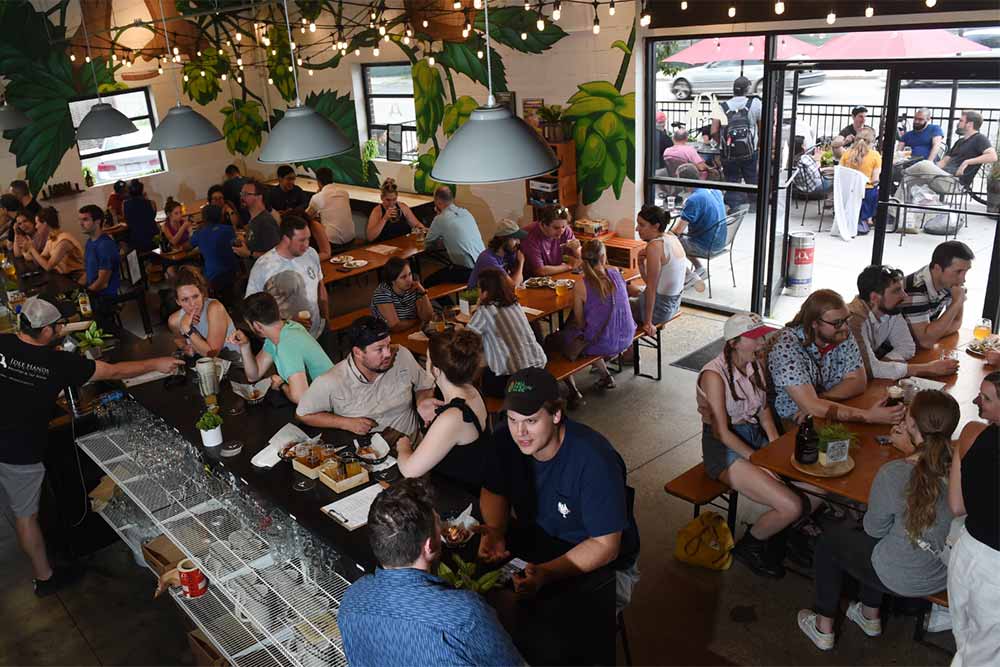 Founded by Chris and Grace Tkach in 2010, Idle Hands is derived from the saying, "Idle Hands are the devil's playthings." The brewery has had quite the journey. Initially located in Everett, the brewery was forced out of town after the construction of the Encore Boston Harbor.
"We were homeless," Chris says.
In 2016, they found a home on Commercial Street in Malden, MA, eventually expanding from a 1.5 bbl operation to 2,000 bbls a year. Over the years, Chris also says the brewery shifted its focus from Belgian beers to a wide variety.
Idle Hands' taproom has twelve beers on tap, including hazy IPAs like Four Seam and Six Seam, the Belgian tripel Triplication, and a litany of German offerings, including popular pilsner Adelais.
"We don't cut corners at any of our [brewing] processes," Chris says. "We do everything we can to kind of be authentic as we can to the growth process and to ultimately the flavor profiles that we're trying to create."
Unlike many breweries that ramp up distribution to expand their reach, at Idle Hands, Chris says his plans are to open new taprooms in the towns north of Boston he feels have supported him and his journey, including Medford, Melrose, and Wakefield.
While you can get the best of Idle Hands in Malden or Burlington, MA, where the brewery serves twelve of its beers on tap at Common Craft, expect more locations to hopefully pop up on the horizon.
Faces Brewing Co.
50 Pleasant St., Malden, MA 02148 | (781) 851-4672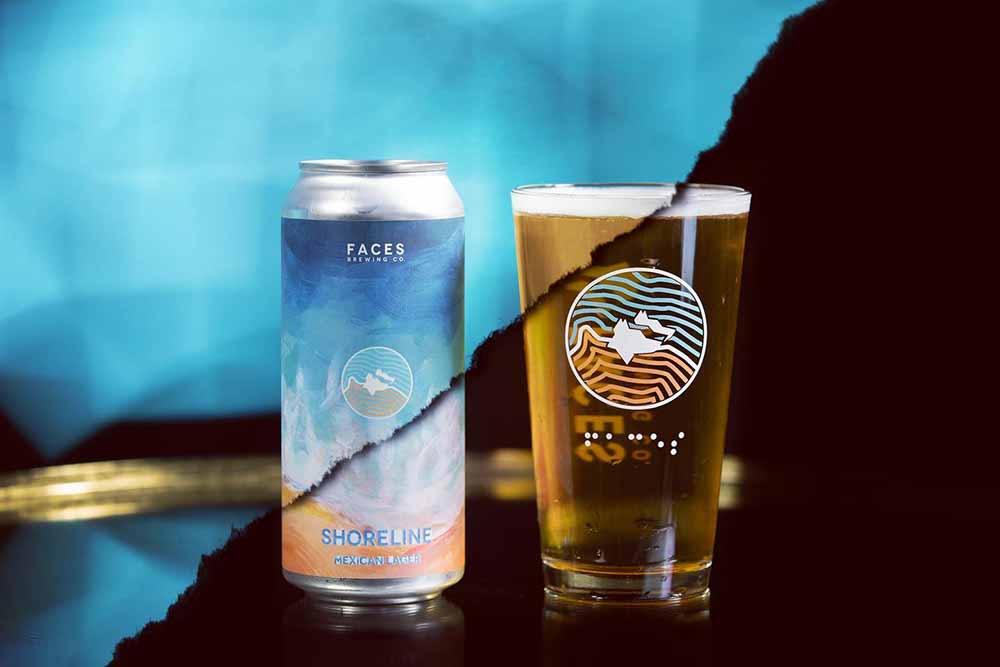 This brewpub is also in the heart of Malden, which has undergone significant revitalization over recent years. The name Faces used to be that of a nightclub in Cambridge owned by a group of four brothers. Decades after that business shuttered, a new wave of siblings from the same family tree revitalized the business name, shifting the focus to brewing craft beer.
Faces took over an old bank on Pleasant Street, renovating the space into a brewpub from late 2018 to early 2020. The taproom, which also holds events and entertainment regularly, also includes old bank vaults that serve as private VIP-style rooms. But it's in the bank's old underground parking garage where Head Brewer Danielle Coons crafts the brewery's wide variety of offerings.
Faces Co-Founder Dan Martignetti touts Shoreline lager and Progression New England IPA as its two more popular offerings. But the quality doesn't fade from there. Coons has been brewing commercially for about a decade and has the chops for all styles, including a malt liquor and orange juice brew, Brass Monkey.
Martignetti says down the road, Faces plans to expand its distribution channels and provide a little of everything for everyone. But for now, stop by the Malden brewpub, where they are happy to pour you a cold one and talk all things craft beer.
Bent Water Brewing Company
180 Commercial St. #18, Lynn, MA 01905 | taproom@bentwaterbrewing.com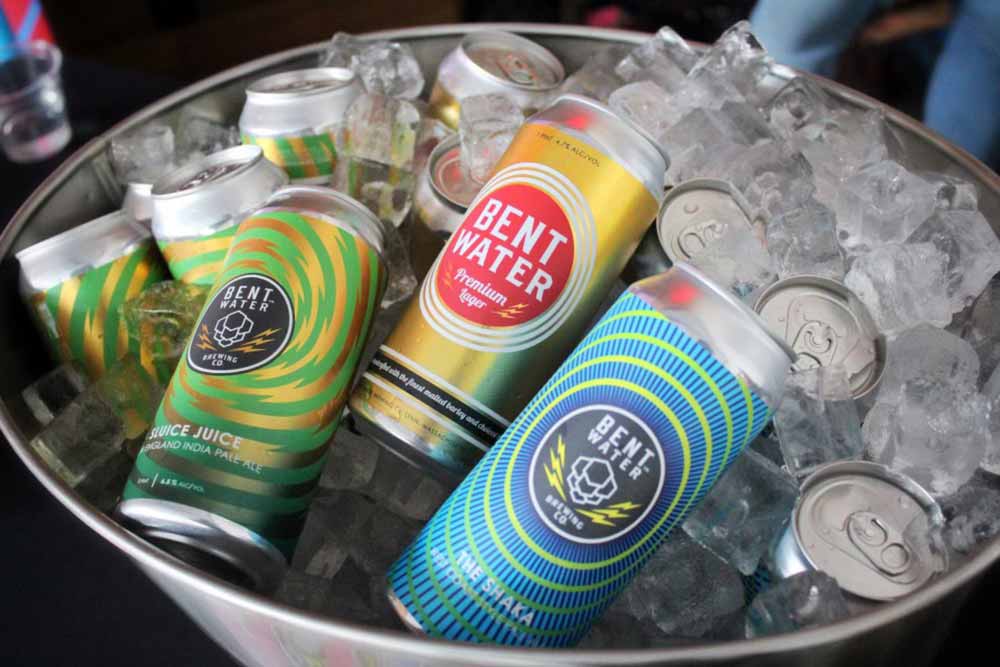 One of the more extensive operations you'll find in the area, Bent Water is primarily a production facility, with biotech-engineer-by-trade Co-Founder Aaron Reames creating tools to make their great selections even more dynamic to the palate.
Reames looks at things with a scientific eye, initially getting into the industry because he wanted to geek out and go a level deeper.
"As I went in search for answers, there was very little we knew about the biochemistry of brewing," he says. "I just found myself trying to answer questions, and I fell in love with not only just answering those questions but also developing something that people really enjoy."
Bent Water offers many top-rated beers, including Sluice Juice, Super Sluice, Thunder Funk, Double Thunder Funk, and The Shaka, among countless others.
You'll see Reames' brilliant scientific mind on display in The Shaka, for which he created a tool to help boost the flavor through a hop recirculation process, giving the beer an authentic West Coast pale flavor.
"We've spent money thoughtfully to have quality beer year round," Reames says.
The company has evolved from its founding in late 2015; today the $500,000 brewhouse includes rows upon rows of fermentation tanks.
Reames says Bent Water is very much data driven, investing first in a lab. And in 2019, the company created Bent Water Distributing, which helps them send out their beer up and down the eastern seaboard.
Tree House Brewing Company
1880 MA-38, Tewksbury, MA 01876 | (413) 523-2367
129 Sturbridge Rd, Charlton, MA 01507 | (413) 523-2367
98 Town Neck Rd, Sandwich, MA 02563 | (413) 523-2367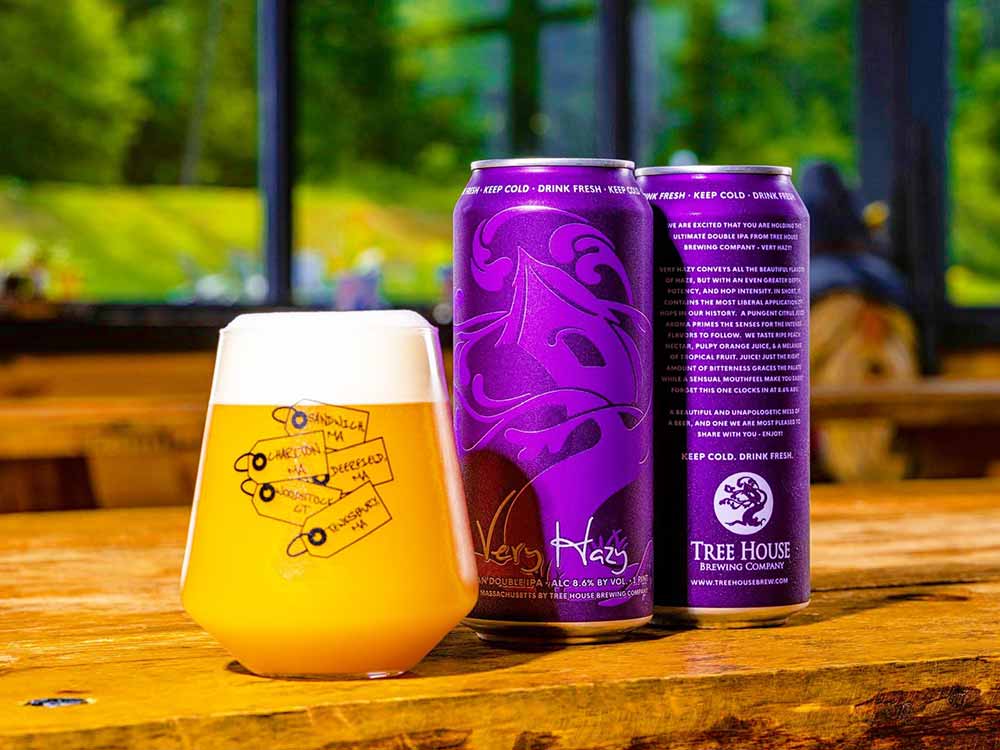 What can we say here that hasn't already been said about these harbingers of hazies?
When four friends—Nate Lanier, Damien Goudreau, Dean Rohan, and Jonathan Weisbach—started homebrewing in a Massachusetts barn, they probably couldn't imagine they would go on to make some of the most sought-after beers in the country.
Since opening in 2011 in a small red barn in Brimfield, MA, Tree House has rooted itself in American craft beer culture (see what we did there?).
The brewery's American IPAs consistently ranked as some of the best, peppering Untappd's list of the "12 Best American IPAs of 2021" with standouts like Julius, Green, and Alter Ego.
And absolutely DOMINATING Untappd's list of "The 15 Best Double/Imperial IPAs of 2022". They snagged the seven top spots with beers like King JJJuliusss, Very HHHazyyy, and Very GGGreennn, to name a few.
In 2022, Tree House received top honors as the brewery with the "Most 5-Star Check-Ins of 2022," with a whopping 51.9k five-star check-ins on Untappd, a cool 32.6k more than second place.
In addition to expanding to a farm in Woodstock, CT, and two breweries in Deerfield and Sandwich, MA, Tree House recently announced customers could get beer from a Tewksbury location. There is no mistaking that Tree House is one of the best breweries in the entire country.
Trillium Brewing Company
100 Royall St, Canton, MA 02021 | (781) 562-02021
50 Thomson Pl, Boston, MA 02210 | (857) 449-0083
Landmark Center, 401 Park Dr, Boston, MA 02215 | (857)449-0087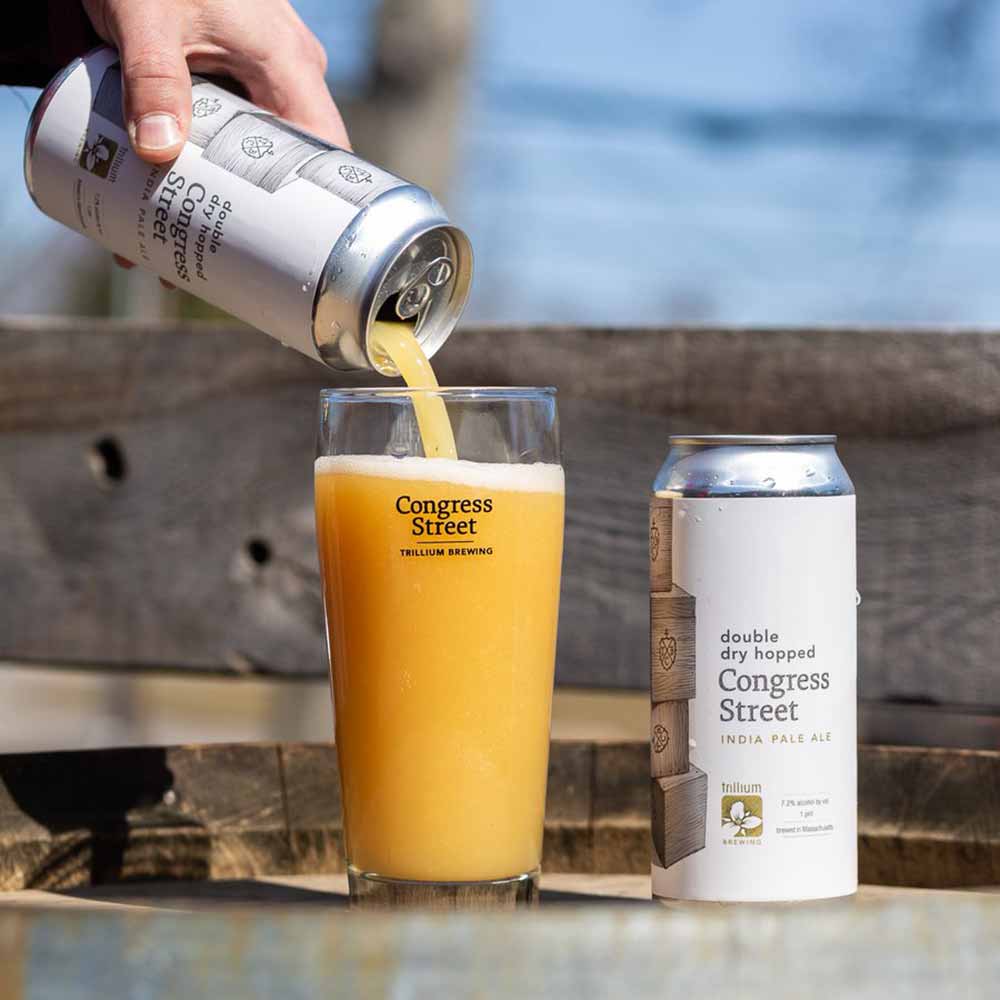 For years, Trillium has been at the forefront of the hazy IPA movement. They've also produced well-regarded pale ales, stouts, and sours.
Since opening in March of 2013 on Congress Street in Boston's Fort Point neighborhood with only three employees, Trillium Co-Founders JC and Esther Tetreault have grown Trillium into a brewing empire.
With now over 300 employees and five locations (plus a farm that's not open to the public), Trillium's name is known by craft beer connoisseurs far and wide.
While the list of excellent beers Trillium makes stretches higher than the Green Monster at Fenway Park, if you stop by, try classics like the Melcher Street American IPA, Fort Point American pale ale, or Double Dry Hopped Congress Street. You also can't go wrong with any of the brewery's fruited Berliner Weisses in the Daily Servings series.
Untold Brewing
96 Derby St Suite 330 A, Hingham, MA 02043 | (781) 374-1183
6 Old Country Way, Scituate, MA 02066 | (781) 378-0559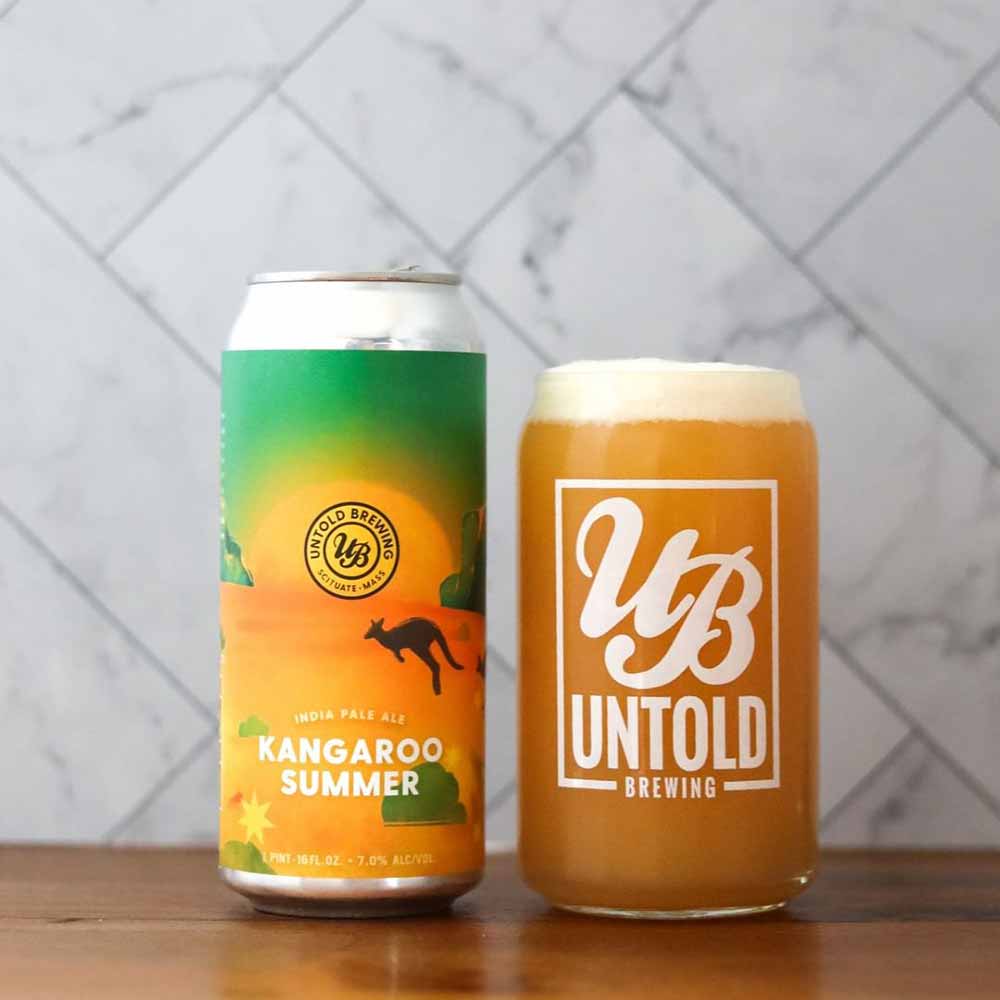 Started by Matt Elder, Untold Brewing opened in 2017 with the goal "to produce clean, high-quality ales and lagers in a breadth of styles that reflect the seasons, our coastal community, and our past," according to the brewery's website. In early 2021, Mike Dyer (whose pedigree includes Trillium and Tampa Bay Brewing Co.) joined as a co-founder.
Last year, Dyer kindly sent us a couple of packages of their beer for the first time. And each had a few beers that blew our minds.
For instance, Kangaroo Summer, a New England-style IPA featuring Aussie and New Zealand hops. Light and zippy, Kangaroo Summer accentuated bright honeydew and melon notes with a little kick of smoke; this IPA tasted completely different than anything we'd had before, so we named it to our list of "The 20 Best Beers to Drink in Spring 2022."
Other standouts have included a Vienna lager called Electric Kombi, a Cold IPA called Fractals, a lager called Seatown, and a dunkel called Dodecahedron.
Hopefully, those beers give you an idea of the capabilities of Untold.
This year, Untold announced the start of a project to open their third taproom in Plymouth, MA.
To clarify, if you hadn't heard of Untold before, now the story's out. Give them a try in the new year.
Vitamin Sea Brewing
30 Moore Rd, Weymouth, MA 02189 | (781) 803-2104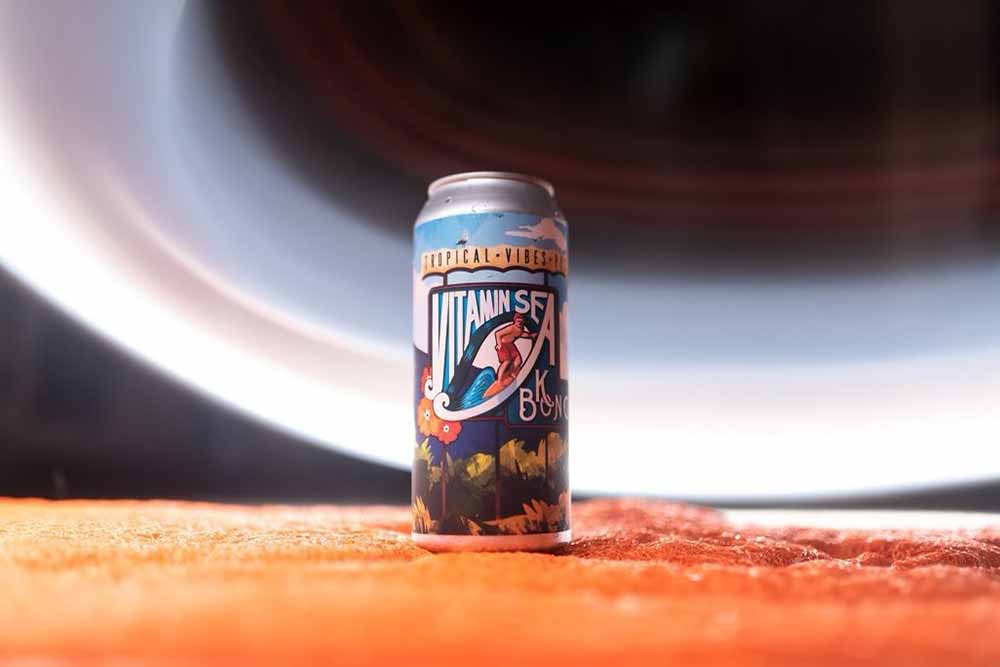 Hop Culture's 2019 Best Brewery of the Year, Vitamin Sea, has garnered epic acclaim for its velvety IPAs, lush fruited sours, and roasty, decadent stouts.
Helmed by Dino Funari, the most lovable, huggable man you'll ever meet, Vitamin Sea pushes the boundaries of beer…and then pushes them until they snap whether through their hop profiles or adjunct ingredients.
As Hop Culture Freelancer Andy Crump tells it in his Q&A with Furnari, "The reason Vitamin Sea is on anyone's radar and why Funari and his team endeared themselves to just about everyone in the industry is the work. Funari has put in the effort of traveling, collaborating, learning, improving, and excelling over the last few years–even before Vitamin Sea opened its doors to the public. Vitamin Sea brews excellent beers, but the character of the brewery team is what makes the South Shore brewery one of the best in the country."
All we know is that we were beyond excited when Funari emailed us at the beginning of the year, dropping some hints, "Hopefully, something to announce real soon ."
According to this recent Tweet, the award-winning South Shore brewery plans to open another location sometime this year.
We can't wait.
Notch Brewing – Brighton
525 Western Ave, Brighton, MA 02135 | (617) 548-2947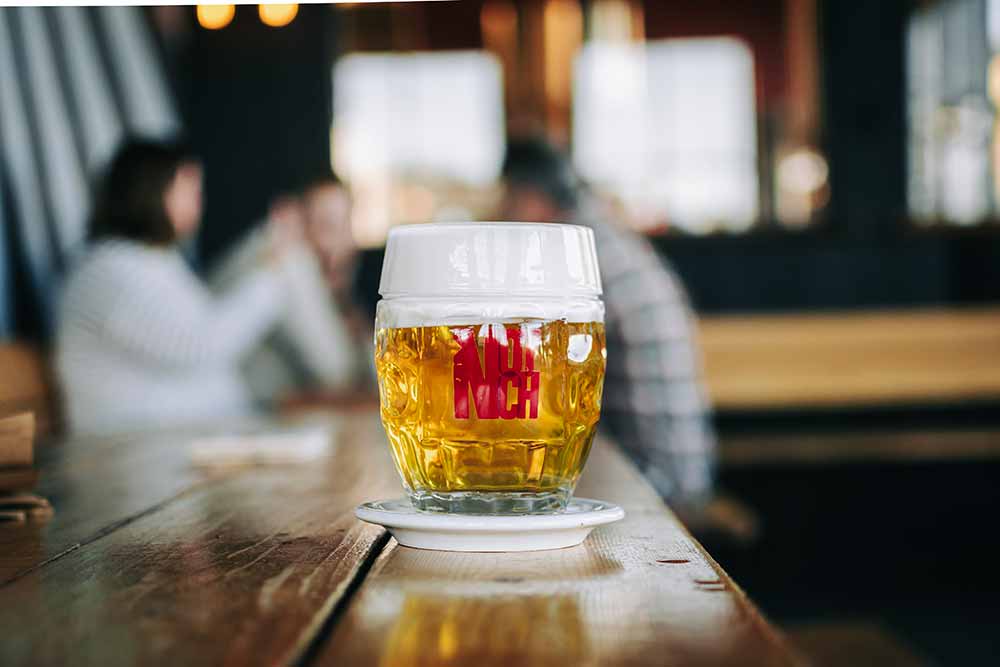 We'll make this pretty simple: Notch makes some of the best lagers in the country.
Founded by Chris Lohring in 2010 in Salem, MA, Notch remains committed to classic European styles—Czech pale lagers, Czech pils, Czech dark lagers, German pils, German altbiers, Polish grodziskies, and more.
We can't tell you how incredible it feels to find a brewery with steadfast convictions.
Remember, Lohring opened in 2010, American IPAs dominated, stouts surged. Plus, five years later, in his own backyard, hazies plotted a revolution. Through all of America's mercurial palates, Notch stayed true, brewing mostly lagers.
Almost to that continental divide between ingenuity and insanity.
For instance, Lohring adhered to traditional Czech brewing with multiple decoctions, open fermentation, and horizontal lagering. He actually became one of the first five American customers to invest in a LUKR faucet, the Czech side-pull taps that have become popular for pouring the perfect Czech beer.
In 2015, "I sent LUKR an email and hoped someone spoke English," Lohring told Hop Culture. Head of International Sales and Marketing at LUKR Jan Havránek answered in English, and a box showed up with a LUKR faucet in the spring of 2016.
Since then, he's trained his bartenders on the different Czech pours, completely dedicating the brewery to perfection from grain to glass to class.
While Lohring originally opened Notch in Salem, he opened the Brighton location in 2020, meaning folks looking for lager bliss around Boston need only drive about fifteen to twenty minutes outside the city.
Do it. Just trust us. If you're in the Boston area, you don't want to miss Notch.
Long Live Beerworks – Roxbury
152 Hampden St, Boston, MA 02119 | (617) 334-5633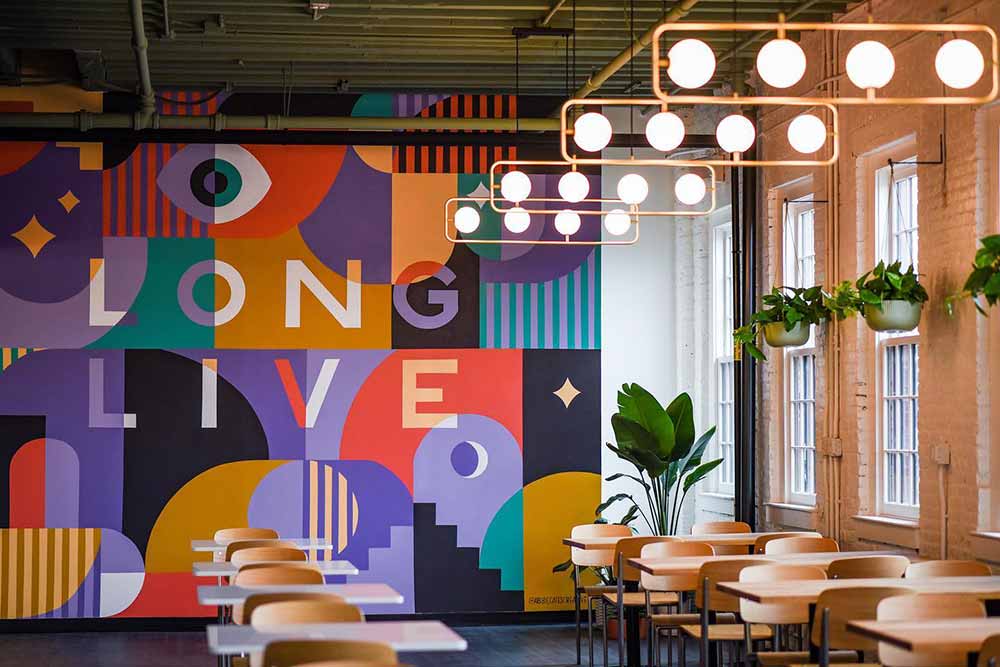 Celebrating its seventh anniversary at the beginning of 2023, Long Live Beerworks is one of our favorite under-the-radar breweries in the Northeast for their playful stouts, creative sours, and heavenly hazy IPAs.
So we were thrilled to hear that this Providence, RI-based brewery finally expanded with a new location in Boston in early June of this year.
Located in a renovated 1850s piano factory, Long Live's new splashy taproom will serve up the equally colorful beers that put Long Live on the map, even in the smallest state in the U.S.
Long Live is going big in Boston, offering a plethora of single, double, and DDH IPAs, plus an oatmeal stout, pilsner, and even something called "frozie" sours with fruited goodness.
Honorable Mention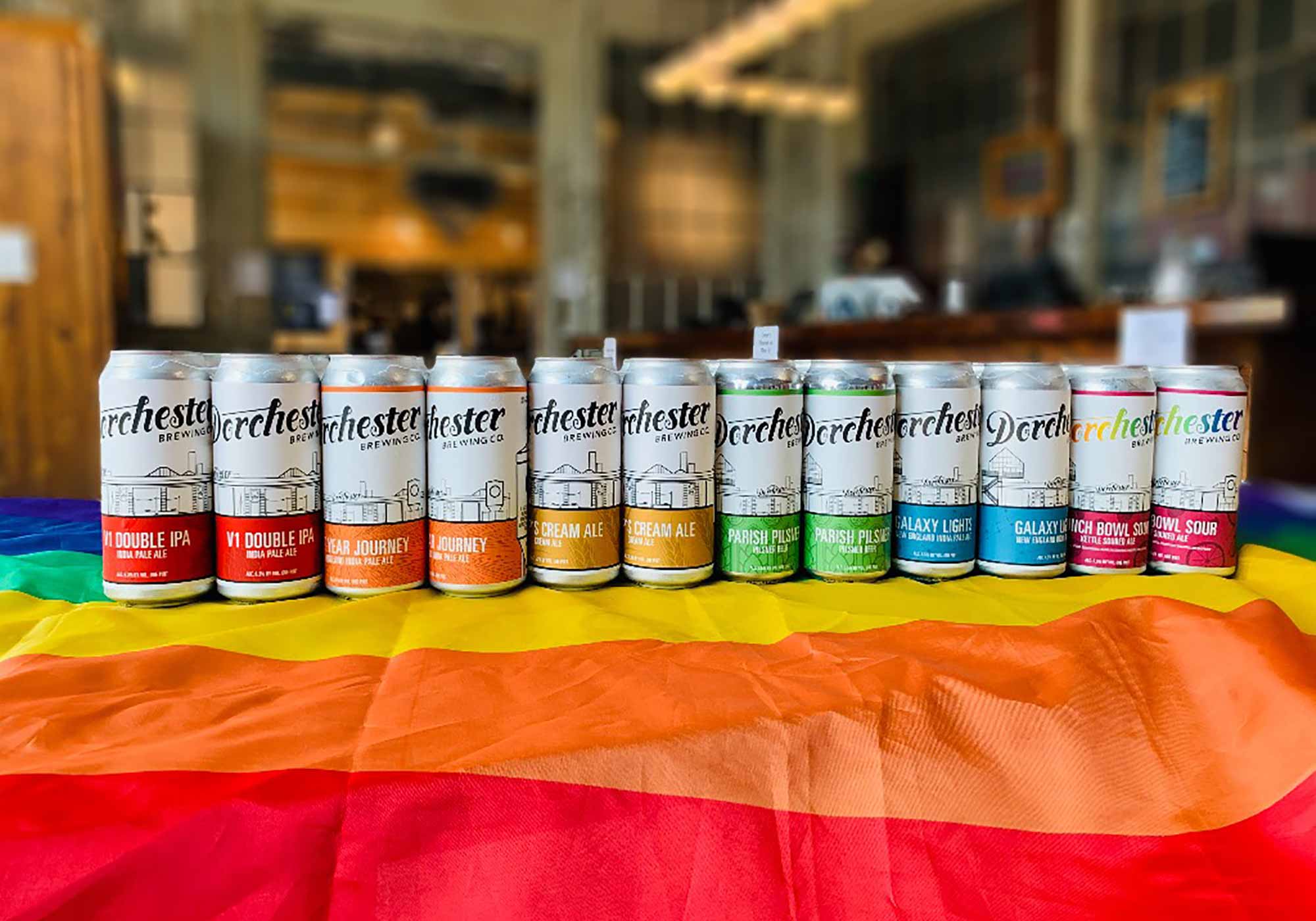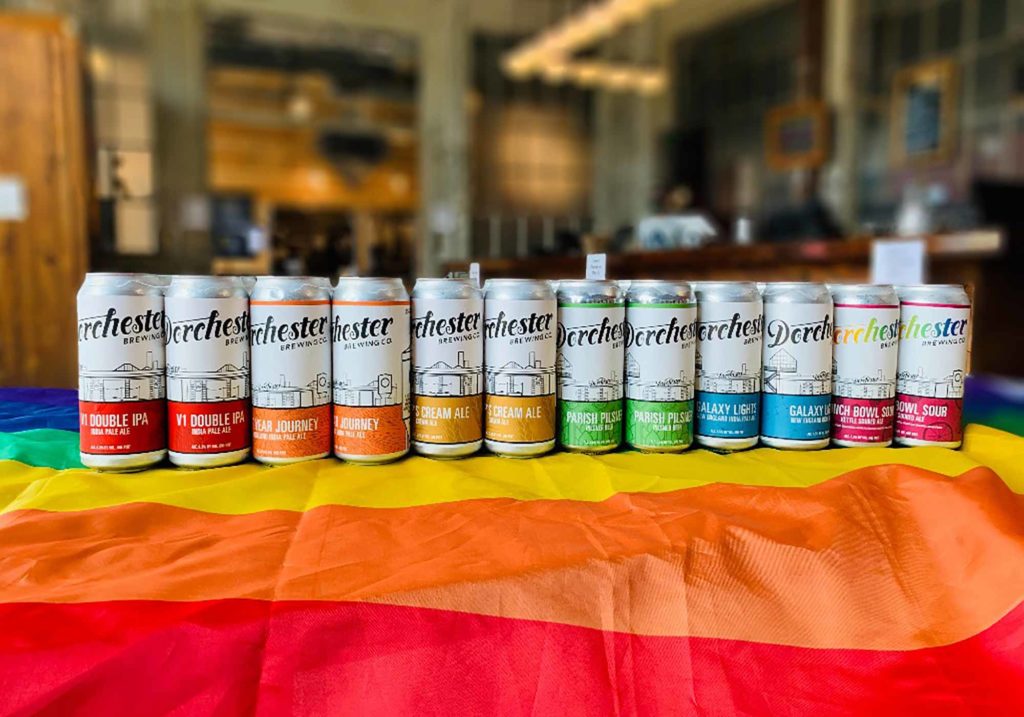 Those eleven breweries are just a snippet of the places you can visit in a few days in Massachusetts. For sure, there are others.
If you have a little extra time on your hands and want to explore further, definitely visit popular spots like Aeronaut and Remnant Brewing in Somerville and Dorchester Brewing, Lamplighter, and Cambridge Brewing Co. in Boston, to name just a few.
There wasn't enough time to visit all the taprooms where I wanted to belly up and have a beer or three. Safe to say that I left town thirsting for more. With hundreds of breweries statewide and dozens along the eastern part of the state, surely you'll need to make several trips to Massachusetts to cover them all. But our list of the Top 11 Breweries to Visit in the Greater Boston area is a great place to start.