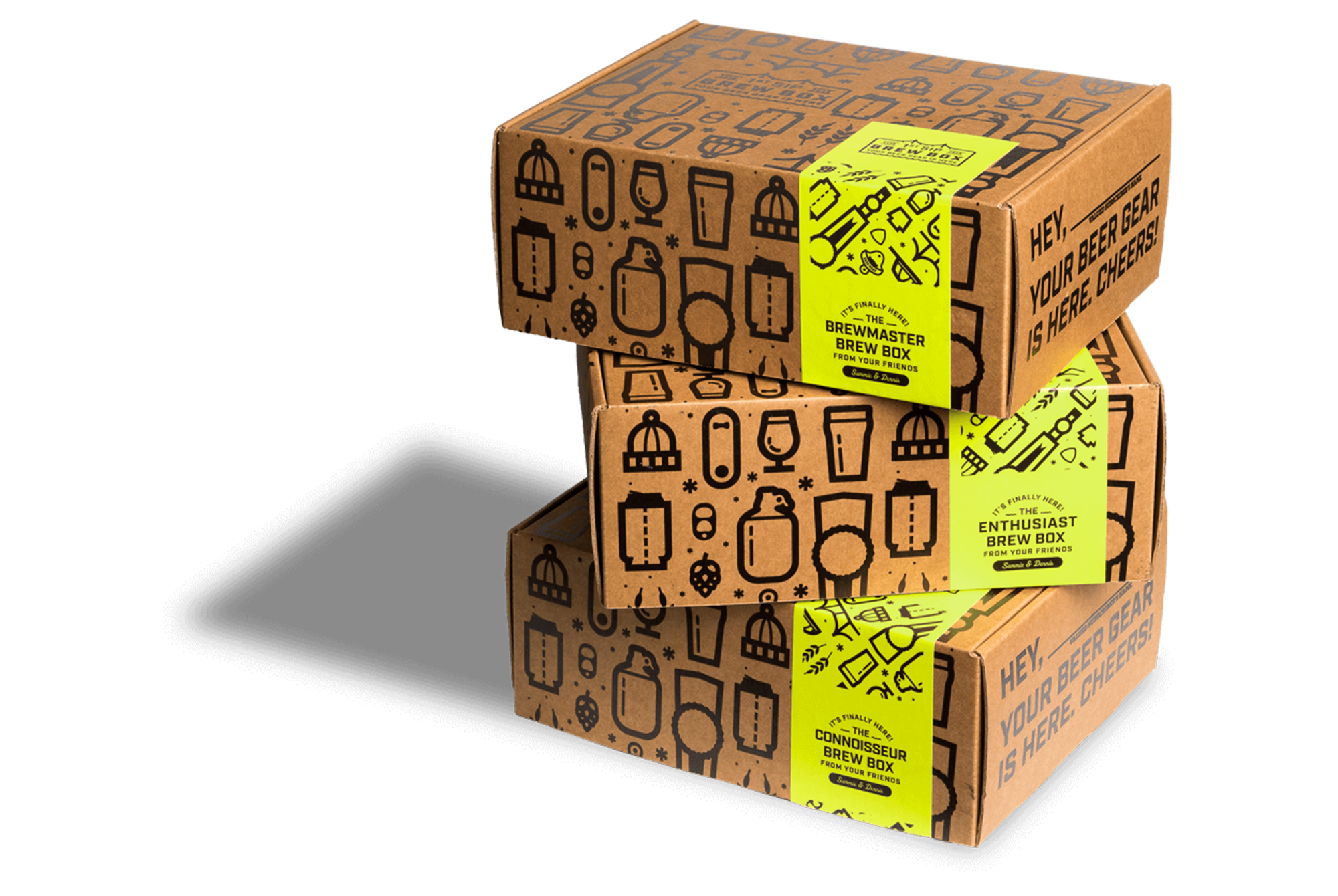 Updated on December 9, 2021
For someone who loves craft beer, the craft beer subscription box makes a terrific gift. Because what's better than opening a package filled with beer? We'll let you answer that question for yourself.
And in a year where we were all still forced to stay inside our apartment at times a craft beer subscription box often felt like a lifeline. Now with the holiday season upon us once again consider the craft beer subscription boxes below as perfect gifts whether for a pal, a significant other, or even just yourself.
"Traditionally, we have two types of customer," said Dennis Guy, co-founder of a Pittsburgh-based craft beer subscription box service called First Sip Brew Box. "One is the gift-giver. What do you give someone who has everything? Something unique and fun. The second is the craft beer enthusiast who loves everything about the product and wants to experience beer differently."
While it might seem like all craft beer subscription boxes are created equal, there are a hundred different variations on the theme. Some specialize in rare beers. Others focus on hoppy products. Some don't even include beer at all, but beer gear and apparel.
If you want to be in charge of what beers you receive, check out beer delivery services like Tavour , Saucey (Get $5 OFF your first order with code: HOPCULTURE), or Drizy (Get $5 OFF your next purchase with code DRIZLYDEAL).
Plus, some of our favorite breweries offer their own membership clubs (like Threes Brewing, The Bruery, Cellador, Humble Sea, and Firestone Walker.) If you're interested in joining one, check to see if your favorite local brewery already provides one or see if there are any available through the Oznr app.
But for those who want a little surprise, a craft beer subscription box might be the answer.
The Best Craft Beer Subscription Boxes
For Award-Winning Beer: Half Time Beer of the Month Club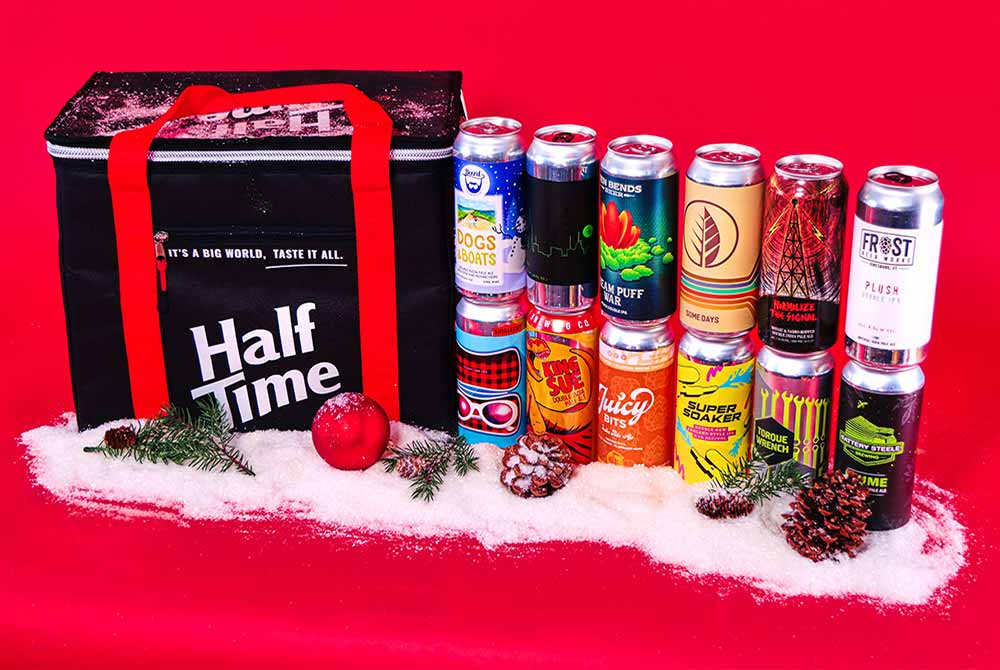 What it costs: $52-$96 depending on the club.
What you get: Our friends at Half Time, the most trusted source for online beer ordering, offer one of the largest selections of beer and cider around. We ranked them as one of our favorite places to buy beer online! Plus, they've won a few other awards for their amazing selection. Including Best Bottle Shop in New York and Top 3 Beer Store in the World according to Ratebeer.com. This fantastic beverage shop offers a variety of beer of the month clubs including:
Stouts & Porters
IPA Hop Head
Variety
German Beer
East Coast Beer
Around the World
For the Picky Beer Drinker: Beer Drop
What it costs: Starts at $39.99 a month plus $5 for shipping.
What you get: Beer Drop operates a little differently. Sometimes the fun of craft beer subscription boxes are that you never know exactly what you're going to get. But if you enjoy personalizing and tailoring a box just to fit your own hazy IPA or Imperial stout needs, Beer Drop is probably the best box for you. To start Beer Drop asks you to pick your five favorite styles in categories like "top picks", "hoppy", or "malty". Next Beer Drop will curate a box for you based on your exact preferences. Each month you'll receive ten cans of beer from five different breweries (two cans per brewery). You can also upgrade your subscription to the Beer Drop Plus or Beer Drop Ultimate level where Beer Drop will add special release or taproom only offerings into your package.
For the Hype King (or Queen): Craft Beer Kings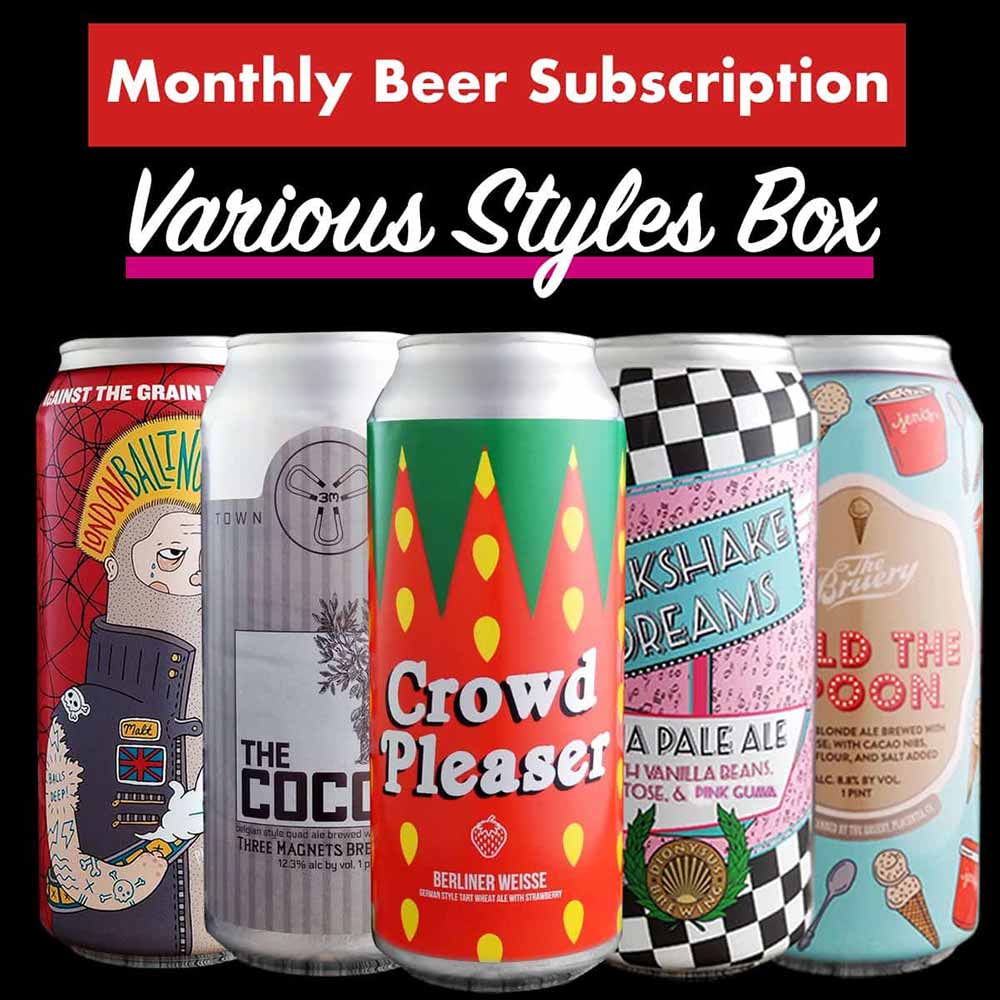 What it costs: $69.99 a month for 12 cans.
What you get: Thousands of delicious beers right at your fingertips. Craft Beer Kings is one of the premier places to buy beer online. As it says on their site, "If you're looking for awesome beer, you've come to the right place." And if beer packs from Alvarado Street, Mortalis, Tripping Animals, Equilibrium, and so much more are your jam then you've definitely come to the right place. Monthly subscriptions get you the greatest and latest beers that Craft Beer Kings has in stock. You can choose from the following packages:
Hazy IPAs
Sours
California Beer
Dark Beer
Various Styles
IPAs
IPAs & Sours
Sours & Stouts
Stouts & IPAs
Barrel-Aged
For The No-Frills Classic: The Original Craft Beer Club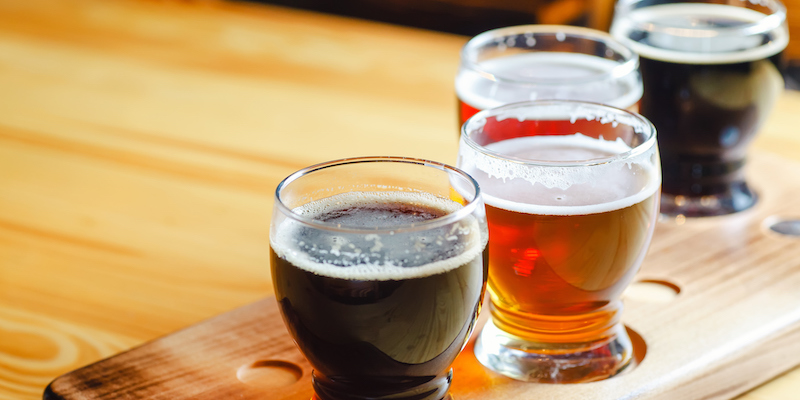 What it costs: $42 per month (including shipping!) for 12 bottles.
What you get: Each month The Original Craft Beer Club sends you a box of twelve beers — three of four different styles. Although you won't get the rarest or most hyped beers, you're guaranteed to get quality. Enjoy beers from Hardywood Park Craft Brewery, Yazoo Brewing Company, Scuttlebutt Brewing Company, 3 Sheeps Brewing, and more. The best part? The customer service is second-to-none, with more 5-star reviewers writing about the quality of the service than the actual product.
FREE SHIPPING ALWAYS + Up To 3 Bonus Gifts Now At Craft Beer Club – Join Here!
For The World Traveler: Brews Less Traveled Beer Club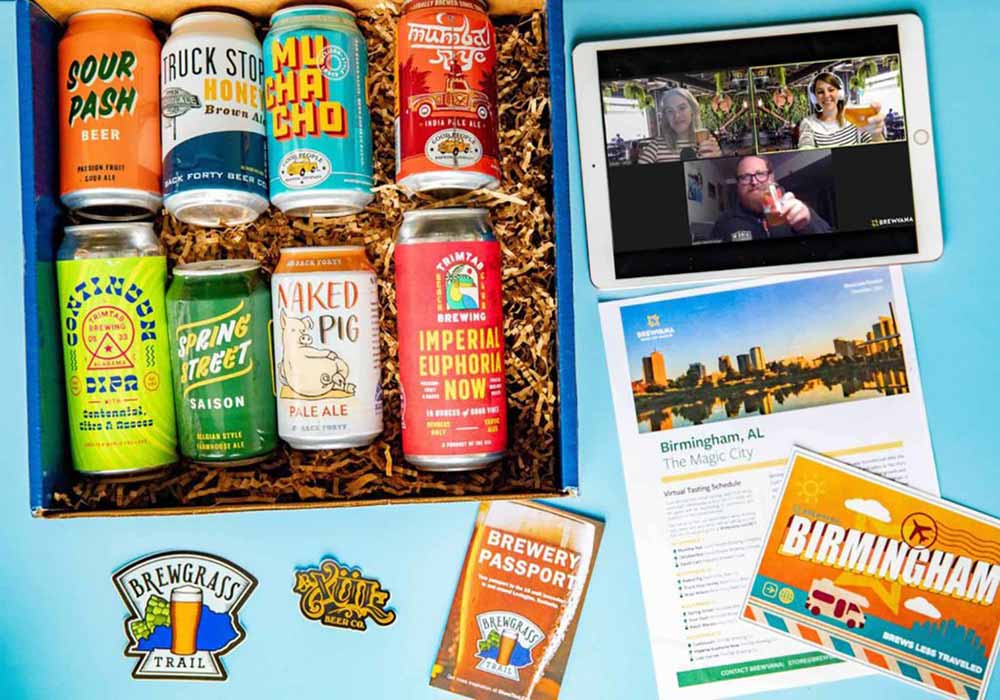 What it costs: $69 / month with first month free.
What you get: The Brews Less Traveled Beer Club takes you on a tour through the best uncharted craft beer cities in the country, complete with weekly virtual tastings. Every month you'll receive eight beers from different breweries across one unique beer city—each hand-picked by a team of beer experts.
Meet up with fellow travelers each week for the Brews Less Traveled live stream and virtual beer tasting to explore each beer in depth. You'll hear from brewers and other industry experts, chat with fellow Travelers and explore the beer scene in and around that month's featured city.
Get your first month FREE when you lock in a 6-month subscription to the Brews Less Traveled Beer Club today. Month-to-month subscriptions are also available; pause or cancel any time.
For the Couch Surfer: Tavour
What it costs: Free to sign up and $14.90 for shipping + the cost of beer.
What you get: A craft beer delivery service that specializes in curated boxes of craft beer, Tavour is more like one of the best places to buy beer online than a true subscription service. But this beer delivery site has become so popular that it's worth mentioning here too. Tavour's formula is slightly different because it lets customers fill up their box over a period of time before shipping out the full package. Tavour is a great service for experimentation without having to leave the house. You order beer by the box (not individually), which is why we feel it fits into the category of best craft beer subscription boxes. Tavour often has snags some of the most hyped beer in the country like Anchorage Brewing A Deal with the Devil. And with over 650+ breweries and counting on the platform you'll never run out of new releases and old favorites to nab. All you need to do is download the app (Apple or Google Play) to see their current menu, pick the beers you'd love to try, and they'll take care of the rest.
For The Connoisseur: The Rare Beer Club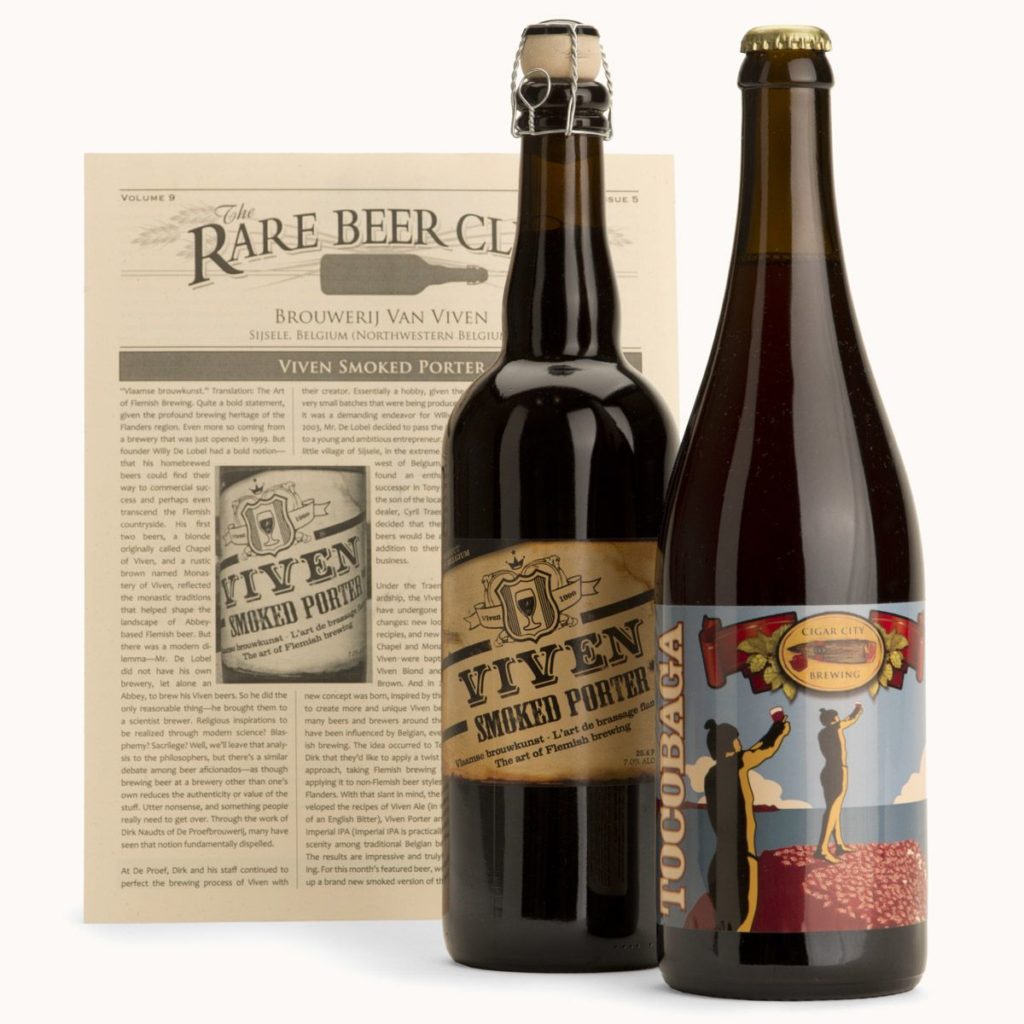 What it costs: Starts at $37.85 plus $14 for shipping for two bottles a month.
What you get: Before the famed beer critic Michael Jackson passed away, he founded The Rare Beer Club, a monthly subscription box that includes limited release bottles from around the world. For $37.95, subscribers get two 750ml bottles. The current team behind the club has experience judging The Great American Beer Festival and heading brewing operations at the 100+ location BJ's Brewhouse, so you get rare bottles you actually want, from Jolly Pumpkin's L'épouvantail Noir (Oak-Aged Saison with Pumpkin & Blackberries) to The Lost Abbey's Righteous Son.
Join Here: Save $15 With Code SAVE15
For Haze Girls and Juice Boys: Hop-Heads Beer Club
What it costs: $34.95 a month plus $15 for shipping and handling.
What you get: The same company that fulfills The Rare Beer Club also has this package for those who love their IBUs. Every month, subscribers receive a box of a dozen IPAs, Double IPAs, Session IPAs, IPLs, Imperial IPLs, Hoppy Pale ales, and even the occasional Red Ale. Recently, the club featured both canned and bottled selections from classics like Fulton, Uinta, and Bent River.
Join Here: Save $10 on a 4 Shipment Order With Code SAVE10
For the Gourmet: The Hops Collective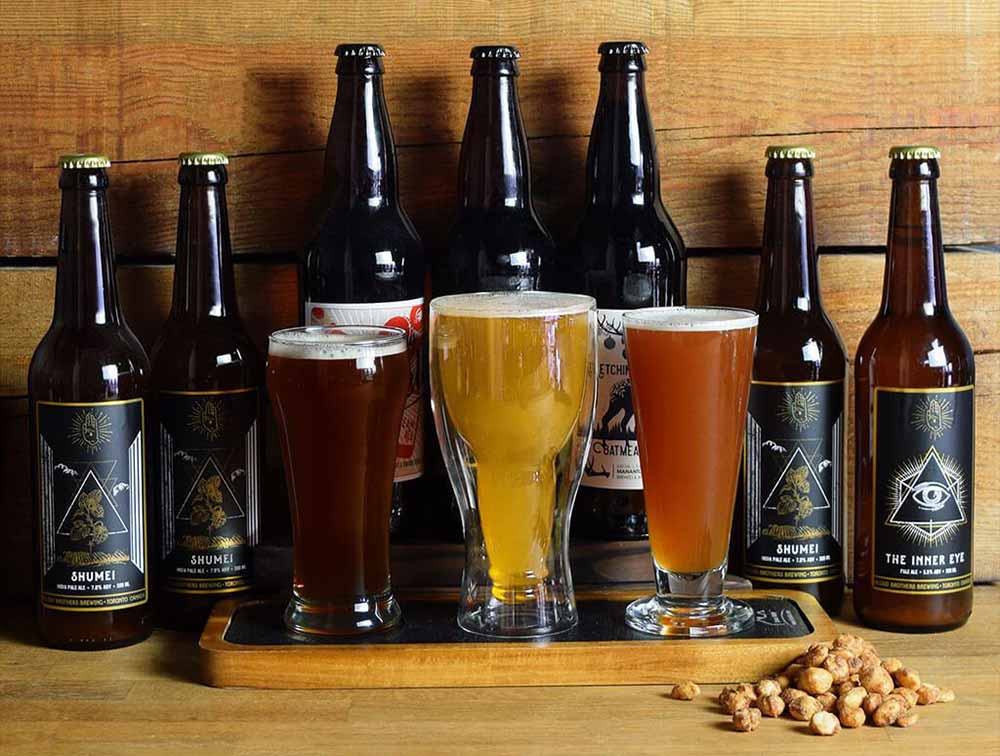 What it costs: Starting at $42.99 a month.
What you get: The Hops Collective beer of the month club offers everything from classic local brews to hard-to-find, rare gems from breweries across North America. You can also add on gourmet food, fruit, cheese, chocolate, and more. Choose from one of three types of clubs including:
Domestic Beer of the Month Club (classic American beers)
Mystery Craft (let the experts choose)
Ultimate Craft Beer Club (hard-to-find treasures, small-batch beers)
For those Down Under: Craft Beer Coopery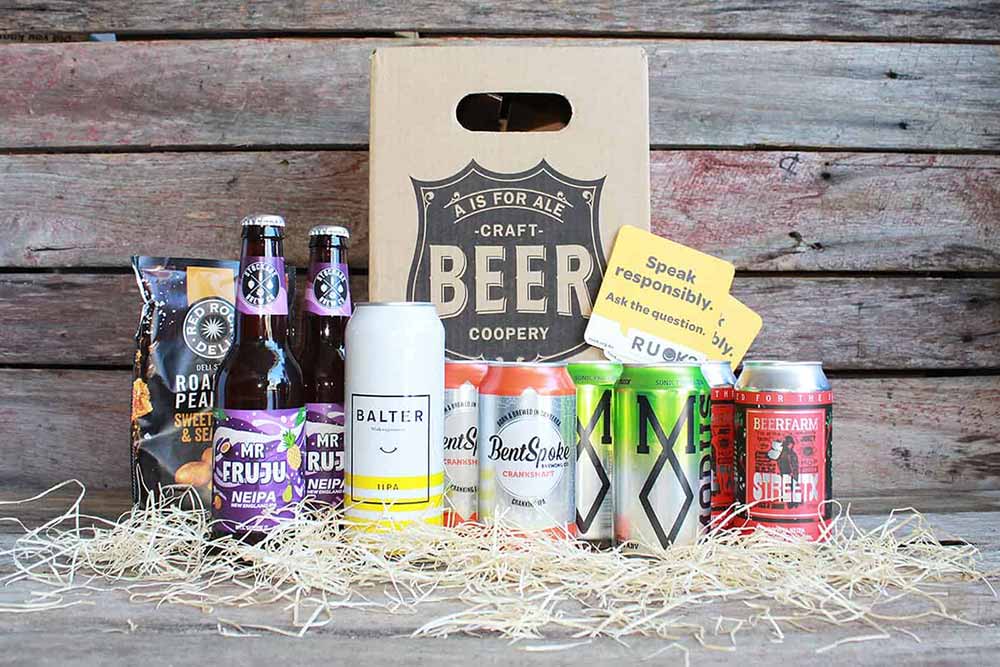 What it costs: $56.95 a month.
What you get: Looking to try beer from a completely new country? Southern Hemisphere hops have taken America by storm, so why not just go ahead and get a taste of the beers coming straight from "down under'? Craft Beer Coopery curates a box from different craft breweries across Australia and delivers it to your door to share with a mate. Nine hand-selected hard-to-find craft beers make it into each box along with a hand-picked beer snack (like beef jerky or nuts), tasting notes with all the stories of each independent Australian brewer, and Man Anchor #Letstalk beer coasters.
The Best Craft Beer Subscription Boxes Without the Beer
These craft beer subscription boxes don't actually send beer. Wait, what? You heard us. We love these monthly clubs because of the fantastic beer-adjacent items they send you. Still confused? Well, read on…
For The Small Business Champion: First Sip Brew Box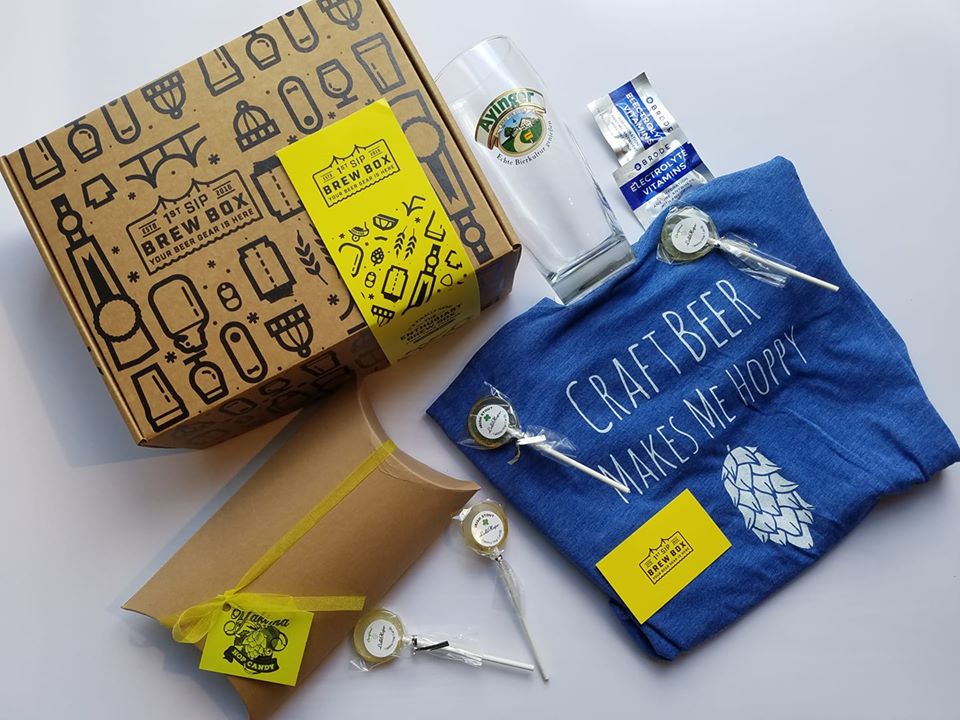 What it costs: Starts at $25 a month.
What you get: From Dancing Gnome to Fresh Fest to the new travel show Next Exit to Hop Culture, great things come out of Pittsburgh. That includes First Sip Brew Box, a veteran-owned, minority-owned, and women-owned company that sends out a monthly box of craft beer swag. Instead of alcohol, the company partners with small businesses across the country to feature "beer-adjacent" items, including gear, branded glassware, stickers, and apparel. Currently, the company offers three levels of subscription: The Brewmaster Brew Box for $25 per month, The Enthusiast Brew Box for $50 per month, and the epic Connoisseur Brew Box for $60.
For The Person With Everything: Cooler Can Monthly


What it costs: Starts at $8 a month. Plus free U.S. shipping.
What you get: One of the cheapest beer of the month subscriptions is also one of the most fun. For $7 per month, Cooler Can Monthly will send you a different limited-edition koozie. That's right — no beer, no frills, just koozies. Because even if you've got everything, you probably don't have a koozie subscription.
For The Fashionista: Dive Bar Shirt Club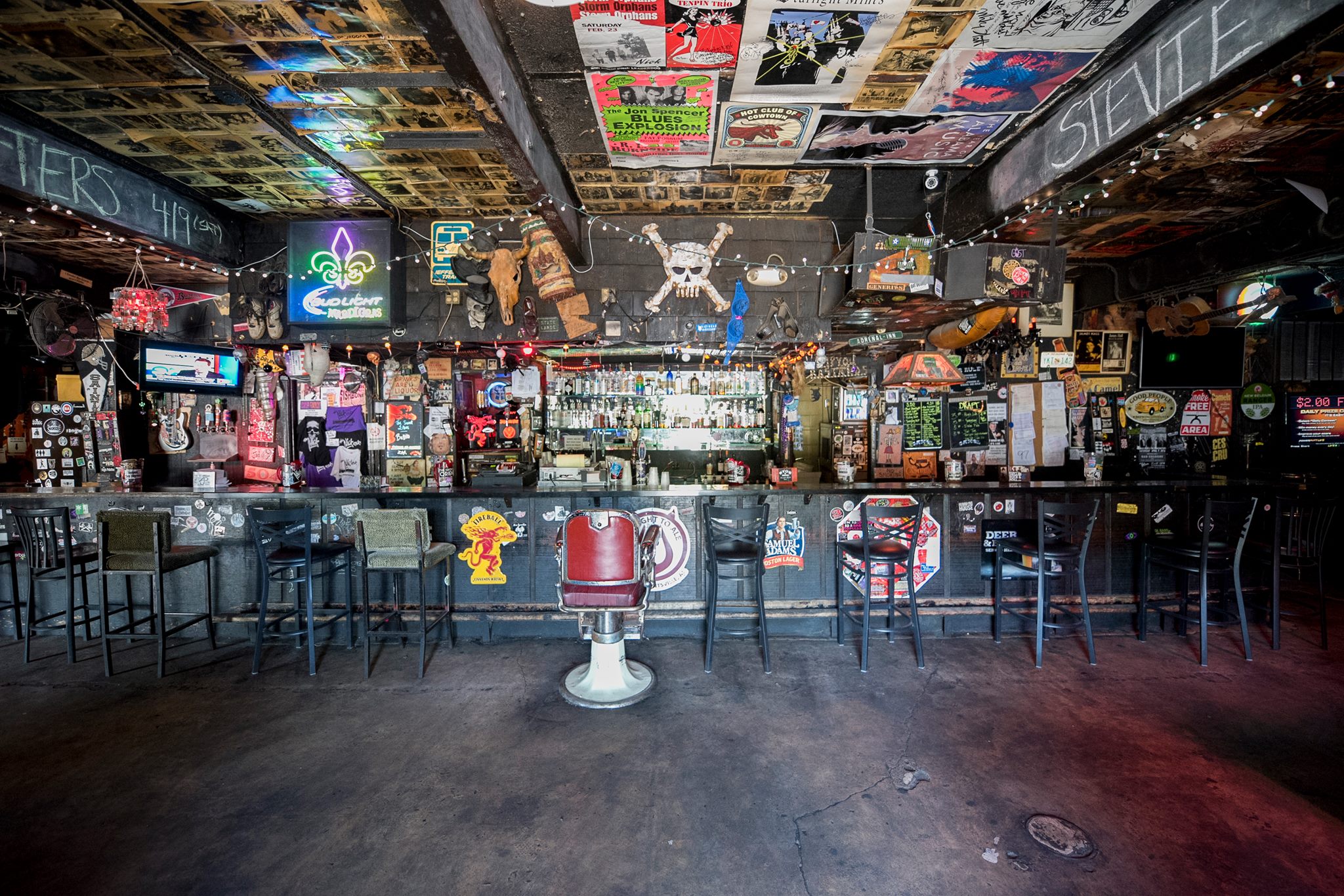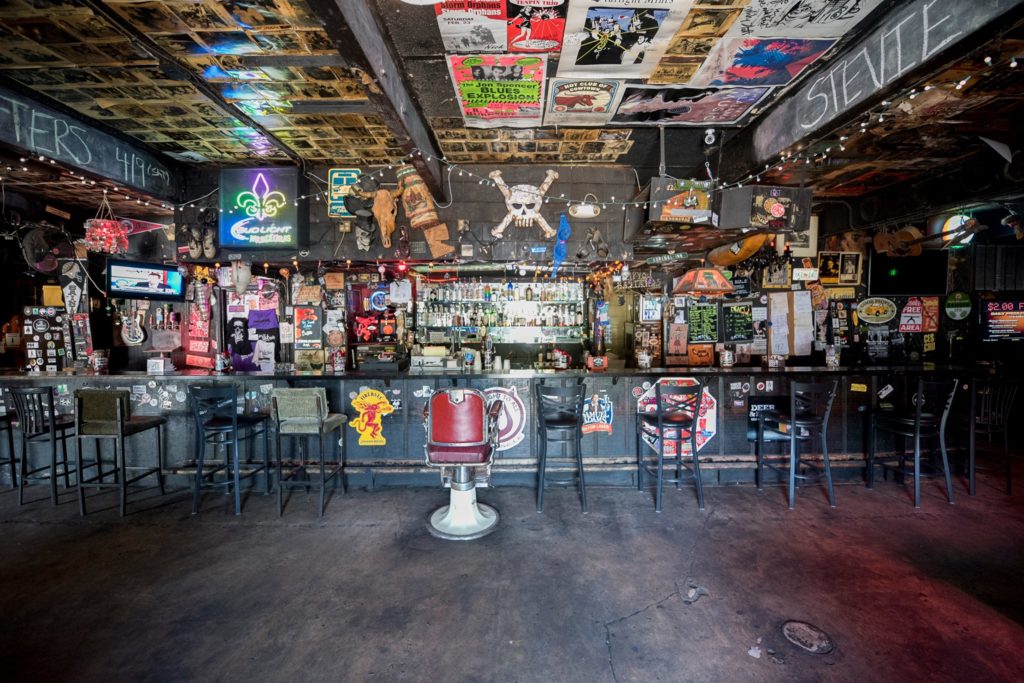 What it costs: $24 per month with free shipping inside the USA!
What you get: Like Cooler Can Monthly and First Sip Brewbox, Dive Bar Shirt Club doesn't actually send beer, but limited-edition shirts from dive bars around the country. Sport a tan t-shirt from the Silver Dollar Saloon in Virginia City, Nevada. The next month, you might get a white shirt from Don's Club Tavern in Denver, Colorado. Each box features a shirt with an original design as well as a little info from each unique watering hole.
The Best Subscription Services for Non-Beer Drinkers
For Those That Love Wine Too: The California Wine Club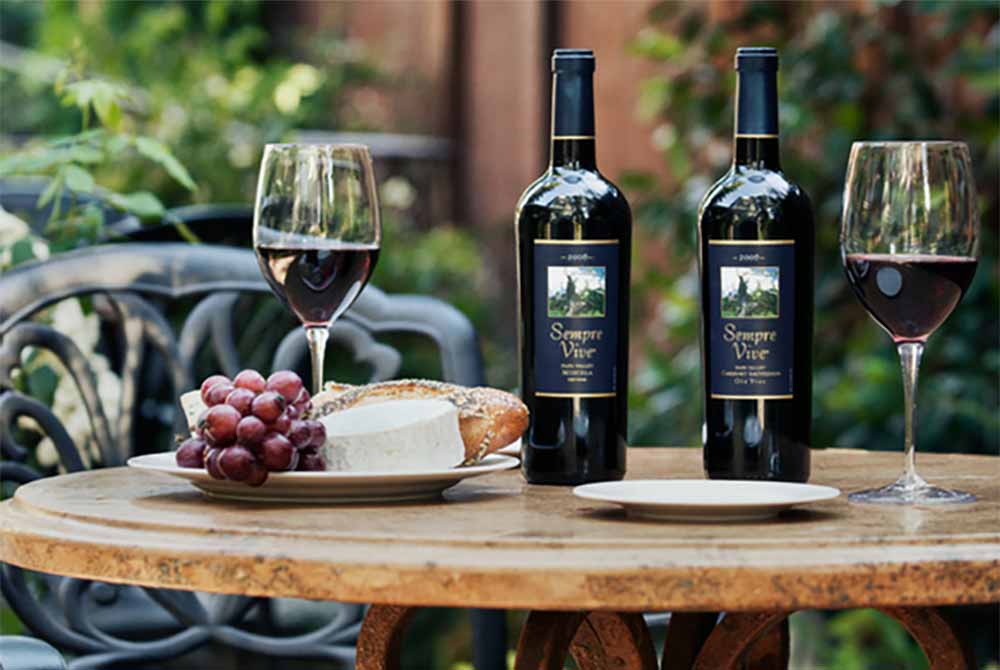 What it costs: $39.95 – $235 a month for 2 bottles of wine.
What you get: Drink wine from small handcrafted wineries making extraordinary wine. Since 1990 The California Wine Club has discovered the artisan, hidden gem wineries that are producing high-quality wine from around the world. Their team curates boxes of wine for all levels, meaning you can choose from these five different memberships:
Premier (most popular wines)
Signature (highest-rated wines in California)
International (wines outside the U.S.)
Aged Cabernet (prestigious wines aged 8-12 years from Napa)
Pacific Northwest (small-batch wines from Oregon and Washington)
Save 10% sitewide with code YES10. Only valid until 12/31/21
For The Person Who Needs Something Stronger Than Beer: SaloonBox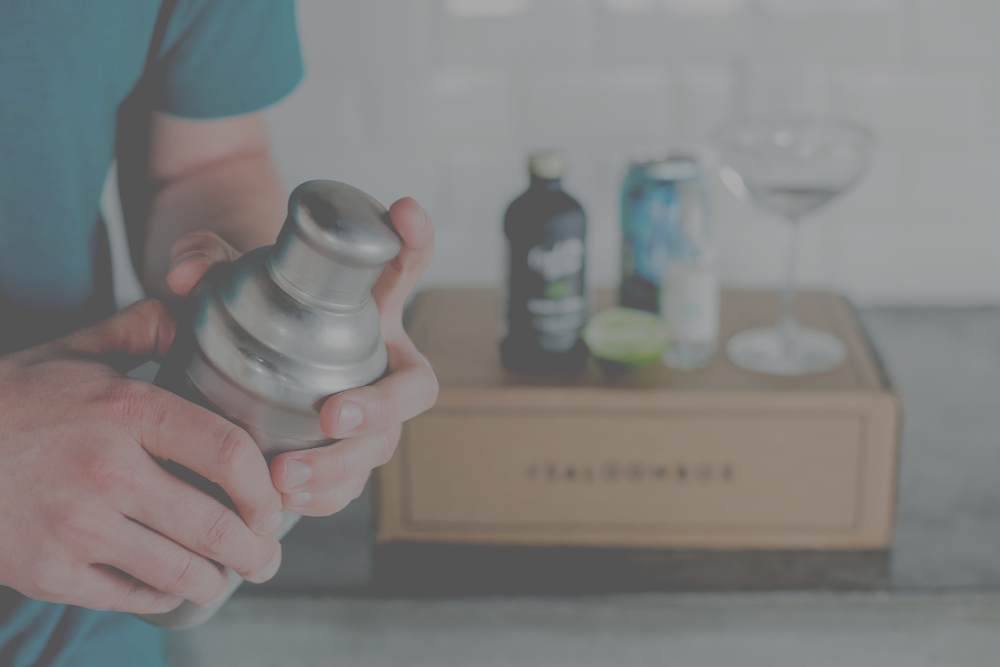 What it costs: Starts at $172.99 a month for 3 months.
What you get: For those that need something a little stronger SaloonBox delivers curated cocktails to your door each month. Each kit is made with two people in mind and includes all the ingredients and instructions you'll need to create two custom cocktails. Designed by actual bartenders, the recipes feature expertly-chosen spirits and high-quality items.
For the Coffee Lover: Yonder Coffee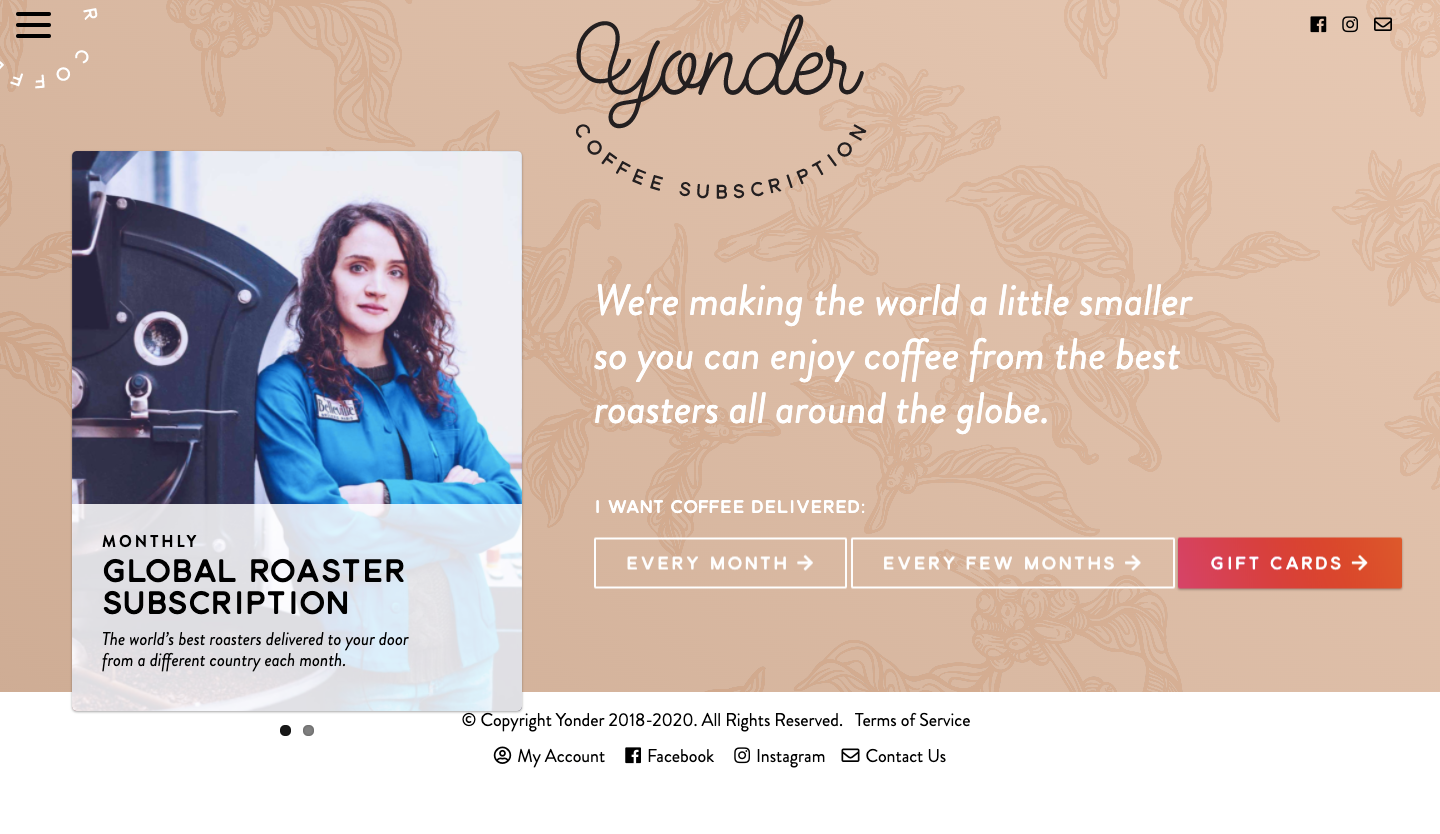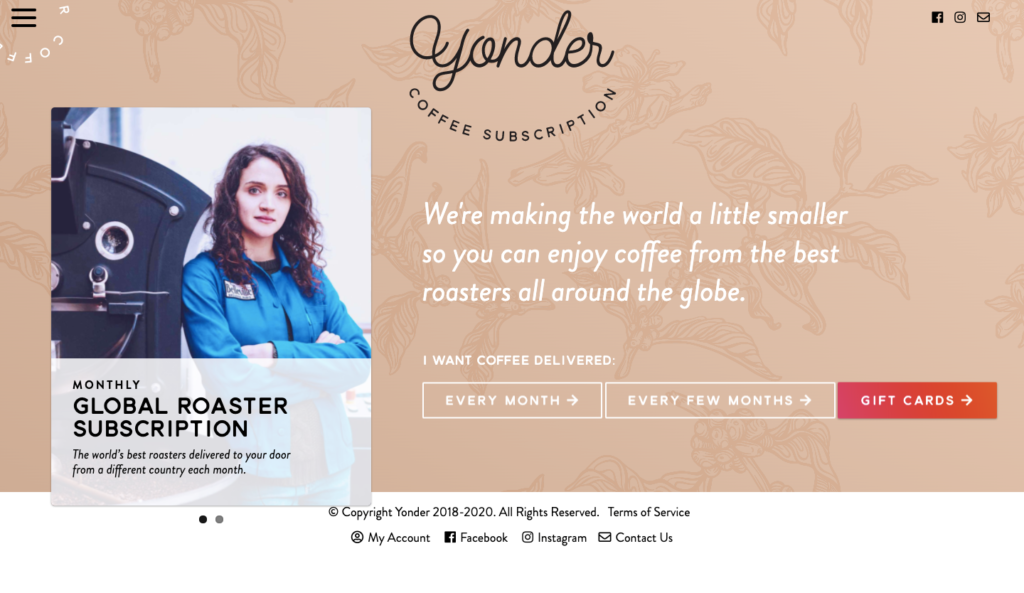 What it costs: $35 a month for one bag of coffee. $59 a month for two bags of coffee.
What you get: While our other coffee subscription boxes might focus on American roasters, Yonder Coffee solely offers coffee from international roasteries. Yonder, founded by coffee aficionado (and friend of Hop Culture) Caleb Durham, gives attention to the global coffee community and brings the world's best beans right to your door. You can opt for a monthly subscription with up to four bags of coffee from new international roasters each month.
Or, pick the quarterly "Producing Country" subscription which features roasteries in countries like Indonesia, Peru, and Honduras. We're hooking you up with an exclusive promo. Use the code HOPCULTURE when you sign up for 50% off your first month's order!
Sign Up With Code HOPCULTURE Now for 50% Off!
For the Music Lover: Vinyl Me, Please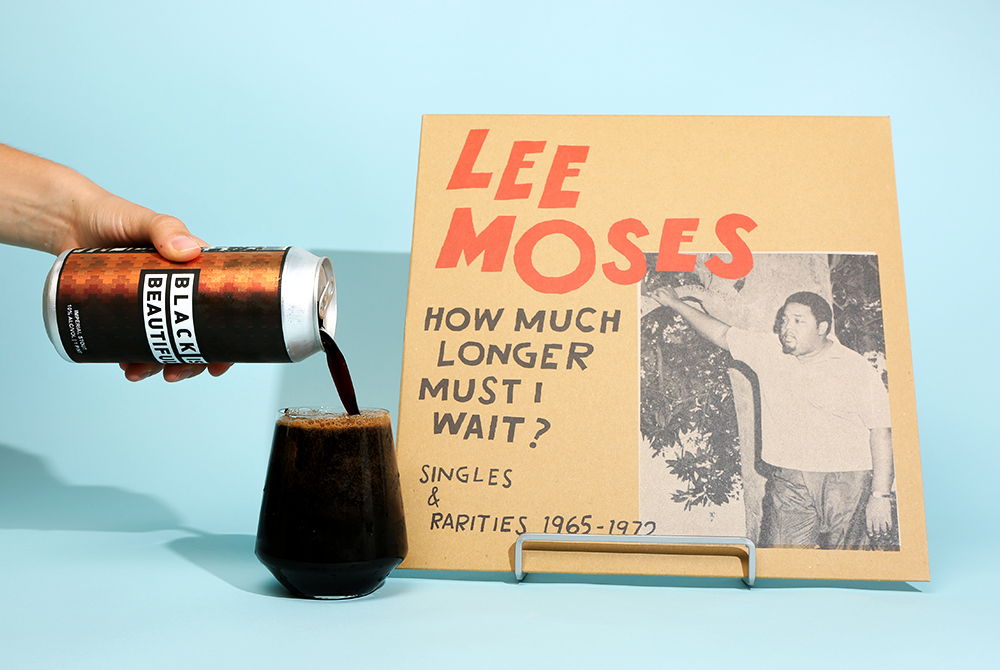 What it costs: Starts at $43 for one month. $119 for 3 months. Save $40 per year! $219 for 6 months. Save $78 per year! $399 billed annually. Save $117 per year! All shipping is free.
What you get: Vinyl Me, Please (VMP) is easily one of the best record subscription services available. If you're interested in dipping your toe in the great wide world of vinyl, this is the subscription box for you.
Each month, VMP picks out a selected deluxe edition vinyl in one of their three categories (Classics, Essentials, Hip Hop). You can even swap your monthly pick if you're not feeling it! That amount of customization and curation makes the Vinyl Me, Please a great subscription box for music lovers.
Unless otherwise noted, all of the products featured on Hop Culture are independently chosen by our editorial team. However, Hop Culture may earn a commission from purchases made through affiliate links on the site.
Liked this article? Sign up for our newsletter to get the best craft beer writing on the web delivered straight to your inbox.