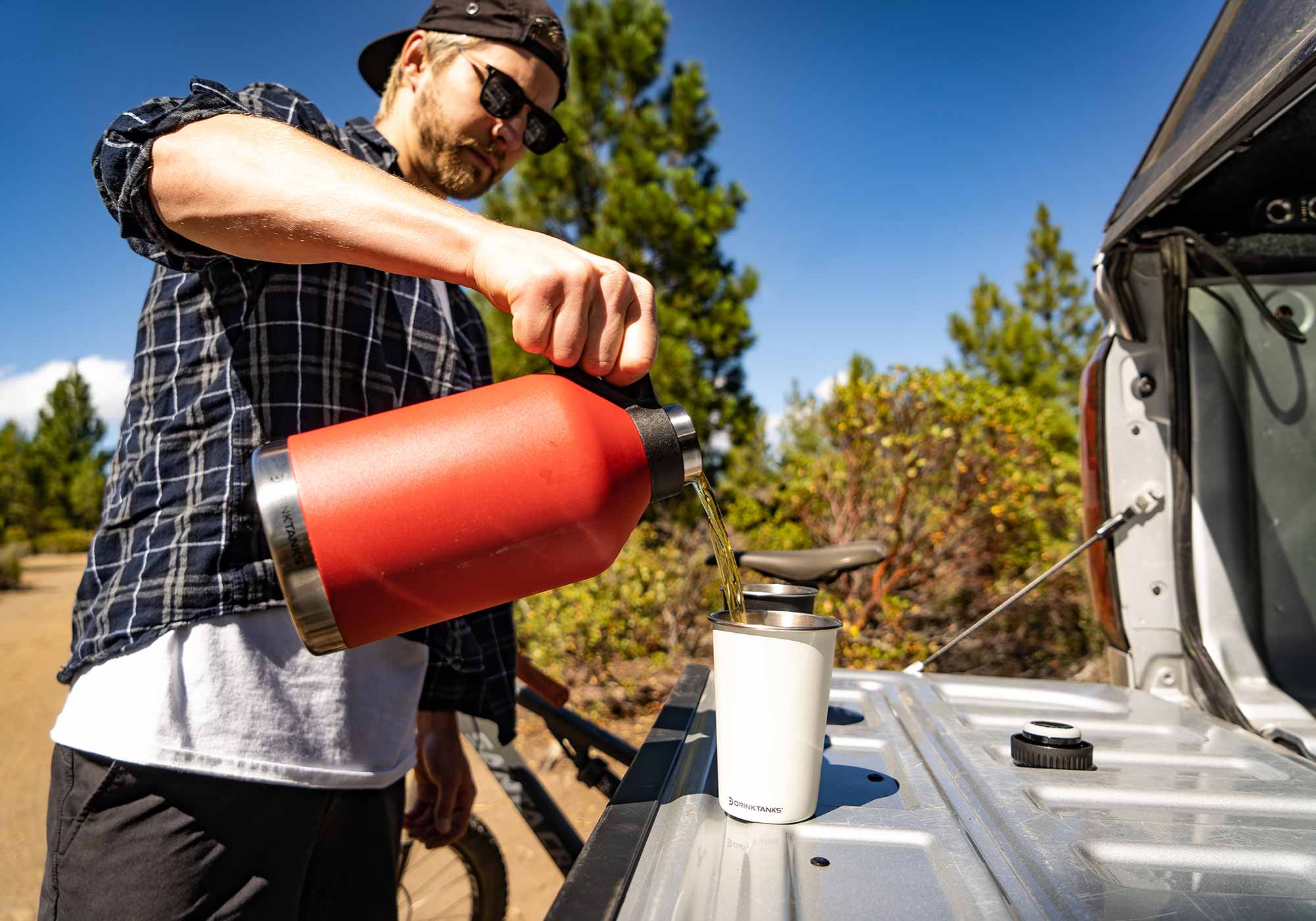 Photography courtesy of DrinkTanks
Editor's Note:
This is a paid, sponsored post presented by DrinkTanks.
T-minus one week until the best unofficial beer-drinking holiday of the year! No, we're not talking about those joyous (or potentially dreaded) family holiday gatherings around Thanksgiving or Christmas. We don't even mean one of America's four four-day weekends (looking at you, President's Day, Memorial Day, Independence Day, and Labor Day). And we aren't referring to beer celebrations such as National IPA Day or Oktoberfest. Although those are all great drinking occasions, our favorite unmarked day of the year to enjoy a pint is the NFL season opener. Why? Because it means countless tailgates lay ahead of us. And that means we get to bring out our tailgating gear.
Follow us here. Is there anything better than cracking a cold one in a parking lot while warming yourself via the steam coming off a charcoal grill? Decked out in our Pittsburgh Steelers beanie or Minnesota Vikings mittens, we enjoy tailgating because it combines so many things we love. One of the greatest games of all time. Check! Some of America's best food. Check! And, since we're aficionados of fine craft beer, some of the best beer in the country. Check!
Because we run a craft beer magazine, we take our tailgates to the next level. Our tailgates have the best and freshest drops we can find. And if we're consuming some top-notch craft beer, then we need to make sure our tailgating gear is on point. We need things that are up to the challenge of delivering our beer in the coldest, freshest, cleanest, and fizziest way possible.
With that in mind, we rounded up the best gadgets and gizmos you'll need to host your craft beer tailgating extravaganza. As the new season kicks off, we've got many questions about the season: Will Dak Prescott be healthy enough to play? Will the now forty-four-year-old Tom Brady continue to defy the laws of aging? But questions about our beer gear aren't on that list.
Hop Culture's Picks For Best Tailgate Gear
DrinkTanks Travel Keg™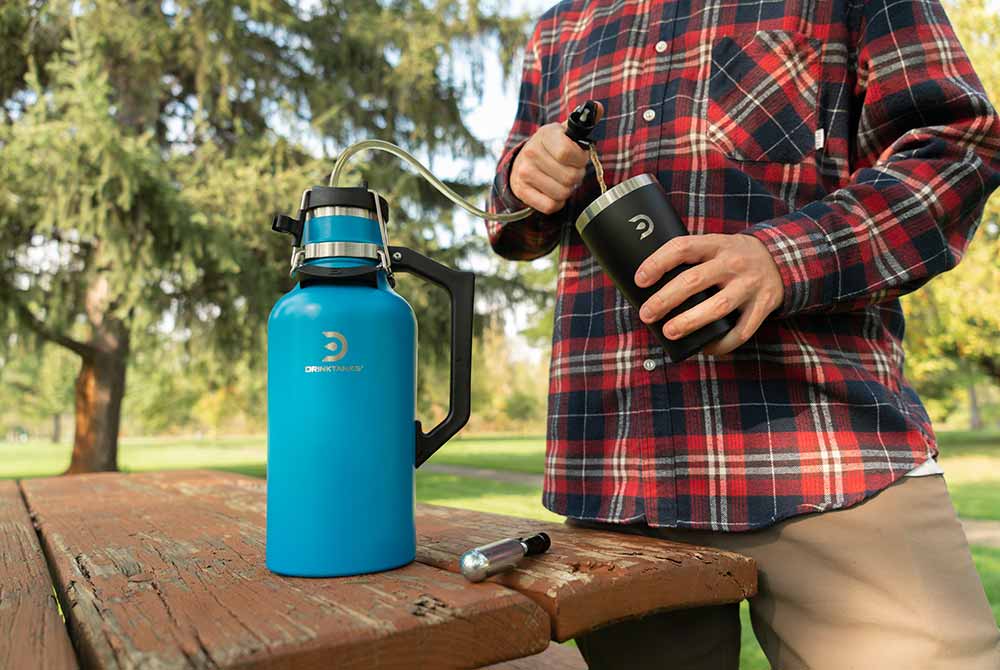 There's a reason we've repeatedly listed DrinkTanks in our top gear lists, such as The 8 Best Beer Growlers of 2021, The 11 Best Pieces of Gear for Memorial Day Weekend, and The Top 7 Beer Gifts the Hop Culture Team Loves. It's because DrinkTanks makes one of the best growlers on the market. And what's the chief concern at a tailgate? Since you're out there for hours, you've got to keep your beer cold and carbonated.
Unlike most growlers, the DrinkTanks Travel Keg™ is absolutely perfect for tailgates because you can fill it with beer (or even a mimosa or gin and tonic for that matter) and rest assured that your drink will consistently flow out of the Keg Cap® attachment as fresh and fizzy as when you poured it in. Even forty-five hours later, your beer will still be carbonated and cold. Thanks to DrinkTanks Craft growler's double-walled vacuum insulation, you just set it and forget it until your next perfect pour.
The DrinkTanks Travel Keg™ just gives your super finicky beverages that white glove touch. And for our football game parties we want nothing less. This piece of gear is the ideal vessel for your weekend tailgating adventures, and adding this growler to your lineup is a no-brainer. Kind of like starting Christian McCaffrey on your fantasy football team.
Solo Stove Ranger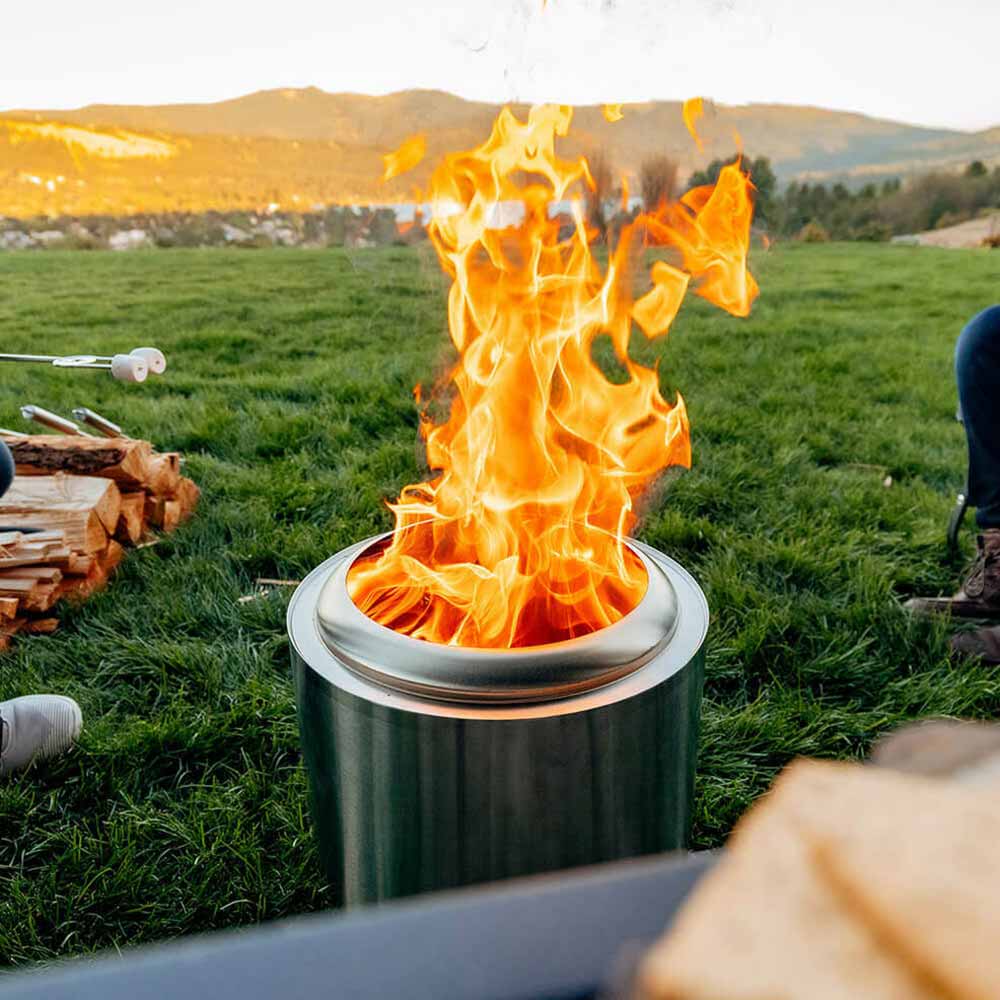 For all you sports fans in cold markets, it's important to keep your beer chilled but your bodies warm. And this warming machine is described as "the world's most portable fire pit". Whether it's at the beach, the open road, a campsite, or a parking lot, the Solo Stove Ranger brings hot, hot flames to your party. And without the smoke! Featuring a signature 360-degree airflow design, this travel fireplace minimizes the smog. No tearing eyes and smoke-laden clothes in sight.
Smoke Hollow Tabletop Grill
You could grill your tailgating fare with a standard charcoal grill. But that's so 2019. To welcome pre-game parties back into your weekend plans elevate your game with this stainless steel, propane tabletop version of the grill. With 288 square inches of cooking space and 10,000 BTUs of power, this grill is roomy, yet easy to travel with and powerful enough to torch all your burgers and dogs to perfection.
DrinkTanks Session Line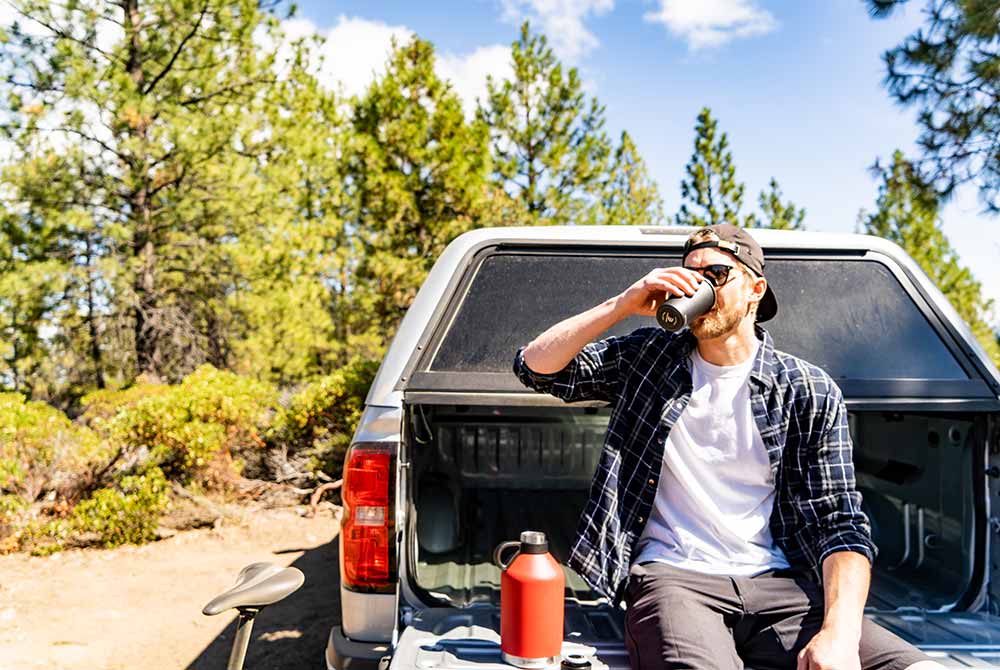 Whether you're in the parking lot or off-the-grid, the DrinkTanks Session Line has the endurance to keep up with you while keeping your drinks cold. These vessels give you the same premium construction and temperature preservation that we've come to expect from DrinkTanks. Plus, this line of growlers and cups is more lightweight and low-profile than their Craft line, giving it a leg up on the portability game.
Drop your cup because you were flipping burgers with the other hand? No problem. These Session Pint Cups won't break! Watch your growler fall to the pavement after someone slamms into the buffet table? Not a big deal. The Session 32oz or Session 64oz Growler won't even dent! Translation: your liquid stays safely cold and fizzy no matter what happens at your pregame. For tailgating beer lovers, the Session Line Growler gives you the flexibility and peace of mind to bring beer to the party.
Power move: Grab a DrinkTanks Travel Keg™ to easily dispense your cold, fresh, carbed craft beer for the party, and then use your DrinkTanks Session Line Growler to hold hot coffee or juice for the kids.
GCI Outdoor Pod Rocker Chair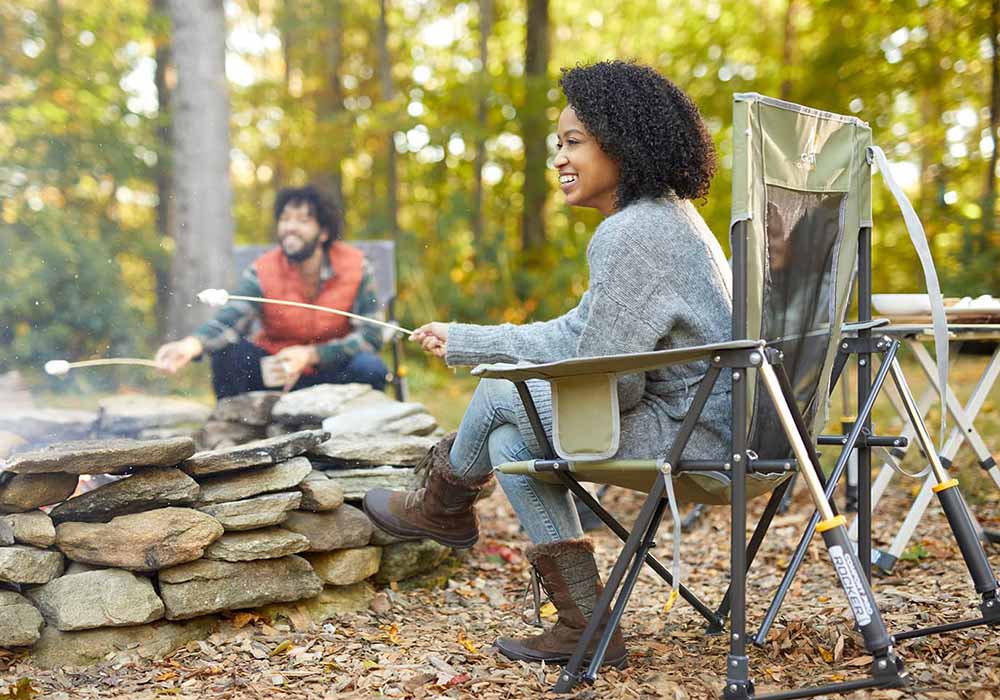 When you're finally ready to take a moment off your feet from tossing the 'ole pigskin, fall into this relaxing sling-style seat that actually… wait for it… rocks! No, we don't just mean it's an awesome chair — though it's that, too. This portable butt-hugger gently moves back and forth as if it were a swing seat on your porch at home. Plus, along with the patented Spring Action Rocking Technology™ for smooth rocking, the beverage holder gives your cup or can a safe place to rest. Lastly, you can fold up this portable rocker in a snap to easily stow away in the trunk for your next tailgate.
Giantex Folding Grill Table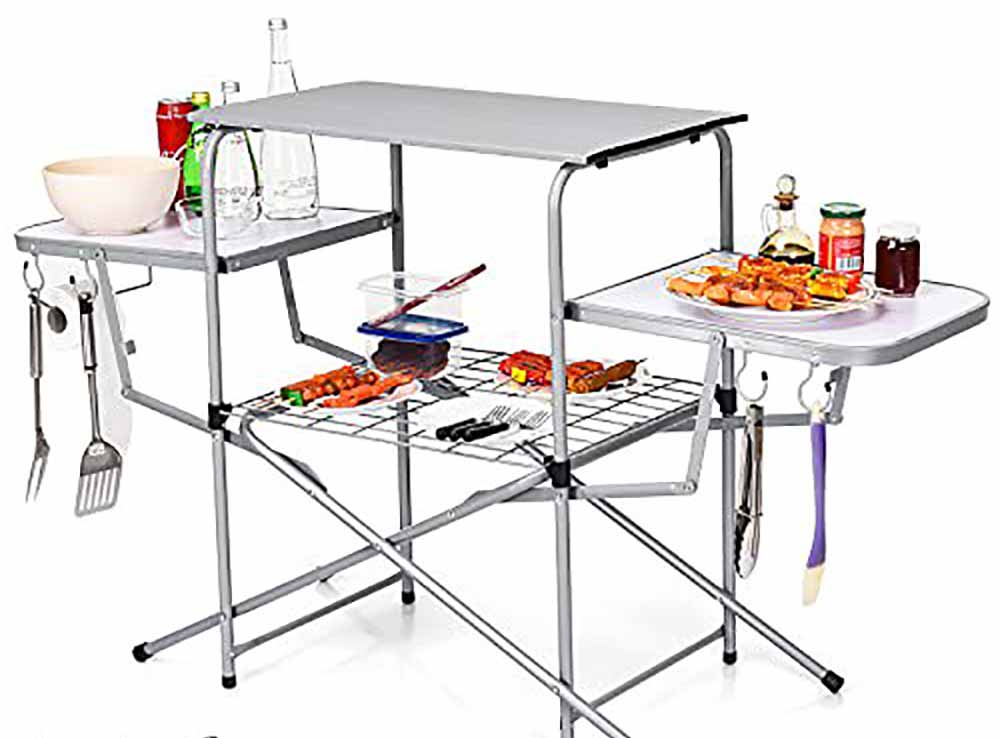 Here's a universal truth: Tailgating is messy. With all the beer, chairs, tables, footballs, bag boards, blankets, and food, setting up for the party isn't always a breeze. Declutter the chaos of your stadium soiree with this multidimensional and multiuse table that might have the capability to traverse the multiverse. Okay, maybe not that last part, but this portable table does include sturdy steel and heat and moisture-resistant surfaces with a top area, two side tables, and a lower storing shelf. Plus, additional hooks for hanging grilling tools and a paper towel rack! It's also lightweight and all folds together compactly in one piece for easy setup and transportation.
NFL Cornhole Set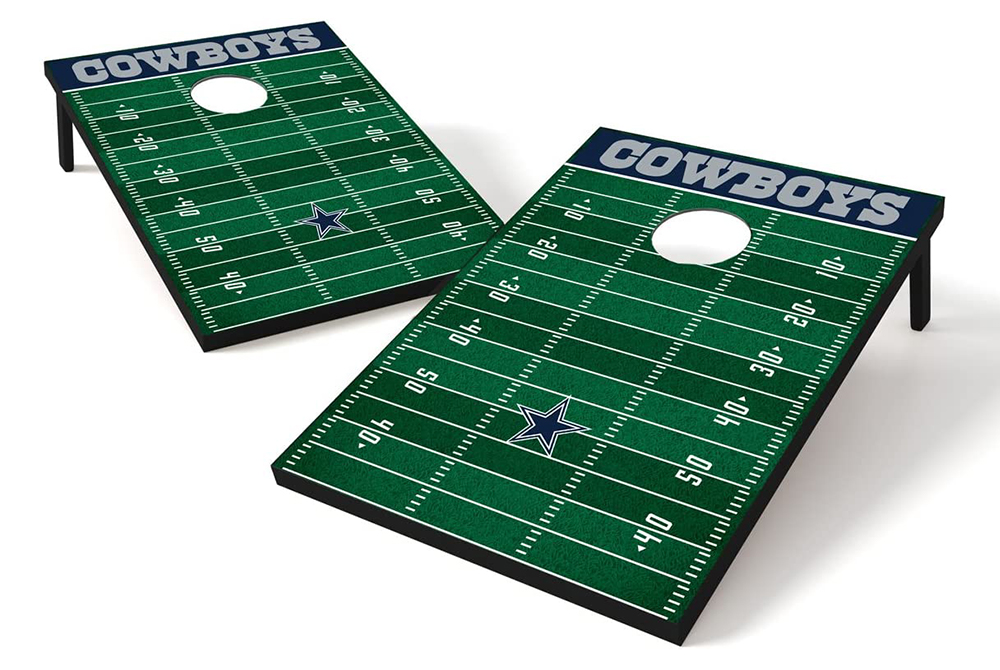 Why do they call it a pregame? Is it because you play games before the actual game? Well, it wouldn't be a proper tailgate without a few rounds of bags. Everyone's favorite tailgating game. In what other sport can you literally just stand their while drinking beer and still get wildly competitive? Wild Sports seamlessly combines an iconic tailgating pastime with a sleek design featuring your favorite team's logo. Pick your team, grab your beer, and start playing. May the best team win!