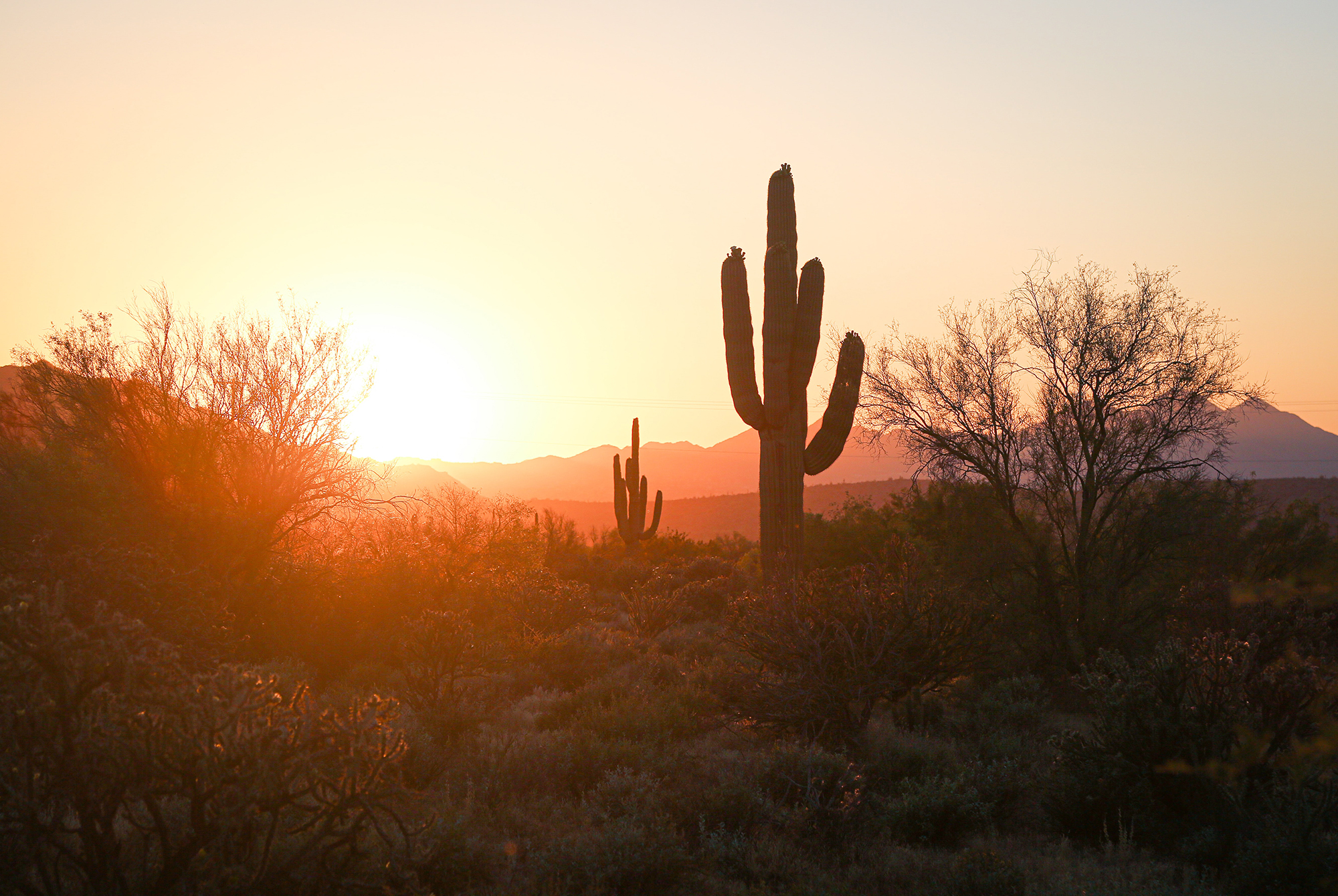 Across the United States from my home of Pittsburgh sits a city with no daylight savings, heat so humid you could fry an egg on a sidewalk, and many many spiky cacti. It's the valley of the sun: Phoenix, Arizona. With some of the best sunsets in the US (I can vouch from personal experience), Phoenix proves itself to be a destination for summer lovers, outdoorsy hikers, and bolo tie fanatics (the state's neckwear). Whether you want a pit stop before the Grand Canyon or are looking for a West Coast adventure, Phoenix is a spot to check out. We wanted to share all the best activities and taprooms to explore this fall in Phoenix. Grab your sunglasses and sunscreen, it's going to be a hot one.
Artsy Adventure at Sunset Desert Botanical Garden
Home to thousands of cacti, trees, and flowers from all around the world on over 55 acres spans the Sunset Desert Botanical Garden. Enjoy the beauty of the desert through photography and artistic lenses. With so much land to explore, boredom just doesn't exist here. Also, check out Wild Rising, an art installation by Cracking Art featuring colorful animals made from recycled plastics.
What you'll need:
Camera: A camera is a much-needed item to capture the beauty of this garden. Don't forget to take some cute photos of you too!
Pastel art kit: I am currently obsessed with pastels and watercolor art. The cacti are guaranteed to give you some artistic inspiration.
Watercolor book: Your art needs a place to call home.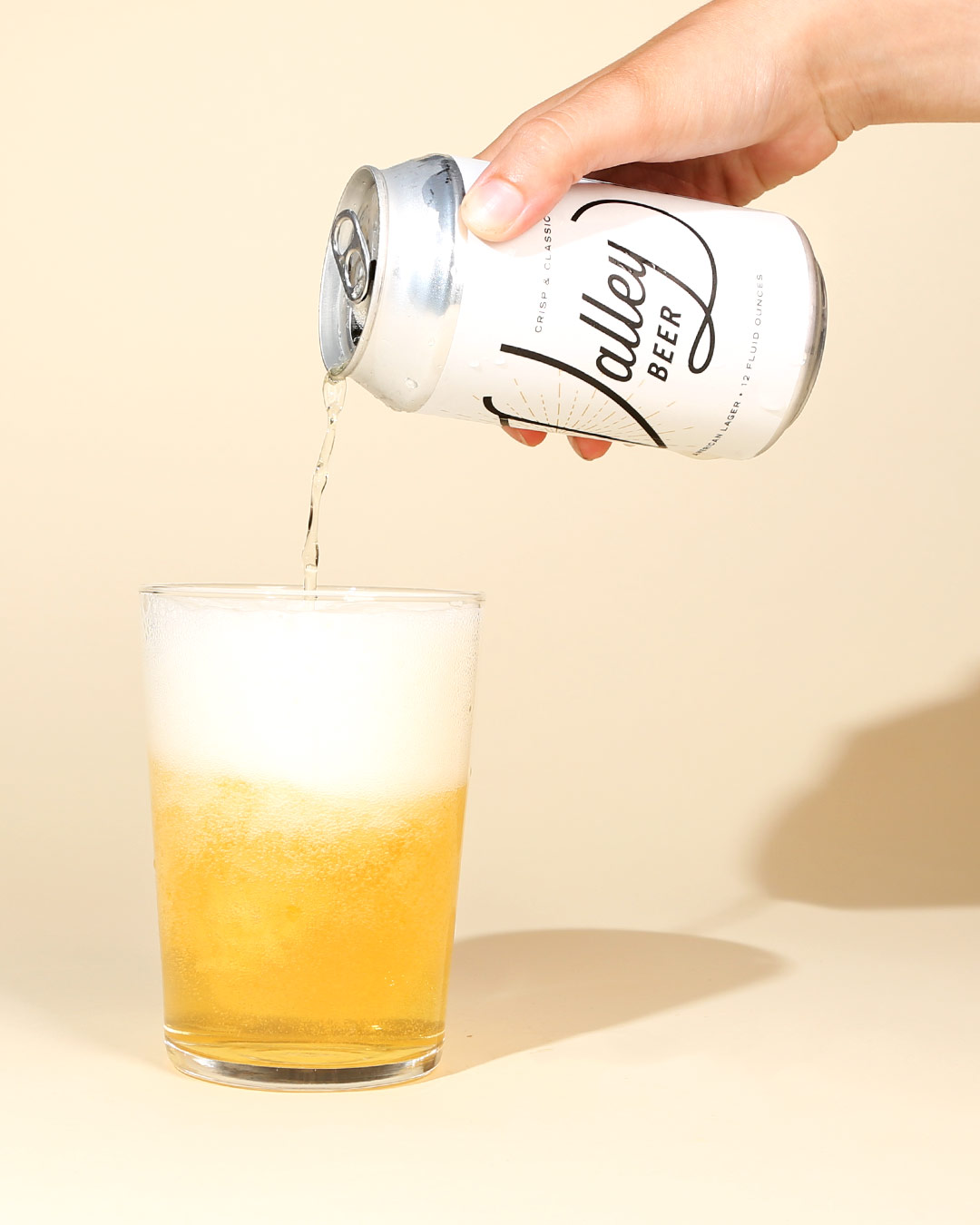 Best Taproom to Visit Nearby
Wren House Brewing Co. – This is one of our favorite breweries not just in Arizona, but in the whole country. You'll see their lager Valley Beer pop up all over the magazine from our 10 Best Beers to Drink in the Shower to The 5 Best Beers We Had This Week. This brewery brings people together over a finely-crafted beer that has a touch of Arizona in every can. Such as their newly released Monte Vista, a house saison featuring Arizona grown raw red wheat. Besides Valley Beer and Monte Vista their Spellbinder is killer and crushable NEIPA.
Bike around Greenbelt
With over 11 miles to bike and an oasis of trails, Greenbelt is the perfect place for a long or short ride. Take in the dreamy mountains and greenery of Phoenix, seeing one of the top urban green spaces in Arizona. Just beware: Try not to get attacked by one of the sunny states many unique creatures: a snake or scorpion.
What you'll need:
Bike: You need a bicycle to go biking! Get ready for some exercise.
Headphones: Jam out to music while biking.
Helmet: Because safety first.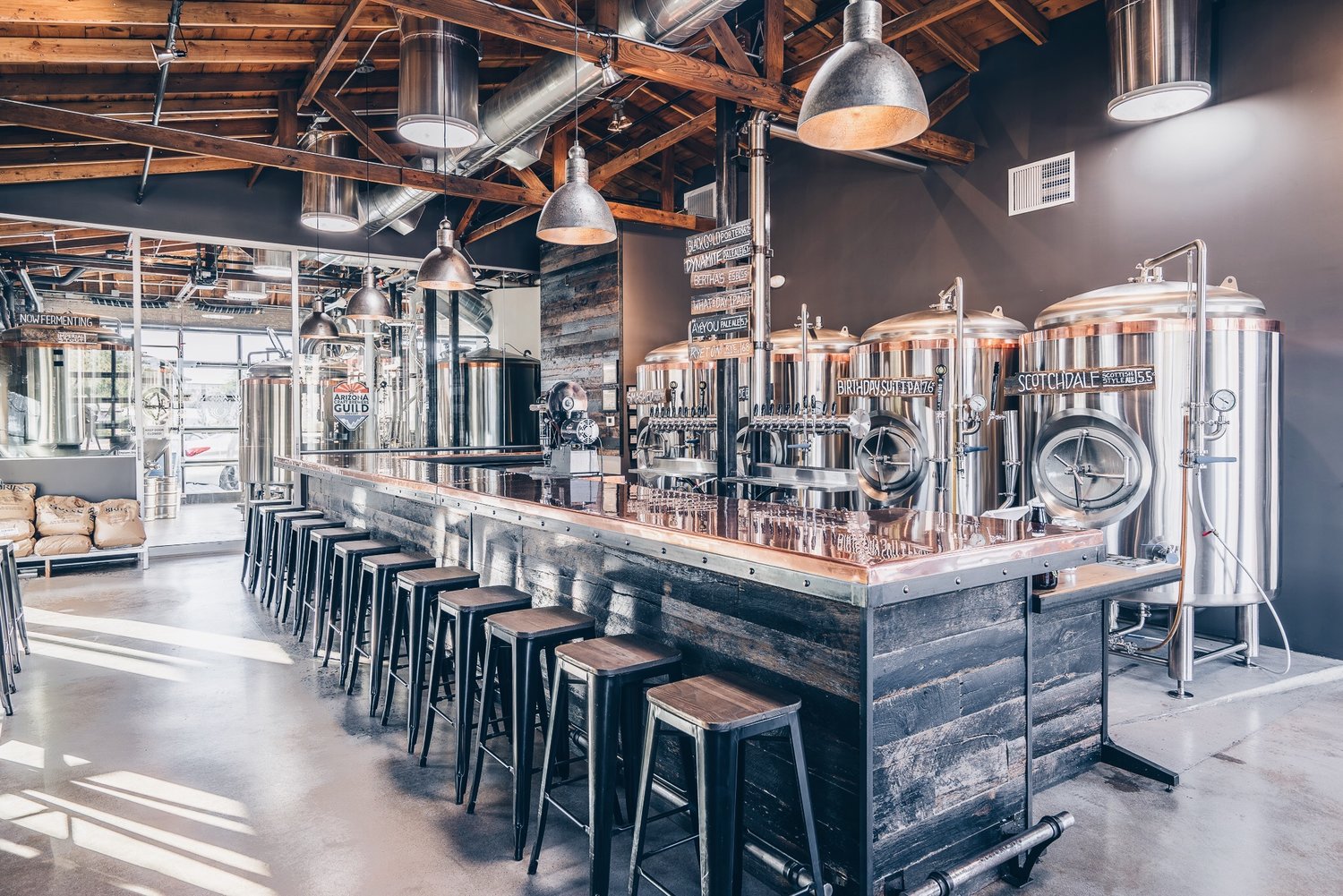 Best Taproom to Visit Nearby:
Goldwater Brewing Co. – Started by brothers Chad & Dillon McClelland, Goldwater Brewing Co. is a slick combination of beautifully designed beers and family culture. After a long ride down the Greenbelt you'll certainly be thirsty. Grab a table in their courtyard Beer Garden and try a crisp, refreshing Hundred Dollar Pils to quench your thirst or if you need something a little hoppier, their Dynamite IPA is an explosion (see what we did there) of citrus, melon, and passionfruit.
Tea in the Japanese Friendship Garden
For those who want to relax in Phoenix, take a trip to the Japanese Friendship Garden. Besides providing beauty and tranquility, the garden offers tea and tai chi classes. Bring out your inner tranquili-TEA.
What you'll need:
Tea: Sip various different types of tea with this tea sampler.
Tea set: Drinking tea obviously requires a cute tea set.
Blanket: Settle into your calm afternoon with an outdoor blanket.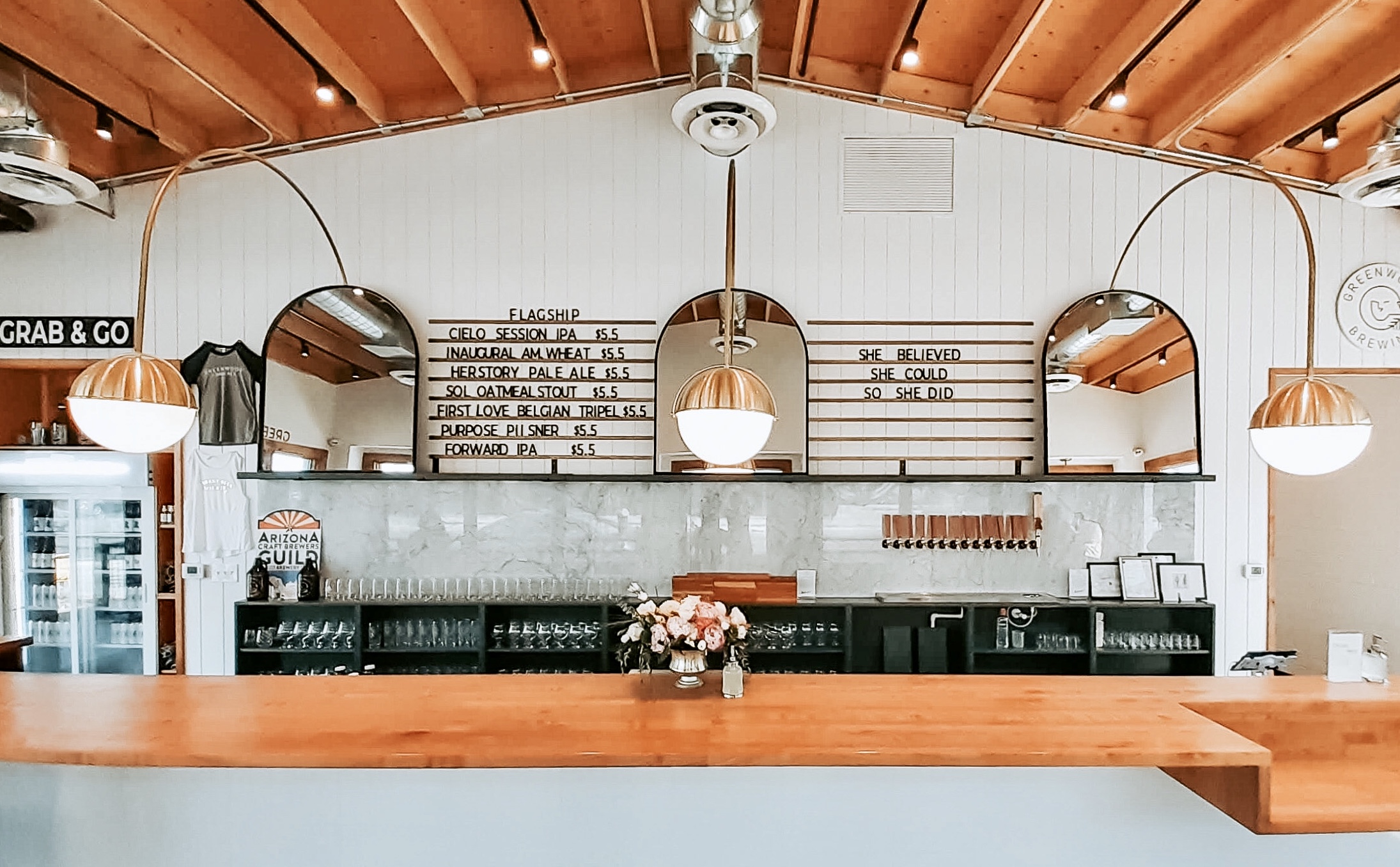 Best Taproom to Visit Nearby:
Greenwood Brewing – Believing in the power of a purposeful pint, Megan Greenwood started Greenwood Brewing in 2017 with the goal to make her mark in an industry largely dominated by men. Greenwood's beers are brewed to start a conversation, so after taking time to be quiet and zen in the Japanese Friendship Garden head over to this gorgeous Phoenix taproom to grab a Herstory Brew or seasonal Harvest Diem Spiced Ale. Order a beer, sit down, and start a conversation about how we can promote change in the industry.
Urban Hiking Adventure at Camelback Mountain
Blaze the trails of Phoenix with a hike on Camelback mountain. Trekking up this scenic hill will be the perfect workout. And, you'll get a bonus of some pretty amazing views at the top. Fun fact: the name of the mountain comes from its shape which resembles the hump and head of a kneeling camel.
What you'll need:
Boots: Successfully weave your way through the rocky, sandy mountain with a durable pair of hiking boots.
Water pack: Make your hike easier with this 2L water hydration pack.
Hiking hat: Avoid the beating sun of Arizona with a UPF protective hat.
Best Bottle Shop to Visit Nearby:
Arcadia Meat Market – A hidden oasis in the desert, Arcadia Meat Market could be considered a mirage. Look from far away and you'll see a butcher shop, but walk inside and all is not as it appears. Yes, the store specializes in meat featuring grass-fed beef and lamb, as well as non-GMO pork, free-range chicken, and more from family-run farms. But, the shop also showcases a small, curated collection of incredible craft beers and natural wines. We actually name it our best bottle shop in Scottsdale right now. After such an arduous climb up Camelback Mountain, head to Arcadia Meat Market for specialty provision, meat, and amazing beer from breweries such as Wren House, Helio Basin, Huss, and Arizona Wilderness.
Koli Equestrian Center
Switch up your exercise routine with a little horseback riding. At the Koli Equestrian Center, you can reserve horseback riding for groups of ten or fewer people. Revel in Phoenix's scenic desert landscape by horseback.
What you'll need:
Sunscreen: With temperatures of upwards of 115 degrees Fahrenheit, please wear sunscreen.
Water bottle: Sip on water while basking in the dry heat.
Fanny pack: Carry all your essential items in this stylish fanny pack.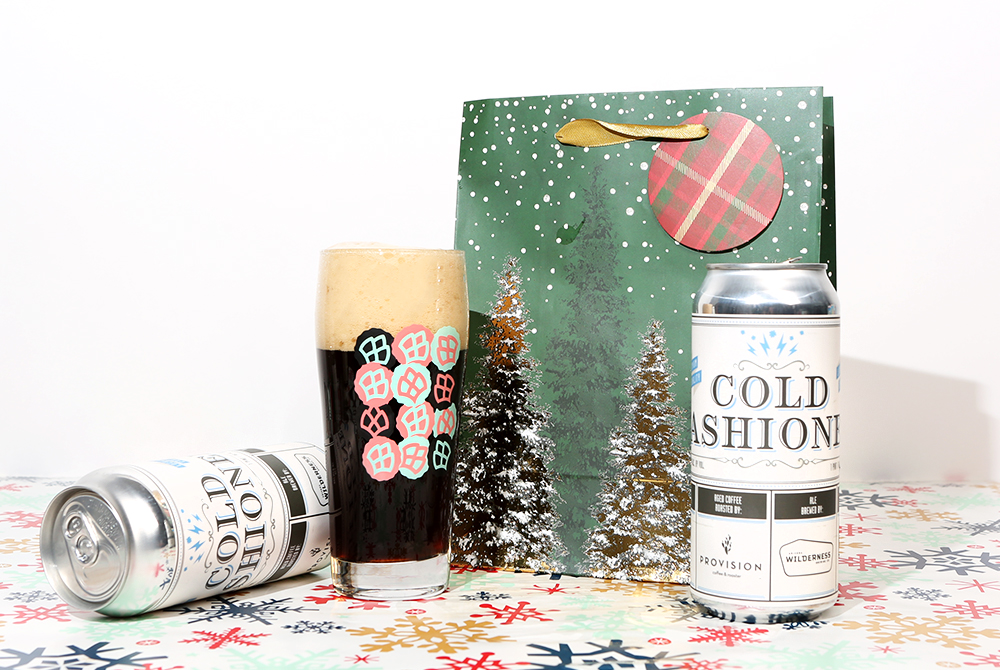 Best Taproom to Visit Nearby:
Arizona Wilderness Gilbert Brewpub – Arizona Wilderness has taken its rightful place as one of the top breweries in the state. Lucky for you their Gilbert Brewpub is a mere 20-minute drive from the Koli Equestrian Center (it's unclear whether it would be faster to just ride there on horseback). Embrace AZ Wilderness' love of its states vast agricultural treasures and enjoy a Shrimp, a blonde ale collab with Stillwater Artisanal Ales featuring prickly pear or a farm-to-glass yet to be named seasonal beer featuring Arizona Medjool dates.
Unless otherwise noted, all of the products featured on Hop Culture are independently chosen by our editorial team. However, Hop Culture may earn a commission from purchases made through affiliate links on the site.
Liked this article? Sign up for our newsletter to get the best craft beer writing on the web delivered straight to your inbox.