Of all the Hop Culture pieces that people look forward to each year, the most popular is our list of the best breweries of the year. Last year, we gave the "Best Brewery of 2020" award to Weathered Souls Brewing in San Antonio, TX. In our 2019 piece, we gave the award to Vitamin Sea Brewing in Weymouth, MA. In 2018, we called Threes Brewing in Brooklyn, NY, our best brewery of the year.
This list is different from our "Best New Breweries of the Year", as well as our "Best Breweries to Watch" list (which we'll release the first few days of 2022). Mainly, because this tally has no qualifiers. To clarify this list means that out of all the breweries in the world, we picked the ones we thought were the best — period.
To get a representative list, we called on some friends in the industry from different backgrounds and geographies. Of course, any "best" list is open to interpretation, so take these picks with a grain of salt. Consequently, the breweries are presented unranked except for Samuel Adams, which we proudly name the best brewery of 2021.
Hop Culture's 12 Best Breweries of 2021
Samuel Adams – Boston Beer Company
Boston, MA
Submitted by: The Hop Culture Team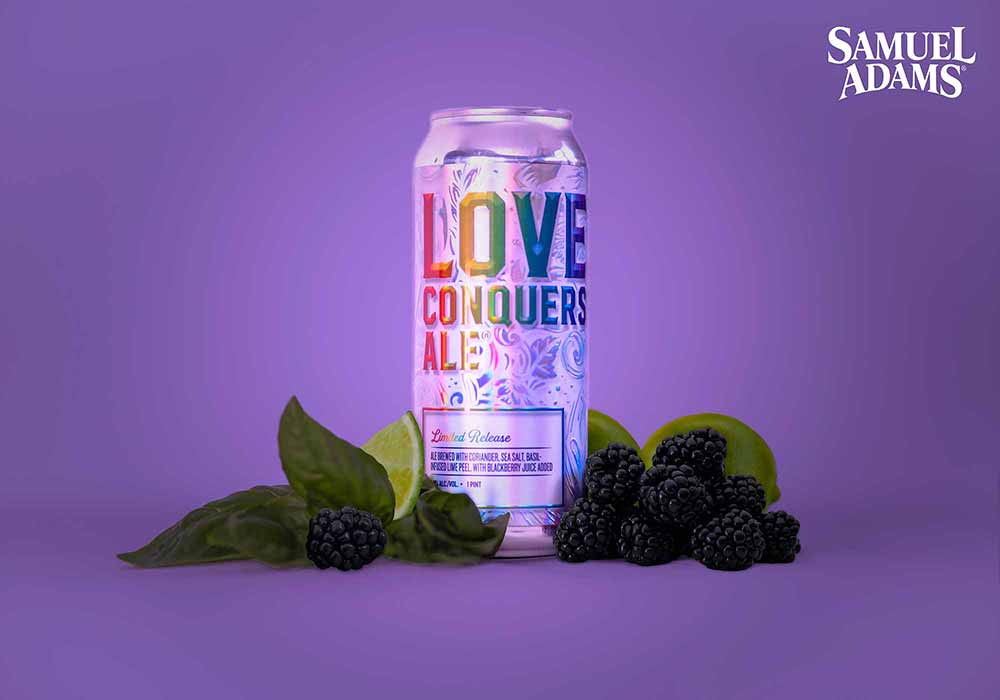 Congrats to industry trailblazer Samuel Adams.
Founded by Jim Koch in 1984, Samuel Adams has spent the last three-and-a-half decades becoming one of the biggest craft breweries in the country. Which is no easy feat. The ability to produce large, consistent quantities of beer across multiple markets is nothing short of a scientific marvel. Likewise, to do all while continuing to innovate (the brewery recently released Wicked Hazy, a shelf-stable hazy IPA) is just one of the reasons we chose Samuel Adams as Hop Culture's 2022 Brewery of the Year.
Most importantly we choose Samuel Adams because of the way they've used their platform for impact. Throughout the brewery's storied history, Samuel Adams has taken a stand for inclusivity, equity, and justice. The annual production of Love Conquers Ale celebrates and amplifies voices in the LGBTQ+ community. And the brewery recently donated $100,000 to GLAAD. For that reason they joined us as our presenting partner at Hop Culture's first ever Queer Beer Fest, celebrating the diverse, colorful voices of the queer community in craft beer.
Additionally, Samuel Adams runs Brewing the American Dream, a program that provides mentorship and access to resources for small, independent business owners, particularly women and minorities. Koch, a three-time Harvard graduate, started the program after experiencing difficulty getting funding for Samuel Adams. If I'm having this kind of trouble, what must other people be going through? he thought. And how can I make it easier for them?
It's simple, but the impact has been tremendous. So grab a stein, raise a Boston Lager, and celebrate nearly forty years of terrific American beer.
Cervecería Wendlandt
El Sauzal, B.C., Mexico
Submitted by: Milan Freeman, @gurl.lost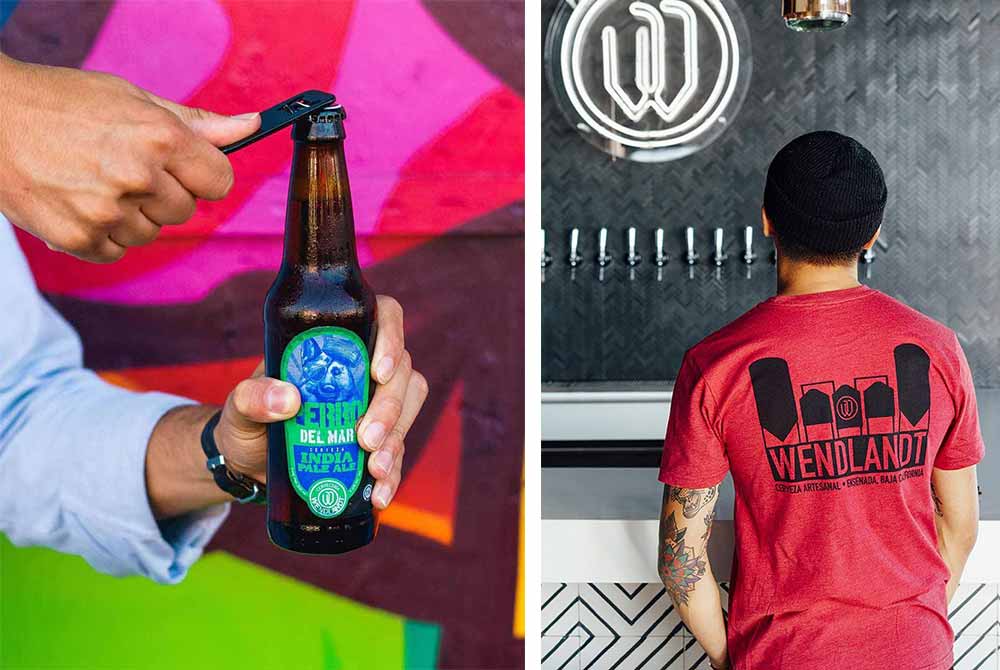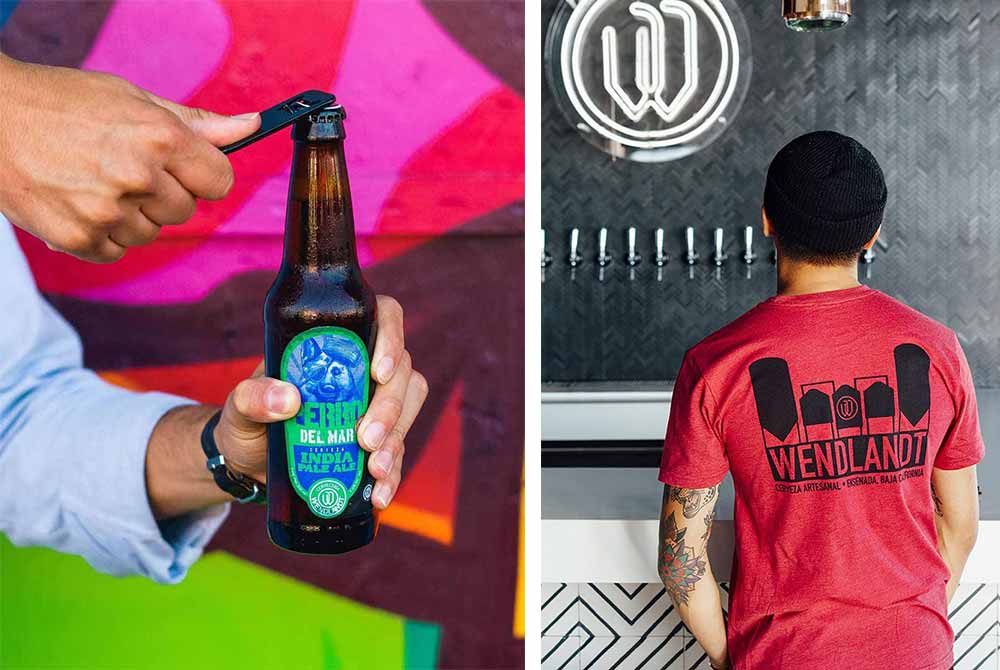 If there's one thing that's underrated, it's Mexican beer. And no, I'm not referring to Modelo or everyone's favorite Mexican-style lagers. I'm talking about Mexico's growing craft beer scene. In particular, its expanding beer community just south of California's borders.
In February of 2021, I had the pleasure of spending a full month on Baja California's coast in Ensenada. Not only is Ensenada located next to the beautiful wine country of Valle de Guadalupe, it's also home to some stand out breweries.
One of them goes by the name of Cervecería Wendlandt. Created in 2012, Wendlant has quickly grown to be one of the largest craft breweries in all of Mexico.
And for good reason.
Their small, but mighty, tap list is one of the few I've tasted from where I truly enjoyed every single beer on the menu (including their Perro Del Mar IPA).
Harland Brewing Co.
San Diego, CA
Submitted by: Roman Estareja, @theyoungcraftenthusiast
As a San Diegan, it can be quite difficult to navigate such a crowded space with over 150 breweries in the county. Standouts like North Park Beer Co. have long been on my list of recommendations of must hit breweries when people come to visit.
In that same vein a newcomer to that list is Harland Brewing.
Not a new kid on the block per say, but as innovative and experimental as you'll find, Harland has pushed beer to new heights. Using unique ingredients like Filipino Buko Pandan, Ube, and Lilikoi, the team has captivated the local audience.
Moreover, their company mantra – "A Labor of Beer" – is well embedded in the entire framework of the company. In due time, I see them gaining even more notoriety nationwide for beers that continue to push the envelope of what we know beers to be.
I'm excited to see that they were invited to their first PastryTown, a premiere stout festival hosted by ever-so-successful Other Half Brewing. But don't sleep on their lagers either. Some of the best in the country.
Congrats to guys at Harland: Nick Marron and Ryan Alvarez to name a few! Keep on pushing, the world is watching.
Hold Out Brewing
Austin, Texas
Submitted by: John Gross, Content & Events Partnership Director, Next Glass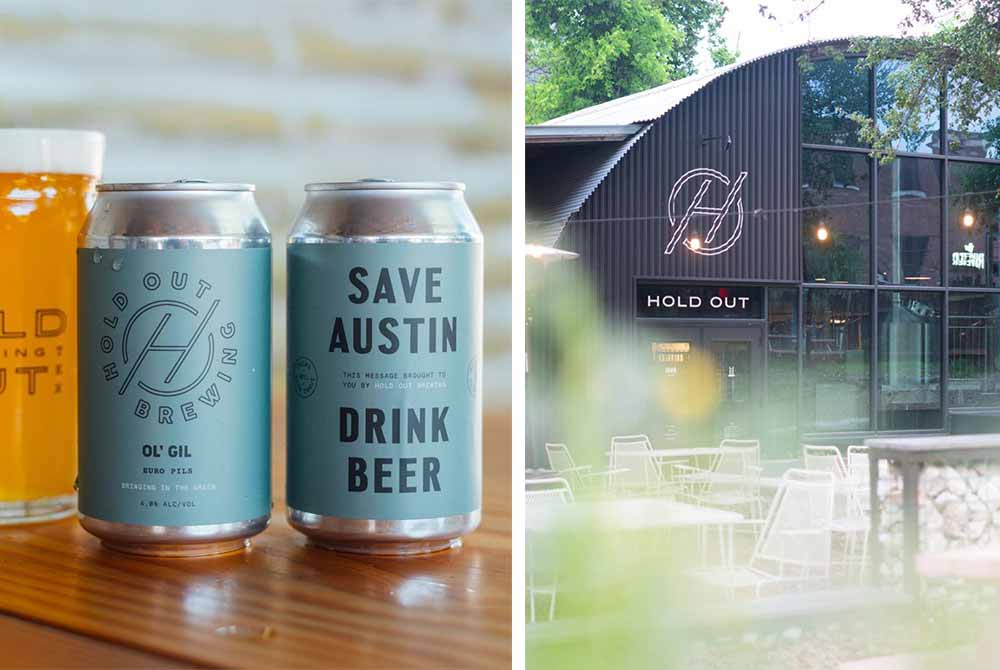 Patio Pounders! Austin can't get enough of outside drinking. And since opening in the middle of a lockdown in March 2020, Hold Out Brewing has been teaching a masterclass in crushable pints.
The funky quonset hut came out the gate firing on all cylinders. That is to say Hold Out has become one of the best taprooms in town with a crazy-talented team on the beer side as well as the kitchen side.
Their serious, hop-focused beer program offers approachable options (primarily top-notch pale ale and legit lagers) that let you consume plenty in the beautiful Texas sunshine.
The brewery's focus on community partners means recipes include largely local ingredients, with yeast banking and malt production all coming from Central Texas.
Beyond the beer, the menu comes from a CIA-trained chef who served time at Momofuku (among other fancypants places). Plus, there's a full bakery department whipping up hamburger buns and decadent cookies, which means much more than "pub grub."
Built as a neighborhood hub, the taproom recently hosted a hardcore noise show instead of a polka band for their Novemberfest release. That's chutzpah!
Hold Out is keeping Austin on its weird toes and pushing the envelope of quality forward.
New Belgium Brewing Company
Fort Collins, CO
Submitted by: Grace Weitz, Managing Editor Hop Culture and Founder of Queer Beer and Beers With(out) Beards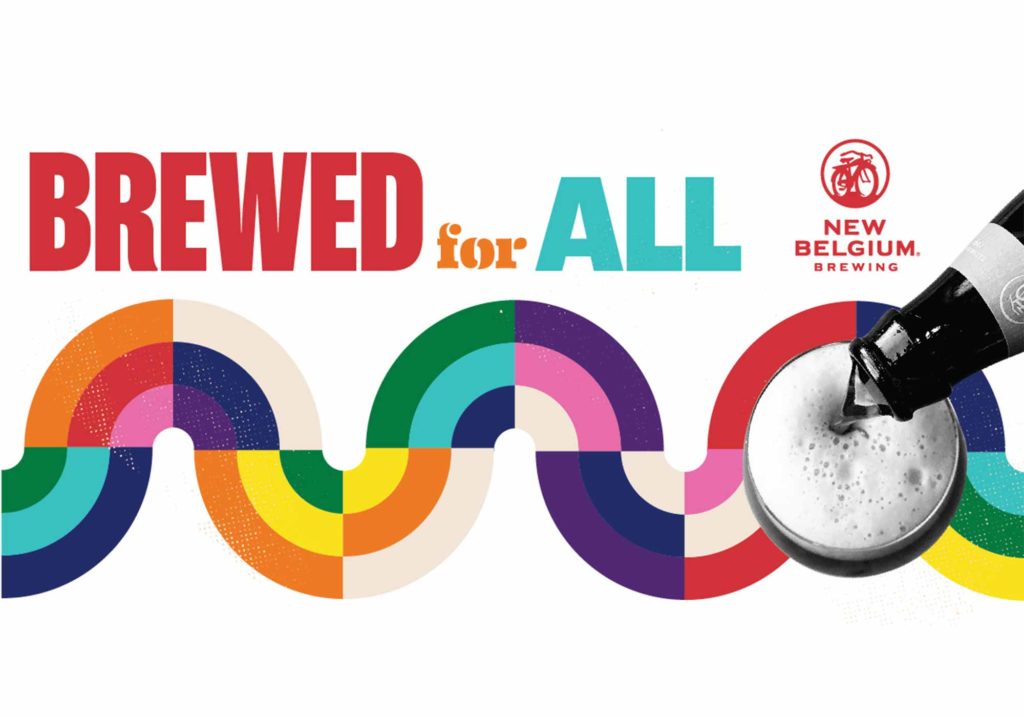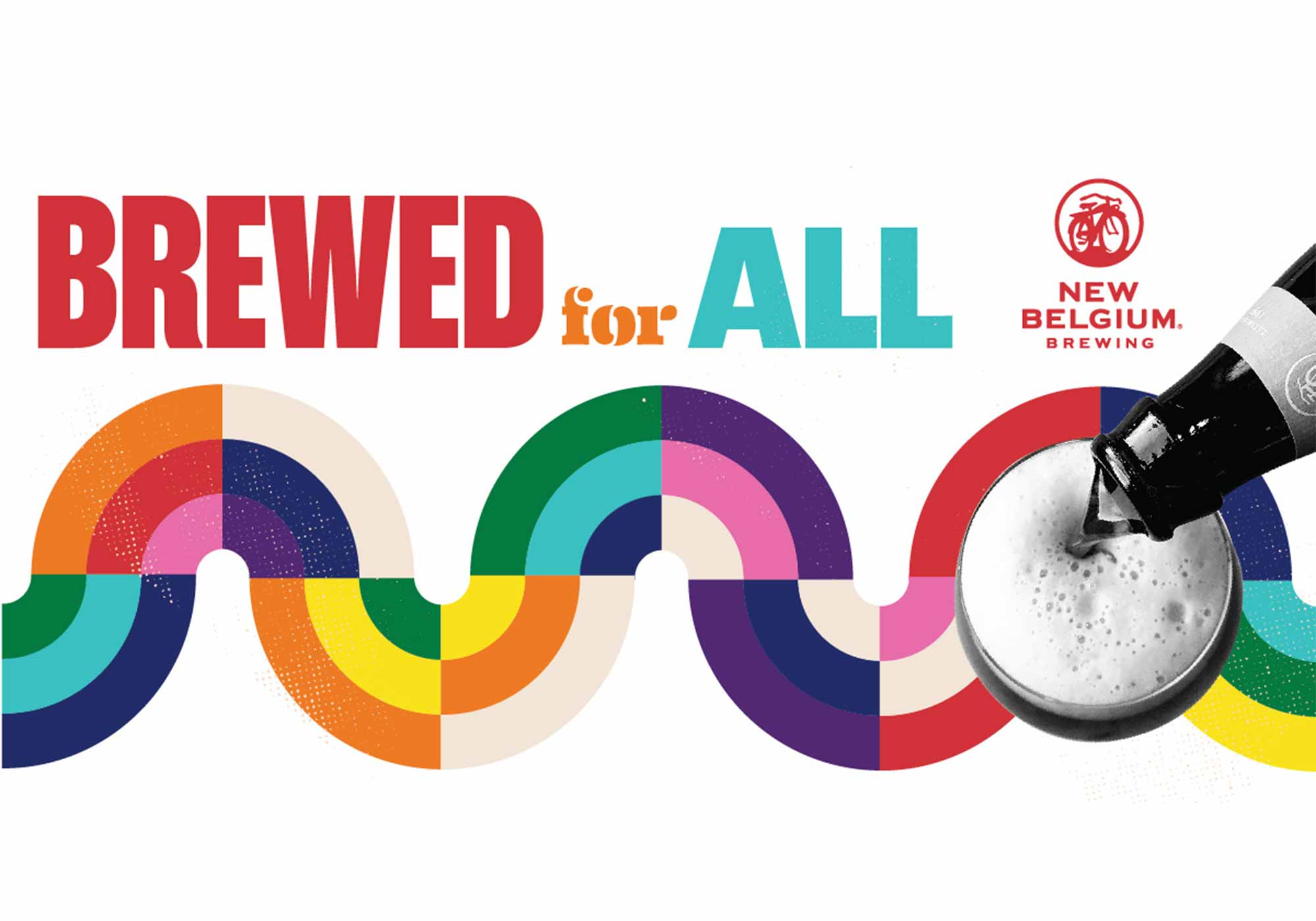 Over the past few years my idea of the best brewery of the year has changed. I'm not necessarily looking for the one with the longest can release lines or haziest IPAs.
Rather, I'm interested in those breweries changing the narrative of the industry through beer. Just look at our best brewery of the year – Samuel Adams. You've probably all had a Boston Lager in your day. But you may not have known all the work they're doing in the queer community or for women- and minority-owned breweries.
Which is why I'm so excited to name New Belgium to this list.
When Kim Jordan and Jeff Lebesch founded New Belgium in 1991, they committed to, "Kindling social, environmental and cultural change as a business role model." And a few years ago the brewery started using the phrase, 'Brewed for All'. Both are powerful statements. Originally a social worker, Jordan wanted her business to address inequities she saw in the workplace.
Most recently, the brewery released Biere de Queer on National Coming Out Day in October. We named this limited-edition purple Belgian-style ale brewed with apricot, honey, Saigon cinnamon, and black carrot (for color) one of the top ten beers we drank in October. Because it celebrates the coming out stories of Queer folx.
It's just another reason why the Human Rights Campaign (HRC), an organization leading the fight for LGBTQ+ rights and "creating a society where none of us is left behind", recognized New Belgium as one of the Best Places to Work for LGBTQ+ Equality on its Corporate Equality Index, giving it a perfect score of 100. At the time of writing, New Belgium was the only craft brewery in the country to receive this distinction.
But, the New Belgium recently made the huge announcement that they're bringing Bell's Brewery under their umbrella. One of their first goals? Helping this iconic brewery reach a 100% score on the Human Rights Campaign Corporate Equality Index.
Hands down New Belgium is one of the most LGBTQ+ friendly breweries in the country.
I'm a proud Queer woman who founded and organized our inaugural Queer Beer Fest this past June. That's why I proudly count New Belgium as one of my picks for the best breweries of 2021.
Lincoln's Beard Brewing Co.
Miami, FL
Submitted by: Kenny Gould, Hop Culture Founder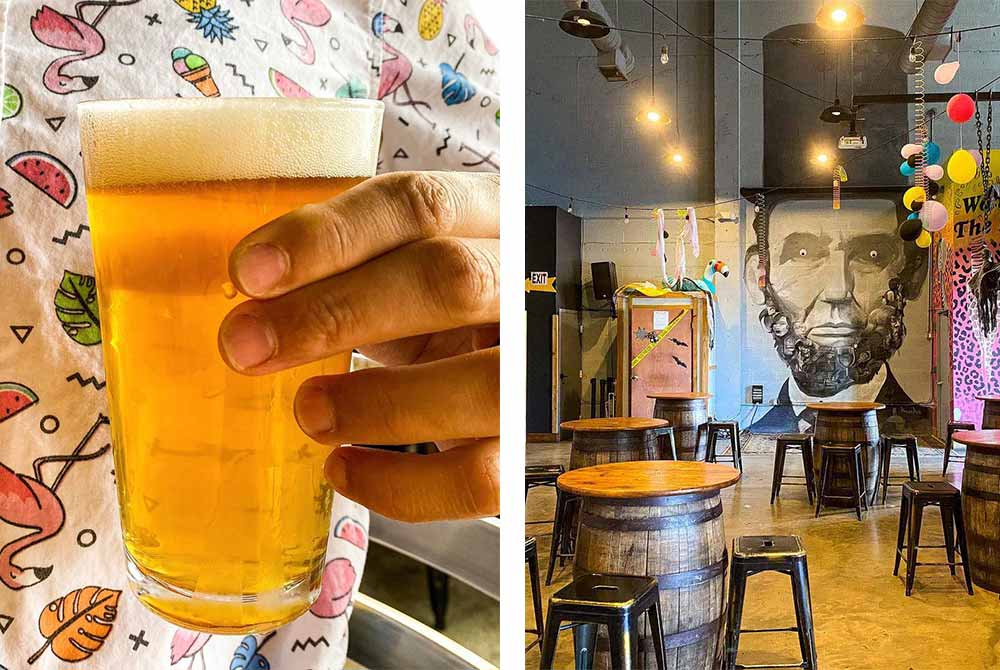 Apparently, Lincoln's Beard Founder John Falco thinks he can be one of the nicest people in beer, help support an entire community, and still fly under the radar. Hardly! We're here to blow up his spot and give Lincoln's Beard the credit it deserves.
A staple in the Miami beer community, Lincoln's Beard has been putting out awesome beer, great art, and high-quality vibes since 2016. But unless you live in the area, you probably haven't heard of this hidden gem. With humility and talent, Lincoln's Beard has helped make South Florida a destination for craft beer lovers, and was one of the reasons I called Miami one of the five best beer cities of 2019.
If you visit, try the Morning Glory, a 5.2% ABV crushable blonde ale that's perfect for beating the Florida heat.
Flying Machine Brewing Company
Wilmington, NC
Submitted by: Harrison Hickok, Co-Host of the Drinking Socially Podcast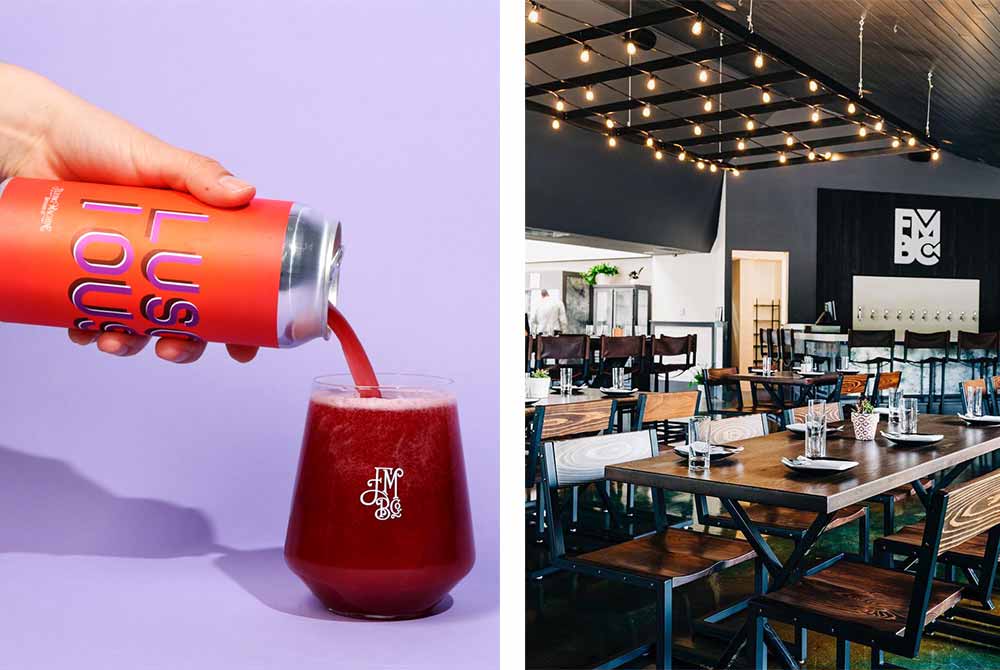 How many breweries are serving their yearly Märzen offering out of the traditional wooden barrel? How about offering sour-beer slushies, Kolsch-style ales, pastry stouts, and a pub ale on nitro? Plus, multiple different takes on the 'hazy' IPA all at once?
On all fronts, Flying Machine Brewing Co. (or FMBC, for those in the know) has got you covered.
It's one thing to brew a variety of different beers, but it's another to make all of them impeccably well. FMBC does just that and more. In addition to their modern beers, they take older styles like altbier and roggenbiers and make them new and exciting again. In this way, they stay true to their motto: "Innovation through Tradition."
If you visit, we recommend the Weighted Blanket Pub Ale or the Luscious Fruited Sour. But you really can't go wrong with any beer here.
It's tough to stand out in Wilmington, NC, right now. As a town that's gone from two breweries to over twenty in less than five years, there's a lot of competition. But hats off to Flying Machine for soaring up, up, and away with their out-of-this-world brews.
Resident Culture Brewing Company
Charlotte, NC
Submitted by: Milan Freeman, @gurl.lost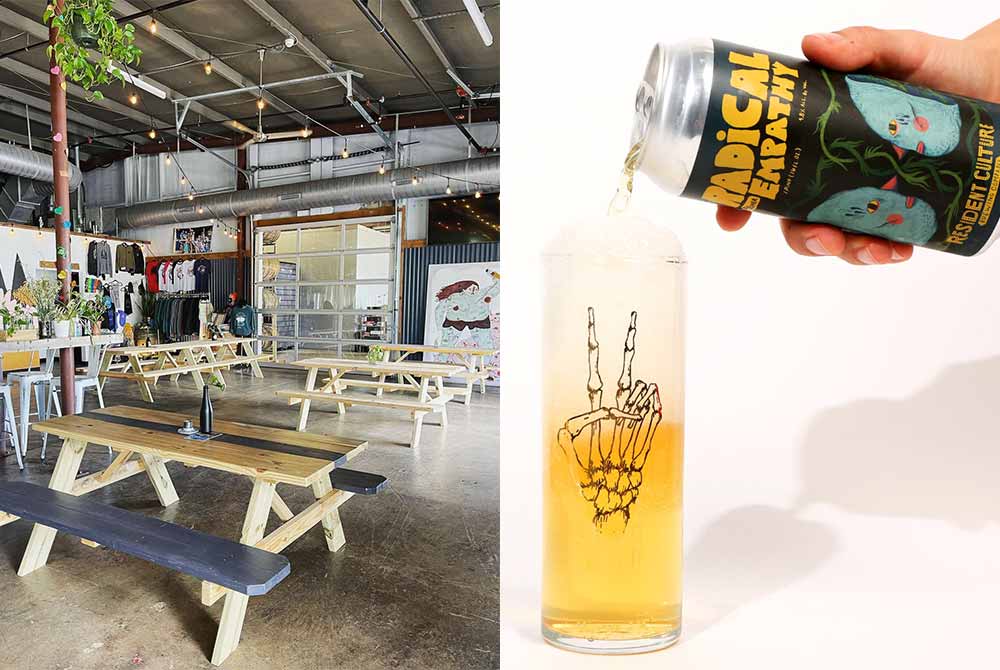 I'm not proud to say it, but as someone coming from California, I can be pretty biased when it comes to beer. How could you not be? This state is a beer lover's playground. Still, I'm well aware that the East Coast is home to many breweries that might even be better than some of our own (emphasis on the might).
To give an example of one East Coast brewery that challenges my California-bias, I'd have to highlight Resident Culture Brewing Company from Charlotte, NC.
Firstly, their can art illustrations by Maryssa Pickett are incredible (In fact, Hop Culture named one of her designs a best beer label of 2020). I understand that great art doesn't make great beer, but it sure as hell makes it more fun. Luckily, their cans also serve more than just quality art.
Like, my personal favorite, their light and crisp Country Kind of Silence Helles Lager.
TRVE Brewing Company
Denver, CO
Submitted by: John Gross, Content & Events Partnership Director, Next Glass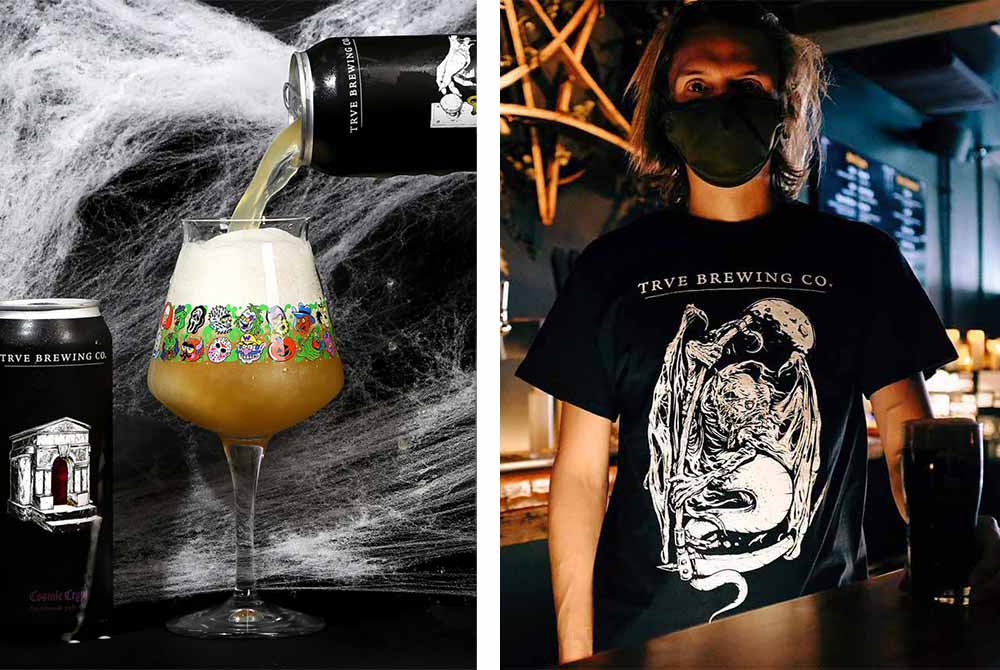 No other brewery in the world commits as hard to its identity as TRVE. They are THE metal brewery.
As a result anyone who's fortunate enough to enjoy their devilish Denver liquid comes a little closer to carving Slayer into their arm as a result (or at least slapping an Anthrax sticker on their MacBook).
Heshers and accountants alike can all agree that the brewery's dual program of clean and wild beers yields some of the best beers in the country. Including some of our favorite delicate and impeccable saisons. And people from all walks of life have been making the pilgrimage to Broadway Blvd.'s metal mecca since 2012.
Hail TRVE!
Bow & Arrow Brewing Co.
Albuquerque, NM
Submitted by: Grace Weitz, Managing Editor Hop Culture and Founder of Queer Beer and Beers With(out) Beards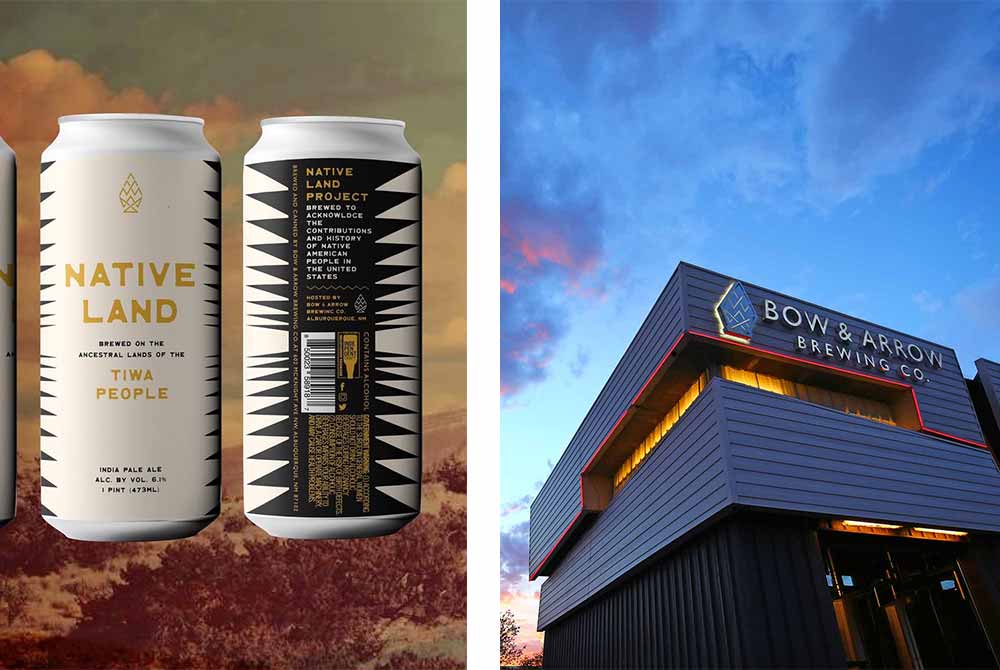 Native, woman, and Queer-owned, Bow & Arrow Brewing Co. is a one-of-a-kind brewery. Helmed by Shyla Sheppard and her wife Missy Begay, the Albuquerque, NM brewery draws on the duo's distinct Indigenous heritage. Sheppard is a part of the Mandan, Hidatsa, & Arikara Nation and grew up on the Fort Berthold Reservation in Western North Dakota while Begay was raised on the Navajo (Diné) Nation.
In 2016, Sheppard and Begay opened Bow & Arrow with an aim to capture their Indigenous heritage through their beers. It's a trend we're seeing in a small, but growing number of Native American-owned breweries. Many of which are using craft beer to share the stories, traditions, and customs of their tribes.
Specializing in sours, the Southwestern brewery has churned out unique beers highlighting local ingredients such as a beer aged in foeders with regionally-sourced barley and wild-captured house mixed culture of yeast and bacteria. In addition you can find excellent saisons and lagers. For instance, an American pilsner called Denim Tux features premium New Mexican blue corn. Both Sheppard and Begay bring a diverse perspective to the industry that you'd be hard-pressed to find anywhere else.
This past Indigenous People's Day, Sheppard launched the Native Land Beer Campaign, a countrywide collaborative beer brewed to acknowledge the contributions and history of Native American people in the United States. In order to participate breweries must acknowledge on whose ancestral land they are located on the beer's label and commit to donating beer sales proceeds to Native organizations.
Counter Weight Brewing Co.
Hamden, CT
Submitted by: Harrison Hickok, Co-Host of the Drinking Socially Podcast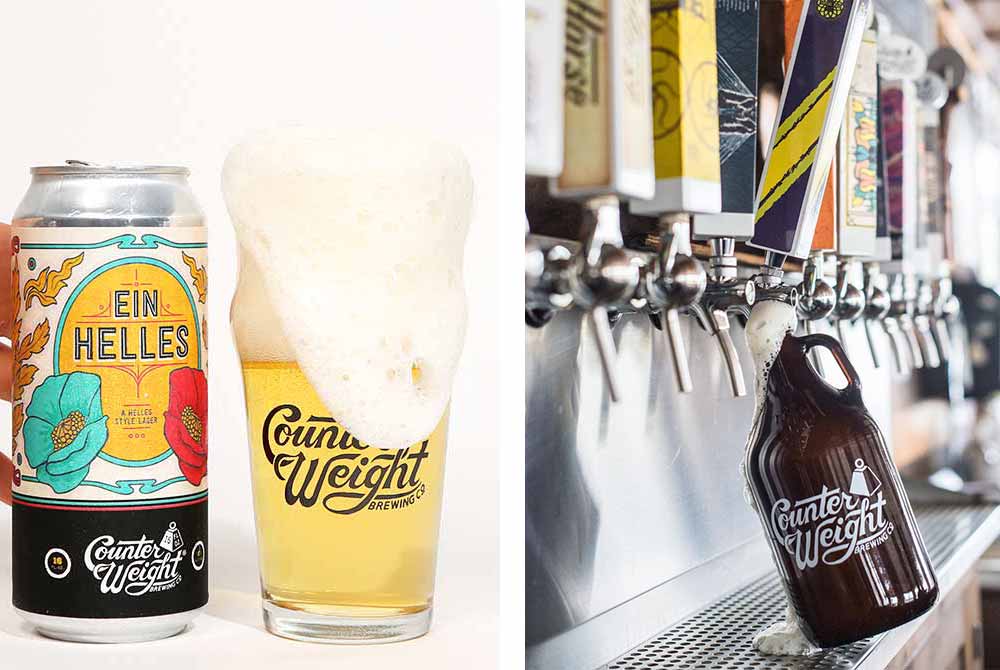 What do you get when you take a region steeped in craft beer tradition and add in one of the early champions of the New England IPA? Counter Weight Brewing Co!
Founder Matt Westfall spent the early part of his beer career cutting his teeth at New England Brewing Co., brewing hyped-up hazies like Fuzzy Baby Ducks and Coriolis. Along with the less hazy but more infamous G-Bot.
In 2016 he moved on to open Counter Weight Brewing Co. up the road in Hamden, CT.
In addition to making one of the best go-to IPA's out there – Headway IPA – Counter Weight has a world-class take on a German Keller Pilsner with Workhorse. Additionally, they make a Helles Lager called Ein Helles that's easy to get excited about (and Hop Culture considers it one of the best examples of the style). Recently, they brewed Rising Hope IPA, donating 100% of the proceeds going to the Pediatric Cancer Foundation.
For all these reasons Hop Culture named Counter Weight one of its top breweries to visit in Connecticut. Therefore if you're looking for a community-minded spot with experienced brewers running through the gamut of great beer styles, you've found just that with Counter Weight.
If you can't find their beer just yet, you may not have to wait much longer. The brewery just broke ground on a larger facility to produce even more stellar studs soon!
Fermentery Form
Philadelphia, PA
Submitted by: Roman Estareja, @theyoungcraftenthusiast
I'm not sure how but I just caught wind of Fermentery Form earlier this year. They are a small operation brewing in Philadelphia that's open by announcement only. And finding them means looking for a little green light above a small garage door. For a guy who has so much love for mixed fermentation/spontaneous beers, I'm perplexed that they've just now come onto my radar.
Opened in 2017, the team at FORM focuses on delicate and flavorful beers, fermented with their own mixed cultures. Like the ever-so-popular Sante Adairius Rustic Ales, they too incorporate the true Solera Method, a process of essentially incorporating new beer with old. In doing so, they are able to impart quite a wide range of unique tasting beers for all to enjoy.
I happened to be visiting Philadelphia earlier this year and was very keen on a visit after having had a few of their offerings that knocked my socks off. Little did I know that they are typically open Saturdays and I happened to be there a few days too early.
Rest assured this gives me all the more reason to take a weekend trip to Philadelphia for more roast pork and some beer from one of the best kept secrets in the country. Let the light be your guide.