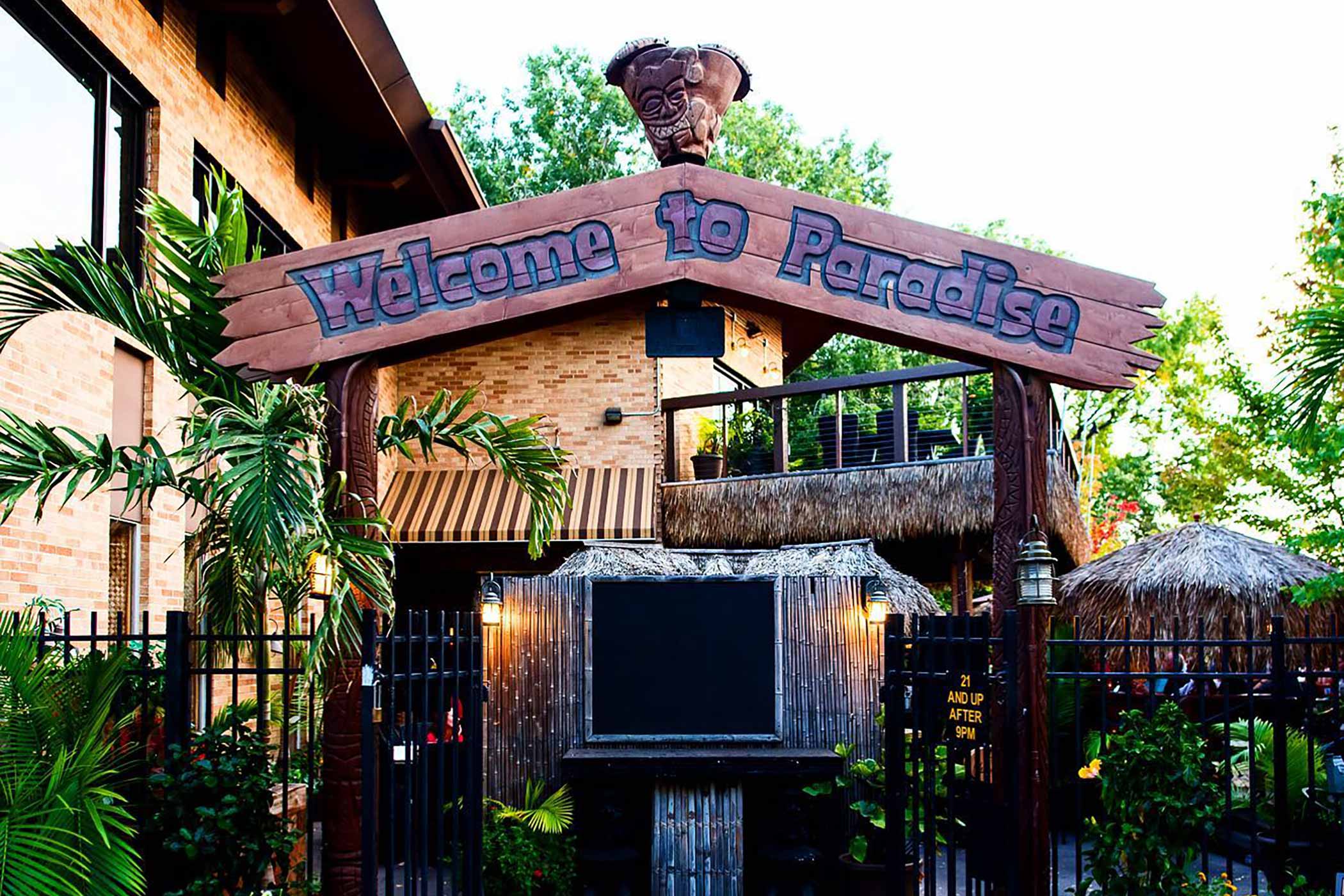 Photography courtesy of Psycho Suzi's Motor Lounge
Updated on July 6, 2022
We love brewery taprooms. Give us a well-lit space, a bank of stainless steel taps, and a food truck, and we're happy campers. However, sometimes nothing beats bellying up to a scuffed wooden bar, ordering a boilermaker, and putting back a shot and a can of Hamm's under the decades-old glow of Christmas lights and neon Coors signs. And where can you have this incredible experience? At any one of the country's best dive bars.
We revere dive bars. Local lore (and cigarette smoke) drip from the walls. The ripped vinyl booths and bar stools reek of spilled beer and nostalgia, and the selections on the jukeboxes approach holiness.
These off-the-radar neighborhood joints are the places we go when we can't stomach another milkshake IPA. Don't get us wrong—we still love those beers, but they have their time and place. And with National Dive Bar Day celebrating our nation's most iconic hideaways on July 7th, we wanted to show some love to these nineteen memorable saloons.
What Makes A Great Dive Bar?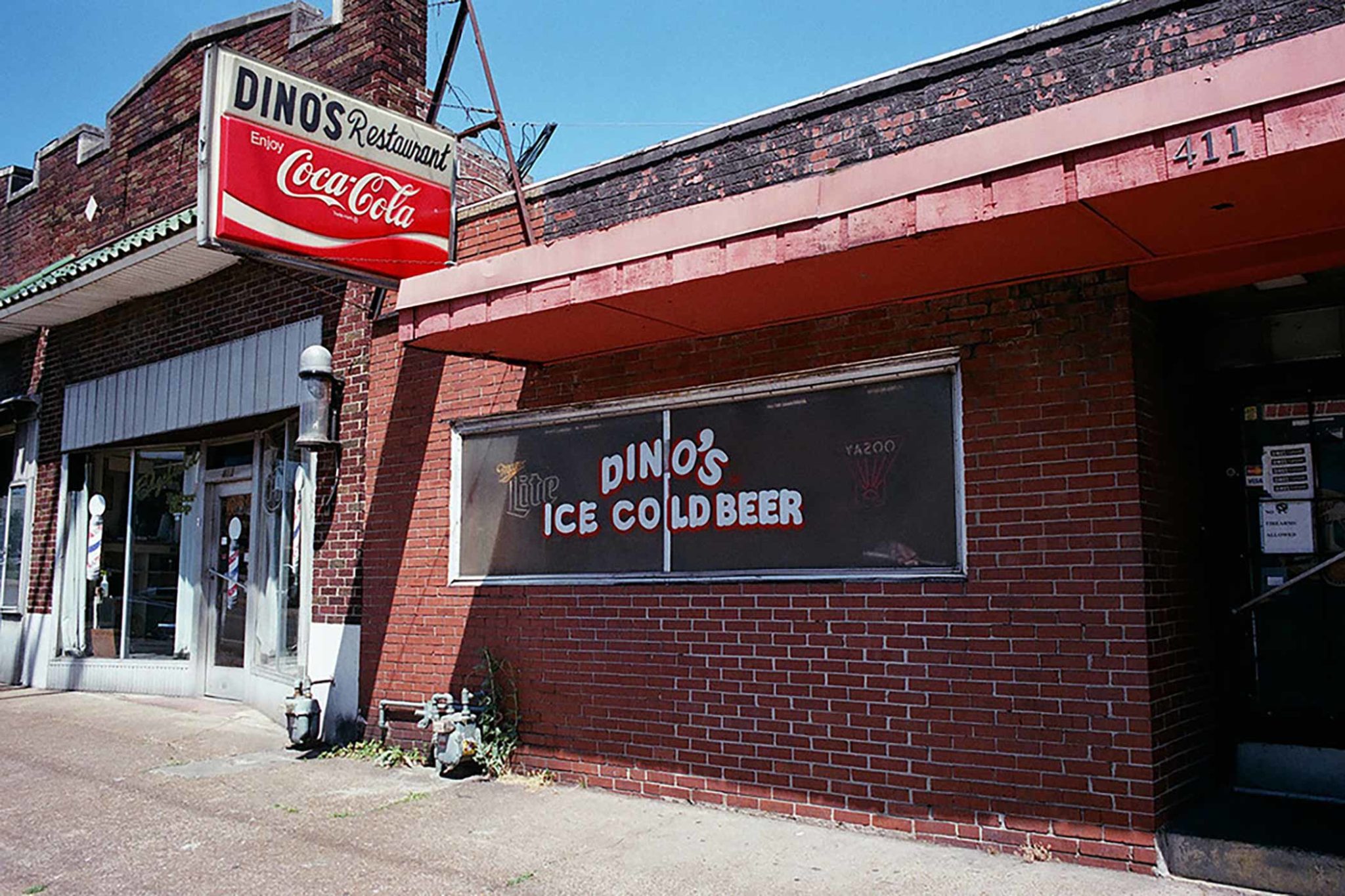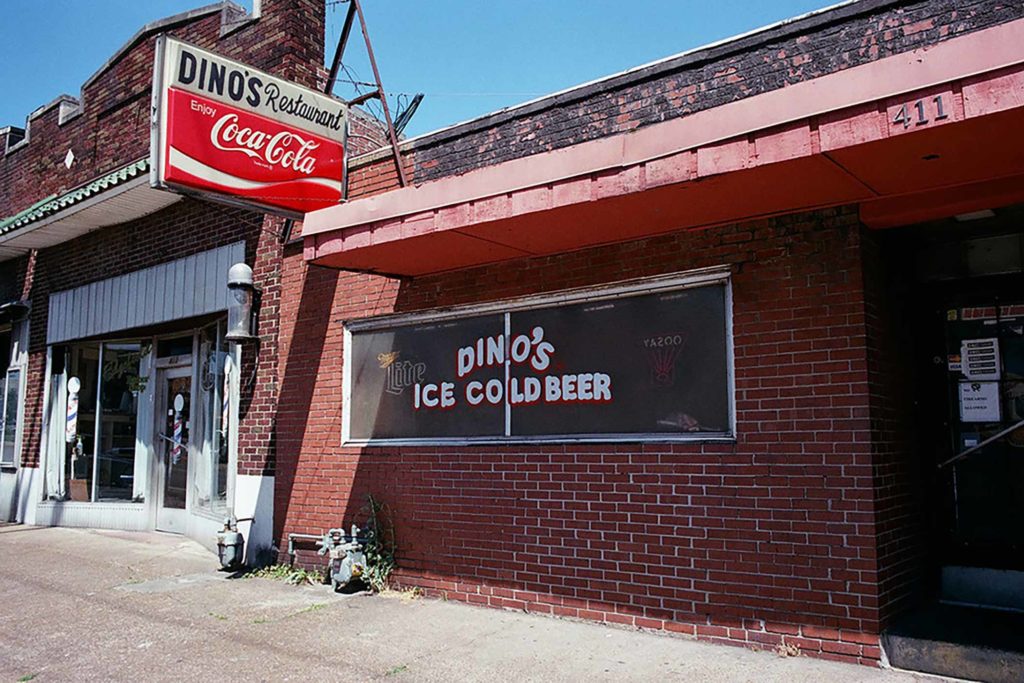 The characteristics of a great dive bar can be up to interpretation. But in general, if you asked us to make a list of attributes, we'd write something like:
– Cheap drinks
– Seasoned bar—i.e. scuffed, unpolished, or nicked
– Paint jobs dating back several decades
– Ripped bar stools and/or vinyl booths
– Dart board or other bar games
– Chatty, mostly local clientele
– Low lighting, Christmas lights, neon signs
– Grimy bathrooms with incredible, outrageous writing and graffiti on the walls
Of course, the beauty of a dive bar is in the eye of the drinker. But everyone has their favorite. Ask your colleagues to give you their top choices and you'll probably have ten to fifteen suggestions within minutes. And that's funny because that's exactly what we did here last year.
We loved this exercise so much that we decided to run it back for the second year in a row. And the best part?
A bunch of new folks joined the team, so we have a whole new slew of their favorite dive bar picks along with all of our favorites from last year.
From a steak sandwich-slinging, acid trip-esque joint in Buffalo to a haunted subterranean bar in Wilmington, from a tiny pub defying gentrification in Oakland to a retro tiki-themed waterfront lounge in Minneapolis, and everywhere in between, here are the Hop Culture and Next Glass team's top picks for the best dive bars across America.
Hop Culture's Picks for the 19 Best Dive Bars in America
Kelly's Bar & Lounge
Pittsburgh, PA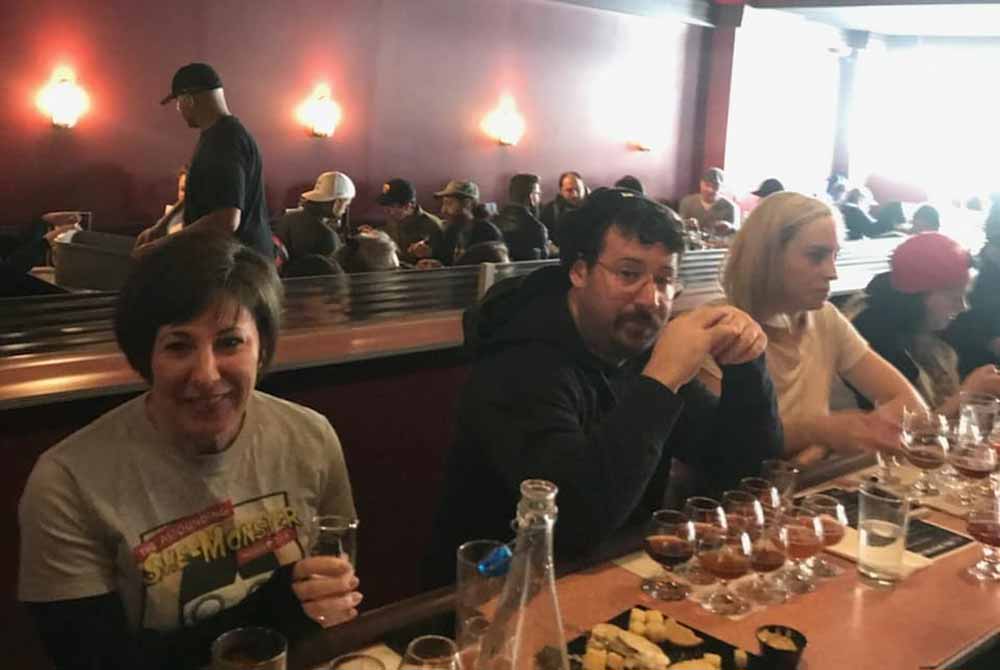 Ask Hop Culture Founder Kenny Gould to name his favorite dive bar in Pittsburgh and he'll say Kelly's. This dive bar is a Pittsburgh classic with all the tell-tale signs of a local watering hole: folks that have been drinking there for thirty-plus years, a neon sign that looks great at night and like junk in the light of day, and things written in permanent marker on the bathroom stalls. For a couple of bucks, you can walk across the checkered floor, snuggle into one of the ripped vinyl black and white booths, and order fried pickles (a favorite here) with an I.C. Light or Yuengling. And don't forget a Leona's Ice Cream Sandwich, another local favorite.
Bonus Points: Check out Gooski's on Polish Hill, another team favorite.
Zeno's Pub
State College, PA
Next Glass' new Social Media Manager Christie Clancy has spent a bit of time in State College. After attending Penn State for undergrad, she also spent seven years running all of the Big Ten university's social media channels.
Which gave her ample time to explore many a dive bar in the area. Her favorite? Zeno's Pub.
Literally underground, Zeno's has been a stalwart in the town for years. With a great music scene, list of craft beers on tap, and laid back vibe, Clancy singled out Zeno's as her go-to dive bar.
The Commodore
Brooklyn, NY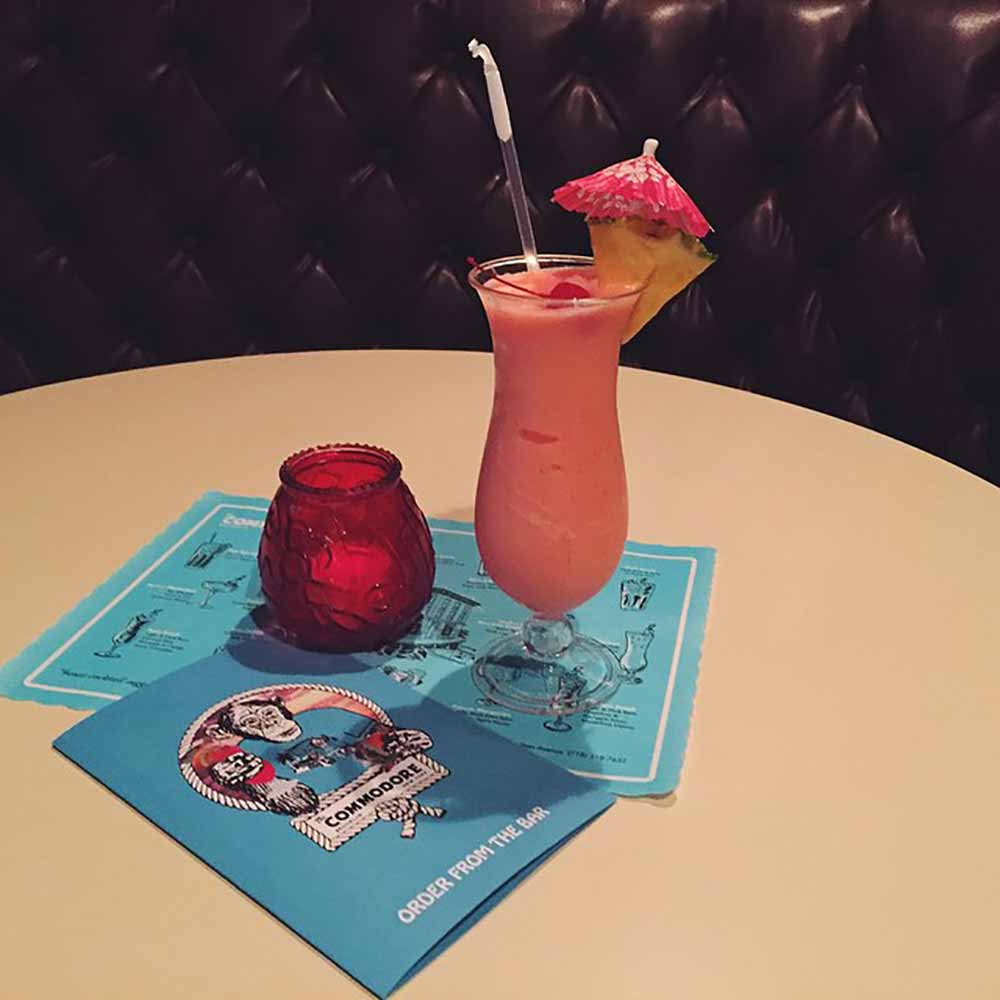 You might not have guessed that you'd find a quality dive bar in one of Brooklyn's trendiest neighborhoods. Although it's located in Williamsburg and still pretty new in dive bar years, The Commodore ticks a lot of those dingy bar boxes. Grimy bathrooms? Yup. Pulp Fiction or The Shining playing on the TV? Probably, or a film along those lines. Cheap beer? Definitely. Booths get packed early in the evening with Millennials looking for a bottle of High Life and shot of Jim Beam rye, or the ubiquitous Commodore cocktail, a frozen pina colada with Amaretto float. And on every table (and we mean every table) you'll most likely find a plate of fried chicken or fried chicken sandwich. Here, you'll coat your stomach in grease and your Vans in grime, which is how you know you've had a great night out.
RJ's Pub and Grill
Philipsburg, PA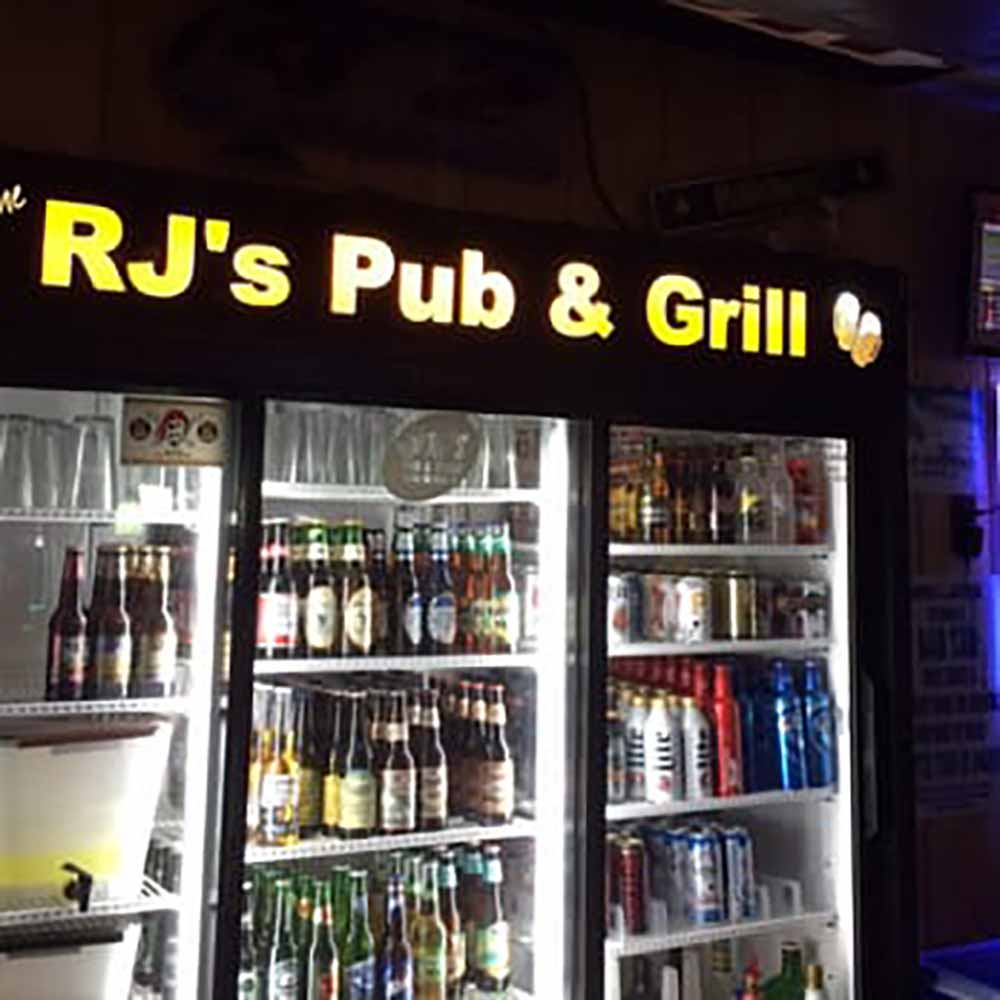 This is your classic old-school, small-town bar, but with a twist. Here you'll find surprises such as the great bar food menu and a surprisingly robust craft beer list. They even occasionally host tap takeovers from cool local craft breweries. But make no mistake, this is a dive bar through and through. From the wood paneling to the Pittsburgh Steelers tin tackers and the plastic picnic baskets this hole-in-the-wall uses to serve food, RJ's has dive bar written all over it.
Kingfish Pub
Oakland, CA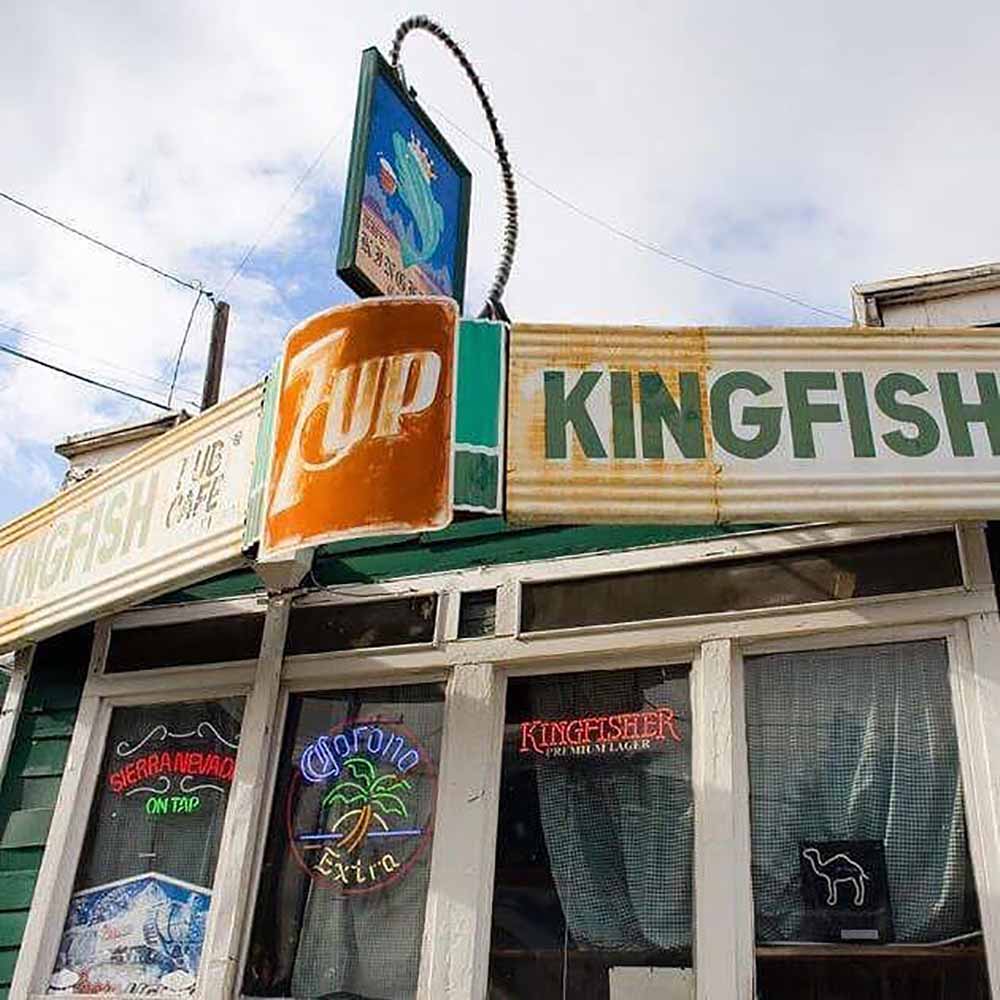 Have you ever read The Little House by Virginia Lee Burton? It's a story told from the perspective of a small house built on a little, idyllic hill in the country. As the years pass, the house constantly worries as the big lights of the far-off city draw closer. Eventually, a road is built in front of the house. And all hell breaks loose. Gas stations, apartments, and eventually railroads encroach on this tiny piece of paradise.
Kingfish would be the little house in this story.
However, unlike the book, this story has a happy ending. As more and more modern apartment complexes threatened to destroy Kingfish, the Oakland Landmarks Preservation Advisory Board stepped in, literally putting the Kingfish onto a trailer and moving it down the street. Today, Kingfish survives as a low-ceilinged, shuffleboard-slinging ode to Oakland's past. It's a tiny bar that looks up at the high and mighty condos around it and laughs in their faces saying, I've been here for years and I'll be here for many more years to come. You can't steal my tiny piece of paradise.
Bonus Points: Check out the Missouri Lounge in Berkeley, another team favorite.
Dino's
Nashville, TN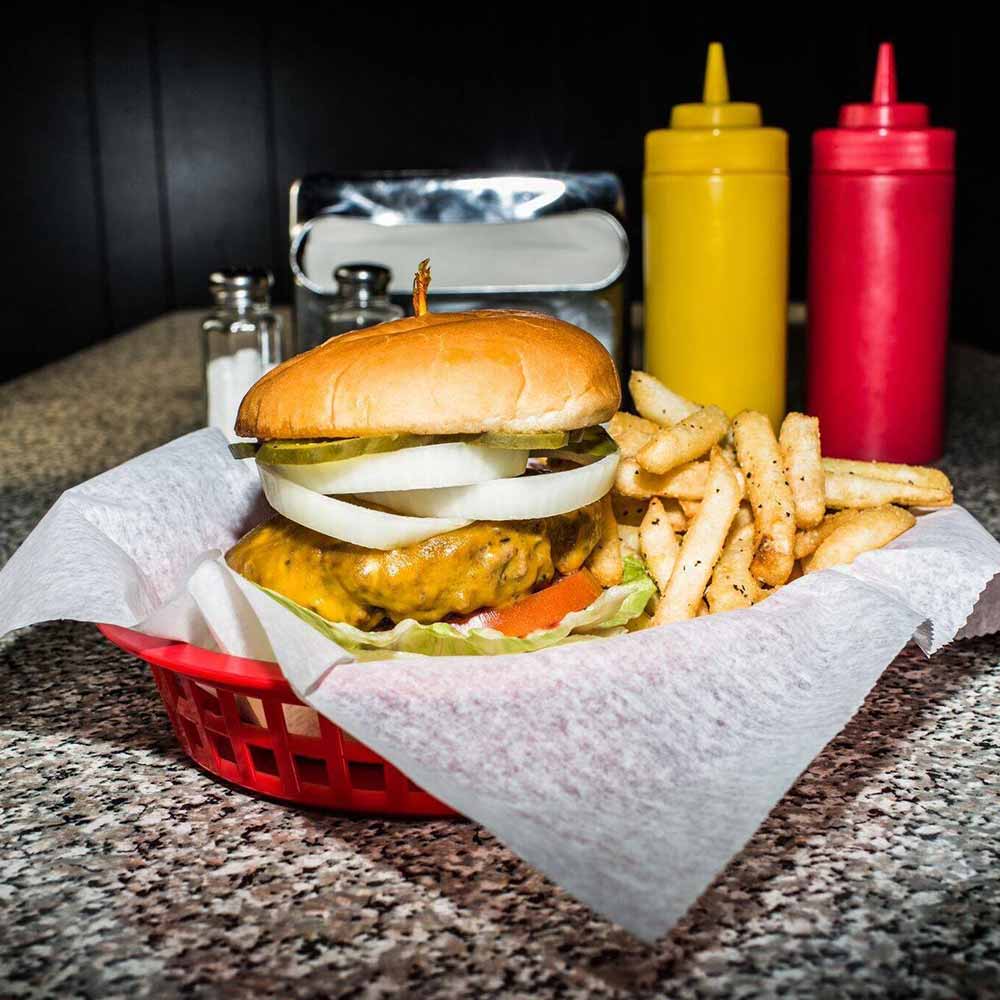 East Nashville's oldest dive bar made the list per the recommendation of our new Content Writer, Sarah Buckholz. This is a watering hole in its purest form. What you won't find here: fancy food and crazy craft beers. What you will find here: down and dirty cheeseburgers and hamburgers (actually, Bon Appetit Magazine rated Dino's a Top 3 Burger in the country) and blue collar beer like Coors Banquet and Miller High Life for $2 (yes you read that right).
Plus, Anthony Bourdain visited Dino's for his "Parts Unknown" show in 2016.
As Buckholtz says, "If it's good enough for Anthony Bourdain, it's good enough for y'all."
Delux Cafe
Boston, MA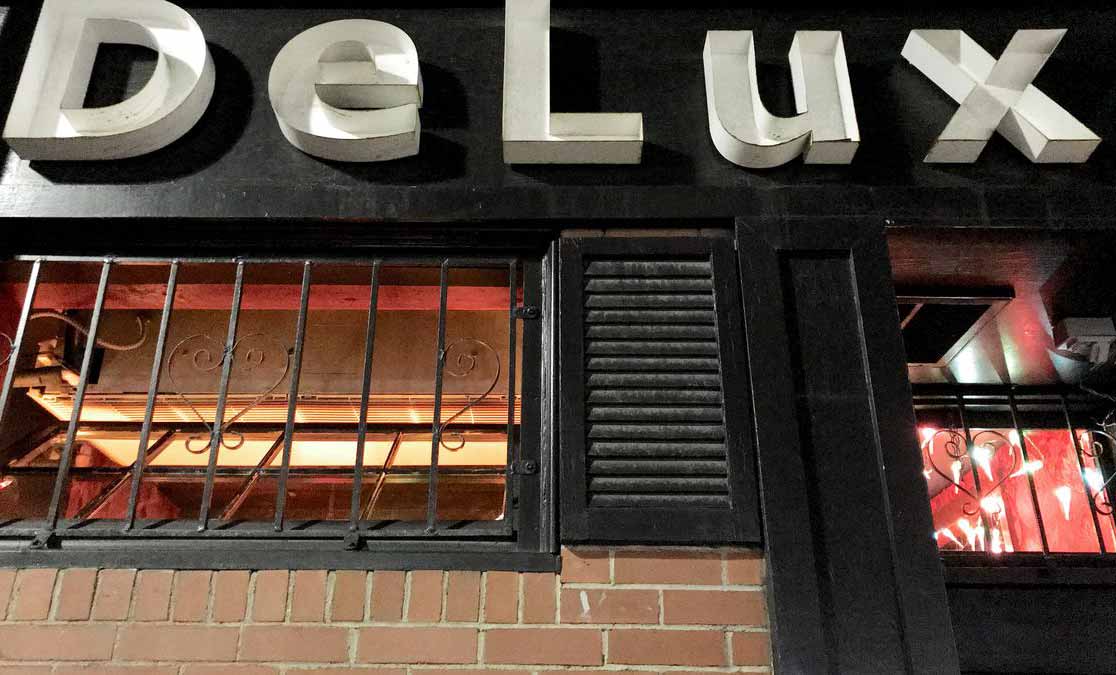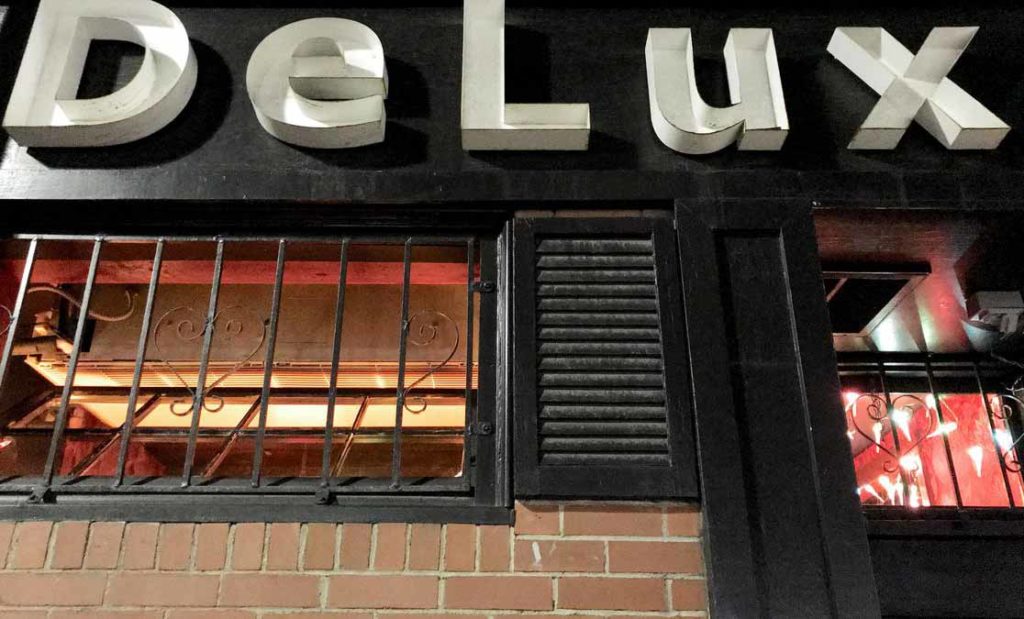 Another dive bar that has stood against time and gentrification, Delux Cafe has defied all odds in the South End neighborhood of Boston. As chain restaurants and bougie dining groups moved in, driving up rents and the price of eating and drinking, South End's small businesses started being driven out. But not Delux Cafe. Located at 100 Chandler Street, the dive bar has remained for over five decades as a place to grab a cheap can of 'Gansett. While the hole-in-the-wall has changed hands and names a few times during its historic run, it's always been a place for locals to bathe in the glow of Christmas lights, revel at the collection of album covers on the wall, and enjoy a cheap pint or two.
Santa's Pub
Nashville, TN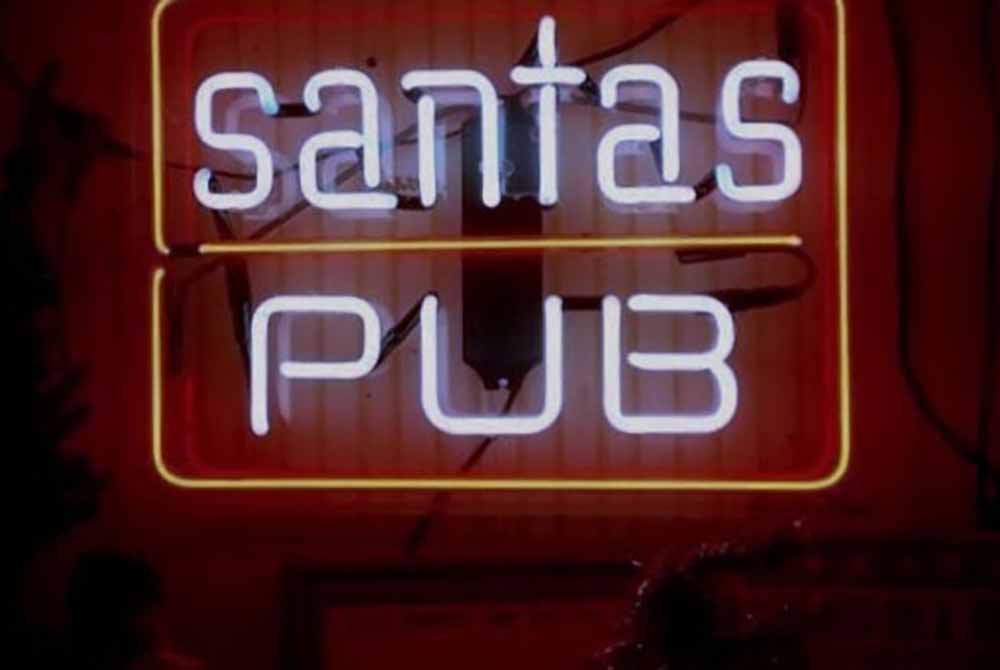 Some of what we love so much about dive bars is the kitsch, places that take something so esoteric or nostalgic and make it into their own schtick.
That's exactly the vibe at Santa's Pub in Nashville, TN.
Serving up cold beer and karaoke for ten years, Santa's Pub features twinkling lights and an appropriately painted red and green deck.
Apparently there is also a roaming santa, who if he hears you curse will ask you to pay a fine.
C'mon, if that isn't a dive bar at its finest, we don't know what is.
Saltwater Hippie Beach Bar
Madeira Beach, FL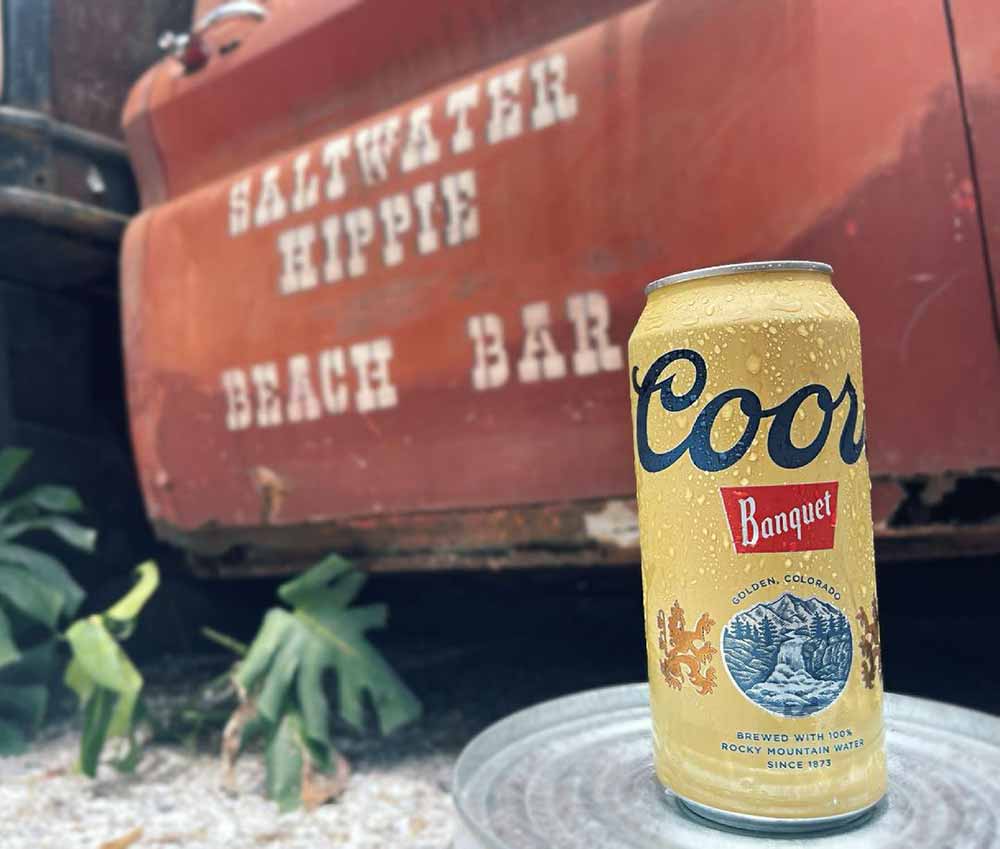 A place where summer never ends sounds like a place we want to be. The Saltwater Hippie just oozes beach bum paradise. Inside, you'll find high-top tables with black bar stools and various dollar bills taped to the ceiling. There might even be a parrot or rooster or two that casually squawks or walks into the bar. This is a tropical hidden gem where you'll probably find grains of sand on the floor and the constant aroma of suntan lotion welcoming you to drink your next Corona.
Heinhold's: First and Last Chance Saloon
Oakland, CA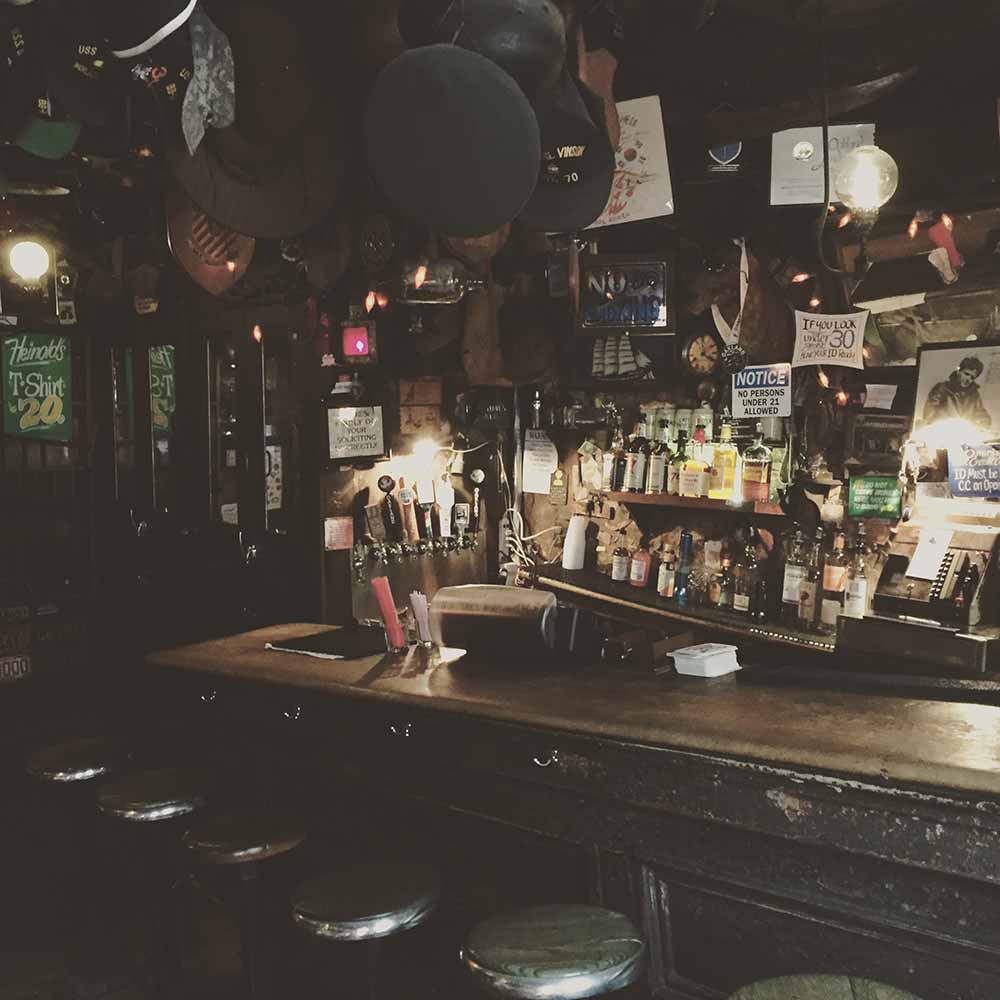 Another true symbol of a dive bar are the good ol' effects of Mother Nature and Father Time. Heinhold's: First and Last Chance Saloon seems to be a benefit of both, literally still standing as a beacon of the past amidst a rush of construction and modernization on the Oakland waterfront.
This tiny bar is so old (over a century) that it literally leans to the side and still has troughs on the ground next to the bar for lazy, inebriated sailors. They describe themselves as being "a(n) (il)literary landmark" with "tastefully abrasive atmosphere."
So if you're okay forgoing white-glove service for nitty gritty drinking, you're in the right place. This is just a dive bar full of history with a great spot to sit on the patio, sip on a beer, look out over the water, and people watch.
Although, you probably won't see any drunk sailors in today's day and age, it will still be hilarious to watch hipster Millennials rollerblading down the waterfront.
Abe's on Lincoln
Savannah, GA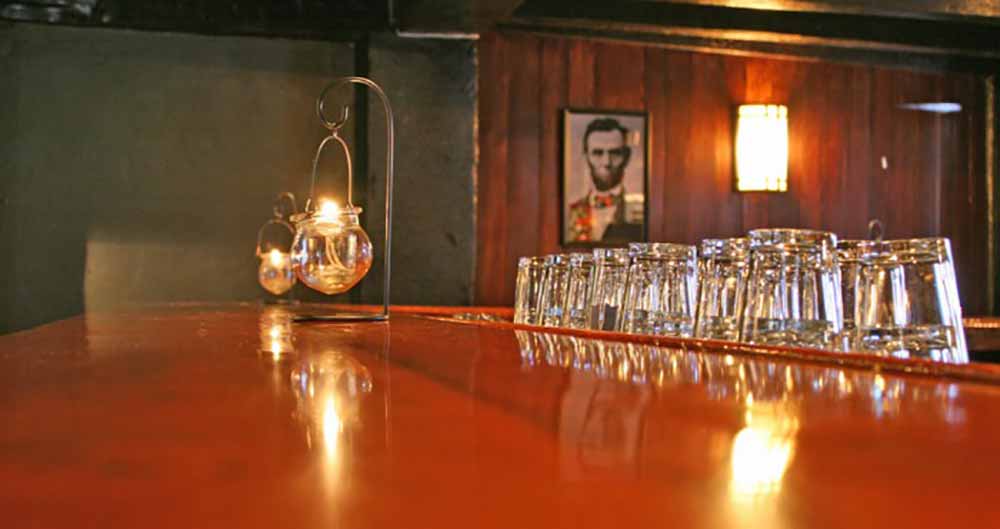 Forget about writing your phone number or your next big idea on a napkin. At Abe's on Lincoln on Lincoln Street in Savannah's National Historic District, napkin after napkin with hand-drawn Abraham Lincoln illustrations tattoo the bar's wooden beams and centuries-old ceiling. We're talking depictions of Honest Abe as a zombie, riding a bike, and even as SpongeBob Squarepants. If you're looking to add your own masterpiece to the walls of this off-the-radar pub dedicated to America's 16th president, order a drink and ask the bartender for a set of napkins and pens.
Shooting Star Saloon
Huntsville, UT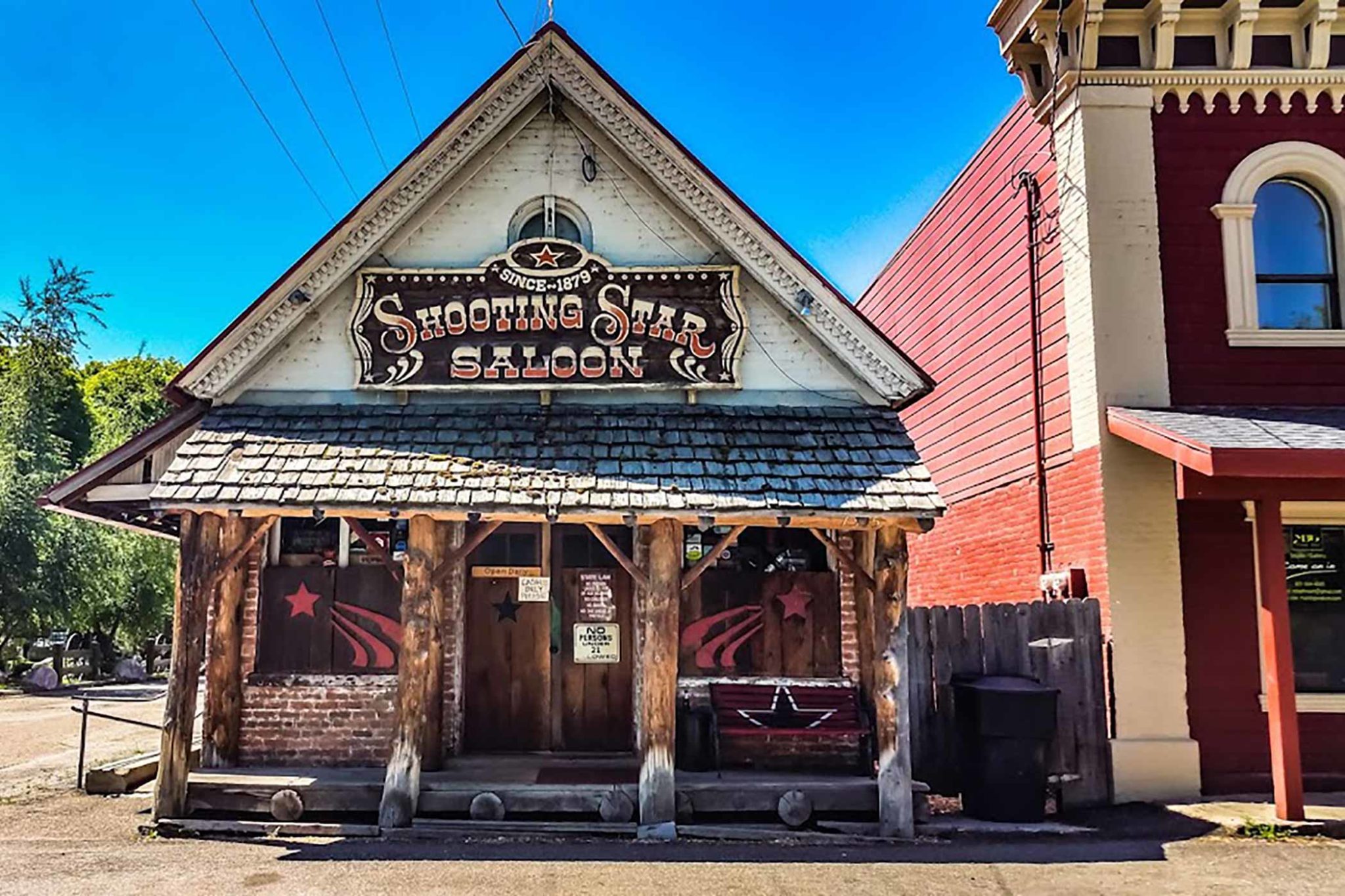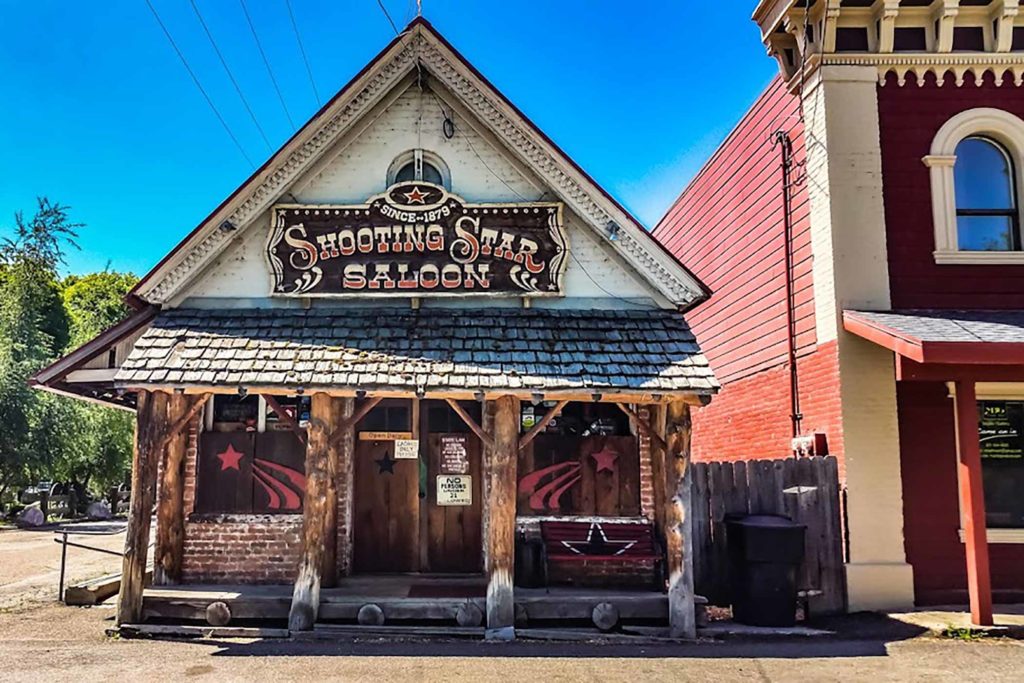 Originally built in 1850 as this fledgling town's mercantile, Shooting Star Saloon became a bar in 1879. And never looked back. Operating as a bar for 143 years, Shooting Star Saloon oozes history of the Wild Wild West. Afterall, they claim to be the oldest continuously operating saloon west of the Mississippi. If those walls could talk, right?
They might whisper to you about the husband and wife duo who owned the bar and were arrested for illegally selling beer.
Or they might tell you about the $3 beers and $5 Star burgers.
Perhaps Next Glass' Graphic Designer Jake Hill says it best: "If you're looking for a salad, you won't find one here."
The Old Pink
Buffalo, NY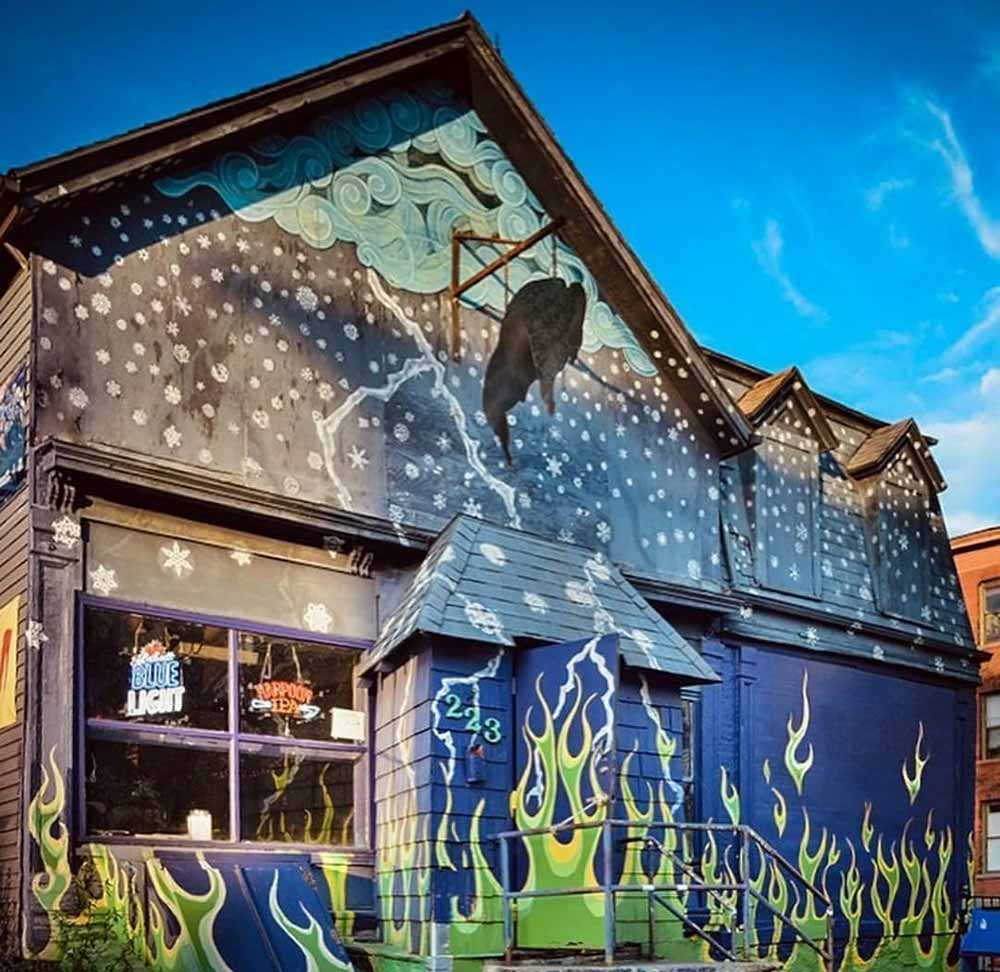 Called The Pink by locals, this bar is hard to miss. The black and purple house with green painted flames shooting out of the ground could've been a hideout for all of Disney's villains (Maleficent, anyone?) before becoming one of the country's most renowned dive bars. In fact, four years ago, The National Trust for Historic Preservation partnered with Seagram's 7 Whiskey to highlight some of the nation's most historic watering holes. Guess who made the list? The Pink!
Inside, you'll find graffitied walls, an almost completely scuffed bar, and hundreds of stickers touting things like "Fight Prime Time… Read A Book" and "Dissent is the highest form of patriotism." Oh, and of course a string of Christmas lights. Walk across the checkerboard tiles and you'll be treated to the slight pull of an eternally sticky floor. But you won't care because at 2 am, as you stumble in to order the famous steak sandwich (a 12-oz center-cut steak with provolone, peppers, and grilled onions on a costanzo roll), you won't notice. You'll be beyond happy to order a PBR, stuff your face, and go home happy after a night out.
Jack's Bar
Pittsburgh, PA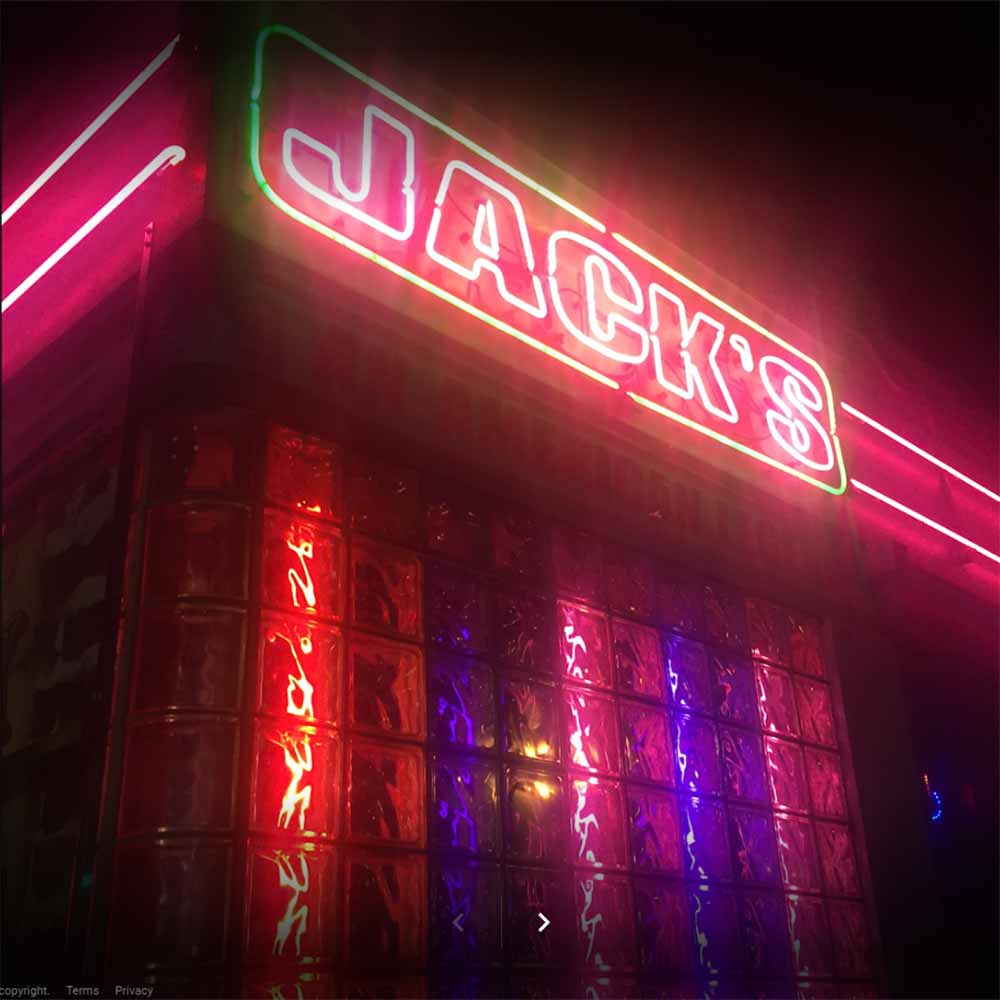 We can't one hundred percent confirm this, but Next Glass Digital Marketing Manager Tyler Kairys, who picked this spot, thinks the slogan for this dive bar may have once been something along the lines of, "Everyone winds up at Jack's."
Seems pretty fitting for a dive bar, so we're going to go with it.
Fun fact: Jack's opens promptly at 7am everyday of the week except for Sunday (when they open at 9am) and doesn't close down until 2am.
Sounds like the party never stops at this Pittsburgh watering hole. This is the kind of place where you walk inside and your shoes squelch and stick a bit…and you're not sure why.
This is the kind of place you can see a mile away at night thanks to its blazing namesake neon sign.
This is the kind of place you can just go, get a cheap beer, and have a great time. Until two in the morning. Or at 7am, if that's your thing.
Harry's Banana Farm
Lake Worth, FL
Dive bars are like [insert fingerprint or snowflake cliche here]—each one is different. And there's always one thing that makes your personal favorite the best place to drink in the country. For seven decades at Harry's Banana Farm, it's been the outdoor sign. Oh, and the giant yellow, weathered banana placed precariously above the green awning out front. Popular refrains reflect the times, most recently expressing general manager Lou De Stout's frustrations around COVID-19 with slogans like, "We've been closed so long our men's room smells nice again" and "So it's ok to sell liquor if it comes with a side of fries?" Shoot down Dixie Highway to Harry's Banana Farm for a chuckle and a beer or two with a shot.
Bar11
Pittsburgh, PA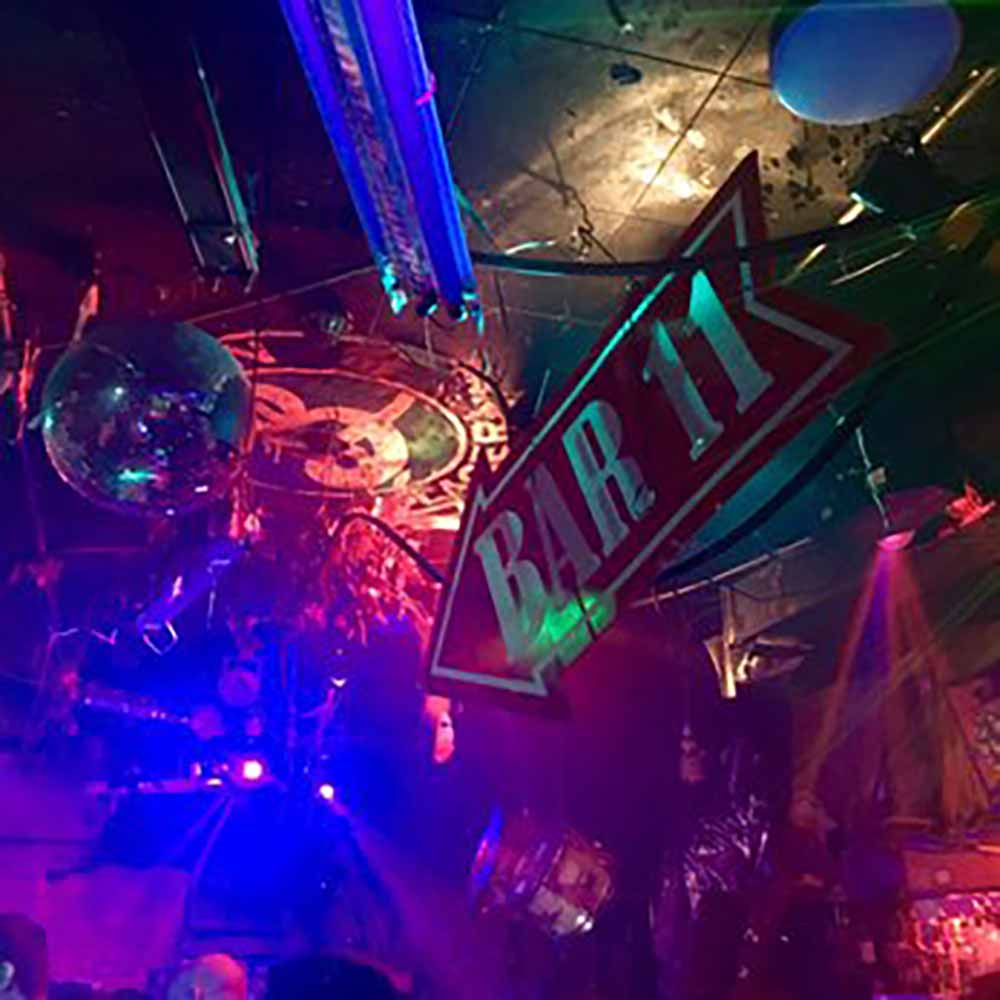 Pennsylvania seems to be the state littered with dive bars. Bar11 makes this the fifth Keystone State tavern on our list and third in the Steel City. Must be something in the water.
Perhaps sometimes referred to as "Pittsburgh's Original Party Bar," although this remains unconfirmed as well, this tiny bar just a few blocks away from finer establishments, ticks all the dive bar boxes.
Little toys/trinkets in your drinks ✅
Name tags available with glow-in-the-dark markers ✅
Summer solstice rain parties where it's suggested you dress to get wet ✅
You get the idea.
Lula's A Pub
Wilmington, NC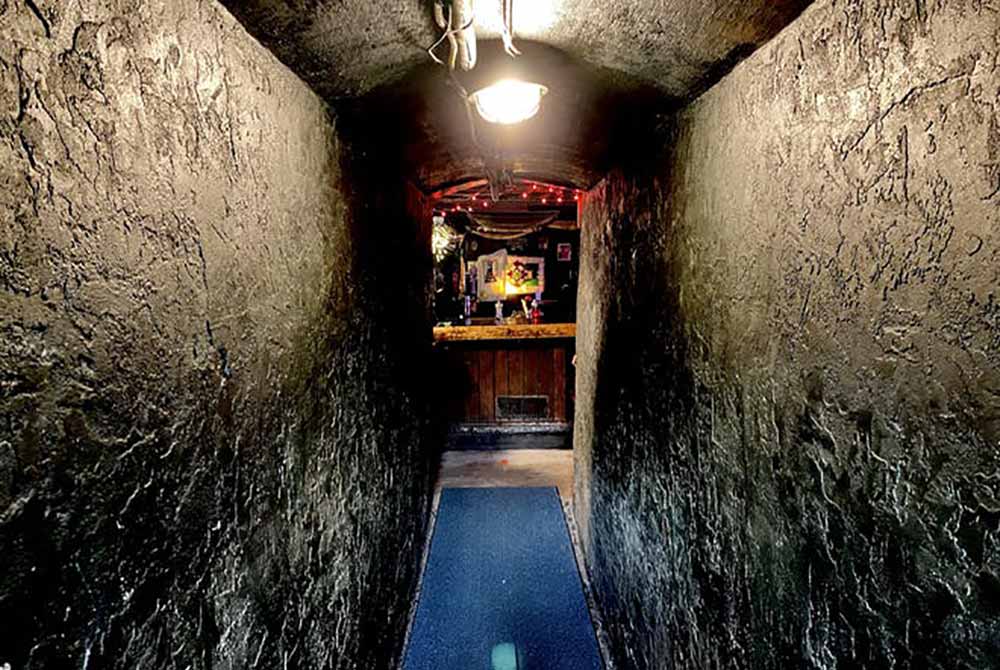 A beloved subterranean bar in Wilmington, Lula's is adored for being a super casual place to drink despite the fact that it's rumored to be haunted. Or, it could just be the bar's cave-like atmosphere—you need to walk through a dark hallway just to get to the underground bar. Regardless, the history makes Lula's special, from the ballast stones used in the original general store building to its paranormal tendencies. This is an intimate pub with intimate quirks you could only find in a place that has withstood the test of time.
Psycho Suzi's Motor Lounge
Minneapolis, MN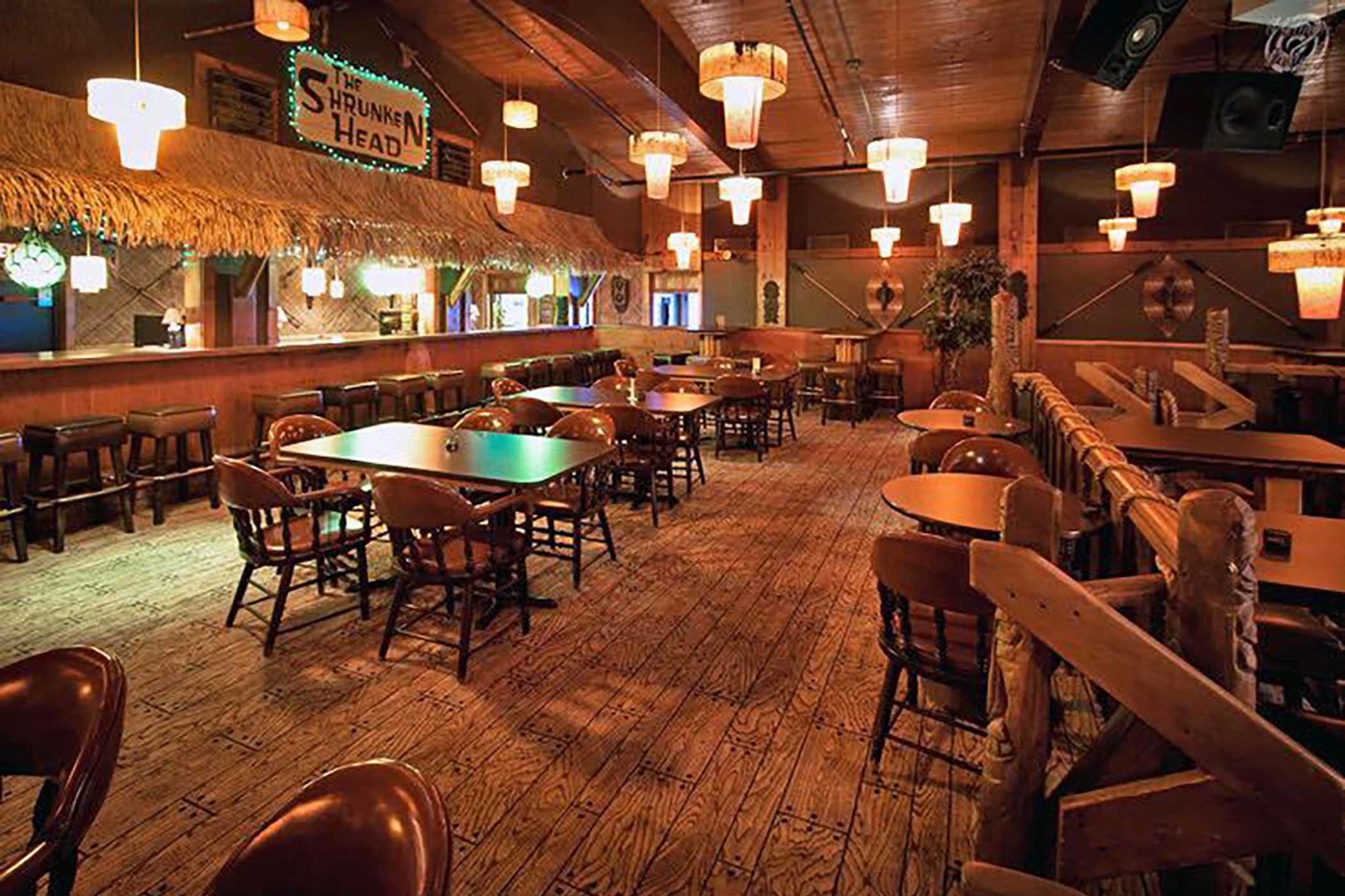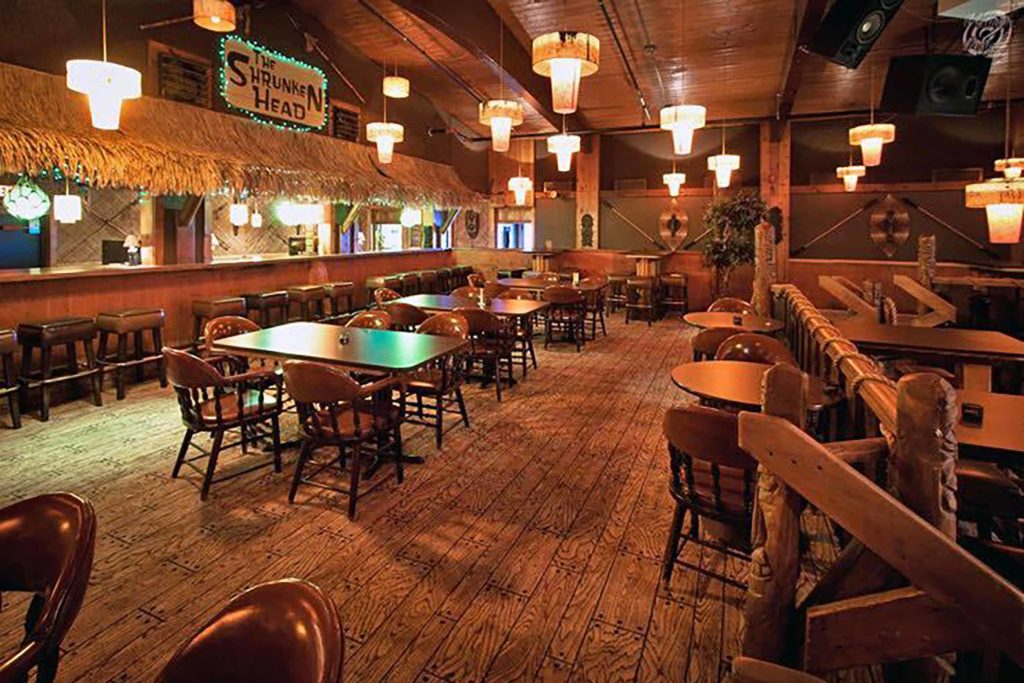 "The weary, the wild, and the weird are always welcome to wash up on our shores," writes Psycho Suzi's on its website. This self-proclaimed "retro tiki bar and pizza paradise overlooking the high seas of the Mississippi River in Nordeast Minneapolis," is just a crazy time.
Tiki drinks with names like "Evil Headhunter," "One Eyed Willy," and "Siren's Call" rule the jungle at this waterfront lounge, making it one of the more unique picks on our list.
That and the vibe.
"I go for the wood floor carpet and take-home ceramic drink vessels," says Claire Nikodemus, Manager, Event Operations at Next Glass.
Sounds about right.
Lone Wolf
Bushwick, NY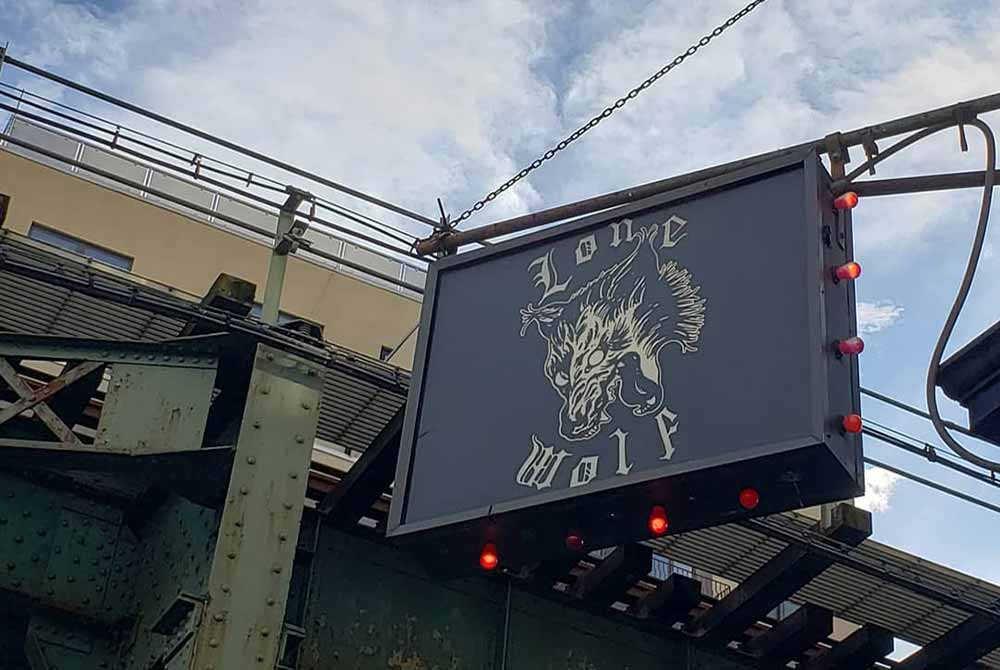 When my wife and I packed up our Volkswagen Tiguan and moved from Chicago to New York City, we ended up in a tiny apartment in Bushwick near the Kosciusko stop on the J train. One block away was the Lone Wolf. For the longest time we thought the bar was closed. It just looked that way. But eventually, we ventured into the wolf's den and found all the trappings of a great dive bar: pool table, lingering scent of smoke (even though smoking inside is illegal in New York City), DJ spinning on the stage, and a tiny patio crammed into the backyard between apartment buildings. Plus, we were immediately treated to a 'happy meal'—aka a $5 or $6 beer/shot special. We never looked back.