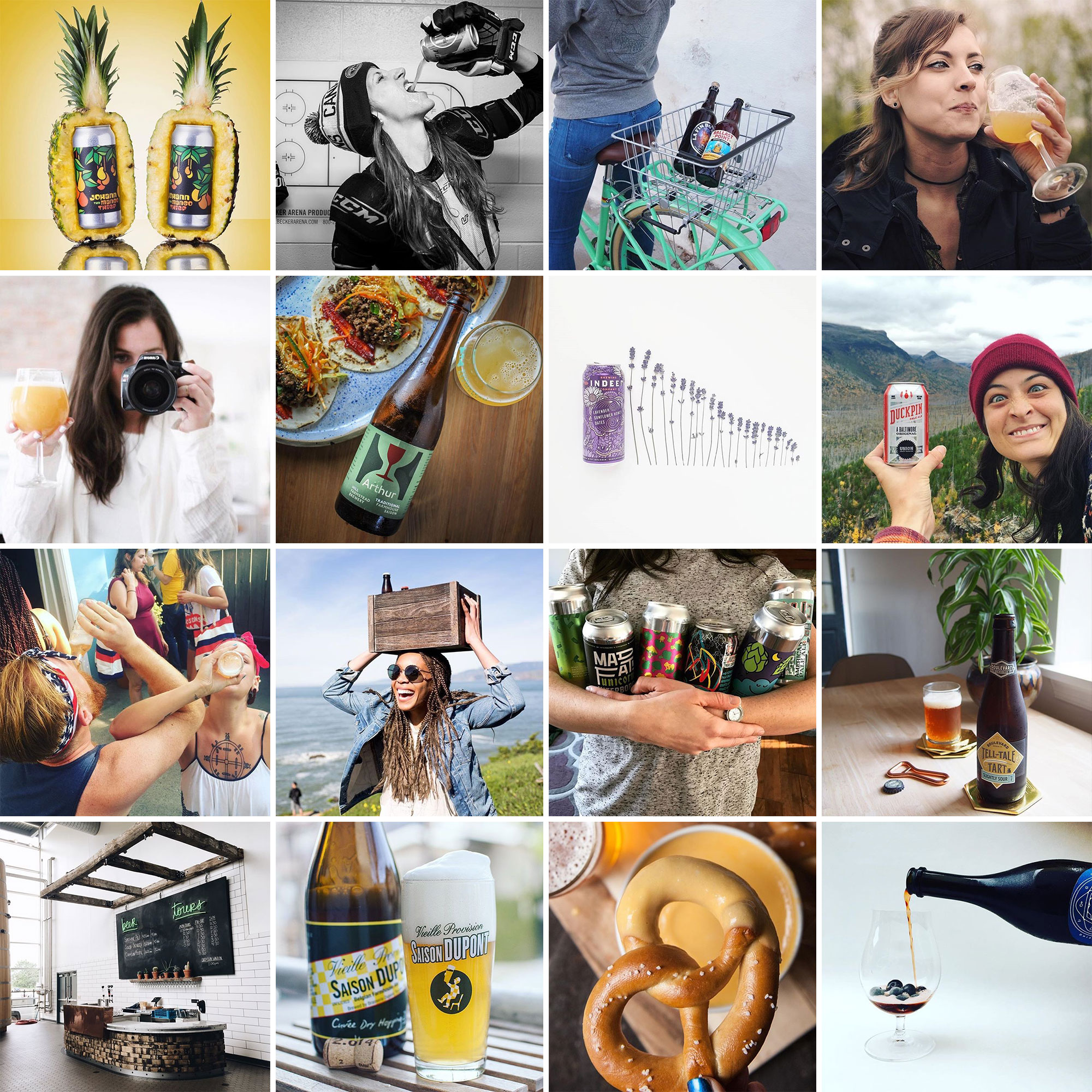 Photography by Heather Lewis
We've seen the lists: "BEST FEMALE BEER INSTAGRAMMERS!" "MOST AWESOME WOMEN IN CRAFT!" Most of the time, these lists miss the mark. The accounts they feature tend to focus their photography on selfies rather than promoting the craft beer lifestyle.
We wanted to make a list that highlights positive contributions and inclusivity. To help us, we called on our friend Heather Lewis, a Brewery Operations Manager and Beer Instagrammer (@beerbitty) for some of her favorite people to follow right now.
1. @elitraks
By night, product photographer Liz Traks becomes @elitraks, beer photographer. She brings the same photography and photoshop wizardry to beer that she brings to her full time job with ThinkGeek. With only 750 followers at the time of writing, she's one of Instagram's hidden craft gems.
2. @craftbeerdeer
There's something relaxing about Julie Roesser's photography. Her pictures are light and bright, like she took them first thing in the morning on a sunny day. With 26.3 thousand followers, she's one of the more popular women's-run beer accounts on Instagram, and for good reason.
3. @womensbeercollective
An account based in San Diego, @womensbeercollective began with the goal of educating women about craft. Check out their awesome online store, which features hop-themed jewelry, apparel, and totes.
4. @lizdrinksbeer
Following @lizdrinksbeer is like following the craft beer Instagram account of your best friend. Liz, foster mom to some awesome dogs and a volunteer at The Pittie Stop Rescue in Mansfield, Massachusetts, posts friendly, welcoming pictures for animal and craft lovers alike.
5. @nomsandbeer
Straight out of the Hudson Valley comes @nomsandbeer, an account featuring — you guessed it — incredible food photography and rare craft beer. Honestly, we're surprised this account only has 2,700 followers. Three pics in and we're salivating.
6. @girlswholikebeer
"Fully clothed craft beer enthusiasts" — that's a motto we support. The account is an extension of the GirlsWhoLikeBeer blog, run by the one and only Kelly Erickson. By day, Erickson also co-owns Craft Media Solutions, a graphic design and creative studio for craft breweries in Southern California.
7. @beerliveshere
If a Japanese minimalist studied Scandinavian interior design and then started a craft beer Instagram account, she might wind up with @beerliveshere. The account comes from Dee Stecco of Asheville, North Carolina, and features beautifully arranged, simple shots that highlight can and bottle art.
8. @thebeeroness
Jackie Dodd, aka the Beeroness, has quite an impressive resumé: finalist for Saveur Magazine's "Best Original Recipe," winner of Saveur's "Best Beer Coverage," and finalist for Better Homes and Gardens "Best Food Blogs, 2015." Her Instagram features mouthwatering food and beer pairings, like beer can chicken and Stone IPA. Yum.
9. @thecraftbeergirl
When she's not posting awesome pictures of beer, Amy Ellsworth is the Upstate New York Sales Rep for @troegsbeer. Her decidedly rustic IG account makes us want to pack our bags and head north up the Hudson.
10. @grassowhat
In 2016, World of Beer paid 4 interns $12,000 a piece to fly around the world and write about beer. One of those interns was Alison Grasso, a self-described "video maker, beer drinker, and verified idiot." She's a talented photographer who (from the looks of her IG) also loves ice cream.
11. @fuhmonday
Milan and Laura are two chill women from San Francisco, and they make the best of their geography by showcasing the best food and beer from the Bay Area. If you ever needed an excuse to head west, look no further.
12. @mulvatronn
In addition to writing and photographing for The Girl & Her Beer and @goodbeerhunting, Steph Byce runs @mulvatronn, another account that seems poised to explode. Keep an eye on this one, folks — you'll get to say you knew her way back when.
13. @craftswithky
Other accounts might take fancier photos, but it's hard to beat Kylie Bee's @craftswithky when it comes to authenticity. Her shots are arranged, but not staged, and a follow gives you a front row seat for the adventures of her adorable cat, Hendrix.
14. @unionjenna
If misery loves company, the same must be true about joy. Jenna Dutton, Administrative Ninjasaurus for Union Craft Brewing in Baltimore, looks like she's having so much fun exploring the world of beer that we dub her the ultimate account to follow on a rainy day.
15. @webikeforbeer
Beer. Bike. Repeat. Rachel and Vicky of San Diego, California, use their account to bridge the gap between beer, beach cruiser bikes, and terrific weather. Something about their cheerful, sun-soaked page makes us want to listen to the Beach Boys.
16. @fizzandmingle
We're baffled by many things — sports, politics, the enduring deliciousness of the Twinkie. Perhaps most confusing? How @fizzandmingle can be putting out such high quality content and still have under 400 followers at the time of writing. If you're the type of person that gets excited about cocktails, craft beer, and glassware, you'll want to give Emily a follow.
17. @msbeercraft
A Certified Cicerone who likes to "run, climb mountains, paint, take photos, and drink tasty libations"? We wish that our lives were half as cool as Jen's. When she's not adventuring or taking pictures of beer, @msbeercraft is the San Diego Sales Rep for Cutwater Spirits, a distillery founded by the people behind Ballast Point.
18. @thatonebeergirl
From the beautiful state of Virginia comes @thatonebeergirl, whose account mixes photos of rare beers, breweries, and a kickass jeep. It doesn't seem fair that one woman should get to try so many awesome bottles and cans, but @thatonebeergirl makes us green with envy every time.