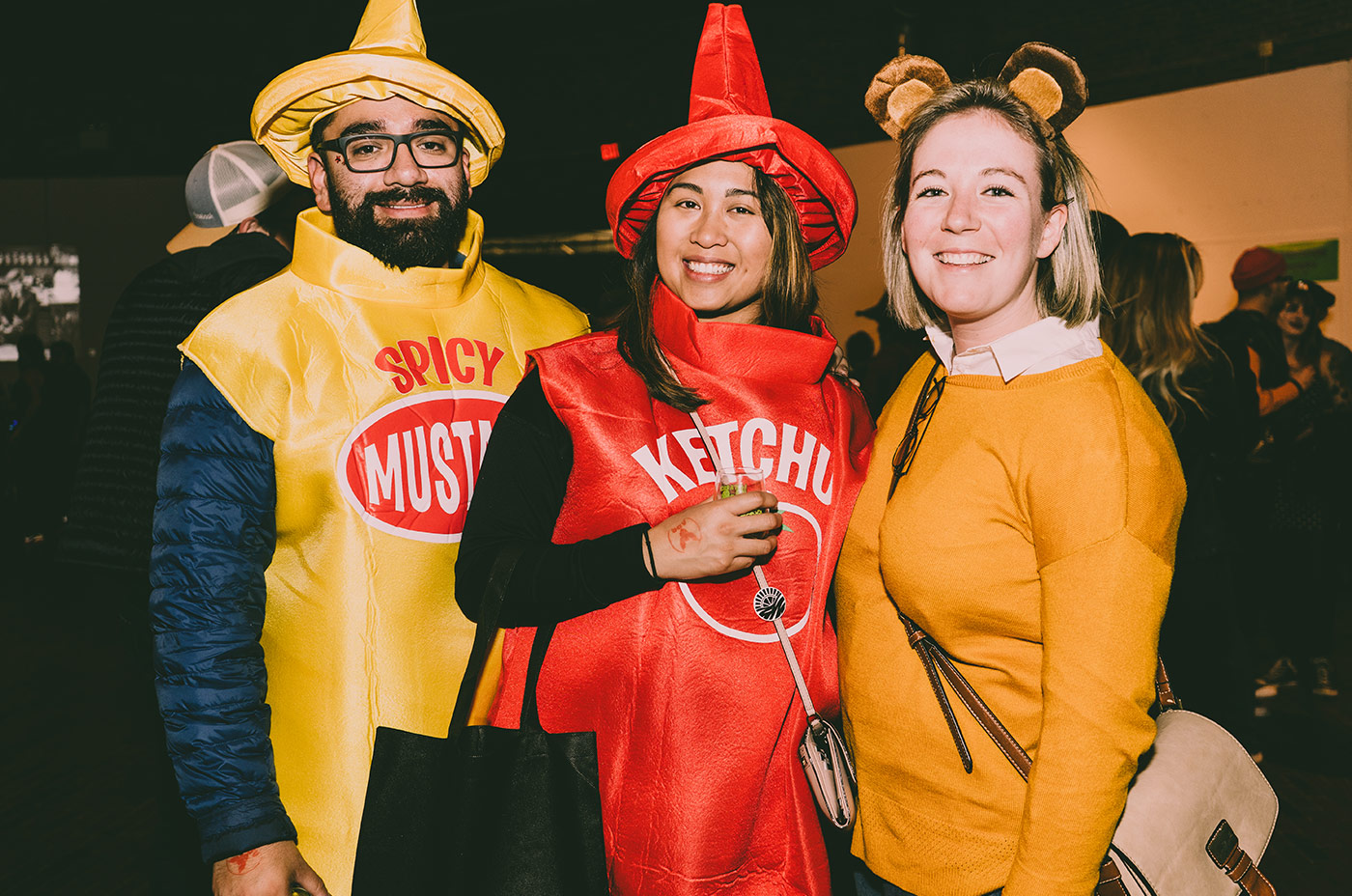 It is officially spooky season. A month of scary movies, carved pumpkins, and fun costumes, October's official holiday of Halloween brings people of all ages together. While trick or treating and big Halloween parties may not be a reality because of COVID-19, that doesn't stop you from wearing a creative costume. Dress up, get together for a socially distanced event with friends, and drink some beer. It's always a competition to see who can come up with the best costume. We sought out the seven quirkiest costumes and paired them with best beers to drink while wearing them for this upcoming Halloween.
The Pittsburgh Costume: A Pickle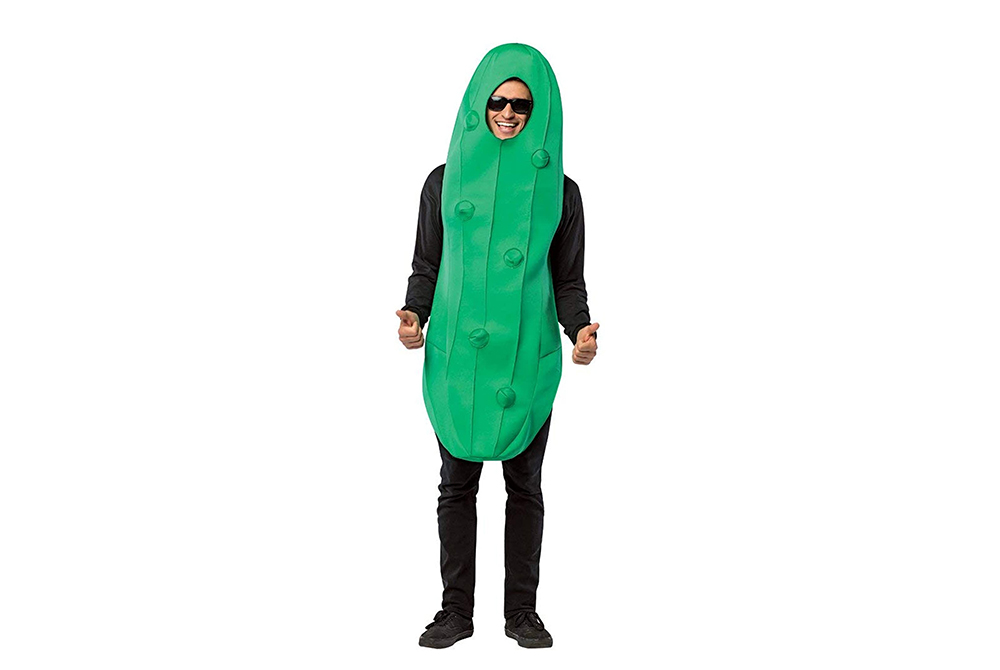 A homage to the pickle capital of the United States: Pittsburgh, Pennsylvania, a pickle costume will be the hit of your Halloween party. Wear some sunglasses with the costume for a little extra pizzazz. You'll be kinda a big dill in this costume.
Best Beer to Drink in This Costume: Urban Artifact Pickle Sour
Stay with us here. Urban Artifact's puckering pickle sour actually pairs perfectly with a Gose's slightly salty base. This beer is like biting into a fresh dill pickle. Hey, if you're going to dress like a pickle you might as well take the costume all the way.
Find Urban Artifact Pickle Sour
Buy The Pickle Costume Now: $18
The Out of this World Costume: Astronaut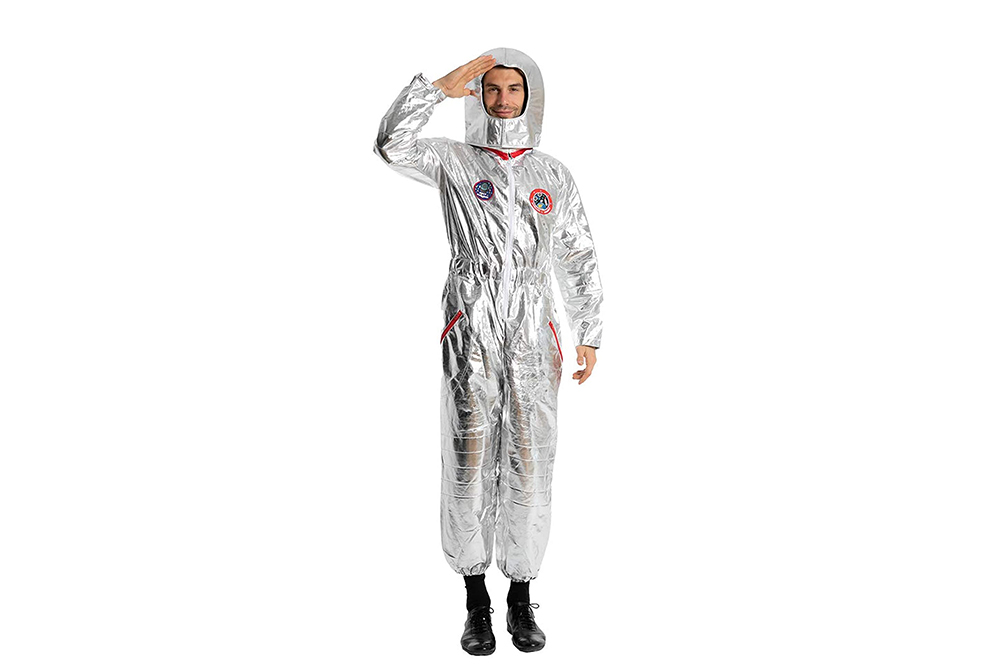 You'll feel out of this world in this stylish astronaut costume. Take your style to a new galaxy and pretend you're just stepping off a spaceship.
Best Beer to Drink in This Costume: Ninkasi Bourbon Ground Control
This beer has been to space! Seriously, Ninkasi brewed this beer with a payload of yeast that traveled aboard a rocket launched from Spaceport America into space. This extra-special version combines Oregon hazelnuts, star anise, and cocoa nibs and is fermented in bourbon barrels. Blast off!
Find Ninkasi Bourbon Ground Control
Buy The Astronaut Costume Now: $56
The Happy Costume: Bumblebee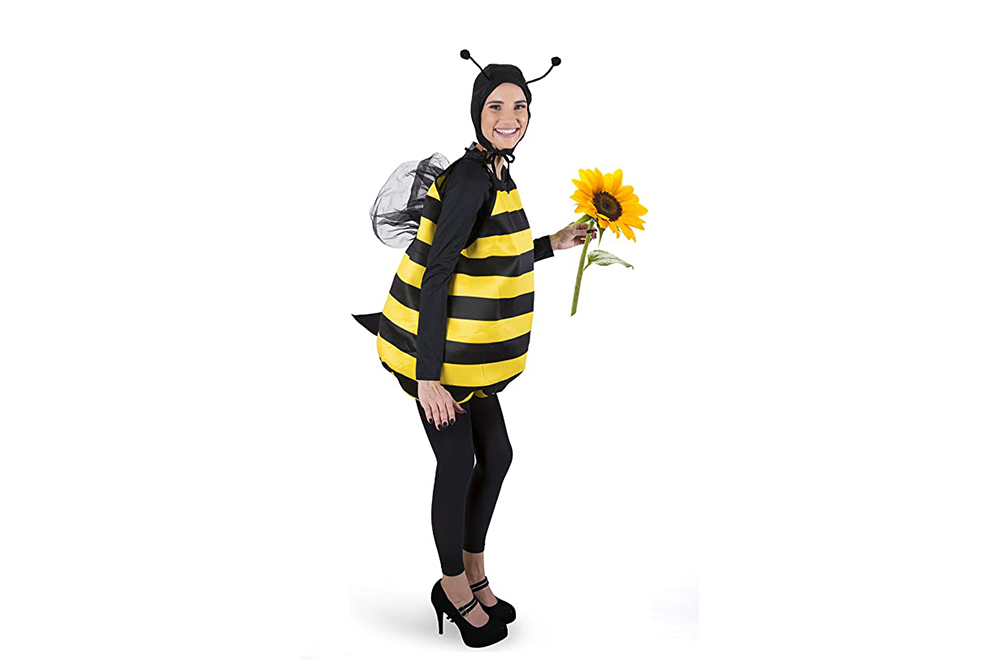 Brighten up Halloween with a fun yellow bumblebee costume. You'll have the whole party buzzing with this one.
Best Beer to Drink in This Costume: Superstition Meadery Fauna
Coming from one of our favorite meaderies in the entire country, Superstition Meadery executed this 13.5% ABV traditional mead with Arizona mesquite honey to perfection. It's clean, dry, and full of desert terroir. We love this phenomenal meadery so much that we named its various meads to our 20 Best Beers to Drink in Summer 2020 and 20 Best Beers to Drink This Spring. Anything you drink from this meadery will be the bee's knees.
Find Superstition Meadery's Fauna
Buy The Bumblee Costume Now: $12
The Casual Costume: Stick Figure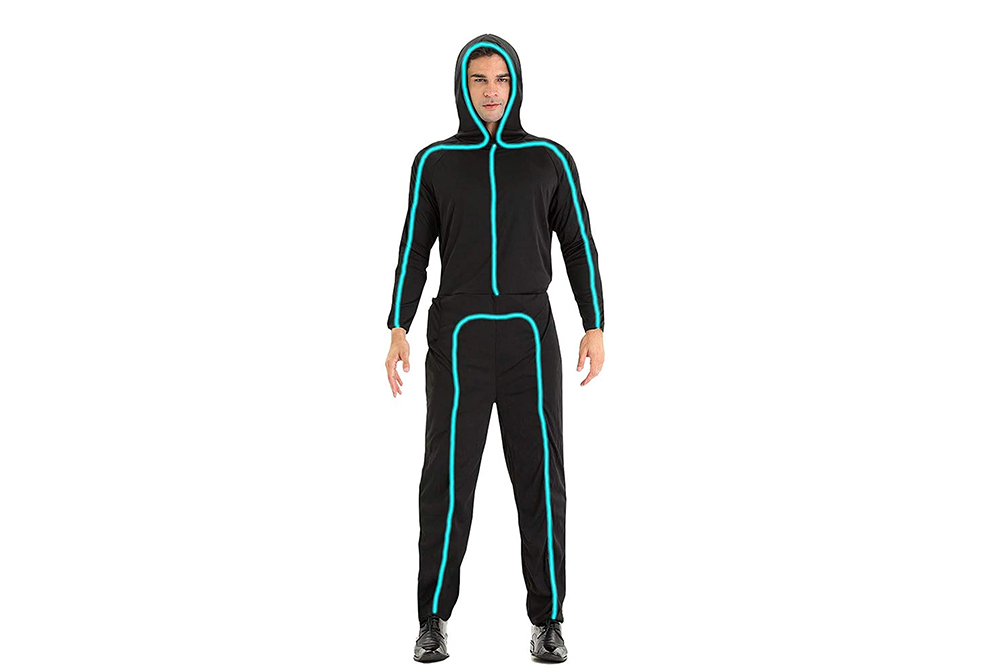 The go-to drawing is always stick figures so why not dress like one? With four modes of continuous light-up fun, illuminate your way through this Halloween.
Best Beer to Drink in This Costume: Wachusett's Stick Figure Cocoanut IPA
Admittedly, this costume posed a bit of a challenge, so we went with the most literal interpretation. This beer is actually a collaboration between Wachusett Brewing Co. and the reggae and dub music star Stick Figure. Cocoanut IPA will whisk you away from the cold late-fall days to warm climates with notes of tropical fruit and coconut.
Find Wachusett's Stick Figure Cocoanut IPA
Buy The Stick Figure Costume Now: $46
The Best Pair Costume: PB&J
The perfect sandwich combination: peanut butter and jelly. Classic and delicious, it's the perfect partner costume. Find the friend that you go together with like a PB & J and impress all your friends.
Best Beer to Drink in This Costume: Hoppin' Frog Peanut Butter Chocolate Coffee Porter
A brewery continuously awarded for its innovative, richly-made stouts, Hoppin' Frog doesn't disappoint with its version of a liquid peanut butter cup. Peanut butter and chocolate are a classic combination; throw roasty, toasty coffee in the mix and you might not even miss the jelly.
Find Hoppin' Frog Peanut Butter Chocolate Coffee Porter
Buy The PB&J Costume Now: $33
The Costume for Gamers: Mario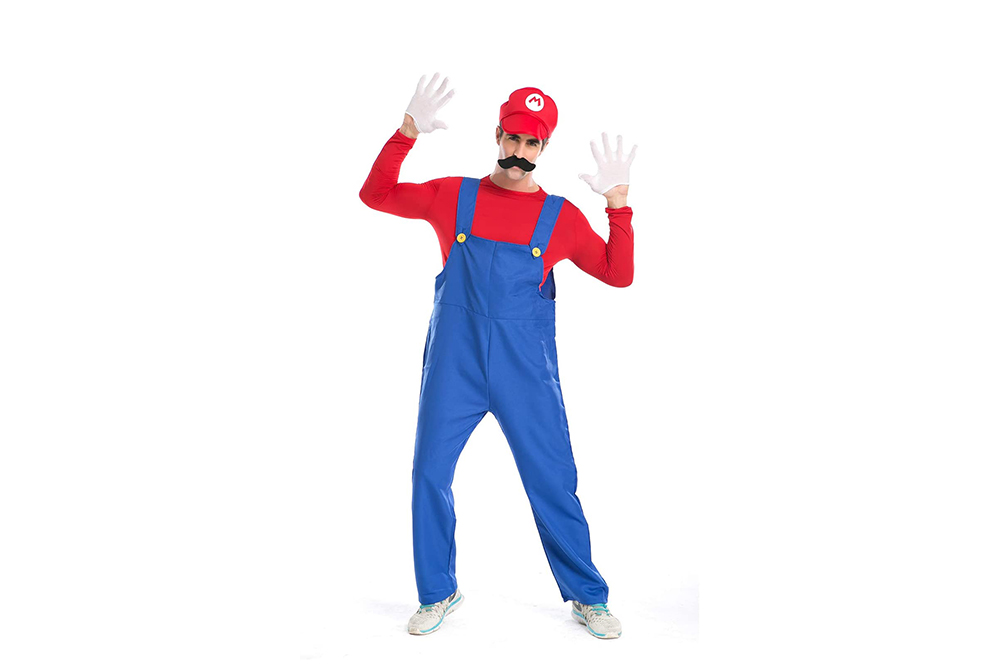 Looking for a fun group costume? Dress up like your favorite characters from video games like Mario and Luigi with this costume. It's Mario time.
Best Beer to Drink in This Costume: Tallgrass Brewing Co. 8-Bit Pale Ale
A classic video game costume deserves a classic beer paying homage to an equally classic video game. Tallgrass' 8-Bit Pale Ale may appear deceivingly simple, but it's action-packed with Australian Galaxy hops. If you think this pairing doesn't work feel free to blow on the cartridge and re-insert it.
Find Tallgrass Brewing Co. 8-Bit Pale Ale
Buy Now: $39
The Jurassic Costume: Dinosaur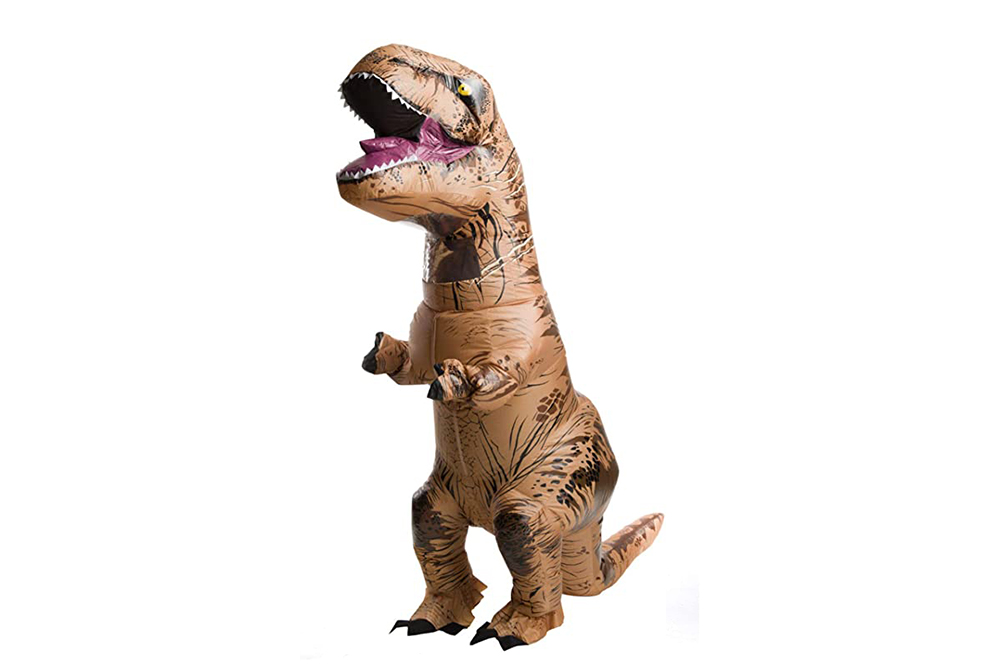 Time Travel back to prehistoric dinosaur times with this inflatable costume. This costume is absolute Dino-Mite.
Best Beer to Drink in This Costume: Toppling Goliath Pseudo Sue
I mean this is the king of not only the dino-kingdom, but also the world of pale ales. Toppling Goliath's single hop pale ale showcases Citra in all of its glory with a ferocious roar of grapefruit, citrus, and mango. It's one of our top pale ales in the country.
Find Toppling Goliath's Pseudo Sue
Buy Now: $50
Unless otherwise noted, all of the products featured on Hop Culture are independently chosen by our editorial team. However, Hop Culture may earn a commission from purchases made through affiliate links on the site.
Liked this article? Sign up for our newsletter to get the best craft beer writing on the web delivered straight to your inbox.