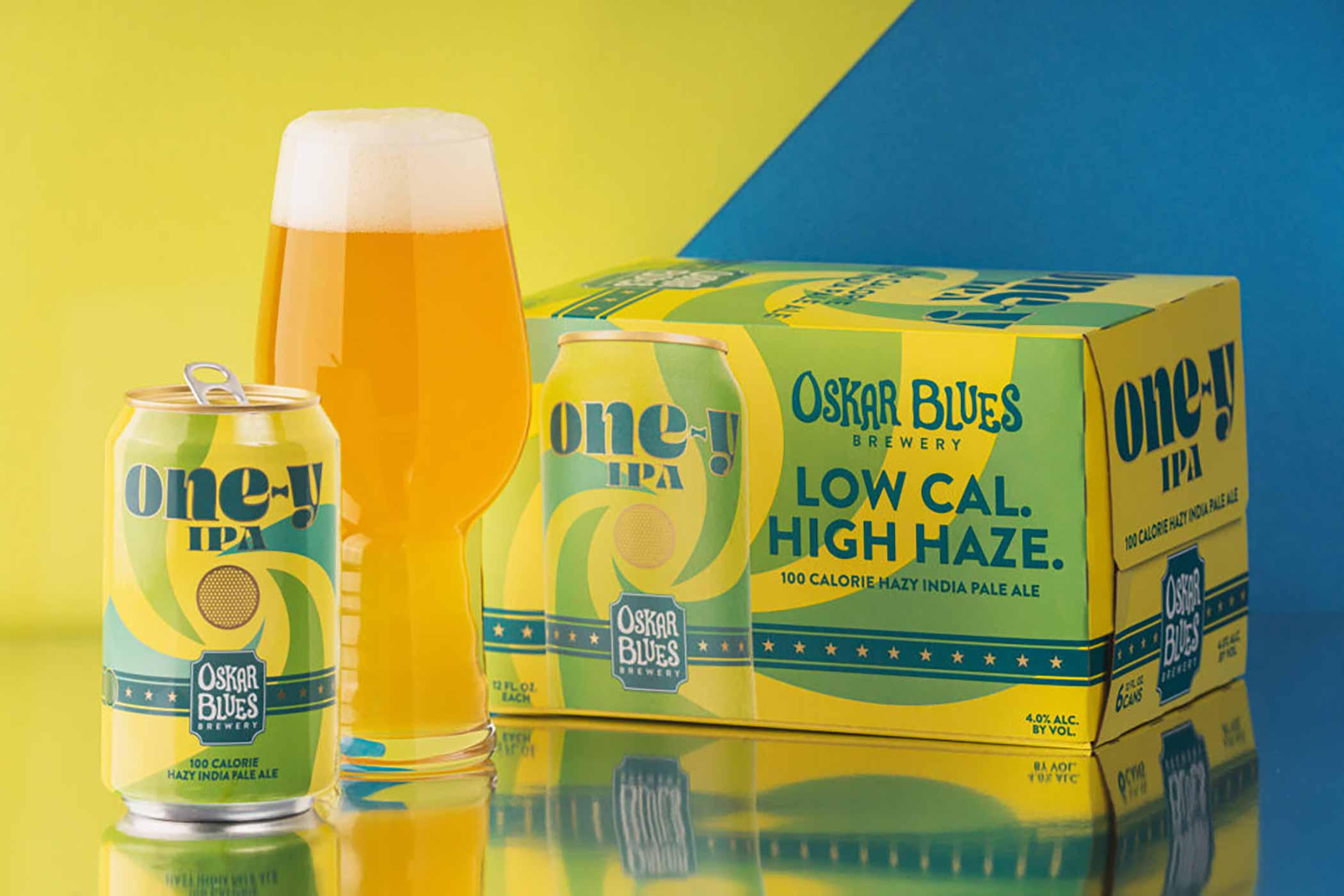 Photography courtesy of Oskar Blues Brewery
Let us start by making this simple statement: We love IPAs. American IPAs give us big, bold, beautiful floral, citrus-y characteristics compounded by a dank hop profile. Plus, many of these iconic beers have a very special place in the lexicon of craft beer history in the United States. West Coast IPAs give us crystal clear, almost abrasive notes of bitterness mixed with citrus and pine. And of course, New England-style or hazy IPAs give us subtle, cloudy, components. But as the IPA style has evolved, one sub-category has emerged that particularly grabs our attention during the summer: the session IPA.
In general, session has become an industry term used to describe a beer lower in ABV. One you can drink two or three of during a single session without wrecking your tastebuds or your brain. In theory, this name can apply to really any style, but session IPAs in particular have become extremely popular.
Why?
Because instead of an 8% ABV or higher IPA that blows out your palate after one, session IPAs tend to be a bit softer around the edges.
For session IPAs specifically, the Beer Judge Certification Program (BJCP) categorizes them under "Specialty IPAs," requiring that any IPA of session strength fall between 3.0-5.0% ABV.
Plus, many breweries have leveraged session IPAs to jump on the better-for-you trend. They've made their crushable IPAs part of their year-round portfolios with lower calories and carbs to hit that sweet spot for active lifestyles. These are beers you can take on the trail, pack in your cooler for a day at the beach, or enjoy after a long bike ride or run.
Consider session IPAs kind of like the goldilocks of beers—not too hoppy, not too bitter, not too high in ABV; they're just right.
Accordingly, many mainstream breweries, especially those well known for their American IPAs or hazy IPAs, have also brewed a session IPA.
And spoiler alert: They're pretty delicious.
Below you'll find a ranking of our favorite session IPAs you can find in a store near you.
Hop Culture's Picks for the 12 Best Session IPAs Available in Most Stores Right Now
Bell's Brewery* Light Hearted Ale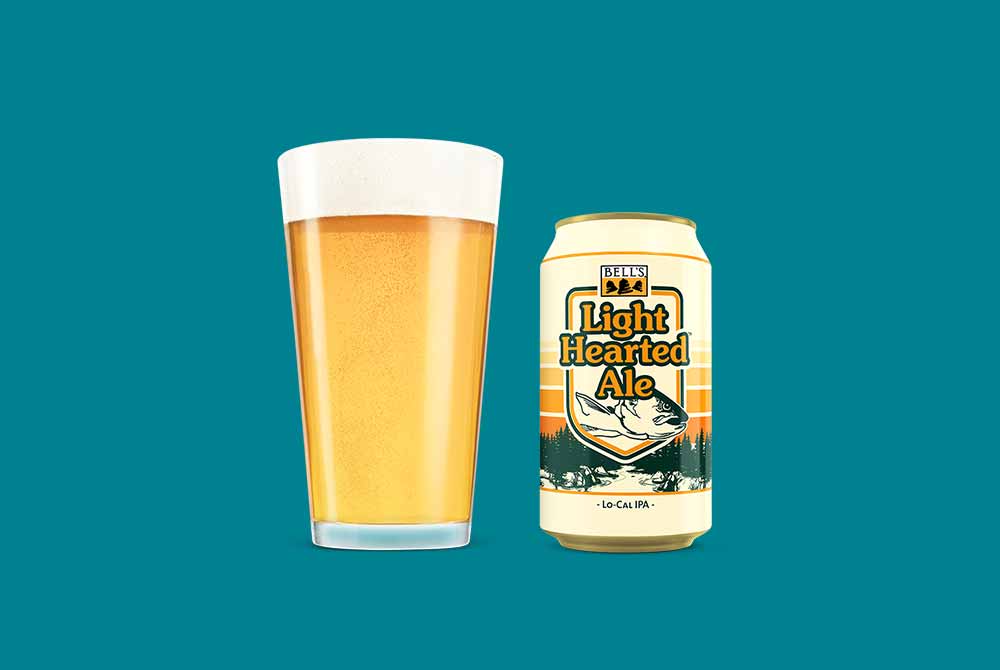 In 1997, Bell's Brewery debuted its now-iconic Two Hearted Ale. In January 2020, Bell's launched Light Hearted Ale, a low-cal, low-ABV session IPA inspired by Two Hearted.
At only 100 calories, 8.7 grams of carbs, and 3.7% ABV, the newest addition to the heralded Hearted IPA family retains all the hallmark flavor and quality one might expect from Two Hearted but in a lighter package.
When you think of Bell's Brewery, you might not necessarily think about a better-for-you IPA. In fact, the 37-year-old Michigan-based brewery made a name for itself by brewing hop-forward, well-balanced beers. But, the Bell's team saw a trend in the market and an open space in its portfolio for something lighter.
"We doubled down on who we are and what we love about beer," says Andy Farrell, brewing innovation manager at Bell's. "We love ingredients, raw materials, and making really flavorful beer… With Light Hearted we were really trying to maintain balance and have impactful hop aromatics that made an overall flavorful beer."
You'd be hard-pressed to know Light Hearted cuts on the calories because the amped-up flavor punches harder than a lot of other sub-100 calorie beers. In every sip, a balance of citrus, floral, pine and malt.
"You have some of those classic hop notes with a little citrus, light peach, and some floral notes in the background," says Farrell.
If you're looking to drink a couple of IPAs on the weekend by the pool, in the backyard for a barbecue, or while mowing the lawn, Light Hearted should be in your rotation. It's the incredibly easy-drinking, refreshing beer that just crushes summer.
And the best part? You can find Bell's in forty-three states plus Puerto Rico. Use Bell's Beer Finder to locate a Light Hearted Ale near you.
*Editor's Note: In 2021, Bell's Brewery sold to New Belgium parent company Lion.
Cigar City Brewing Company Jai Low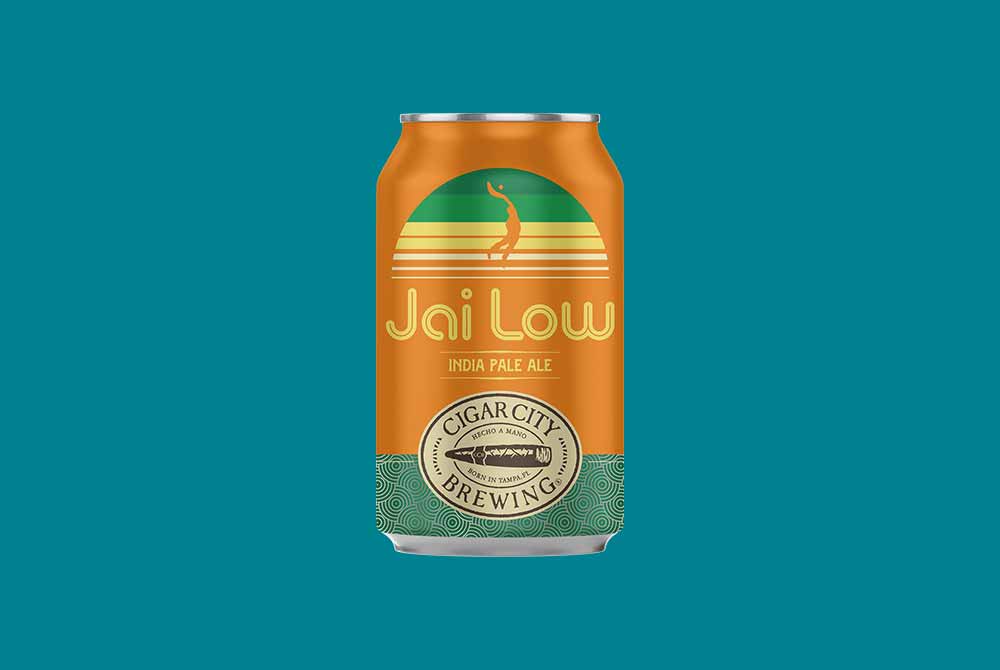 Jai Alai still stands as one of Cigar City's and the country's most successful IPAs. In 2019, the signature American IPA from this Tampa-based brewery became the second best-selling craft beer 6-pack can in the U.S., according to national IRI reporting.
Subsequently, Cigar City launched Jai Low in 2020 as a 4% ABV alternative with only 120 calories per 12oz serving.
Cigar City called Jai Low "a moderate-bodied, lower alcohol approach to hop-forward beer" in the beer's press release. "Boasting a vibrant hop profile and depth of flavor far exceeding that of most moderate-alcohol beer offerings, Jai Low IPA is the first foray into the better-for-you-beer category from Florida's premier craft brewery."
Cigar City Brewmaster Wayne Wambles used a British ordinary bitter as the inspiration for Jai Low. "Those lower-ABV, flavorful beers create nice balance," said Wambles in a press release.
Jai Low expertly combines the hop character of an American IPA with that sessionability found in those English beer styles. All leads to an incredibly flavorful yet light, fruity IPA.
Distribution-wise, in June 2016, Cigar City joined CANarchy Craft Brewery Collective (recently acquired by Monster Beverage Corp), a collective of independent brewers, that helped the Florida-based brewery expand distribution and increase shipments forty-three percent from 65,000 bbls to 92,000 bbls in 2017. Today, Cigar City reaches beyond thirty states, meaning wherever you are, you can most likely pick up a 6-pack, sit on the porch, and enjoy some fresh Jai Low.
Locate the store nearest to you with Jai Low through Cigar City's Beer Finder.
Dogfish Head Slightly Mighty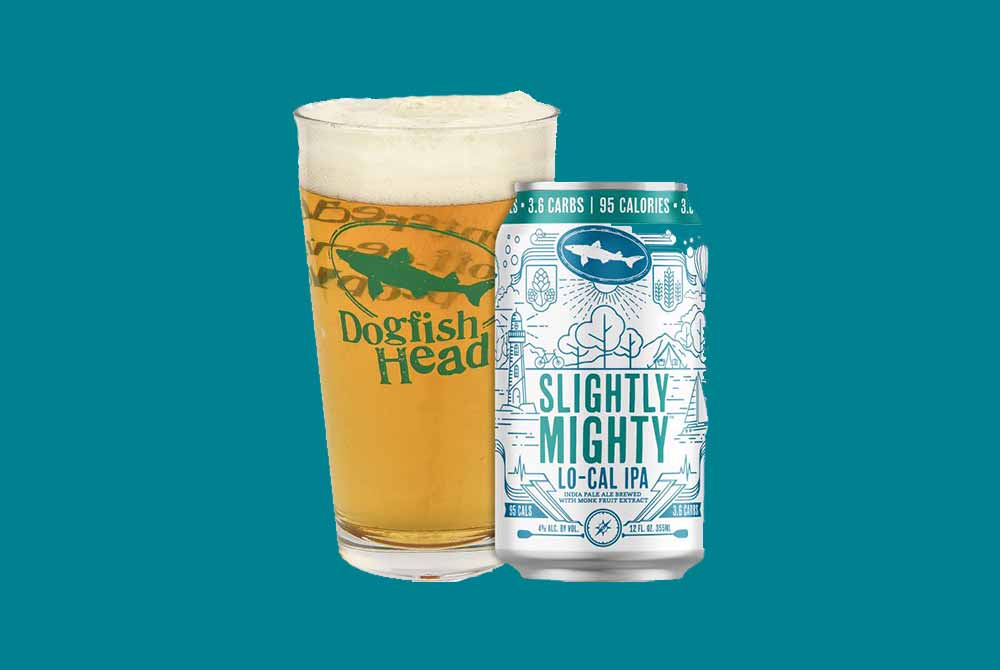 Another one of America's most iconic IPA brewers released its own session IPA in 2019.
Dogfish Head dubbed Slightly Mighty "a lo-cal IPA that is slight in calories and carbs with mighty hop flavor."
Clocking in at only 95 calories, 3.6g carbs, and 4% ABV, Slightly Mighty includes locally grown and malted barley along with a touch of monk fruit. The natural sweetener allows Dogfish head to add body and complexity without upping the calories or carbs.
Crisp and refreshing with that distinct hop punch, Slightly Mighty is another trendsetting beer from one of the nation's revered breweries.
You can currently find this staple session IPA in all fifty U.S. states and Washington, D.C. We recommend using Dogfish Head's Fish Finder to track down a Slightly Mighty near you.
Flying Dog Easy IPA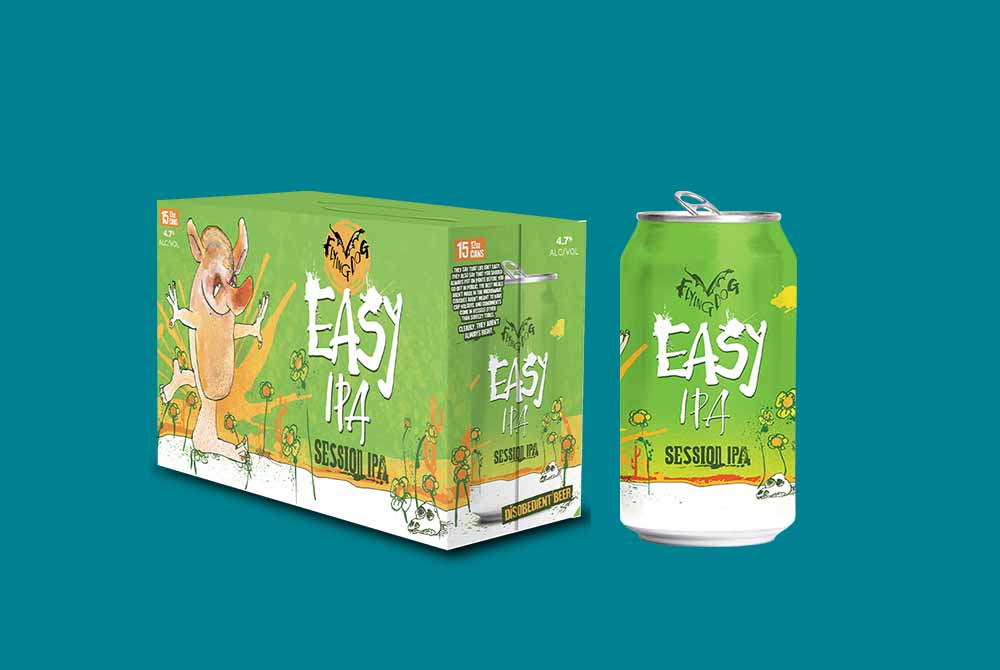 Flying Dog may have been a brewery way ahead of the session IPA trend. They released Easy IPA as a small-batch beer in 2013. A part of the Brewhouse Rarities series (where brewery staff pitched ideas for beers), Easy IPA joined the portfolio full time just one year later.
The session IPA became the first beer of the Brewhouse Rarities release to become a year-rounder.
Probably because it's damn delicious.
Creeping to the top of a session IPA's threshold at 4.7% ABV, Easy IPA bursts with tropical fruit and citrus followed by a pleasant biscuity background.
Flying Dog's beers can be found in twenty-three states and Washington, D.C. Locate the store nearest to you with Easy IPA through Flying Dog's Beer Finder.
Lagunitas DayTime IPA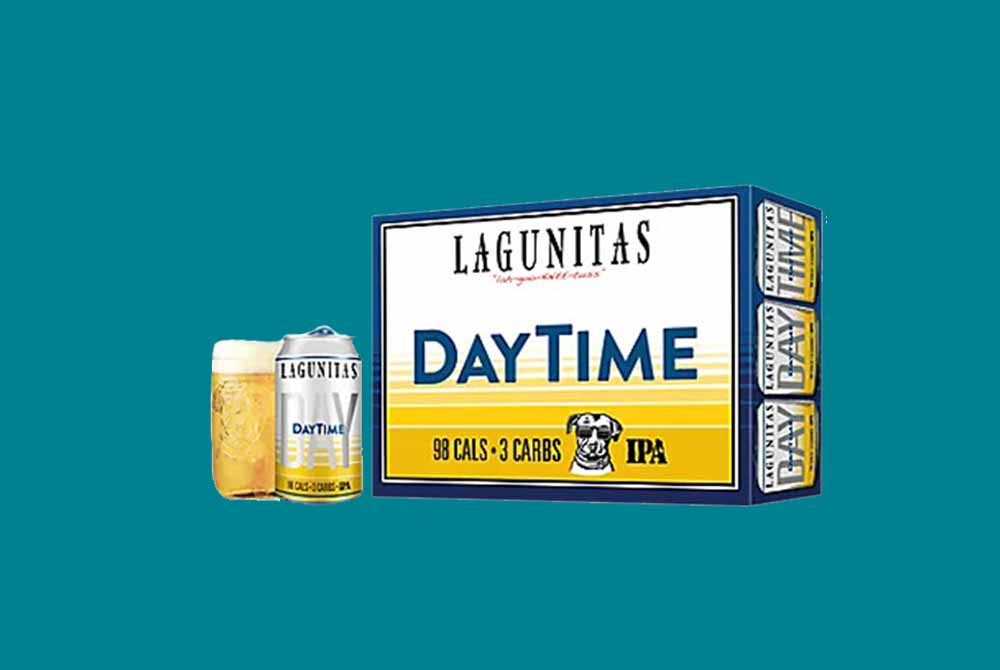 Again, a brewery that set the tone for American IPAs makes this list for creating its own session IPA offering. DayTime IPA basically lives up to its name. This is an IPA you can drink a few of during the day time.
Plus, at only 98 calories and 3g of carbs, DayTime IPA has "less carbs than a banana [and is] easier to peel." Beyond that, Lagunitas prides itself on brewing a session IPA that won't weigh you down and yet packs in the flavor.
This is the IPA you can drink while you're mowing the lawn, pulling weeds in the garden, cleaning out leaves from the gutter, or just chilling around the pool.
Make no mistake, this is a beer that combines drinkability with intense flavor. Herbal, tropical notes from Centennial and Citra hops provide the flavor splash while oats contribute to a fluffy, almost pillow-like mouthfeel.
We have all the feels for this session IPA.
Consider this beer one of those trendsetting IPAs that you can luckily find at a store near you. Currently, Lagunitas distributes to thirty-two states, so to track down a Lagunitas DayTime IPA close by, use the brewery's Brew Finder.
New Holland Brewing Little Piglet
The new-ish session IPA from Michigan-based New Holland Brewing debuted along with the brewery's rebrand in July 2020. The updated look seemed the perfect time to release a session IPA both crushable and pungent.
Named after a Dutch expression—"I'll wash that little piglet!" which means "to get the job done"—Little Piglet certainly fits the bill. At 4.7% ABV, this drinkable IPA slides towards the higher ABV spectrum of session IPAs, but still "gets the job done while allowing you to stay on your feet!"
You can currently find this year-round session IPA distributed across New Holland's footprint in forty-four U.S. states. We recommend using New Holland's Find Our Beer page to track down a Little Piglet near you.
Odell Brewing Co. Good Behavior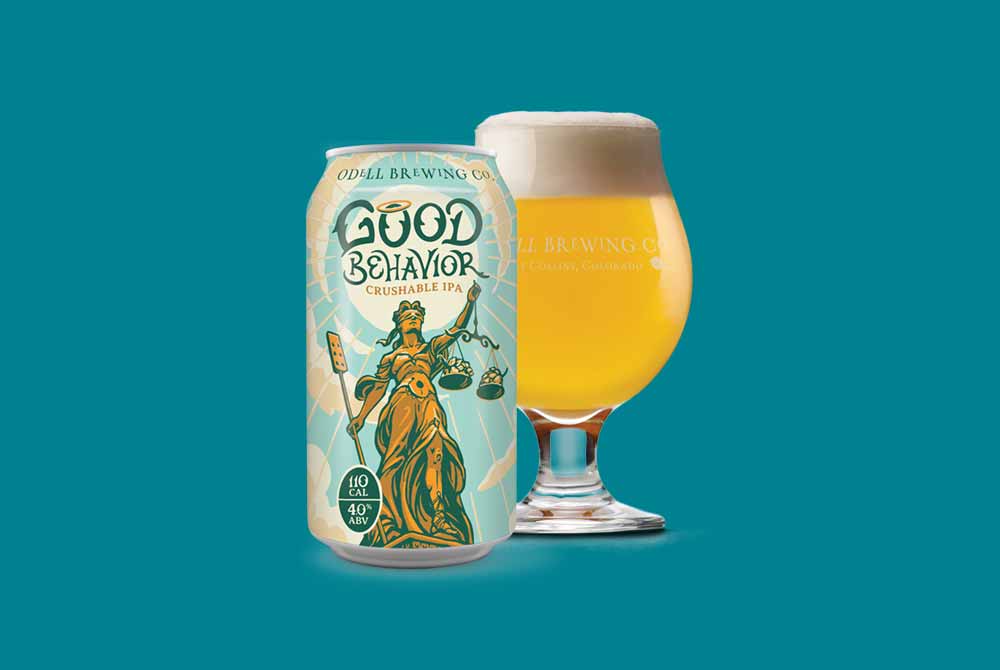 Added to the brewery's core lineup in 2019, Good Behavior is a 4% ABV, 7g of carbs, 110 calorie crusher of a beer that combines Odell's history of hop-forward beers with continued innovation.
In fact, Odell literally lists this beer as a "Crushable IPA."
Using expertise from iconic IPAs like Odell IPA and Mountain Standard IPA, Good Behavior was Odell's first foray into sessionable IPAs. Accordingly, it took over a year of small-batch, R&D testing for Odell to nail this one.
But nail it they did.
As with most other beers on this list though, just because this beer boasts ultimate drinkability doesn't mean it sacrificed any flavor. Instead of using extracts or artificial sweeteners, Odell leveraged specialized brewing techniques and a blend of nine different hops, including an experimental variety called HBC 586.
All led to a beer punching (well, since this is a session IPA, let's say love tapping) us in the mouth with tropical fruit and peach notes.
Odell currently distributes in twenty states. To find an Odell Good Behavior near you, use the brewery's "Beer Finder" page.
Oskar Blues Brewery One-y 100 Calorie Hazy IPA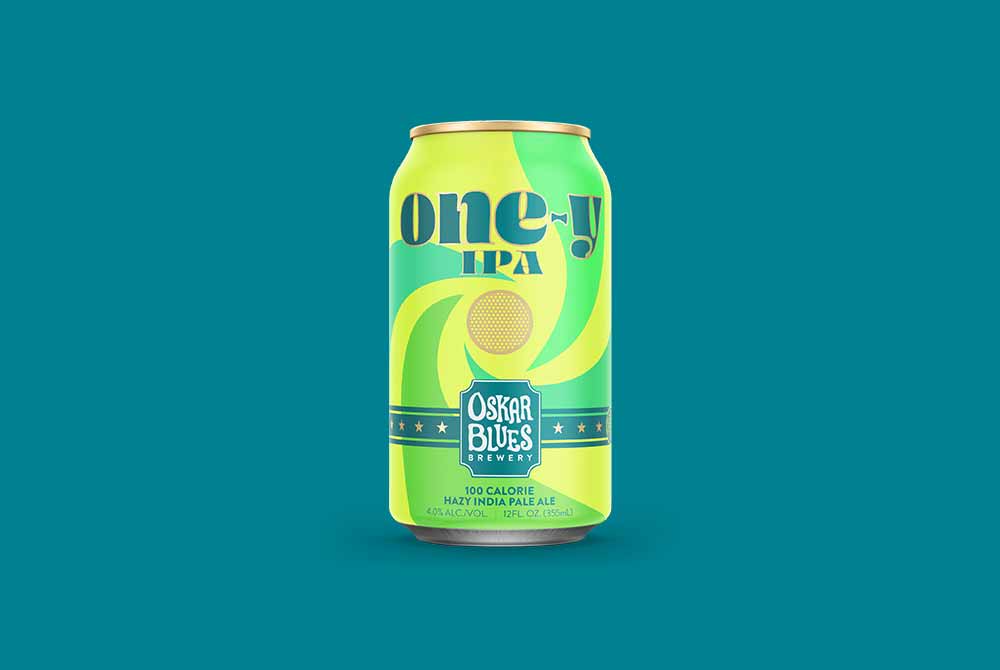 Oskar Blues launched an uber refreshing, low ABV, low-cal, year-round addition to its portfolio in 2019. One-y 100 Calorie Hazy IPA pretty much says it all right in the name. At only 100 calories, One-y curbs the ABV and calorie count while still delivering on flavor. Per tradition at Oskar Blues.
Purveyors of big, bold IPAs such as Can-O-Bliss and Deviant Dales, Oskar Blues took a similar approach with its session IPA, seeking out punchy hop-forward flavors without the high calories or ABV.
Head Brewer at Oskar Blues Pilot Brewery in Lyons, CO, Juice Drapeau took on the project. "We put a ton of hops into the beer, which provide aromatic, flavorful oils and contribute to mouthfeel," said Drapeau in the brewery's press release.
Drapeau dry hopped One-y with El Dorado, Comet, and Citra while adding Mosaic and French Aramis hops in the whirlpool. Plus, a grain bill with pale ale malt and wheat built a nice fluffy backbone for the plethora of hops.
"There are notes of citrus, honeysuckle, peach, and mango," says Drapeau. "The beer is fruity with a hop haze and a nice biscuit flavor."
You can get your hands on this crushable IPA across Oskar Blues' entire footprint, which includes all fifty states.
Check out Oskar Blues' Beer Finder to find a One-Y 100 Calorie Hazy IPA near you.
Short's Brewing Company Lil' Huma IPA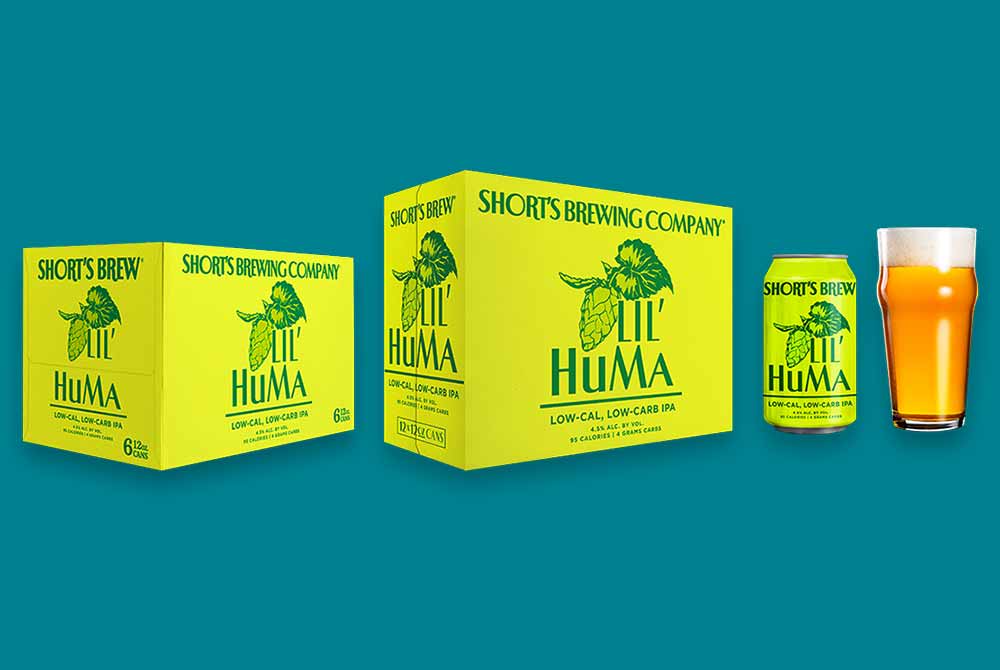 A new flagship brand launched in 2022, Lil' Huma focuses on the better-for-you sweet spot like many of the other session IPAs on this list seek.
At 95 calories, 4g of carbs, and 4.5% ABV, Lil' Huma first launched in the brewery's Refreshin' Session variety pack before transitioning to a full-time year-rounder.
Following in the footsteps of its big brother—Huma Lupa Licious—Lil' Huma doesn't skimp on flavor but does allow drinkers more flexibility. This is a functional session IPA that brings in that Huma Lupa Licious flavor Short's is known for without the added ABV.
On the nose you'll find huge hits of citrus and pine balanced out by a quaffable malt sweetness and bitterness.
Michigan is a state proud of its adventuring, so Lil' Huma fills that void for a beer that can be taken out for a bike ride, on to the golf course, or to the shores of Lake Michigan.
Currently, Short's distributes to the following states: CO, FL, IN, IL, MI, OH, PA, and WI. Find a Lil' Huma close to you by using Short's Beer Locator.
Sierra Nevada Brewing Co. Summer Break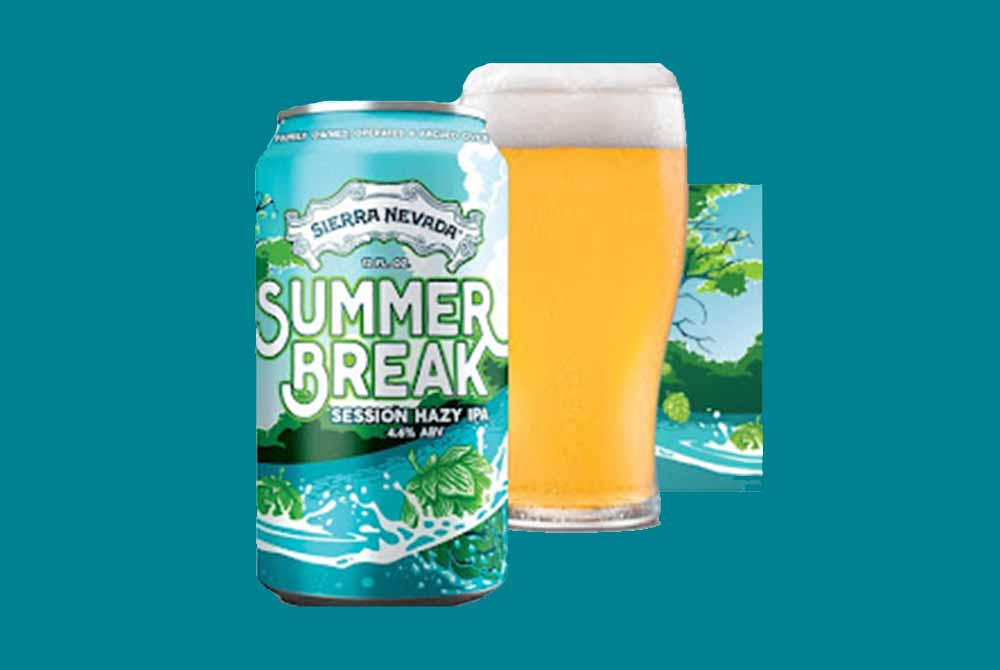 Summer calls for beers that sustain us through these long sun-filled hours. Light, sessionable ones that we can comfortably enjoy two, three, or even four of throughout the day without sacrificing flavor.
Sierra Nevada's new summer seasonal, a session hazy IPA called Summer Break, does exactly that.
Bursting with juiciness, but only hitting 4.6% ABV, the beer made such a splash when it first hit shelves last summer that it's back in 2022.
Now it is more flavorful and more balanced than ever.
With Summer Break, Sierra Nevada is yelling C-A-N-N-O-N-B-A-L-L at the top of their lungs.
And we're one hundred percent ready to jump in with them.
Luckily, Sierra Nevada distributes this top-notch beer to all fifty states. Plus, internationally as well. For a full list of countries visit this page. But if you're looking for the nearest store that carries Summer Break in the U.S., head over to Sierra Nevada's Beer Locator.
SweetWater Brewing Company High Light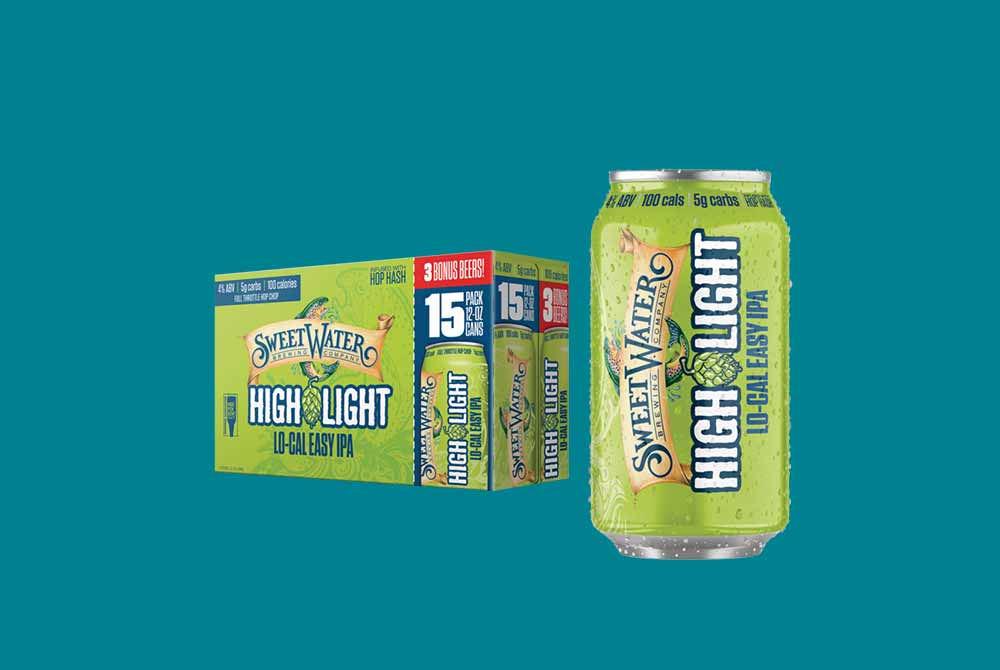 Considered a "lo-cal easy IPA," High Light joined SweetWater's portfolio full time last year. With this beer, SweetWater boldly proclaims they "never sacrifice flavor for drinkability."
Accordingly, this 4% ABV session IPA includes the brewery's "sticky Hop Hash to keep the hop chop high, the calories low, and the ABV mellow," as the brewery writes on its website. "Crisp, crushable—the High Light of your day."
To celebrate its twenty-fifth anniversary, the nation's eleventh largest craft brewer opened distribution on the West Coast in early 2022. This means you can currently find SweetWater's beers in forty states. To nab a High Light closest to you, head to the brewery's Find SweetWater page.
Two Roads Brewing Company Lil' Heaven Crushable IPA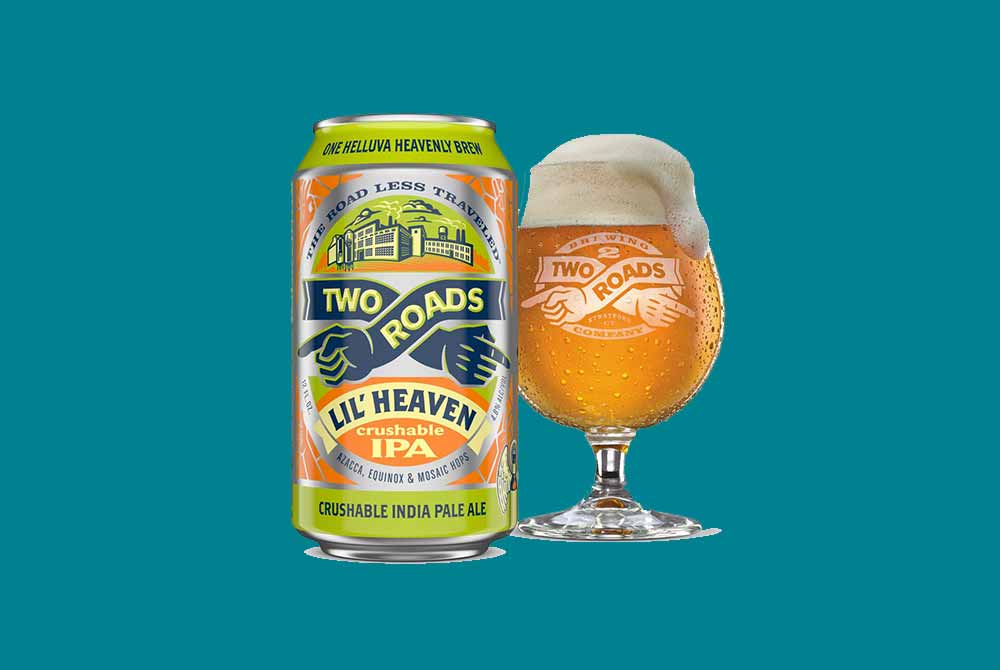 Two Roads released Lil' Heaven back in 2014, so they really were at the vanguard of the crushable IPA phenomenon, especially when you consider the hops Brewmaster Phil Markowski threw in here.
Built with Azacca, Calypso, Equinox, and Mosaic hops, Lil' Heaven hits a skosh below 5% ABV (4.8% ABV) while highlighting some of these interesting hop varieties. Many that were experimental at the time.
A theme we've found among many of these sessionable IPAs: They're considered almost like little cousins, brothers, or sisters to their bigger American or West Coast IPA counterparts.
Hence the use of "lil'" or "little" in many of these names.
Here again we see Lil' Heaven Crushable IPA fill the need for a year-round sessionable version of some of the Connecticut-based brewery's bigger, bolder offerings.
But for this beer in particular, the moniker goes a little further.
In reality, the name refers to a secret room between the floors of the brewery. Rumor has it, workers in the former US Baird factory building snuck into this "Little Heaven" for naps. Ironic, since drinking two or three of Lil' Heaven won't cause you to hit the hay. Instead, take this session IPA out with you on the boat, to the beach, or wherever your adventure takes you.
Two Roads currently distributes in twelve states including CO, CT, DE, MA, ME, NH, NJ, NY, PA, RI, VT, VA, and the UK. Use Two Roads Product Finder page to nab a Lil' Heaven Crushable IPA in your neighborhood.
Liked this article? Sign up for our newsletter to get the best craft beer writing on the web delivered straight to your inbox.