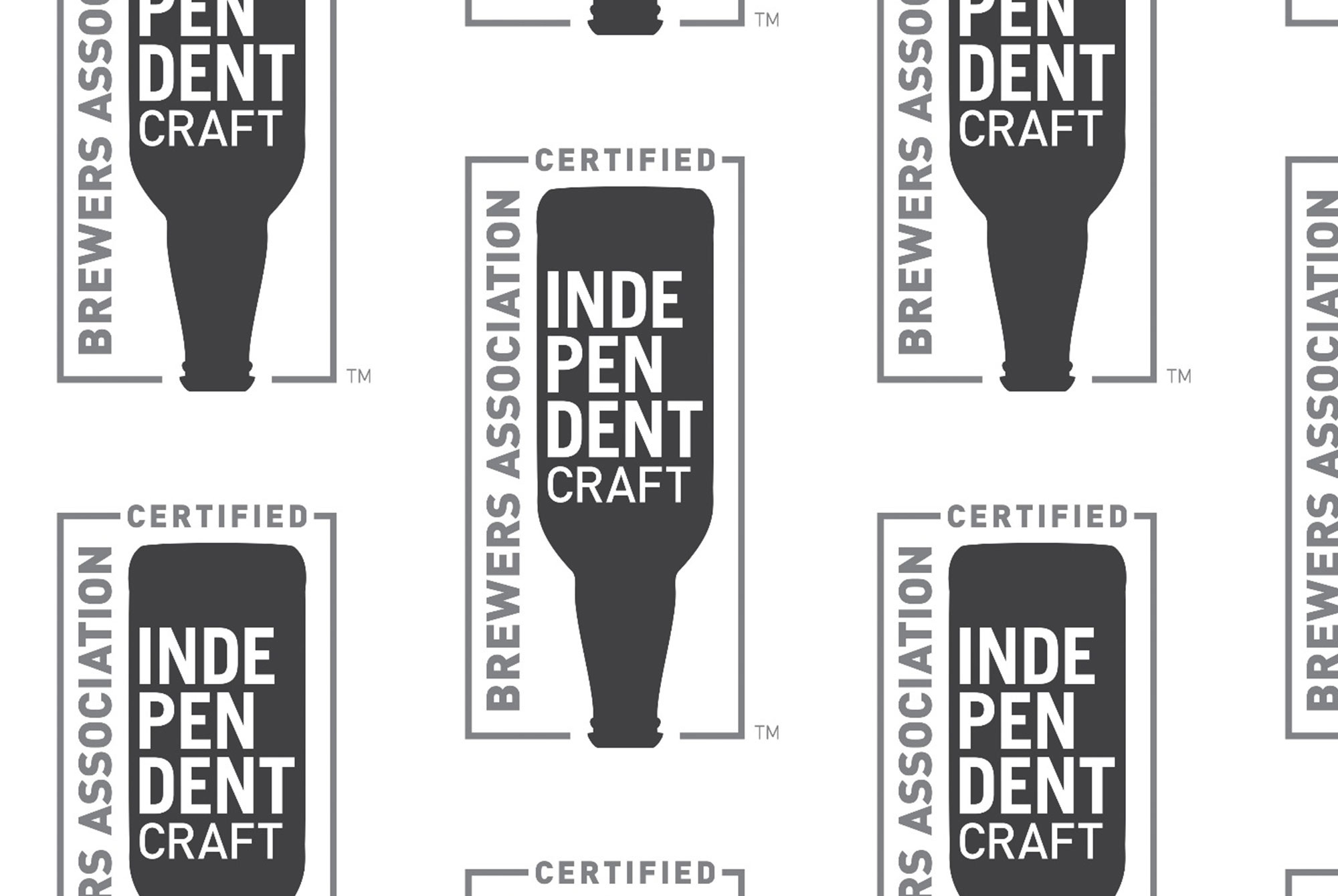 A growing challenge for the craft beer industry is consumer education. In many situations, the question, "Who brews that beer?" doesn't have an obvious answer. (Indeed, some apps, like Craft Check, make a living answering just this question.) On Tuesday, the Brewers Association, the not-for-profit trade group that represents small and independent American craft breweries, launched an official "independent craft brewer seal" in an attempt to help end the confusion.
The seal, which is available free of charge to breweries that meet the BA's definition of a craft brewer and sign a licensing agreement, is intended to be displayed on beer packaging, labelling, and the brewery itself so that consumers can more easily identify which beers are "independent" products.
The seals are seen as necessary because when a multinational corporation, like AB InBev or Heineken, purchases a brewery, either partially or outright, not much changes in the eyes of the average drinker. Actually, they might be excited to see a drop in price and an increase in availability. But their dollars are now being funneled to a corporation who, some have argued, is best served by eroding the brand of "craft beer" in America and making life more difficult for the small, independent breweries trying to thrive here.
The minutiae of brewery acquisitions have been hotly debated recently. Those interested should read the link above, as well as this article from Paste, which pokes holes in many often heard arguments that rationalize buy outs. You know where we stand already. Politics aside, those looking for a way to distinguish craft from big beer now have a solution.
But not everyone is happy. Though the first day saw 600 breweries sign the licensing agreement and download the seal, there are still retractors who view the seal as another hoop to jump through. Another chance for an "us" vs. "them" situation, this time within the craft community. All of this is amplified by the shared qualities of the breweries it intends to serve: small, cash strapped, busy. Hop Culture spoke with Bob Pease, president and CEO of the Brewers Association, to respond to criticisms and share his vision for how the seal will help the industry.
J. Travis Smith: Which group was most vocal in demanding a seal to differentiate independent beer from big beer?
Bob Pease: At the end of the day, all of my coworkers and I work for our 3,800+ small and independent breweries. They are the ones that pay our salaries. They are who we go to bat for. The call for action had been consistent and growing. So a year ago, our board of directors approved a plan to come up with a seal that would differentiate small and independent breweries in the beer drinkers eye from big beer.
JTS: From your perspective, what's the ideal use of these seals?
BP: Ideally, a brewery who packages will put the seal on every bottle, can, keg, six pack holder, case carton, tap handle, etc. All over. I won't be satisfied until every small and independent brewer signs the licensing agreement and downloads the art. But I know that's not realistic.
We had 600 breweries in the first day sign the licensing agreement and download the art…and that's increasing by the second. We have no benchmark to compare that to, but we're thinking that's pretty strong. If you're not a packaging brewery, you can use it on your menu, or in your taproom or tasting room. We can provide every brewery with stickers and window clings to decorate with the seal. A brewery that signs the agreement and downloads the art can also put it on merchandise. Every brewery can put it on their webpage and social media. We're seeing that happen already.
JTS: Alright you want 100 percent adoption. What's the more realistic number?
BP: We understand that some won't adopt. Whenever you take a leadership position there's gonna be pushback. I play a lot of team sports and I equate it to a bunch of guys playing and one says "I think we should do that." Some might say, "That's a dumb idea," but they aren't offering up another solution. By and large the feedback has been positive, and we're trying to hear the negative with an open mind. To directly answer your question: We need a bit more time. Give me a week.
Whenever you take a leadership position there's gonna be pushback.
JTS: Speaking of the negative, how do you respond to backlash against the seal? Whether it's a criticism of the aesthetics, or space concerns on branding, or the infeasibility for smaller breweries to redesign all of their cans and bottles?
BP: I'm very respectful of a small and independent brewery's financial burden when designing and ordering packaging. By no means do we expect a brewery to discard packaging to accommodate the seal. Our hope is when they exhaust their current packaging they'll consider putting the seal on their next order.
As to their sizing, we have a 9-page guideline that talks about how to size it down and make it work on packaging. So to the folks who are criticizing that: I don't know if they've read that. We have examples in that document that show what it can look like. It's doable. As to the not liking the design, we anticipated that. Design is subjective. What I would say is that the bottle is a symbol and it's more important than a bottle and a can as a packaging choice. What the image stands for is what we think matters. It stands for how America's small and independent craft breweries have turned the industry upside-down.
JTS: I read an interesting critique from Jim Vorel at Paste:
"The Brewers Association's definitions of a craft brewery are getting more and more difficult on a yearly basis to concisely and cleanly apply toward the breweries in the market as they sell and consolidate. Should a partial sale by Founders Brewing Co. to a Spanish conglomerate that does no real business in the U.S. beer market really be considered the same as the outright sale of Wicked Weed, Golden Road or Elysian to AB-InBev?"
How do you respond?
BP: I'll take the private equity example first. I guess what I'd say to that is that starting an independent craft brewery is very capital intensive. Small and independent brewery owners often risk their own savings and home when they take on this challenge. With any business, it's not uncommon to seek outside financial support. But I think there's a big time difference between gaining access to capital and partnering up with a global brewery, specifically in the areas of raw material and distribution. Private equity might offer expansion opportunities, but it won't give a competitive advantage in the same way that a partnership with AB InBev would.
The 25 percent ownership mark has been in place since 2007 and it has not changed. One strength of our definition is that it's a bright line that can be clearly seen by the brewers. You'll see some brewers structure deals that allow them to fall within this threshold and retain that definition of independence.
But there are shades of gray in how much leverage each beer company has: ABI has a massive amount of leverage in distribution and raw materials. [Relatively] MillerCoors has less, Constellation has less, and Heineken and Pabst have less. Despite its size, Founders' partner, Mahou San Miguel, is not well developed [in this country]. While they might not have the same leverage in terms of access to market, but they certainly have better access to raw materials. When you partner with someone for 30 percent, you don't have the same challenges.
The chances of us putting this on our labels? Zero. BA, your definitions are disconnected from the truth.

— Notch Brewing Co. (@NotchBrewing) June 28, 2017
JTS: With varying buyout structures, is there debate over a more nuanced definition of independent beer? For instance, could you adjust the percentage limit of ownership in the definition to be different for a big beer buyout vs. a private equity buyout?
BP:
The craft brewer definition is always a subject that gets discussed by our board of directors. It's constantly examined. Every two years our board does a foundational document review. Next one of those is February of 2018. We review our purpose, our mission, and our core values. But at this time there are no plans to change the definition.
JTS: I worry that those most willing and able to use the logo are the larger breweries who have a massive incentive to differentiate themselves from their peers, because they are all on the same shelf. For instance, to the average consumer Bell's, Stone and Boston Beer Co. look similar to Lagunitas, Ballast Point, and Founders. So there might be a situation where a smaller brewery that doesn't adopt the seal gets viewed in the same way as Goose Island. Do you share that fear?
BP: Fear isn't the right word. We're trying to create a movement. We're respectful of any brands reluctance to not use the seal. The unifying factor is independence. That's where we are hanging our hats. We know that some element of the beer drinker is searching for that. This is the way for the beer drinker to be able to more quickly do that.
JTS: How can the beer industry avoid the traps seen in the food industry, where terms like low fat, cage free, and all natural are loosely defined and tend to add to the confusion?
BP: That's why our seal is a certification mark. We are certifying every brewer that's able to use our seal as independent. Our measure of independence is objective. That food stuff is subjective.
JTS: Are you planning any adjustments or are you staying the course?
BP: Staying the course for now. It's too early. We're listening hard. We welcome any input we can get. The overwhelming feedback is positive, but please share you critiques. We take them seriously.
Have an opinion? I'd love to hear it. Send me an email at travis [at] hopculture.com.