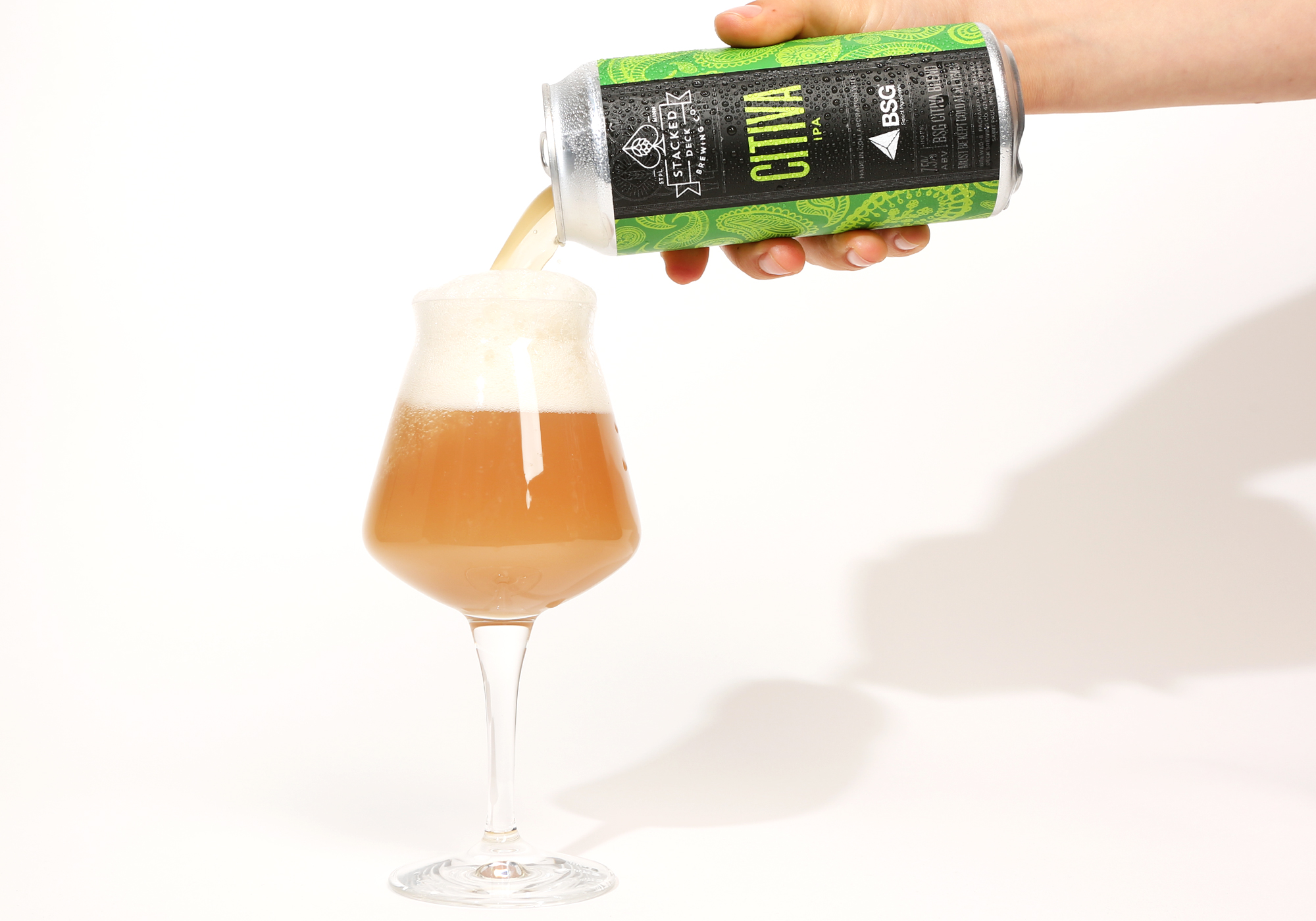 What is the most popular ingredient in craft beer? We'd bet our whole stock of Pliny the Younger that nine of 10 people would answer hops.
And, they wouldn't be wrong.
Known as Humulus Lupulus, this tiny flowering cone that perennially grows on a climbing vine (called a bine in the industry), has a huge impact on your beer. Its capabilities include adding aroma and flavor to the liquid in your glass. And, for the most part, this miniature product has had a mighty impact on craft beer, often dictating current trends based on the styles consumers crave.
For example, can you guess the best-selling hops in 2010? Cascade and Centennial. "Today, a brewer hears Cascade and they're asleep before you finish the word," says Eric Sannerud, the Hop Brand Manager for Brewers Supply Group (BSG), a company that has supplied craft brewers, winemakers, home fermentation retailers, craft distillers and cider makers throughout North America with premium ingredients – like hops – since 2004.
Today, hops have become the darling of a very specific style of beer.
For the last five years, consumer palates have been ravenous IPAs. Whether West Coast, East Coast, Hazy, New England, Double, Triple, SMaSH, or just a simple IPA, this particular style still reigns king. Consequently, it's no surprise that the most popular hops on the market now are no longer Cascade and Centennial. They've been overtaken by Citra, Mosaic, and Simcoe, those big, juicy hops that share characteristics of grapefruit, citrus, pine, and sometimes even tropical notes, making them the perfect companion for an IPA.
According to New-York-based Nielsen, IPA led all beer styles for craft generating $1.3 billion in off-premise sales in 2019. Now, this was before the global pandemic that forced a huge disruption in the market last year. But, despite a worldwide crisis Nielsen reported that New England and Hazy IPAs was still one of the fastest-growing styles, expanding 550 percent in 2020.
But, while the craft beer industry has grown to over 8,000 breweries in the country and a $23.9 billion dollar market as of 2019 according to Nielson, and consumers' taste buds have evolved, the mechanics of the hop industry haven't kept pace. The industry is still concentrated on contracting, a process where breweries set up an agreement with a hop farmer (or supplier) that guarantees them a set volume of hops over a certain period of times at a certain price. It's a process that adds stability to the market, but can also breed monotony.
BSG Hops is on a mission to not only offer an extensive range of best quality domestic and imported hops, but to also explore diversification and creativity in what has been a fairly rigid industry. Somewhere in the sea of familiar hop varieties and processes BSG Hops has found a new and exciting way to stand out.
What is BSG Hops?
Located in the Yakima Valley in Washington state, BSG Hops is in the heart of the U.S. hop growing region. Last year alone this region produced 75 percent of the nation's hops. Amidst this fertile hop growing area sits the company's 84,000 sq. ft. campus featuring a state of the art facility that can hold roughly seven million pounds of hops. Completely sealed and clean, the plant does it all, processing, pelletizing, packaging, and storing hops. Dedicated to supplying the brewing industry with the highest-quality hops, BSG Hops strategically positioned itself in the middle of the supply chain.
Essentially, in the hop industry, you have two main players. Hop farmers, those that grow hops, and hop merchants, those that sell hops. BSG Hops is unique because it's not quite a hop broker, but also not a hop farmer. "We don't own any farmland, we contract everything we bring in from growers, do in-house processing, and sell and stand by those hops," says Sannerud.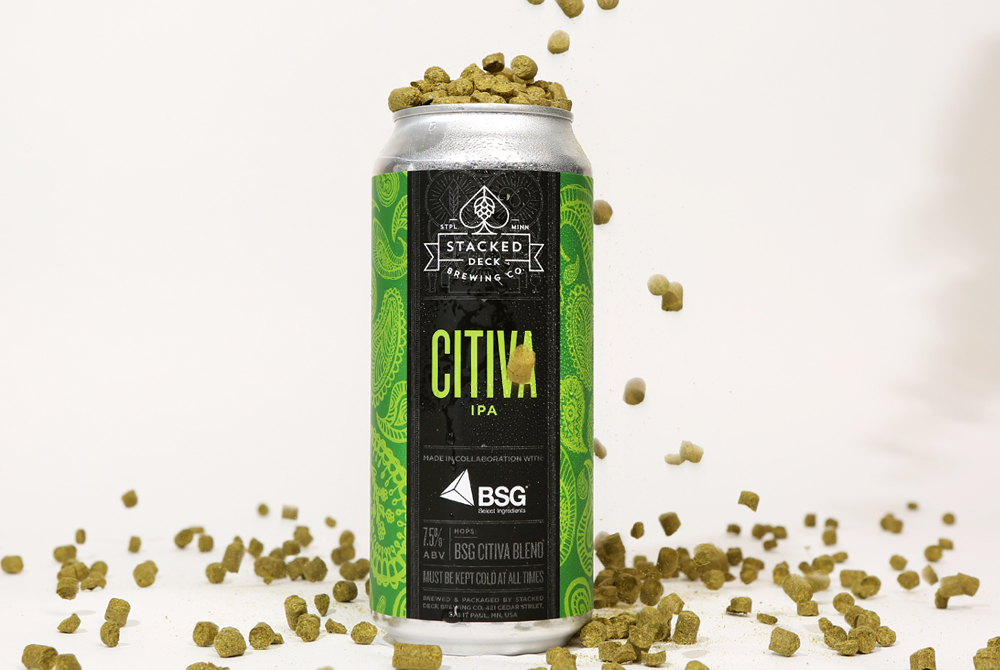 Having spent the last seven years of his life growing hops on his own 80-acre hop farm called Mighty Axe Hops in Minnesota, Sannerud says the distinction is incredibly important.
Balancing between producer and dealer means that BSG can work closely with farmers anywhere in the world to bring in hops, while simultaneously, maintaining total control over the processing quality and capacity of a harvest.
Additionally, fluidity gives BSG Hops the room to experiment. And, we are not just talking about bringing in experimental hop varieties. Last year for the first time the company released two BSG Custom Hop Blends into the market — known originally as Samba, but renamed this year to HS-Zamba™, and HS-1228 now known as HS-Sequoia™. Essentially, expertly and technically paired marriages. of a variety of hops, blends can be likened in conception to a Gueuze, which blends a variety of lambics to create its own unique beer style. Similarly, hop blends marry a series of different hops to form their own distinct product.
Hop blends are new, exciting, and offer a variety of advantages for both the brewer and the consumer.
What is a Hop Blend?
Two years ago Sannerud took a trip to Santa Rosa, CA to visit Russian River Brewing, a place craft beer fans often pilgrimage to for a sip of their infamous Pliny the Younger. A triple IPA loaded with hop flavor, bitterness, and aromatics thanks to a heaping handful of hops from the cream of the crop that harvest, Pliny the Younger has become an expert study in the power of hops.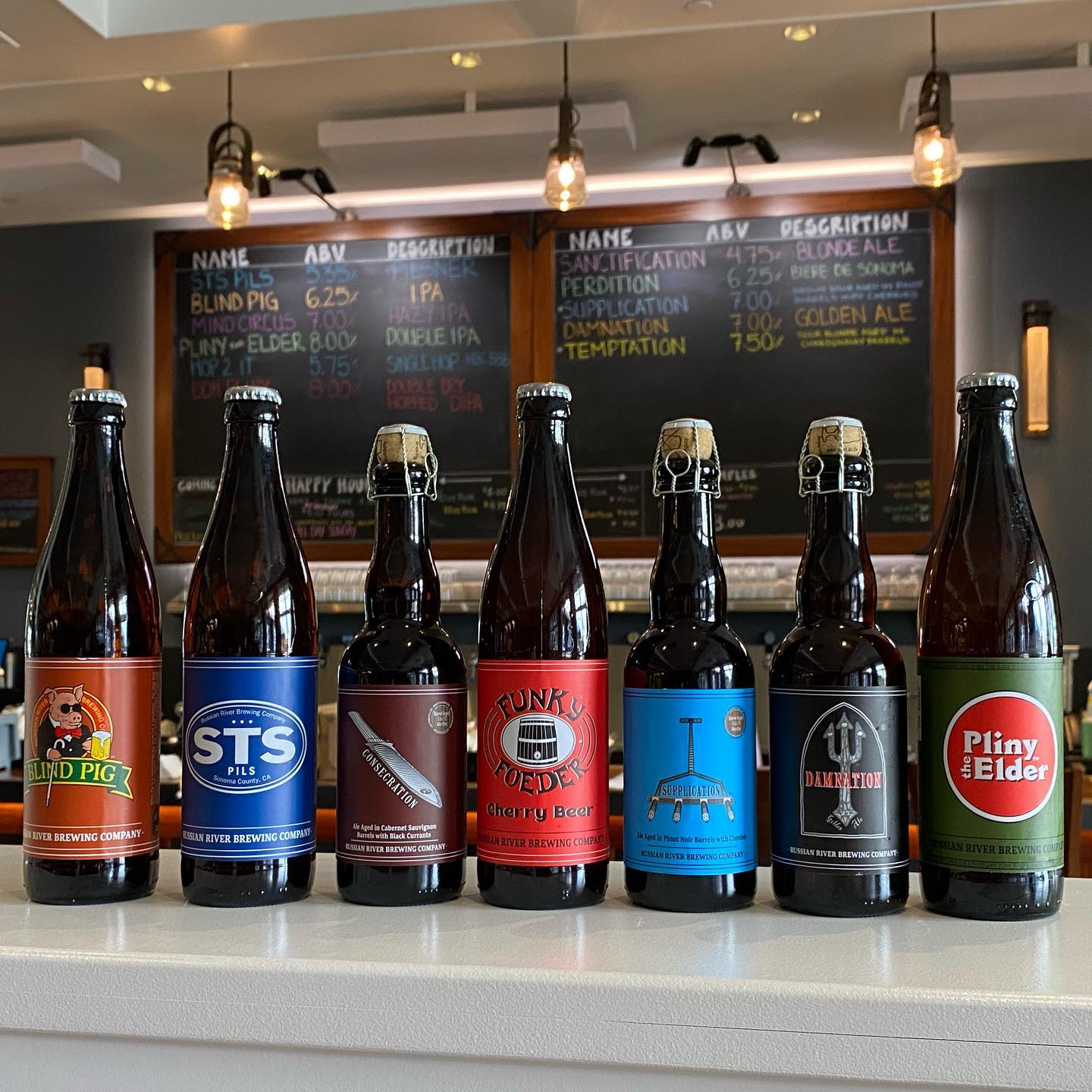 But, Sannerud wasn't at Russian River for this coveted beer. Instead, he just drank his way through every single other beer on the menu. One in particular blew his mind. While Sannerud can't remember the name of the beer he remembers this fact: The beer used all public hops, meaning hops released without restrictions of who and where they can be grown. The United States Department of Agriculture (USDA) generally breeds and releases public hops and, according to Sannerud, they don't require a grower to enter into a contract with the owner of the variety and do not require a grower to pay licensings or other fees to grow unlike proprietary or private hops. Essentially, they're like hops for the people.
The point?
Russian River has access to the best, and consequently priciest, hops in the country, and while those have certainly produced standout beers such as Pliny the Younger, their repertoire includes beers with lower-priced public hops that still lead to equally fantastic results. "In this industry you drink a lot of beer so when one stands out two years later it means a lot," says Sannerud. "If we start to design beers and recipes for aroma or flavor [as opposed to just hop name] then the world of hops opens up to us in a way we're not ready for."
Here is where hop blends thrive.
Hop blends aren't new. But, they started out as, "all the old shit growers couldn't sell. Or, the floor sweepings," says Sannerud.
According to Jason Hunziker, head brewer at Stacked Deck Brewing Co. in St. Paul, MN, which recently released its own beer using one of BSG's new custom hop blends called Sitiva IPA, hop blends, "have a reputation or perception among most professional brewers as never knowing what you're going to get."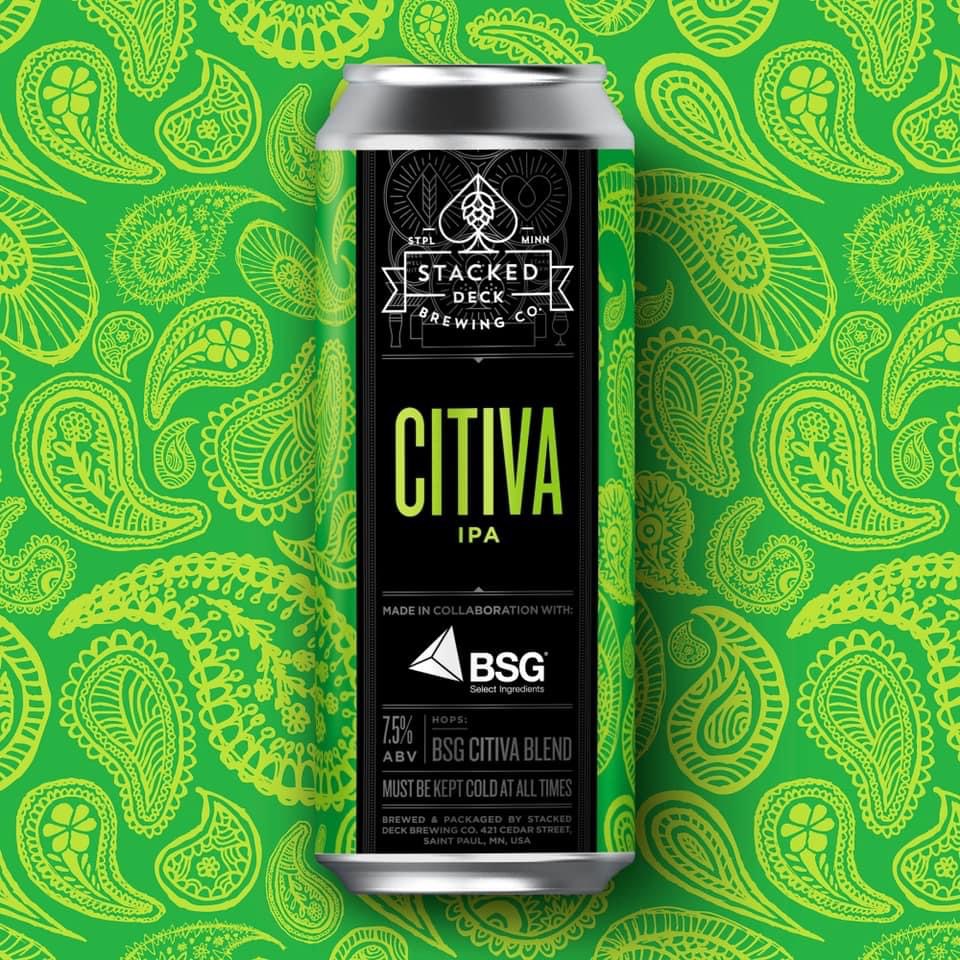 But, BSG Hops has completely revolutionized the game taking something that used to be trash and turning it into treasure.
"Before BSG there was a low chance of me working with a blend, but after this experience, I would love to work with the HS-Sitiva™ blend again. The beer turned out fantastic," says Hunziker, who notes that the blends' intense, varied aromas of lemon, lime, and pine translated perfectly for his extremely hoppy IPA recipe.
It's these acute and versatile characteristics of hop blends that really stand out.
Essentially, a combination of a variety of hops, blends aren't a single hop varietal, but rather a precisely composed collection. Think of a hop blend like a soup marrying a number of high-quality ingredients to create one standout dish.
And, the best part? These unique new products are not only revolutionizing consumers and brewers' taste buds, but also their wallets.
It's a win-win.
Why Do Brewers Use Hop Blends?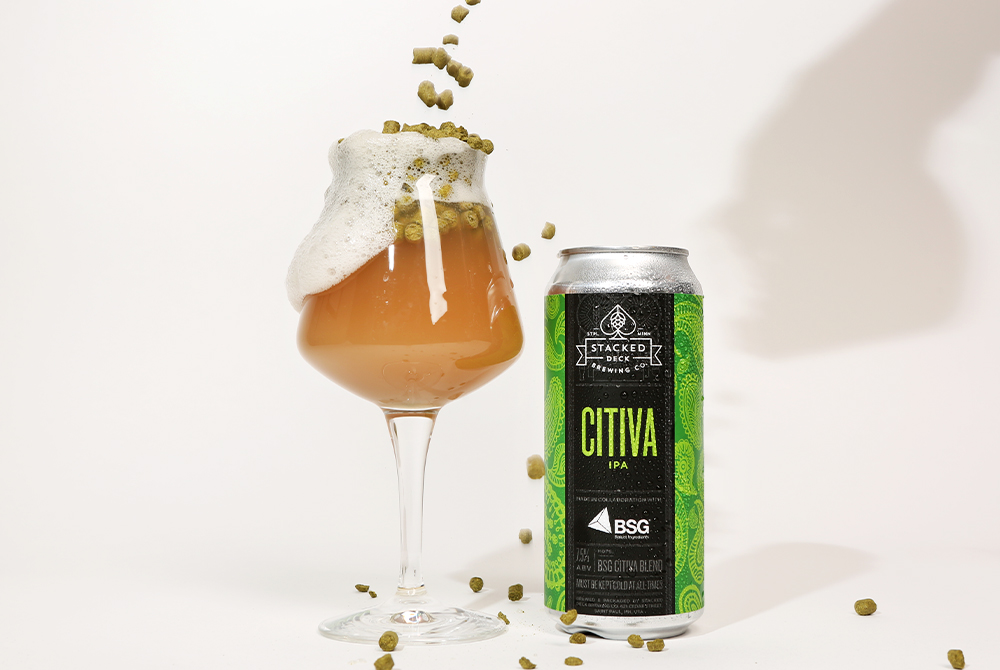 Today, the advantages of hop blends are as diverse as what's in the blend itself.
First and foremost a hop blend drastically reduces the cost per pound of the ingredient. The average price of a single hop variety can reach incredibly high. And, while Eric notes that hop prices – much like the stock market – are constantly in flux and highly contextual, you'll generally find that those big names like Citra, Mosaic, and Simcoe can run between $14 to $20 per pound. Nelson Sauvin, Galaxy, and Southern Hemisphere hops jump even higher to anywhere from ~$20 to $30 per pound.
Hop blends? They'll often only cost a brewer between $10 to $11 per pound. "You don't have to spend $20 a pound to have a banging IPA," says Sannerud "If we can accomplish similar outcomes with $10 to $11 hops….brewers have a better margin and can still deliver an incredible hop experience."
That's an opportunity BSG Hops identified and wants to capitalize on with hop blends, delivering a lower-cost solution while still providing an elite experience for both brewers and consumers.
Additionally, hop blends actually provide a more consistent, stable product. From year to year much like grape crops in vineyards, hops are affected by a variety of external factors such as weather, temperature, season, etc. A recipe with seven different hops is much more resilient to change than a beer with just one hop.
Lastly, hop blends open up a door to a whole new magical world. "The universe of hops is enormous. We have not even scratched the surface," says Sannerud.
Want to make a blend that smells like bubblegum? How about one that is cannabis dank? What about a crispy boi blend? It's all possible in the BSG Hop world with their Custom Hop Blends.
How Are Hop Blends Made?
Before any hops are even brought out on the table it all starts with a concept. "A good hop blend is loud and clear," says Sannerud. The name and experience when one opens the bag has to all make sense to the brewer. "It's called Crispy Boi, so I open the bag and it smells like lager beer hops. I have a blend called insert weed reference here. I open the bag and I feel like I'm going to get pulled over," says Sannerud.
It sounds very simple, but the process is pretty complex, "If you could just put oils and alpha acids into a calculator and send out a puff of smoke that makes a hazy IPA, that would be pretty boring," says Sannerud. "There is still an art in beer. It's why craft beer is different and it matters."
There is certainly an art to crafting hop blends.
After the concept has been nailed down that's when the BSG Hops team gets down to playing with hops, laying out different varieties from their catalog for a whole lot of hop rubbing. A process of literally rubbing hops between your hands to expose the aromatic properties of the bud, hop rubbing is an integral step, allowing one to smell and take notes on the identity of the hop. After the baseline rubs the team starts to blend. "It's like cooking in a way, adding sweet, salty, bitter, sour, and all those flavors," says Sannerud, who points out that at the beginning the team shoots for either a 50/50 or 30/30/30 blend of different hops.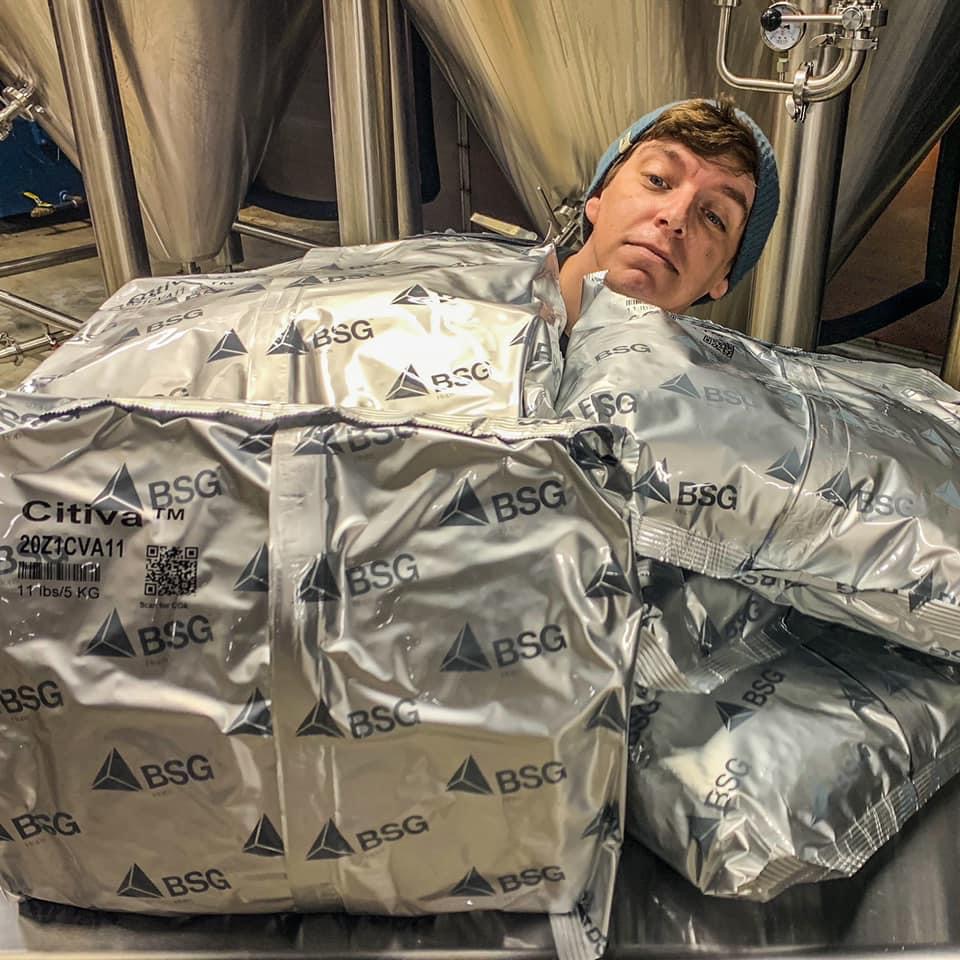 From there to dial down the recipe to the final point, the blend undergoes a rigorous series of sensory tests, helping BSG Hops tweak the blend until it's perfect.
The results?
A little over two months ago BSG Hops officially released five different Custom Hop Blends into the market: HS-Sitiva™, HS-Evergreen™, HS-Nobility™, HS-Sequoia™, and HS-Zamba™.
What Kinds of Custom Hop Blends Has BSG Hops Made?
To fully understand the aromas, flavor profiles, and identity of each of the BSG Custom Hop Blends we asked Sannerud to help us break things down by each blend.
HS-Sitiva™ – The name winks at Cannabis and consequently it's the biggest blend aroma wise and the, "most intense punch of the blends," says Sannerud. HS-Sitiva™ features strong notes of ripe mango, a little bit of sweet lime zest, floral, and some peach or stone fruits. The purpose of this blend says Sannerud, "is to jam a lot of it in your beer…and make your crazy hop dreams come true."
HS-Evergreen™ – Sannerud's second favorite blend and one that, according to him, brewers talk up the most, HS-Evergreen™ is entirely peach and apricot on the palette with secondary and tertiary aromas of floral and green. But, not pine or resin, says Sannerud more like green apple. Where this hop blends shines is in an IPL or cold IPA, a beer that's lighter in body, but still heavily hopped. "If I'm thinking more hopslam than DDH Hazy IPA, HS-Evergreen™ would do really well," according to Sannerud.
HS-Nobility™ – Like the name implies this is a noble hop blend. "I call it German-style orange blossom. More pith and rind than fruit or flesh," says Sannerud.
HS-Sequoia™ – A blend that BSG Hops released in 2020 as a series of letters and numbers, HS-Sequoia™ was rebranded this year to better reflect the hops inside. This is a West Coast blend through and through targeted specifically at helping brewers craft a West Coast IPA experience with big American grapefruit and plenty of resin and pine for a strong traditional or WC IPA. It's not the most exciting of the hop blends, but it shows the power of building a blend based on a concept. In this case BSG Hops set out to specifically make a hop blend based on the West Coast; they hit it to the T with HS-Sequoia™. "That's the power of hop blends," says Sannerud, who notes that the next step for BSG this year will be doing more of this custom blending for breweries.
HS-Zamba™ – Another blend BSG Hops originally released last year, HS-Zamba™ earned a name refresh in 2021. Previously known as Samba, BSG Hops updated the moniker. Name aside, the most important detail here is that this is a juicy hop blend. But, not in actual flavor or aroma notes Sannerud, rather it's a juicy experience. This is a sweet hop blend. But, not sugar sweet explains Sannerud rather it's a sweet experience. Sannerud picks up notes of over ripe pineapple, guava, and sweet tangerine. Actually, HS-Zamba™ was Sannerud's gateway blend. He first tried it in Bad Habit Brewing Co.'s Zamba IPA. "I couldn't get over how juicy and sweet it was," remembers Sannerud.
Whether intense and punchy, focused on stone fruit, entirely classic and European, based solely on a West Coast experience, or a juicy, sweet experience, these five BSG Hop Blends offer a dynamic glimpse into the crazy universe of hops.
Of course, this is still a very fresh approach and Sannerud knows that educating brewers and consumers could potentially be an uphill battle.
What Are the Challenges?
Without a doubt, consumers still crave those big three to five hops like Citra, Simcoe, and Mosaic. With that in mind, it makes sense that if you're a brewery looking at what sells the fastest you'd plan to brew beers strategically around those breeds. "Those varieties have created their own 'easy button'," says Sannerud. "[Brewers] can make a delicious product that people will pay money and line up for so why screw with that?"
Still, it's a challenge that BSG Hops has decided to tackle head on.
"We're in a position where we have the ability and the incentive to [experiment]. We're going to try some weird stuff because that's the spirit of craft beer," says Sannerud. "When we start to look at how hops smell and perform instead of who supplied them and where they came from then as brewers we have more paint to paint with. It's like discovering a new color."
And even though the blends are super fresh, breweries are starting to paint a new picture with several already coming out with their own beers using BSG's Custom Hop Blends including Arbeiter Brewing's Sucker Punch, Liquid Love Brewing's Don't Be a Dick!, and the aforementioned Stacked Deck Brewing Co.'s aptly named Citiva IPA.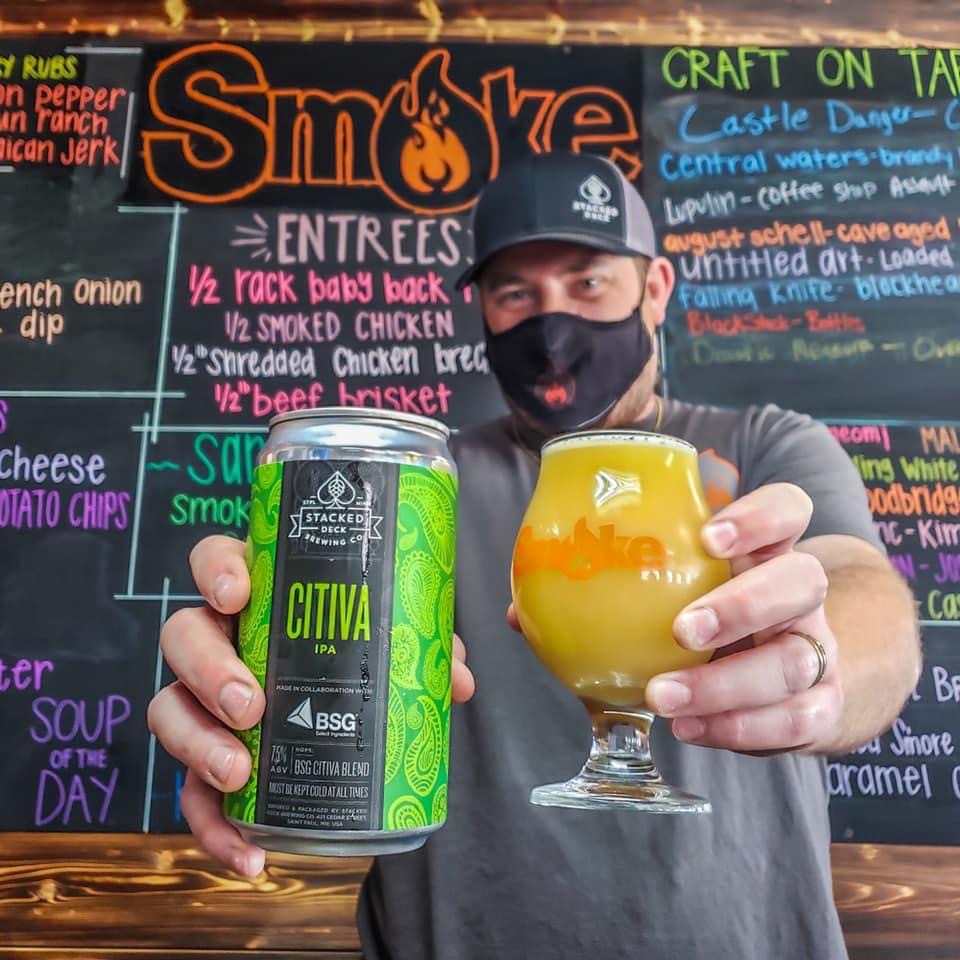 The New England style IPA released only a couple weeks ago features BSG Hops' HS-Sitiva™ blend. Using the hop blend is an opportunity Hunziker jumped at because of the confidence he has in BSG. Stacked Deck buys most of its hops through BSG and has had nothing but success with its products in the past. "BSG is a company we trust so when [Sannerud] approached us with this opportunity I knew that BSG wasn't going to steer us wrong," says Hunziker. With the new hop blend in hand, he dove in headfirst.
"I was very confident [the hop blend] would be good before I got my hands on it and even more so once I ripped open those bags."
Inside the bag, Hunziker found "an aroma blast" that he called perfect for the extremely hoppy IPA recipe he developed for the brewery's Citiva IPA. So far the response has been fantastic with all of the beer selling extremely fast on draft in the taproom and in cans.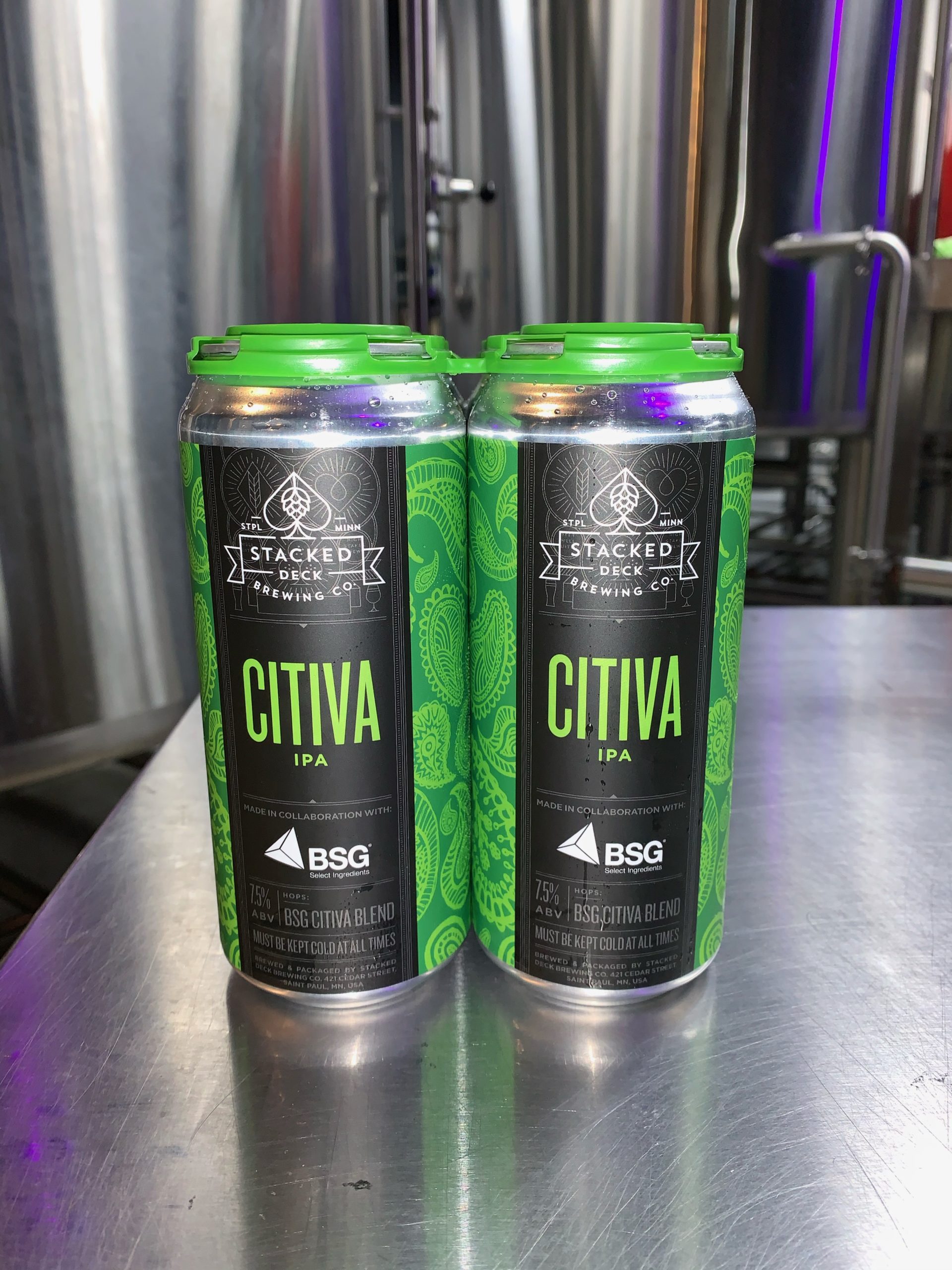 "If BSG can continue to make blends like this that might change the perception and who knows in five years they might be all the rage," says Hunziker. "Either way we're really happy they gave us the opportunity to do this and we'll happily pair with them on any other future projects."
It's the opportunity to change the perceptions of hops and to tell their colorful, vibrant stories that has BSG Hops invested in the future.
The Future of Hops Is Here
Hops are so much more than just an ingredient; they have an identity. Hops come from a certain place, a farmer grows them, who like Sannerud has a life story, and they offer so many varied aromas and tastes. All in all hop blends strive to bring this soul of the humble flower and one of beer's most important and popular pieces to life. The cosmos of this versatile plant has enormous possibilities. And, BSG Hops has only scratched the surface.
In the future Sannerud says you can not only expect to see more BSG Hop Blends, but also hopefully custom blends derived based on a brewery's needs or desires. Ideally, breweries will approach BSG Hops with a specific idea like the desire to make a beer smelling like cannabis and BSG Hops will make it come true. Additionally, the company will continue to emphasize hop education, improving the whole hop experience for both brewers and consumers.
"I imagine the whole universe of hop aromas and flavors and I get excited…to explore the multiple ways to bring uniqueness and distinctiveness to the hop story. It matters where the hop was grown and when the hop was harvested" says Sannerud. "I'm interested in exploring how we can intentionally communicate that to our customers and their customers so we can all explore this universe together."
This is a paid, sponsored post presented by BSG Hops
Liked this article? Sign up for our newsletter to get the best craft beer writing on the web delivered straight to your inbox.