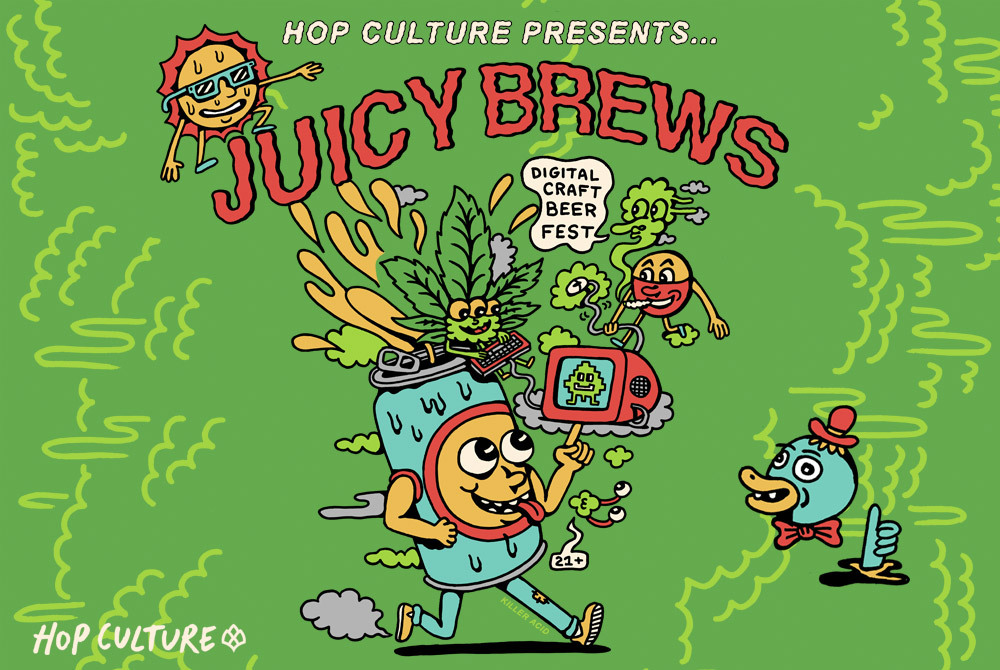 Poster designed by Killer Acid
Editor's Note:
The schedule is subject to change. You can tune in to the festival livestream here.
The day is almost here for Hop Culture's Juicy Brews 420 Digital Craft Beer Festival.
With the festival just around the corner check out the full schedule of events below. The schedule is subject to change so be sure to check back to plan out your entire drinking schedule on April, 24. If you want more details about the festival, click here.
What Is the Schedule For Juicy Brews 420 Digital Craft Beer Festival?
The festival will be live-streamed on Saturday, April 24, 2021 starting at 12:00 PM EST. You can access the livestream here or tune in at the embedded video below.
Below is the schedule of events for the festival. All times are in EST.
12:00 PM – Welcome! Opening toast with Kenny and Grace.
A high five and hello from the Hop Culture team. We're starting the day with a smoothie. Grab your 450 North Grandaddy Purple Slushy XL and say cheers to 420.
12:30 PM – Last Prisoner Project Video
We'll be hearing from Last Prisoner Project, a 501c3 fighting for criminal justice and reimagined drug policy. A portion of proceeds from festival sales will be donated to the organization and, during the festival, we'll be matching donations up to $5,000!
12:35 PM – Guided Beer Tasting With Burley Oak
Adam Davis, Head Brewer at Burley Oak, joins us to taste his Strawberry Apricot Marshmallow JREAM fruited sour ale with strawberries, apricots, and marshmallows!
12:55 PM – Guided Beer Tasting with Collective Arts
Breakfast isn't over quite yet. Collective Arts takes us through its Berry Banana Acai & Granola Smoothie Sour.
1:20 PM – Recipe Development Panel Discussion moderated by Kenny
A conversation with several of the attending breweries on wild, weird, and fun recipe developments in craft beer!
Featured Breweries on the Panel: Dankhouse Brewing Co., Lupulin Brewing Co., Untitled Art
2:05 PM – 15 Minute Intermission
2:20 PM – Guided Beer Tasting with SingleCut
Hang out with Kenny and SingleCut's GM Dan Bronson as they taste through Metäl!, a DDH Double IPA brewed as an ode to the 2nd wave of heavy metal.
2:40 PM – Guided Beer Tasting with Tripping Animals
Tripping Animals leads us on a guided tasting of Street Nacho, a double IPA with Amarillo, Amarillo Cryo, Columbus.
3:10 PM – CBD Cocktail Class with Collective Arts
Learn how to craft some killer CBD cocktails with Collective Arts' new line of CBD-Infused Sparkling Teas and Juices and mixologist Shannon-Blue Nanibush.
3:40 PM – Guided Tasting of Invasive Species
Kenny and Grace will have a blast sipping through Invasive Species' Munch Blaster 420 Banana S'mores Imperial Stout.
3:55 PM – Guided Tasting with Double Nickel
Double Nickel shows us the secret behind its Super Mega Dank 420 Chronic Kush Grand Daddy Supreme.
4:20 PM – End of Broadcast Day
Liked this article? Sign up for our newsletter to get the best craft beer writing on the web delivered straight to your inbox.