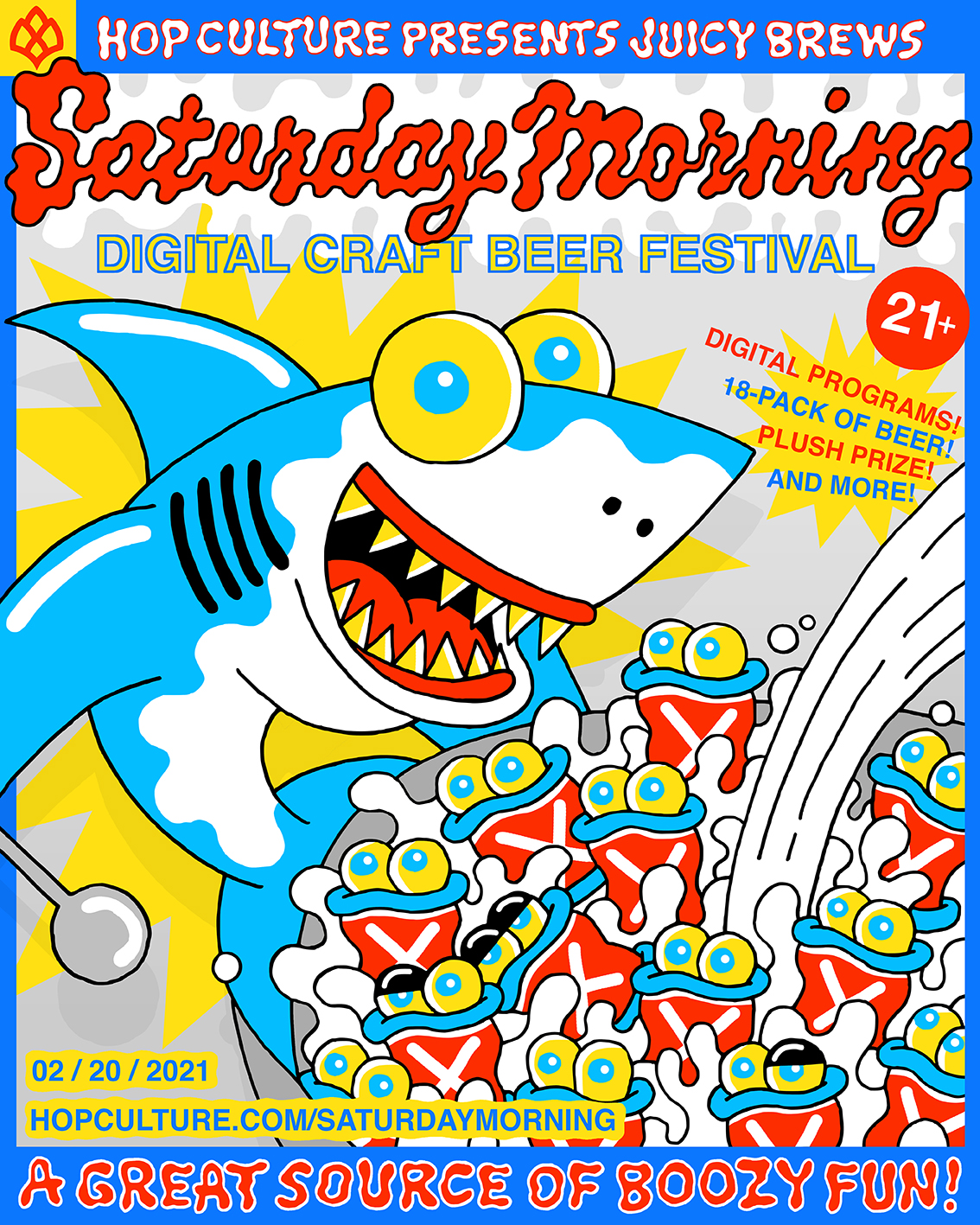 Poster designed by Sam Taylor
Editor's Note:
The schedule is subject to change. You can tune in to the festival livestream here.
We're getting close! We can almost taste all those breakfast beers.
Our upcoming digital craft beer festival Juicy Brews Saturday Morning is just a few weeks away. And the Beer Boxes will be shipping shortly from Half Time Beverage. In fact, many boxes have already shipped!
So, we've prepared the schedule for the festival below. The schedule is subject to change so be sure to check back regularly to plan out your drinking schedule on February, 20. If you want more details about the festival, click here.
And, if you have any questions regarding the status of your beer box order, email onlineorder@halftimebeverage.com.
What Is the Schedule For Juicy Brews Saturday Morning Digital Craft Beer Festival?
The festival will be live-streamed on Saturday, February 20, 2021 starting at 11:30 AM EST. You can access the livestream here or tune in at the embedded video below.
Below is the schedule of events for the festival. All times are in EST.
11:30 AM – Welcome! Opening toast with Kenny, Grace, and John
A bit of a creative surprise featuring the Hop Culture team: Kenny Gould, Grace Weitz, and John A. Paradiso.
11:35 AM – Guided Coffee Cupping presented by De Fer Coffee and Tea x Bean Culture
Pittsburgh's De Fer Coffee founder Matt Marietti will lead us in a guided cupping.
12:30 PM – Nitro Beer Panel presented by Chart Industries
The team at Chart Industries will discuss the innovations in nitro dosing and present an in-depth discussion on nitro beer.
1:30 PM – Recipe Development Panel Discussion moderated by Kenny
A conversation with several of the attending breweries on wild, weird, and fun recipe developments in craft beer!
Featured Breweries on the Panel: Ingenious Brewing Company, Drekker Brewing Co., Decadent Ales, Highland Park Brewing
2:30 PM – 30 Minute Intermission
3:00 PM – Coffee Beer Roundtable presented by MiiR
MiiR'sFounder and CEO Bryan Papé will host a conversation on coffee beer with several of the attending breweries.
Featured Breweries on the Panel: Beachwood BBQ and Brewing, North Park Beer Co., Green Bench Brewing Company
4:00 PM – Guided Beer Tastings
A few of the attending breweries will lead guided tastings on the beers included in the Beer Box.
Featured Breweries on the Panel: Great Notion Brewing, Mountains Walking Brewery, Night Shift Brewing, 3 Sons Brewing Co.
5:15 PM – Label Art and the Beer Behind It
Some of the attending breweries and their designers will discuss branding, design, and craft beer.
Featured Breweries on the Panel: Humble Sea Brewing Co., KCBC, Oozlefinch Beers and Blending, Trillium
6:30 PM – End of Broadcast Day
Liked this article? Sign up for our newsletter to get the best craft beer writing on the web delivered straight to your inbox.