Photography courtesy of @topplingbrews
Other Stories to Keep You Awake:
Updated on September 15, 2023
Concerned about the amount of caffeine in your coffee stout? Bothered about the beans in your brew? If it's long past your bedtime and you're reading this wondering why you can't seem to fall asleep, I've got news for you: Count some sheep and listen to some relaxing tunes, but don't blame the beer. We wanted to celebrate National Coffee Day on September 29 the best way we know how: by combining our morning buzz with our afternoon one! But we didn't want to get too buzzed, if you know what we mean.
bur
What's a Coffee Stout?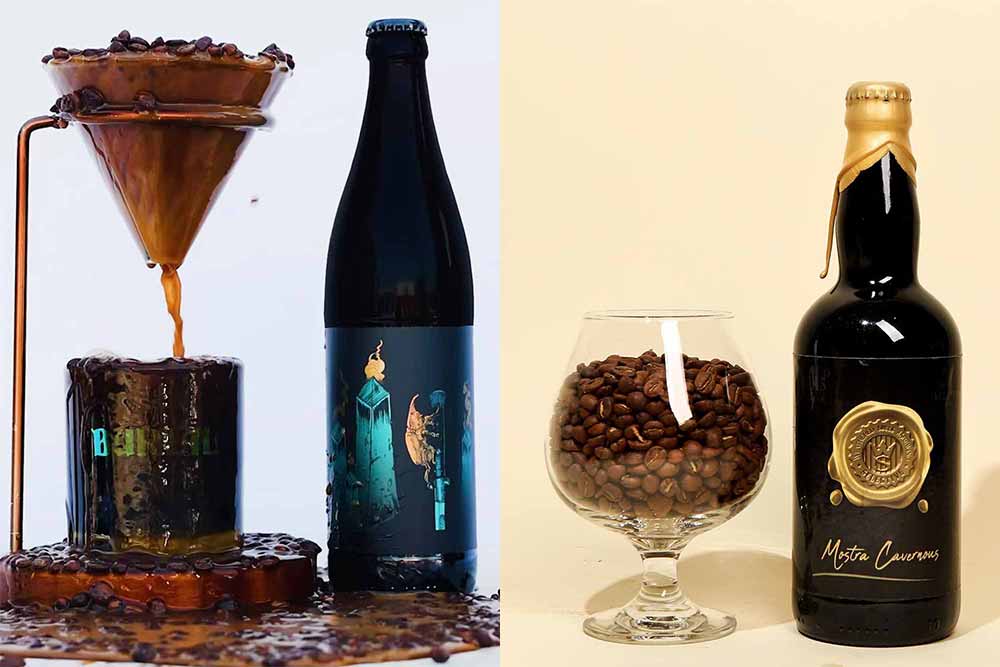 But what exactly is a coffee stout, and where did it come from?
According to Michael J. Lewis' Stout, the first recorded usage of the word stout dates back as early as 1677. At the time, "stout" described generally strong beers rather than dark beers. Since then, it has referred to a specific style—synonymous with beers brewed with roasted barley or malt, which give it that characteristic inky black color.
In contrast, coffee's inclusion in beer is still a relatively new phenomenon—the consensus seems to be that brewers first began experimenting with beans and beer in the '90s. As craft beer has exploded in popularity, most breweries have introduced a coffee option into their lineup, hoping to capitalize on its familiar morning flavor.
Since its introduction, coffee has become a mainstay in darker and stronger beers, defining an entire category. If you haven't noticed, coffee stouts come a dime a dozen.
With the success the coffee stout has seen in recent years, the veritable morning brew has made its way into lighter offerings, too—be it the pale ale, saison, or Belgian-style wheat beer, among many others. For all you coffee haters out there, I regret to inform you that it's a trend that's here to stay.
But How Much Caffeine Is in a Coffee Stout?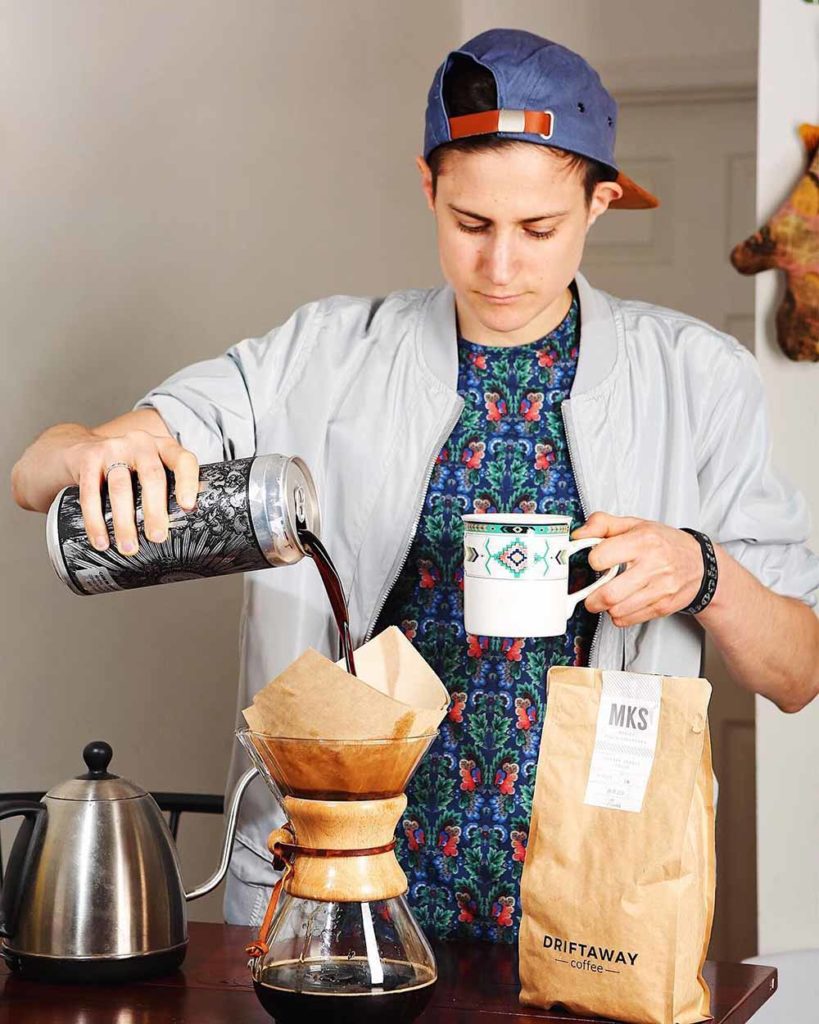 So what about the caffeine in those coffee stouts? The question seems to be a common concern, especially for those with caffeine sensitivity. Will too many coffee stouts keep you up at night? Need you worry about your sleep should you choose to indulge?
Nope, not likely.
Even with everyone's favorite local roaster featured in their favorite local brew, the caffeine content in coffee stouts is actually pretty negligible. So little, in fact, that few breweries even bother to measure their beers for an exact count.
Not enough assurance, you say?
Consider this: The average 8oz cup of coffee contains somewhere in the neighborhood of 163mg of caffeine, ranging anywhere between 64–272mg per cup, depending on the brew method. (Stovetop moka and french press enthusiasts take note, you're sitting pretty at the upper limits of that range.)
Compare those numbers with Caffeine Informer's generous 50mg per 12 fl oz estimate for a coffee beer.
Depending on how strong you like your morning roast, you'd need between one to five beers to reach the equivalent buzz from a single cup of coffee (assuming the stout has anywhere near the 50mg estimate).
There's a possibility that breweries mimicking the cold brew process have a higher caffeine count than others. But it still won't reach the caffeine found in a standard drip coffee. (Or cold brew, which has more caffeine, for that matter.) Even if you're on the more caffeinated end of the spectrum, you'll feel a different kind of buzz long before the jitters kick in.
Our Favorite Coffee Beers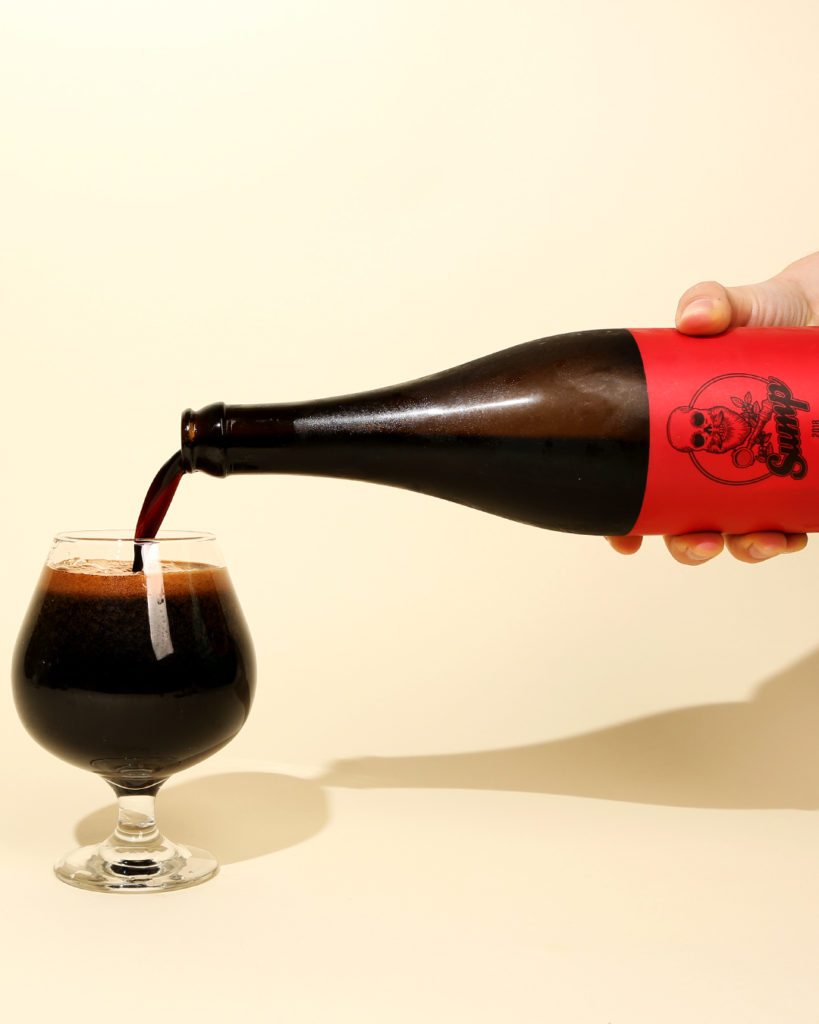 Below is a selection of eight of our favorite beers brewed with coffee. Seek them out for a gentle buzz that won't keep you up past your bedtime!
Sump Coffee Stout
Perennial Artisan Ales — St. Louis, MO
Imperial Coffee Stout — Perennial makes some of our favorite stouts, period. Throw coffee in the mix? The St. Louis brewery hits a home run every time.
You could argue that Perennial's annual Abraxas coffee variant is a superior beer, but we feel that Sump better showcases authentic coffee flavors. Pictured above is the 2018 Sump brewed with Ethiopian Roba beans, but any edition of Sump is sure to wow with beautiful dark chocolate, stone fruit, and freshly roasted coffee notes.
Bomb!
Prairie Artisan Ales — Oklahoma City, OK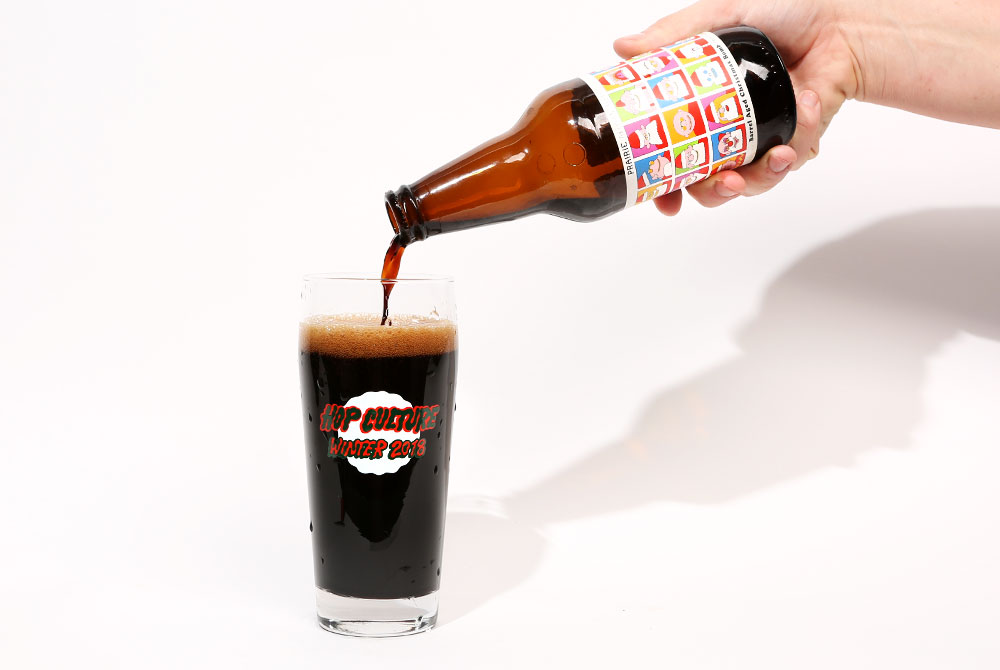 Imperial Coffee Stout — Bomb! is another one of our all-time favorite stouts.
Many iterated on the stalwart coffee stout from Prairie Artisan Ales, but we always return to the OG for an explosion of flavors. Coffee is the most prominent note, but adding chocolate, vanilla beans, and ancho chili peppers brings sweetness and a touch of heat to balance the robust coffee roastiness.
We also enjoy Perennial's variants, such as Christmas Bomb! (pictured above), incorporating holiday spices like cinnamon, ginger, and nutmeg.
Mornin' Delight
Toppling Goliath Brewing Co. — Decorah, IA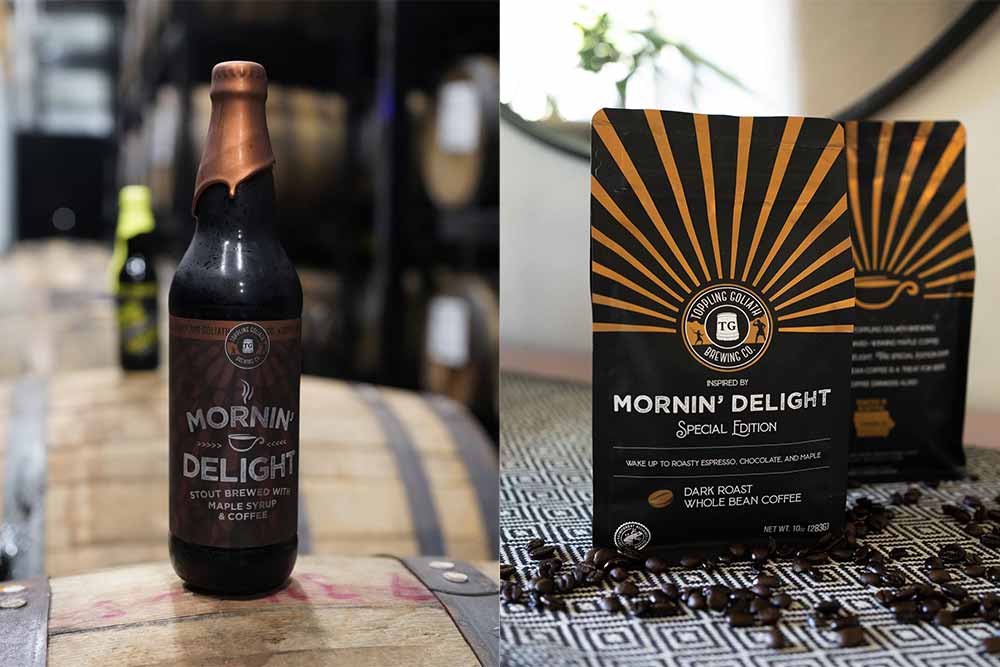 Imperial Coffee Stout — We know Toppling Goliath knows how to make impeccable imperial stouts (read: Kentucky Brunch Brand Stout, one of the hardest to get your hands on in the world). So, when it comes to imperial coffee beers, we know we're in good hands.
Mornin' Delight gets a dose of coffee and maple syrup for one big breakfast treat, clocking in at 12% ABV.
Recently, Toppling Goliath even teamed up with Verena Street to create Mornin' Delight-inspired beans!
Daybreak
Wolf's Ridge Brewing — Columbus, OH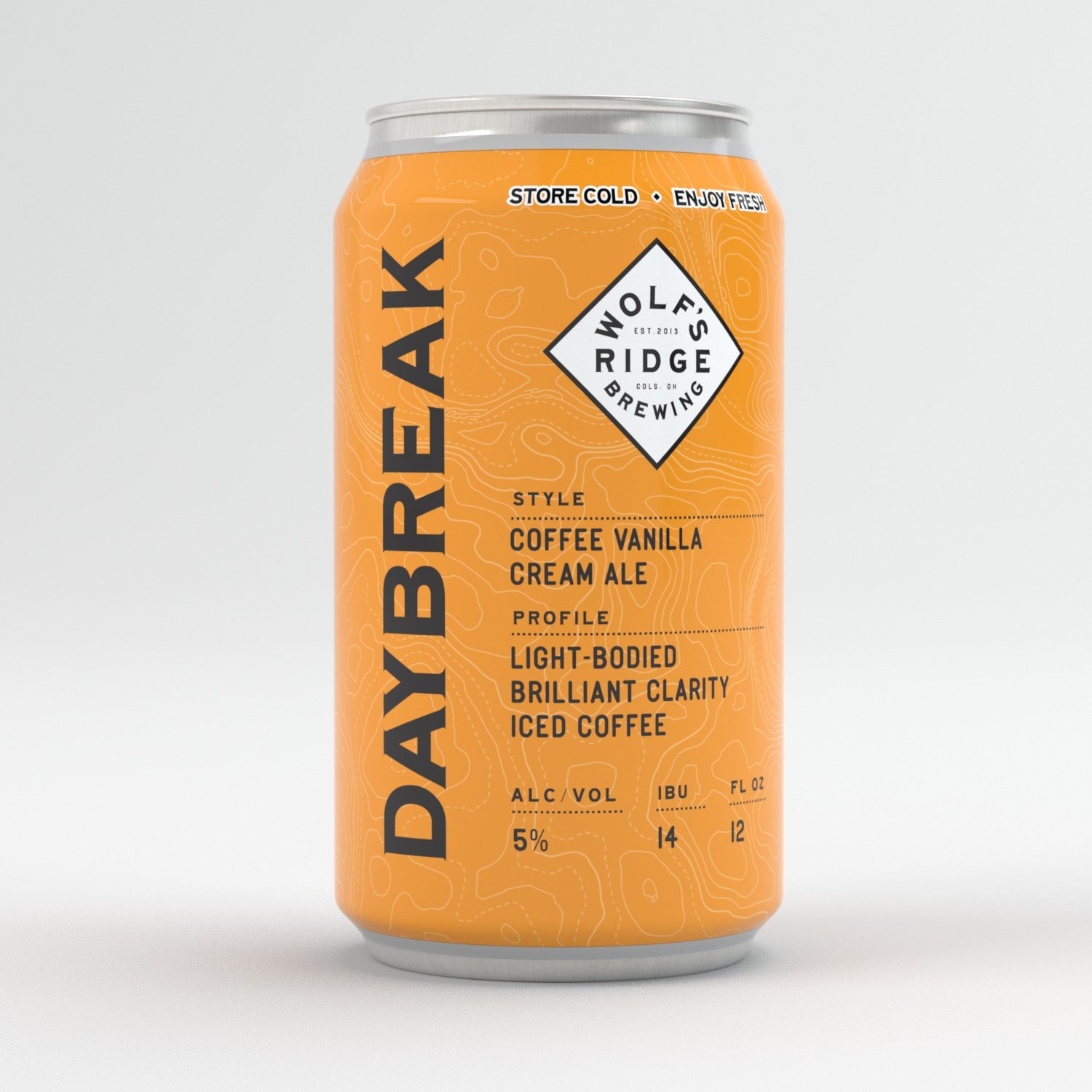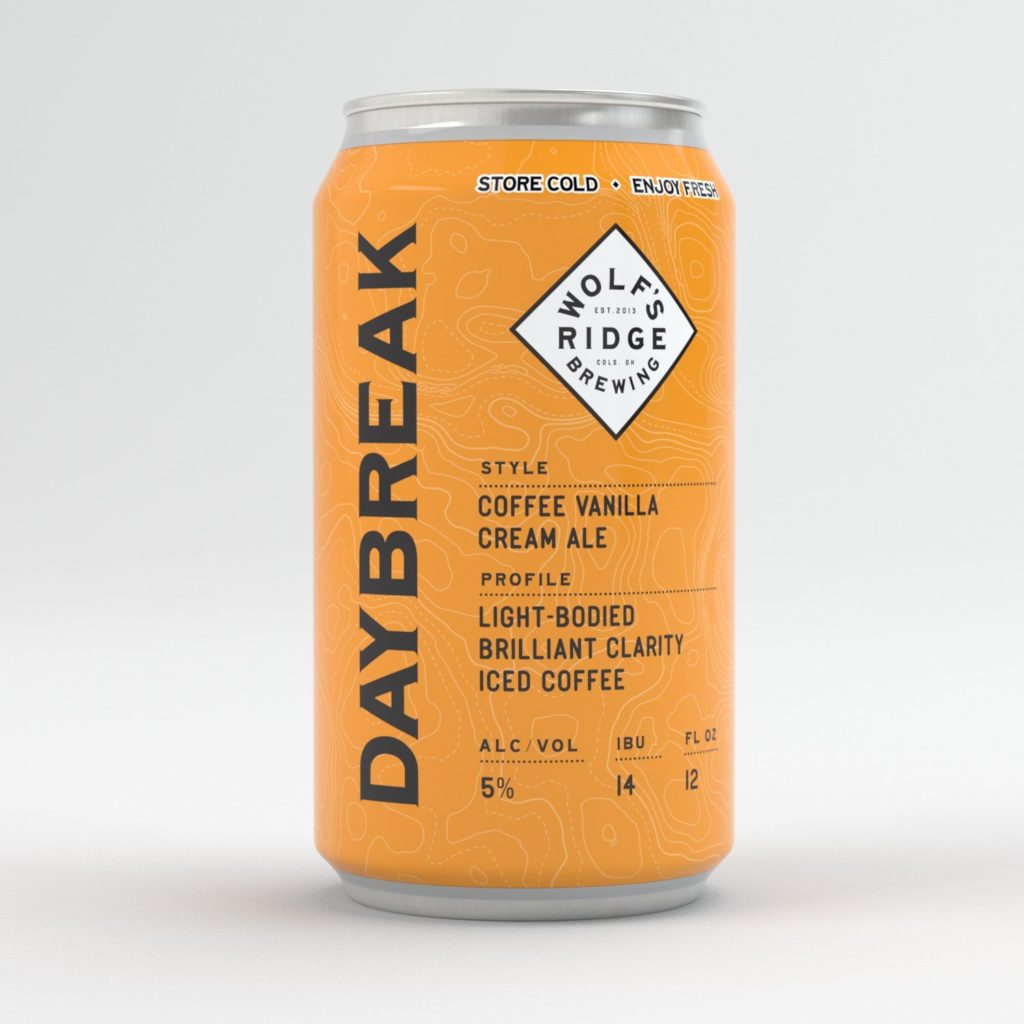 Cream Ale — Easily one of our favorite examples of a non-stout coffee beer, Daybreak cream ale brews with coffee and vanilla bean for one trippy experience. The clear, golden beer suggests a fizzy light ale, but a punch of coffee goodness meets you.
The Columbus brewery allows the coffee flavors to take the lead while sweet vanilla flavors soften the harsher edges of this beer. It may feel like you're getting a caffeine buzz, but, as noted above, you should feel safe enjoying this even in the wee hours of the night.
Peanut Butter PM Dawn
Trillium Brewing Co. — Canton, MA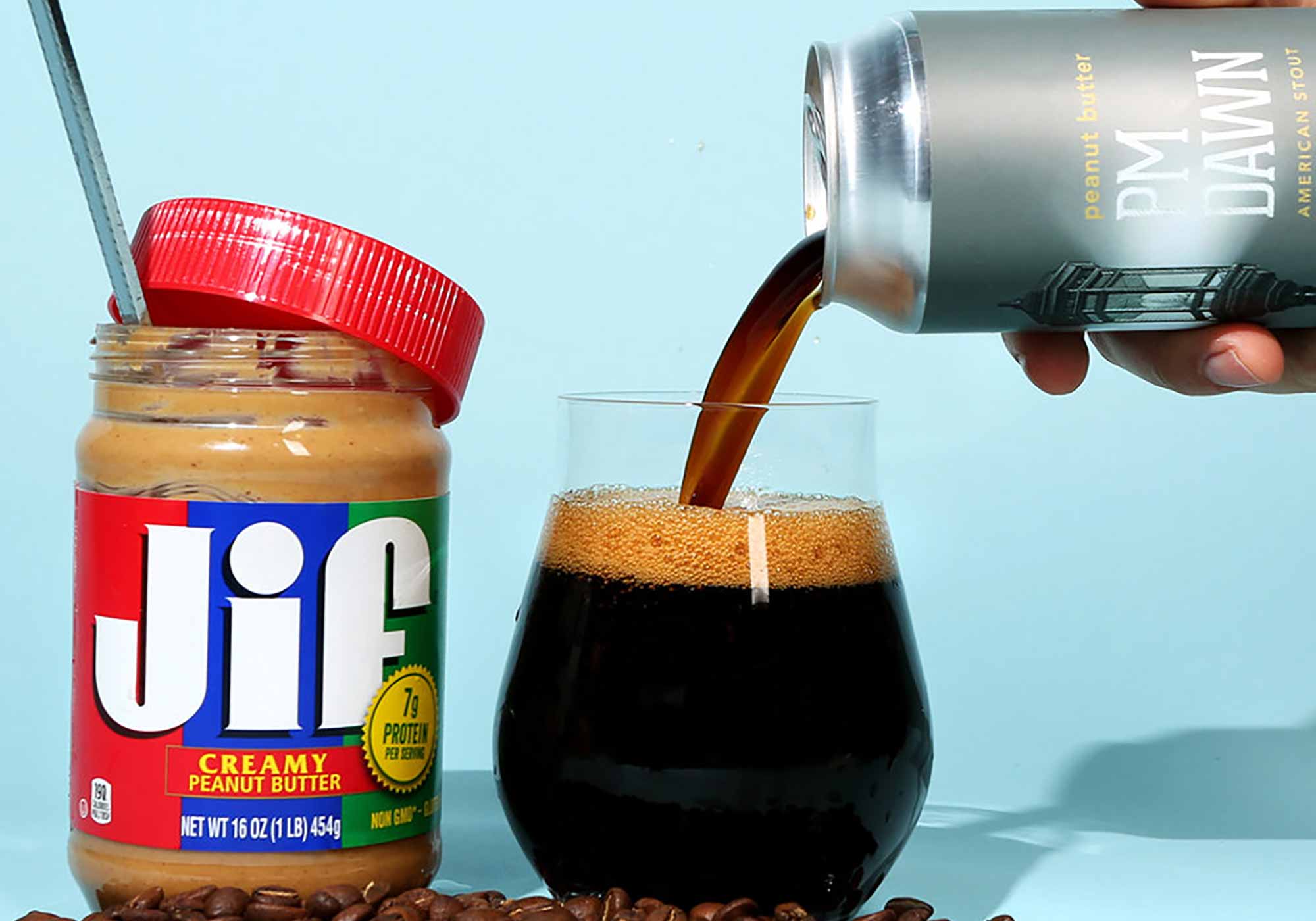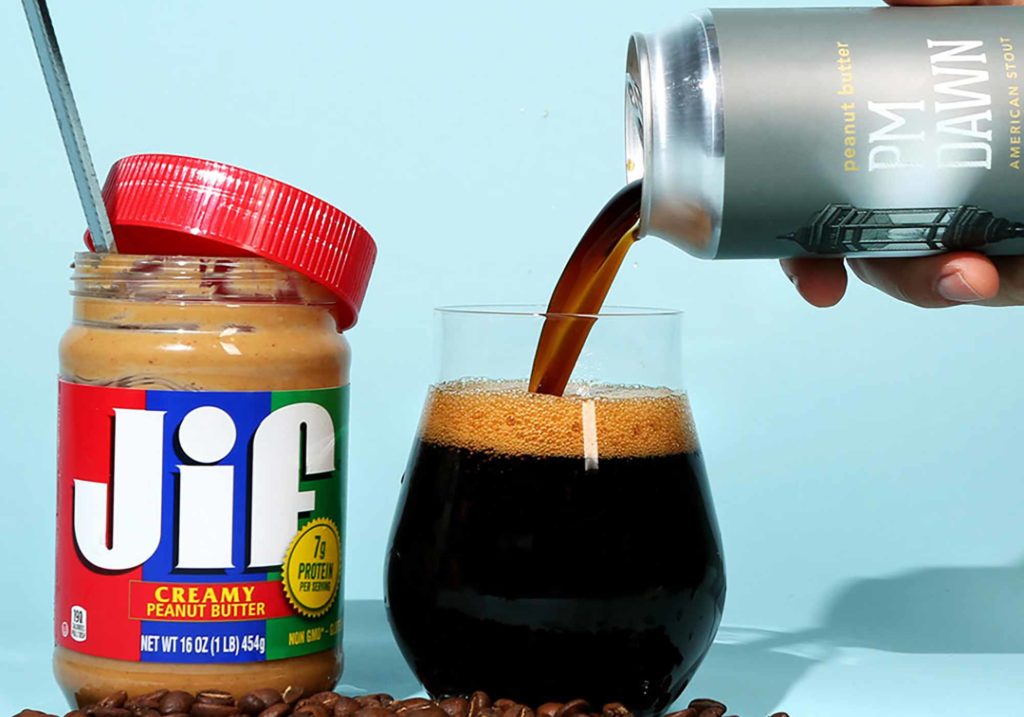 Coffee Stout — Trillium's PM Dawn may not be as genre-defining as Bomb! in the coffee stout category. But it's arguably just as good. While the original is stellar, we prefer the nuttiness of Peanut Butter PM Dawn. Brewed with cold brew coffee and peanut butter, this stout packs a pleasant punch that tastes like a Reese's cup combined with a refreshing cold brew.
Awake
Night Shift Brewing — Everett, MA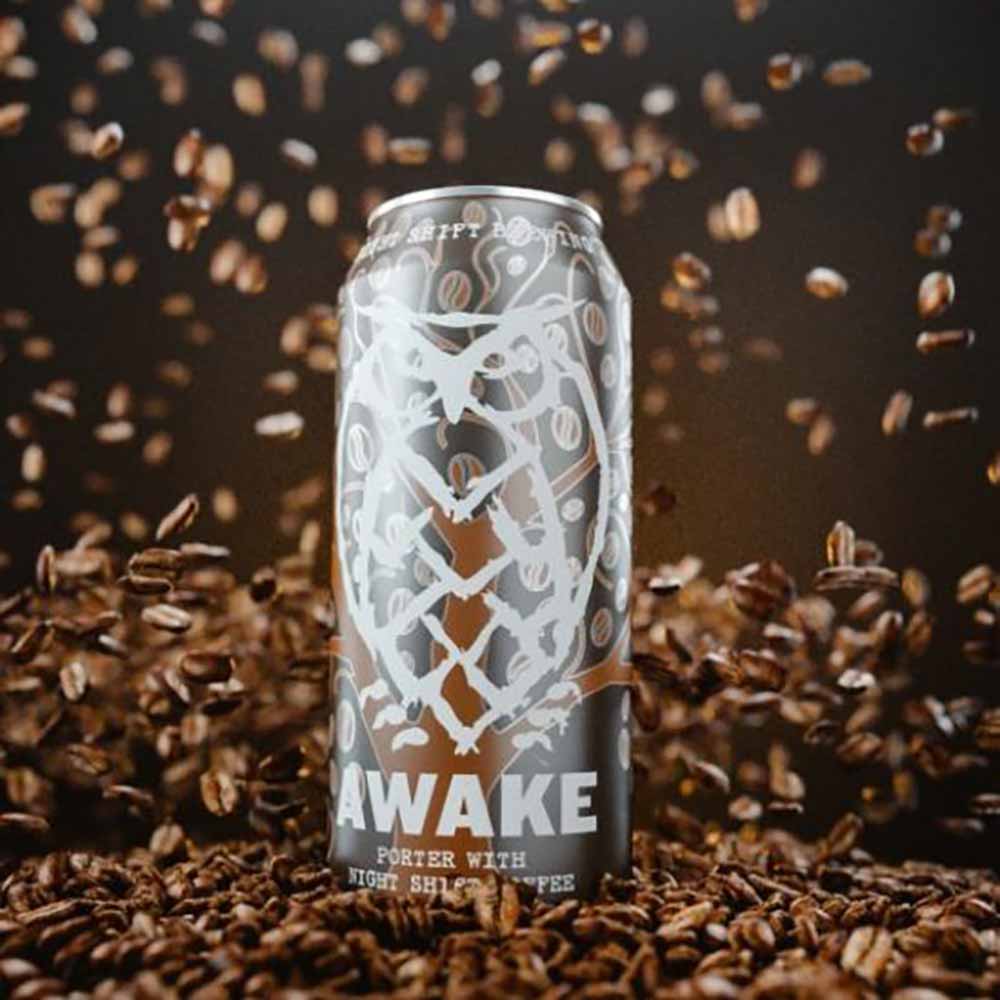 Coffee Porter — Our only coffee porter on the list, Night Shift's Awake is such a strong example of how coffee and porter flavor profiles dovetail so well together in the hands of gifted brewers.
Using Night Shift's house-roasted beans, Awake uplifts all your senses from the freshly ground coffee aroma to the dark chocolate and roast base.
Slow Rush
Crux Fermentation Project — Bend, OR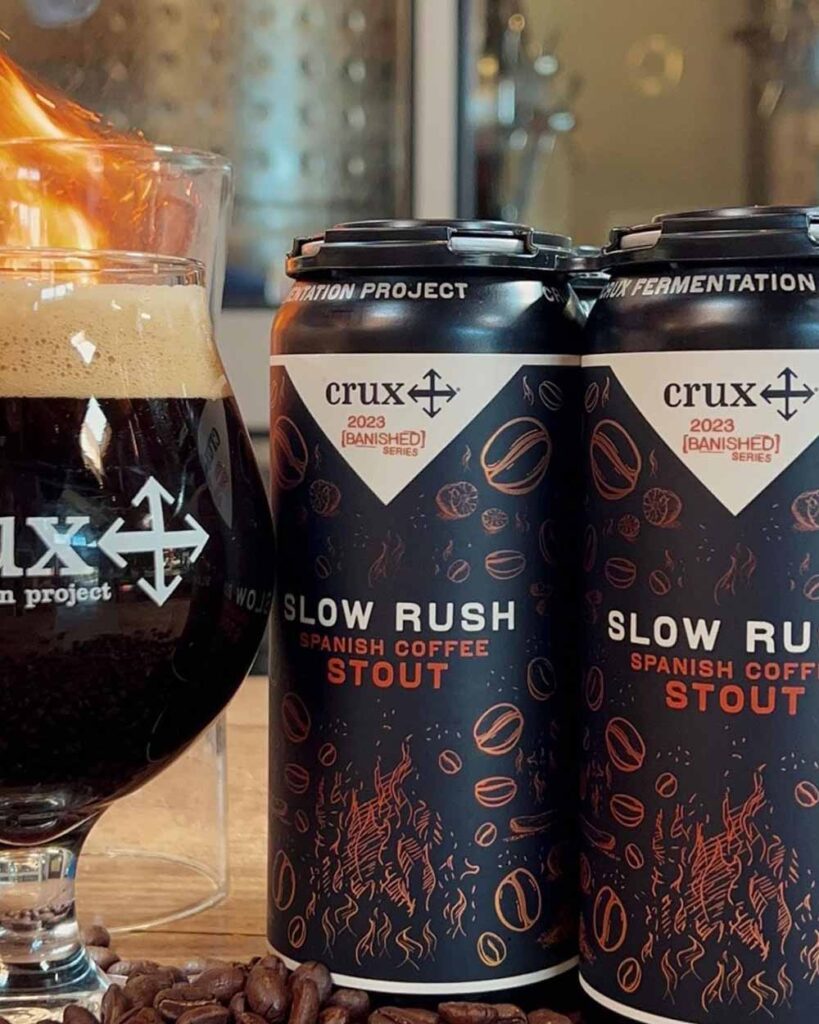 Imperial Spanish Coffee Stout — Crux Fermentation's [BANISHED] series has always awed us. The Bend, OR-based brewery takes certain beers, banishing them for months in oak barrels to let flavors mingle, meld, and mellow. The process often results in deep, rich, complex stouts.
So we were stoked when they sent us a can of Slow Rush, an imperial stout with Spanish coffee.
Based on the coffee-based cocktail, Slow Rush pours out like cola but immediately hits you in the nose with roast, like you just opened a bag of coffee.
The foam snaps, crackles, and pops like it's alive, a testament to the aging process that keeps these beers humbly bubbling.
First, you'll notice this 11.4% ABV BA stout doesn't drink like a booze bomb. Instead, the BA beer reminds us of maple syrup pouring over griddled pancakes. That molasses, treacle, and a touch of licorice snap back at us on the finish.
We recommend taking your time with this one, which is genuinely what the [BANISHED] series and this Spanish coffee stout are all about. With the dark days setting in, take a breath, slow down, and settle in for the night with Slow Rush.
Low
Burial Beer Co. — Asheville, NC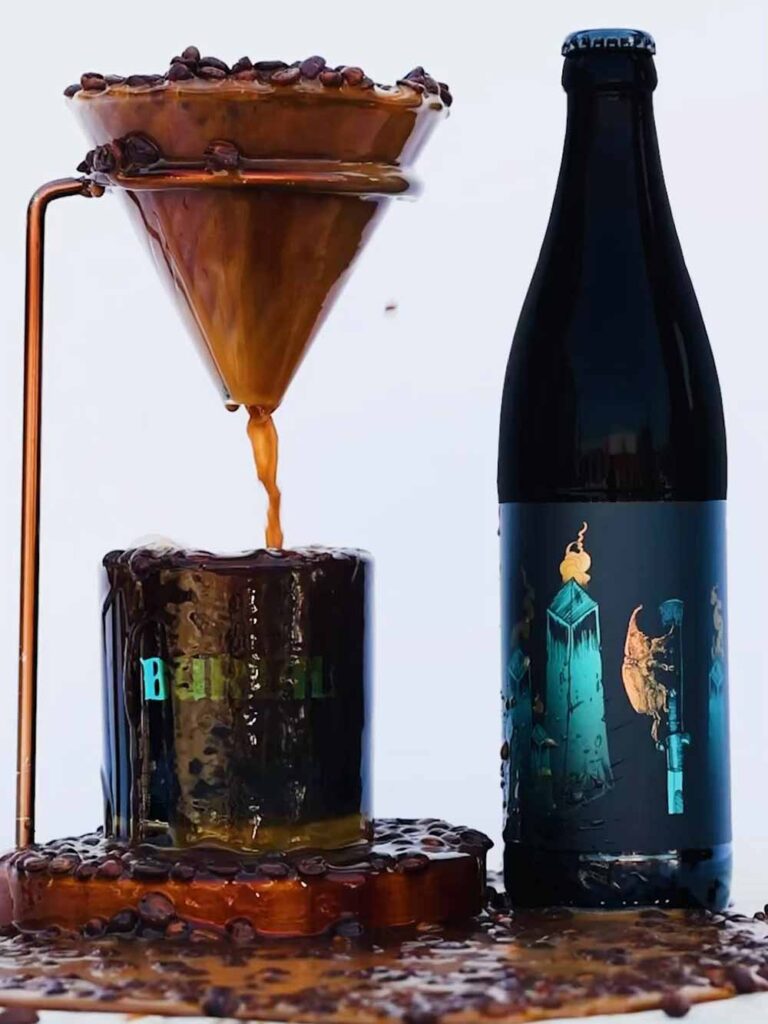 Imperial Coffee Stout — Burial recently came out with A Deranged Meditation of Nonsequitur, an imperial coffee stout with, wait for it, decaf coffee. That's a first for us!
Coconut milk, coconut, dark malts, and vanilla beans share the shelf with Unwind-branded beans from Methodical Coffee. All commingle like milk in a latte for an intensely decadent beer chock full of caramel macchiato vibes, French silk pie, and coffee-soaked ladyfingers.
We wouldn't mind staying up all night with this 15% ABV imperial stout. Oh, but that high ABV is probably going to put us to sleep anyway!
Unless otherwise noted, our editorial team independently chooses all of the products featured on Hop Culture. However, Hop Culture may earn a commission from purchases made through affiliate links on the site.