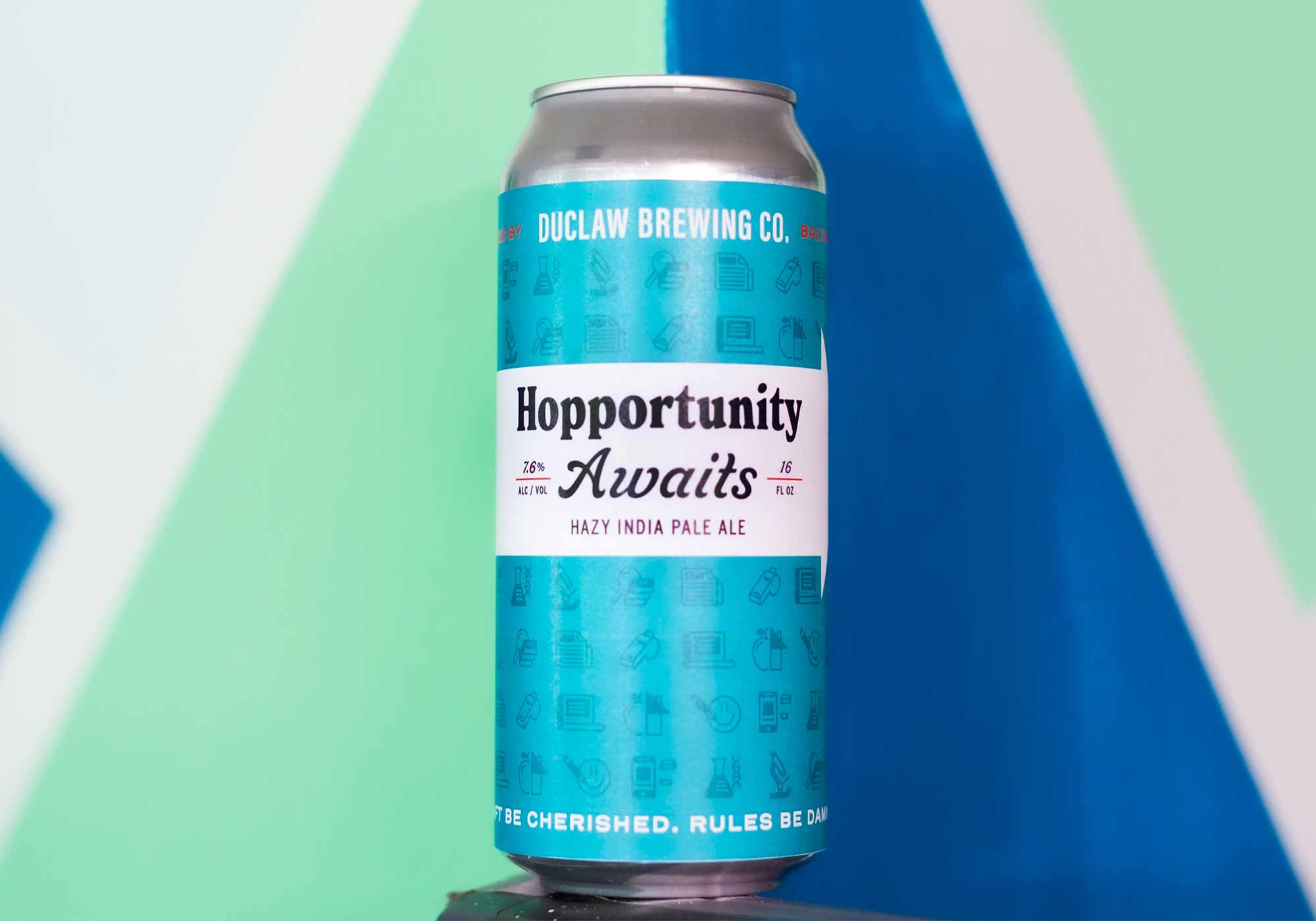 Photography courtesy of DuClaw Brewing Co.
What do the Founder of Hop Culture, the cartoonist and Founder of Pints and Panels, the Founder of Fermly, and Ohio's first Black female professional brewer and owner of DOPE Cider House and Winery have in common? They've all succeeded through different paths in craft beer. And now, they're just a few of the ten faces showcased on cans of DuClaw Brewing's Hopportunity Awaits hazy IPA.
DuClaw Brewing might be best known for Sweet Baby Jesus!, their peanut butter porter, but Hopportunity Awaits might change the game. It's one beer with ten different labels, each of which features the face of a different beer industry professional. Take a deeper look at the ten different labels and here's what you'll find:
Ten diverse stories of success in craft beer. Ten stories about breaking barriers in the craft beer industry. And ten individuals striving for a more diverse, inclusive, and equitable beer community.
What Is DuClaw Brewing's Hopportunity Awaits?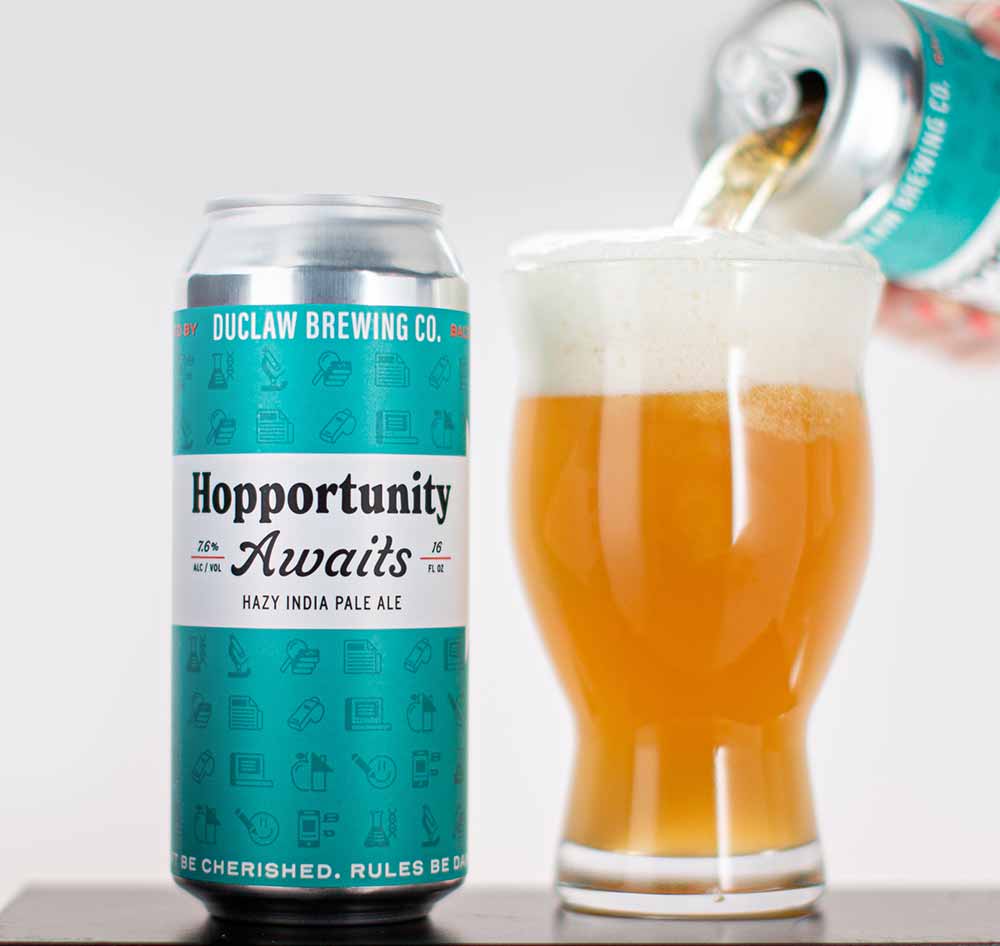 The latest hazy IPA release from DuClaw Brewing in Baltimore, Maryland, Hopportunity Awaits uses its label to highlight the success stories of ten different beer industry professionals. In addition to featuring a picture of each professional, the labels also contain QR codes that, when scanned with a smartphone, take drinkers to an online interview.
According to Rachel Bradley, the Marketing Manager at DuClaw Brewing, the beer started as an idea to open up opportunities and doorways within the industry.
"Beer is such a creative industry, but in order to keep pushing things forward and be welcoming you need different voices from different background expressing their ideas," she says.
With plans to already brew a hazy that featured Sultana, Lemon Drop, and Motueka hops, Bradley suggested they meld the two projects together: A beer combined with, "A storytelling component that would inspire people to bring their diverse ideas into the industry and open pathways for new people," says Bradley.
So Bradley put out feelers. She posted in the Craft Beer Professionals group asking people to share their stories. Within minutes, DuClaw received over 250 comments.
"It was so heartwarming," says Bradley.
DuClaw Brewing Partners with Craft x EDU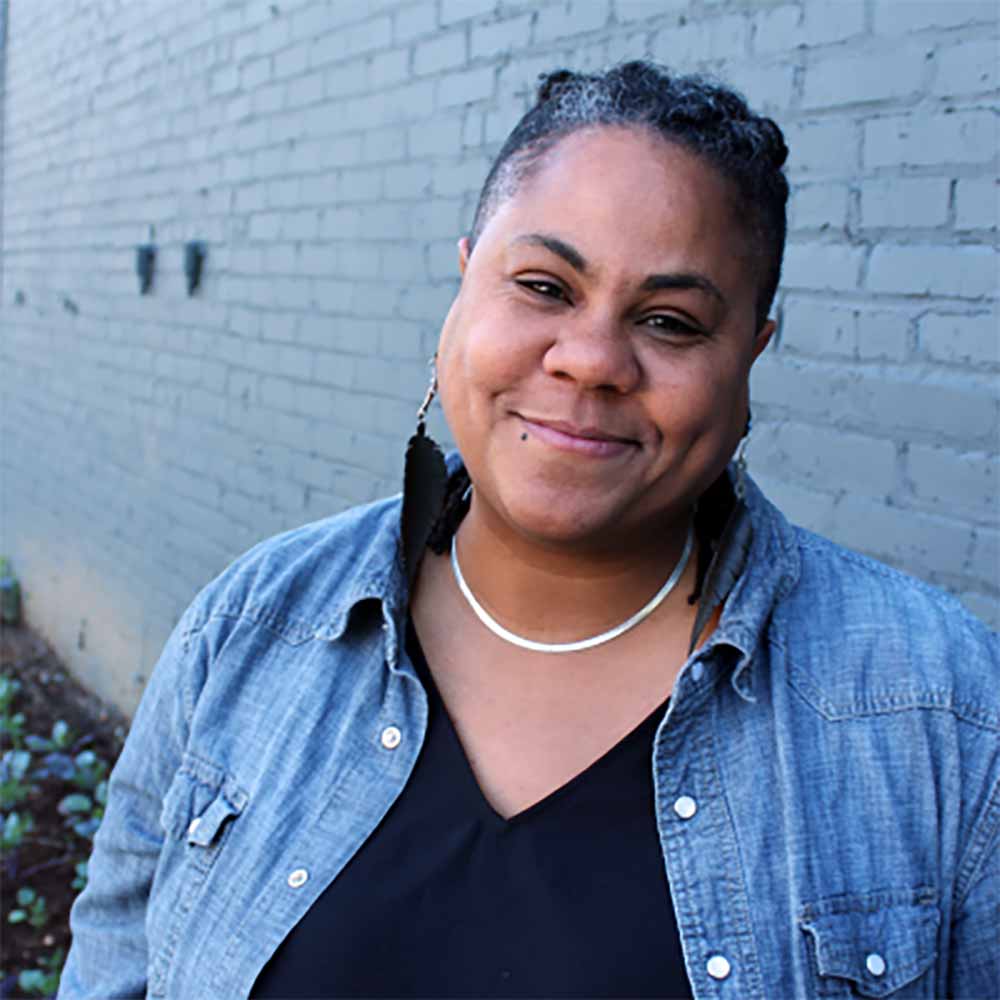 To bring Hopportunity Awaits to life DuClaw, partnered with Craft x EDU. Founded by Dr. J. Jackson-Beckham, the nonprofit organization champions inclusion, equity, and justice in the craft brewing community.
"We wanted to push the narrative, but instead of reinventing the wheel we decided to partner with a program," says Bradley. "We heard so many great things about Craft x EDU that when trying to narrow down who to approach to collaborate, Craft x EDU came out on top."
And the feeling has been mutual.
"We are delighted that DuClaw is joining the ranks of opportunity-makers in the craft brewing community," says Jackson-Beckham, Craft x EDU Founder and Executive Director.
Together, the two companies have worked for almost a year to tackle this ambitious project. And this week, the beer finally hit shelves.
What Is the Goal of Hopportunity Awaits?
Hopportunity Awaits recognizes that it hasn't always been easy for outsiders, especially minorities, to get a foot in the door of the craft beer industry.
A recently updated demographic audit of brewery owners from the Brewers Association found that 93.5 percent of brewery owners in America are white. Less than twenty-four percent of breweries are women-owned. And less than one percent are Black-owned.
"The craft brewing community, unlike many other industries, doesn't have clearly defined pathways to entry and advancement," says Jackson-Beckham. "Those paths are often unique and unexpected. Our goal is to identify and enable paths that have been blazed by individuals like those being highlighted in this project, and to create new pathways that lead to a more inclusive and equitable industry."
To help with that goal, DuClaw committed to donating a portion of the proceeds from the sales of Hopportunity Awaits to starting a grant that will be administered through Craft x EDU. The grant aims to create educational opportunities for those starting a career in craft beer.
Hopportunity Awaits has been an important project for DuClaw, proving that beer can be a platform for change.
"Hopportunity Awaits is what we focused on because 'awaits' means 'it's coming,'" says Bradley. "Seeing the pathways of these ten amazing rule makers, seeing them carve their own path, brings us back to our motto: 'Craft Be Cherished. Rules Be Damned.' These people are so passionate about what they do and they cherish their craft, but they didn't do it the typical way. They forged their own path."
Who Is Participating in DuClaw Brewing's Hopportunity Awaits?
Hopportunity Awaits features an amazing cast of characters including:
Rachel Breite – A fisheries biologist turned brewery worker at 3rd Planet Brewing.
Emily Wang – Founder of Fermly, a TTB certified craft beer lab in Denver, CO.
Ryan Cervantes – A skilled packaging manager whose motto is: Never lose faith in the hustle.
Stephanie Grant – A savvy social media coordinator and storyteller focusing on diversity and inclusion.
Kenny Gould – The Creative Director of Untappd and Founder of Hop Culture.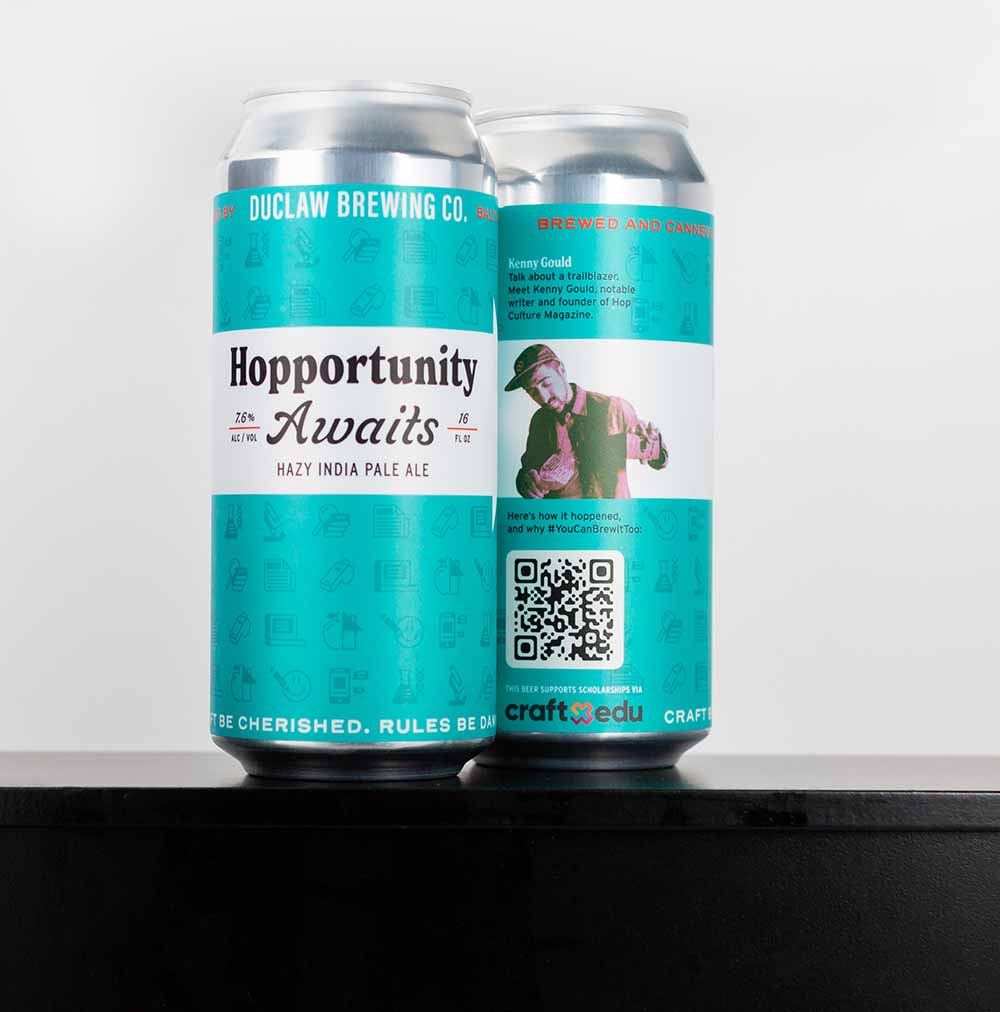 Em Sauter – The cartoonist and Founder of Pints and Panels, a craft beer education comic with a whimsical twist.
Hannah Ferguson – Ohio's first Black female professional brewer and owner of DOPE Cider House and Winery.
Leanne O'Neill – The notorious Sip & Saunter beer blogger with a passion for pints.
Barb Baker – The brilliant beer blogger, Siren of Stout, and TV personality.
And Aadam Soorma – The award-winning content creator and Burmese-Indian who built a reputation in the craft beer scene in Pittsburgh, PA.
An In-Depth Look at Hopportunity Awaits: Aadam Soorma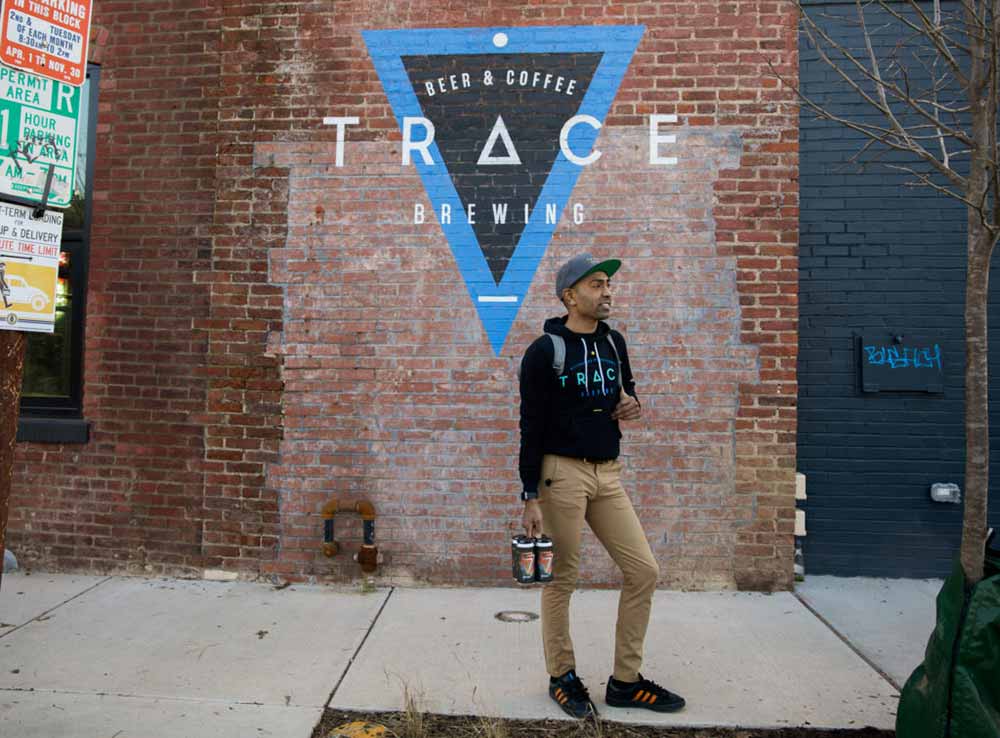 Currently the Head of Marketing and Guest Experience at Trace Brewing in Pittsburgh, PA, Aadam Soorma didn't always work in a brewery. In fact, despite being known as "the beer guy" around the 'Burgh, this is his first actual position inside a taproom.
Soorma's first job in beer came in 2017 when he joined the now-defunct Porter Brewery Tours as a tour guide.
"That job was just a fun side hustle to get to know these breweries," he says. "You start to talk to taproom managers, brewers, and folks in the industry and you see their passion bleed through… It got me thinking: I wonder if I could do more with it?"
By the end of 2018, Soorma had joined Very Local Pittsburgh as the Digital Curator. His weekly column nabbed a Western PA Golden Quill award from the Press Club; it covered stories about breweries that had revived small neighborhoods and towns.
"I was writing about beer as a columnist during the week and giving tours on my bus during the weekends," says Soorma. "[Eventually,] people were like, 'Oh, you're the beer guy!'"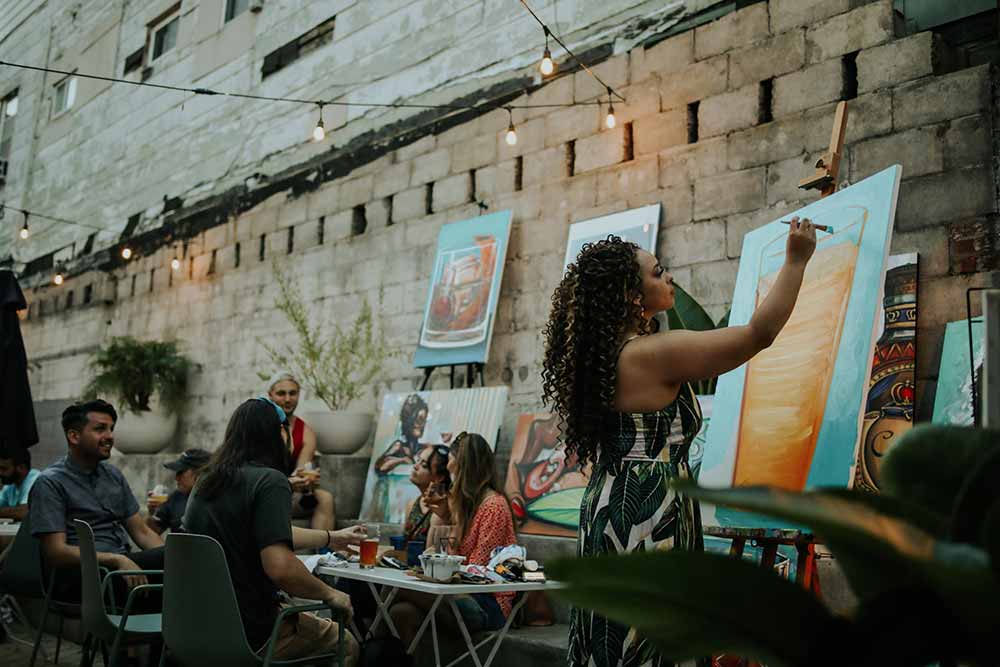 At Trace, Soorma and his team have helped curate multicultural events including bi-monthly drag brunches, trap and hip hop parties, artists of color doing live paintings, and transgender stand-up comedians. So it's no surprise that DuClaw wanted to feature Soorma on its Hopportunity Awaits can.
Soorma hopes that his story will inspire others.
"Hopefully, it feels relatable or transferable for folks thinking about their own careers, " says Soorma. "Because if there are others like me who are different — whether they're from the queer or Black or Brown or Indian or Asian communities — if they see me or anybody else on there, they can say, 'I can do that.' That's a cool takeaway."
An In-Depth Look at Hopportunity Awaits: Em Sauter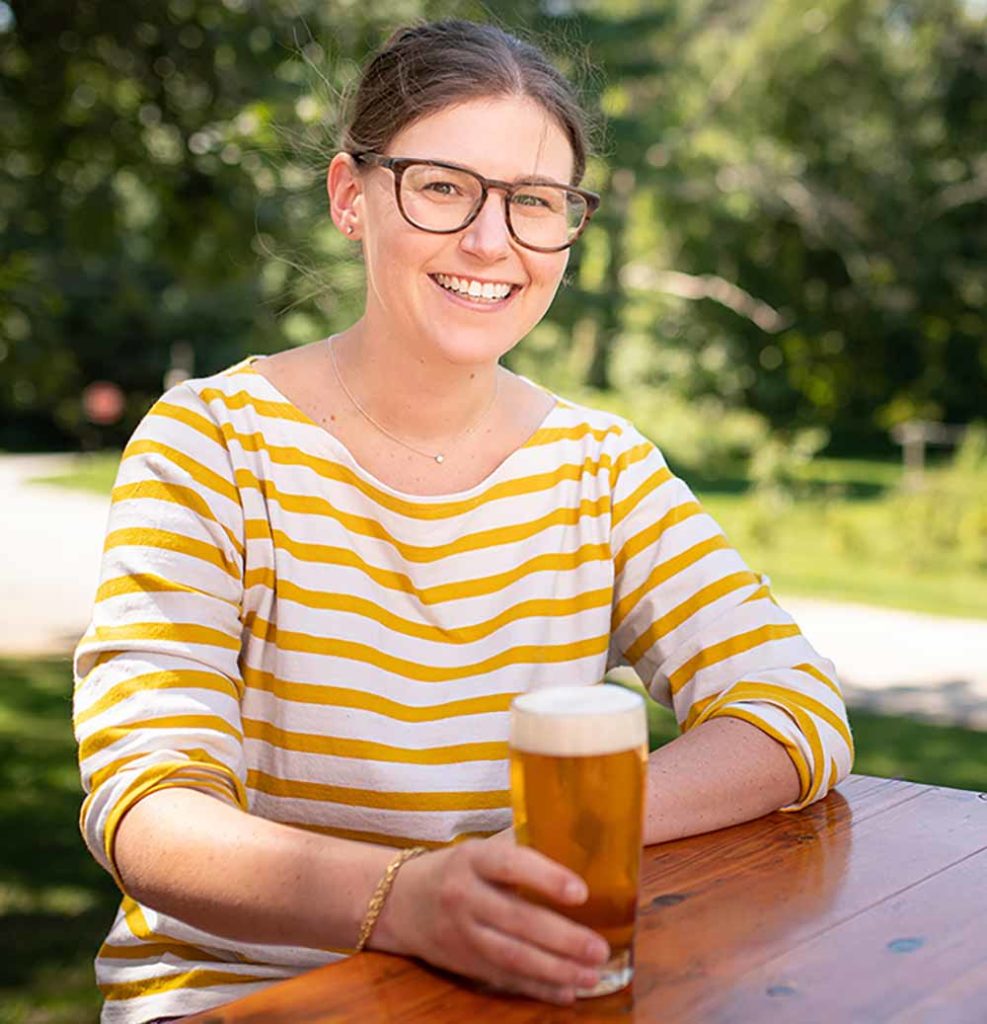 Em Sauter's path to craft beer has been unique. But, that's the point of Hopportunity Awaits.
While attending graduate school for cartooning in 2010, Sauter started Pints and Panels. But what began as visual beer reviews eventually turned into informational graphics. Because while studying for her Master Cicerone exam, Sauter thought, Why not draw these comics on complex topics?
Now, you'll find Em's comics covering everything from what makes a witbier to the difference between English and American porters.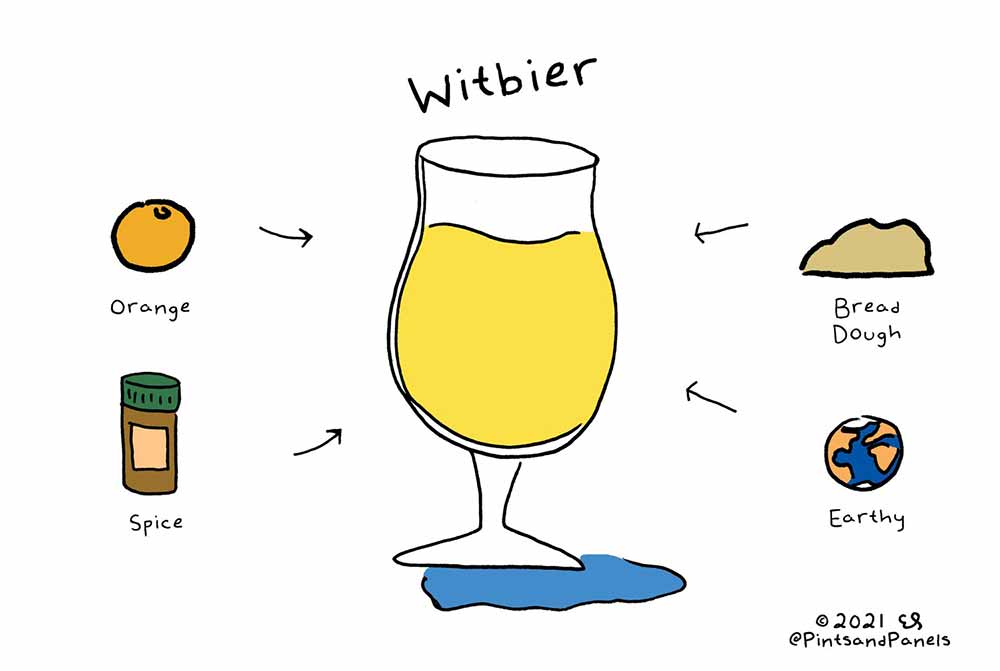 "There are a lot of right answers in beer," says Sauter. "When you make a porter, it's not like baking a cake where you need X amount of this… to equal a cake. You can brew a porter in myriad different ways."
Pints and Panels aims to provide accurate, trustworthy, accessible, and free information.
"I want everyone to have the best beer experience and get the right answers," says Sauter.
Just like Soorma, Sauter's journey is another example of a "non-traditional" journey in beer.
"One of the best pieces of advice I ever got was: Perhaps the thing you want to do doesn't exist yet," says Sauter. "You don't have to be a brewmaster to enjoy beer. You can forge your own path in this industry."
What Is Next for the Project?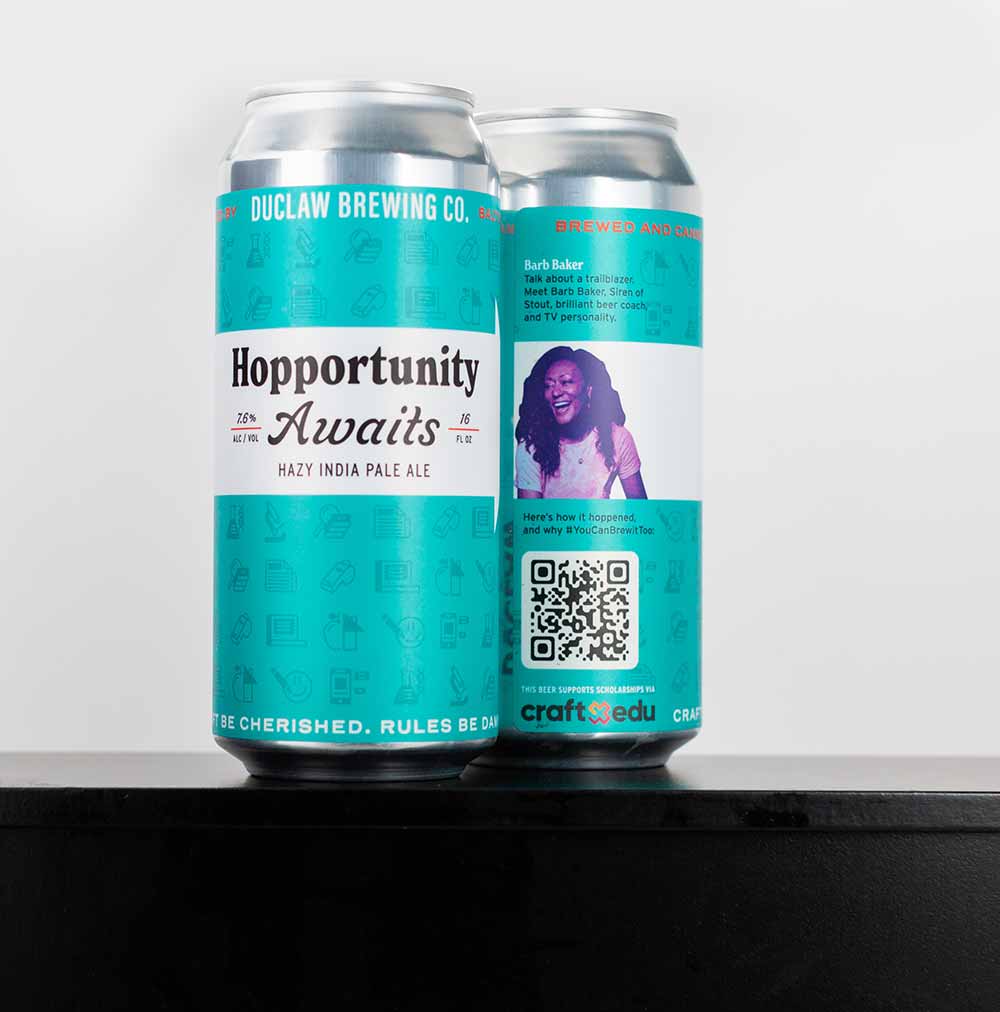 According to DuClaw, the first run of Hopportunity Awaits is hopefully just the start.
"I want this to have legs like no other beer we've had before," says Bradley. "I want this to hit the eyeballs of people we would've never reached."
With that in mind, Bradley is hopeful that DuClaw can make Hopportunity Awaits a yearly release.
For now, grab a can of the new hazy IPA while it's fresh. But also take the time to read one of the ten stories and be inspired.
"It would be so great if this ran so deep and spread so far so that we truly reached those people who are questioning: How do I get in the industry?" says Bradley. "Let's show them how they can do it."
Where Can I Find Hopportunity Awaits?
If you're looking for some inspiration — and want to try a great hazy IPA — you can find Hopportunity Awaits across DuClaw's distribution footprint in TX, MA, WV, KY, TN, AL, FL, MI, GA, NY, OH, NC, NJ, VA, PA, and MD.