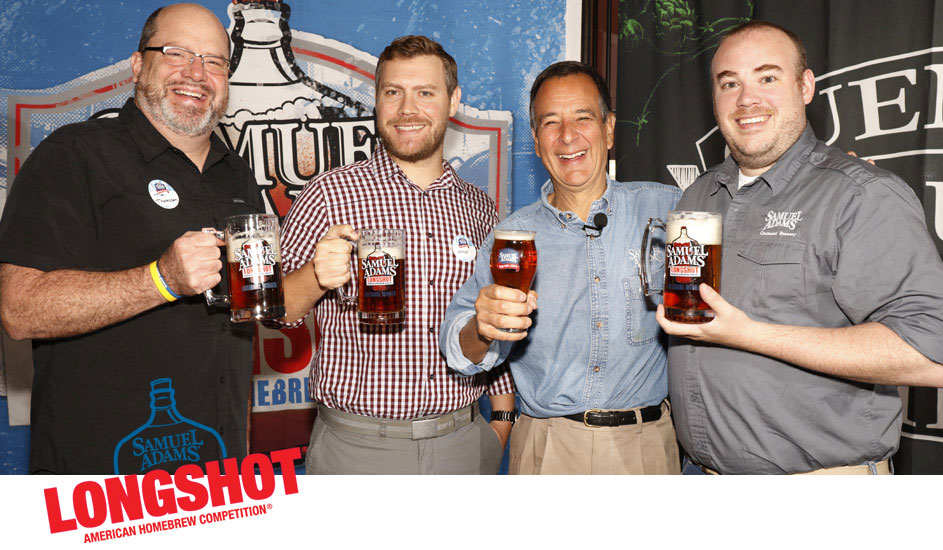 Think of the LongShot American Homebrew Contest as beer's response to "America's Got Talent." There are contestant, judges, and ultimately one winner who gains a career-starting residency at a world renowned venue. In this instance, the contestants submit a two minute video on their homebrewing prowess, and the prize is a stint at Samuel Adam's nano brewery, 10 barrel brewhouse and barrel room.
The winner of the homebrew contest will receive a "brewership": a one-week, hands on, and fully immersive brewing experience that'll not only celebrate the passion and creations of the winner but jump-start their next endeavor, too. Their week will be spent learning the ins and outs of ingredient sourcing, quality assurance testing, packaging, and operations management. Before they clock out of their week of work, the winner will brew a limited release collaboration beer that'll be available at the Samuel Adams Boston Brewery and in the winner's hometown.
The opportunity is one of a kind. Besides the brewership, the winner, and the two runners-up, will get to attend the Great American Beer Festival and receive a scholarship for enrollment in an online course with The Siebel Institute of Technology World Brewing Academy.
Sam Adams says that the contest "hopes to highlight the nation's top homebrewers, and even launch professional brewing careers for many of those brewers." And that isn't empty talk. Many of the contest's alumnus have embarked on successful brewing careers:
2015 winner Tim Thomssen, brewer at Boiler Brewing Company (Lincoln, NE)
2013 winner Cesar Marron, brewer at Sketchbook Brewing Co. (Evanston, IL)
2009 winner Mike Robinson, brewer at Newburyport Brewing Company (Newburyport, MA)
2006 winner Don Oliver, brewer at Dust Bowl Brewing Co. (Turlock, CA).
"The craft beer revolution that we're seeing today exists in part because of homebrewers who quit their desk job, like I did 33 years ago, to pursue their passion for brewing," said Jim Koch, founder and brewer of Samuel Adams. "We updated our successful LongShot contest to not only recognize top homebrewing talent, but also to support the growth of the craft beer industry by providing nuts and bolts advice and hands-on experience to make their brewing dreams a reality. We know the next generation of great craft brewers is out there and just need the extra support to go from a homebrewing system in a garage to a professional brewhouse."