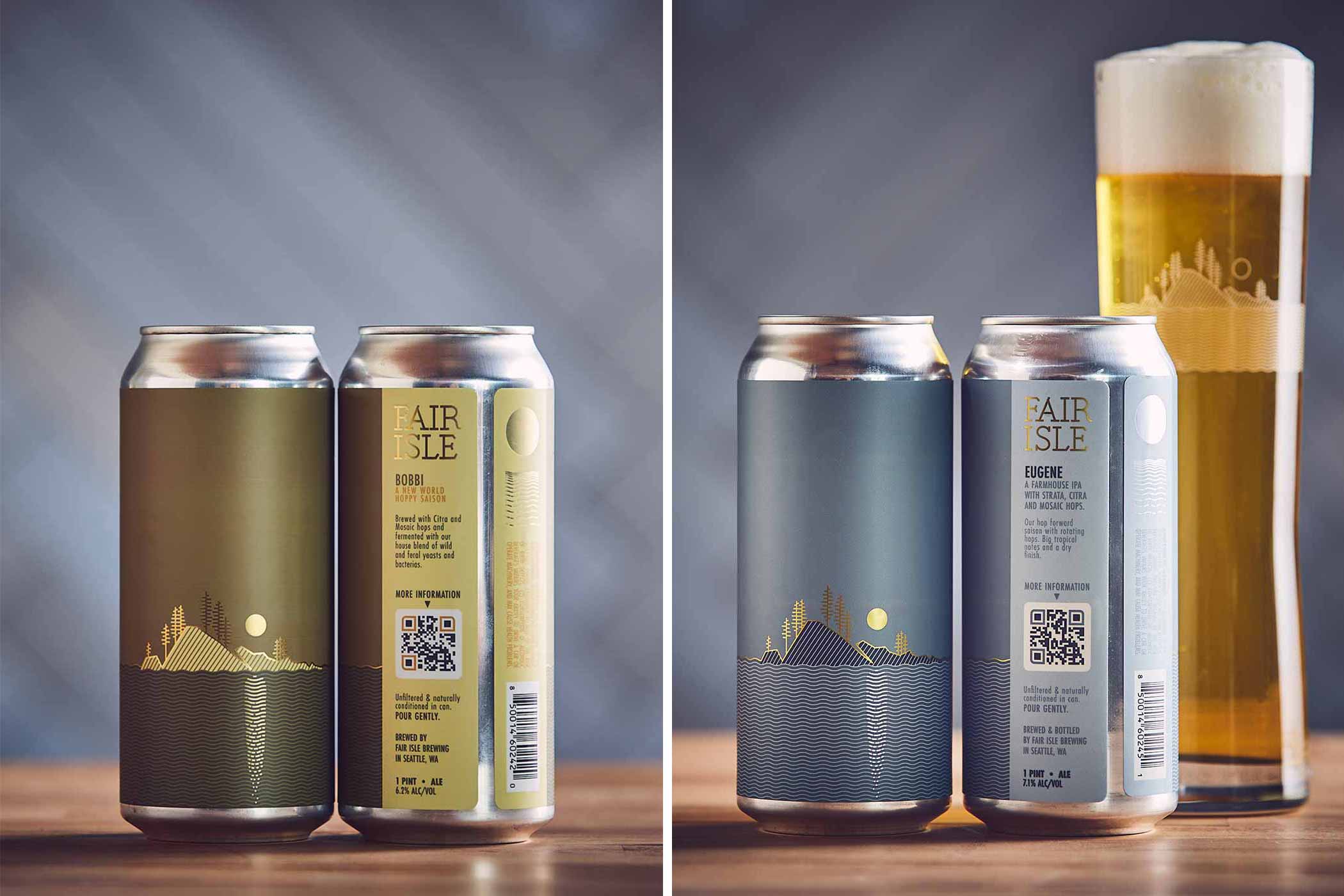 Photography courtesy of Fair Isle Brewing
Spend mere moments chatting with Fair Isle Brewing Co-founder Andrew Pogue and R&D Brewer Matt Rowe and it's almost like they've opened up a door at the back of your wardrobe. But instead of walking into Narnia, you take a step into this Seattle-based brewery's own magical backyard.
There, words like sustainable, patience, and terroir grow on trees.
And ingredients like wild blueberries, foraged fir tips, and local Yakima Valley hops flourish in abundance.
In the fields of Fair Isle, the concept of a beer stretches as far as the eye can see.
Although this sounds like a fantasy, we promise you the best part about Fair Isle is that it actually exists.
And they're brewing some of the most exquisite mixed-culture saisons across the country.
Who Is Fair Isle?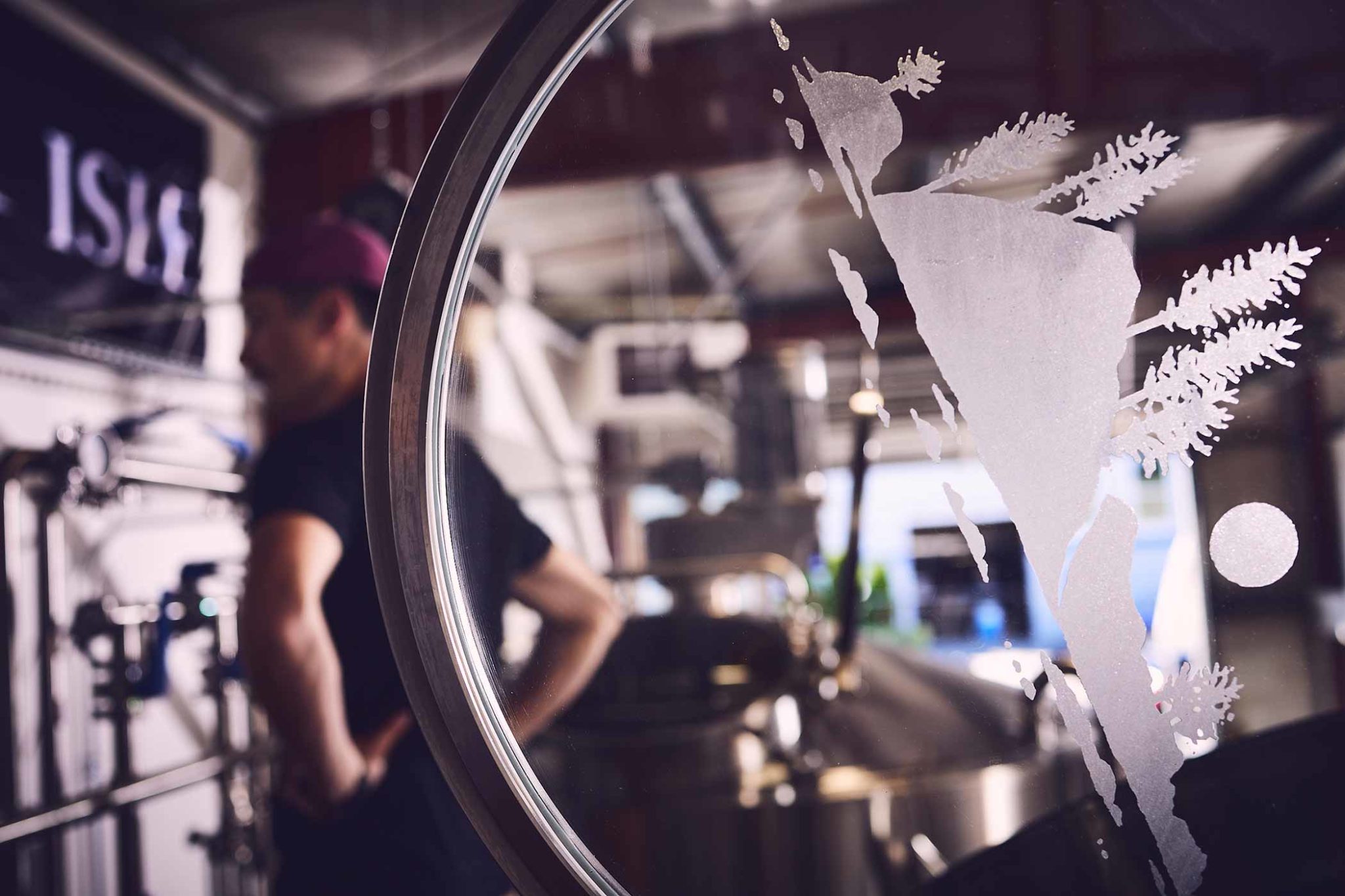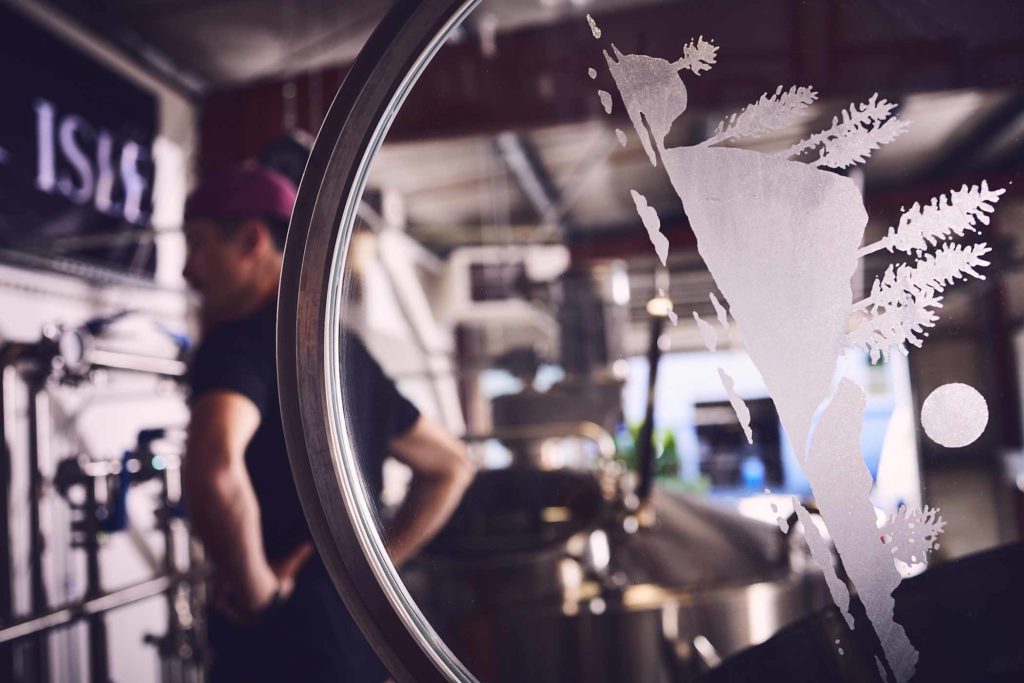 A brewery that specializes in mixed-culture saisons, Fair Isle's philosophy honors the beautiful malt, hops, and ingredients (some foraged and almost all local) of the Pacific Northwest.
It's a belief—scratch that—almost a fierce pride that I can hear in Pogue and Rowe when they talk about Fair Isle.
And that I can taste in all of their beers.
The brewery almost immediately caught our attention when they opened in January 2020. Their thought-provoking and impeccably crafted farmhouse ales have continually impressed us in only a short amount of time.
Quite simply: They're stunning.
You don't have to take our word for it, but it also couldn't hurt. Last year we named Diane, their imperial saison with blueberries and foraged fir tips, one of our "21 Best Beers We Drank in 2021."
It's no coincidence that Fair Isle's elegant, harmonious saisons have landed on many of our 'top' lists over the years. For instance: "The 20 Best Beers to Drink in Summer 2022," "20 Best Beers to Drink in Spring 2021," and "The 20 Best Beers to Drink in Summer 2020."
Obviously, they're doing something right.
But it goes beyond that. Fair Isle aren't just "doing something right."
They're brewing beer with an eye on patience, terroir, and intentionality.
"The brewery is all about making nuanced and simple saisons with our house culture, wild yeast, and bacteria, taking advantage of everything that grows around here," says Pogue.
That means forged fir tips in the aforementioned Diane; malt from local maltsters; hops from one of the best hop growing regions on the planet right in their backyard.
And it means re-pitching a house-cultivated wild yeast between batches of beer.
Being Shepherds of Wild Yeast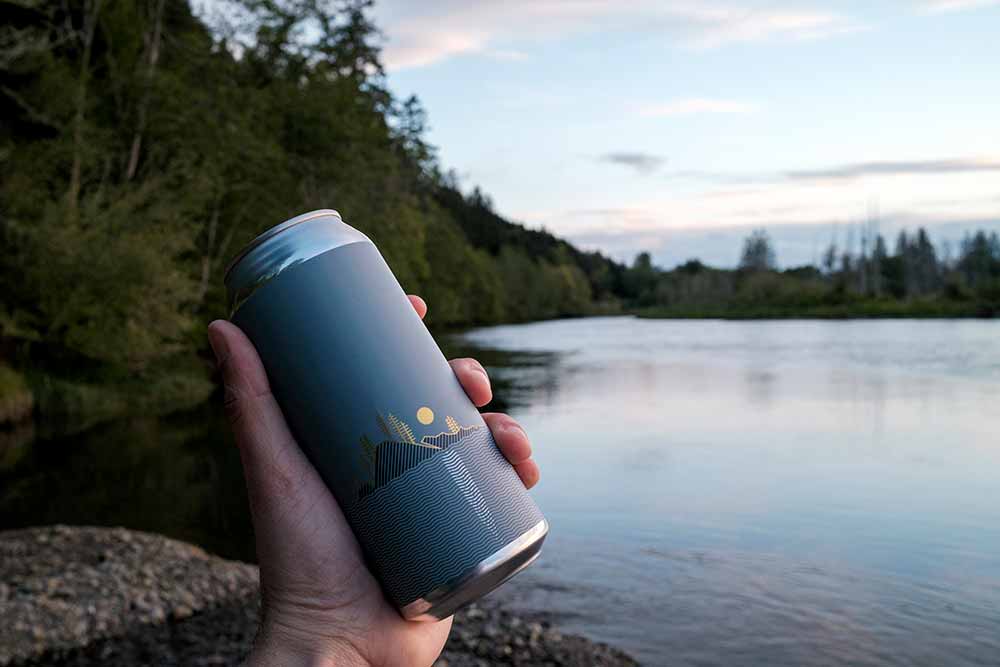 To create a sustainable ecosystem within the brewery, Fair Isle harvests and re-uses its yeast from one batch to the next.
"We call it pitching cone to cone," says Rowe, who likens Fair Isle's process to nurturing a sourdough starter. "Every time we're making a new beer we're feeding that culture."
At this point, Rowe speculates that they're on "a couple hundred generations."
The result?
A yeast that gives off tart but not sour notes, with floral, citrus, apricot, and peach characteristics.
"We see ourselves as shepherds of our wild yeast," says Pogue. Meaning at Fair Isle they've taken great care to dial the process down to a science.
Rowe can't just pull the yeast from any batch of beer. He needs to take into account the gravity of the original batch, yeast vitality, the age of the batch, and any special ingredients that might accidentally impart flavors on the next batch.
"We're pretty dialed in and stringent about what we're harvesting from to produce similar beers and to be able to harvest from that beer down the road," says Rowe.
It's a delicate balancing act, requiring a deft hand and a certain level of skill.
And yet, it's also an art.
"We love the art behind it," says Pogue. "Like people in the wine industry get excited about a Chardonnay, everyone who works here gets excited."
That balance of science and art is perhaps no more perfectly on display than with Fair Isle's duo Bobbi and Eugene.
Because Eugene uses both the spent yeast and the spent hops from Bobbi, there is no Eugene without Bobbi. Together the two beers poetically encapsulate everything the brewery believes.
First, Bobbi: A Dry-Hopped Saison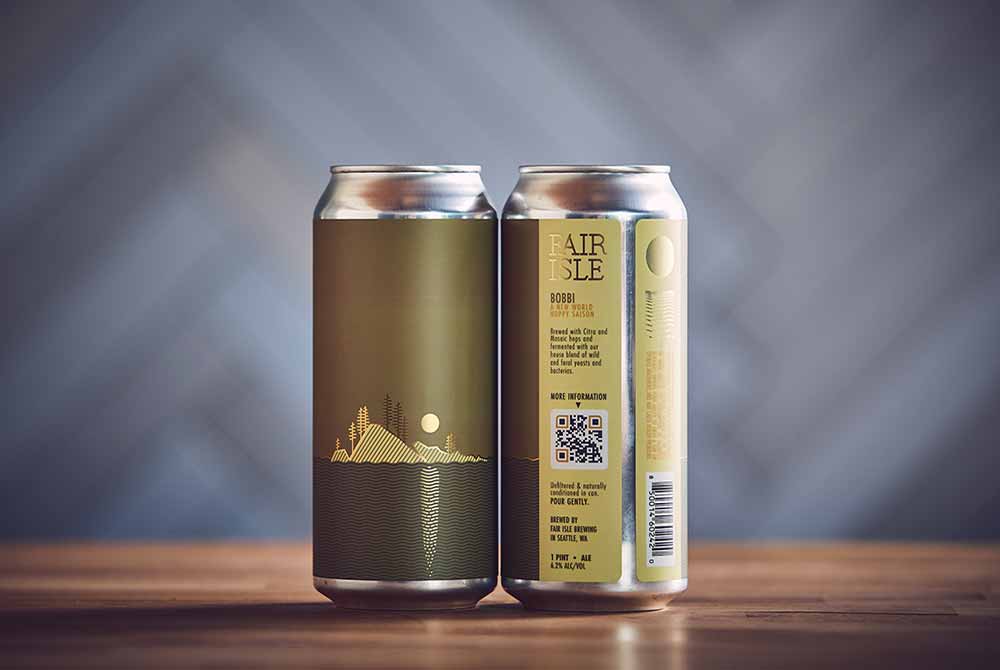 Although known for their crisp saisons, Fair Isle took a slight bend in the road with Bobbi, leveraging local hops.
See, when Fair Isle opened about two and a half years ago, they didn't want to be like the twenty other IPA-focused breweries just down the road. Meaning they don't currently brew a traditional IPA. But they do recognize that hops "are still king in terms of people's palates," says Pogue. Especially those from right around them in Yakima Valley.
"As a brewery we wanted to have our version of that so when customers come in and ask for an IPA or something hoppy, we have a gateway to introduce them to our saisons," says Pogue. "Bobbi is [that beer] when someone wants something hoppy that satisfies that niche, but also adds something to the picture and starts a vocabulary around our process and flavor profile."
To accomplish that, Rowe starts with a grain bill almost identical to their house saison. Basically, Bobbi gets an 80/20 split of Skagit Valley Malting (SVM) pils and white wheat, respectively. (Although in the latest batch of Bobbi, Fair Isle did play around with incorporating a bit of SVM pale malt for a 70/15/15 split, respectively).
To give Bobbi a dose of hops, Rowe adds Simcoe, Citra, and Mosaic in the kettle along with whirlpool additions of citra and mosaic—a total of one pound per barrel, "which for us is a lot of hops," says Rowe.
And ultimately, it's that combination of hops that first sparked the idea for Eugene.
Next, Eugene: An Evolution of Bobbi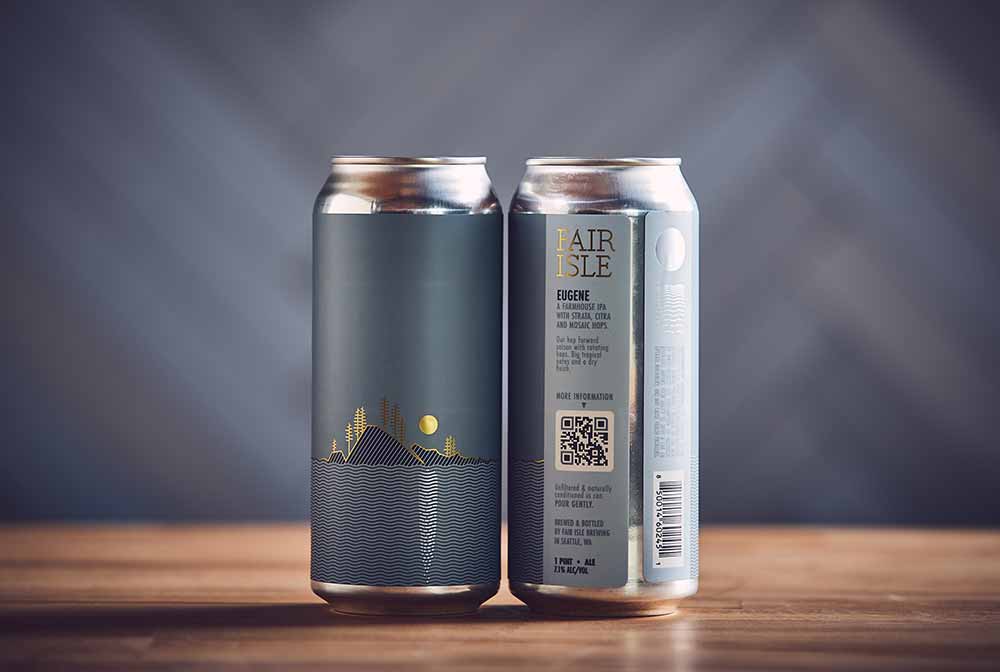 Consider Eugene an evolution of Bobbi, a rotating series of beers that uses both the spent yeast and spent hops from Bobbi. It's an idea the Fair Isle team kind of stumbled onto accidentally by following their noses.
"The first time we made Bobbi, we were dumping the cone and were just blown away by the aromatics and how the tank smelled," says Rowe. "We all kind of wondered: Are we not getting the full utilization of this dry hop? And how could we do that?"
Brains started churning.
Fair Isle came up with the idea to experiment knocking out on top of spent dry hops. A bit of research into what this method might look like came up with a study performed by Oregon State University where they looked at lots of Amarillo, Cascade, and Centennial. The study discovered that those spent hops retained seventy-seven percent of their alpha acids and fifty-one percent of their essential oils.
In other words, these spent hops still retained a good amount of the goodies that give hops their characteristic aroma and flavor.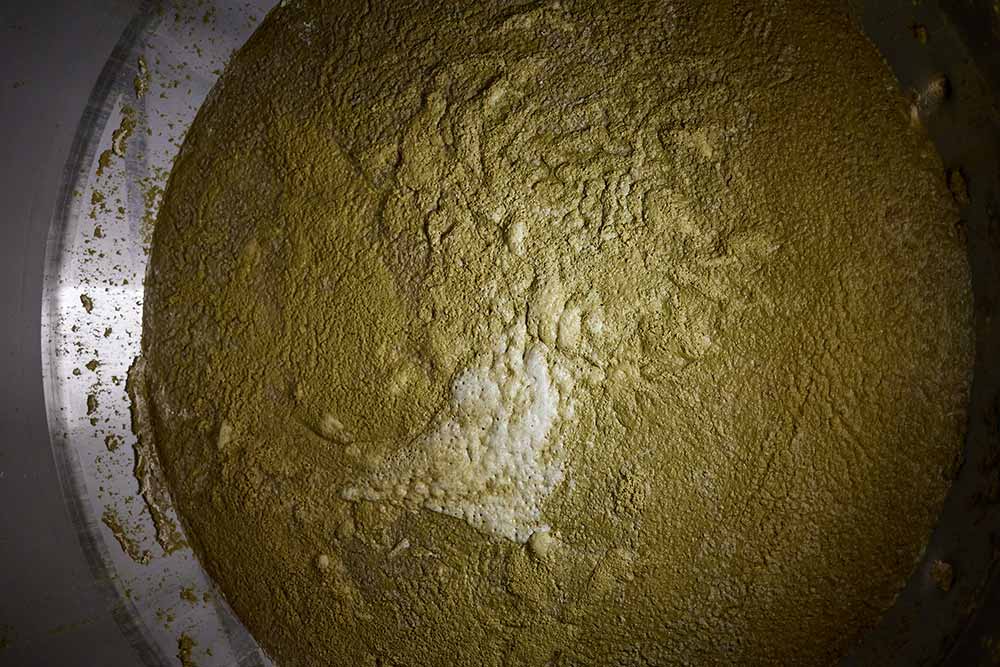 So to make Eugene, after brewing Bobbi, Rowe simply doesn't clean the tank, "because we don't want to disturb that hops and yeast slurry," says Rowe. Instead, he leaves all that matter brimming with aromatics.
The very next day, he'll brew Eugene, knocking out directly on top of the spent hops and yeast from Bobbi. "Next day, we come in and it's the best smelling day in the brewery," laughs Rowe.
At that point, "we're just being shepherds of the culture, monitoring it, and letting the beer go through its fermentation," says Rowe.
Six weeks later, to top things off, Fair Isle includes an additional dry hop in Eugene, rotating one single hop in for every new batch.
For instance, now on its fourth iteration, the latest batch of Eugene included a dry hop with Strata.
It's a technique that again allows Fair Isle to embrace hops. But through their own lens.
Previous batches have included Citra, Nelson, and Sabro, respectively.
At the time of publication, Fair Isle had a fifth batch of Eugene in the tank featuring a dry hop with Amarillo and Motueka, the first variation to include two hops.
Why Brew This Way?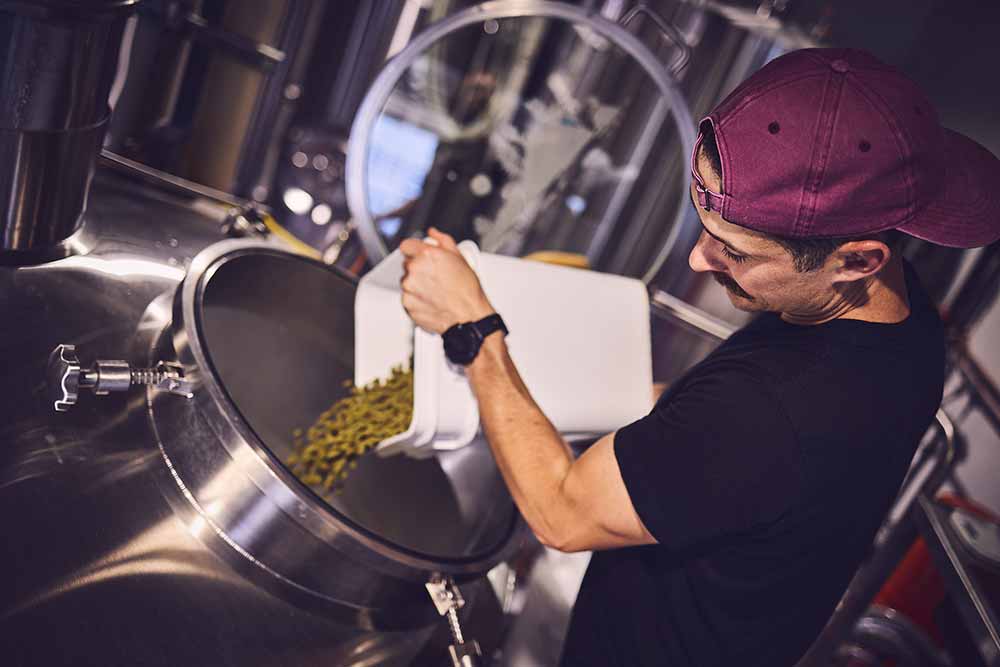 Romantically, we love the idea of making a new beer from an old beer. Rowe may have hit the nail on the head when he likened re-pitching yeast to cultivating a sourdough starter. And Eugene takes that a step further by repurposing used hops.
But this methodology has practical benefits as well.
According to Rowe, Fair Isle saves between 10 to 15lbs of kettle addition hops for a 30BBL batch of Eugene.
Assuming an average price for hops of $15/lb, Rowe calculates that Fair Isle could be saving anywhere from $750 to $1,125 on hops over the course of five batches of Eugene. He says if you add in savings from using less water and chemicals (because they don't clean the fermentation vessel in between batches of Bobbie and Eugene) along with labor costs, then the total savings could reach around $1,500 or $300/batch.
Sounds like a win-win. So why aren't more breweries exploring spent hops more?
"I'm really surprised we don't see it more often," says Rowe, who has been trying to convince brewers to give it a try.
After all, these tactics aren't just for show.
"It's a fun process that makes this beer unique…but at the same time, it has environmental impacts because we don't have to clean and flip the tank; we're saving money on the hops; it comes with all these benefits and makes a pretty cool beer," says Pogue.
Bobbi and Eugene are two exquisitely beautiful beers. And we're just thankful Fair Isle had the foresight and ingenuity to brew them.
Tasting Through Bobbi
Here's what we love about Bobbi: You're getting a saison at it's core—crisp, dry, refreshing—and yet it's tinged with everything we love about Pacific Northwest hops—citrusy, piney, and a little dank.
"To me, up front I get that aromatics, just that dank, caddy thing from Mosaic and slightly blueberry flavors as well," says Rowe. "It finishes with more Citra qualities of citrus, grapefruit, and, like all of our beers, finishes bone dry."
For Pogue, Bobbi drinks a little bit cleaner and with less acidity than a typical saison. "Because it's heavily hopped, the acidity is really down," says Pogue. "It's still really dry…there's a hint of tartness…[along with] Meyer lemon and herbal notes from our house culture."
All characteristics that you will see pop up in Eugene, but with a twist.
Tasting Through Eugene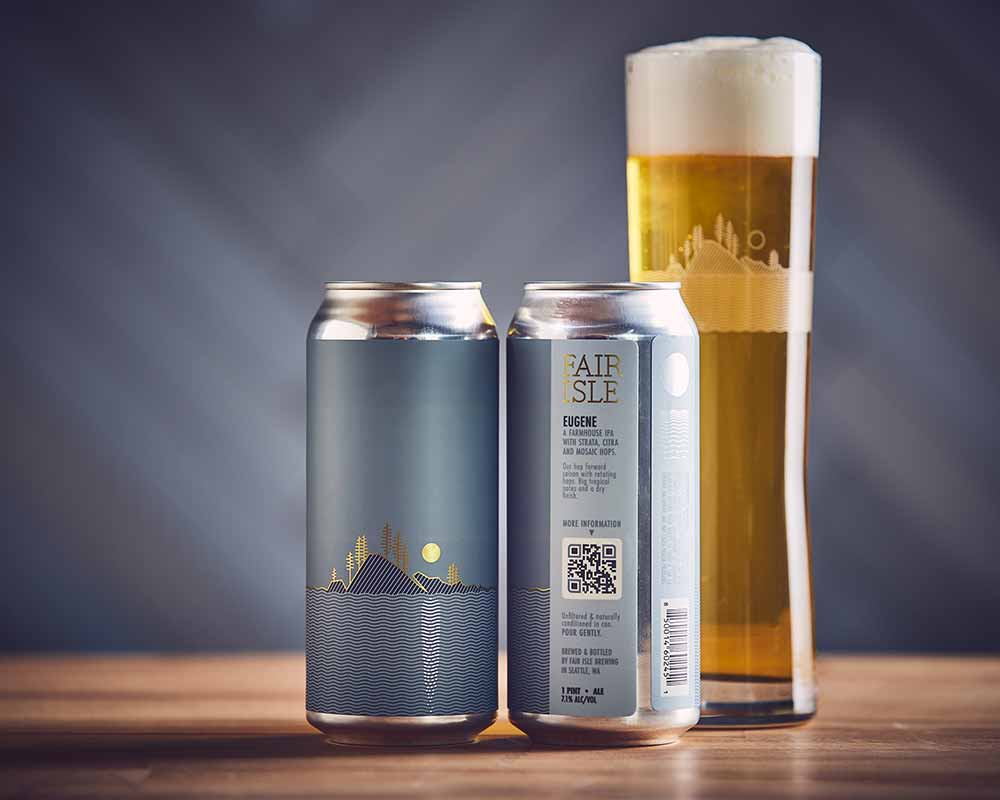 Somehow with Eugene the aromas from the spent hops almost seem to amplify the beer.
"To me, the aromatics jump out of the glass," says Rowe, who was particularly blown away by the most recent iteration that featured a dry hop with Strata. "This one to me gets more candied orange like tangerine."
A bigger beer that clocks in closer to 7% ABV, Eugene has "a little bit more perceived sweetness and body to it, which balances the hops and makes them more familiar, like a hazy IPA route," says Pogue, who notes that Eugene does appear a tad cloudier than Bobbi.
When we tried it ourselves, we immediately noticed light, almost lemon meringue-like aromas. On the sip, Eugene presents a lot of those aromatics first. Almost a very crisp pine floor or whisper of hay gives way to very bright bursts of orange creamsicle and lemon verbena.
Finishing dry, we immediately want to take another sip.
And that in and of itself is part of the Fair Isle ethos: to keep you coming back every day to drink a saison again and again.
The Future of Fair Isle: Making Saison an Everyday Beer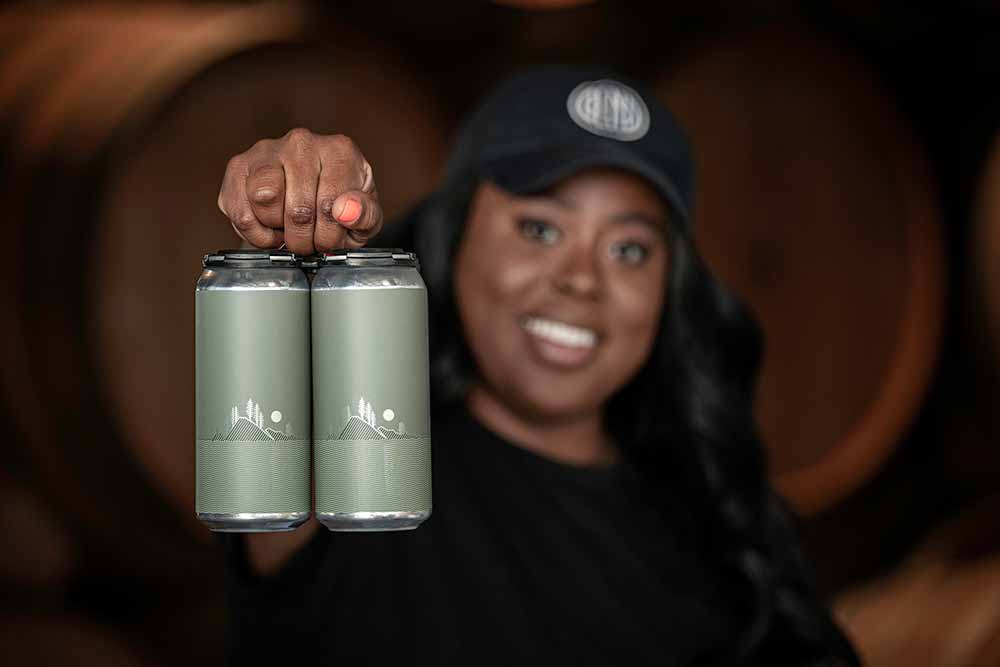 For Fair Isle, the future means continuing to champion saison, especially by making it more approachable.
And that starts with putting saisons into cans.
While Pogue packages some of Fair Isle's beers in bottles, a majority are actually getting put in cans
"We view our beers in two families: those meant for appreciation and those meant for drinking," says Pogue. "Some are for celebration, but you should also be able to drink a saison everyday."
That latter part meant finding an approachable way to package their beers.
Not only are cans more sustainable, but they help Fair Isle hit a lower price point for the consumer. But canning saisons is a tricky business since the yeast is still alive and fermenting in the can. For that reason, Fair Isle holds the cans for five to seven weeks while they condition. All told, from beer to glass, it's about three months before a Fair Isle saison makes it into your hands.
But in the end it's worth it.
"As a company, we're really excited about where cans bring saisons into the ethos of customers," says Pogue. "A lot of people see saison as unapproachable or pretentious, so the cool thing about these cans is that it shows these beers in a new light."
Because for Pogue, at Fair Isle it really all boils down to this: "As a brewery, the more people who can enjoy saisons means that more people will enjoy saisons."
And in Fair Isle's fairy tale brewery, that's the ultimate reality.