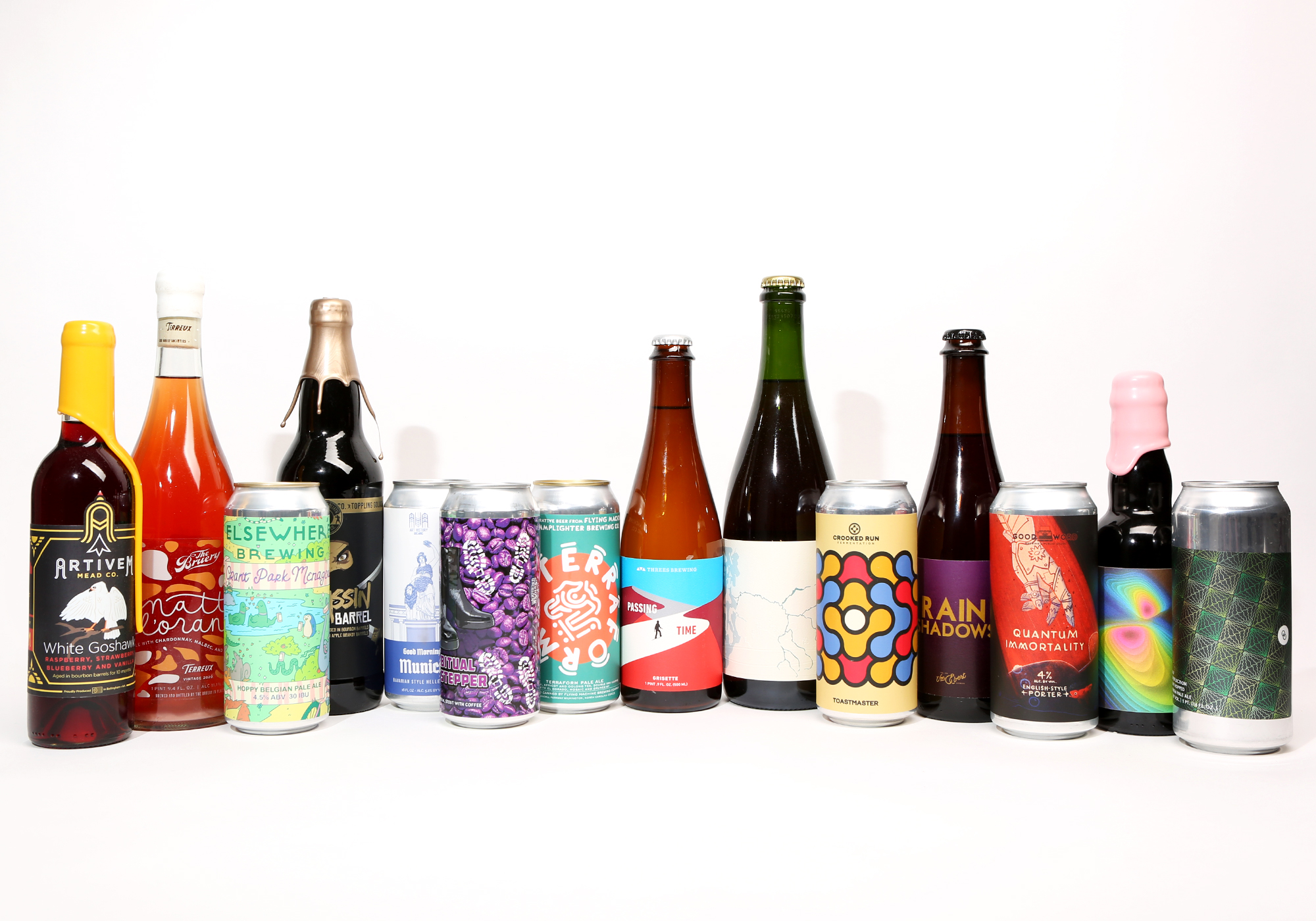 Photography courtesy of John A. Paradiso
Could this be our most exciting piece of the year? While we love putting together the best breweries of 2021, the best new breweries of 2021, and the best beer labels of 2021, this is certainly one of the most incredible and humbling to write. Because in this piece, we look back on twelve months of tastings to round up the best craft beers of 2021.
In years past, the Hop Culture team has put this list together amongst ourselves. Between us, we'd revisit and share stories about the hundreds (or thousands!) of beers we tried during the year.
This year, we decided to call in the help of a few of our friends: Todd Alström of BeerAdvocate, a couple of our colleagues at Next Glass, Roman Estareja aka @theyoungcraftenthusiast, and Milan Freeman aka @gurl.lost. Each brings a unique perspective to this roundup!
With over 9,000 breweries open across the country and even more around the globe, it's impossible for us to drink everything. With that in mind, please note that the beers below are simply the best of what we could enjoy this year.
Did we miss a really rad release? Or a coveted bottle drop? Let us know! We encourage you to reach out to @hopculturemag or cheers@hopculture.com to tell us which beers or breweries we should be trying in 2022.
Below, we've listed our top choices for the best beers of 2021. The list appears in alphabetical order by beer.
The Best Craft Beers of 2021
Cornsch
Live Oak Brewing Co. — Del Valle, TX x St. Elmo Brewing, Austin, TX
Submitted by: John Gross – Content & Events Partnership Director, Next Glass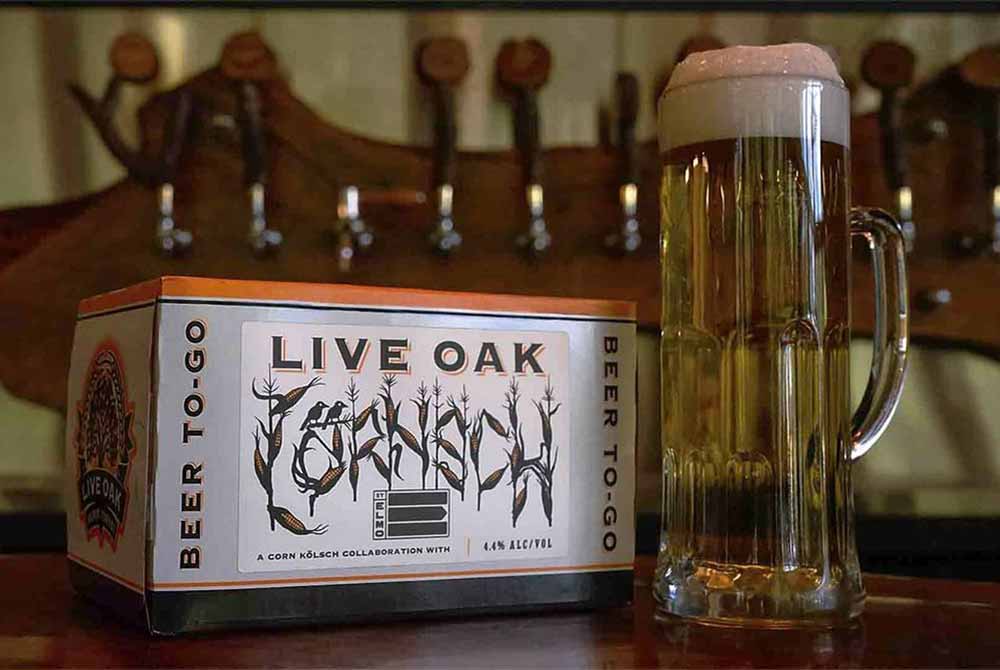 Kölsch – Austin has a wealth of top-notch beers to enjoy in the brutal summer heat. But when leading lager breweries Live Oak and St. Elmo collaborated on this krispy kölsch, the result became legendary.
Made at Live Oak using St. Elmo's famous Carl Kölsch yeast, Cornsch is hopped with nothing but the German Callista hop.
The light, zippy, sparkly joy of Cornsch features twenty-five percent corn grits. Additionally, a nice fermentation inside Live Oak's half-filled, horizontal tanks allow the white wine esters of the yeast to shine. I couldn't get enough of this thirst quencher and I hope it makes an appearance again in the summer of 2022.
Diane
Fair Isle Brewing — Seattle, WA
Submitted by: Grace Weitz, Managing Editor, Hop Culture and Founder of Beers With(out) Beards and Queer Beer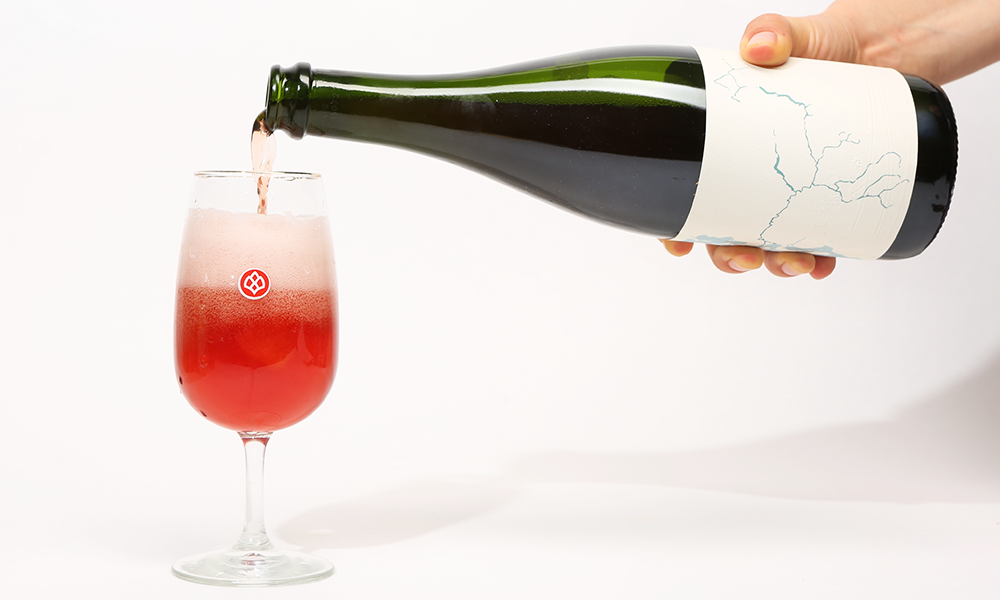 Imperial Saison – A brewery known for beautiful beers and even more beautiful labels (we named two Fair Isle beers to our 25 Best Beer Labels of 2021), Fair Isle Brewing is the creator of Diane. This Imperial saison features blueberries and foraged fir tips for a clean, elegant beer packed with the terroir of the Skagit Valley.
To make this beer, Fair Isle collaborated with Washington Wild, Skagit Valley Malting, Yakima Chief Hops, and Bowhill Blueberries — and fittingly, a portion of all draft and bottle sales are being donated to protect the Skagit Valley watershed.
The beer includes ingredients like barley grown in the Fraser Valley of British Columbia, blueberries from Bow Hill farm, and foraged conifer tips from a farm overlooking the Skagit River.
This is a poignant beer with an even better mission.
Double Barrel Assassin
Toppling Goliath — Decorah, IA
Submitted by: Roman Estareja – @theyoungcraftenthusiast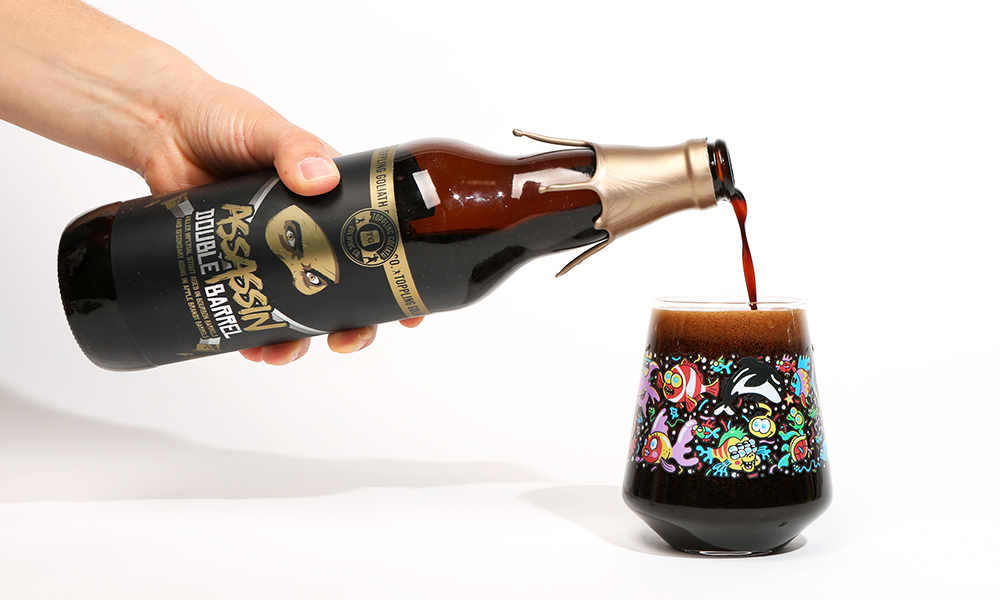 Imperial Stout – Double Barrel Assassin takes the cake as one of the best beers I've had all year. The subtle apple brandy meshed with Toppling Goliath's world-renowned mouthfeel and viscosity to make this an absolute winner. It has an incredible depth of flavor, chewiness, and, of course, balance.
This beer checks all the boxes, leaving little to be desired. If you're able to get your hands on a bottle, you surely won't be disappointed. Just make sure to share it in good company.
Double Dry Hopped Diamond Reflection
Other Half Brewing Co. — Brooklyn, NY
Submitted by: John Gross – Content & Events Partnership Director, Next Glass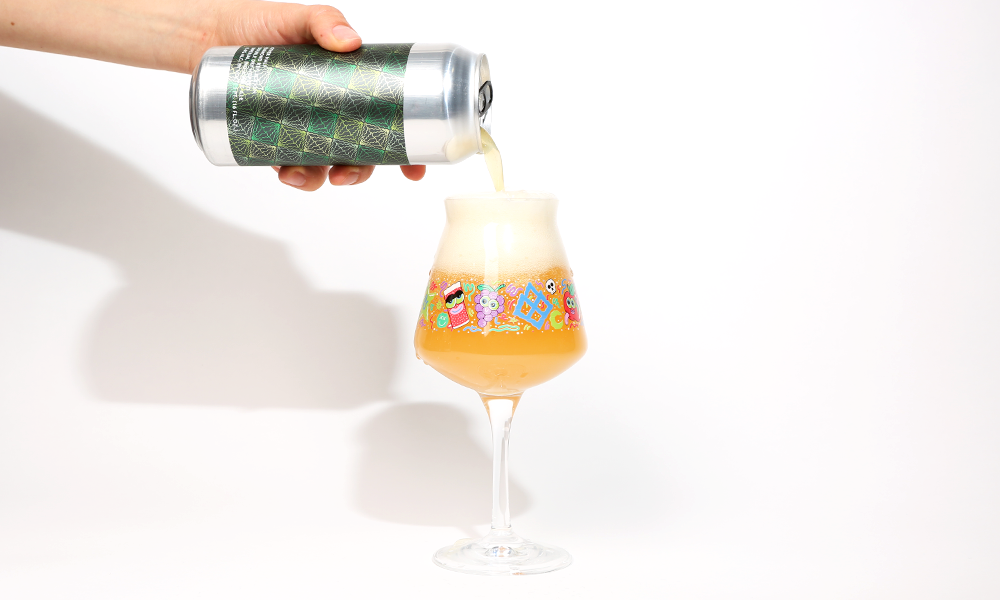 Imperial IPA – I admittedly place Other Half on a bit of a pedestal. In fact, a few years ago, I had such a good experience at their taproom that they've made me a lifelong fan. When New York friends visit me in Texas, I always have them smuggle down some beautifully-designed OH tallboys.
Because of COVID, there was a lot less bootlegging the past couple of years. As a result, I've missed Other Half and have just been drooling at the pretty labels on Instagram for too long.
That finally changed when I got my hands on Double Dry Hopped Diamond Reflection. This juicy, stonefruit-y, vanilla-y winner was a cut above the rest. Designed with Mosaic, Idaho 7, and Cashmere, the Australian Galaxy hop flavors are at the forefront. Citrus, peach, pineapple soda all crush, groovin' on my palate.
Months later, I'm still infatuated with this 8.4% ABV bliss. Other Half is forever.
Enchiridion
Pure Project — San Diego, CA
Submitted by: Grace Weitz, Managing Editor, Hop Culture and Founder of Beers With(out) Beards and Queer Beer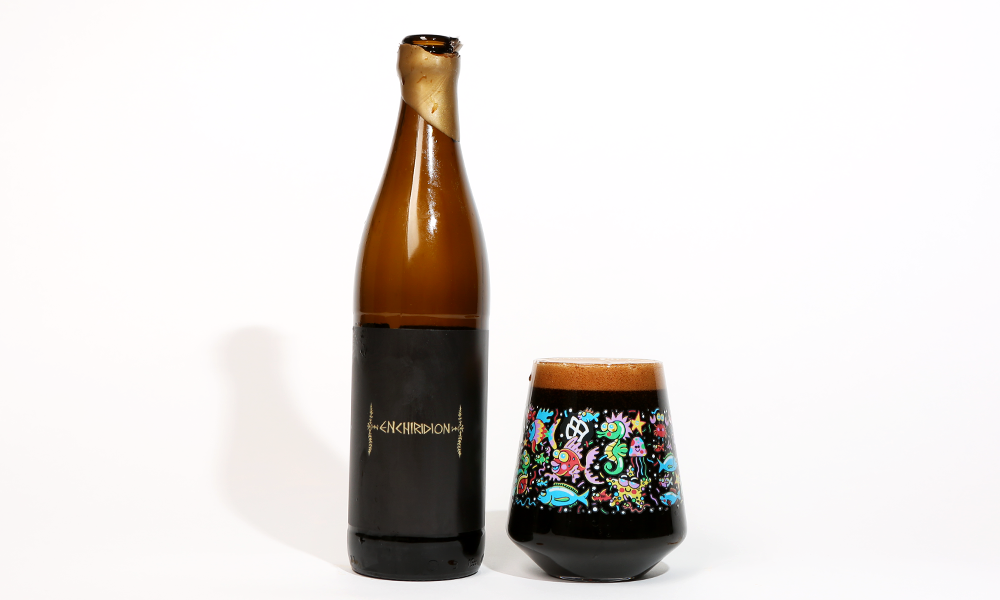 Reserve Imperial Stout – Admittedly, I don't drink an overwhelming number of stouts. Except leading up to International Stout Day, when we tried twenty-one of the best stouts in the country.
But when Pure Project sent me a bottle of what they described as a stout made using Méthode Traditionnelle, I was immediately intrigued. If you didn't know, "Méthode Traditionnelle" is a term used to describe spontaneously fermented, lambic-style beers made outside the historic Zenne River Valley in Belgium — only beers produced there can actually be called lambics.
As I sipped, I tried to wrap my mind around the concept of a spontaneously fermented stout. But couldn't! So I let my tongue do the enlightening instead.
A blend of single, double, and triple bourbon barrel-aged stout, Enchiridion is a study in the perfection of barrel-aging. Think of this beer more like a bourbon. Layers of complex flavors from the barrel slowly seep through each sip. Tangy tannins, toasted oak, rich honey, deep vanilla, and robust dried fruit all blend together seamlessly. Quite frankly, I've never tasted anything like it.
This is a memorable beer, best for sipping during celebrations or for breaking out on that one special occasion. Like when you're writing a best beers list of 2021.
Good Morning Munich
Art History Brewing — Geneva, IL
Submitted by: Grace Weitz, Managing Editor, Hop Culture and Founder of Beers With(out) Beards and Queer Beer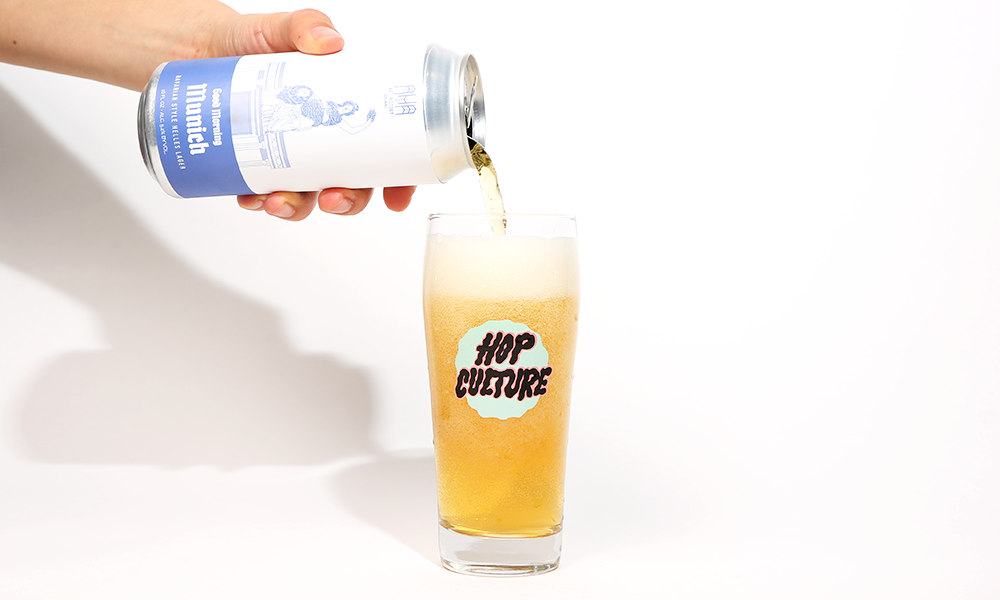 Helles – Specializing in traditional European styles like Czech and Bavarian lagers as well as hop-forward American IPAs, Art History Brewing Co. is an amalgamation of Co-Owner Tom Rau's journey. After traveling to Munich to study at the Siebel / World Brewing Academy, Rau graduated with a Diploma in International Brewing Technology before bringing his expertise to downtown Geneva, IL. There, he and his wife teamed up with the uber-talented Greg Browne, now the head brewer at Art History, to bring the brewery and the beers to life.
I'm a lady who loves her lagers, so when Britt Burke from BeerAdvocate told me about this brewery, I knew I needed to try some of their beer. My favorite so far has been Good Morning Munich, a 5.2% ABV helles made with Bohemian pilsner malt and Hallertau Mittlefrüh hops.
The brewing experience of Rau and Browne really come through in this beer. Extremely well-balanced with a slight maltiness and super subtle yet prickly hop character, Good Morning Munich is an excellent representation of the helles lager style. Give me a stein of this and I'm set.
Grant Park Menagerie
Elsewhere Brewing — Atlanta, GA
Submitted by: The Hop Culture Team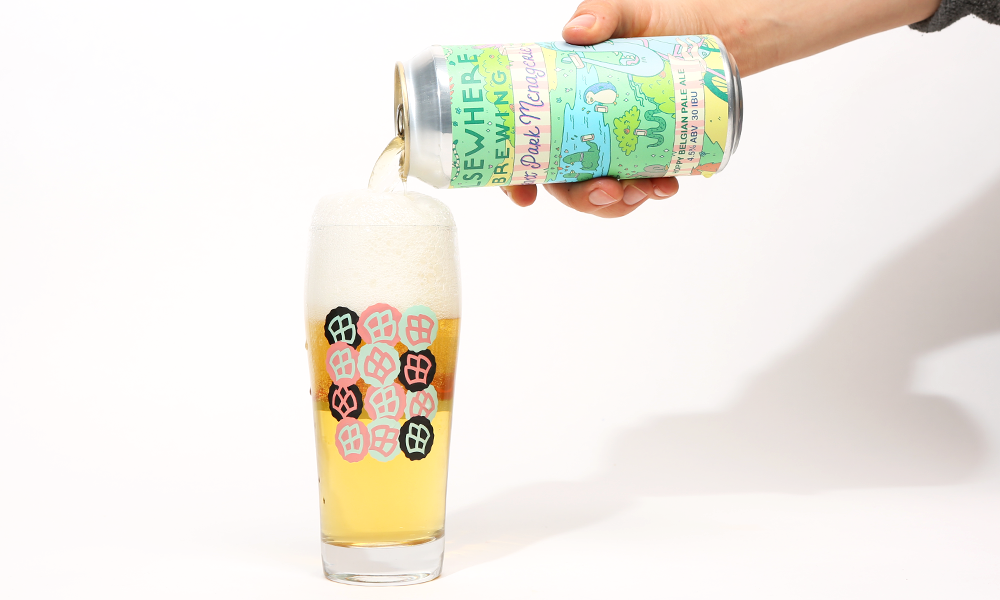 Belgian Blonde – We've had Elsewhere Brewing on our radar since early last year, when we named the Georgia-based brewery one of our 10 best breweries to watch in 2021. So, it's no surprise to see one of Co-Founder's Sam and Sara Kazmer's beers pop up on our list of best beers of the year.
Typically, a menagerie is defined as a strange or diverse collection of people or things. And this beer certainly fits the bill. Part German lager, part British ESB, and part Belgian single, Grant Park Menagerie combines a few amazing European beer types into one fantastic beer.
Light, citrusy, and refreshing, Grant Park Menagerie's smooth, dry finish encourages you to take sip after satisfying sip.
Additionally, the brewery donates a portion of this beer's proceeds to the Grant Park Conservancy. As the story goes, in 1889, a traveling circus brought a variety of animals to Atlanta. Several months later, these animals became the first residents of the original Atlanta Zoo in historic Grant Park.
Habitual Line Stepper
Weathered Souls Brewing Co. — San Antonio, TX
Submitted by: John Gross – Content & Events Partnership Director, Next Glass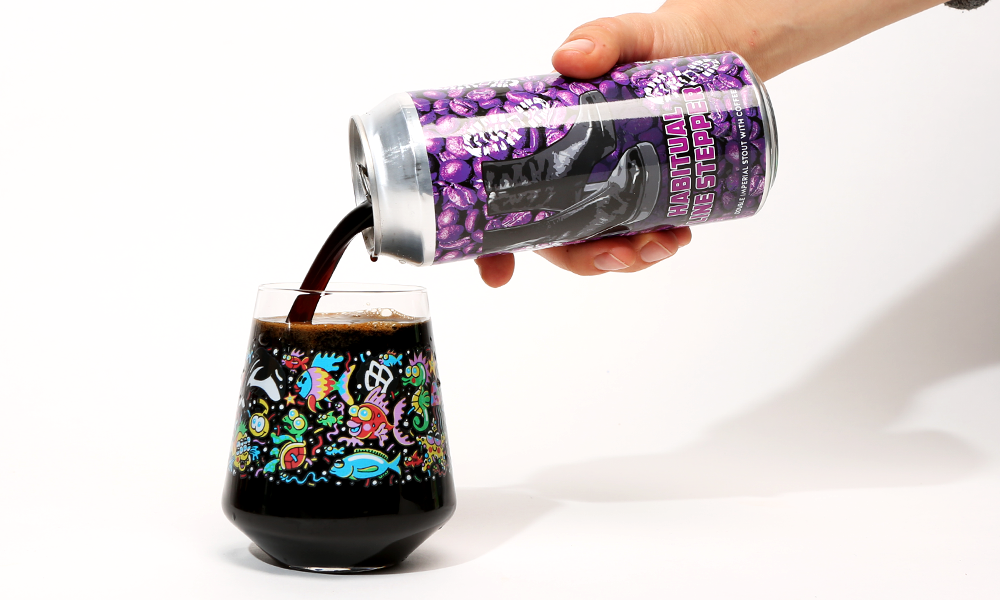 Imperial Stout – For those of us working at Untappd Fest in San Diego, it was both fun and exhausting. One day in between sessions, an impromptu gathering of brewers and vendors congregated to share bottles and cans. We told war stories from the fest and collectively caught our breaths.
As I was making my way back to my battle station, someone presented me with a striking purple can of San Antonio black gold: Habitual Line Stepper. A double Imperial stout with coffee, this is a big ol' 16oz tallboy, clocking in at 14.2 percent ABV. A tasting glass full was all I needed.
Okay, make that two tasting glasses.
This extravagantly beer gave me major cold brew coffee vibrations and was just what I needed to take on the next session of the festival.
Thank you to the generous fella who shared this with a stranger like me. The energy, the people, and the beautifully strong flavor made this an absolute highlight of the year for me. RIP Charlie Murphy and Rick James. And be sure to check out the new Weathered Souls Brewing in Charlotte!
Natty L'Orange
The Bruery — Placentia, CA
Submitted by: Grace Weitz, Managing Editor, Hop Culture and Founder of Beers With(out) Beards and Queer Beer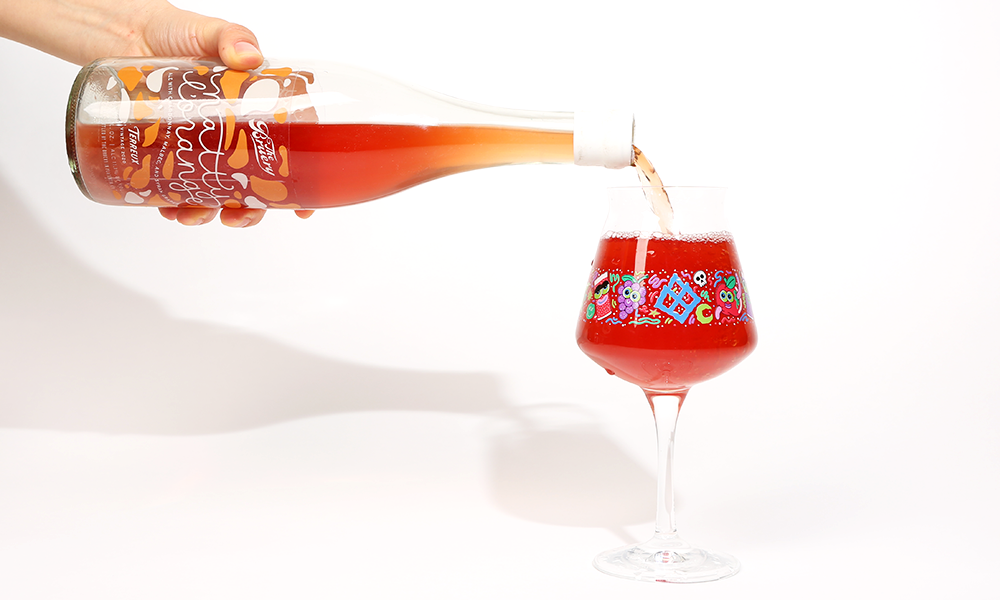 Wild Ale – I should preface this by saying that The Bruery was kind enough to send me an entire package of stunners, one of which was Natty L'Orange. The haul included Black Tuesday bourbon barrel-aged Imperial stout, Vanilla Villain bourbon barrel-aged Imperial stout with vanilla beans, Aloha Friday bourbon barrel-aged Imperial stout with toasted coconut and macadamia nuts, Black Tuesday port barrel-aged Imperial stout with Syrah grapes, and Conner's Cobbler bourbon barrel-aged Imperial stout with raspberries and Madagascar vanilla beans, among others. I mean, 🤯. Right??
So why did I cruise past those barrel-aged beauties for a clear bottle that looked more like an orange wine than a beer? Because this ale with Chardonnay, Malbec, and Syrah grapes was just. so. good. To put it simply: Another incredibly innovative beer.
With its cloudy hues of sunsetting orange and red, Natty L'Orange was interesting to look at. Uncorking this beer (yes, I said uncorking) releases aromas of pink peppercorn and white grape.
The Bruery used skin contact methods to extract pigments and tannins from the grapes. Meaning, once you pour this one, you get a wine-like effervescence with sparkling tartness and the perfect amount of underlying sweetness.
This beer is beautiful. Beautiful to look at. Beautiful to drink. And beautiful to behold. This is the bottle you bring over to impress all your wine-drinking friends.
Passing Time
Threes Brewing — Brooklyn, NY
Submitted by: The Hop Culture Team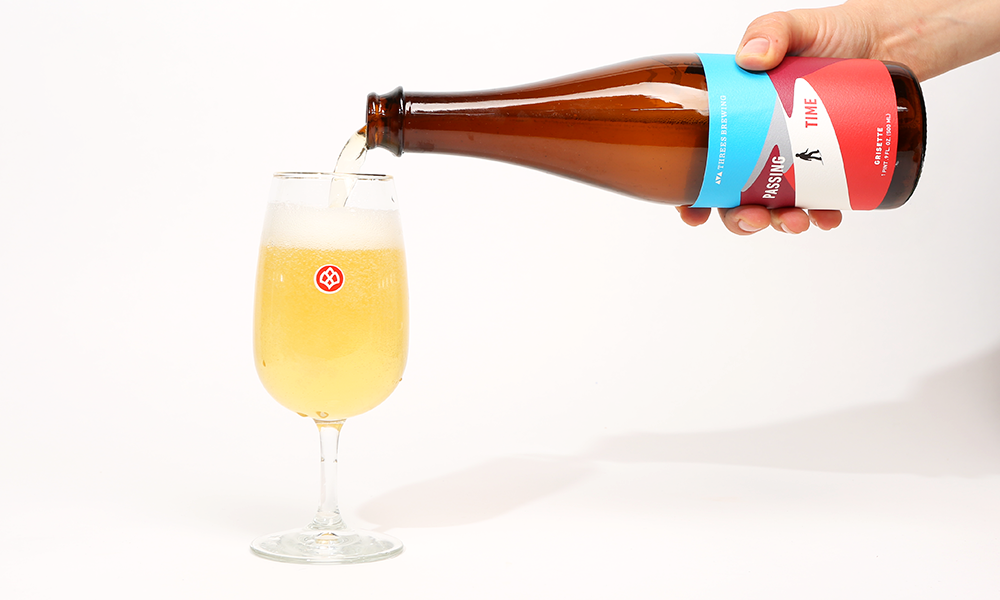 Grisette – We've written about Threes' beers many times in the past. And while this certainly isn't a new beer from Threes, Passing Time is one of our favorites. And after another tumultuous year, returning to an ol' classic seemed so right.
But you know what is new? This revered Brooklyn-based brewery recently expanded its distribution footprint to twenty states across the country. For the first time ever, folks outside of NYC can try everything from some of their best hazy IPAs to their award-winning pilsners and beyond. So now that you can most likely drink a Three's beer even if you don't live in New York, we had to highlight one of their best on this list.
We choose this Grisette because it represents a style we don't see very often. The winner of Best Overall Beer and Gold Medal in the Belgian Farmhouse category at the New York State Craft Beer Competition, Passing Time is Three's table beer saison. Aged in stainless steel for eight months with a bunch of different wild yeasts, this funky, zesty beer is a great one to drink with friends.
During a year when we finally returned to drinking with friends in real life, we can't think of a better beer to–forgive us–pass the time.
Quantum Immortality
The Good Word Brewing & Public House — Duluth, GA
Submitted by: Grace Weitz, Managing Editor, Hop Culture and Founder of Beers With(out) Beards and Queer Beer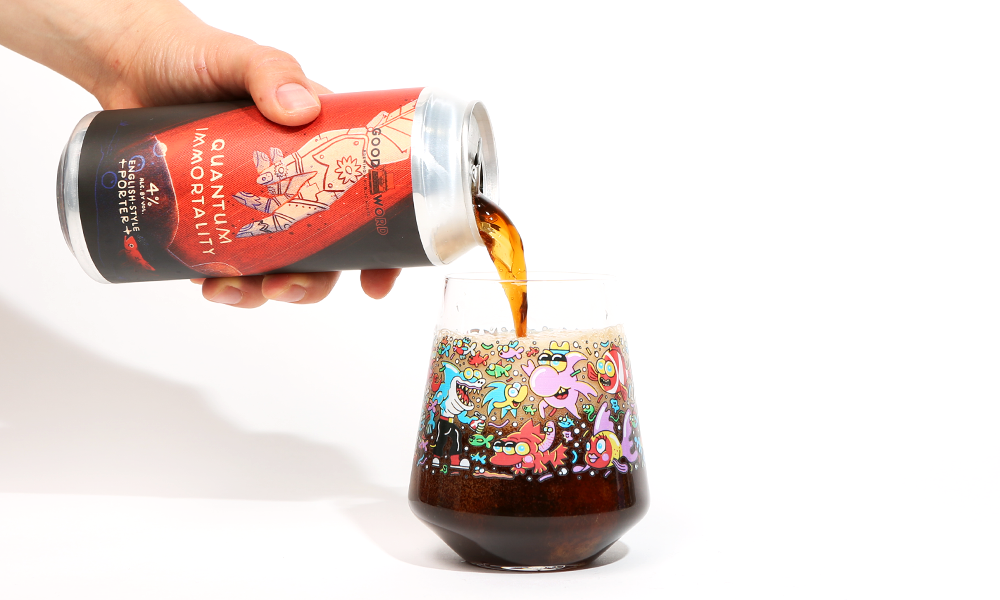 English Porter – What impresses us most about Good Word is the breadth of European lagers and ales brewed by Owner and Brewer Todd DiMatteo. However, it's the brewery's English porter that caught my attention a couple of months ago. Mostly because porters are such a very underrepresented style in beer and we don't see them on tap lists as often as we should.
Constantly in the shadow of their older brother, the stout, porters are excellent for fall. Or really any time of the year.
Quantum Immortality executes complex chocolate perfection with a velvety finish that goes down oh-so-smooth. This is a standout beer I always want in my beer fridge. And a beer like that absolutely deserves a spot on this list.
Rain Shadows
Von Ebert Brewing — Portland, OR
Submitted by: Milan Freeman – @gurl.lost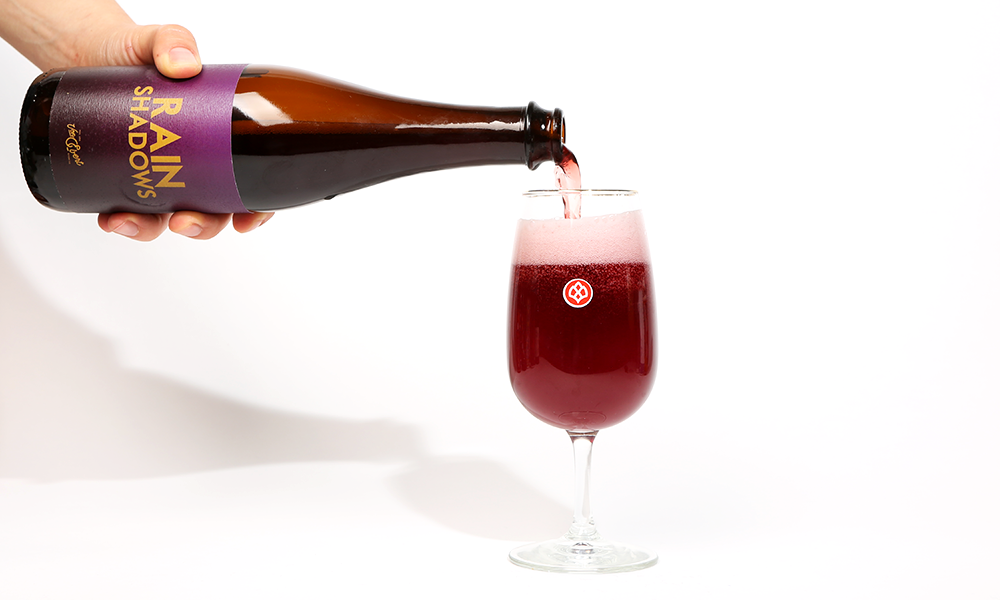 Grape Ale – I truthfully hadn't heard much about Von Ebert until I received a package from them back in May. They sent me two of their new releases at the time: a foudre-aged farmhouse lager and an oak-aged mixed culture beer. After tasting both, I'm eager to make a trip up to Portland, OR, so I can try more of their creations.
My favorite of the two was–hands down–the oak-aged mixed culture beer known as Rain Shadow.
Rain Shadow is fermented with Syrah grapes and has rich notes of dark cherries and black pepper. It's one of those rich, funky beers that made me want to slow dance and never leave the house (Don't judge me!).
Russian River Porter
Russian River Brewing Co. — Santa Rosa, CA
Submitted by: Todd Alström – Founder BeerAdvocate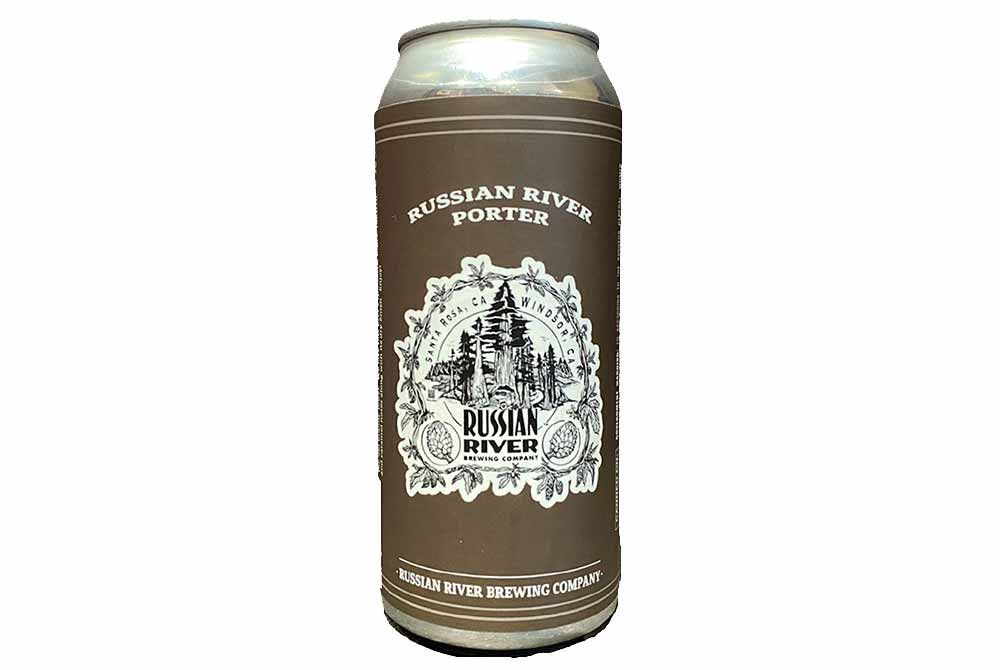 Porter – Best known for their Pliny and -tion series of world-class beers, Russian River is legend. But rarely do you hear about their first beer, Russian River Porter, which was brewed back in 1997. Probably because it was limited to draft-only at the pub, at least until they started canning during the pandemic.
The beer pours pitch black with dark ruby edges and a massive two-fingered, tan-colored head. You get light coffee, chocolate, tobacco, and dark bread on the nose. The palate is silky smooth with a medium body and some creaminess.
First sip brings brownies with slightly burnt edges to mind. Rich, malty sweet upfront with caramel, toasted malts, roasty bitterness, cocoa, chocolate, spice, black treacle, a little tangy, burnt, semi-acrid, smoke, and a bit of ashiness. Finish is bone-dry with some breadiness.
This is one of the best unadulterated Porters that I've had in recent years. A classic. It reminds me of Porters from the late 90s, which makes sense as this was the first beer that Russian River ever brewed.
So damn good.
Terraform
Flying Machine Brewing Company — Wilmington, NC x Lamplighter Brewing Co. — Cambridge, MA
Submitted by: The Hop Culture Team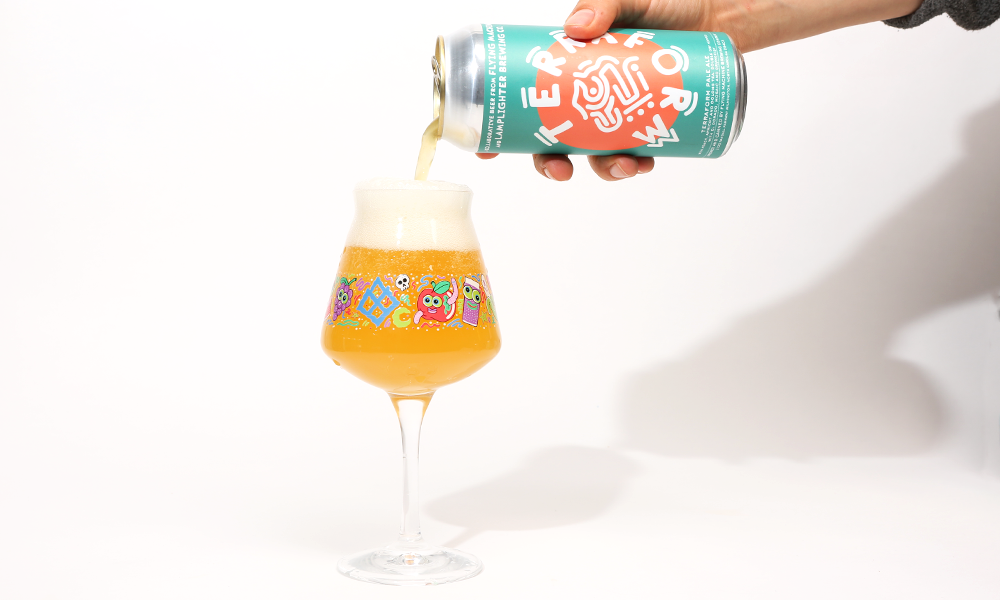 Milkshake Pale Ale – When it comes to beer we don't often see "milkshake" and "pale ale" in the same sentence. But in the expert hands of Flying Machine (one of our best breweries of 2021) and Lamplighter (one of our favorite breweries in Boston, MA), Terraform became pure magic.
This oat cream hazy pale got an extra dose of apricot and peach along with a nice nap on some milk oolong tea. The result? An fluffy, lush rush of flavor that rolled out the can like a red carpet.
Tart, creamy, and oh-so-dreamy, Terraform is perhaps best imagined by it's Untappd description, "it hits the tongue like a cool breeze in a warm orchard."
The Blue Peach
Crowns & Hops — Inglewood, CA X Black Calder Brewing Company — Grand Rapids, MI
Submitted by: Britt Burke, Co-Host Beers With(out) Beards and Manager of Event Ops, Next Glass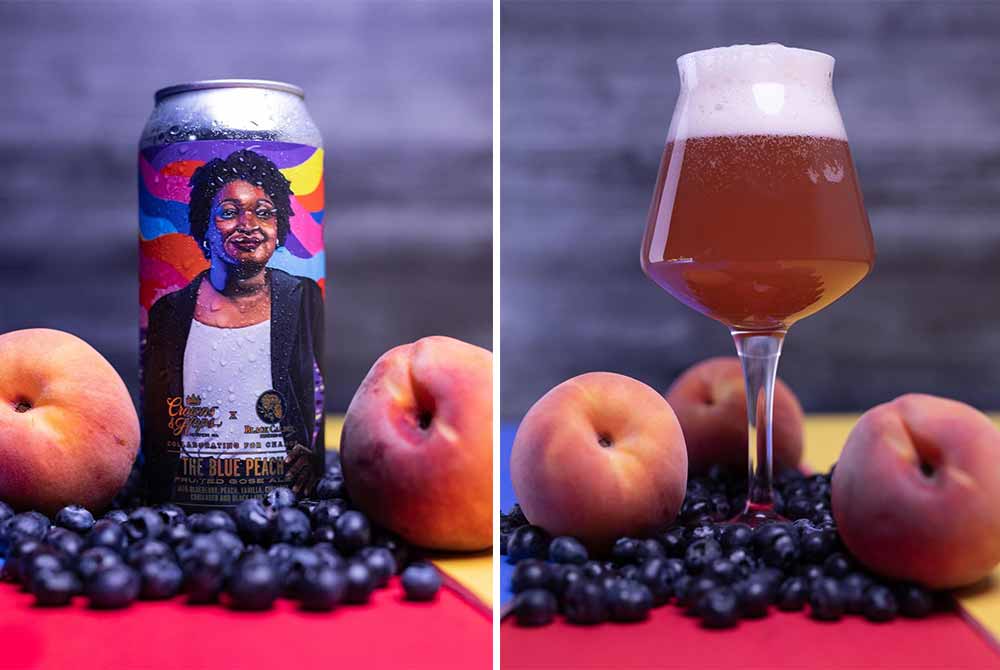 Sour – Fruited Gose – I'll be honest–I'm a huge Crowns & Hops fan. I've been fortunate enough to work with co-founders Beny Ashburn and Teo Hunter on two virtual festivals (BeerAdvocate's Extreme Beer Fest in Cyberspace and Hop Culture's Beers With(out) Beards) and their passion, dedication, and skill is evident in everything they do.
This beer is no exception and, from the moment I saw the can art pop up on my social media feed, I knew I had to try it. The beer itself would have been amazing if I was drinking it alone on my couch, but I was even more fortunate that I got to take my first sip in person with Beny and Teo themselves!
The Blue Peach is a Blueberry Peach Gose with graham cracker, vanilla, black lava sea salt, cinnamon, and coriander. Crowns & Hops brewed it in honor of Stacey Abrams and in collaboration with Black Calder Brewing Co. out of Grand Rapids, Michigan, for the Barrel & Flow Fest.
The beer itself is beautifully made with all of the ingredients in perfect balance and resulting in something that is delicious, refreshing, and very much a beer.
Even more refreshing is that a portion of the proceeds from the sale of The Blue Peach were donated to Fair Fight, an organization that works to protect voting rights.
Editor's Note: Crowns & Hops was named Hop Culture's Best New Brewery of 2020.
The Cabin
Fox Farm Brewery — Salem, CT
Submitted by: Britt Burke – Co-Host Beers With(out) Beards and Manager of Event Ops, Next Glass
Helles – If you've never tried a smoked beer, I highly recommend doing what you can to get your hands on this one. If you're a huge fan of smoked beers and have tried a bunch, I make the same recommendation.
The Cabin, Fox Farm Brewery's 5.3 percent ABV Smoked Helles Lager, is the perfect intro to smoked beers as well as a delightful addition to the landscape for the smoke aficionado.
While lots of smoked beers are described as "like drinking a campfire," The Cabin is more like drinking by a campfire. The smoke is there, but it's not overpowering. At its core, this beer is simply an outstanding Helles Lager.
I paired this beer with pizza (hard to go wrong there), but I could see it pairing perfectly with tacos, just about anything from the grill, tasty cheeses, and (hear me out) chocolate cake.
The Lightest One
Enegren Brewing Co. — Moorpark, CA
Submitted by: Todd Alström – Founder of BeerAdvocate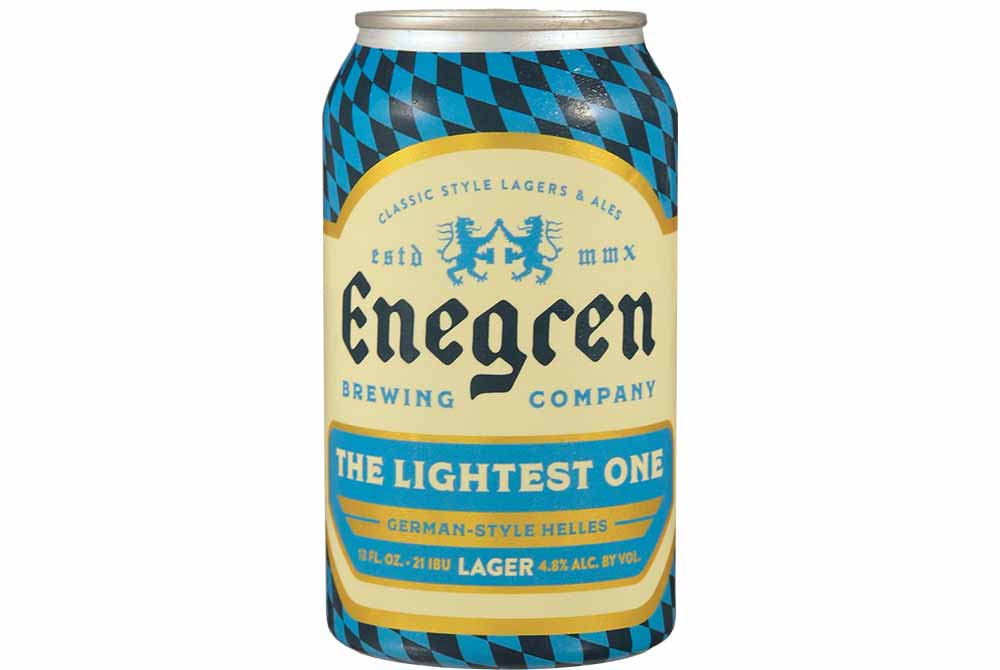 Munich Helles – Despite residing in California since 2017 and being obsessed with lagers, I didn't visit Enegren until Apr. 3, 2021. I swung by to celebrate my first COVID-19 vaccination shot, had their Edel-Pils on draft, and grabbed a bunch of beers to-go. One of these was The Lightest One, a 4.8 percent alcohol by volume Munich helles.
The beer pours a gorgeous, clear, bright, golden with a thick, pure white, foamy head. It has awesome stick and retention. Appearance-wise, it doesn't get any better. Soft bready malts and lemon zest in the nose. Crisp and dry on the palate, a bit creamy, very light, but not "watery." Zesty with some lemon-lime that's a bit bitter, semi-astringent, and adds to the beer's perceived dryness. There's a slight oiliness. Hints of herbal/tea-like flavors. And it's a bit minerally. I also get notes of honey, crackery malts, and a thin bread crust toastiness. The beer has a bone-dry finish.
Crisp, clean, light, flavorful, and insanely crushable, The Lightest One is a must-try lager and one of the best Munich-style helles brewed in the United States.
Toastmaster
Crooked Run Fermentation — Sterling, VA
Submitted by: The Hop Culture Team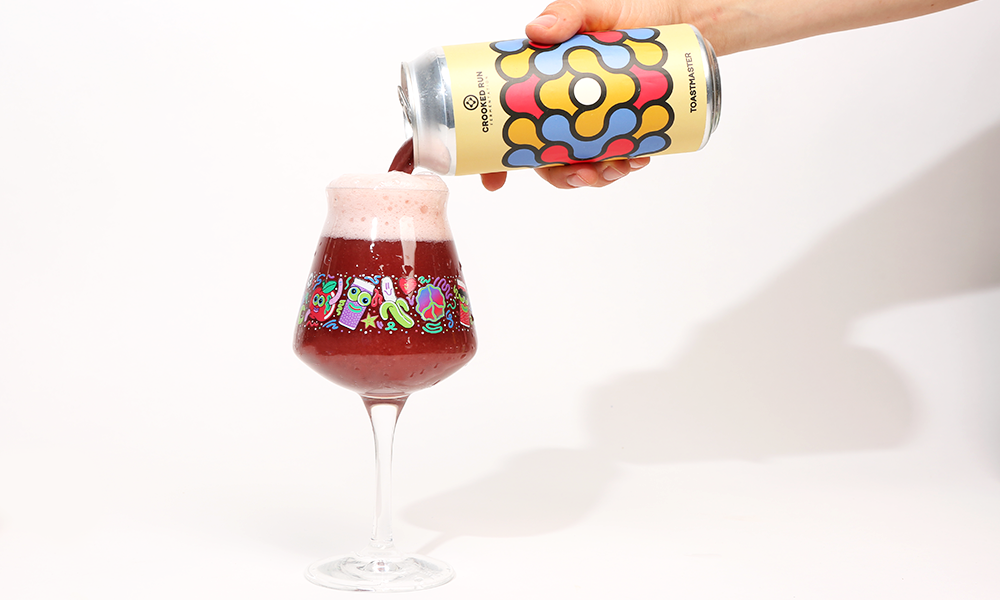 Fruited Sour – Somewhat ironically, our gateway to Crooked Run Fermentation was an eccentric take on hard seltzer. Strawberry Mango Tropic made out list of the best beers in spring 2021. But this is a brewery that's having fun with fermentation across the board.
Especially with fruited sours, where the Sterling, VA-based brewery goes wild.
In the past few years, dessert or culinary-inspired fruited sours have soared in popularity. In fact, the style ranks as Untappd's fourth most-checked in style of 2021. And, outside of IPAs, it's Untappd's highest-rated style!
A play on French toast, Toastmaster combines a staggering amount of strawberries, blueberries, vanilla, and maple syrup for a breakfast bonanza of a beer. It's a playful beer with explosive flavor.
Waiting on Forever
The Eighth State Brewing Company — Greenville, SC x Vitamin Sea Brewing — Weymouth, MA
Submitted by: Grace Weitz, Managing Editor, Hop Culture and Founder of Beers With(out) Beards and Queer Beer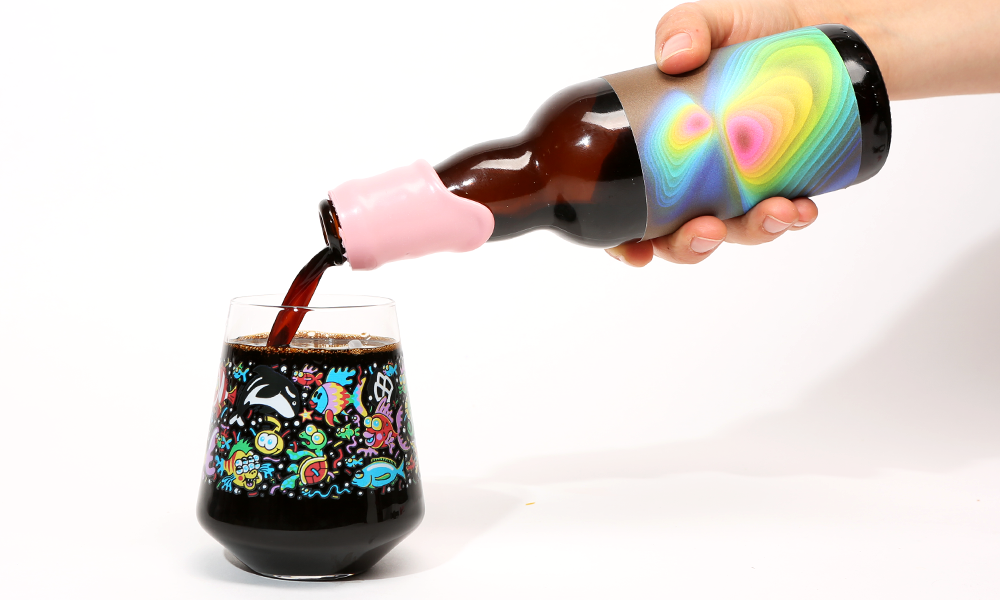 Imperial Stout – Small in size but big in flavor–that's how we'd describe The Eighth State Brewing Company in Greenville, South Carolina. The tiny three-barrel brewery made our list of the best craft breweries in 2020 for its outstanding lineup of stouts, many of which see label designs from friend-of-Hop-Culture @nico.p.nico.
For this Imperial stout, The Eighth State collaborated with another one of our best breweries, Vitamin Sea. In fact, we loved this beer so much we named it one of the 21 best stouts during International Stout Day in November. Earning a place alongside some heavy hitters such as Barrel-Aged Abraxas, Black Tuesday, and Hunahpu means that Waiting on Forever must be pretty legit.
Brown sugar, cinnamon Pop Tarts, toasted coconut, vanilla, and cassia bark all went into this disco party of a beer. So turn the lights low, put on some funky vinyl, light a fire, and crack this beer. No need to wait forever for the party to start.
Whip Wrangler
Movement Brewing Co. — Rancho Cordova, CA
Submitted by: Milan Freeman – @gurl.lost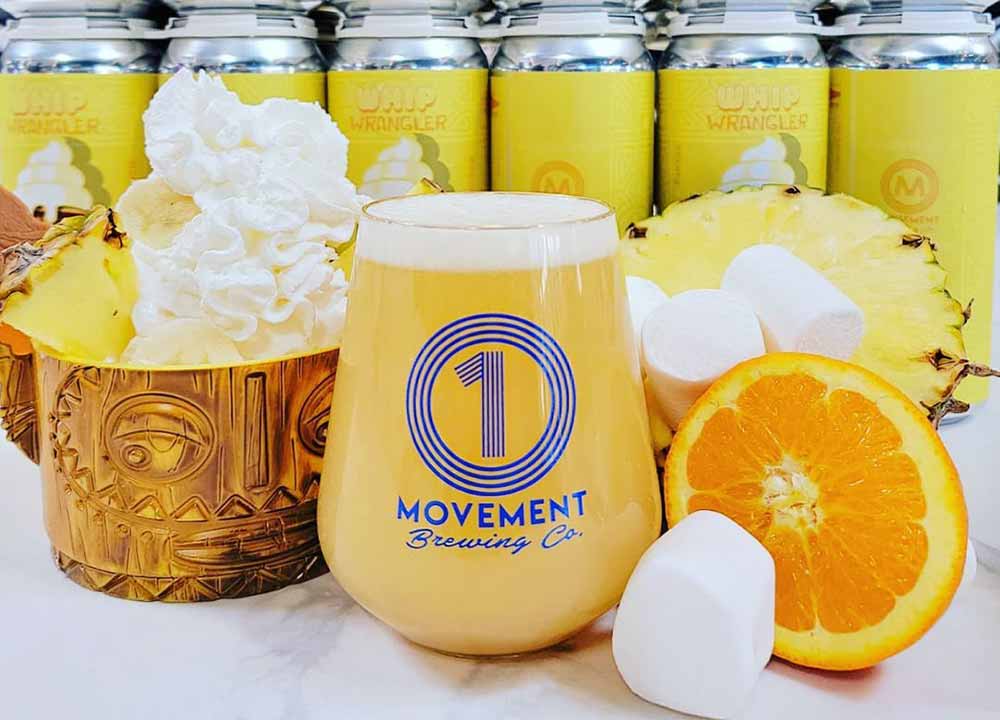 Sour – Movement Brewing is the not-so-new kid on the block. A little over a year old, the brewery is already growing a solid fan base within the California craft beer community.
Their Whip Wrangler sour brings out the little kid in me. Brewed with pineapple, orange, banana, marshmallow, and vanilla, this beer was made to mimic the Dole Whip–the soft-serve frozen dessert that you may have run into at Disneyland. While I often prefer to stick with more classic and subdued beer styles, it's the fun beers like these that leave the biggest impression on me.
I'll definitely be visiting Movement's taproom in Rancho Cordova for more!
White Goshawk
Artivem Mead Co. — Bellingham, WA
Submitted by: Grace Weitz, Managing Editor, Hop Culture and Founder of Beers With(out) Beards and Queer Beer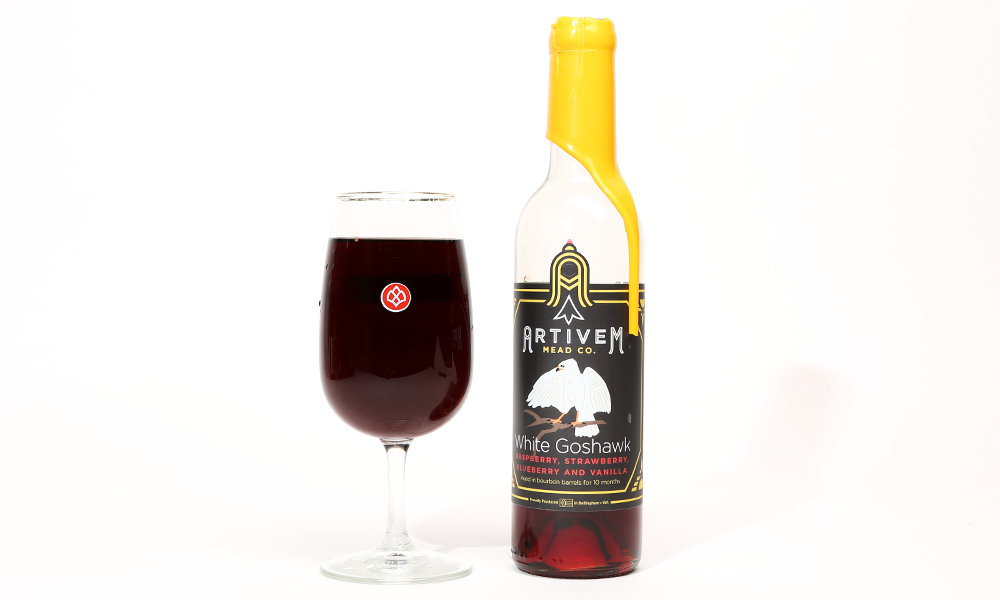 Mead – I love beer. But it's always refreshing to get a package of something a little different. So I was ecstatic when Artivem Mead Co. in Bellingham, WA, sent me a package of some of their top meads.
In case you don't know, mead is an incredibly delicious fermented elixir made from a base of honey. It's one of the oldest beverages on the planet, with archeological proof that dates back to 7000 BC. Standing the test of time, mead has been brought into the modern craft beverage movement by standout producers such as Artivem.
Featuring a ridiculous amount of Madagascar vanilla, raspberry, strawberry, and blueberry, White Goshawk is almost like an intense alcoholic ice cream sundae. This is an indulgence. And at 13.4 percent ABV, it's an indulgence best enjoyed with friends.