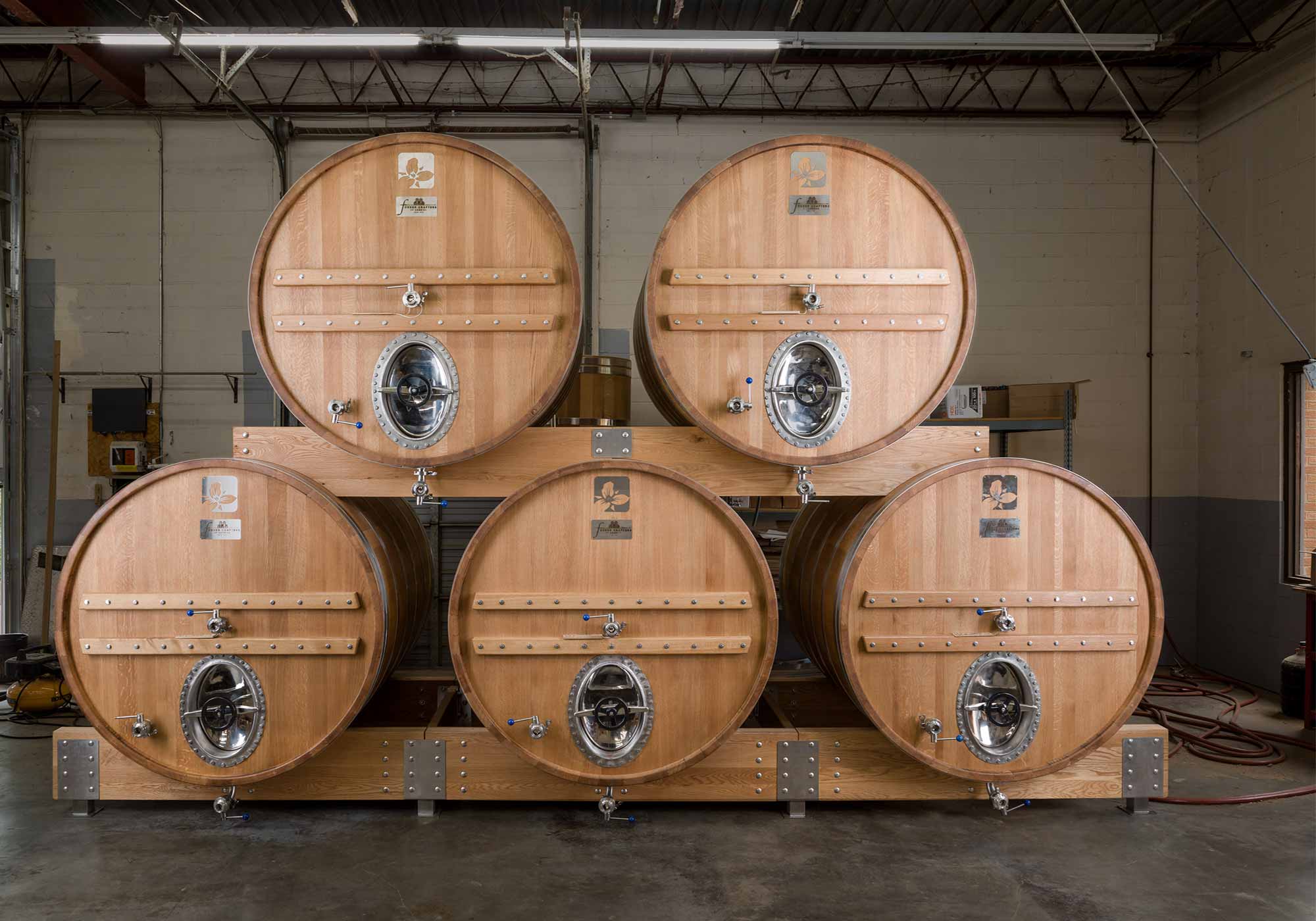 Photography courtesy of Foeder Crafters of America
A Dutch word, foeder (pronounced food-er) refers to a large vertical or horizontal oak barrel where wild, sour, or clean beer can be aged or fermented.
The French, who spell the word as foudre, have used them for centuries to age wine. But Belgian brewery Rodenbach began using foeders in the late 1800s to age sour ales like Rodenbach Classic, a Flanders red ale. And other European breweries, such as Brouwerij Boon, have long used foeders to produce lambic beers.
In America, New Belgium Brewery in Fort Collins, CO, launched its wood beer program nearly twenty-five years ago with La Folie, a Flanders-style sour brown ale that matures in foeders.
Since then, Firestone Walker Brewing in Paso Robles, CA, The Bruery in Placentia, CA, and numerous other American craft breweries use these vessels to create a wide range of sour, mixed-culture, and more recently clean beers.
Let's take a look at foeders, how they differ from barrels, and how brewers use them to create distinctive American craft beer.
Why Use Foeders Instead Of Barrels?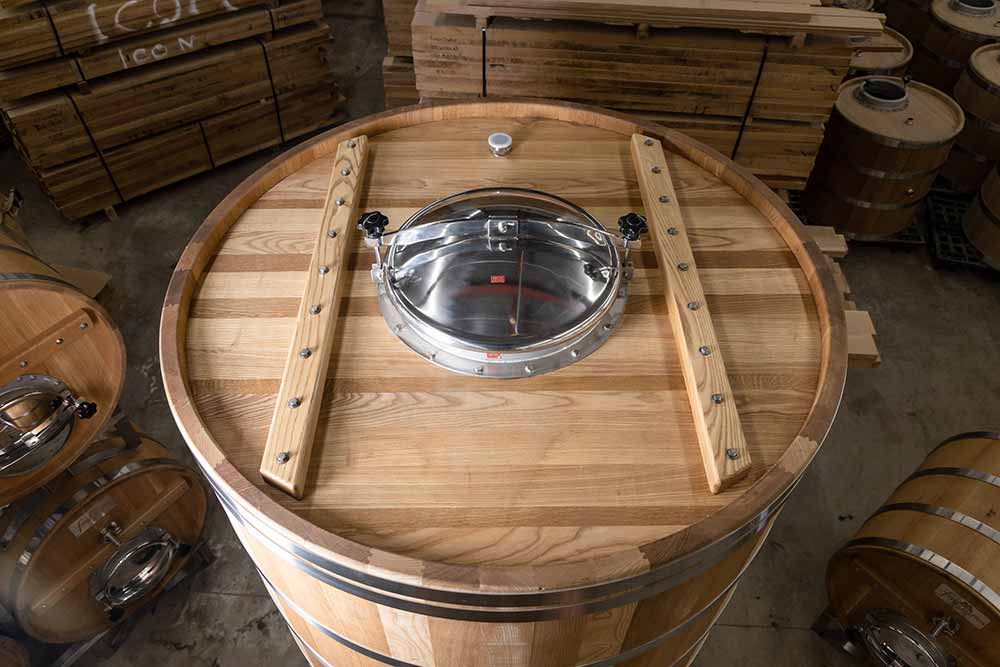 Barrel-aging has become a popular brewing technique in the present-day craft beer industry. And while some of the properties stay the same, old-school foeders have distinct advantages over barrels for both the beermaking process and the beer itself.
For practical purposes, a foeder stores more beer in a smaller footprint. A typical foeder spans at least three times larger than a wine or beer barrel, holding usually a minimum of five barrels (around 160 gallons). But foeders can be constructed to hold even higher volumes of beer.
So rather than racking, managing, and storing numerous barrels, a brewer can use a foeder to save space and time. Additionally, because foeders store a larger volume of beer there's less likelihood of cross-contamination from yeast and bacteria, compared to barrels.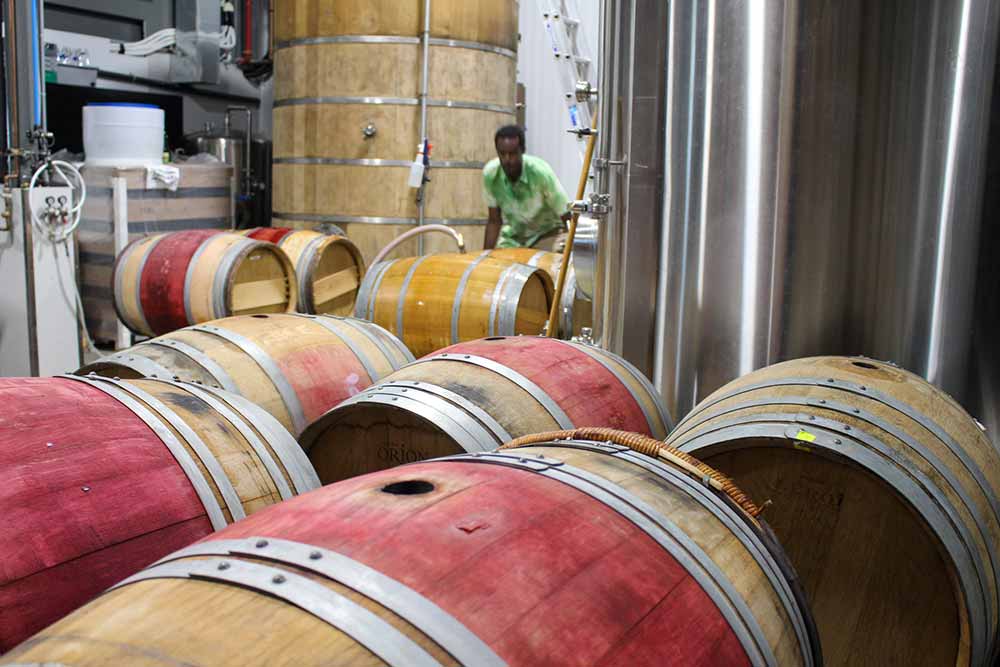 When it comes to the beer itself, a foeder's higher ratio of beer to wood allows the beer to more slowly mature and develop. Compared to a barrel, oxygen enters a foeder more slowly (called ingress), reducing the rate of oxidation. A plus when you consider that oxygen acts as beer's kryptonite.
Most importantly, using a foeder infuses oakiness into the beer with less intensity and at a slower rate.
With standard barrel-aging, flavor tends to differ with each use as the barrel's spirit or wine character and tannins leech out of the wood. On the other hand, foeders offer more flavor and aroma consistency for a large-volume batch of beer.
How Are Foeders Constructed?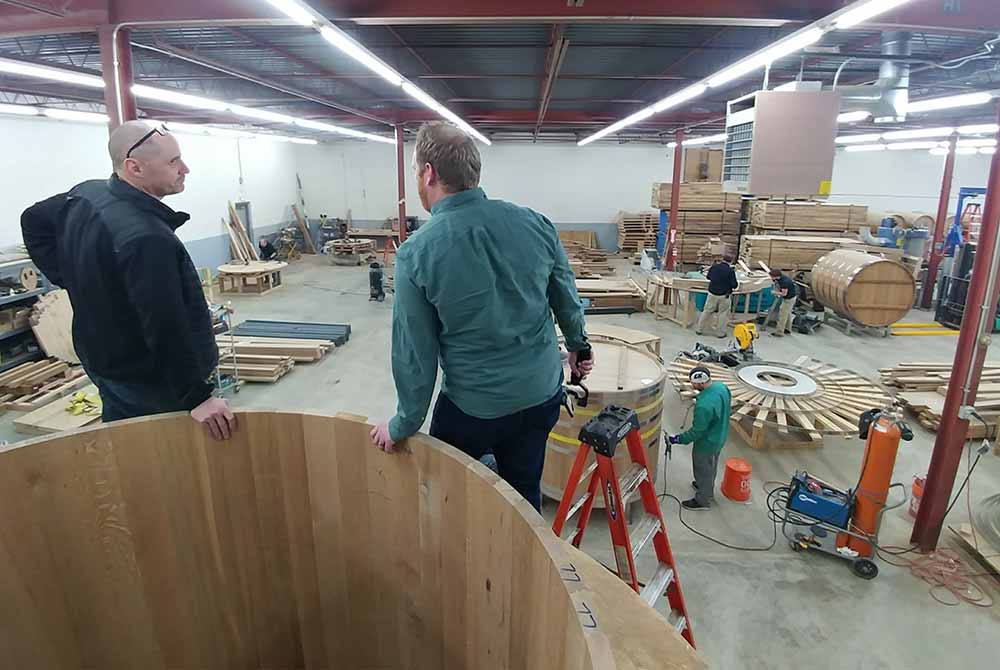 Historically in Europe, a foudrier, or foeder maker, used French oak, cypress, and other woods to construct foeders. Conversely today, U.S. manufacturers often opt for American white oak that's sometimes blended with French oak, depending on the client's specifications.
Unlike a cooper, who builds barrels, the foudrier makes casks, barrels, and foeders using different techniques..
For example, foeders are constructed with a manway, or opening, that enables access to the tank's interior for cleaning. If the brewer chooses to do so, a foeder can be cleaned more easily than a barrel.
However, that opening results in shorter staves, where the wood must be sawn rather than split, giving the foeder less structural integrity. A foudrier considers all these factors during construction, especially with large-scale foeders, because it impacts that oxygen ingress.
"Uncontrolled oxygen is an enemy of any beer," says Tom Newcome, operations manager at Foeder Crafters of America. Based in St. Louis, MO, Foeder Crafters is the largest U.S. manufacturer of foeders. Each foeder takes about forty hours to build out of Missouri white oak.
Foeder Crafters addresses the structural integrity issue by producing finger-joined staves. When fully hydrated, the foeder's finger joints make the barrel air-tight. "They lock together as a single piece of wood," says Newcome. "Traditional foeders and barrels use butt-jointed staves, which are flat surfaces held together with pressure."
Do Foeders Get Toasted And Charred Like Oak Barrels For Wine?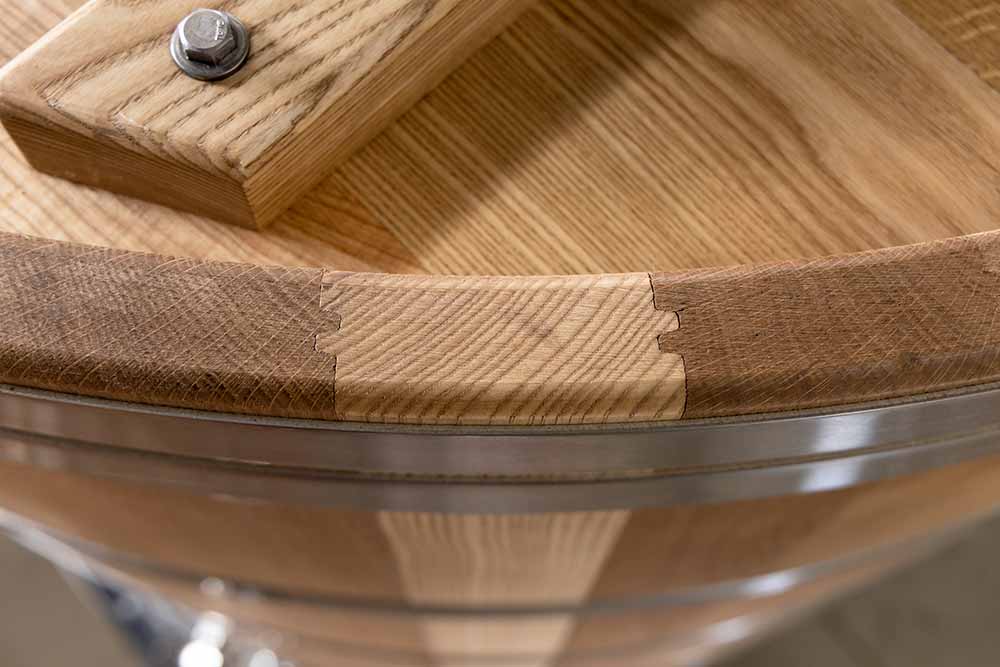 Foeder Crafters uses oak air-dried for at least two years. The oak gets steamed after assembly to extract the tannins and begin hydrating the tank. "We also toast or char the interior of the foeders to our customers' specifications," says Newcome. "It is pretty rare that a brewery requests no toast. The spiciness/sharpness of raw oak isn't usually something they're going for."
Why Are Some Foeders Built Horizontally Instead of Vertically?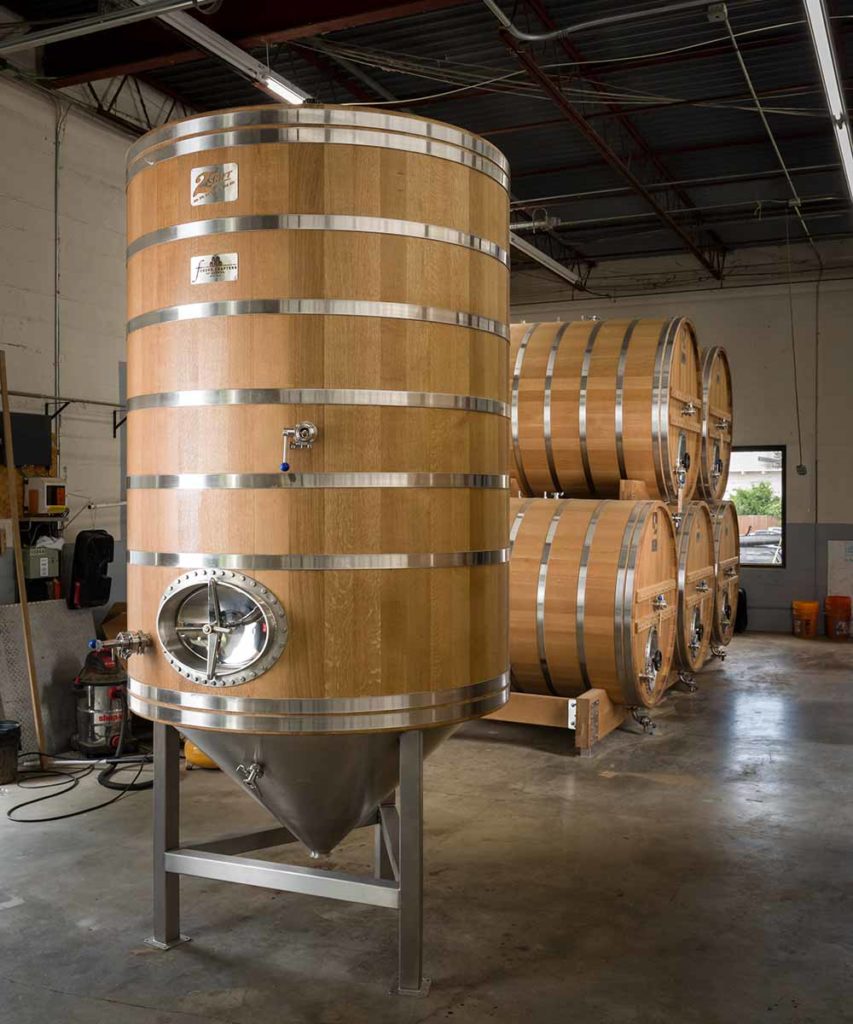 Foeders may be constructed horizontally or vertically, depending on the user's preference and intent. "Horizontal foeders are typically used for lagers as there is a shorter distance for the yeast to fall out," says Newcome. "Skinnier, longer foeders will have a higher wood surface-to-beer ratio so they might impart more oak. Our conical bottom foeders are great for cleaning out fruit or harvesting yeast. Overall though, most breweries choose the form factor based on the space they have for the foeder program."
What Types of Beer Do Brewers Make in Foeders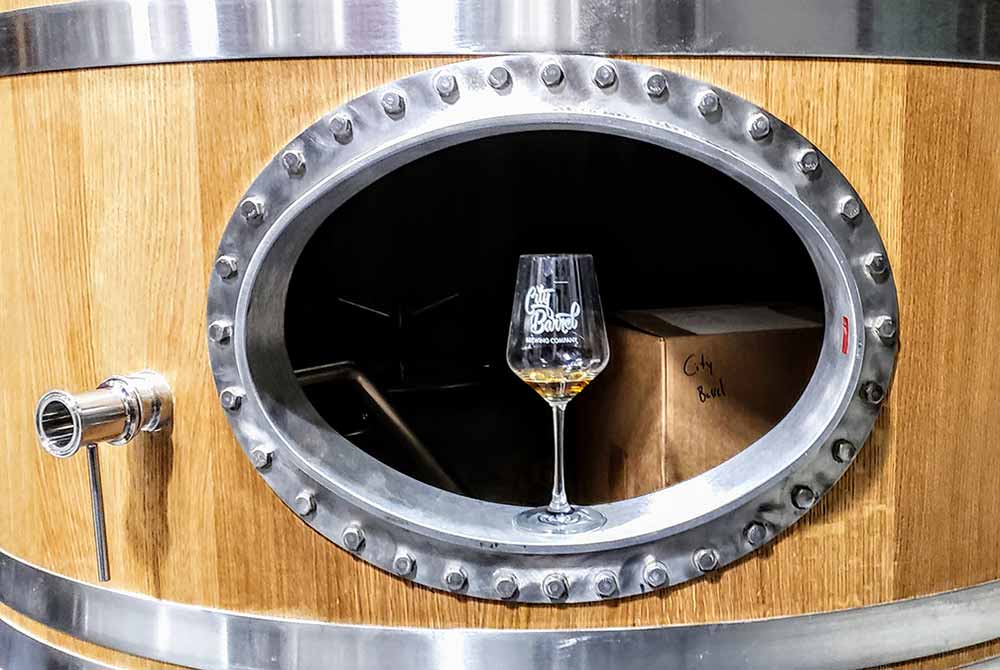 Historically, brewers used foeders for mixed-culture fermentation beers. Mixed-culture fermentation involves using a combination of yeasts and bacterias to ferment beer, making them perfect for a foeder.
For instance, the sour beer and wild ales at City Barrel Brewing in Kansas City, MO, age in a Foeder Crafters-built foeder. "The foeder beer for sours is wood-aged and incredibly complex compared to a kettle sour," says brewery co-owner Joe Giammanco. Aging between four months to one year, the beer has ample time "for this biotransformation to occur and sour. Tiny amounts of oxygen get in through the staves. The culture in the beer creates this environment where it thrives, ages, and produces incredible flavors that cannot be reproduced any other way," says Giammanco.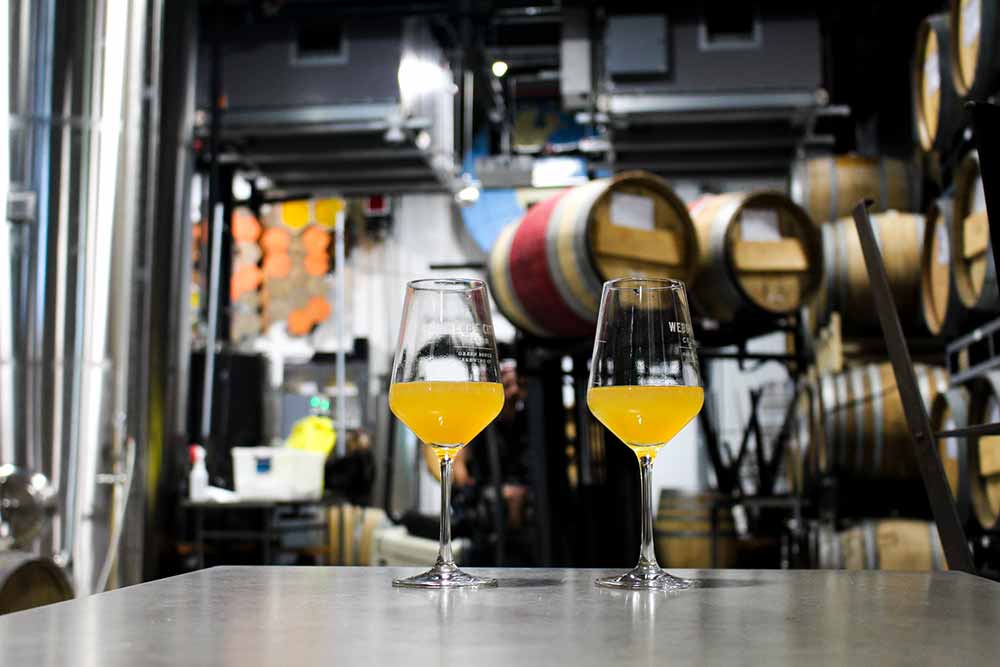 Similarly, Green Bench Brewing in St. Petersburg, FL, uses a 25-hectoliter (21-bbl.) foeder to produce saisons in its production facility. The custom-built foeder, made with seventy-five percent French oak and twenty-five percent American oak staves, is one of the first used in the southeast U.S., according to Green Bench head brewer and co-owner Khris Johnson.
Originally, Johnson wanted to develop a unique house culture for saison and farmhouse ales. "My favorite versions all had a distinct character unique to that brewery and/or their process. I wanted to develop that in our brewery," says Johnson.
He bypassed using a stainless steel tank that would require repitching yeast. Johnson consulted with other breweries that fermented in a foeder and then developed his own processes. "We decided to keep the yeast in the foeder going without repitching," says Johnson. Green Bench brews "continuously into the tank without cleaning between batches, encouraging the yeast to colonize and evolve into a house culture."
Dedicating an Entire Brewing Facility to Foeders
Adjacent to the brewery, Green Bench built Webb's City Cellar to house a ninety-hectoliter (roughly 770 bbl.) foeder for fermentation. This second tasting room and barrel-aging facility specializes in mixed culture, sour, and wild ales.
"We have dedicated equipment and utilities, as well as proper temperature control, in Webb's for our production," says Johnson. "It doesn't get in the way of anything in the main production facility. I believe that climate control allows us to create some of the most poignant, precise flavors that we've ever been able to produce in mixed-culture beers."
Mixed-culture beers ferment from a blend of wild yeast and bacteria that lives and remains in the 90HL foeder. "This typically lasts four to eight weeks. Then we fill into barrels off of the foeder for aging," says Johnson. "Those barrels sit in our cellar at sixty-five degrees Fahrenheit year-round for one to three years before we decide to either blend and package or age further in some way. We leave the slurry in the tank and refill a batch of wort right on top and let it ferment again."
Green Bench Brewing has seen the market for foeder-fermented and barrel-aged wild and mixed-culture beers grow slowly over the last eight years as more people understand and experience the styles. As a result the brewery built Webb's City Cellar to "not only make really great products with a dedicated space, but to better control the conversation and people's introduction and experiences with these types of beers," says Johnson. "We were able to build, from the ground up, simultaneously a space where we could create the best examples of these styles that we ever could, and curate people's participation with them."
What Is the Future of Foeders?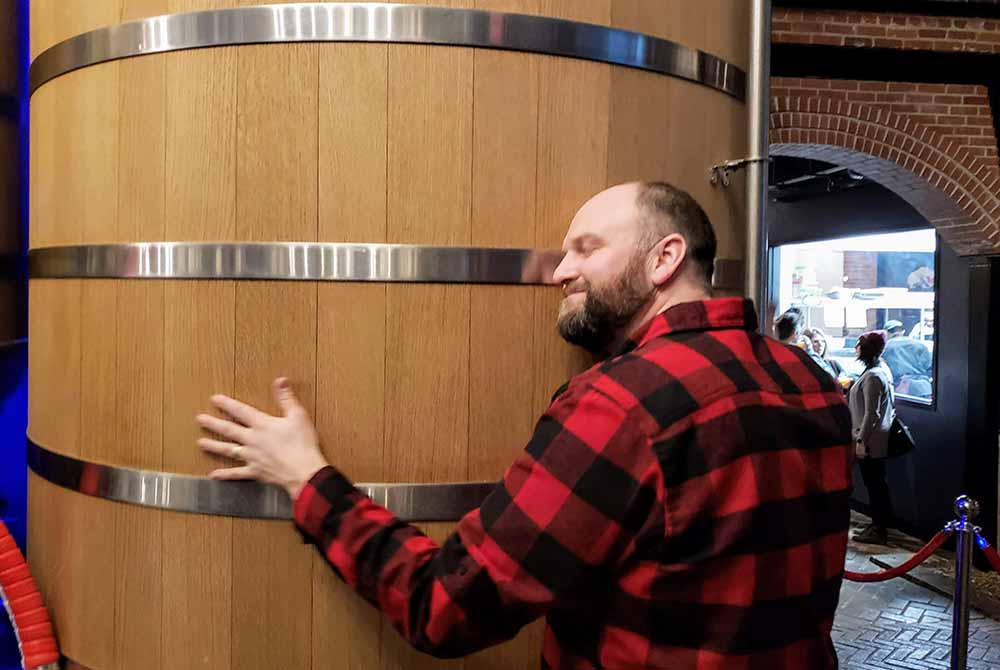 Demand for foeders has remained steady since Foeder Crafters opened in 2013, but "the direction of purpose has changed," says Newcome. "When we started, our foeders were used for mixed fermentation and sours. Now brewers also use foeders for a good portion of clean beers. When a brewer [orders] one specifically for a clean beer, they will always request a cooling plate to control the temperature of the beer."
Clean beer refers to fermentation of styles like lager and IPA with a single strain of yeast.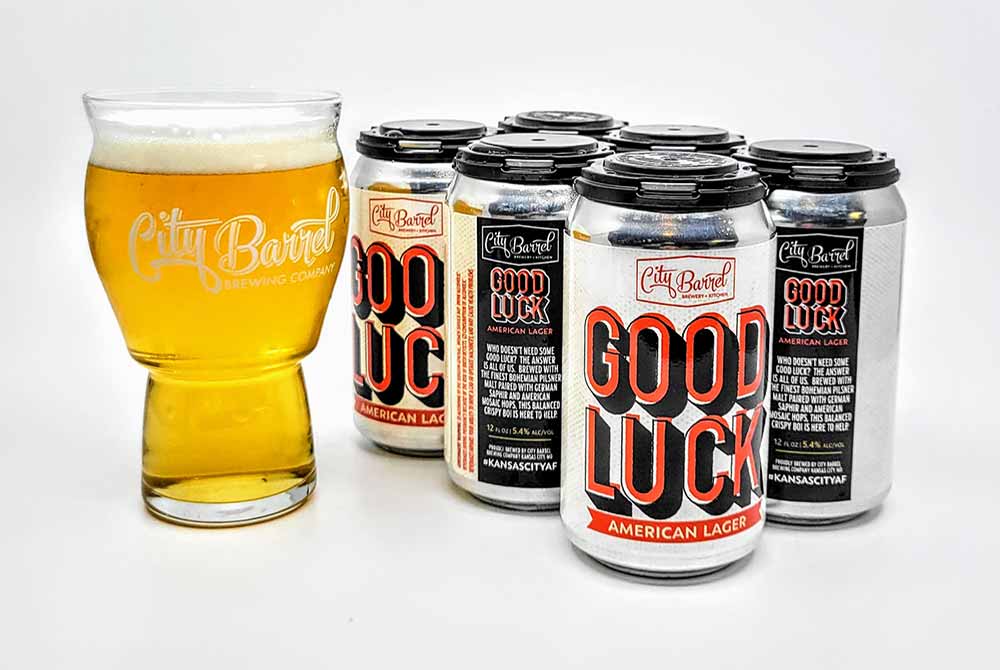 For instance, City Barrel also adapted a 30-bbl foeder to produce a clean beer, Good Luck! lager. Giammanco lagers the beer for approximately two months. "We have tried Good Luck! aged in steel and aged on Missouri white oak," says Giammanco. "In the foeder, the beer tastes rounder and balanced. Aging smooths any bitterness and melds the flavors. The Mosaic hops come through stronger with more tropical notes."
Whether brewers use foeders traditionally to age mixed-culture fermentation beers or more modernly for clean beers, expect to see more of this brewing technique in the future.
What Are Some Foeder-Aged Beers I Can Try?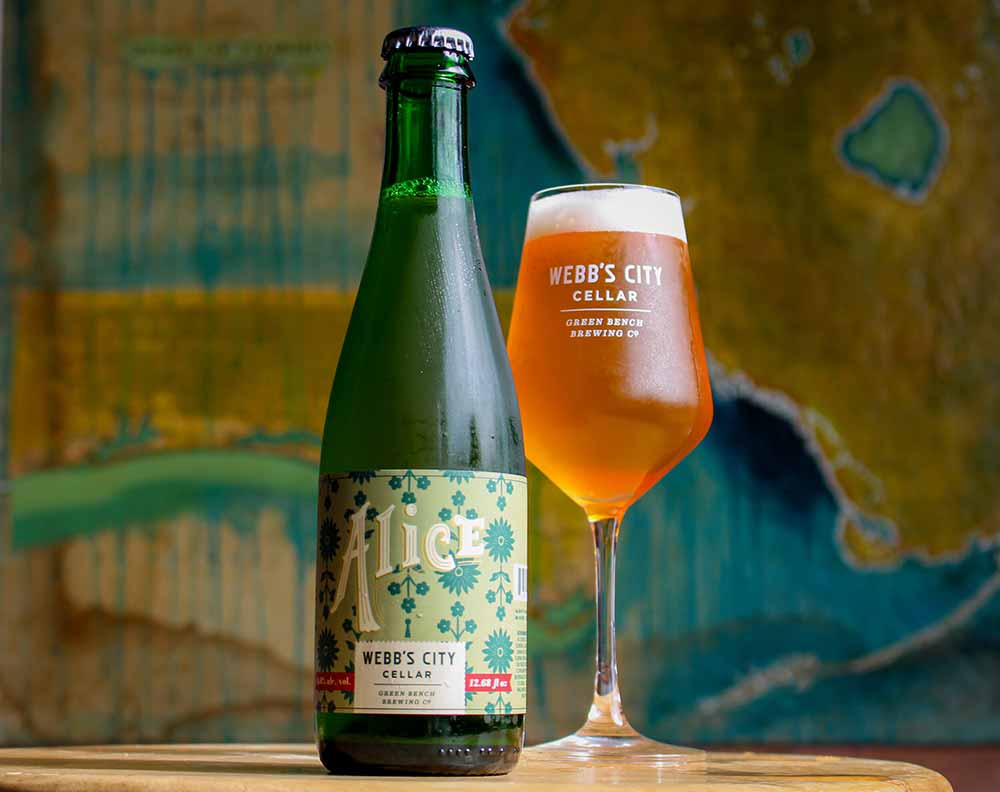 Alice (Blend #3) — Green Bench Brewing
St. Petersburg, FL
A mixed-culture golden ale foeder-fermented and wine barrel-aged in Webb's City Cellar, Alice has peach and citric tangerine aromas, spicy wood tannin, white grape skin flavors, rich minerality, and a medium acidity. Johnson made this beer with blends dating back to 2019.
Good Luck! — City Barrel Brewing
Kansas City, MO
An example of a clean beer produced in a foeder, City Barrel brewed this soft lager with Pilsner malt and Saphir and Mosaic hops.
La Folie — New Belgium Brewing
Fort Collins, CO
Considered one of New Belgium's best sour beer, La Folie, spends three years in French Oak foeders to acidify before being blended. The brewery describes La Folie as, "sharp and sour, full of green apple, cherry, and plum-skin notes."
Lovely Bubbles — Green Bench Brewing
St. Petersburg, FL
"Lovely Bubbles and any beer we make that bypasses the barrel-aging process is an attempt to showcase and explore the flavors of our mixed culture without the influence of barrel aging," says Johnson. "It's as much an opportunity for us to assess our mixed culture as our consumers to get to explore some unique and different flavors coming out of Webb's City Cellar."
Nec Bones — Firestone Walker Brewing Company
Paso Robles, CA
Fruit-forward to the core, Nec Bones started with 3,000 pounds of Honey Fire nectarines from Fair Hill Farms in Paso Robles. Firestone Walker added those quartered nectarines to a French oak foeder where it met Lil' Opal, the Barrelworks proprietary "brett'd" saison. After maturing for a full year Nec Bones received another 2,000 pounds of fresh nectarine puree from Central California's Wawona Farms. As a result, Nec Bones screams juicy stone fruit.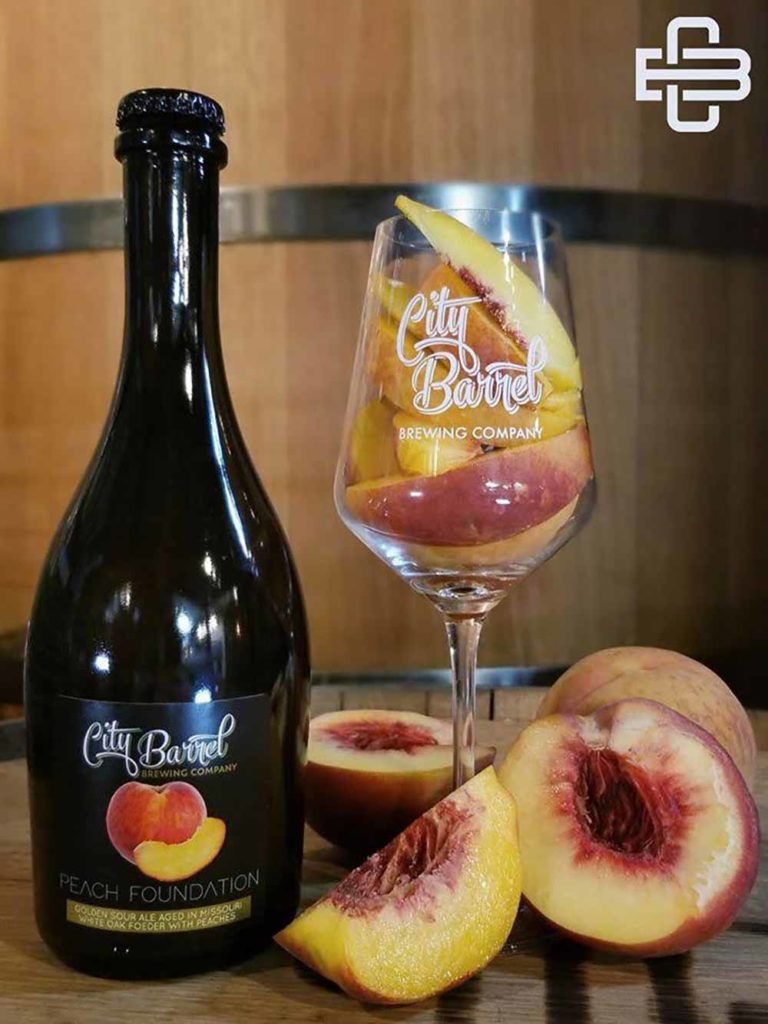 Peach Foundation — City Barrel Brewing
Kansas City, MO
A golden sour aged in white oak foeder on four pounders-per-gallon of Missouri peaches, Peach Foundation stays true to its name. The foundation of peaches provide a fruity sour bite while the foeder aging adds a complementing oakiness.
Saison de Banc Vert — Green Bench Brewing
St. Petersburg, FL
Aged in wine barrels prior to conditioning with Brettanomyces, Saison de Banc Vert also ferments in 100-percent oak. Similar to the tradition of Franco-Belgian style beers.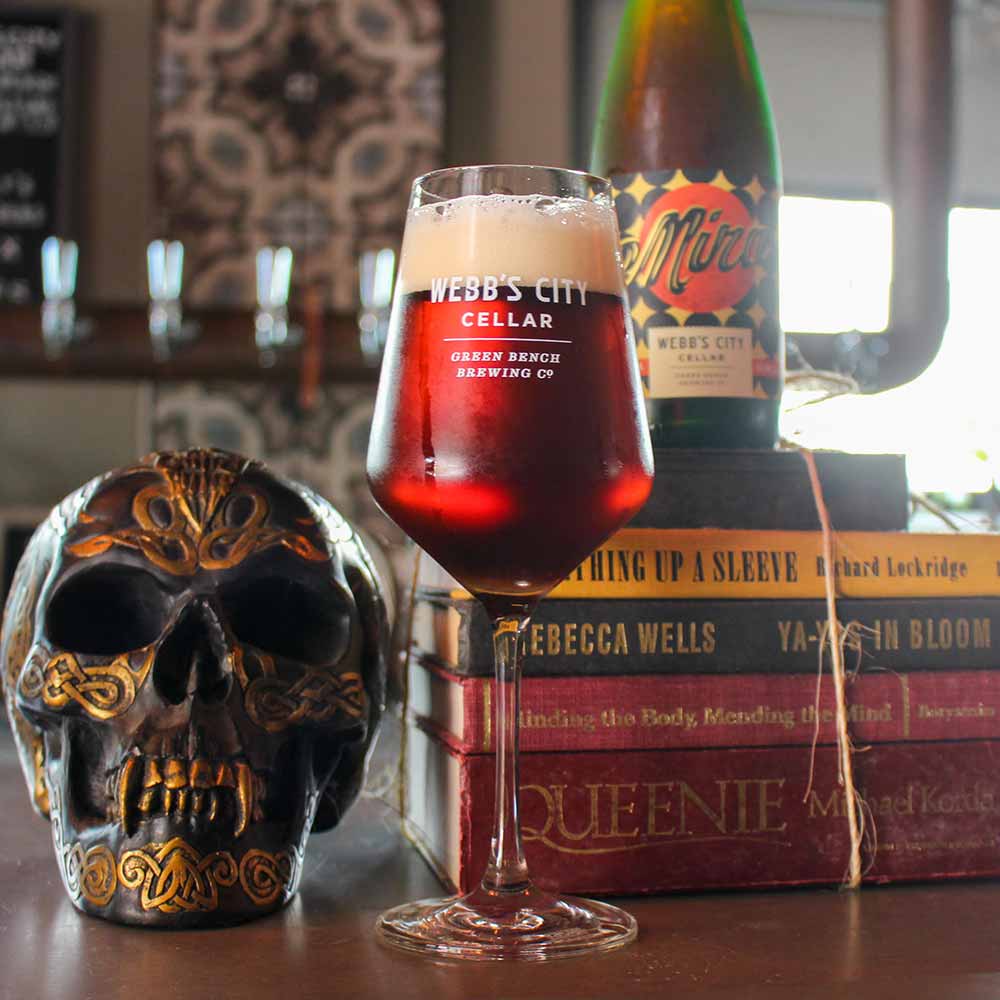 Mira (Blend #1) — Green Bench Brewing
St. Petersburg, FL
Released in November of 2021, this mixed-culture red ale evokes comparisons to Flanders Red Ale. Mira spent eighteen-to-twenty months in barrel before blending and an additional four months in bottle to condition before release.