My family owns a 100-acre farm in a bucolic little town in southern Maine, complete with a giant barn, rolling fields, and a quaint but productive apple orchard. Once per year, my mom and dad hand-press the season's harvest into delicious cider, sending gallons to eagerly awaiting family and friends.
Suffice to say, we know more than your average family about the delicious byproducts of apples. And not surprisingly, hard cider is often a beverage of choice around our house on warm summer days. (My dad swears we'll start making our own.)
I'll confess, though: The craft beer snob in me still prefers a pungent IPA to a tart and sweet cider.
So it was with some curiosity that I recently discovered Graft Cider, a company launched this past November by brother and sister Sara and Kyle Sherrer in the Hudson Valley, NY. It's now available in parts of New York, Massachusetts, Maryland, and Washington, D.C.
Scan their offerings and something becomes apparent right away: Graft Cider isn't just any hard cidery. They're making stuff even a diehard beer-lover can't help but be tempted by: double dry hopped hazy cider; Brett fermented young cider mixed with foeder aged cider; a gose-style cider aged on corriander and orange peel.
"I felt like an opportunity was slipping away for rustic ciders in America," said Kyle Sherrer, co-founder of Craft Cider.
To learn a bit more, I caught up with Kyle, who along with his dad has been down this road before, launching Millstone Cellars in Monkton, MD, in 2011.
"With all of the startups in the industry, I was expecting more cideries to begin focusing away from clean fermented ciders and start diving into wild yeast, which is how much of the cider in Europe is made, but that never happened," he said. "I felt like an opportunity was slipping away for rustic ciders in America. While Millstone did great, we were on the high side of the market and had trouble breaking out of the top 10 percent of accounts in each market."
So he grabbed his sister and started focusing on East Coast apple trees. These would yield a unique product but at a lower price point that they could package in cans. The result is Graft Cider. And with options like Hop Tropic and Comes & Gose, it's artfully blurring the lines between hard cider and craft beer.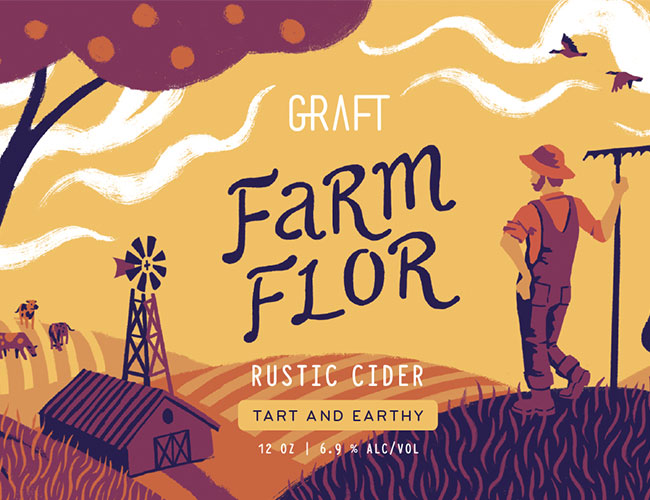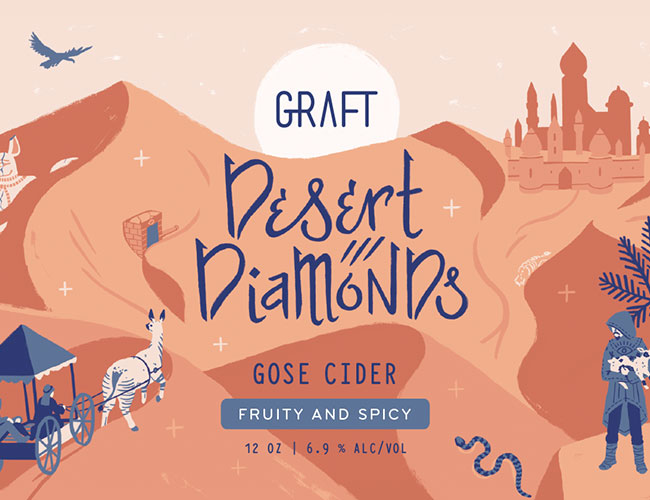 Alex E. Weaver: You seem to be largely inspired by craft beer — gose cider, hop cider, dry hopping — what's the story there?
KS: With Millstone we had always worked to appeal to the sour beer market, seeing many similarities between the two. We started doing collaborations with brewers in the space such as Oxbow and Stillwater and started focusing on how we could utilize the sour cider base that had been historically made in Europe for centuries and modernize it.
When starting Graft I looked to influences that I really appreciated in sour beer and thought dry hopped sours and goses were styles worth emulating due to the similar flavor profiles of cider. I feel like berliner weisses and gose typically try to emulate fruity characteristics and with cider we start with the fruit.
What I hope to achieve with Graft is creating a bridge for the craft beer drinker to get into all of these wild yeast fermented dry sour ciders and discover that there is so much more to the world of cider.
AEW: Were some of your ciders made as a response to the proliferation of New England-style IPAs right now, or were you guys doing this before it was cool?
KS: We are extremely focused on process and how we work with ingredients and we love NE IPAs, so it was a natural fit. We started double dry hopping a lot of ciders, as well as focusing on utilizing citrus in our hopback to get those juicy characteristics without the bitterness. Since by law ciders can't use any grains or cereal grains, we began experimenting with molecular gastronomy, playing around with pectin and thickeners to get particle suspension.
AEW: Your label art is awesome. What's the inspiration there?
KS: Thanks. Our artist Caleb Luke Lin is amazing. The concept for the cans is that everything is set in the storybook world of Graft, with each cider name representing a chapter in the world and the art reflecting the landscapes and exploits experienced by our recurring adventurer, Nomad. We then do a fruited series called "Book Of Nomad," which is his kind of Iliad/Don Quixote story, half happening in the world of Graft and half happening in his mind. It allows us to get a little more out there with the art concepts and is a really fun line.
We are also gearing up to launch Cloud City, which will focus on our fruited dreamsicle ciders with an emphasis on vanilla, lactose, and citrus. We're setting that up as a futuristic city that Nomad stumbles across, each with different districts (each district representing a different fruit) with their own cultures/customs. At the end of the day there is a lot of fun that can be had with branding and we thought a deep and rich evolving story could be really neat.
AEW: Is it difficult convincing hardcore craft beer nerds to try one of your ciders? What's the reaction when they do?
KS: When we're at a beer festival, the comment I get most is "I don't drink cider." To which I reply, "But do you like sour beer?" It's a challenge so we definitely have to focus on education and labeling ourselves as sour cider, which I kind of hate, but it's the easiest way to convey the concept. We have definitely started to get a cult following from those who get turned on to it. What I hope to achieve with Graft is creating a bridge for the craft beer drinker to get into all of these wild yeast fermented dry sour ciders and discover that there is so much more to the world of cider.