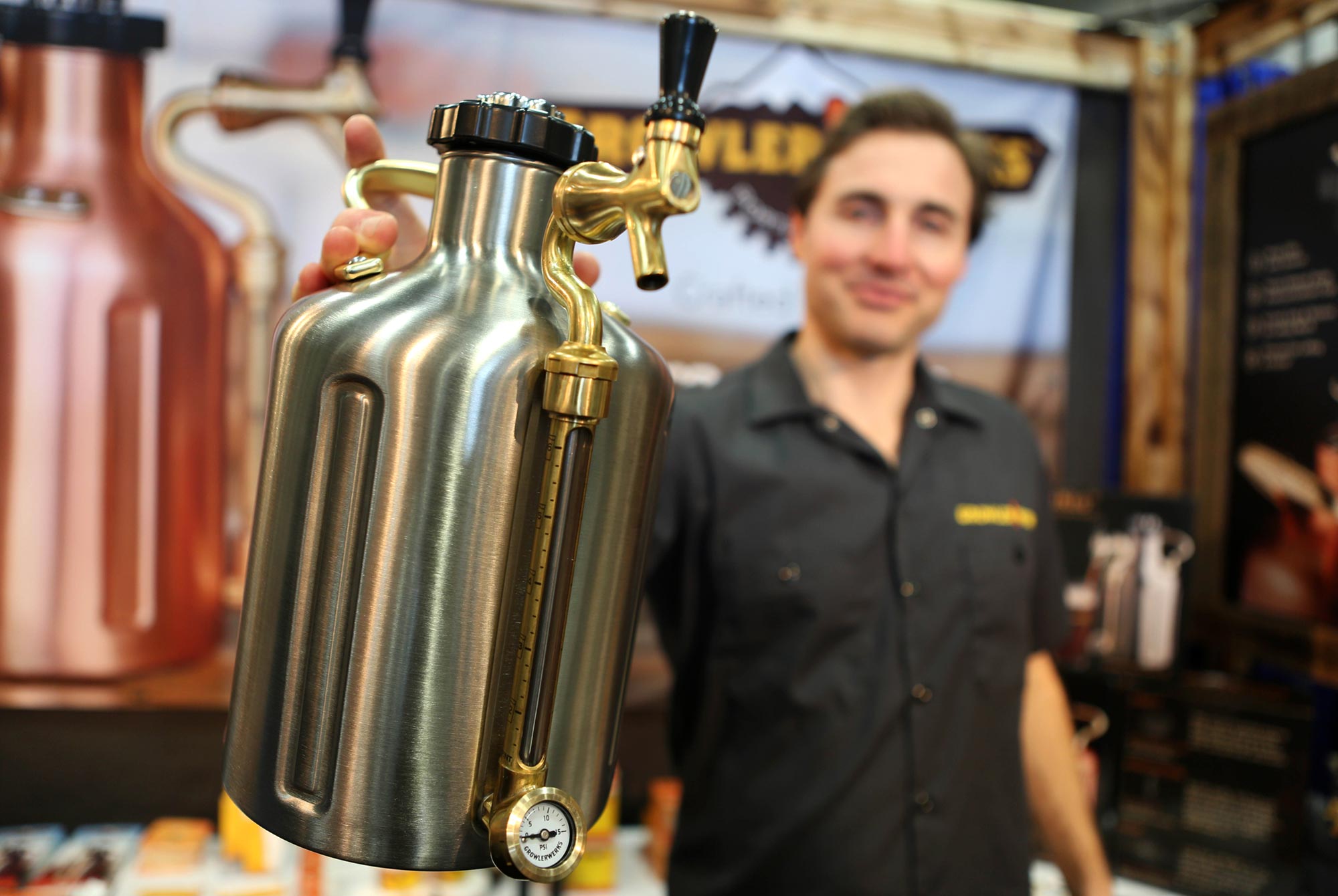 The story goes that Shawn Huff was trying to impress his girlfriend's parents with one of Oregon's finest IPAs. He ended up having to pour it down the drain two days later, as it had gone flat and stale in its glass growler. That's when he decided to improve on the design of the traditional growler. Soon, GrowlerWerks was born.
GrowlerWerks, is a Portland, Oregon-based company that makes pressurized growlers. Essentially, they're miniature kegs that fit in your fridge. We use the uKeg 64 around the office, so when the opportunity arose at the annual Craft Brewers Conference to chat with GrowlerWerks co-founder Shawn Huff, I jumped at the chance. We sat down and chatted books, beer, and inspiration.
On getting started
"I'm from Oregon. Portland, specifically. I went to Portland public schools and then Oregon State University, where I studied engineering. Then I headed to graduate school at the University of Washington, where I got mixed up with their business school. That's where I caught the entrepreneur bug.
My first start up was in high school. My father lived in Ashland and made pottery, and in the summers I'd go down there and make pottery and walking sticks, which is how I made money to pay for skiing and whatnot. After I finished graduate school, I went to work for a now-defunct startup in Santa Barbara called Gas Reaction Technologies, and then another startup that brought me back to Portland. That was where I met my current business partners, Brian Sonnichsen and Evan Rege."
Who is your inspiration?
"Probably Steve Jobs. What we're trying to do is to create a new product that enables people to have a new experience. And he did the same. He was such a great innovator that I would love to listen to him talk for a day. I don't think he was a big drinker but I'd love to drink a beer with him, too. And he never gave up. He had a lot of challenges but he stuck with them."
Reading list?
"I've read a bunch of interesting stuff. As an organization, we're trying to grow. So one of the interesting things I read lately was called "11 Rings," by Phil Jackson. It's about leadership and team building. One of the inspiring things he wrote was about how the Chicago Bulls had this great love for each other. They were all working toward the same goal. I view my team like that — we're up to 20 people now."
"Are you familiar with the "Beer Bible," by Jeff Alworth? I expected it to be an annoying reference book, but it's extremely well written. It goes through history, styles, beer making process, regions, and flavor profiles. You could flip to any part of that book and read and read and read. It's great for anyone looking to learn. Knowledge gets dispersed and facts change but Alworth is like, 'These are the facts. Open the book.' I bought it for my employees."
Any lessons?
"When I started this, I had a day job. I kinda worked two jobs for a while. The lesson, I think, is that you have to move forward, and sometimes that means leaving other things behind. You can't be afraid to move forward."
Favorite Portland brewery?
"Widmer Brothers Hefe was one of the first 'microbrews' that I ever tried as a Portland-er. Widmer Brothers Brewing was literally born from the Oregon Brew Crew, a local homebrewer's guild. They are one of the godfathers of Oregon craft beer, and they continue to work with homebrewers from the Brew Crew by featuring one of their homebrew recipes on tap. Other than that, they're in a cool part of Portland that not many out-of-towners ever see. They always have a wide selection on tap, they are highly dedicated to draft beer quality, and they do the brewpub experience right with good food in a relaxed pub atmosphere."
If someone is coming to Portland specifically for beer, I would check out The BeerMongers, which is where you'll find the most hand-curated variety of local bottles.
Hidden gems in Portland?
"Portland does the brewpub experience right, because that's where they started. There are some fantastic brewpubs. We also have some amazing bottle shops. If someone is coming to Portland specifically for beer, I would check out The BeerMongers, which is where you'll find the most hand-curated variety of local bottles. And they have soccer games on."
"The other place I would suggest is a growler fill station in Grand Central called Growler Guys. It's in southeast Portland and they have 50 taps of hand-curated local and regional favorites, everything from pils to imperials to sours and cider. You can sample all of them, buy a growler, fill a growler, fill a crowler, stay for a pint, bring in tacos or pizza from next door, talk with owner Brendan or his brother Brian, who are super nice guys. It has a stylish atmosphere that is made for tasting and drinking beer."