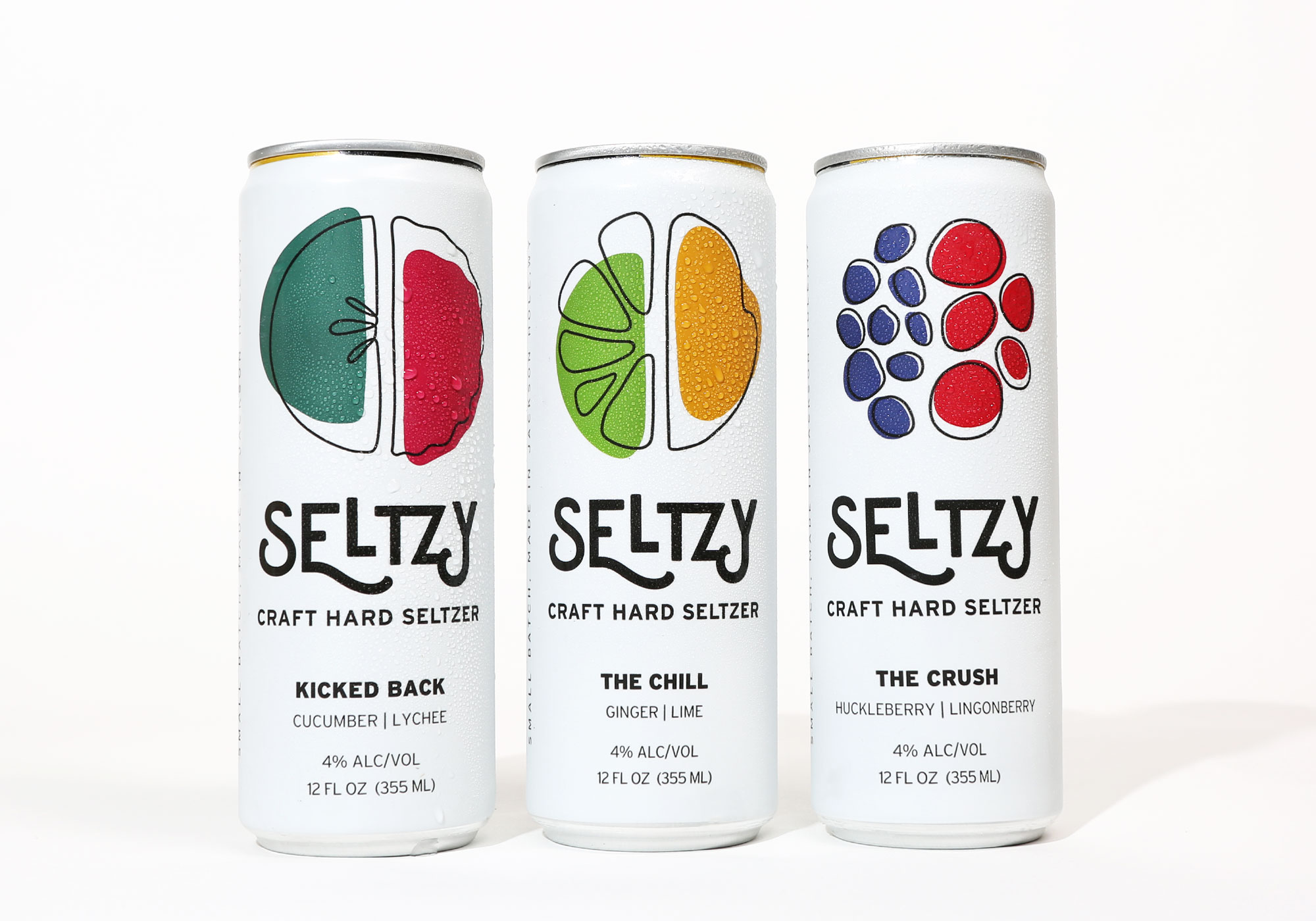 Hard seltzer.
Two tiny words that have had a huge impact on the craft beer industry.
In 2020 alone hard seltzers grew into a $4.14 billion dollar market with consumers purchasing hard seltzers increasing by 98 percent according to NielsenIQ. And, the category shows no indication of slowing down any time soon.
Craft breweries across the country are throwing their hats in the hard seltzer ring. So, it can be difficult to truly stand out on a shelf with new, innovative products.
Roadhouse Brewing Co. in Jackson Hole, WY found a way to flip the seltzer script. How? By returning to the brewery's foundation to draw inspiration from the culinary and craft worlds to forge an intersectional brand marrying local and global flavors.
The Backstory on Roadhouse Brewing Co.
For those who are unfamiliar, Roadhouse draws upon its two founders' unique backgrounds in both beer and food. Officially the brainchild of Colby Cox, a homebrewer and entrepreneur, and Gavin Fine, a noted chef and restaurateur, Roadhouse sits at a cultural cross-section, fusing good food and good beer together to create one brewery constantly innovating and pushing the boundaries.
"To try and distill it down, beer and food is the crux of who we are," says Jody Valenta, President and COO of Roadhouse Brewing Co. Valenta notes that it's that spirit of innovation and creating elements that work well together and independently that are the core of Roadhouse.
It's this unique approach that has led Roadhouse to consistently balance on the edge of the brewing and cooking spectrum, whether in the brewery's 30 bbl production facility or 5 bbl brewhouse and gastropub on Jackson Hole's iconic Town Square.
The team led by Brewmaster Max Shafer, who joined Roadhouse in 2017, is constantly brewing new beers, playing with different ingredients, and keeping food and all those flavors in mind.
So, it made sense that when the time came to chat about adding a new hard seltzer to its lineup Roadhouse approached the conception and launch of its own version of one of the fastest-growing segments of the craft beer industry a bit differently, staying true to its whimsical yet refined roots.
Seltzy, as Shafer playfully named the brand, embraces just that. Part innovative flavors, part cuisine inspired, and part adventurous outdoors, Seltzy culminates as the perfect marriage of beer and food, embodying what makes Roadhouse one of the most innovative breweries in the country.
What Is Seltzy?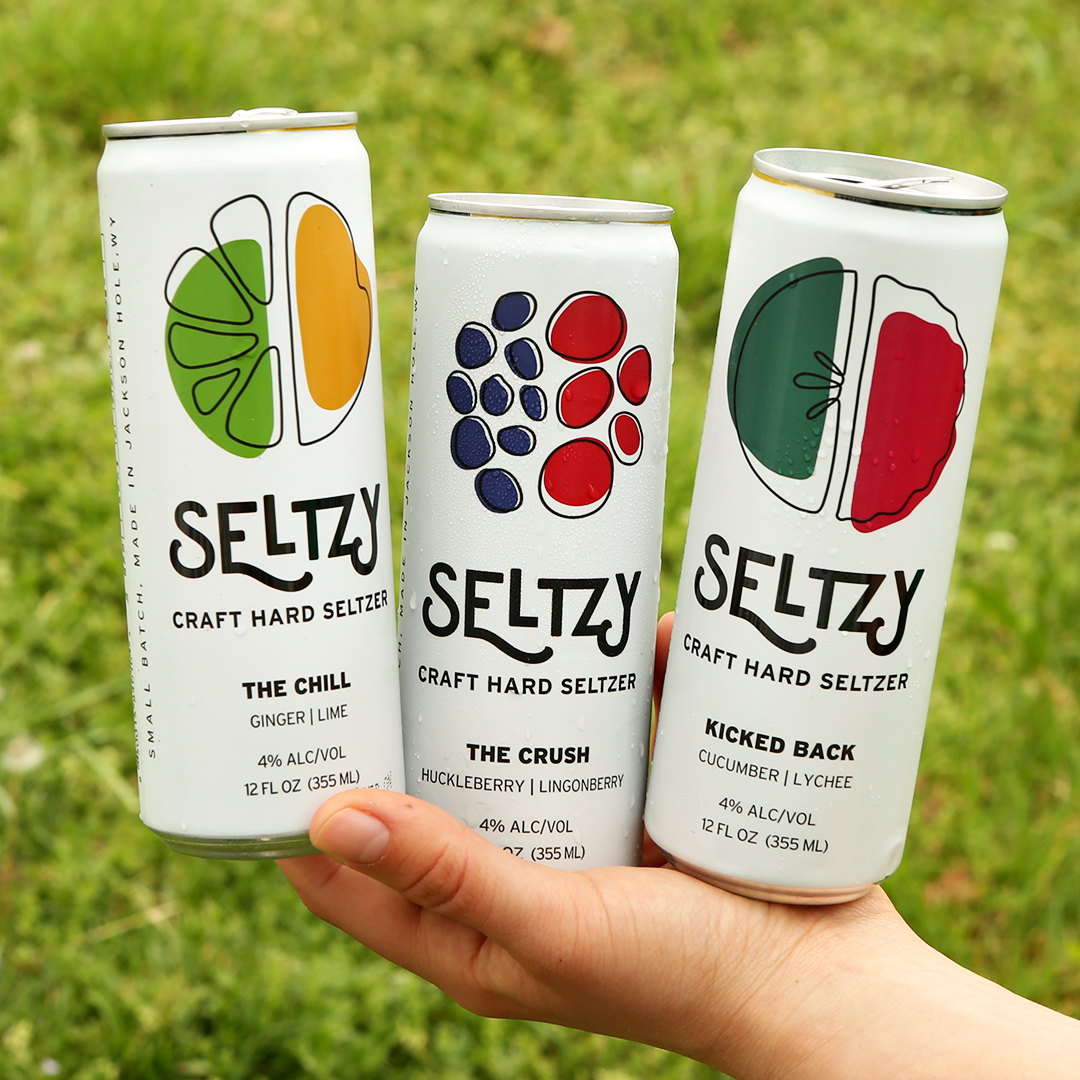 Like any good garage band, food truck concept, or homebrewing habit, the idea for Seltzy started in a basement.
About 18 to 24 months ago Shafer, Cox, and other members of the Roadhouse leadership team were sitting around and drinking in their downstairs cellar. Full of vinyl records and custom cabinets to house the staff's crazy beer collection (think flights of Sierra Nevada's Bigfoot going back 10-15 years), the basement acts as sort of an escape and beer buff utopia for the Roadhouse crew. One night, "I remember sitting down there and picking up some White Claw," reminisces Shafer. "I said this is something we should do."
By "something" Shafer meant hard seltzer. But, not just any hard seltzer and certainly not White Claw. Shafer wanted to construct Roadhouse's own craft version that stayed true to the brewery's roots in beautifully blending food and beer.
Think you've heard this story before?
Sure, craft breweries devising their own rendition of hard seltzer have become pretty ubiquitous, but to Shafer that just meant that he and the team had to think even harder about, "Why would we produce hard seltzer? Why is that Roadhouse?"
It took close to two years from that early idea-we-had-in-a-basement-while-drinking-White-Claw to answer that question, including a year of just straight recipe development to fully formulate Seltzy.
But, the final brand speaks for itself not only tapping into all of those, "beautiful Millennial buzzwords like low-calories and no-sugar," says Shafer, but also way beyond that adding Roadhouse's own "special sauce" in the mix.
What Makes Seltzy So Special?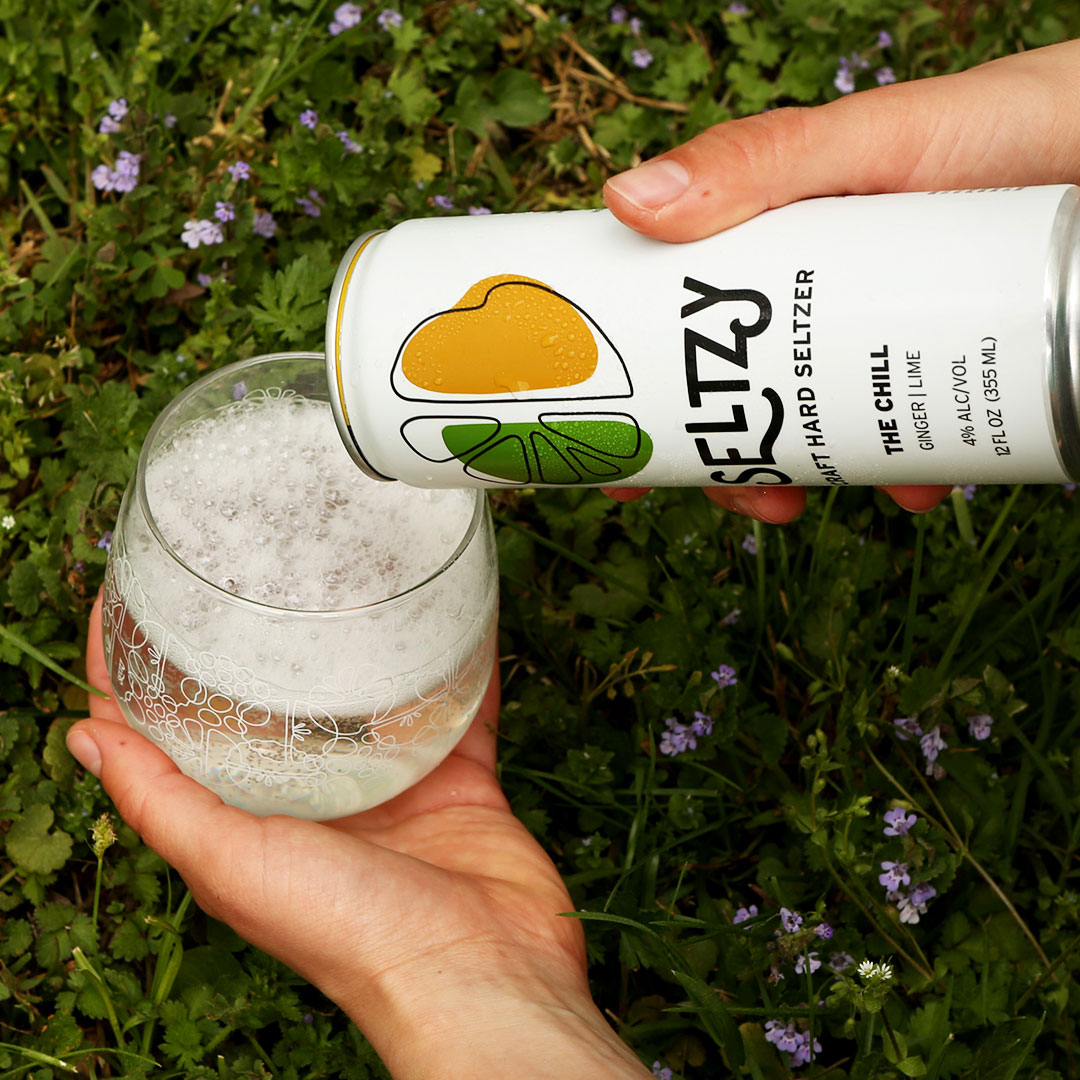 There are several key components that set Seltzy apart from other hard seltzers.
Foundationally, it starts with something as simple as the water. "We start with beautiful filtered unadulterated water," says Shafer. "We're in the mountains, so we get that true mountain water rich in calcium, super crispy, and pretty hard."
Building off that clean, crisp, and pure base, Shafer underscores that Roadhouse uses only natural flavorings to develop Seltzy's three cores brands – The Chill: Ginger-Lime; Kicked Back: Cucumber-Lychee; and The Crush: Huckleberry-Lingonberry. None of that chemical, medicinal aftertaste or back sweetness here.
Shafer and his wife, who is borderline Celiac, are huge seltzer drinkers often cracking cans while they're out rafting on the river. As a self-proclaimed seltzer connoisseur, Shafer knew from the start he wanted to make a seltzer that is fully fermented and completely free of its sugar. "We wanted to reduce that chemical approach to flavors and make [Seltzy] as natural and subtle as possible," says Shafer.
Out in the wild, the decision had a huge effect on not only Seltzy's taste, but also on public perception.
"Seltzy is a ton of fun. But at the end of the day hearing someone say…the refreshing flavors are there, but not overpowering, [means] cool we've nailed it," says Valenta, who is no stranger to launching a new brand. She started running her first brewery at 23 years old and hasn't looked back since. "The one complaint we've gotten is that it's too easy to consume and gets people into trouble," laughs Valenta, who feels that she herself can drink way more than she should.
It's the versatility of Seltzy not only on the palate, but also on the road, out on the river, or on the mountain that has made it so successful. "For our culture, it's perfect because if you're going rafting you can put a couple in the boat or if you're going skiing in the backcountry you can just put a couple in your bag," says Valenta.
It's that sense of adventure along with the unique ingredient profiles that actually dictated Seltzy's flavors. Again, making the series uniquely true to Roadhouse.
What Are Seltzy's Flavors?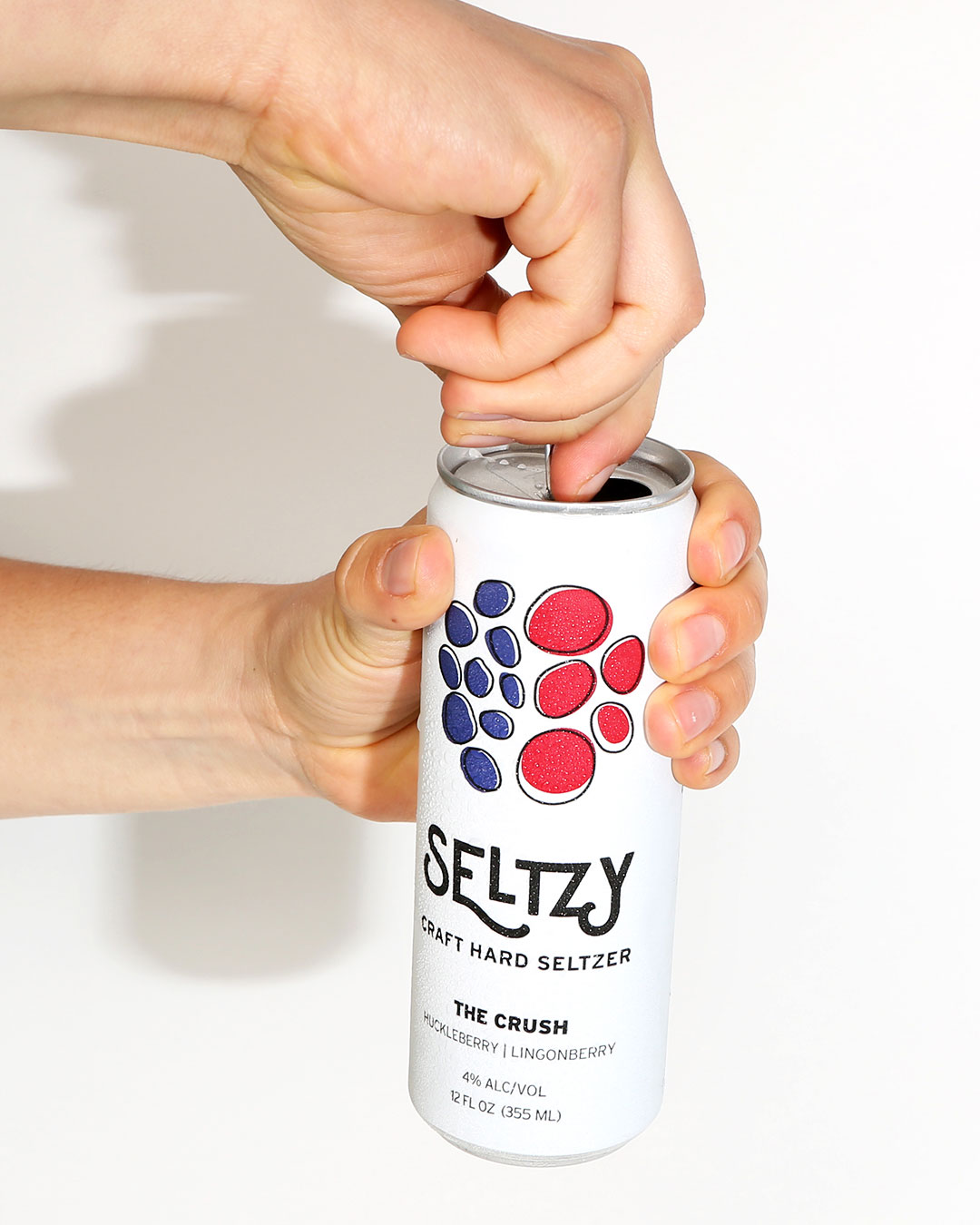 Launching with three wild, innovative flavors, the Seltzy line currently includes The Chill: Ginger-Lime; Kicked Back: Cucumber-Lychee; and The Crush: Huckleberry-Lingonberry.
"We approached [Seltzy] with flavors that we would want to drink ourselves," says Shafer. "They're not adventurous flavors, but off-the-beaten-path flavors."
According to Shafer, the idea was to develop inventive combinations featuring two predominant ingredients. Just like a beer uses multiple hops to cultivate a flavor profile, Shafer wanted to approach Seltzy's recipe development the same way.
To date, Huckleberry-Lingonberry, which incorporates a fruit native to the Mountain West with a berry indigenous to Scandinavia, respectively, has been the most popular and best-selling version. "Anything that has huckleberry in its name is like crack to tourists in Jackson," laughs Shafer.
But internally, the Roadhouse team loves Cucumber-Lychee. "It's the one we always reach for at the end of the day," says Valenta, who observes that she hasn't seen that specific seltzer sequence anywhere else.
And, if you're looking for a more cocktail-inspired flavor, then Ginger Lime will satisfy. In fact, Shafer developed this flavor as a nod to the team's love of tequila. Specifically, Co-Founder Gavin Fine has been known to enjoy a good tequila with a slice of lime on the side at the end of the day.
Valenta drinks Ginger Lime Seltzy "when I feel like a cocktail, but don't want that level of inebriation." This one mimics the flavor of a great mixed drink without all the calories and at a lower ABV. Conversely, for Shafer, it's like drinking a Lime La Croix or Lime Polar Seltzer, but with just a bit of an alcohol kick.
In general, cocktails are another important component to the brand. Each flavor in the series includes a suggested cocktail recipe on the side of the can. For example, the Ginger-Lime label suggests that you add crushed ice, lime, a neutral spirit, and of course the hard seltzer to a Collins glass for a tasty, refreshing drink.
It's those little touches that highlight Roadhouse's ingenious approach and will continue to show how the series stands out on a crowded craft seltzer shelf.
The Bottom Line
To date, Seltzy has been an overwhelming success in Roadhouse's market, which includes Wyoming, Colorado, Utah, Idaho, and Montana. Actually, the sales of Seltzy have blown all projections out of the (hard, bubbly) water. In Q1 Roadhouse's distribution partner ordered a calculated number of cases they believed would last them 90 days. All of the Seltzy inventory sold out in less than one week. "We got our asses kicked a little bit," jokes Valenta, "but in the best way."
Shafer agrees that in the immediate future, "We're trying to keep our heads above water with this freight train we've turned loose, but people are really digging it. So we'll continue producing tons of it going forward."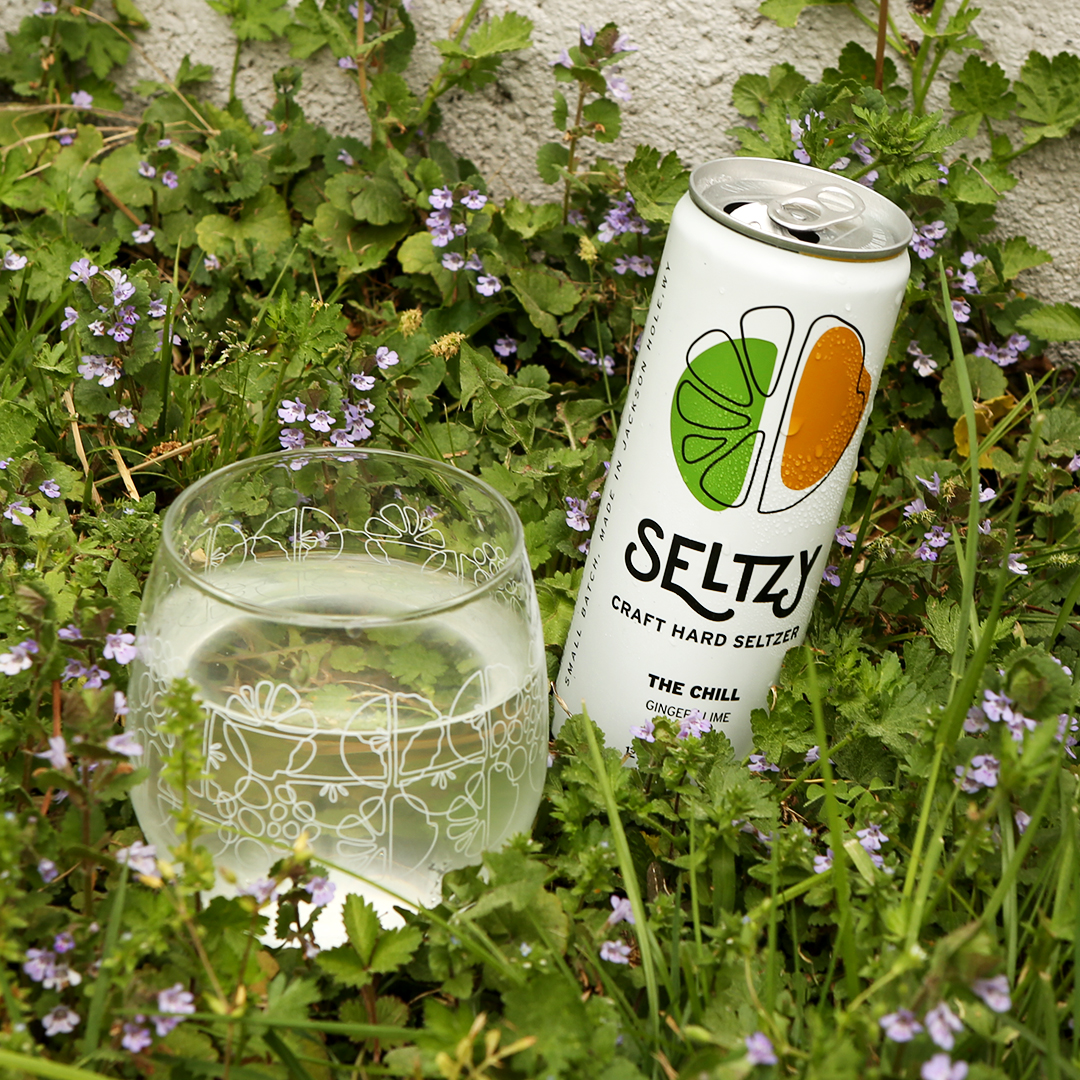 Now, building off the initial success of the original release, Roadhouse has plans to launch Seltzy in California in April along with an on-premise model. Currently, the brand is only available in mixed 12 packs.
For the rest of 2021 Roadhouse wants to simply focus on growing the line. But the idea for new flavors isn't far behind. Shafer is currently working on new flavors such as huckleberry, lemonade, and watermelon; playing around with a higher gravity version; experimenting with real fruit juice to kick up the color; testing out some dry-hopped versions; and even toying around with more cocktail-inspired flavors. But, those are all still ideas on a basement drawing board and likely won't come down the line until 2022.
In the meantime, kick back and chill with the newest hard seltzer brand that's been crushing it in a category we thought was already crushed.
Looking to learn more about Seltzy? Check out our friends Harrison and John over on Untappd's Drinking Socially Podcast on Wednesday, April 21st as they drink their way through all of the new Seltzy flavors.
This is a paid, sponsored post presented by Roadhouse Brewing Co.
Liked this article? Sign up for our newsletter to get the best craft beer writing on the web delivered straight to your inbox.