Photography courtesy of Russian River Brewing Company
Three weeks ago, my dad and I piled in the car on a Monday morning and drove an hour and change up to Russian River's Windsor taproom.
As we pulled into the parking lot at 11:30am, a line outside the brewery stretched a few blocks long (we're talking like New York City avenue-blocks long).
Folks I talked to in line and sitting down inside had waited anywhere from two to four hours, depending on when they arrived.
Despite the wait, everyone seemed in excellent spirits. "I've waited in longer lines at Disneyland for a shorter ride and no alcohol," laughed Angelo Venegas, who had driven up from the San Jose area the night before and had already been in line for three hours when we chatted.
Why had people trekked to Sonoma County an hour and a half north of San Francisco on their days off, flown in from out of town, and set up camping chairs to hunker down to wait?
To try Russian River's Pliny the Younger, one of the rarest and highest-rated beers in the world.
Released for just two weeks, one time per year, Pliny the Younger is only available at Russian River's original Santa Rosa pub and new Windsor facility, along with a few select accounts in the area (and sometimes extremely limited distro out of state).
My dad and I only had to hop in the car for a nice drive, but for anyone else outside of a small area in Northern California, trying this incredible triple IPA probably means buying a plane ticket, planning a whole trip, and waiting in line for up to six hours on their busy weekends.
Trust me when I tell you that it is entirely worth it.
But Pliny the Younger wasn't always like the Moby Dick of craft beer.
In fact, this beer began as just a simple seasonal release to draw crowds in during the cold winters in Santa Rosa.
The Legend of Pliny the Younger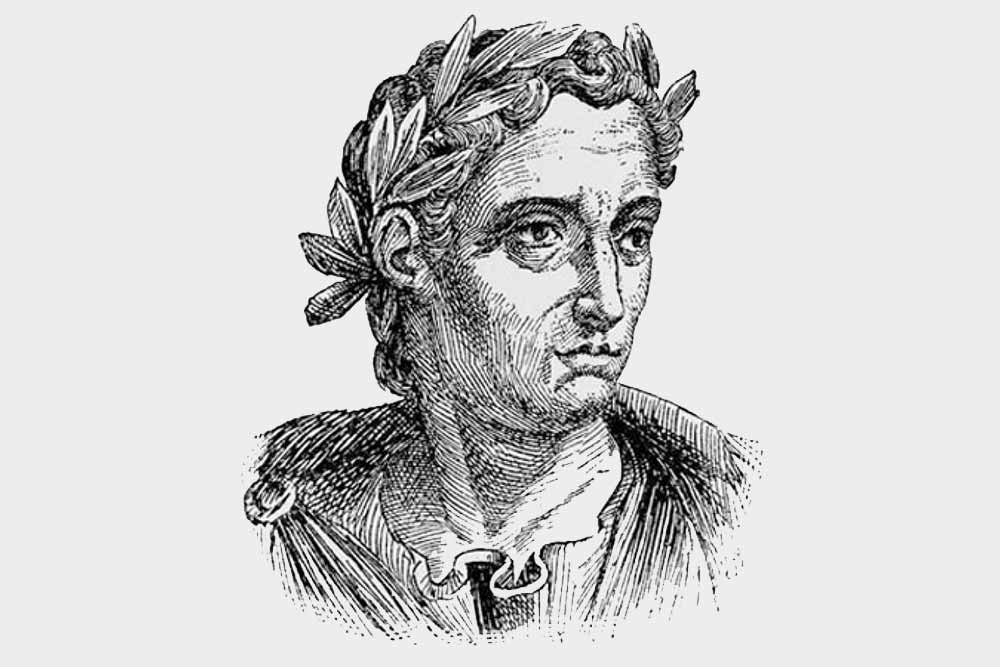 The history of Pliny the Younger starts with "the man," says Russian River Co-Founder Natalie Cilurzo, referring to the eponymous Roman who witnessed the eruption of Mt. Vesuvius in 79AD.
The nephew and adopted son of Pliny the Elder, Pliny the Younger survived the volcanic disaster going on to become an author and lawyer, writing about his uncle who did die during the eruption.
A notable figure in his own right, Pliny the Elder supposedly invented the botanical name Lupus Salictarius, aka hops.
Over two centuries later, while working at Blind Pig Brewing in the mid '90s, Russian River Co-Founder Vinnie Cilurzo brewed and invented the double IPA, naming the beer Pliny the Elder to honor this somewhat esoteric, historical tie to beer.
As we all know, Pliny the Elder became one of the country's most iconic beers. And, in a way, lived up to its legendary name.
Fast forward to 2004. In the winter of that year, Natalie and Vinnie had taken over the reins at Russian River Brewing Company from Korbel Champagne Cellars, opening a brewpub in downtown Santa Rosa.
"It was just so slow," Natalie recalls. "Most craft brewers today who open their doors are usually met with an excited audience, but the times were very different almost twenty years ago—that did not happen."
Looking to boost sales in a slumping season just to pay the bills, Vinnie decided to take his Pliny the Elder recipe and "bump up the malt, bump up the alcohol, and add a ton more hops, just to see what we could do with it," says Natalie.
In February 2005, for the first time, Russian River released a 20bbl batch of Pliny the Younger (which netted out to only 14bbls because of the amount of ingredients in the recipe).
Did people line up for it?
Did folks fly into Santa Rosa nationwide to try a taste?
Were people clamoring to try this then over-11% ABV triple IPA?
Nope.
Vinnie and Natalie quietly released Pliny the Younger every February for the next few years as their winter seasonal.
And that was that.
Until 2010, when a couple of little sites called BeerAdvocate and Ratebeer.com had something to say about Pliny the Younger.
BeerAdvocate and Ratebeer.com Rank Pliny the Younger Among Best Beers in the World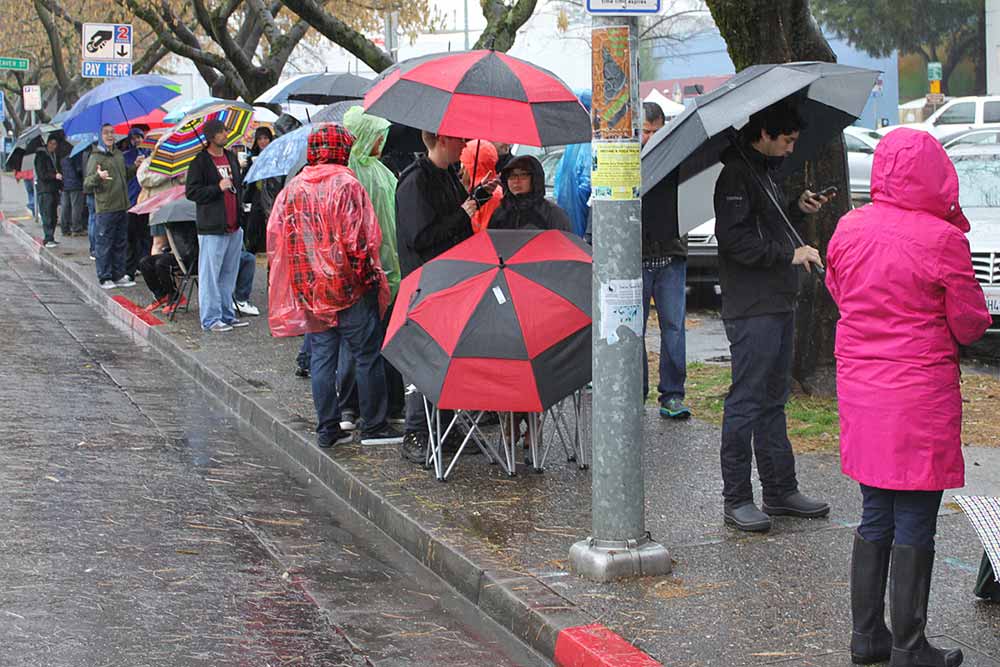 In February 2010, the day started like any other for Vinnie and Natalie. They both got to the Santa Rosa pub at 7am to prep the pub for a typical Saturday.
Except Vinnie found a line of people waiting outside the pub despite the early morning hour.
"We'd never seen a line of people outside of our brewpub," says Natalie, who recounted how Vinnie went out front to ask people what's up.
"Hey guys, we don't open for four hours, so what are you all doing here?" Vinnie asked.
The response he got? "We're here for Pliny the Younger."
"What do you mean? How do you even know about the beer?" Vinnie asked.
"You don't know?" people responded. "This beer has been rated one of the best beers in the world."
Natalie and Vinnie had no idea.
"At the time, we were making 40bbl batches; it was draft only; eighty-five percent of it sold in our brewpub, and a handful of kegs (maybe ten) went out to key accounts around the Bay Area," says Natalie.
How had anyone gotten their hands on Pliny the Younger, naming it one of the best beers in the world?
Well, turns out Younger found its way into the hands of people who posted beer reviews on BeerAdvocate, the now-oldest and largest online community of beer aficionados and industry professionals.
According to BeerAdvocate Founder Todd Alström, Pliny the Younger first showed up on the platform in January 2005, with only thirty-nine ratings, an average score of 4.24 out of five, and a top ranking of thirty-sixth.
By April 2010, that number escalated to 492 and a top ranking of third, growing to 1310 by January 2013 with an average score of 4.69 and an all-time high ranking of the second-best beer in the world.
Today, Pliny the Younger ranks as the second-highest "Imperial IPA" on BeerAdvocate, twelfth highest-rated beer of all time, and second on BeerAdvocate's Beers of Fame list, which Alström calls an "epic achievement."
For Alström, he sees a strong connection between the rise of beers like Younger and their popularity on BeerAdvocate.
"Without a doubt, BeerAdvocate helped put these beers on the map, especially for breweries that didn't have much distribution back in the day," says Alström. "It was an instant way for a brewery to get national or even global recognition in a very short period of time, and for the first time, without doing any advertising."
Word for Pliny the Younger spread quickly. To the point where Vinnie and Natalie showed up one day at their tiny Santa Rosa brewpub to find a line of folks all waiting to get a taste of Younger.
Russian River's Best Sales and Worst Service Day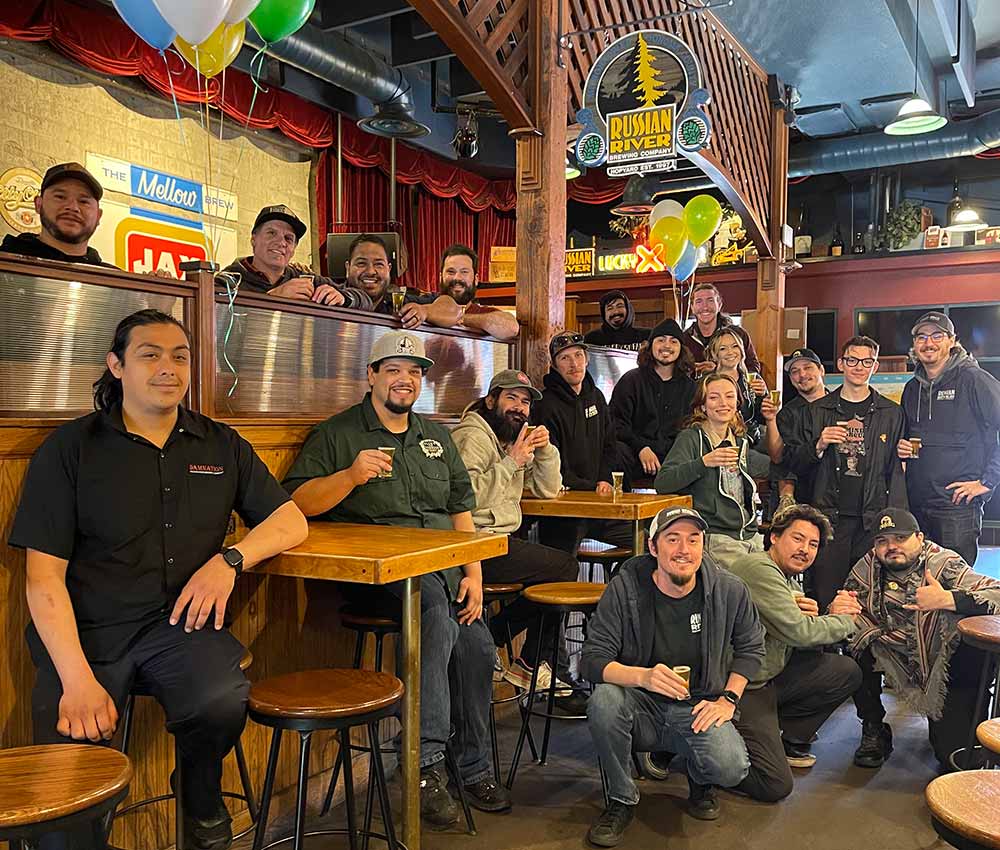 At 11am, Russian River opened the front door, and the people streamed in.
Vinnie and Natalie opened the pub's back door, and people emerged from their cars, streaming in.
"Within two minutes, the entire pub was full—every seat, every bar stool, standing room only at the bar," says Natalie. "It was insane, so the wheel started popping off."
Never as busy as at that moment, Vinnie and Natalie weren't prepared.
Natalie had just had knee surgery, so she couldn't even walk, and Vinnie was coming down with a cold.
Understaffed and under the weather, Russian River started its best sales and simultaneously worse service day.
With a limit of four growlers per person, everybody who walked in the door ordered one 10oz glass of Younger and four growlers.
Do you know how long it takes to fill a growler? A while; it's not something you want to be doing while a mad rush of people comes through your doors to try "the best beer in the world."
"It ended up being a total shit show," laughs Natalie, who says anyone they knew who walked in the door got put to work, whether brewers coming to visit, friends stopping by, or employees coming to get a beer. "Every single person we knew got put to work."
Without any mobility, Natalie parked behind the bar, filling glasses. "A party of four walks in and gets four glasses and sixteen growlers; a party of eight walks in…forget about it, it was the worst service we've ever given in the history of Russian River Brewing Company," says Natalie.
It's safe to say that after that first year, Russian River never filled growlers of Pliny the Younger ever again.
But despite the pain of service, Russian River sold out all the beer by 7pm that night. In just eight hours, the brewery had filled 815 growlers and had one of their best sales days ever. That first crazy Pliny the Younger release still ranks "in our top five sales days, but also one of the worst days ever," says Natalie.
But like a phoenix rising from the ashes, Russian River picked itself up, dusted the dirt off its shoulders, and began to create an entire experience around Pliny the Younger every year.
Pliny the Younger Becomes a Badass Beer Release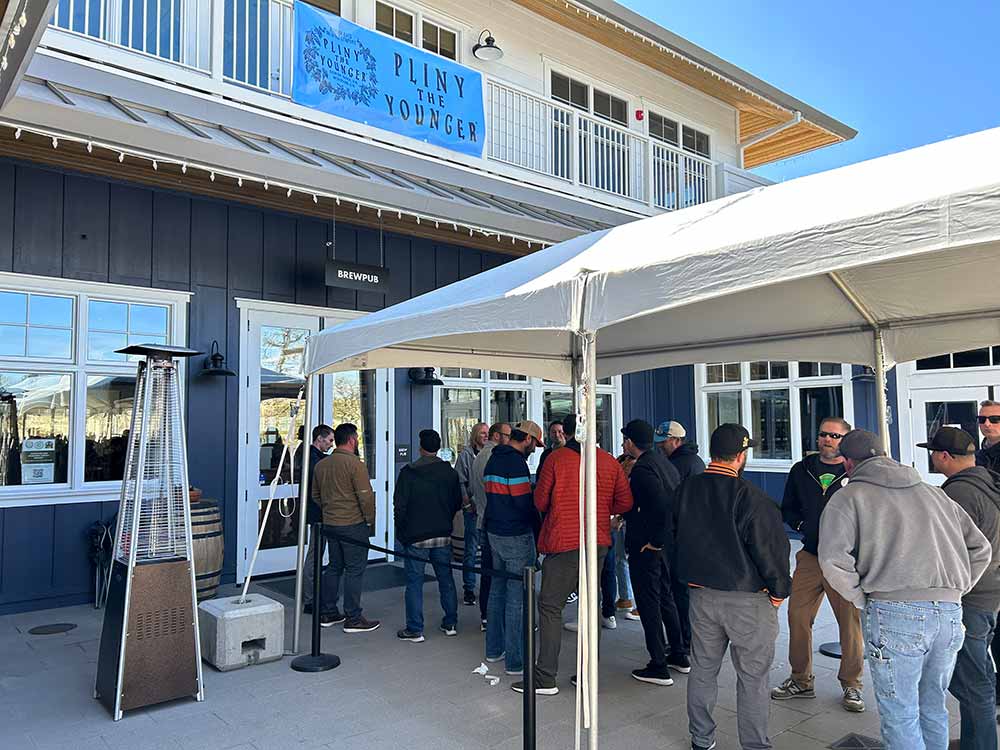 Every year after 2010, Russian River released Pliny the Younger on the first Friday of February, keeping the beer on tap for two weeks.
After the Mt. Vesuvius-like eruption of 2010, Russian River started using wristbands to coral the masses.
But of course, someone went to a local party store and started selling them black-market-style.
Russian River now gets custom-dated and colored wristbands. "I just spent $6,500 on wristbands [this year]," Natalie shared.
You know you've reached cult-like status when people start trying to figure out how to scheme the system.
Natalie likens the ascension of Pliny the Younger in a much more romantic way, comparing the beer's popularity to a bar band. "You just keep going out, playing gigs, making $100 every night in bars for years and years, and then one night, you get discovered, and the rest is history!"
The Rest Is History and a Little More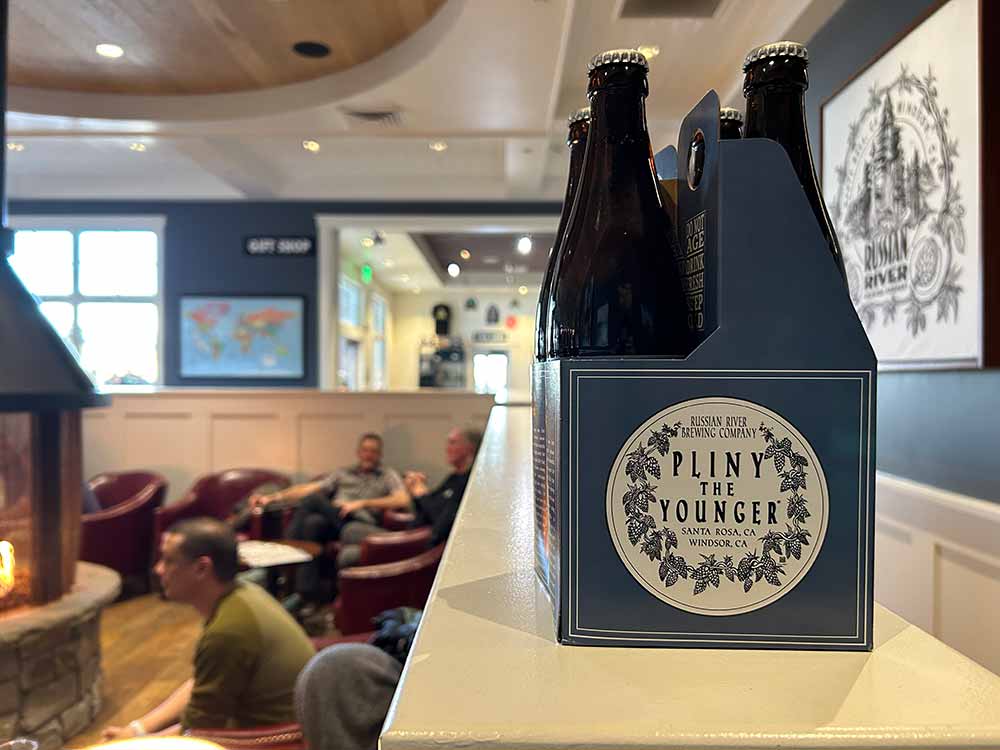 What people and sites like Ratebeer.com and BeerAdvocate discovered was a beer boxing way above its average weight.
Originally developed as a triple IPA to be bigger than Pliny the Elder, Younger punches up everything—malt, hops, and ABV.
At one point above 11% ABV, Younger dialed down to 10.25% after too many people got too tanked, says Natalie.
Still a big beer, Younger starts with a massive grist bill, "but our house characteristic is dry beer; we don't like to leave fermentable sugars in the beer; we like the mouthfeel beer…so it's relatively dry for as much malt as is in it," shares Natalie.
In addition to the malt, Vinnie includes a massive dry hop. "[Younger] has always been at least double dry hopped—long before DDH was a thing—and nowadays quadruple dry hopped," says Natalie. "QDH isn't a thing, but maybe we'll make it one!"
Hops are where Vinnie gets to have fun. And they change a little bit each year.
Simcoe has always been in Younger, but two years ago, Vinnie added Elixir, "what we call the strawberry hop because it has notes of berry, particularly strawberry," says Natalie. And last year, Vinnie added Nectaron, a New Zealand experimental hop with wonderful stone fruit notes.
In addition to Simcoe, Elixir, and Nectaron, Pliny the Younger in 2023 also has Amarillo, Chinook, Citra, Mosaic, and Warrior.
Natalie says. "For me, I get orange slice candies."
But honestly, Younger's secret lies in its smoothness and balance.
"Deceptively well-balanced" is how Natalie describes Pliny the Younger. "Our friend John Mallett likes to say Vinnie wins the award again for how to hide alcohol!"
While my dad and I enjoyed our 10oz pours in the Windsor taproom and talked to other folks, it's the one thing I heard repeatedly.
"For a 10% ABV [beer], this is so smooth," my dad gleefully proclaimed after his first sip. "I taste peach, a little grapefruit. It's citrusy but muted and not floral, although it is floral on the nose."
At the table next to ours sat Dona Gaddis and her son Zac Wolf, who drove up from Pittsburg, CA, to taste this year's Pliny the Younger. Gaddis first went to a release back in 2019 before bringing her family. "That's the thing that struck me the first time [I tried Pliny the Younger]," said Gaddis. "It was so smooth, flavorful, balanced, and enjoyable."
Pliny the Younger, Way More Than Beer…or Any One Man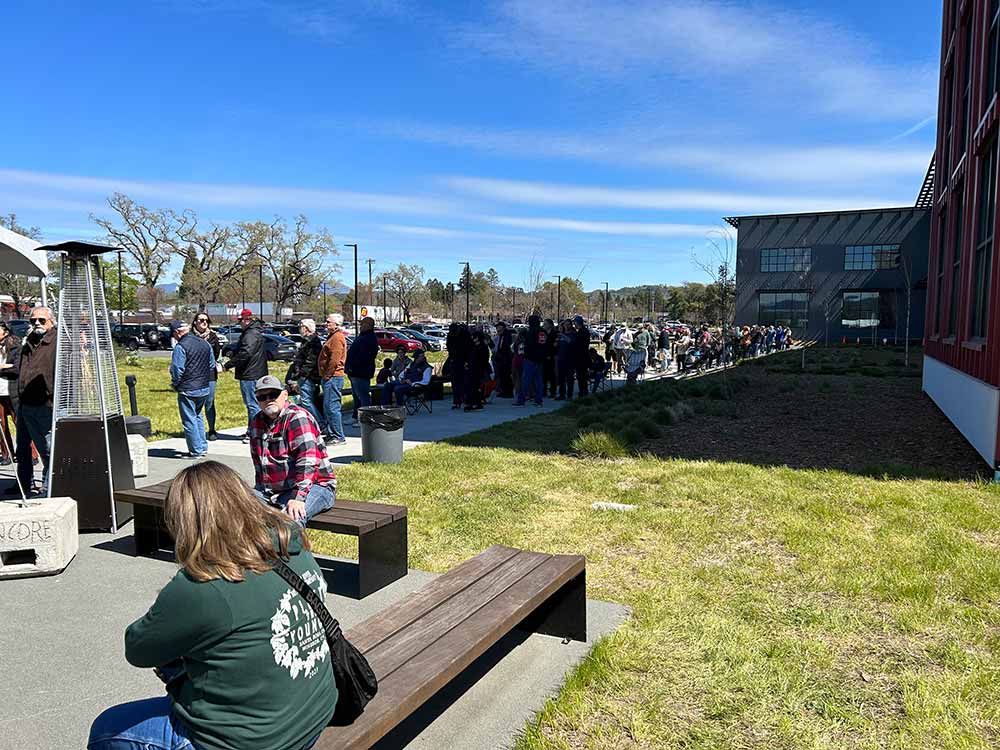 Coming up on its twentieth anniversary in 2024, Pliny the Younger has become way more than a beer.
Now when you go to Russian River for a release, Natalie wants you to have an experience. "Yes, you get to taste Pliny the Younger and buy bottles, but it is more than that," says Natalie. "For us, it's about the Russian River experience, and we work very hard to make sure our guests have a wonderful experience when they come."
And that starts when you first set foot in line.
"People are always like, 'Why would people wait in line for four, five, or six hours for beers?'" says Natalie. "It's not what they're waiting in line for; they're actually coming to an experience with like-minded people who come from all over the world to share their same excitement and passion for craft beer."
Alström agrees, "There are not many beers I would stand in line for but that's one of them," he says. "The camaraderie, the positivity they've maintained over the years without compromising anything is really cool…they get the beer to the people who really want it and that's it!"
This year, I saw people parked in their own camping chairs, chilling, drinking beers, and chatting with friends.
"The excitement builds up," says Fidelia Ortiz, a local who came to the release with Ricardo Arciniega. "You see all these people, and who knows where they came from!"
Ortiz and Arciniega arrived at the Windsor taproom at 9am on Monday, two hours before Russian River opened at 11am. "Good thing though, because we got in early," says Arciniega, mentioning he'd driven by on Saturday, but the line was so long he decided to come back during a weekday.
Good thing is right. When I talked to Venegas, who still waited outside at 1:30pm while Ortiz and Arciniega enjoyed their pours, he said they'd been standing in line since 10:30am and probably had another hour wait in front of them.
Julio Manuel and Taylor Burns came up from San Franciso on their day off to get a taste of Younger. Both had just gotten in line at around 2pm. I can only imagine they had a nice four- or five-hour wait in front of them.
But neither seemed bothered. "I'm just excited for Younger," said Burns.
It's that excitement that feeds Russian River's soul.
"What we enjoy the most is really connecting with all the guests that come, and the 25,000 or so people that come from God only knows where to hang out with us for a couple of weeks," says Natalie. "We're most excited to meet the people…and ask them their stories: Where are you from? What's your story? Have you been [here] before? What else are you going to do when you're in town."
Pliny the Younger Contributes Over $6M to the Local Economy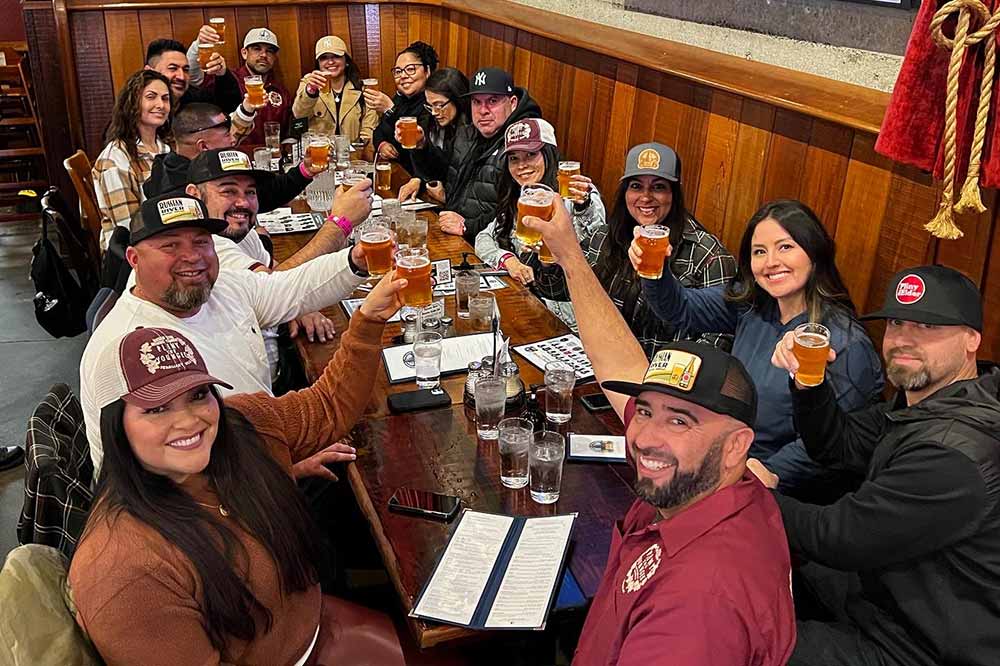 Today, a Pliny the Younger release not only draws six-hour-long lines of happy people at both the Windsor and Santa Rosa taprooms but is also an economic boon.
Last year alone, the beer release had $6.1 million in total economic impact on Sonoma County, according to a survey from the Sonoma County Economic Development Board (EDB).
"We're really proud of that," says Natalie.
The survey also found that 11,982 folks visited Santa Rosa from forty-two different states during the annual release from March 25, 2022, to April, 7, 2022.
In fact, after Russian River moved the release to spring for the first time last year, Natalie says they plan to continue that new time frame. "The weather is nicer, the days are longer…people just seem happier," says Natalie. "Sonoma County is absolutely beautiful in the spring with all the mustard in the vineyards…everything is lush and green."
And yes, people get lush too, but for the most part, it's all in good fun.
I Tried One of the Rarest Beers in the World…And Lived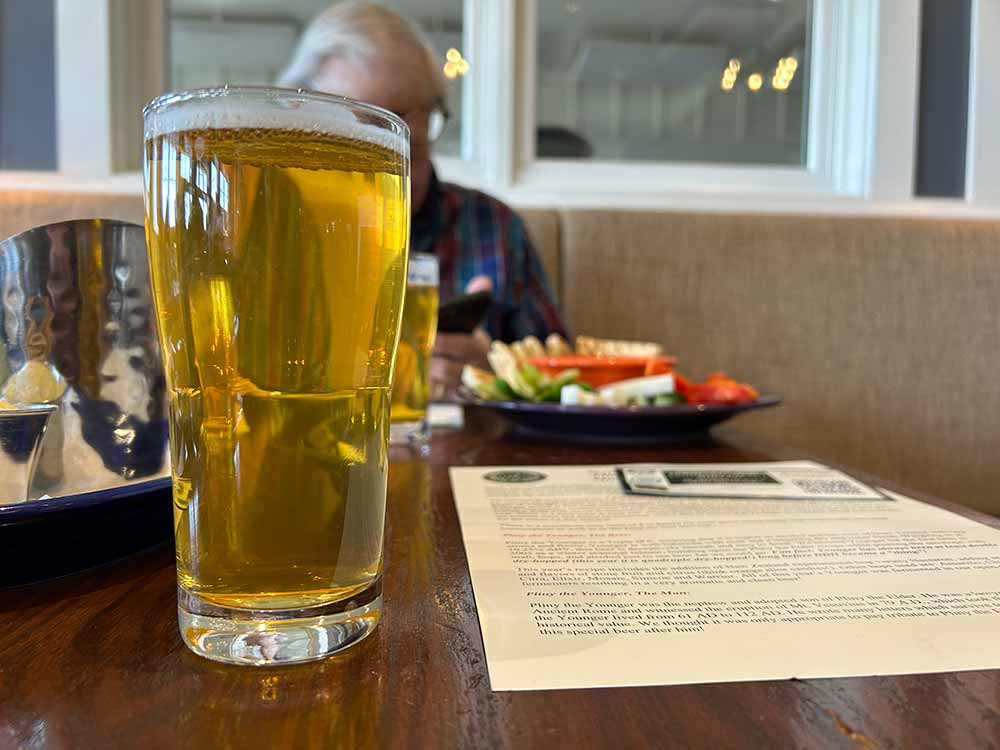 I've been working in the beer industry for just shy of a decade now and never had the opportunity to try Pliny the Younger.
A beer of mythical proportions, Pliny the Younger always seemed like that "one thing that will happen someday at some time but not right now."
Even after finally moving to Northern California in early 2020 and thinking this would be the year…a global pandemic had different ideas.
Finally, this year, I had the chance to cross the beer off my bucket list.
And I can fully echo Natalie that Pliny the Younger has become way more than just a beer; it's an experience.
Although lively in line, inside the reverie only rose. Tables of six or seven friends toasted over 10oz pours of Pliny the Younger. A couple of folks beside us worked away at their computers while they drank, and that table across from us was also a family affair.
"My mom told me how great [Pliny] was, so I wanted to experience it to see if it lived up to the legend," Gaddis' son Wolf told me.
Well, my dad, I, and countless others are here to say: It does!
Collectively, my dad and I count Pliny the Elder as one of our favorite double IPAs. So we can't lie that we felt Pliny the Younger had much to live up to.
After visiting Russian River this year, we both agree that Pliny the Younger might now be our favorite triple IPA.
I wanted my own words to convey just how incredible this beer is, but I think my dad's gleeful remarks articulated the whole day perfectly. "I started out thinking I would only have one 10oz pour and then switch to a low-ABV [beer], but I'm definitely going to have a second," my dad told me. "And maybe a third!"
Although one of the rarest beers in the world, served for only two weeks per year in one particular part of the country, this 10.25% ABV triple IPA is a beer that has countless lives.
Perhaps we're waxing poetic here, but Pliny the Younger, for all intents and purposes, has survived volcanic eruptions of biblical and philosophical proportions.
I tried one of the rarest beers in the world, and I'm here to tell you: The legend is real.