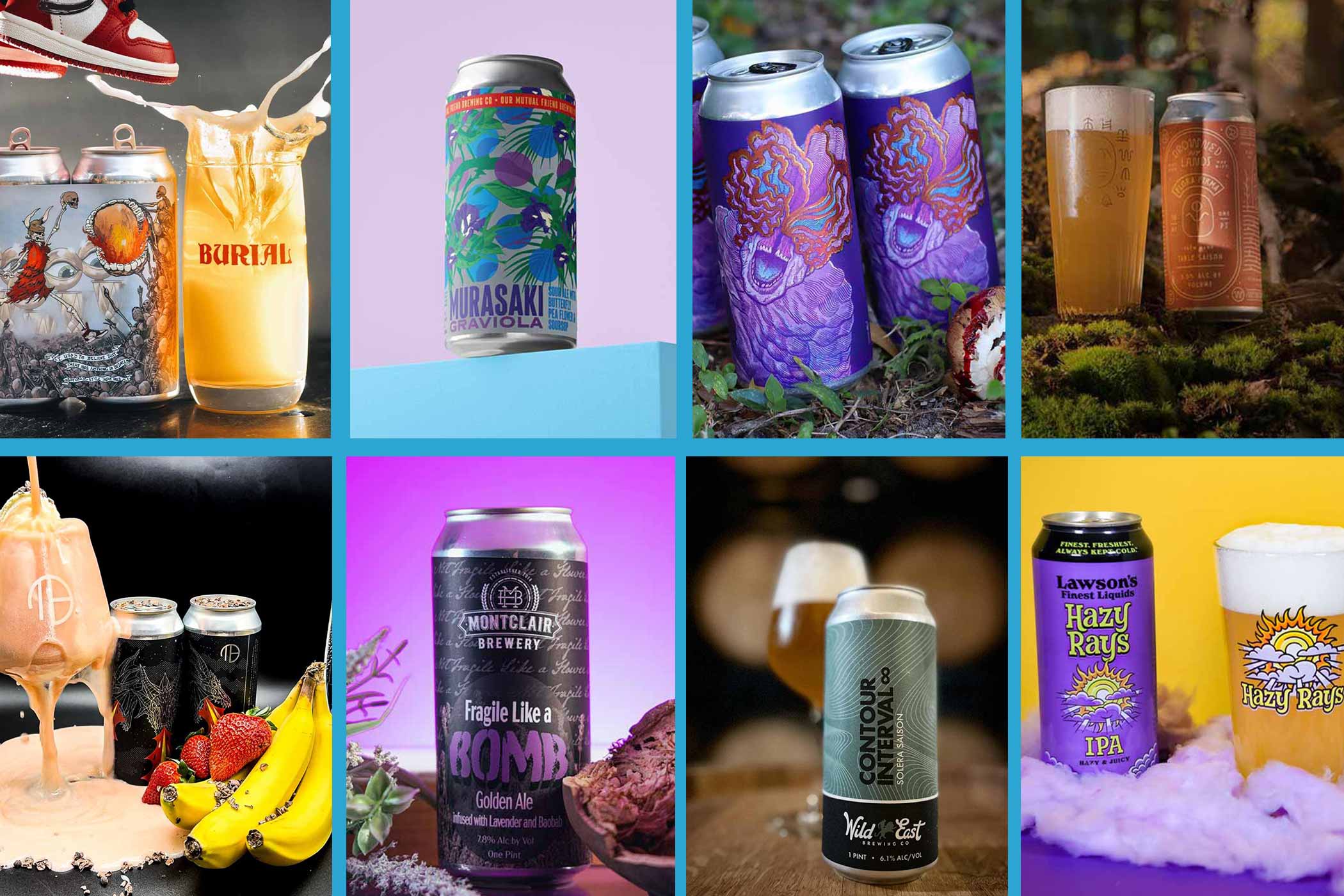 For many, March through May signifies spring, renewal, and a return to life. And the best spring beers we're drinking these days reflected that. (Beware the ides of March…more like beware the IPAs of March, are we right!?)
In spring, we want beers that wake our tastebuds, zap us out of hibernation, and flip us from our funk. We're talking styles like zesty saisons, jammy, tart fruited sours, juicy hazies, crisp Cold IPAs, and lagers all day every day. You may see a stout or two sneak in because we're still thawing out from winter. But for the most part, during this season, we want lighter, brighter styles. Ones that remind us longer, sunnier days are ahead.
We love putting together these seasonal best beer lists because we can do our best to showcase a wide variety of beers from a wide variety of breweries nationwide that we love. You've definitely heard of some breweries, and others might be new to you.
But hey, isn't that the point of spring—life emerging old and new?
As always, this list includes a mix of local brewery launches and some more widely accessible beverages. As a friendly reminder, our guide to the best spring beers should merely serve as a blueprint. If you can't find a specific beer we include, ask your local brewery if they have something similar.
The beers are presented below in alphabetical order by the brewery.
Our Favorite Beers for the Spring of 2023
Scrugsy
Belleflower Brewing — Portland, ME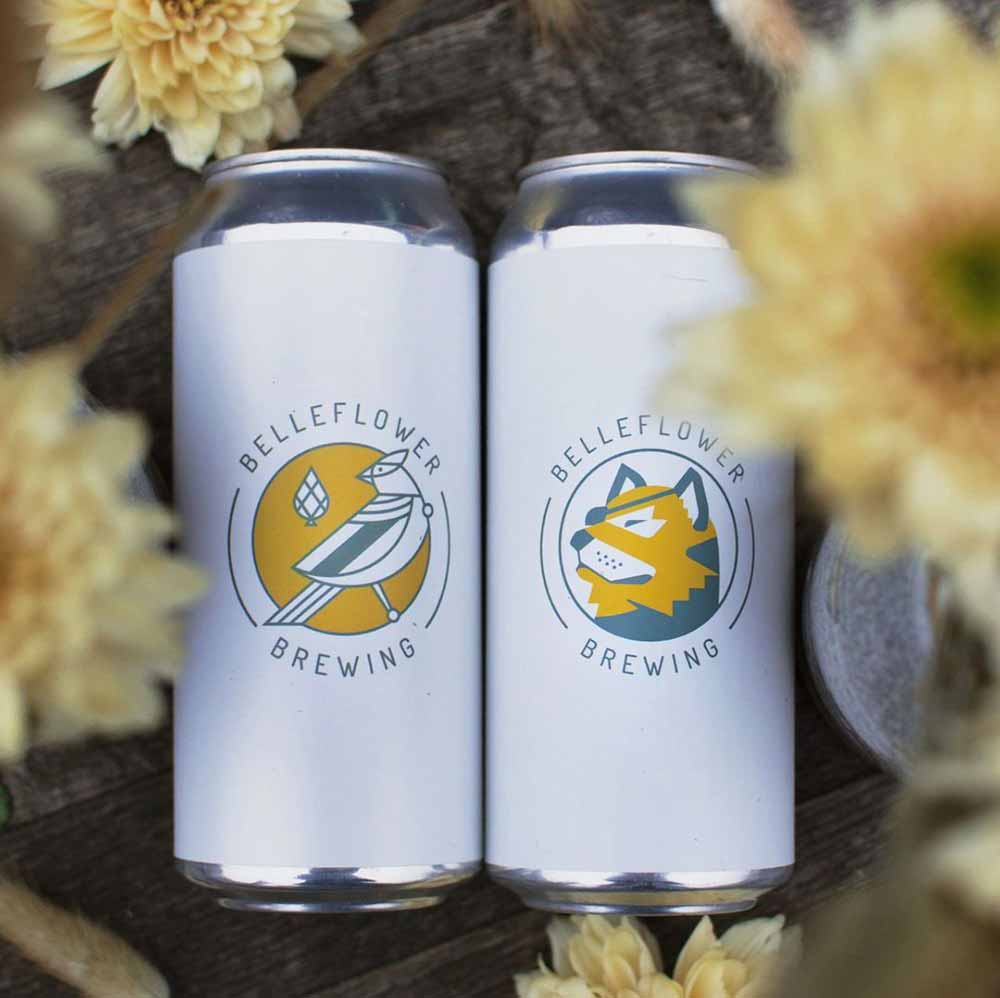 Hazy IPA — Our good friend Mike Dyer, who became a co-owner of Untold Brewing after stints at Trillium Brewing Company and Tampa Bay Brewing Co., turned us onto Belleflower Brewing in Portland, ME. We listen whenever folks in the industry tell us about their favorite spots. Especially when those folks made our list of the Best Beers to Drink in Spring 2022."
After Untold collaborated with Belleflower last year, Dyer told us that "they have a gorgeous taproom, strong ties to the local community, fantastic beer, and are simply great people. It's also quite cool that it is a woman-owned, family business."
Founded by Katie and Nick Bonadies, who was vice president of brewing operations at Trillium for many years, along with Melissa and Zach Page, Belleflower focuses on crafting small-batch beers, often with local ingredients.
Accordingly, Katie and Nick send us a compilation of hazies, double IPAs, IPAs, and sours, showcasing ingredients like malt from Blue Ox Malthouse. Oh, and an imperial stout with peanut butter and roasted cacao nibs that has been one of the best stouts we've tried in a long while.
Honestly, everything stunned us. Each one of Katie and Nick's IPAs surprised and delighted. From Hexology, a 7.3% ABV DIPA with Mosaic, Citra, and BRU-1 expressing candied grapefruit and orange, to Barn Hex (Mosaic, Strata, El Dorado), a New England DIPA with oats that reminded us of an orange creamsicle.
We had a hard time choosing one here, but for spring, we felt Scrugsy blew us away like the Santa Ana winds.
A hazy named after a one-eyed dog that Belleflower Co-Owner Katie's mother had when she was young, Scrugsy was the first IPA Belleflower ever brewed.
Amazing that a true OG impressed us so much.
Pouring a light lemonade color, Scrugsy hit us first with something we rarely smell on a beer—kiwi and honeydew. Our minds immediately traveled to the white-wine-expressive hops of the Southern Hemisphere. Fitting then to find Enigma in Scrugsy along with Citra and BRU-1. "Wow, that is a crazy, crazy beer," we wrote in our notes. "We're getting cotton candy, kiwi, and bubblegum."
So vibrant and fresh, Scrugsy hits you like a neon sign in a sea of billboards. All your tastebuds turn on, blinking and flashing as if you've won a brand new car on a game show. Ding ding ding!
Hazy Hearted IPA
Bell's Brewery — Comstock, MI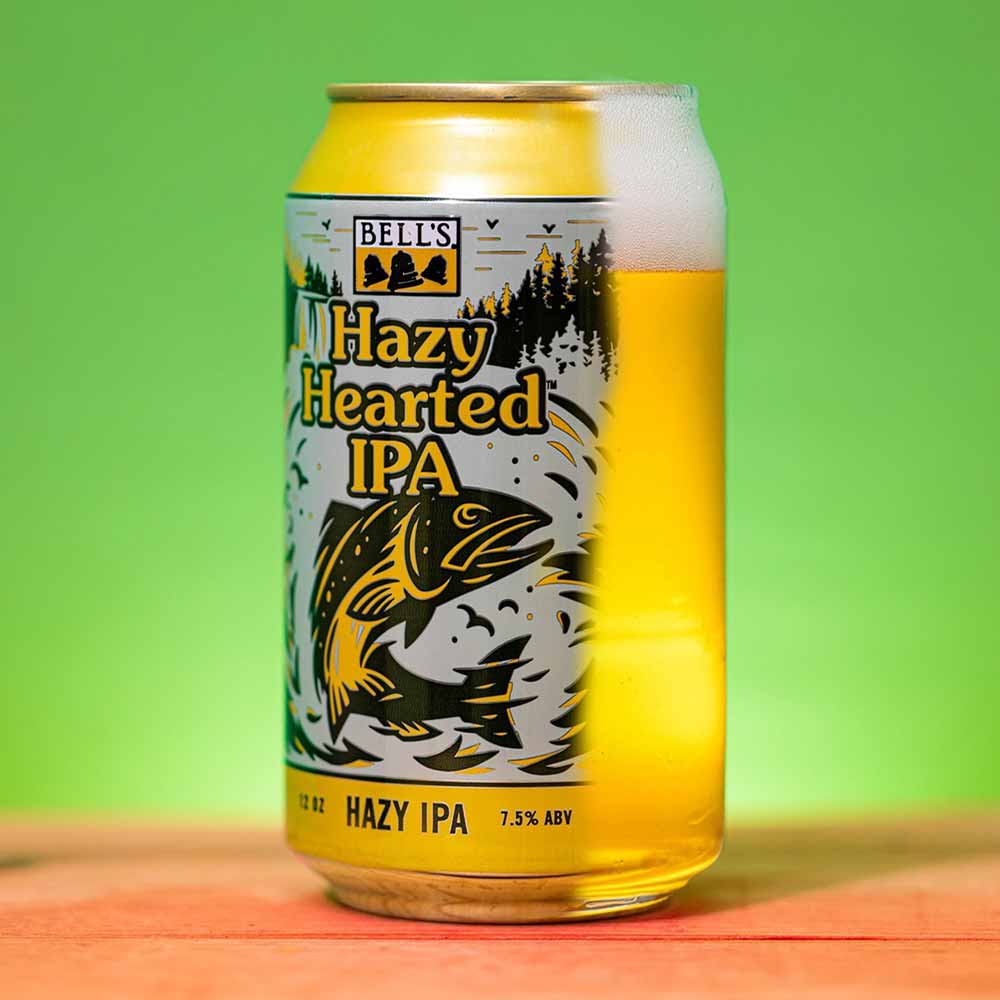 Hazy IPA — Normally, when we talk about Bell's and spring, it's in the same sentence as Oberon, the seasonal wheat beer that launches each year around the MLB season opener. But last December, Bell's expanded its "Hearted" family with the launch of Hazy Hearted.
This 7.5% ABV IPA features American and Australian hops such as Strata, Citra, Mosaic, Galaxy, and El Dorado, among more, for a hazy high in fruitiness, moderate in bitterness, and low in clarity thanks to a good portion of oats and wheat.
With Two Hearted Ale consistently ranked as one of the best beers in America and one of the most iconic beers in the country, we know that any beer added to the "Hearted" family has big shoes to fill.
Hazy Hearted lives up to its namesake. All heart, Hazy Hearted won't necessarily blow your mind, but it will be the hazy you want to keep stocked in your fridge all spring, coming back to it again and again when you're jonesing for a solid, smooth New England-style IPA.
Stokes Light
Boss Rambler Beer Club — Bend, OR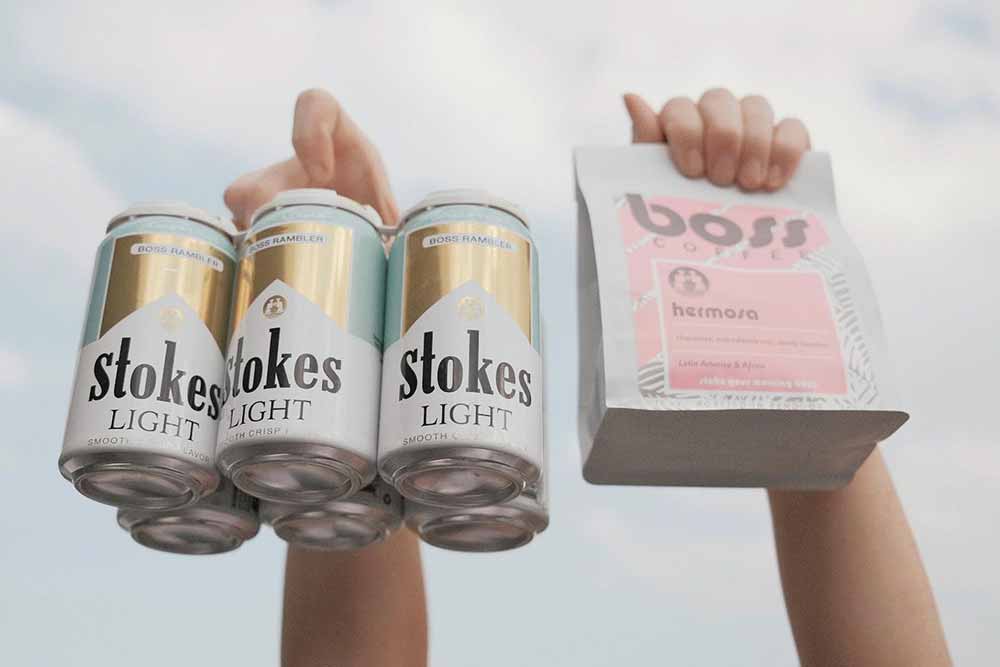 American Light Lager — We've said it before, but we'll repeat it: Beer is liquid art inside and outside the can. A recent winner of one of "The Best Looking Beer Cans in 2022," Stokes Light harkens back to the Marlboro Light packs of yore. We don't know much about cigarettes, but we know a bit about the nostalgic culture. As soon as Hop Culture Managing Editor Grace Weitz pulled this tallboy (which also comes in 12oz cans) out of the package, her wife recognized the design, an effort from Boss Rambler founder Matt Molletta and designer Dusten Ryen to riff off a retro classic.
All makes sense as soon as you crack the tab on this American light lager. A homage to the "fizzy, yellow stuff your dad drank," Stokes Light has bones and brings them back to life.
A current of corn, cracker, and cereal zip through, finishing crisp and clean as a good lager should. It's the carbonation that kills it, bringing vibrancy to this style. While we know there isn't any nicotine in Stokes Light, we will be jonesing for a hit of this beer all spring long.
Helles
Buoy Beer Company — Astoria, OR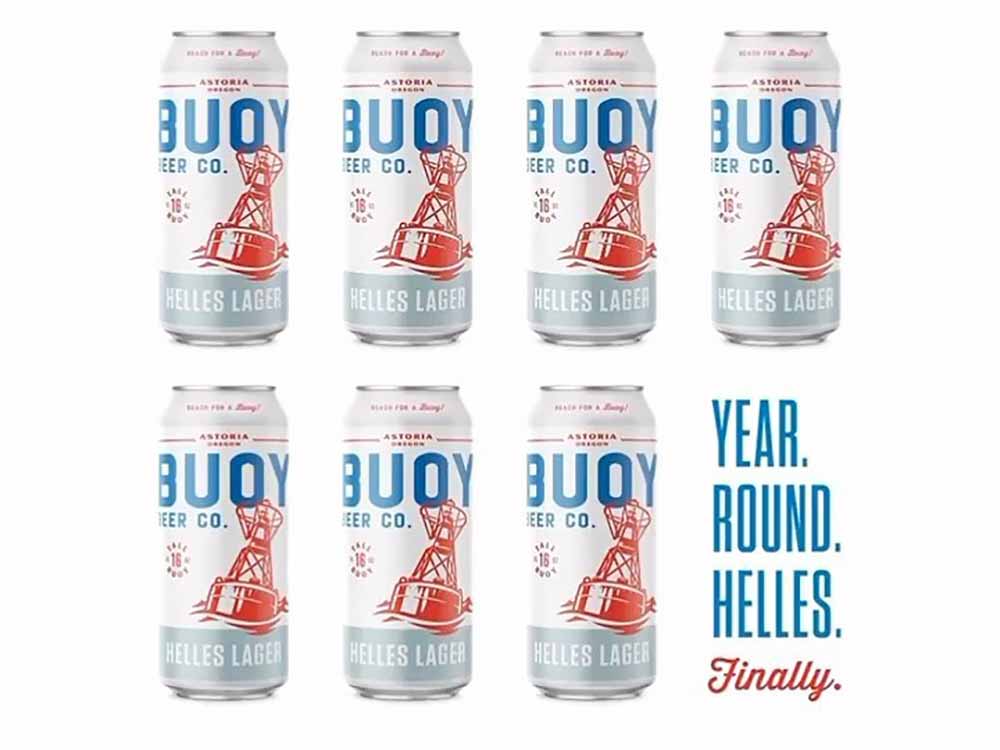 Helles — With a glowing recommendation from Next Glass Director of Consumer Products, Alyssa Rhodes, Buoy Beer Company came to us already riding a wave of high hopes. And after trying their Helles, we agree with Rhodes.
Light crackery but more herbal and floral than we thought it would be, Helles sent us straight to the boat deck yelling, "jibe ho." Honestly, we can't pretend we've spent any time at sea, but this is the type of cut-through-the-bullshit beer that honors the ramrod-straight German style whose history stretches back to the Spaten Brewery in Munich in 1894.
Toeing the line between composed and rough around the edges, Buoy's Helles finds the perfect buoyancy we're looking for in this traditional style.
And it's a testament to the brewery's resiliency. Last summer, part of the brewery's roof collapsed, literally falling into the Columbia River.
But the brewery bounced back, kind of like a buoy (sorry not sorry for the nautical puns).
I Used To Believe That There Was Nothing In Between
Burial Beer Co. — Asheville, NC, x Other Half Brewing Co. — Brooklyn, NY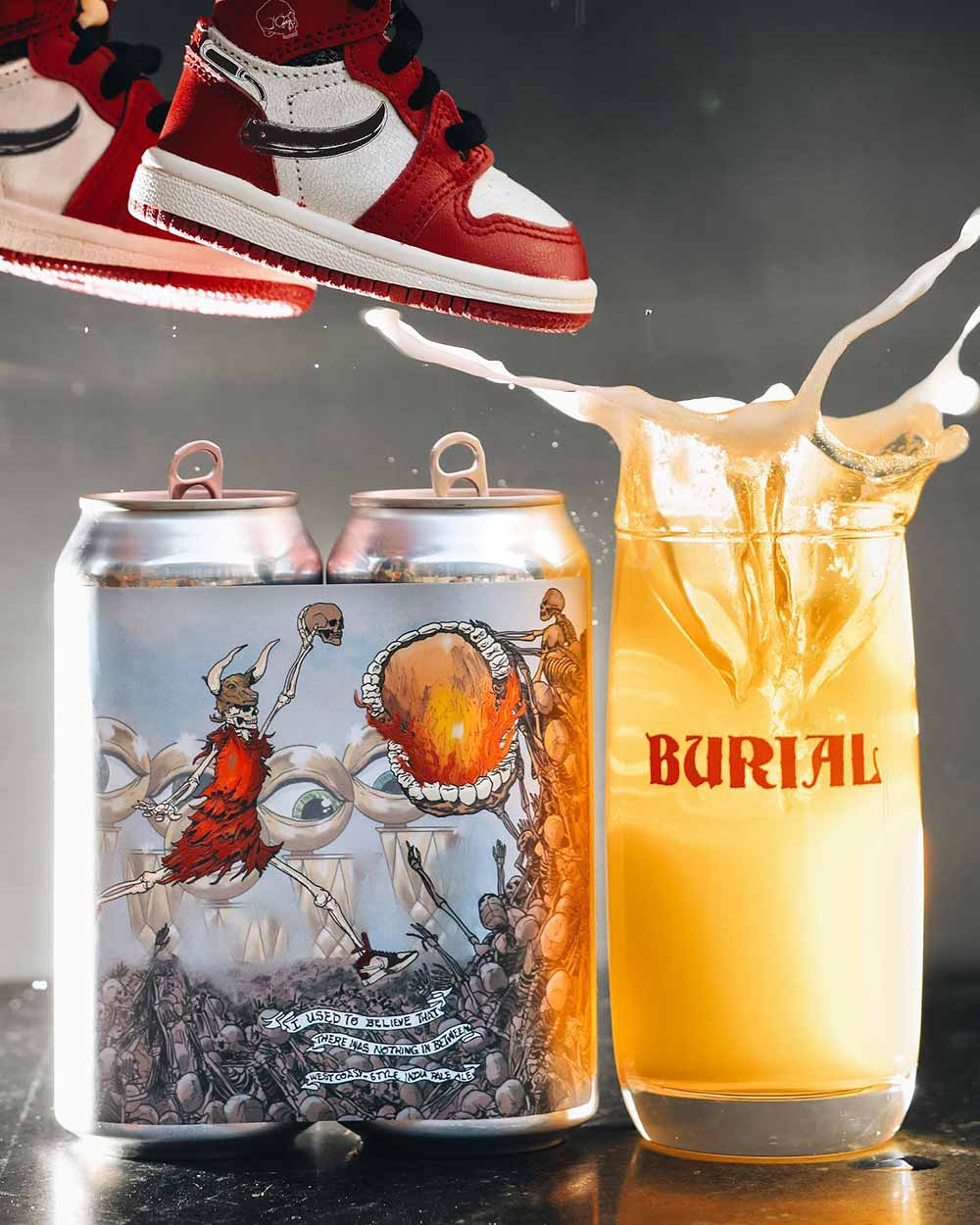 American IPA — You know it's spring when you walk outside, and it smells like you stuck your face straight into a bouquet. You know you're drinking a West Coast IPA when you crack a can and it immediately smells dank AF.
A collab between Burial and Other Half, I Used To Believe That There Was Nothing In Between mashes pilsner and pale malt with Cryo in the whirlpool plus a DDH of Citra and Motueka.
Hence dank AF.
But like the Garden of Eden, not all is what it seems. This beer pours out slightly murky, not crystal clear like a traditional West Coast. While we found all green cannabis on the nose, juicy mango, papaya, and fresh grapefruit juice hit us on the tongue.
An incredibly smooth DDH West Coaster, this American IPA proves paradise does exist.
Grand Cru Dubbel
Brewery Ardennes — Geneva, NY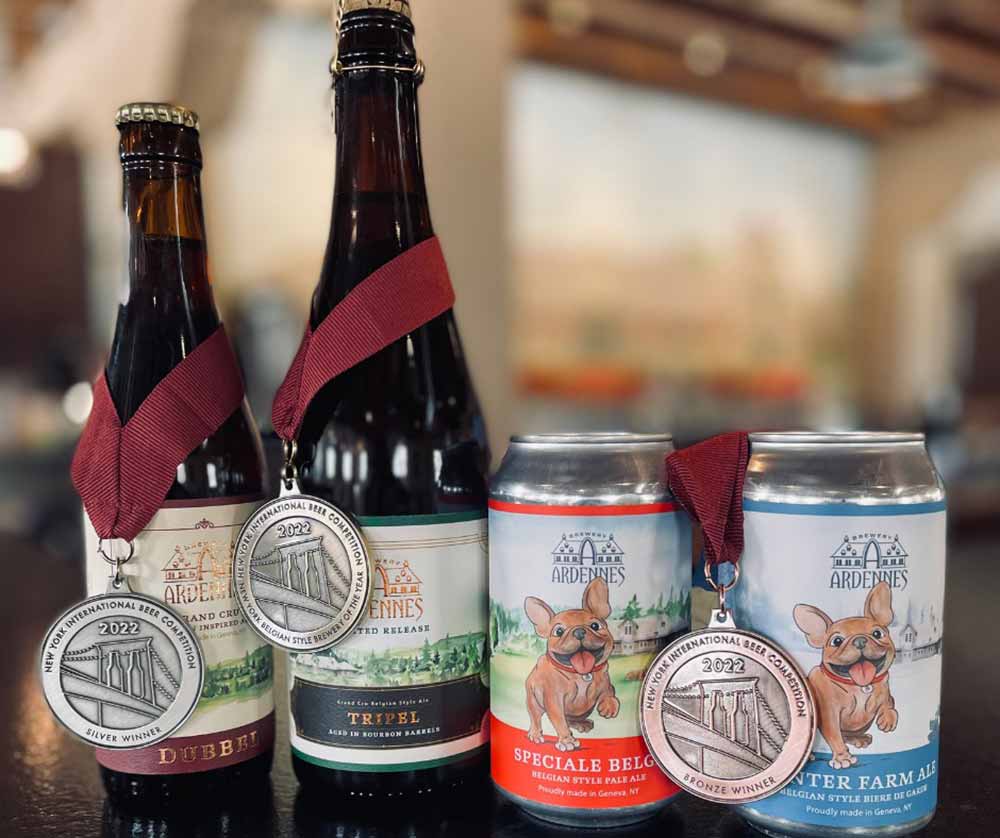 Belgian Dubbel — Early this year, in our "9 Beer Trends to Watch in 2023," we predicted that Belgian beers would gain popularity in the U.S., despite being centuries-old beer styles. Weitz had a chance to visit the Belgian-inspired brewery Bruz Beers during GABF last October, and we challenged you to share other breweries around the country focused on singles, dubbels, tripels, quads, lambics, and more.
Those like Brewery Ardennes in the Finger Lakes region of upstate New York, which opened in May 2020 when Stacey Edinger and her husband, Derek Edinger, morphed his "out of control hobby" homebrewing and passion for Belgian beers into a business, as Stacey shared with us.
Focused almost exclusively on Belgian styles, Brewery Ardennes has already racked up awards and medals. In 2022, Brewery Ardennes won Belgian-style Brewery of the Year for NY along with several awards from the 2023 International Beer Competition, including a gold for the limited-release Grand Cru Barrel-Aged Tripel, aged in Bourbon barrels from Finger Lakes Distilling; a bronze for Winter Farm Ale (Biere de Garde); a bronze for Speciale Belge; and a silver from Grand Cru Dubbel.
It's the latter we fell in love with. Albeit, we did drink this beer towards the end of February when we still felt a bit in hibernation. Packed with notes of dried fruit, raisin, and prune, this dubbel smoothly rolled into more pronounced chocolate and toasted pumpernickel bread.
Located in a historic, restored sheep barn, Brewery Ardennes is exactly what we mean when we predict 2023 to be a year of Belgian beer: dedicated, passionate, and sworn to their craft.
Equal Marriage Blonde Wheat
City-State Brewing — Washington D.C.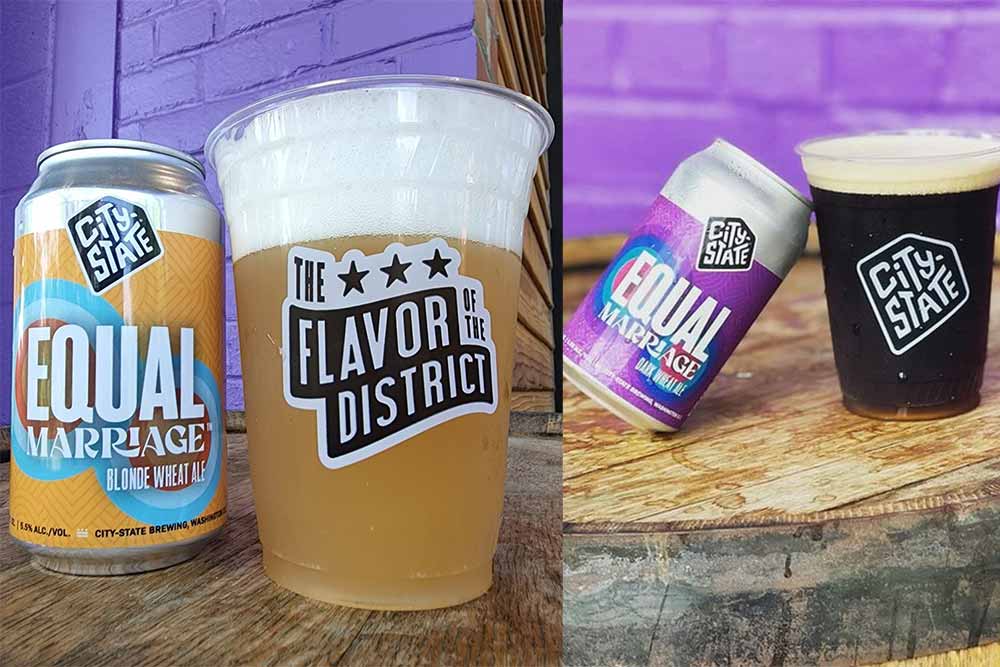 Blonde Wheat — In addition to a strong core of Queer owners and investors, City-State Brewing offers a Pride beer all year round. Supporting the Queer community in craft beer and beyond takes work 365 days out of the year, not just in June, so it's even more important to see a brewery like City-State spreading that ethos.
Equal Marriage celebrates how "the District has pioneered marriage equality across race, gender, and religion," writes the brewery on its website.
City-State brews a couple different versions of this beer, including a dark wheat. But for spring, we like the blonde wheat because it evokes those typical hefe notes of orange, bubblegum, and a touch of lemon. Essentially, Equal Marriage is sunshine in a can.
Cur-8
Crowns & Hops — Inglewood, CA, x Allagash Brewing Company — Portland, ME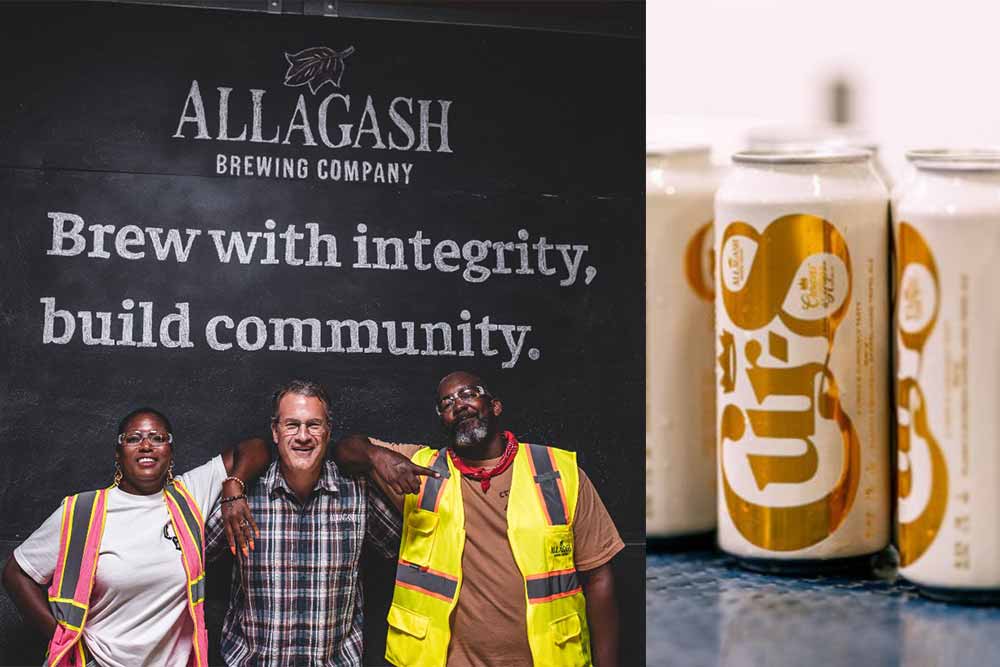 Pilsner — To celebrate Black History Month in February, Crowns & Hops Co-Founders Beny Ashburn and Teo Hunter teamed up with Allagash Founder Rob Tod to brew Cur-8.
A mashup of Allagash's famous Curieux and Crowns & Hops 8 Trill Pils, Cur-8 combines the crispness of a pilsner with the oakiness (along with bourbon and vanilla notes) of a Belgian tripel.
We can confidently say that we've never ever tried a beer like this. Who would have thought that a pilsner and a Belgian-tripel pair together so harmoniously. Somehow in the hands of pros like Ashburn, Hunter, Tod and Allagash Brewmaster Jason Perkins, Cur-8 starts out snappy and light on the tongue (like a pilsner) before sliding down with that characteristic tingly warmth (like a tripel).
Cur-8 is pure magic alchemy, especially because the beer reaches beyond an intriguing blend of styles.
Allagash and Crowns & Hops donated proceeds from all sales of the beer to Crowns & Hops' 8 Trill Initiative, a development fund dedicated to generating opportunities for Black-owned craft beer brands.
Catchy Chorus
Dogfish Head Craft Brewery — Milton, DE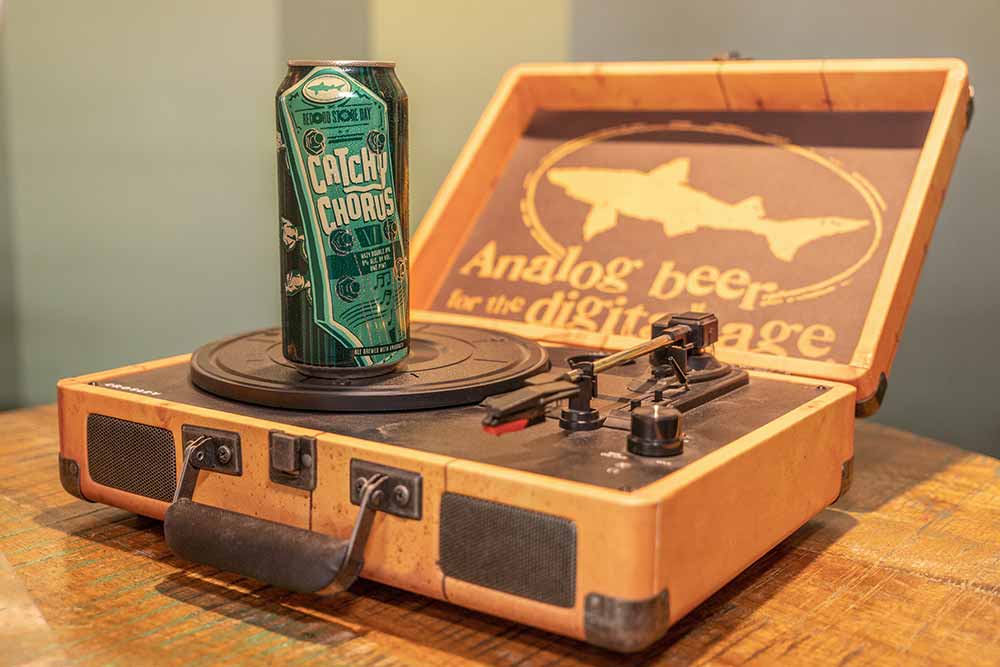 Double IPA — Towards the end of March, our company hosted a fireside chat with The Boston Beer Company Founder Jim Koch and Dogfish Head Craft Brewery Co-Founder Sam Calagione. Encouraged to drink during our conversation, Koch came with a classic—Boston Lager—while Calagione cracked open fresh-off-the-line Catchy Chorus.
Not thirty minutes later, a box showed up at our doorstep with…you guessed it, Catchy Chorus.
Brewed to celebrate Record Store Day this year on Saturday, April 22, Catchy Chorus catches inspiration from E, B, C#m, and A, considered the four "magic chords" because they make up most of the world's most popular melodies.
"A disproportionate amount of top pop hits of the last fifty years were written with this chord progression," Calagione told us. "We took those four magic chords and built the recipe using four hops with the same first letter as the chords."
And while Eureka, Bravo, Calypso, and Azacca hops may not be a classic hop combination, in Catchy Chorus, they sing.
More of a soprano, this double IPA hits the high notes at 9% ABV.
Think of Catchy Chorus as the Prince of beers, with a high, smooth vocal range that's the hallmark of his style…and a well-brewed DDH DIPA.
Peek Interest
Eigtheen Twenty Brewing Co. — Portland, ME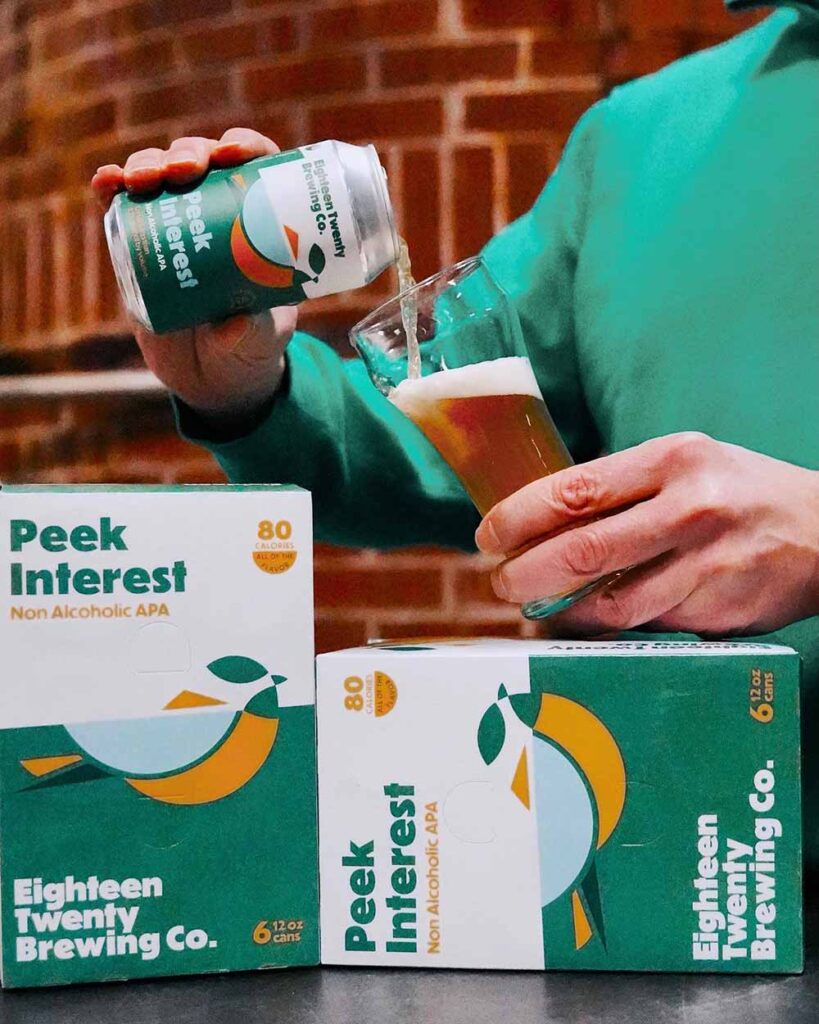 Non-Alcoholic American Pale Ale — Because we don't only need to drink non-alcoholic beers at the beginning of the year, Eighteen Twenty Brewing Co. reminds us that we can drink in moderation all year round.
Peek Interest is the NA brewery's version of an American pale ale. Everything you want in a classic pale ale shows up in Peek Interest—an underlying yet subtle bitterness and pronounced pops of pine, tangerine, and grapefruit with just a little pith.
Drink NA in the winter, drink NA in the spring, drink NA all the time.
Double Hopnosis
Firestone Walker Brewing Company — Paso Robles, CA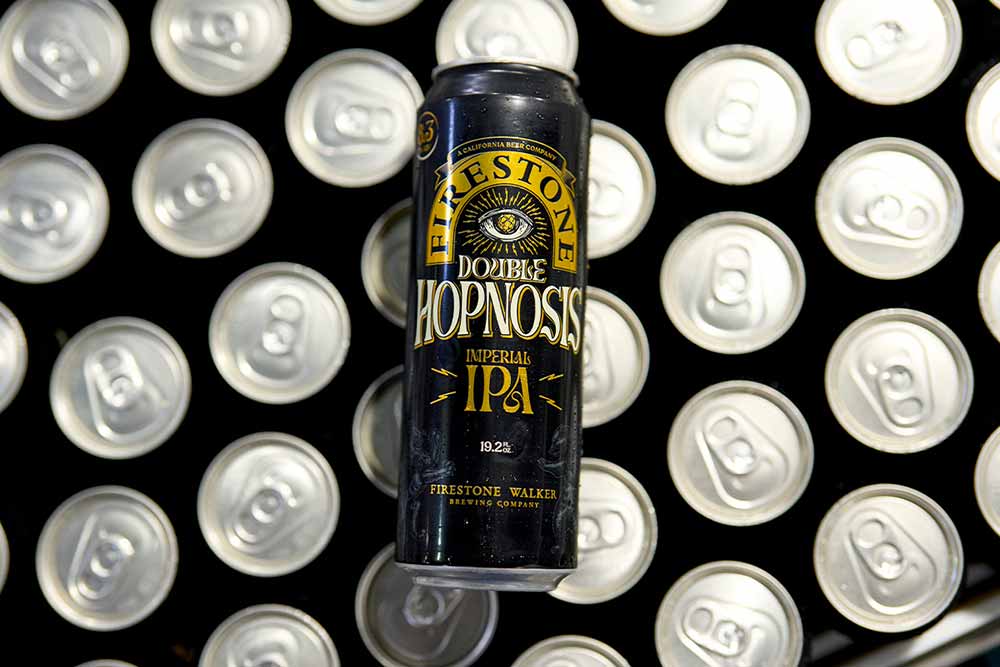 Imperial Cold IPA — Last year, Firestone Walker's next-generation West Coast-style IPA Hopnosis became a new way to IPA. Featuring Cryo Hops, dry hopping, and, perhaps most importantly, a lager yeast, Hopnosis awoke a sleeping bear from hibernation: Cold IPAs. With the success of Hopnosis, Firestone has now decided to double down on Cold IPAs with Double Hopnosis.
Launching in 19.2oz cans in all of Firestone Walker's markets in April, Double Hopnosis levels up Hopnosis.
And no, before you say it, Double Hopnosis isn't a "Colder" IPA.
Instead, this double Cold IPA stacks up the hops—old-school West Coast hops, new-age Cryo Hops, and new-wave Southern Hemisphere ones. All lead to a luxuriously potent imperial beer, finishing with a well-balanced next-level mouthfeel even at 8.3% ABV.
And did we say Double Hopnosis comes in a 19.2oz stovepipe can? 🤯
We're not saying we're fortune tellers, but if we predict the future of Cold IPAs, we will double down on Double Hopnosis right now.
Ghost Hawk Lager
Ghost Hawk Brewing Company — Clifton, NJ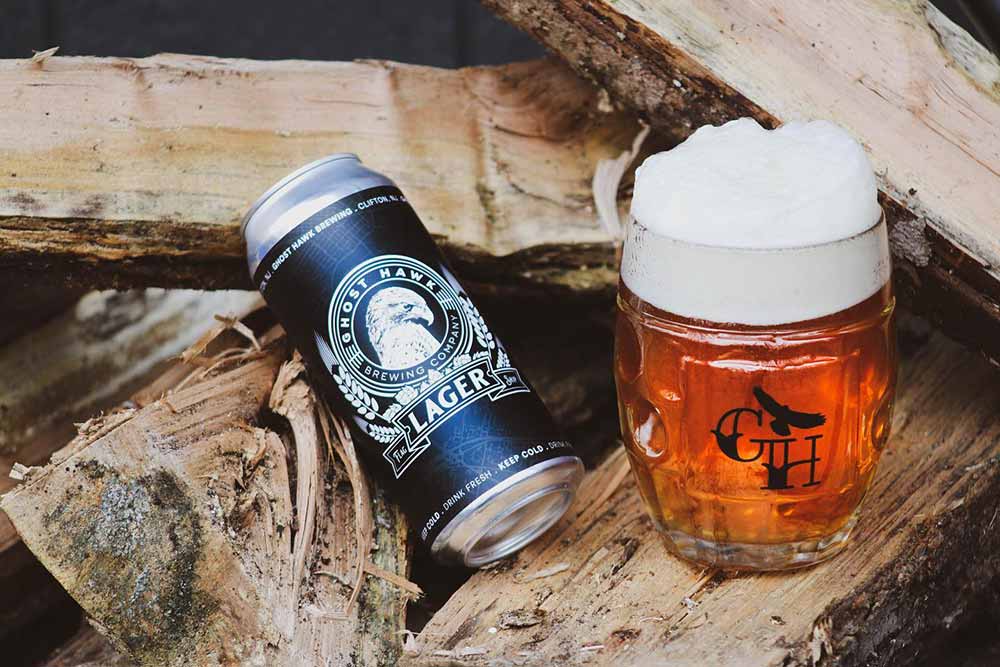 Kellerbier/Zwickelbier — If craft beer in the U.S. were a Shakespeare quote, we imagine "A rose by any other name would smell as sweet" fits pretty well. When Romeo utters this to Juliet, he's essentially saying things are what they are no matter what name you give them, that a name means nothing (and love conquers all, yada yada). In America, the rules of traditional brewing just don't apply. We throw Cap'n Crunch Cereal into stouts, entire orchards worth of fruit into sours, and weird things like the yeast from a brewer's beard or that's been brought into space (hint: it's still yeast). Don't get us wrong; we love innovation and creativity; they're hallmarks of our industry.
But sometimes, we just want a straight-shooting beer—one brewed with the four essential components of beer—water, malt, hops, and yeast. In Germany, beers live and die by this sworn, scrupulous code.
Since 1516, the German Beer Purity Law known as the Rhineheitsgebot states by law that a beer can only include those four ingredients mentioned above.
Ghost Hawk Lager from the Veteran-owned Ghost Hawk Brewing Company in Clifton, NJ, follows the letter of the law to the T. Leveraging imported malts and American noble hops, this kellerbier/zwickelbier reminds us that we love beer-flavored beer.
Bombshell
Greater Good Imperial Brewing Company — Worcester, MA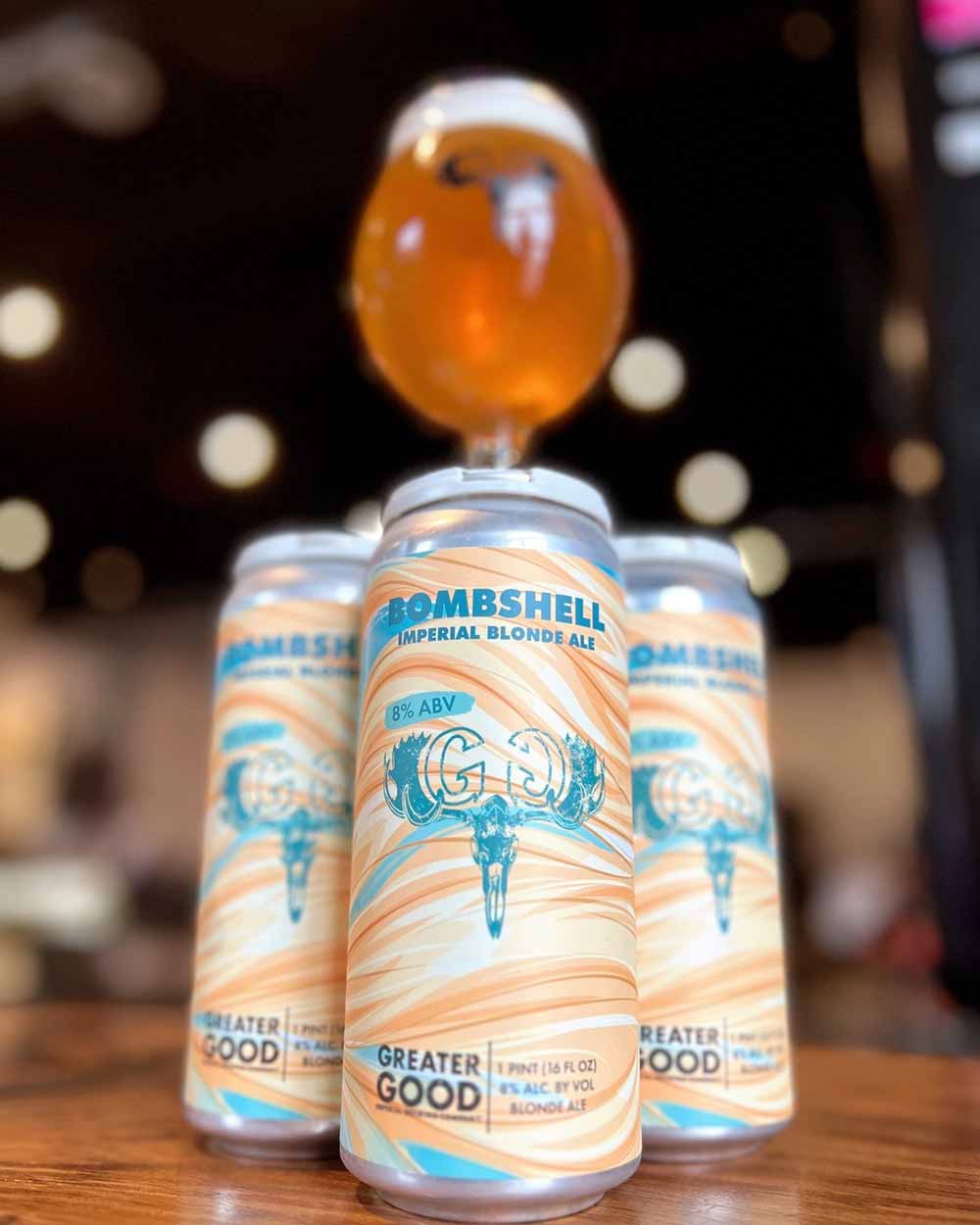 Imperial Blonde Ale — Here's a novel idea: Why do only stouts and IPA get the imperial treatment? What about pilsners, ambers, and even blonde ales? That's the theory behind Greater Good, America's First All-Imperial Brewing Company™. No style is off limits.
For instance, Bombshell, an imperial blonde ale reaching 8% ABV. Typically, when we're talking blonde ales (or are they golden ales?), we speak about crisp, refreshing, and light. You get all of those qualities here…just with a little kick.
Bold and daring, Bombshell delivers morning melon—cantaloupe, honeydew—highs along with peppy citrus undertones from a dry hop with Citra and Idaho 7.
Consider this beer a guilty pleasure beer for the spring.
Trailbound
Highland Brewing Company — Asheville, NC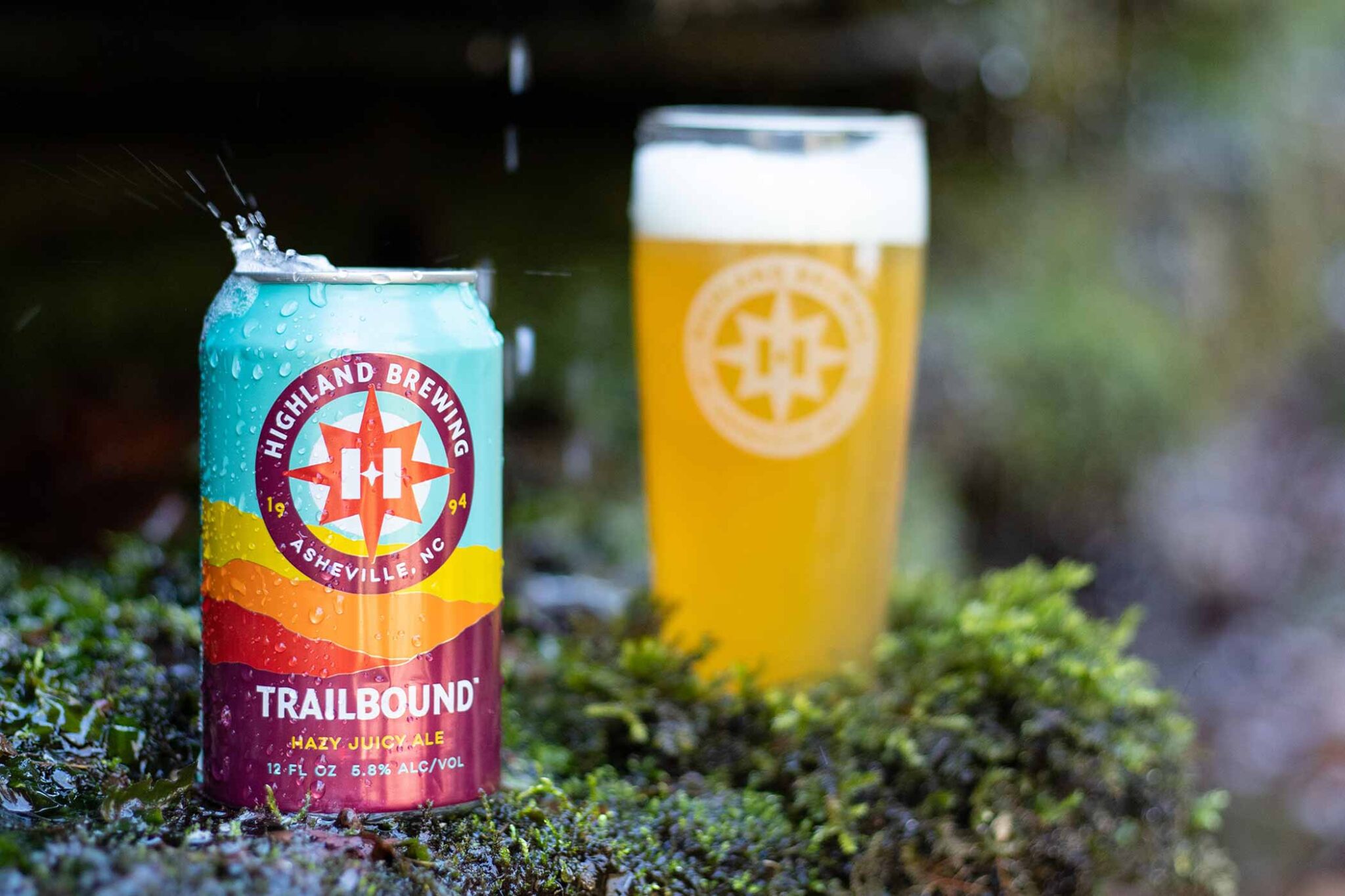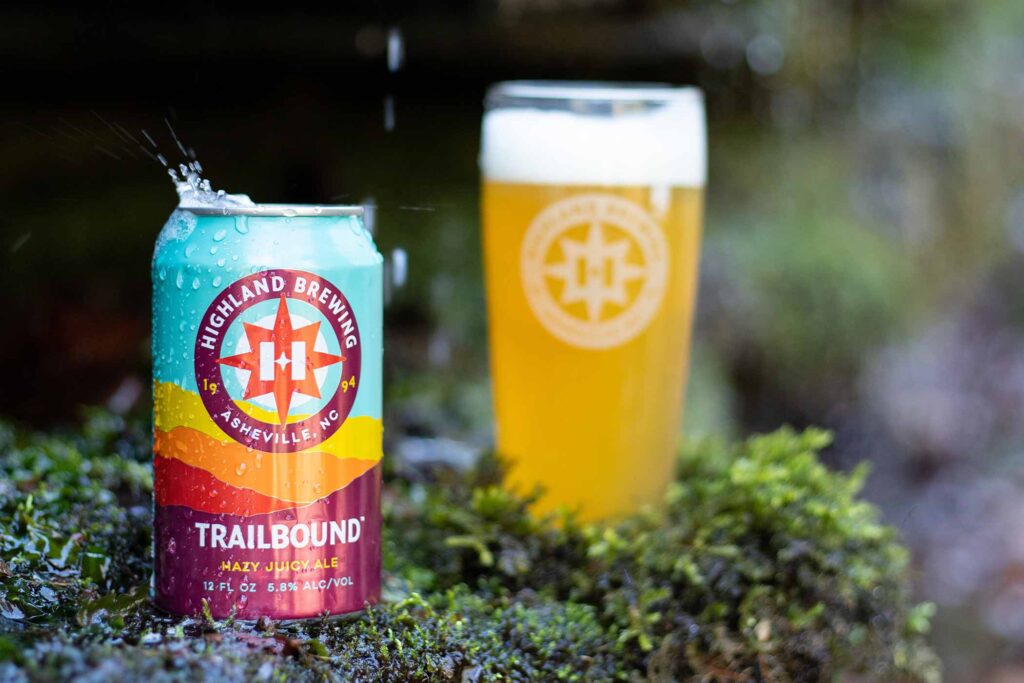 Hazy Pale Ale — A style we're seeing increasingly these days, hazy pale ale take everything you love about a New England-style IPA—fruit, juice, tropical—and dial back the bitterness and ABV even more. Approachable, crushable, and nearing sessionable, hazy pales are perfect once the weather starts to warm.
Highland Brewing has an incredibly smashable hazy pale ale called Trailbound, smooth as a rose petal. Without any harsh edges, the effervescent mango and papaya shine through.
Honestly, this beer drinks more like juice. If we reached into our fridge in the morning and poured out a can of Trailbound, we wouldn't be surprised to mistake it for a glass of OJ.
Not that we're any green thumbs, but sipping on this hazy pale while pulling weeds, gardening, or mowing the lawn is certainly in the realm of possibility this weekend.
Murasaki Graviola
Japas Cervejaria — São Paolo, Brazil, x Our Mutual Friend – Denver, CO
Fruited Sour — A collab between Our Mutual Friend in Denver, CO, and all-female, Brazilian-Japanese brewery—Japas Cervejaria—in São Paolo, Brazil, Murasaki Graviola honors the latter's roots.
With each beer, Japas co-founders Maíra Kimura, Fernanda Ueno, and Yumi Shimada tell a story of their Nipo-Brazilian heritage (Brazilian-born individuals with Japanese ancestry). This shared bonded has led to some pretty incredible beers such as Kasato Maru, a New England-style IPA named after the very first ship that brought Japanese immigrants to the port of Santos, south of São Paulo in 1908. Or Matsurika, a bohemian pilsner featuring jasmine petals, a common ingredient in traditional Japanese tea; we named this one of our "27 Best Beers We Drank in 2022."
With this new fruited sour collab, you'll find a unique pairing of Brazilian ingredients and Japanese symbolism. Murasaki translates to purple in Japanese while Graviola in Portuguese means soursop, a fruit native to the Caribbean and Americas, including Brazil.
The addition of soursop along with Centennial hops jets this beer off to tropical territory with big pineapple, mango, and berry bangs. Simultaneously, a drop of butterfly pea flower lends a gorgeous blueish, purple hue to this exquisitely tart-sweet sour.
We'll admit, we didn't know too much about soursop before, but honestly, that's what we love so much about Japas; they teach us something new and share a bit of their own history with each beer we try.
Hazy Rays
Lawson's Finest Liquids — Waitsfield, VT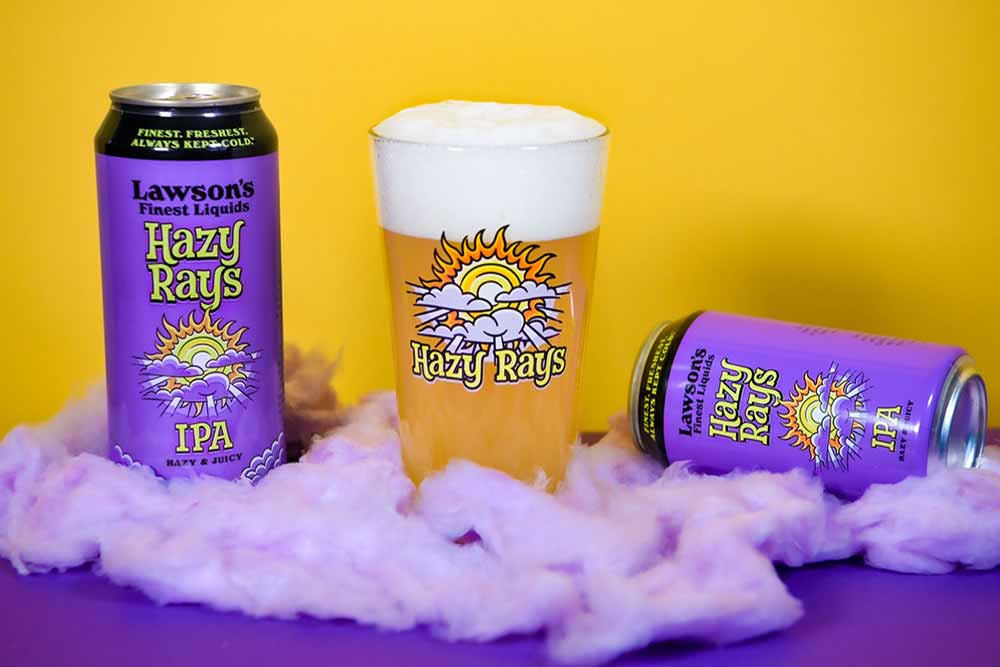 Hazy IPA — Lawson's newest year-rounder, Hazy Rays, pretty much says it all. Although Lawson's came up with another word for this beer—"hazyjuicylicious." You know that first day after a thunderstorm when the sky appears cloudless and everything just seems a little brighter? When the air feels a little cleaner, and the breeze blows a little fresher? That's Hazy Rays.
Not super murky or turbid, Hazy Rays pours a bit more luminous. "We wanted to stay true to the Lawson's Finest brand by making it bright, clean, and balanced," said Lawson's Finest Liquids CEO and Founding Brewer Sean Lawson in a press release. "It's tropical and fruit-forward with many flavors from the orange family of citrus and a sweetness on the finish. We wanted it to dance on the palate."
Lawson's Sip of Sunshine and Little Sip are classics, so when the award-winning Waitsfield, VT-based brewery rings the hazy bell, everyone should come running.
We could write here that Hazy Rays oozes juicy tropicalness, but why do that when Lawson's already came up with the perfect word: "Hazyjuicylicious."
Secret Beach IPA
Meanwhile Brewing Company — Austin, TX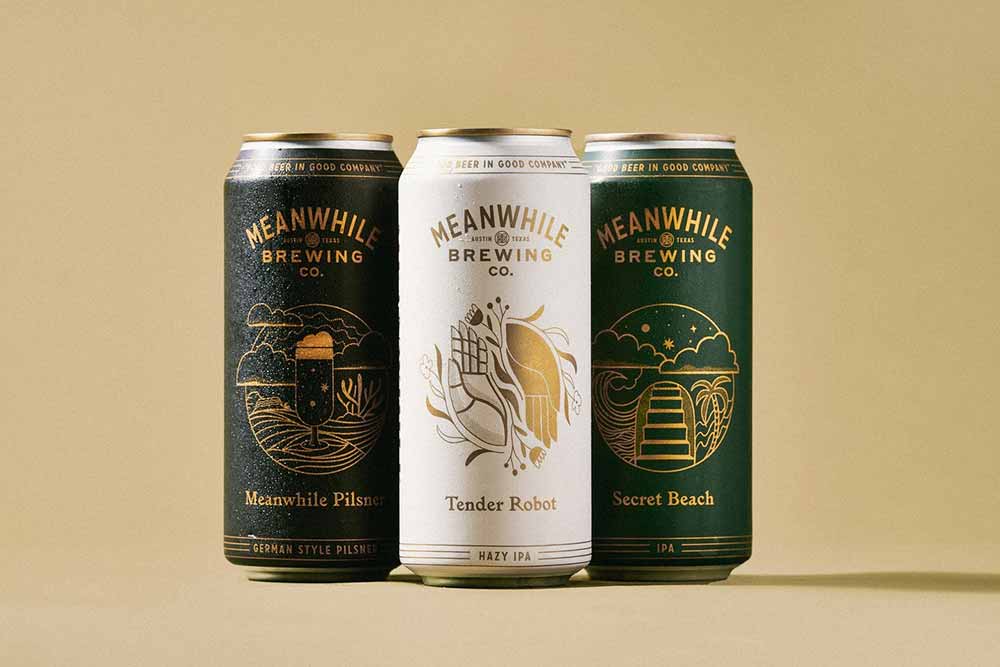 American IPA — Beer is art, right? That's certainly true at one of Austin's best breweries— Meanwhile—where you'll find incredible art inside and outside the can. Along with gorgeous artist-inspired can labels, Meanwhile cranks out some pretty mean beers on its three-vessel, 15bbl system.
Like Secret Beach, an American IPA with Columbus, Citra, Idaho 7 Cryo, and Azacca hops.
Imagine laying down in a meadow, the sun beating down, birds chirping, and warm air buzzing around you; that's Secret Beach in a can. A light toasty background from two-row, pilsner, and Munich malts sifts like sand through your tastebuds, giving way to a garden tea party.
All the fixings are on the table—biscuits and jam, herbal tea—and around you—sunflowers, daffodils, lilies, oh my.
Sound too good to be true?
Well, Secret Beach picked up a gold medal for American IPA at the 2022 Texas Craft Brewers Cup and then retained its title, winning the same gold award six weeks ago at the 2023 Texas Craft Brewers Cup. And oh, by the way, Secret Beach picked up a silver medal in the "Strong Pale Ale" category at the 2022 Great American Beer Festival.
So you don't have to take our word for it.
Fragile Like A Bomb
Montclair Brewery — Montclair, NJ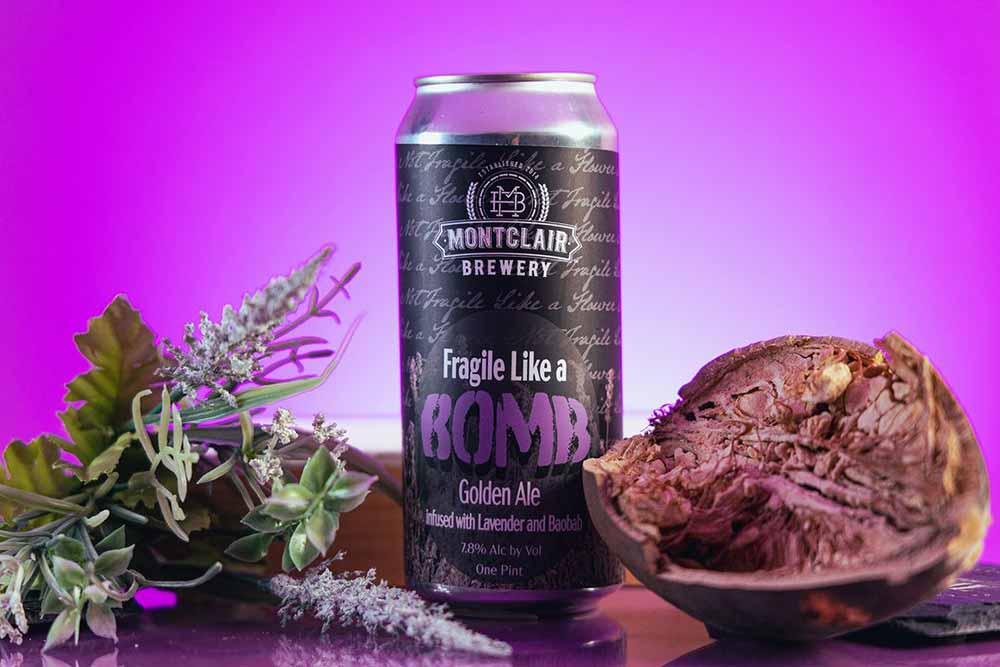 Wild Ale — Famous former Supreme Court Justice Ruth Bader Ginsburg once said, "Women are not fragile like a flower but fragile like a bomb."
Brewed for Women's History Month in March, Fragile Like A Bomb honored Bader Ginsburg along with all women who love drinking and working in craft beer. For instance, Denise Ford Sawadogo, general manager and co-owner of the BIPOC-owned Montclair Brewery.
This golden ale includes an infusion of lavender and baobab fruit, a fruit from the legendary African Baobab tree often referred to as the Tree of Life.
Subtle, floral, and just a touch sweet, Fragile Like A Bomb lives up to its name.
Snap Shot
Morgan Territory Brewing — Tracey, CA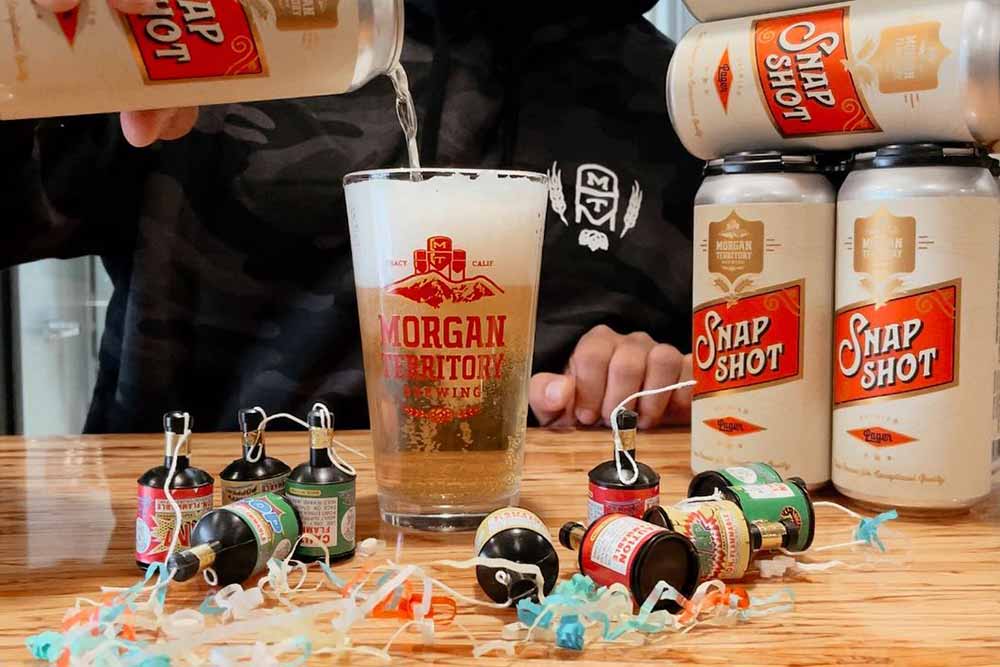 American Lager — This brewery is really good at winning awards. They can't stop racking 'em up. This year alone, at the Brewers Cup of California, Morgan Territory's haul included a gold for Lubricator, Menace to Society, and Old Diablo; a silver for their Baltic porter called Dark Reckoning and imperial pilsner called Tipping Point; and a bronze for Big Bock Energy, Glorious-Er Passion Fruit, and Seltzer – Blood Orange.
Not to mention they brought home the whole kit and kaboodle, winning 2023 Brewery of the Year.
We haven't personally tried any of the above beers, although after hearing about their trophy shelf growing, Weitz will be making it a point to stop by sometime soon (their brewery is probably about an hour and a half away from her house).
However, Weitz has tried and loved their Snap Shot, an American premium lager whose humbleness belies the incredibly technique-driven brewing process.
Built to mimic the post-Prohibition, malt-driven lagers that Americans came to love for their easy drinkability, Snap Shot swerves left a little bit by adding Callista.
Straight up, you get that almost corn chip bedrock before finishing just a touch floral from the hop.
Definitely a crusher, Snap Shot is just the kind of beer you want to make your go-to all spring (and probably summer) long.
Bianca Hydra
Mortalis Brewing Company — Avon, NY, x Omnipollo — Sundbyberg, Stockholms län, Sweden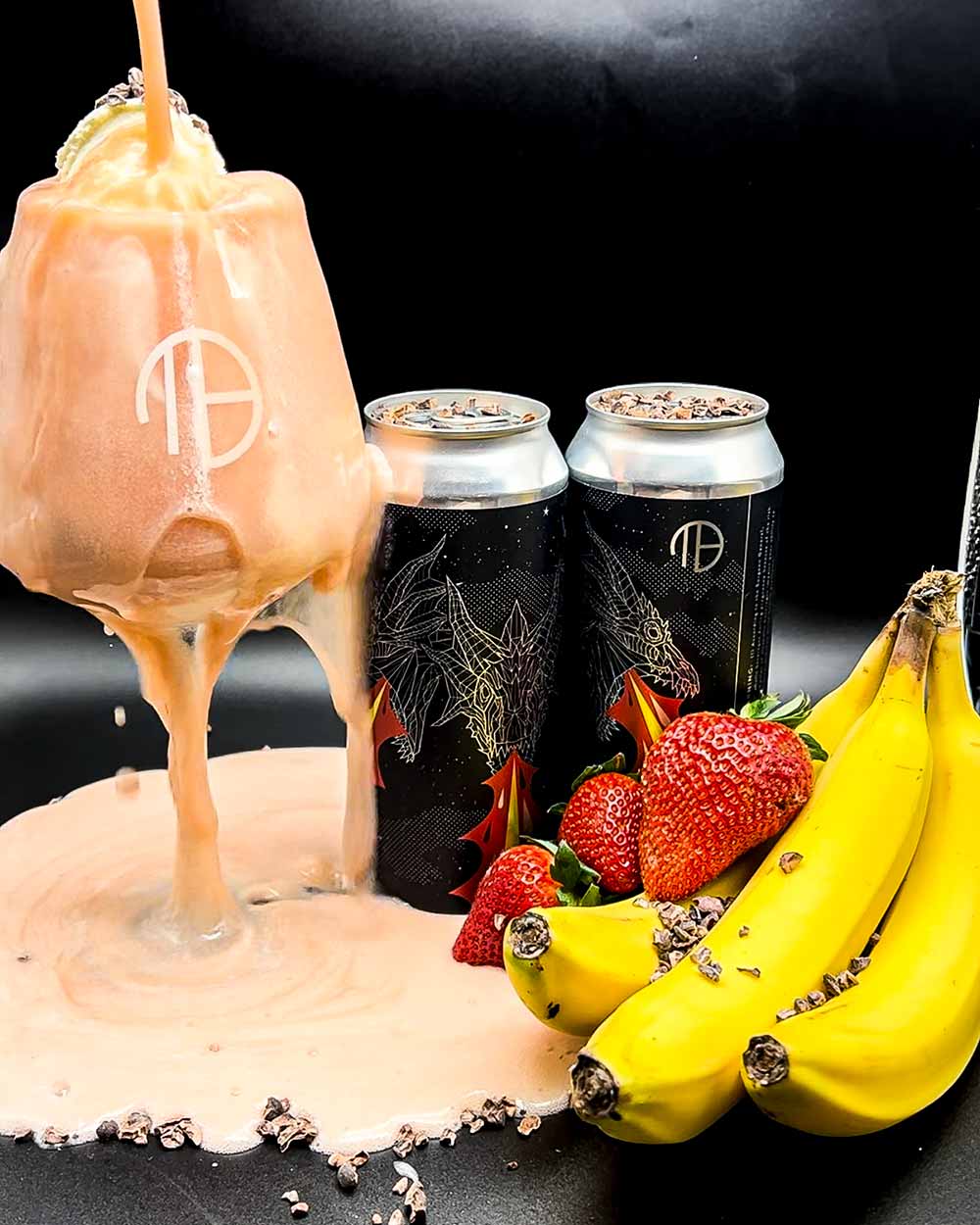 Pastry Sour — For the last few years, Paul Grenier, CEO of Mortalis Brewing Company, and his team have hunkered down in their brewhouse in Avon, NY, perfecting uber-unctuous smoothie beers.
At this point, potion masters of pastry sours, Mortalis finds their versions ranking in the top thirty all-time highest-rated smoothie beers on Untappd.
But they certainly weren't the first to define these thick treats. That honor goes to Tired Hands and Omnipollo, who first thought about putting tons of fruit and lactose into an IPA of all styles (read the history of the Milkshake IPA).
We can only imagine the magic show on display if one of the OG's—Omnipollo—teamed up with one of the "new kids on the block"—Mortalis.
See where this is going?
A collab between Mortalis and Omnipollo, Bianca Hydra blends strawberry, banana, ice cream, vanilla, and chocolate into everyone's favorite childhood treat—a banana split.
Banana in a beer? Yeah, super challenging to nail. "If you bring in all that banana, you better sure as heck be able to balance it with strawberry and the chocolate in there, but not be crazy and dump fifty pounds of cocoa nibs in," Grenier told Weitz for a piece she wrote on "The Best Ways to Brew a Smoothie Beer." "It was a real balancing act to try and mimic that flavor."
Amazingly, Bianca Hydra drinks like a dream. Grenier's right, banana can easily overpower any other flavors, but that's the bliss of a banana split: all the flavors pinball around your taste buds in harmony, just like in this smoothie sour. You'll find that banana right up front, before pinging to the fruity, sweet strawberry, before ponging to that chocolate, before pinging back to the banana.
A smoothie beer soothsayer in his own right now, Grenier told me that he still felt butterflies about working with the Stockholm-based behemoths.
"I hope the guys at Omnipollo are really happy with it," said Grenier. "They are the OGs, and I respect them so much…I don't want to let them down."
Well, Paul, from our perspective, you absolutely paid your respects with Bianca Hydra.
Snake Pit
Necromancer Brewing Co. — Pittsburgh, PA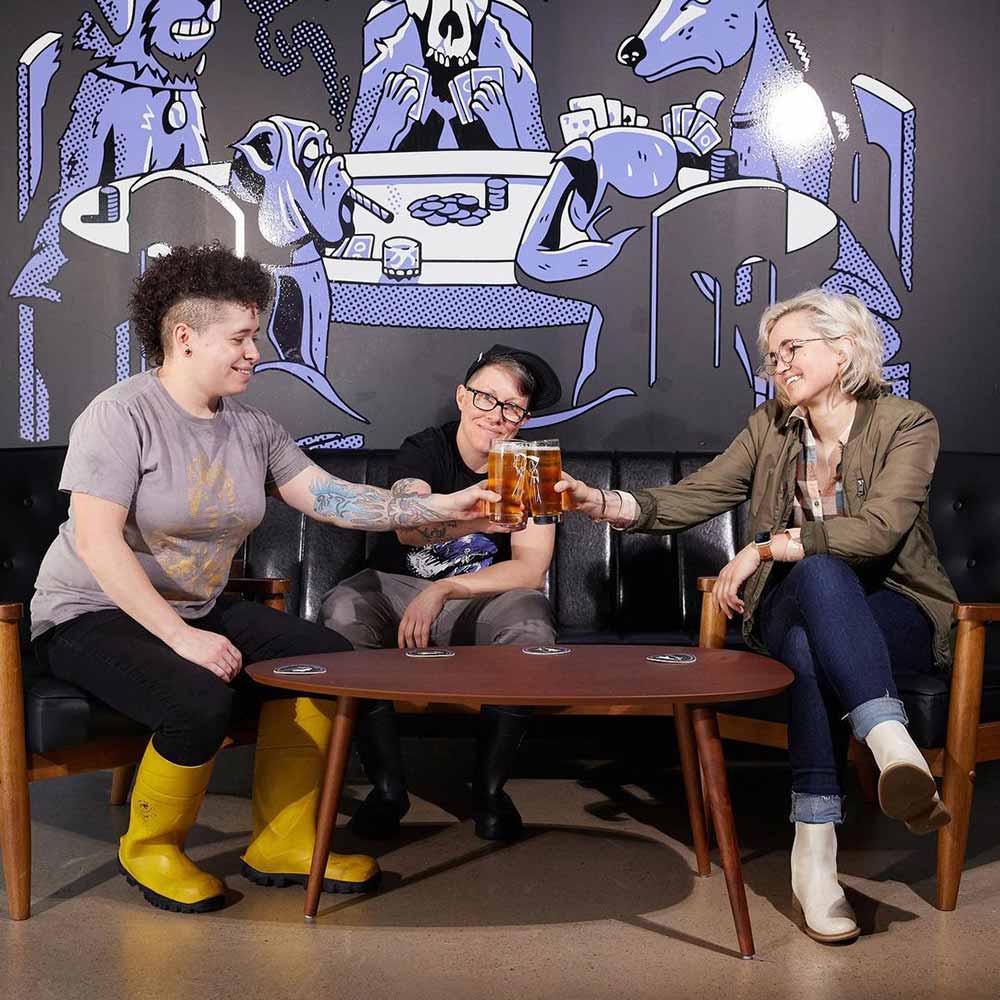 Maibcok — While the lighter German-style lager known as a helles bock or maibock isn't an uber-popular style here in America, it's one that often represents the spring. Actually, mai in German translates to May. These paler cousins of the bock are strongly malty and slightly hoppy lagers, perfect for the days from March to May.
Still, you don't see too many versions here in the States, which is probably why Necromancer, a brewery known for reviving oft-forgotten styles of beer from the near-dead (hence: Necromancer), wanted to make one.
Honestly, we're surprised more folks don't brew this style around this time of year. Light, crisp, slightly doughy, and a little toasty, maibocks like Snake Pit resonate during the spring equinox.
Another example of the brewing process of Necromancer Head Brewer Lauren Hughes (one of our 23 people to watch in craft beer this year) and Assistant Brewer Nina Santiago, this beer slips elegantly in between that time when rain, snow, and cold give away to the sun, clear skies, and warmth.
Snake Pit wraps around you like a scarf, gently squeezing you with warmth, but also letting a bit of a chill in, if you know what we mean.
Wild Nectar Hard Juice
New Belgium Brewing Company — Fort Collins, CO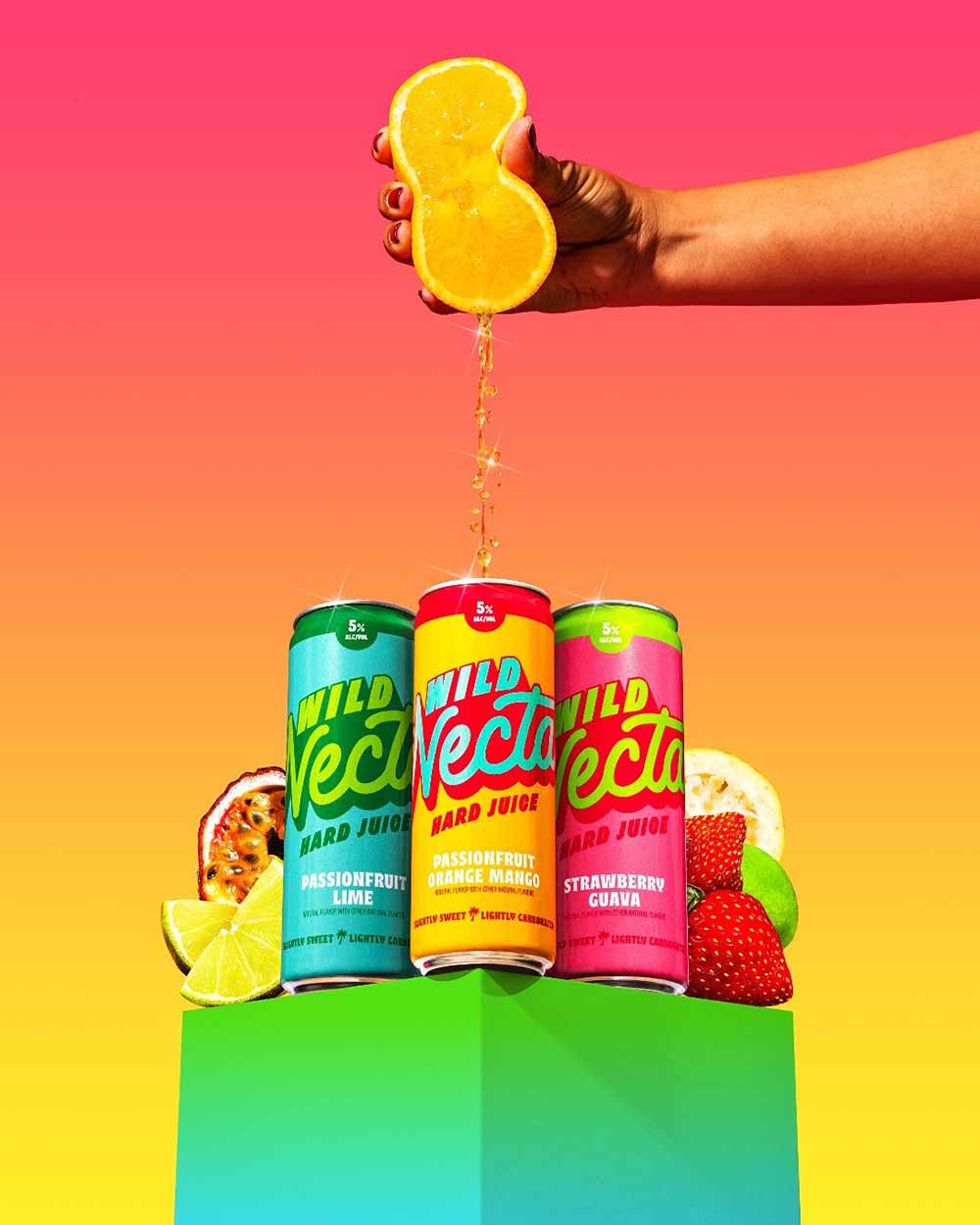 Hard Juice — During the pandemic, one bev-alc segment grew leaps and bounds above the rest. The ready-to-drink (RTD) category has steadily risen in popularity for the last few years. According to the alcohol e-commerce site Drizly, RTDs within the spirits category gained a +400% share year over year from 2019 to 2022 on the platform. And in a survey performed on the site in October, 47% of respondents indicated that they would drink RTDs year round, regardless of the season.
The newest brewery to ripple the RTD pond, New Belgium, released Wild Nectar last month. Calling Wild Nectar "not your average juice," New Belgium touts this slightly sweet hard juice as a drink for any day and weather.
Made with real fruit juice, Wild Nectar currently comes in three flavors—Passionfruit Lime, Passionfruit Orange Mango, and Strawberry Guava.
We had the opportunity to get an early taste.
We want to be more creative but, "wildly juicy" are the words that come to mind first. While all burst with high acidity and a distinctive brightness, we probably liked Passionfruit Lime the best (if we had to pick a favorite).
Combining those two fruits seems pretty tough to us because one could easily overpower the other, but in Wild Nectar these flavors enjoy a harmonious razzle-dazzle.
We very much expect these hard juices to crush it starting in spring and far into summer. Get an early start on your nectarous imbibing with Wild Nectar.
Hop Craze (Revolution #3)
New Glory Craft Brewery — Sacramento, CA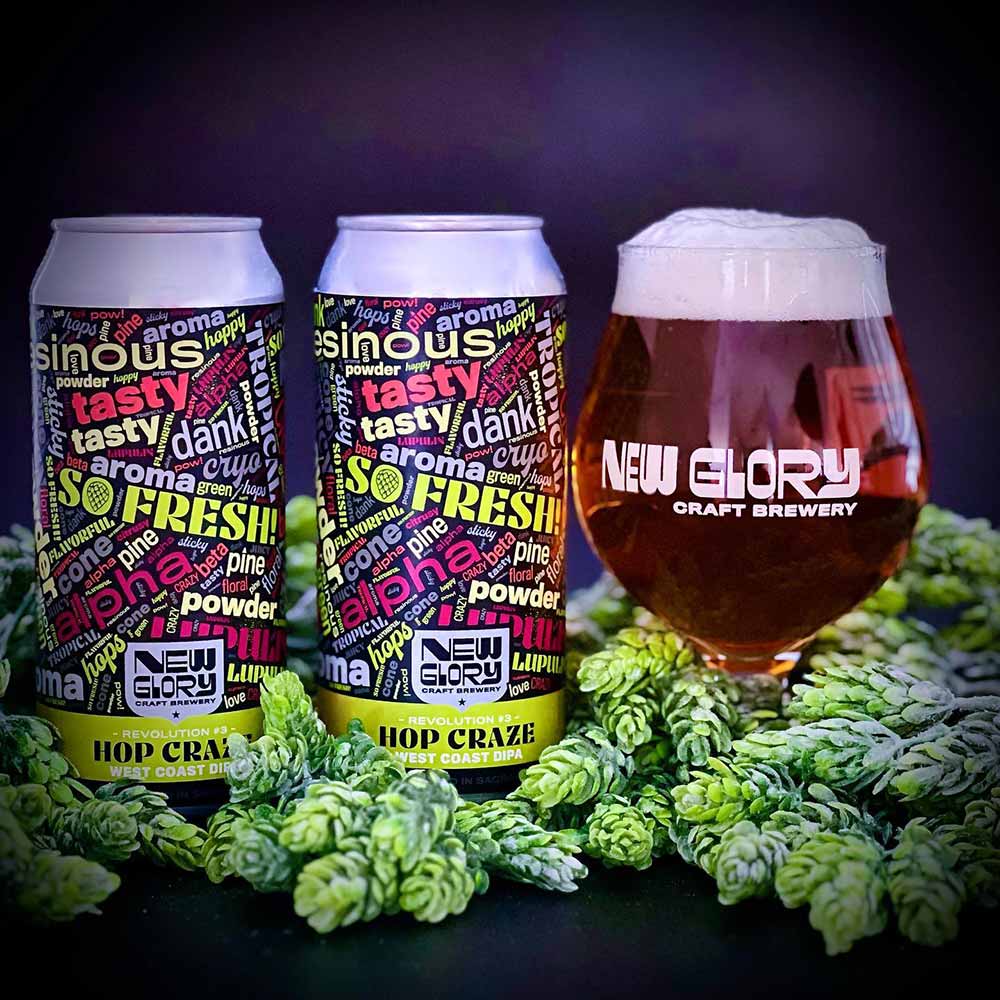 Double IPA — Like Belleflower, New Glory knocked us back with quite a few of the beers they sent our way, making our decision to pick only one a challenge.
We liked Splitting Atoms hazy DIPA for earning a Ph.D. in Citra, cramping the hop into the tank multiple times for a graceful fusion of acidic, juicy, and creamy.
Or Gummy Worms, an albeit weirdly named chewy pale ale that expressed a tight, creamy head and almost saison-like body.
But for spring, we favored Hop Craze (Revolution #3), a West Coast DIPA with Riwaka, Mosaic, Nelson, and Nectaron hops.
The list of hops here should already have you salivating.
Evergreen and pine from the Mosaic quickly give way to strawberry, lime, and candy-like sweetness from the bouquet of Southern Hemisphere hops.
Pouring crystal clear, we read West Coast from the beginning, but the nectarous notes threw our tongue for a loop. Especially for a double IPA, this beer drinks like honey—smooth and sweet.
Part of New Glory's revolving experimental hop series, Hop Craze (Revolution #3) has us excited for what comes next…sort of like spring itself.
Bohemian Style Pilsner
Pivo Project (a subsidiary of BKS Artisan Ales) — Kansas City, MO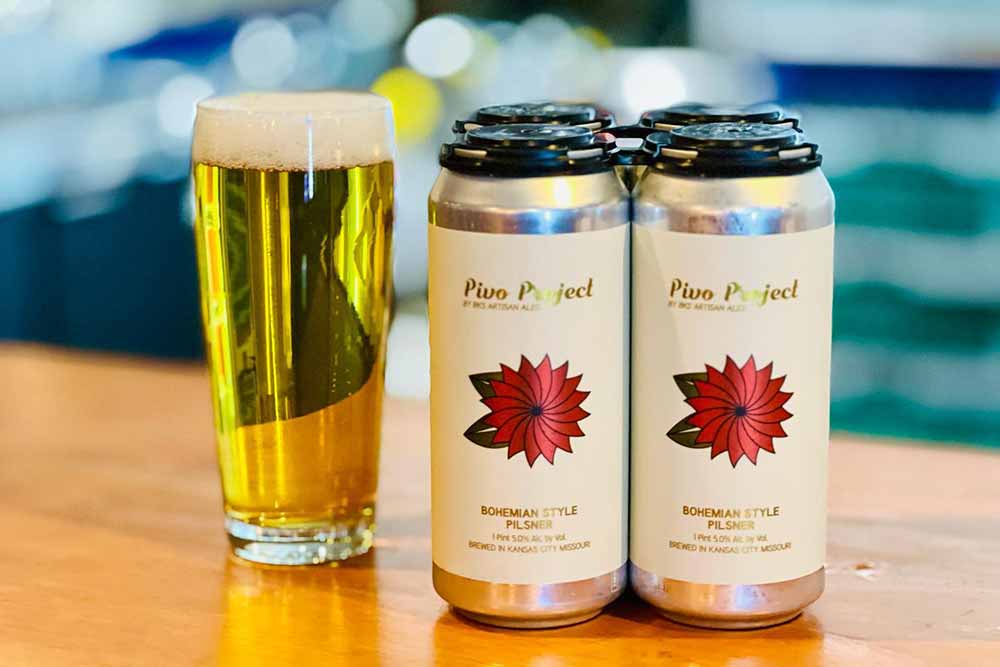 Czech-Style Pilsner — Listen to this cool story: In 2017, BKS Artisan Ales brewed its first lager. Curiosity piqued, the Kansas City-based brewery wanted to keep exploring the landscape of lagers. But where did lagers fit into a brewery dedicated to making hoppy beers and ales? Undeterred, BKS Artisan Ales started an entirely new brand, devoted solely to lagers, dubbed Pivo Project.
In a previously used storage area, the brewery built out a separate space with shiny new tanks for lager fermentation.
Now simply named pilsners, dry-hopped pilsners, light lagers, rice lagers, Czech-style pale lagers, and so much more are creeping out from under the shadow of BKS' excellent ales (we highly recommend the 2022 GABF gold medal-winning English dark mild ale called Rockhill & Locust, by the way).
We recently tried Bohemian Style Pilsner brewed with a blend of Czech and German Pilsner malt and Czech Saaz hops. Pivo Project excellently balances that see-saw between crackery biscuit and spicy herbs from the noble hops. Super snappy and brisk, Bohemian Style Pilsner drinks bracingly clean, inviting you to come back for another sip as soon as you finish the last.
Ruby Grapefruit Vermouth
Poe Wines Mommenpop — Napa Valley, CA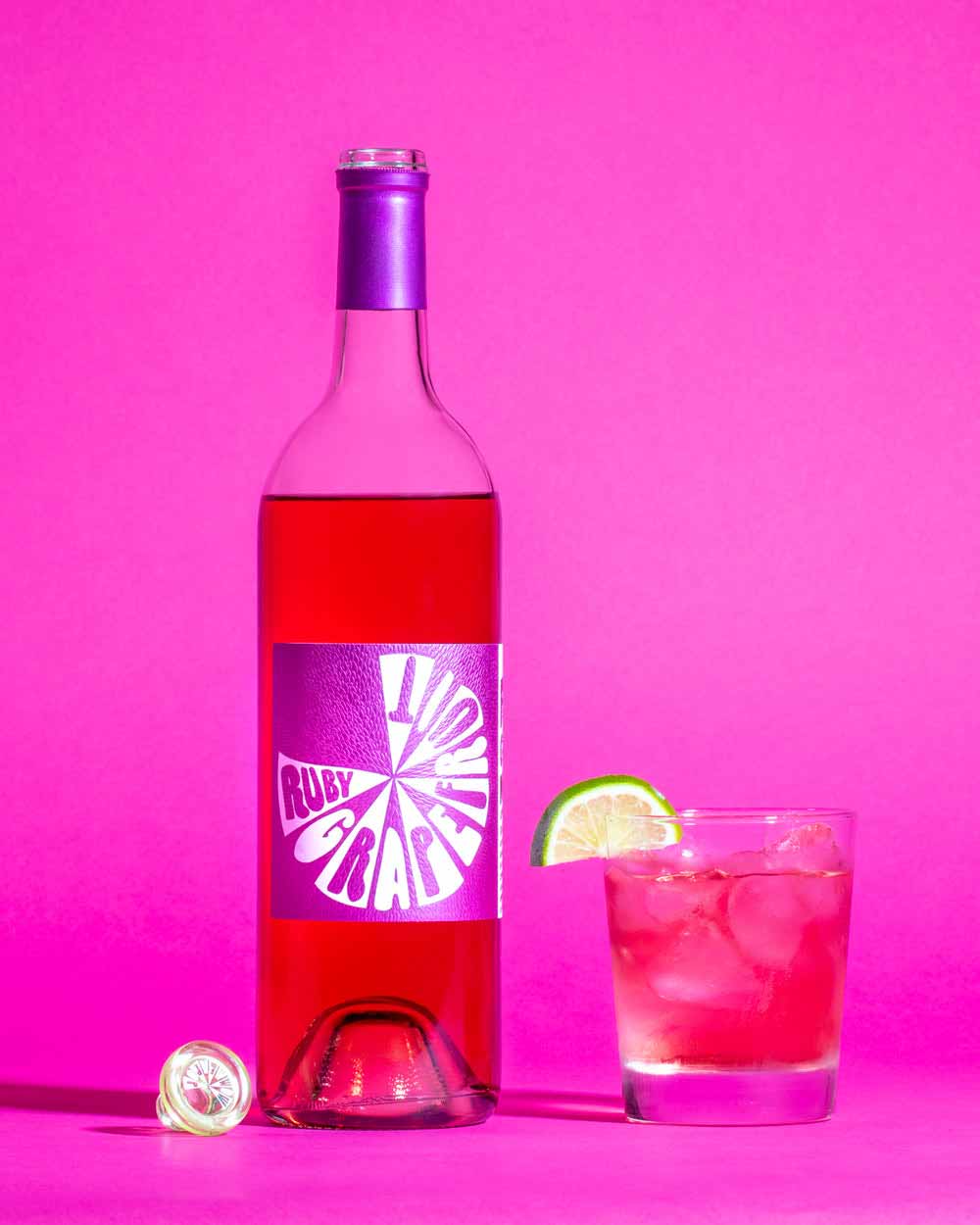 Vermouth — March isn't just for drinking beer. Apparently, it's also for celebrating Vermouth. With National Vermouth Day taking place this past March 21, we found and tried some old-school and new-school vermouths. This one falls into the latter.
As the story goes, Mommenpop founder Samantha Sheehan, a winemaker curious to explore the next new thing, created her first vermouth with locally grown Seville oranges and her own Chardonnay. Since then, Sheehan has branched out, experimenting with new flavors and winning awards. Her Mommenpop d'Pampe Grapefruit Vermouth won a Good Food Awards in 2021. For the Ruby Grapefruit variety, this California-based, women-owned brand starts with a base of Pinot Noir rose wine and Star Ruby grapefruits before adding botanicals such as orris root, vanilla bean, and green cardamom. This vermouth is a beautiful interpretation of what vermouth can be in the 21st century.
Premium Lager
Prison Pals Brewing Co. — Doral, FL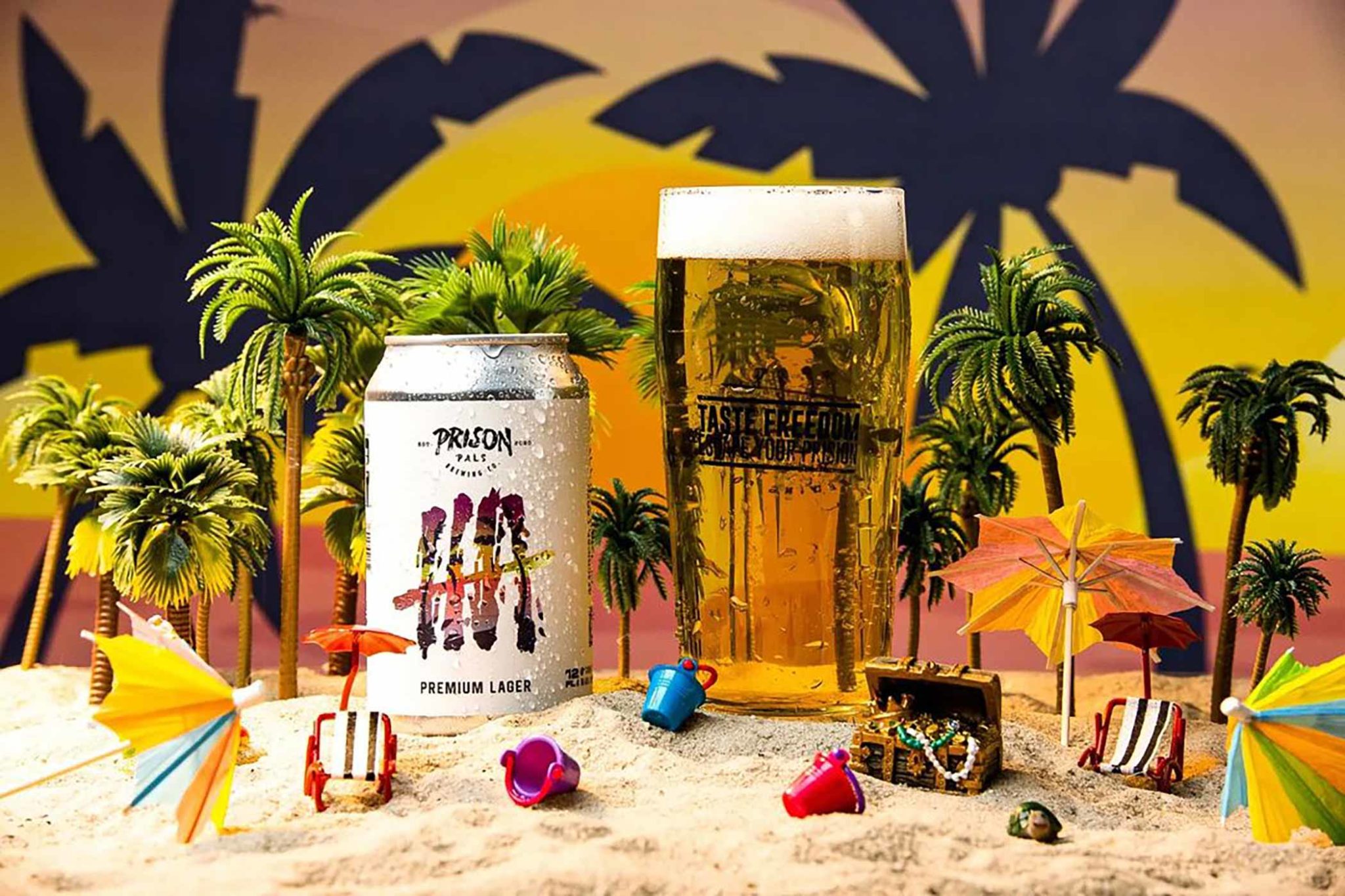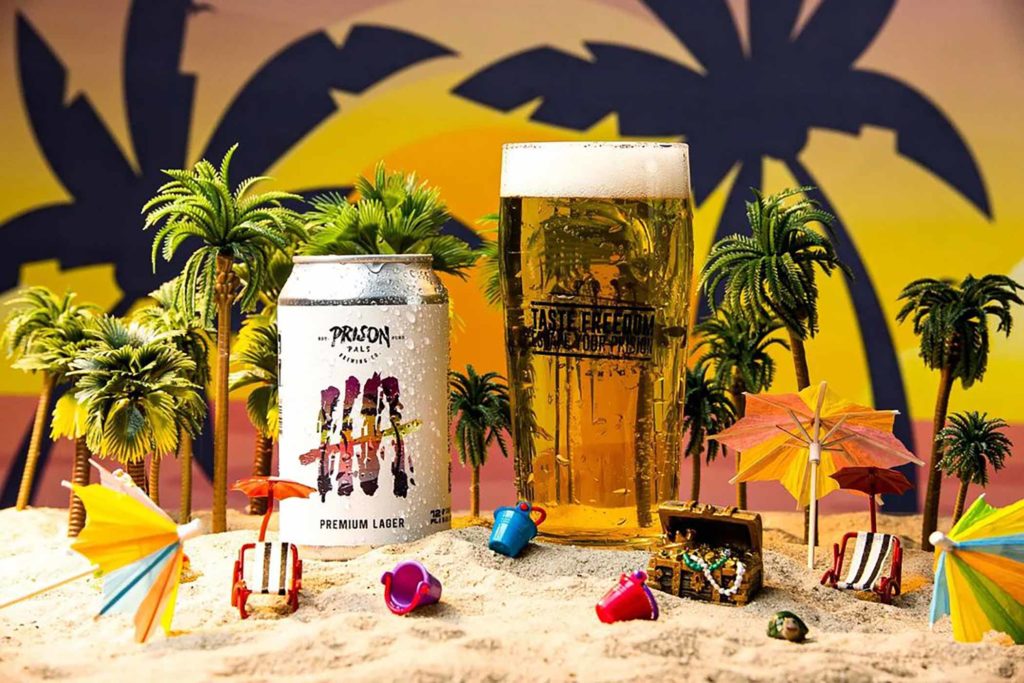 American Lager — Just under two years ago, a new brewery opened up in South Florida, a hotbed for some of the most incredible breweries in the country (read: Tripping Animals, 3 Sons, and Odd Breed, to name a few).
As if South Florida's beer scene couldn't get hotter, Prison Pals Brewing Co. in Doral, FL, brought jam-packed fruit smoothie sours, hoppy hazy IPAs, and lights-out lagers to the Sunshine State.
Most recently, Prison Pals added Premium Lager to its core lineup.
Developed specifically for the hot weather, Premium Lager has become one of Prison Pals' best-selling beers.
And the beer recently picked up a gold medal in the "American-Style Lager" category at Florida Best Beer.
"We are in Miami, so we need a light and good lager that we can make with high volume and quality," says Prison Pals Co-Founder Juan Pipkin.
Brewed as a traditional American lager, Premium Lager features only barley and old-school hops.
"It's a crispy boi that we over-carbonated, so the feeling is more refreshing," says Pipkin. "This is just a clear, smooth beer you can relax and drink everywhere."
Rupee
Rupee Beer — Boston, MA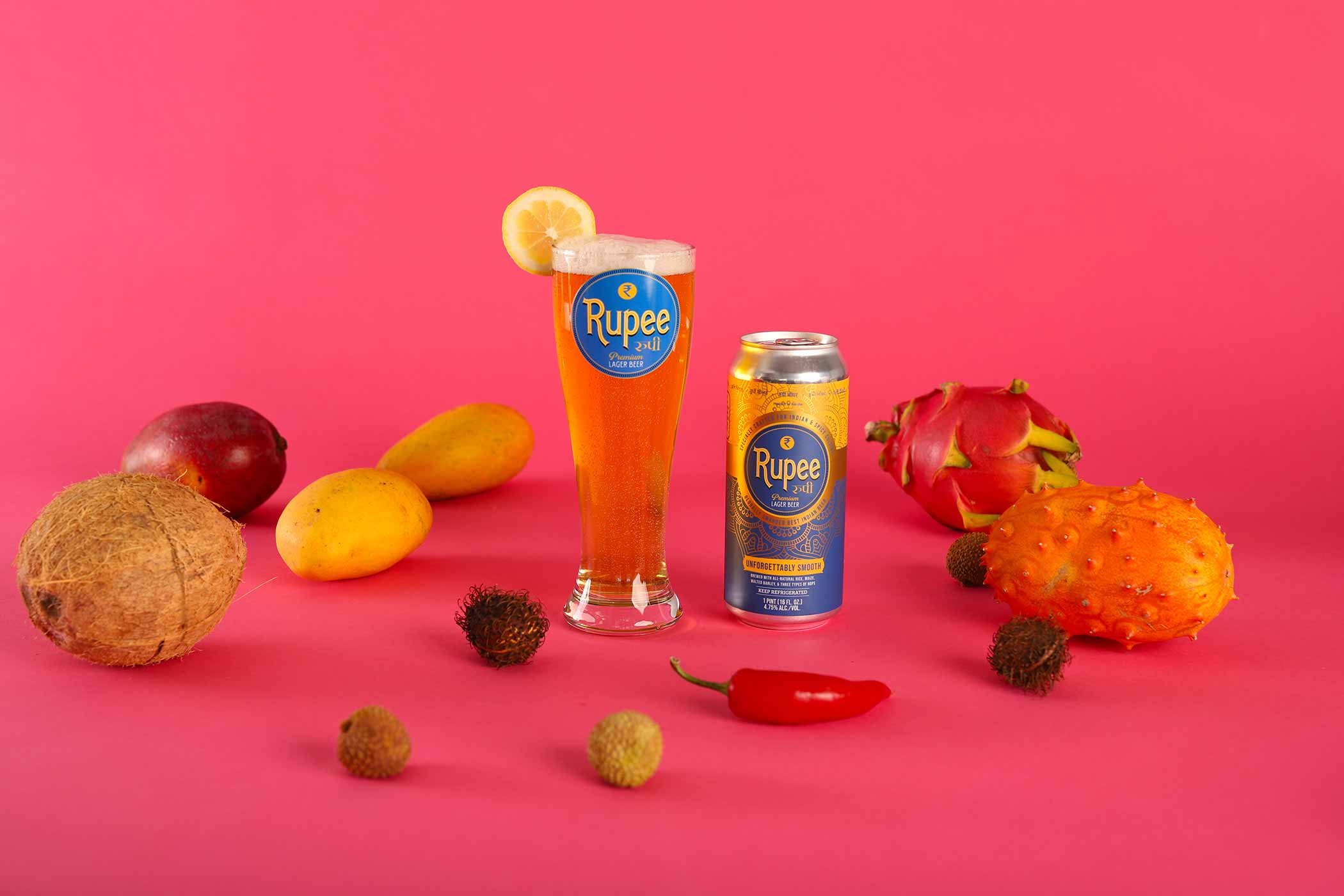 Pale Lager — Chicken tikka masala, vindaloo, butter chicken, naan. What is the best beer to pair with these Indian dishes?
Van and Sumit Sharma set out to answer that question when they started the now-award-winning Rupee Beer fourteen months ago.
A beer built as the "global beer for curry," Rupee is on a mission to be the smoothest, lightest, crispest, best beer to pair with not only Indian dishes but food from around the world.
Mission accomplished.
So while yes, we do recommend this beer in spring…we also recommend it in summer, in fall, in winter—basically any time of the year with pretty much anything you're eating.
We can't say that about every beer, which makes Rupee Beer kind of one in a million.
Lena 10°
Schilling Beer Co. — Littleton, NH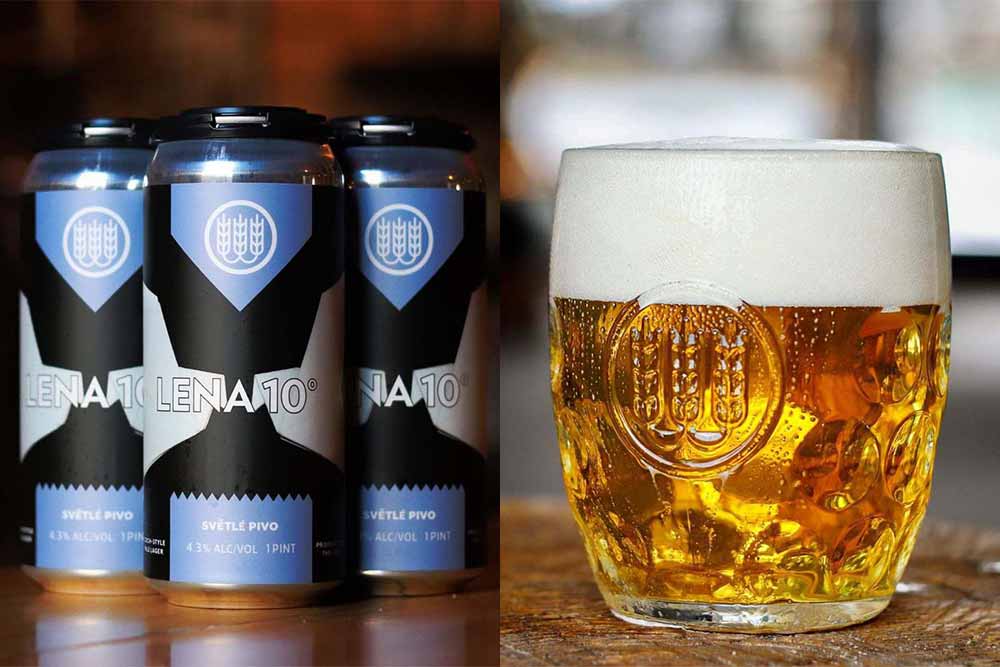 Czech Pale Lager — Schilling Beer Co. in Littleton, NH, makes incredible lagers. We've named everything from their Augustin 13° Czech amber lager to their Konstantin märzen to our lists of "The 27 Best Beers We Drank in 2022" and "The Top 23 Oktoberfest Beers to Try This Fall," respectively.
Following our prediction that Czech-style beers would pop up more and more on American tap lists, when Schilling sent us their own Czech-style pale lager (Světlé Pivo) called Lena 10°, we admit we felt a little vindicated. For a brewery known for executing sublime lagers, Schilling approaching Czech styles tells us we're on the right track.
Featuring Haná landrace barley grown by Poormon Farms in New York and malted by Valley Malt in Hadley, MA, Lena 10° honors Czech brewing traditions while giving the nod to local Northeast ingredients.
For instance, Haná barley, a prized varietal grown almost exclusively in the Moravian region of the Czech Republic until the twentieth century, now makes a home in the fields of a centuries-old farm in Seneca, NY, that planted its first crop of barley in 2012.
Pilsner Urquell used Haná barley in its first pilsner recipe, so Schilling's version again pays homage to a classic while planting its own fingerprints.
A beautiful head of foam characteristic to the style laces the top of the glass. At the same time, the pale gold liquid delivers a heightened maltiness probably from the decoction, a traditional step in Czech brewing that includes pulling off part of the wort and boiling it to caramelize part of the grist.
The malt breadiness balances with a polished bitterness and snap from Schilling's house Czech lager yeast strain. All combine for a seemingly effortless, silken pale lager that's delicate in its expression.
Brewing this beer takes a delicate hand and keen concentration. Luckily, we get to drink and enjoy Schilling's vigilance, but we hope you heed and appreciate the thoughtfulness and consideration that went into brewing Lena 10°.
Barrel-Aged Coconut Hazelnut Cordial Slumber Party Stout
Southern Grist Brewing Company — Nashville, TN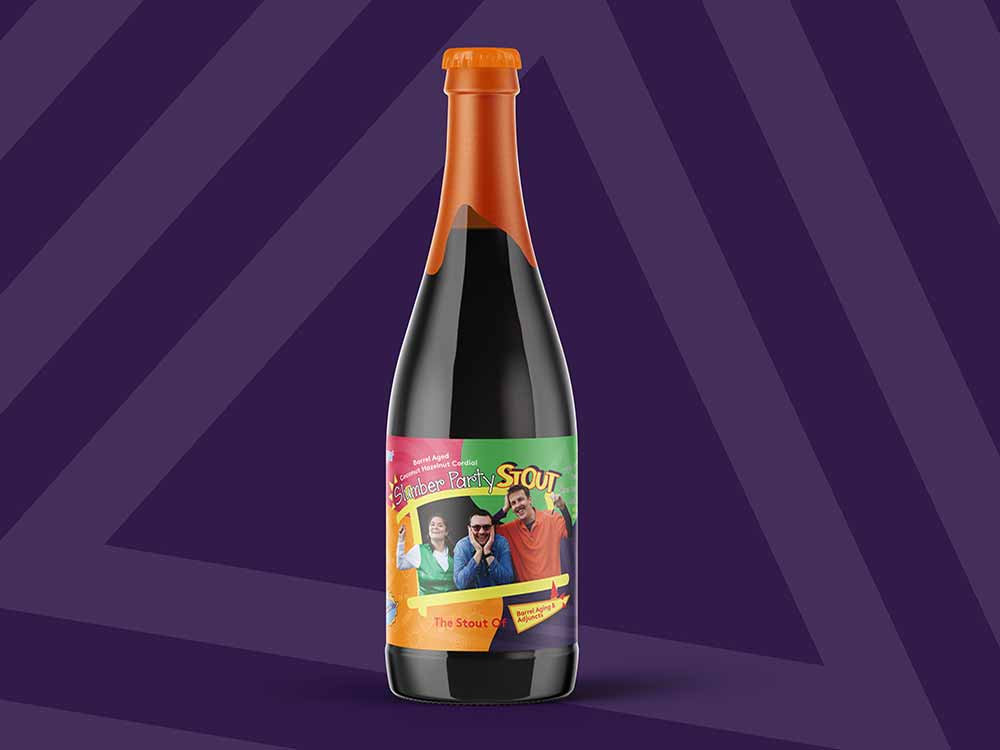 Pastry Stout — More and more over the past half-decade, breweries have introduced their version of bottle societies and memberships. These exclusive clubs give us a chance to nab some pretty exclusive, experimental beers that might not make it out to the traditional market. A tantalizing proposition, these swank beer clubs give you the opportunity to indulge and the brewery a new world to flex their creative brawn.
Most recently, Southern Grist joined these echelons, launching their barrel-aged bottle club, Loyal Fans Of Grist (LFG).
With bottles only available to club members and never the public, LFG showcases some of the best barrel-aged stuff Southern Grist has squirreled away.
Members get six 500mL bottles shipped out throughout the year, starting with Barrel Aged Coconut Hazelnut Cordial Slumber Party Stout.
We hope you're reading between the lines here because we included a stout on our list of the best spring beers. We could say that the inclusion of coconut, hazelnuts, and vanilla beans had us dreaming of the warm tropics, but really we don't need to justify our decision to add this triple-mashed, twenty-four-hour boil imperial stout aged for twenty-three months in Wild Turkey Rare Breed barrels on this list for any reason other than that sentence we just wrote.
Ravishingly ritzy, this imperial stout feels like a luxury. If this beer is a slumber party, it's probably one at the Waldorf Astoria or The Plaza Hotel.
While sales for LFG have already ended, keep your eyes peeled for this membership early next year.
Click Click Bloom
Tactical Brewing Co. — Orlando, FL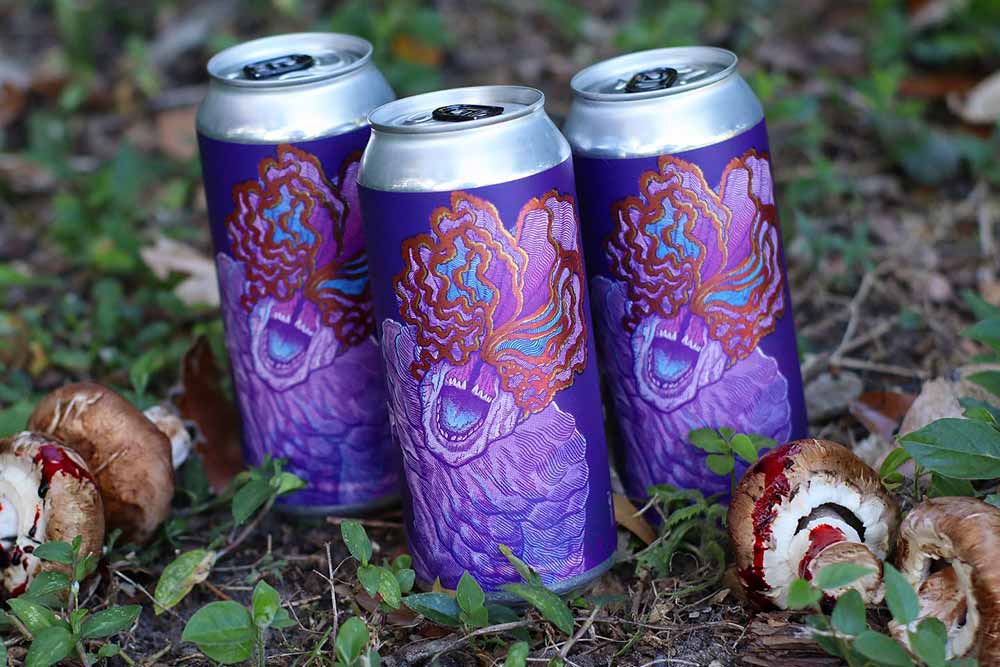 Gose — We can count on one hand the number of mushroom beers we've tried in the last five years—Chanterelle from Scratch and Fung Shui from Fox Tale Fermentation Project. Now add Tactical's Click Click Bloom to that list.
A gose base, already popping with umami from a hit of salt, gets a double dose from adding mushrooms such as cordyceps, roasted lion's mane, oyster, and no-big-deal truffle.
We only wished we had watched The Last of Us to make some excellent pop references here. Apparently, the gorgeous label has something to do with the critically acclaimed video game series turned HBO phenomenon.
Flora Firma
The Drowned Lands Brewery — Warwick, NY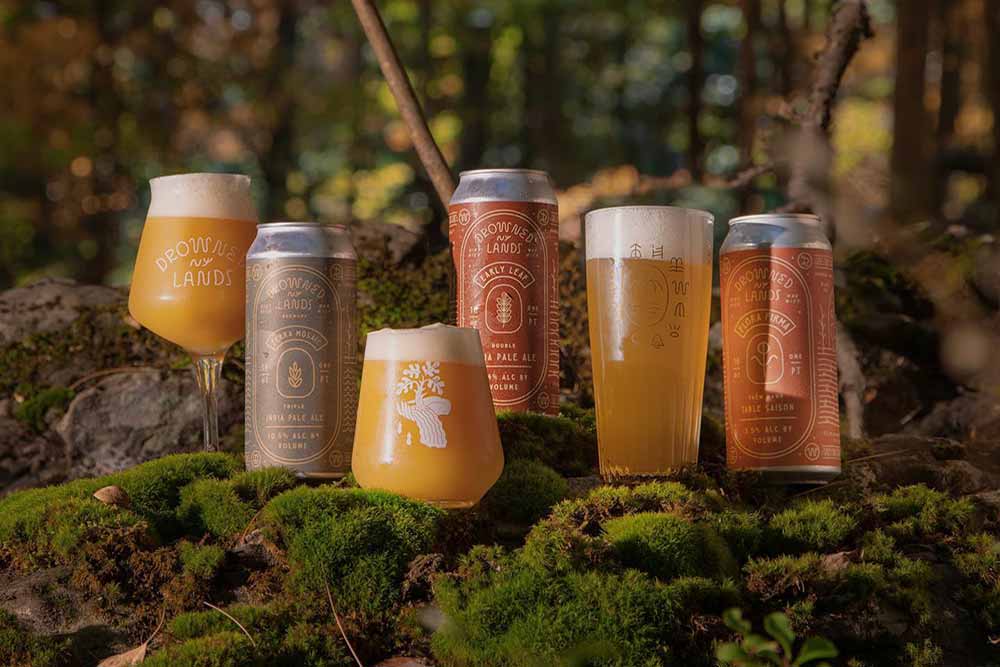 Table Beer — The Drowned Lands crushable table beer Flora Firma includes New York pilsner malt and a dry hop with Saaz and Motueka. Super low in ABV, this farmhouse-style saison drinks like a light, refreshing beer you can have on your table all throughout the season.
Based in Warwick, NY, The Drowned Land excels in brewing beers with terroir, capturing the flavors and essence of the Upstate New York landscape. Which is why this brewery is one of the best to visit in the Hudson Valley, NY.
With Flora Firma, The Drowned Lands takes things further, seemingly capturing a time and season. Flora Firma isn't just a taste of Southwestern Orange County in a can; this is a taste of Upstate New York as it starts to thaw in between winter and spring.
We're tasting just-poured key lime juice, like the acidity of key lime pie, but without the whipped cream and graham cracker, although this beer does give us a bit of fresh baked bread.
Meet Me In California
Three Weavers Brewing Company — Inglewood, CA, x Green Cheek Beer Company — Orange, CA, x Wild Fields Brewhouse — Atascadero, CA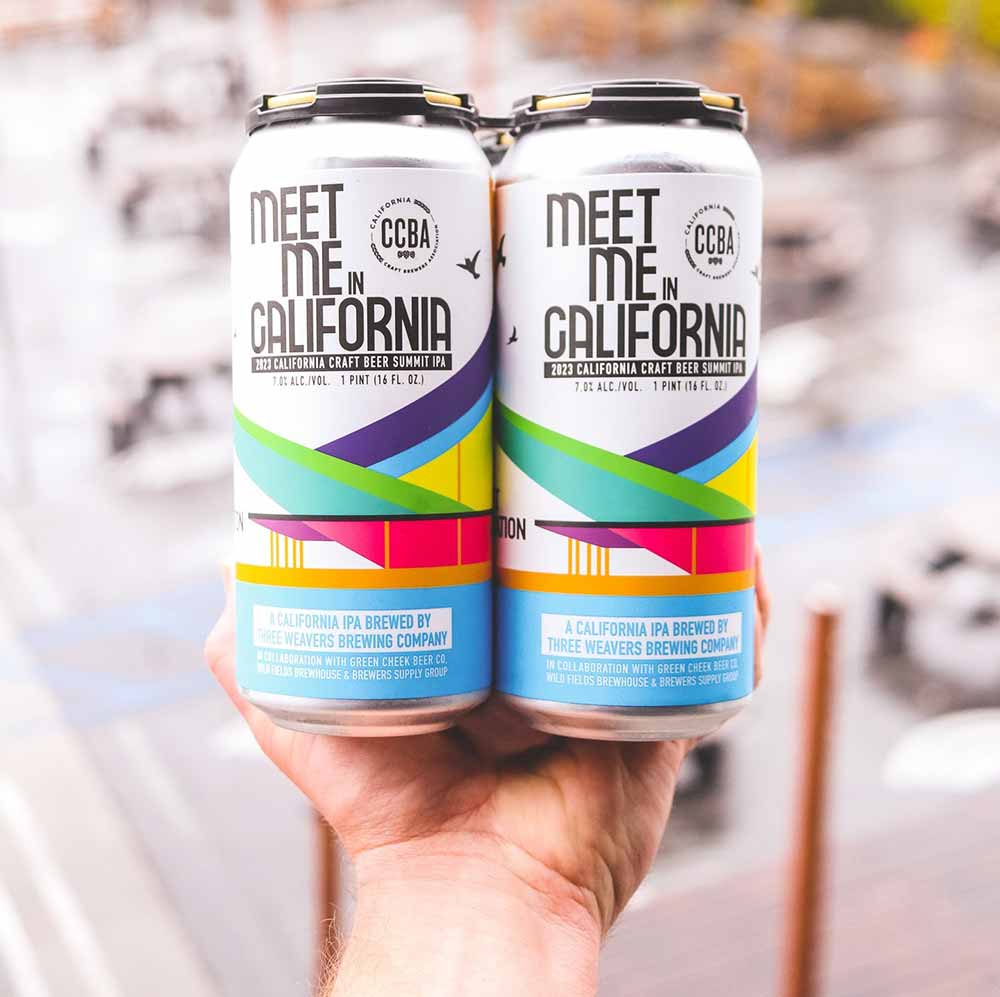 American IPA — A collab with Three Weavers, Green Cheek, and Wild Fields Brewhouse, Meet Me In California supports the CA Craft Brewers Guild. Weitz tried the exclusive collab at the CA Beer Summit in Sacramento at the beginning of March.
Dry hopped with YQH-1320 and Nectaron, Meet Me In California kind of epitomizes California in a can—equal parts bright tangerine, zesty citrus, and acidic pineapple. Meet Me In California drinks like a testament to the Golden State pulling itself out of a drought—collaborative, hopeful, and fresh.
Pseudo Sue
Toppling Goliath Brewing Company — Decorah, IA
American Pale Ale — Pseudo Sue is probably one of our favorite pale ales because it showcases one hop (count 'em, one) beautifully. Similar to how Sierra Nevada Founder Grossman let Cascade be the star in Sierra Nevada Pale Ale, Toppling Goliath Co-Founders Clark and Barbara Lewey put the spotlight on Citra in Pseudo Sue.
Citrus, mango, and grapefruit ferociously roar in this pale ale, finishing with a bright, clean bite.
Pseudo Sue is an impeccable Citra-forward pale ale that always excites me, like that first spring day.
Key Lime Pie
WeldWerks Brewing Co. — Greeley, CO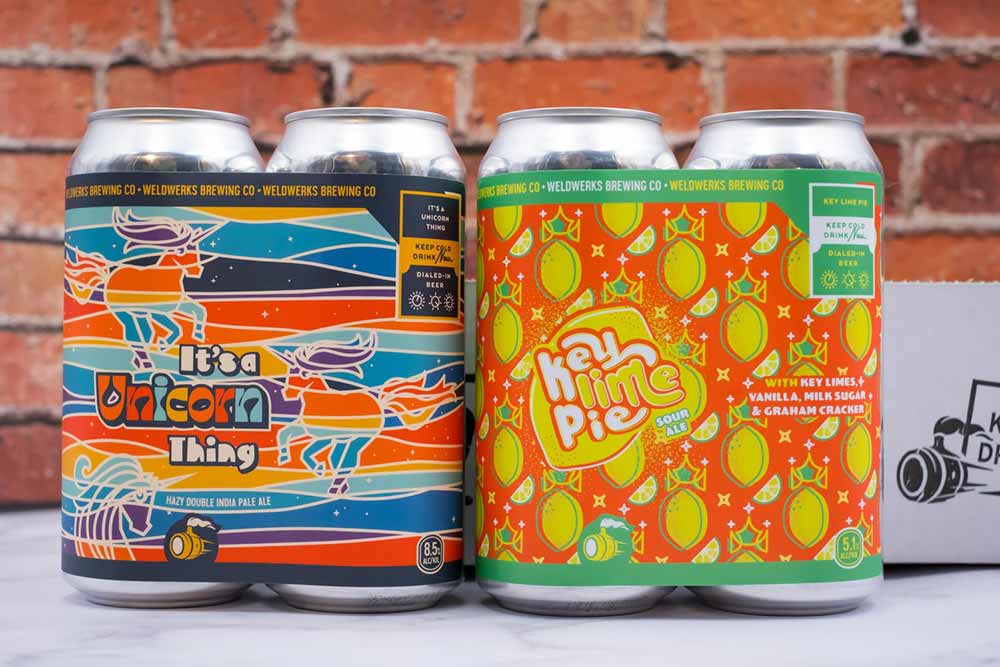 Pastry Sour — Does a dessert exist that represents spring more than key lime pie? Close your eyes, taste this pastry, and you're whisked away to white sandy beaches with a salty ocean breeze. Playing off that spring/summertime nostalgia, WeldWerks brewed the iconic dessert as a sour ale called Key Lime Pie with freshly squeezed key limes, vanilla beans, and graham crackers.
"Key Lime Pie, as with many folks, is one of my favorite desserts, so I look forward to the release of the beer form of this treat every year," said WeldWerks Marketing Director Devin Quinn in a press release. "With this beer, our brewers did an incredible job balancing the sweetness from vanilla and graham cracker alongside the tartness from the freshly squeezed key limes. The result is refreshing and light!"
Super quaffable, Key Lime Pie gives you that sweetness and sort of cinnamon-infused butteriness from the graham cracker you're craving, balanced with a spritzy acidity from the key limes.
Put on your board shorts and Tommy Bahama button-up and slip on your flip-flops because drinking WeldWerks' Key Lime Pie whisks you away to the beach with just one sip.
Superdelic™ SMaSH
Whole Foods Market Brewing Company — Houston, TX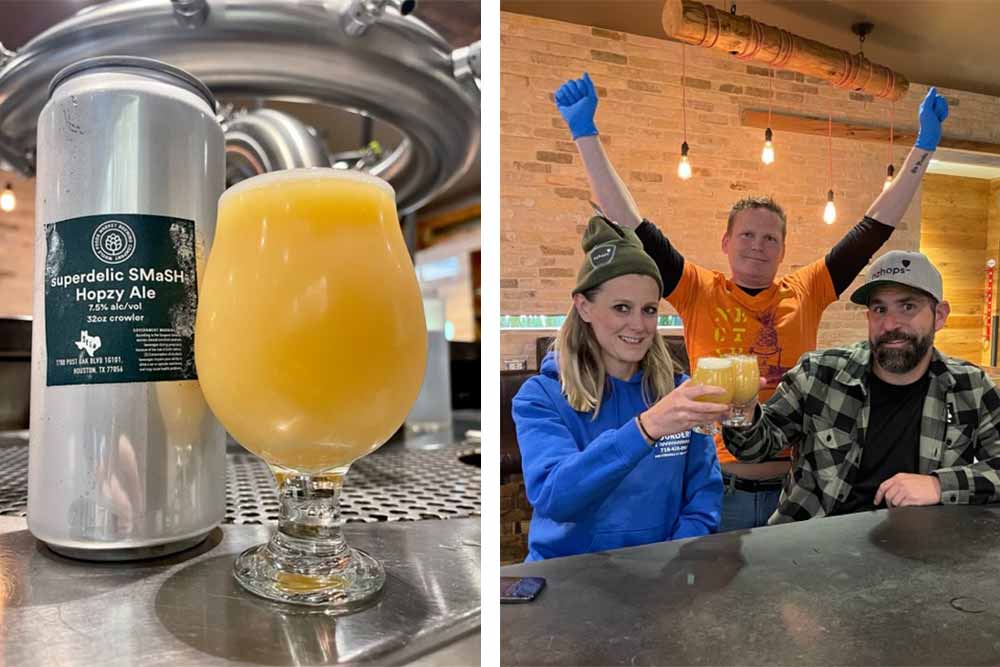 Imperial Hazy IPA — Last month, NZ Hops announced the release of an entirely new hop called Superdelic™. Touted as a Southern Hemisphere hop with intense candied fruit, bubblegum, and super citrus notes, Superdelic™ is just another exciting innovation coming out of the Down Under.
One of the first beers we've seen in the States with Superdelic™, Superdelic™ SMaSH comes from the wizarding world of Whole Foods Market Brewing Company. At the helm is brewmaster Chris Shelton (who in tandem with Larry Koestler of Musical Box Brewing jammed 14.5lbs/bbl of hops into a beer called Gotta Have My Hops).
Always on the edge of the world, Shelton strikes again with this single malt and single hop (SMaSH) beer focused exclusively on Superdelic™, a hop he says tastes and smells unlike any other.
"I do get this sweetness I still want to say is bubblegum," says Shelton. "The aromatics are like Big League Chew from when I was a kid. It is so weird and unique."
Adding eight pounds per barrel of Superdelic™ in a SMaSH beer, this hop really shines.
"One guy at the taproom the day we released it literally looked at me and said, 'This is a goddamn roller coaster of everything!'" shares Shelton.
And if you need any proof this beer crushed it: Shelton sold out of all 150 crowlers and his draft of Superdelic™ SMaSH in just five days.
Contour Interval∞
Wild East Brewing Co. — Brooklyn, NY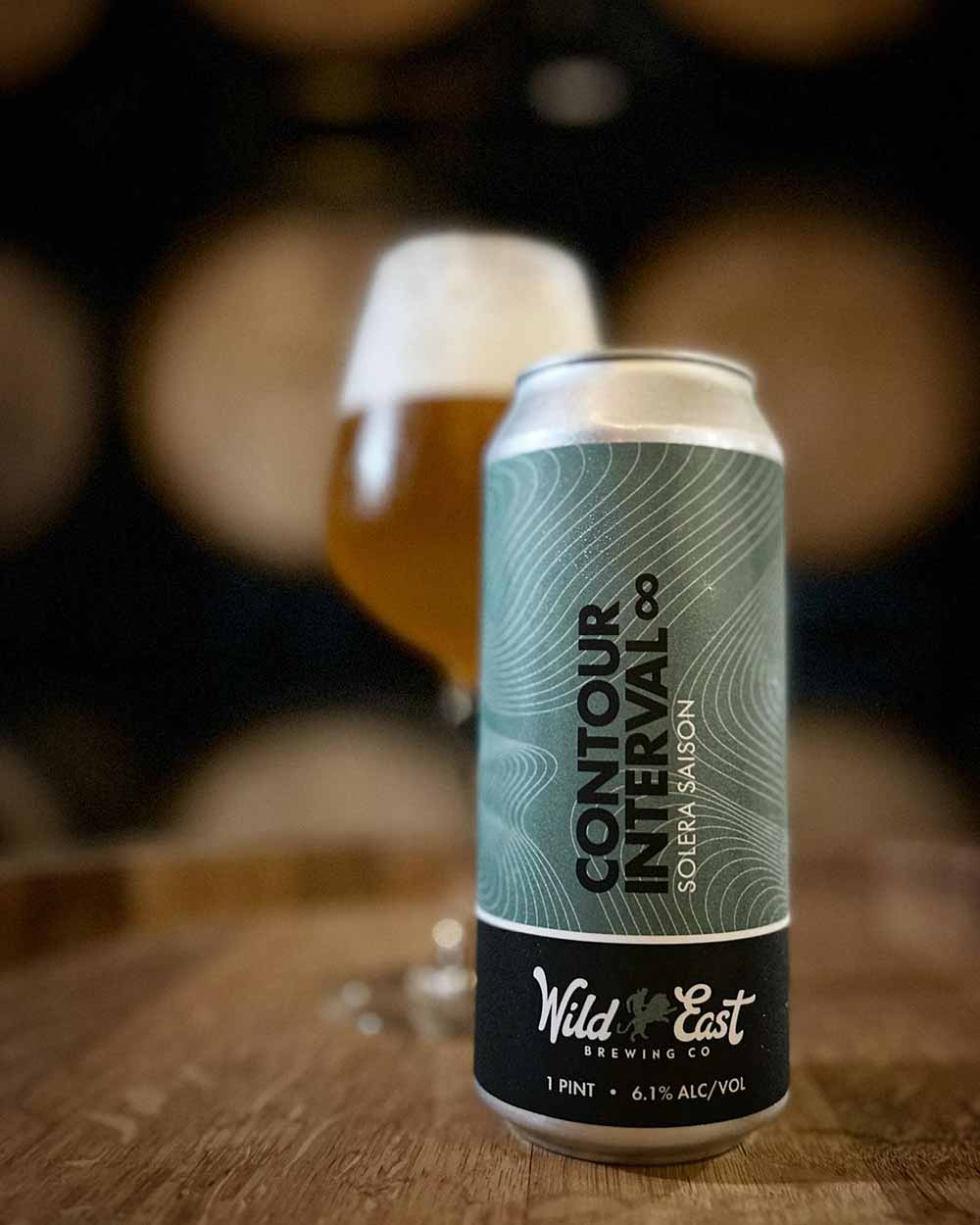 Saison — Brewed with all New York State ingredients and fermented with Wild East's mixed-saison culture, Contour Interval∞ ages for a few months in the brewery's foeder solera.
An approach to aging every kind of alcoholic beverage from sherry to wine to beer, solera includes adding younger portions of a fermented beverage on top of older ones for an incredibly complex, layered creation.
At Wild East, for Contour Interval∞, they pull off about half of the finished saison from their 30bbl foeder before filling it again with the freshly brewed base beer. The "newish" beer referments to change in slightly subtle, nuanced ways that add a depth of complexity to the beer.
In the most recent version Wild East sent us, we found that somewhat mysterious balance of harmony and tension between acidity and funkiness. As a guitar string pulled tight enough to play without snapping, Contour Interval∞ harmonizes beautifully with some buttery chardonnay, oak, and soft vanilla with bright pops of finger lime and a lingering straw-like earthiness.
During a season that brings something new and fresh every day, Contour Interval∞ similarly delivers a new note every time you take a sip.