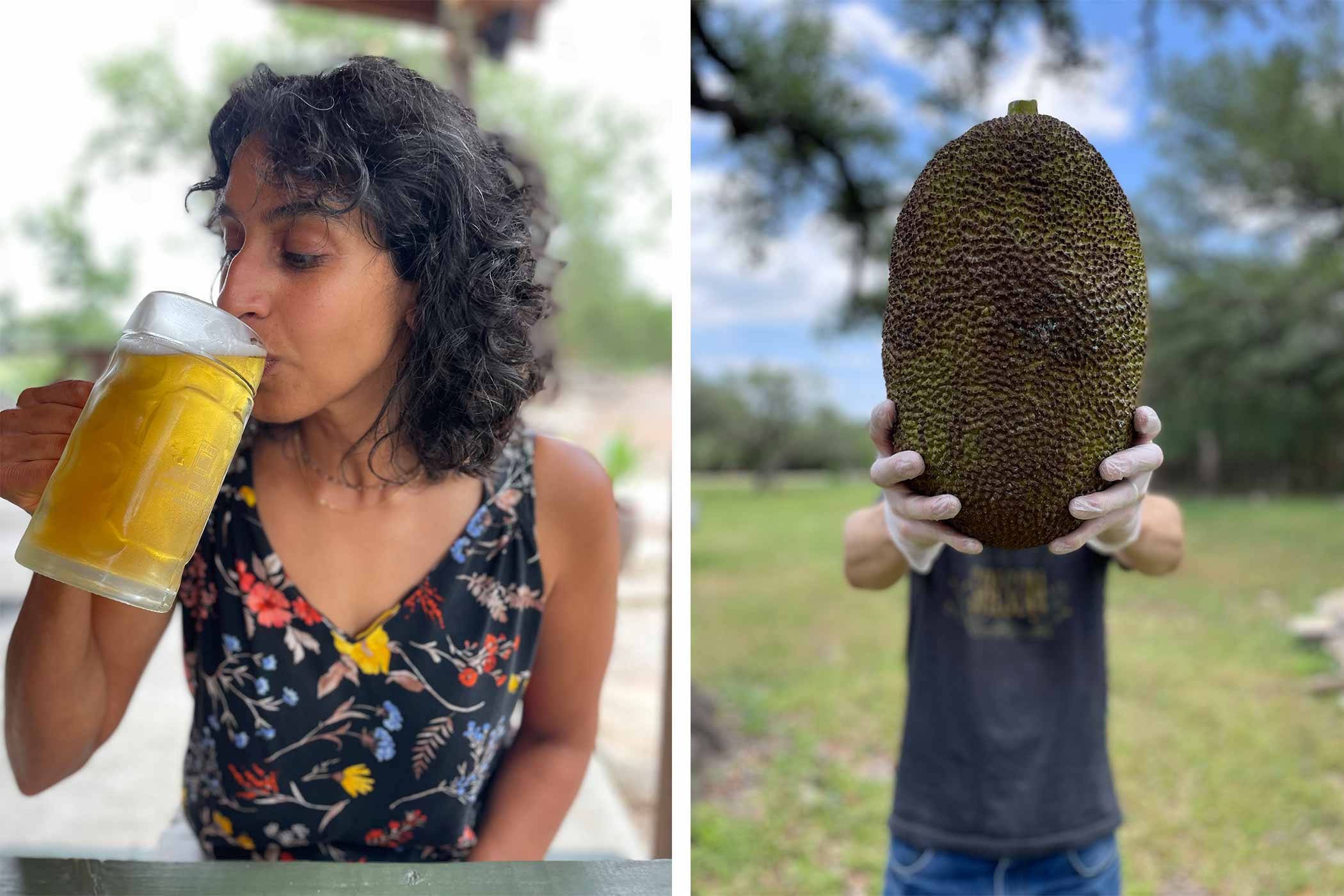 Photography courtesy of Alex Pasternak | Roughhouse Brewing
Where are other people like me? That's the question South Asian Beer Club Founder Ruvani de Silva asked herself after she moved from the United Kingdom to Texas five years ago. "The pandemic made me think really hard about what was missing," says the British Sri Lankan who developed a knack for beer when she discovered CAMRA (Campaign for Real Ale) while living in the U.K.
She brought her love of beer across the pond to the Lone Star State, exploring different breweries and beers. Until the global pandemic forced her to stop, hibernate, and think.
"I tried to find out where all the South Asians were [in beer]," she told me. "Of all the people I talked to on social media, where are all the other brown people?"
It wasn't easy, but de Silva scoured social media, connecting with other South Asians interested in beer. The travel-loving freelance beer writer with bylines in PorchDrinking, Craft Beer Austin, and Hop Culture eventually wrote an entire piece for Good Beer Hunting on navigating the beer industry as a South Asian woman.
With the few South Asians she found, she thought it would be nice to have conversations together "where we can all belong and talk to everyone … and people who are interested in what South Asians in craft beer are doing will have one place they can go as opposed to what I did, sort of seeking everyone out," she says.
With South Asian Beer Club, de Silva created a place where people from many places but all with backgrounds from the Subcontinent—a broad term that refers to all South Asian countries—could connect over one passion: craft beer.
Those like Bhavik Modi, the co-founder of Azadi, an Indian-inspired brewery infusing Modi's heritage and culinary ingredients into the beers. Or Nazish Pasternak, the general manager at Roughhouse Brewing in San Marcos, TX, started by her husband and brother-in-law in January 2019.
And Ajay Nagarajan, who started Windmills Craftworks in Bengaluru, India, before bringing Windmills Brewery & Restaurant to Dallas, TX, becoming the first Indian microbrewery to launch a brand in the United States.
Or Sarah Nadeem, who started an Instagram account called @hoppywonderwoman and now co-owns and brews at Misfit Outpost in Cypress, TX.
Now for the first time, all of these South Asians have come together to brew a collaboration beer. One that represents where they've all come from, where they're all going, and the one thing that binds them all together: a passion for craft beer.
Subcontinental: A Beer Bringing Together South Asians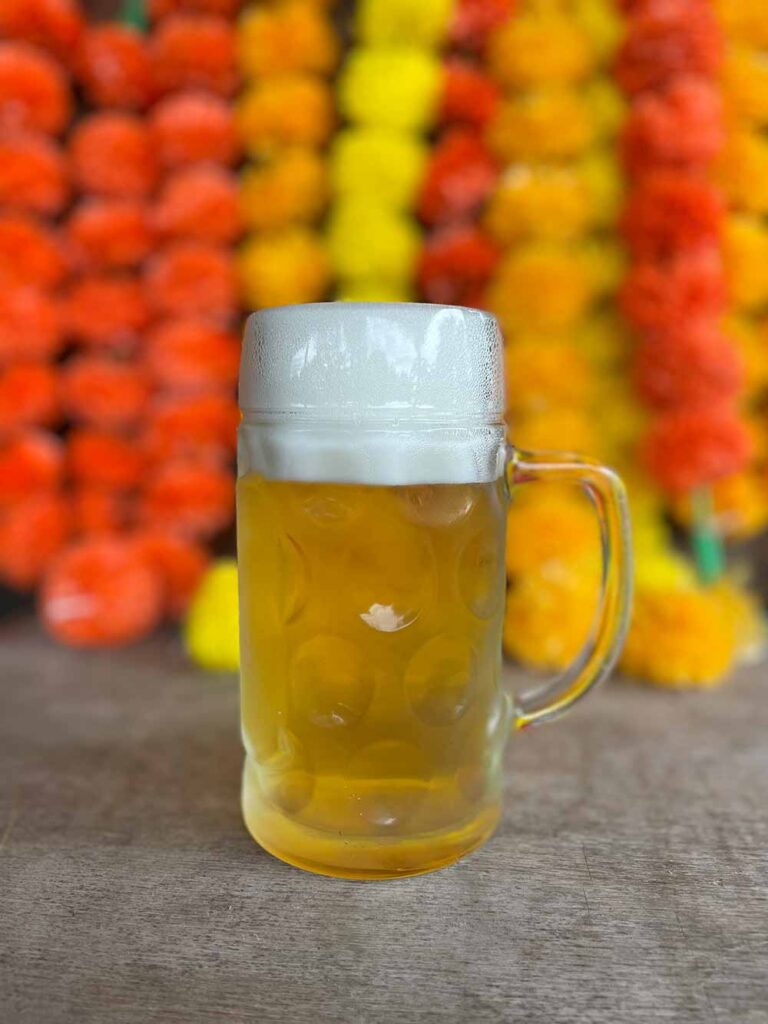 A couple of years ago, de Silva sent a pitch to the Chicago Brewseum, the world's first non-profit dedicated to sharing stories about how beer has shaped humanity past and present, according to the organization's founder and executive director, Liz Garibay.
Starting in 2016, the Brewseum expanded to hosting conferences in 2019 to mash up academics and beer in a four-day event.
De Silva sent Garibay an idea for a panel called Where Are All the South Asians in Beer?
"The line that caught my attention was this will probably be the first-ever panel made up entirely of South Asians in the beer industry," says Garibay. "That blew my mind. How are we in 2021 and there has never been a panel about South Asians in beer?"
The first all-South Asian U.S. beer conference seminar included Windmills' Nagarajan, Azadi's Modi, Ravi Patel, owner and brewer at Other Desi Brewing in Branford, CT, and Aadam Soorma, head of marketing and guest experience at Trace Brewing in Pittsburgh, PA. (While Nadeem had been set to attend, a last-minute family emergency changed her plans).
These five (plus a few others, such as Rupee Beer and MERIT Brewing) represent a tiny but mighty contingent of South Asian-owned breweries in North America.
An owner's demographic survey completed by the Brewers Association in 2021 found that only two percent of craft breweries are Asian-owned (without even breaking down the category further into, say, South Asian-owned or Korean-owned breweries).
The challenges and lack of representation for minority- and Asian-owned businesses, along with minority drinkers, have stayed high across all industries, especially in craft beer.
And especially during a time when hate crimes against the Asian American and Pacific Islander communities hit unprecedented levels, increasing 339 percent according to the Center for the Study of Hate and Extremism.
For South Asian women in craft beer, the hurdles are two-fold. In addition to finding a way to feel accepted in North American craft beer communities, many South Asian women also have to grapple with religious stigmas around women drinking in their own cultures.
"There are a lot of South Asians, especially Pakistanis, who come from Muslim families and can't openly [drink] or choose not to drink in public because it's very judgemental," says Sarah Nadeem, founder of @hoppywonderwoman and co-owner of Misfit Outpost whose family is from Pakistan. "I'm hoping this project will attract more South Asians to the beer community and show them craft beer shouldn't be frowned upon in our culture."
In fact, Nadeem still hasn't told her mom about Subcontinental, but she hopes the beer will speak for itself and for others.
Subcontinental: A Collaboration Beyond Borders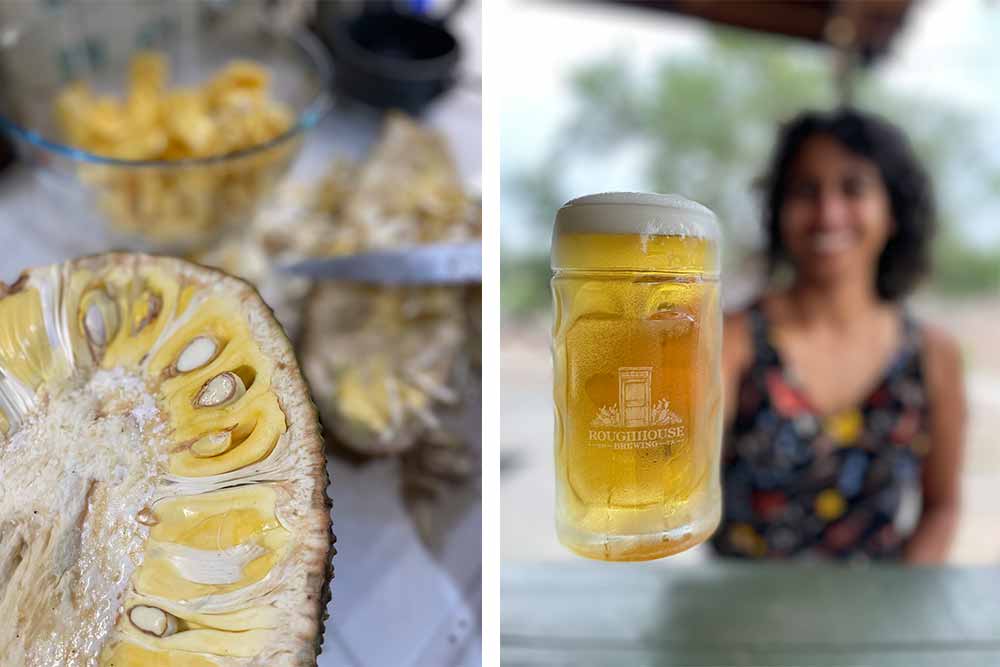 After the panel in 2021, de Silva knew that she wanted to go further, chatting with Garibay about what else they could do.
"This doesn't end with a session, so we started talking about what we could do next," says Garibay, who identifies as a gay Latina. "Of course, white cis-males are at the forefront not only in beer but just in life, right? The Summit and the Brewseum have always tried to be a platform for underrepresented voices regardless of gender, sexuality, or ethnicity … DEI is not something we plan for because it has always been embedded in the DNA of our organization."
With that in mind, Garibay started a series of cultural beer collaborations at the Brewseum. Whether partnering with the first Black-owned breweries in the Chicagoland area to create a beer celebrating a rich neighborhood called Bronzeville or the Southern Food & Beverage Museum in New Orleans to talk about the connections between the two cities, these cultural beer collaborations challenge the status quo and create educational opportunities.
With the goal to showcase South Asian producers, a similar beer collaboration with the Brewseum made sense.
De Silva reached out to all of the South Asian brewery owners she knew. Many of whom had participated on the panel.
"We felt the idea was to tell a story about South Asian culture and cuisine in a way accessible to people that was not intimidating, nothing to scare people away but to introduce them to something they didn't know," says de Silva.
For Pasternak, the Subcontinental collab meant a chance to promote her culture and illustrate her journey of identity.
Growing up in a North Dallas suburb, Pasternak says she always toed two lines—a secular one, trying to fit in at a predominantly white school, and a cultural and religious one with her family, who came from India but also lived in Pakistan. "I was very confused as to who I was because I was told to assimilate but also to appreciate our culture," she says. "It was hard to navigate."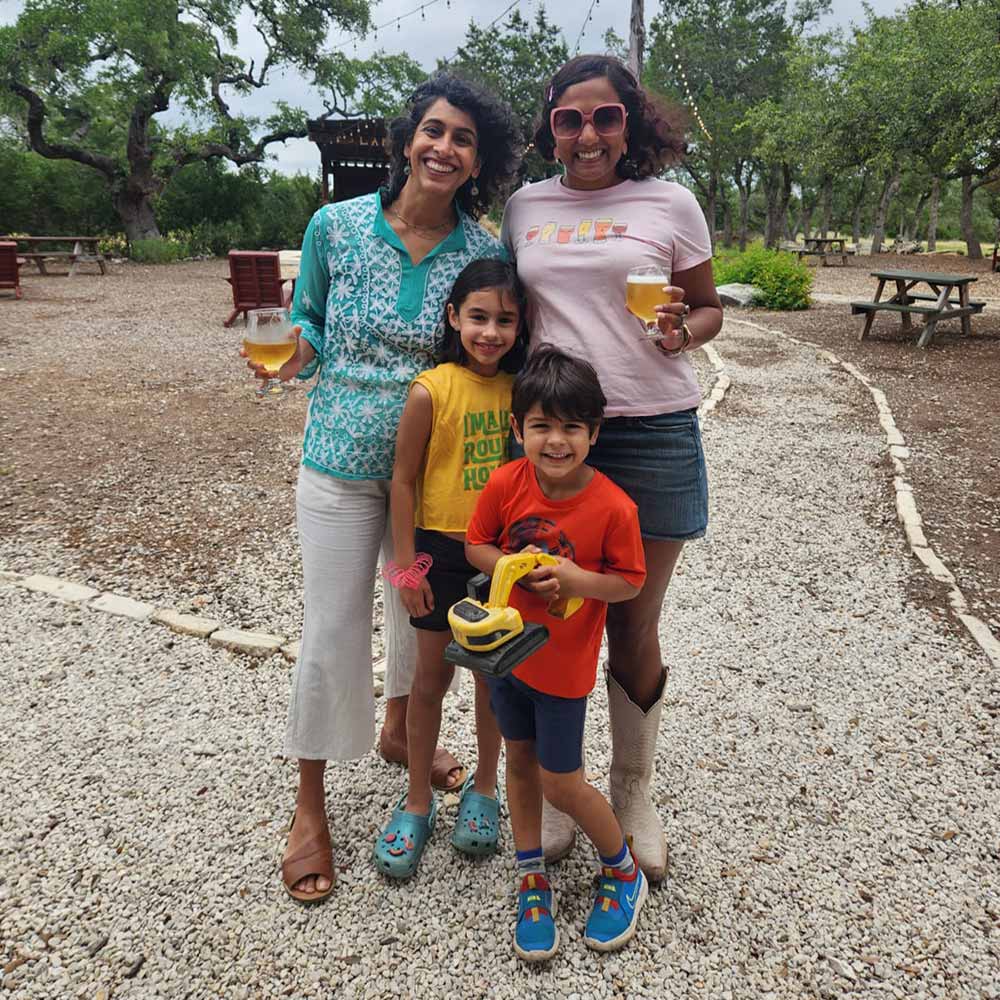 Now in a mixed marriage with two biracial kids, Pasternak says she's trying to instill everything she loves about her culture with her own family. The brewery has been the perfect place to fuse the two. "We want to be a place where people feel comfortable coming together, connecting, learning from each other, and hearing each other's stories," she says. "We've evolved into more of a place where the community can come together."
Similarly, Nadeem says that she hopes the beer will not only shine a light on South Asians in the beer industry but show that "even though there are not a lot of South Asian brewers, we do exist, and we can come together and create something great and unique," she says.
With such lofty goals, Subcontinental couldn't be any ol' beer.
"We wanted to do something different, but that we could all relate to because we're all from different places in South Asia," says de Silva.
The beer had to tie together somehow all of these different backgrounds, stretching from India to Pakistan to Sri Lanka and beyond.
But how can you do that with just the liquid inside of the can?
Jumping on a Jackfruit Lager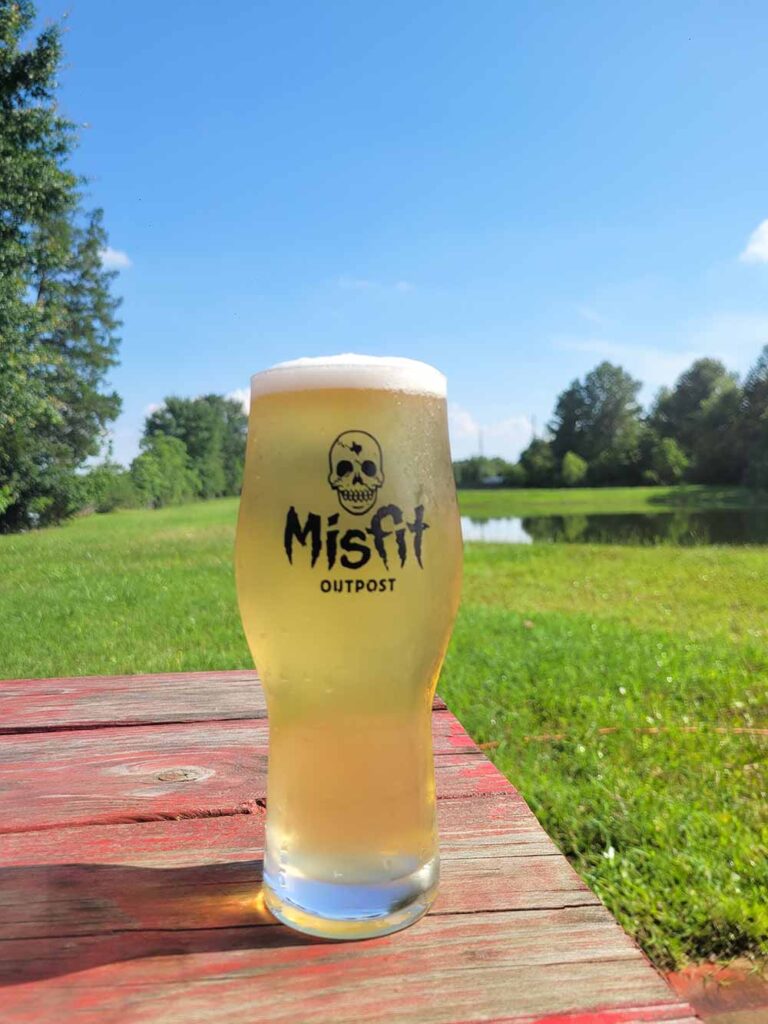 For most of the group, they landed on two ideas: a lager base to represent the beer most commonly drunk on the Subcontinent and a surprising ingredient that had meaning to all their various cultures without being overused.
"Everyone has done a chai beer," says de Silva.
Nadeem agreed. "Coconut and mango are popular, but we wanted to do something that wasn't done before but is also popular in South Asia."
While de Silva said they talked briefly about jaggery, a type of unrefined cane sugar common on the Subcontinent, ultimately the team landed on jackfruit.
A fruit from a tree in the fig, mulberry, and breadfruit family, jackfruit originates in Southern India but can be found in dishes all over various South Asian countries.
For instance, de Silva's Sri Lankan family most commonly cooked jackfruit in a curry similar to what's cooked in India, with which Sri Lanka shares many culinary influences. "Jackfruit can often be used to replace meat because it has a very meaty flesh," says de Silva, noting that it has become somewhat widely known in the U.S. now as a vegan alternative. "You can have it mild or spiced up, but it's usually in a coconut curry with different spices."
Although de Silva says her dad mentioned you could often eat it as a dessert too, she doesn't ever recount eating the fruit as a sweet, saying she mostly ate jackfruit cooked by one of her aunts in the family home.
For Nadeem, she says her Pakistani family exposed her to the fruit but that it's not as popular in Pakistan as in India.
And for Pasternak, who says her Muslim family is from India but also lived in Pakistan for many years, she had never had jackfruit before brewing this beer.
Which eloquently "gives a bigger picture that we're not all the same," says Pasternak. "There are many different types of cooking and ingredients we use on the Subcontinent, so it was cool to be like, oh, that's something I never tried, but I'd love to see what that does."
For that reason, actually, Azadi has taken a different approach to its beer in the Subcontinental brand.
Azadi's Salt, Pepper, and Kiwi Gose
Modi says that when Azadi agrees to a collaboration it has to fit one of two criteria: Affiliated with the hometown of Chicago to support their local community or has to be representative of India and the style and culture behind the beers they do.
Jackfruit wasn't a part of Modi's culture growing up. "In certain South Asian cultures it is very prevalent and important, but for me, it wasn't," he says. "We wanted to be authentic to Chicago and who we are."
Instead, Azadi will be making what Modi calls a salt and pepper gose featuring Tellicherry black pepper from the Southern part of India, Himalayan pink salt from the Northern Pakistani/India border, and kiwi.
"We love kiwi; it's one of my favorite fruits growing up and gained a lot of prominence across India," says Modi. "You see it more and more on dinner tables there."
For Modi, inspiration came from Chicago's Little India located on Devon Avenue, "In the summertime when you walk down the street, you see Pakistani, Bangladeshi, and Indian merchants selling fresh mangoes, kiwi, and fruit," says Modi. "We thought that was a really cool scene that reminded us of our childhood and Chicago summers."
Although Azadi will be calling its beer Devon, Modi says it will also feature Subcontinental branding to honor the collab.
"We felt like this was a great opportunity to put a spotlight on a country that's the most populous in the world…and a country that has a growing love and passion for craft beer with a city that has loved craft beer and has such a diverse immigrant community," says Modi. "Bringing those two things together around beer and conversations is really powerful."
The Spiky One: The Challenges of Brewing With Jackfruit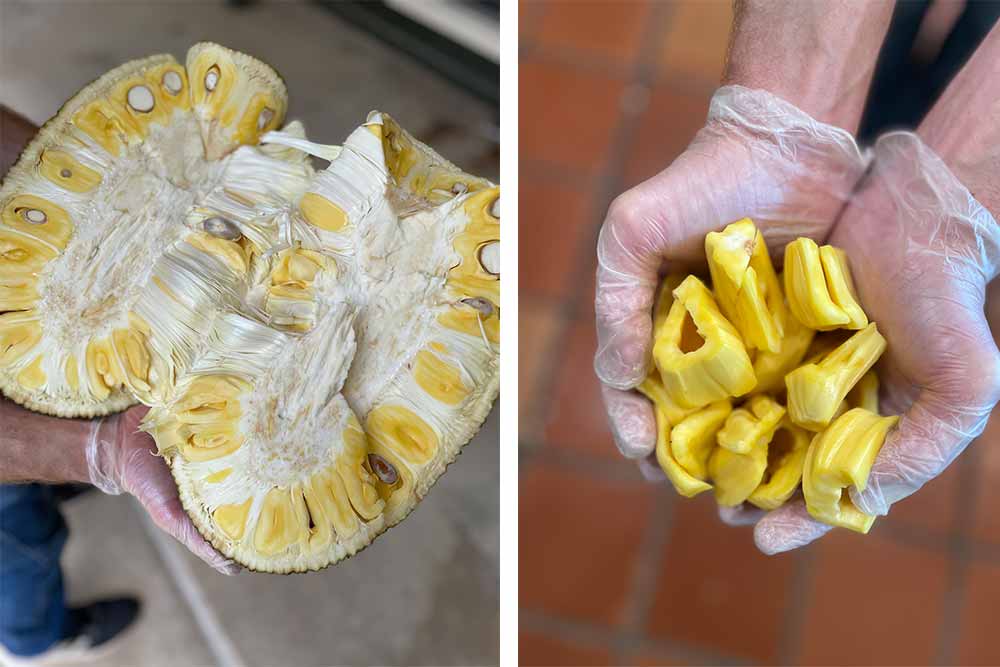 Most of us are probably familar with kiwi, but if you haven't ever seen or heard of jackfruit before, think of it like a huge cantaloupe on the outside.
A large oval fruit with a rough, spiky exterior, jackfruit tastes like this "crazy combination of pineapple, banana, and mango," says Davy Pasternak, Naz's brother-in-law and co-owner and brewer of Roughhouse Brewing.
For both Davy and Nadeem, brewing Subcontinental meant working with jackfruit for the first time. And they'll be the first to tell you the fruit can be finicky.
"It's a very fibrous fruit," says Davy, noting jackfruit has a natural adhesive inside that comes out when you rupture it. "You could stick a knife into it, and the knife would stay."
When cutting into the jackfruit, Davy says you must be careful to avoid a stalk and giant seed in the center. You're working on getting these nodules, reminiscent of a garlic pod, to pop out—that's where you'll find flesh that gives you those beautiful mango, papaya, and banana flavors.
Davy says working with jackfruit was a pretty physical and labor-intensive process.
At Roughhouse, he gives the fruit a coarse chop before putting it in a muslin bag and letting it hang in the beer for a while.
Choosing to brew a rice lager, Davy adds the jackfruit post packaging to the finished beer and back blends it to the desired sweetness. "I wanted to represent the fruit, not the fruit void of sugar," he says.
The beer lagers in the tank for a month, with a couple of days of warm fermentation at the beginning, followed by a cold rest at thirty-five degrees before racking off the fruit and back blending with the base rice lager to create balance.
At Misfit, Nadeem agrees that cutting open the jackfruit proved a little tricky. She says they used the part called arils. "If you've ever had pomegranate seeds, it's like that but much bigger," she says. "They're known as the gems in the jackfruit, and that's the sweetest part."
Taking out a half pound of those pods, Nadeem sanitized, pureed, and froze them to break up the cell walls. After twenty-four hours, she added the pureed jackfruit to the fermenter.
Opting for a rice lager base as well, Nadeem says she wanted to combine the jackfruit with a nod to a beer style that had another common ingredient in South Asian culture. "My family would have [rice] every day with every single meal more than bread," she shared. "So why not incorporate it in a lager and tie everything together."
What Subcontinental Tastes Like at Four Different South Asian Breweries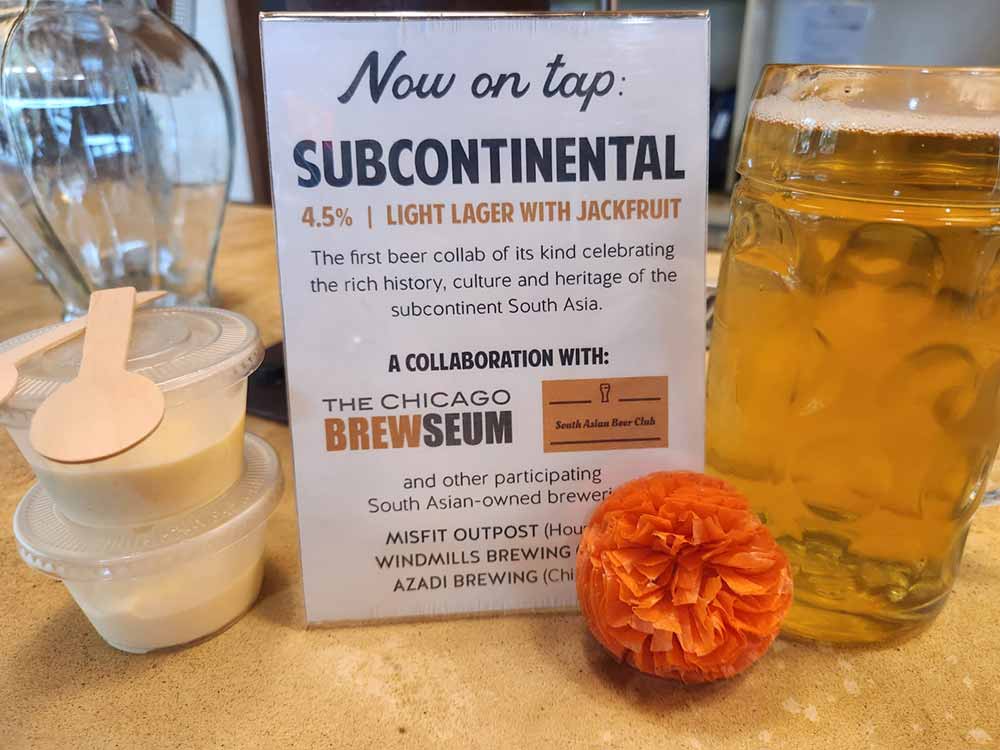 One beer idea. Two guidelines. Four different beers.
Although most of the breweries made a lager and added jackfruit, Windmills, Roughhouse, and Misfit approached their beers differently.
Roughhouse released its rice lager with jackfruit a couple of weekends ago. Pasternak found their version to be delicious with a hint of sweetness. "I hadn't even tried an actual piece of jackfruit, but I could tell it was a different flavor I'd never had before."
For Davy, the beer starts with "the nose of the fruit on the front end, [while] the middle is a crispy lager, so you get some of that rice, and then you burp and exhale that fruit again," he says. "It's bookended by [jackfruit]."
Similarly, at Misfit Outpost, Nadeem says their Subcontinental rice lager with jackfruit is "drinking really well; it's amazing. You get a hint of the jackfruit, but it's not overwhelming or super sweet, so it doesn't take away from the style."
De Silva had the chance to try both Roughhouse's and Misfit's versions on the same weekend.
"A lager base was perfectly suited to capture jackfruit's delicate sweet-savory balance of flavor," she says. "Jackfruit's characteristic notes of banana, mango, and pineapple were subtly present, creating a bright, refreshing lager with depth and sophistication, but very easy-drinking, that will hopefully offer drinkers a chance to experience this popular fruit in South Asian cuisine in a different and exciting format."
Azadi won't be releasing its beer until late June but so far that the kiwi has a "light frutiness that plays well with the gose, giving it that tartness."
How Can I Try Subcontinental?
If you're lucky enough to live in Texas, Windmills, Roughhouse, and Misfits currently all have Subcontinental on draft at their respective taprooms.
Azadi will release Subcontinental in Chicago on draft and in package in late June. At the end of June, the brewery will team up with Garibay at the Brewseum to host a launch and educational event.
"I'm hoping that, even though it's a small group of people, that [Subcontinental] piques people's interest, gets people to try something they might not try otherwise, and gets people aware we have a South Asian beer community," says de Silva. "What we have to offer in terms of flavors and ideas coming from our culture and cuisine and that to a new market, bringing in people who might not know or be interested in craft beer and showing them what it's about and having them enjoy what we enjoy."
For a beer representing the entire Subcontinent and South Asians in beer, Subcontinental seems to have the weight of the world on its shoulders, metaphorically.
But it's time. The question is no longer, 'Where are all the South Asians in beer?'
They're here, and they're making fantastic beer.
As Nadeem says, "This isn't just about uniting South Asians in the beer community, but educating non-South Asians and letting them know, hey, we do exist."