Photography courtesy of Pilot Project
With nearly 9,000 breweries operating in the United States, opening up a brewery has many challenges. But especially minority-owned businesses face special hurdles. Contract brewing or alternating proprietorships offer one solution, as are mentorship programs like Samuel Adams Brewing the American Dream. But what if a place existed especially for the minority community where you could come in for eight to sixteen months, develop and scale your recipes with a professional brewer, test them in a taproom, distribute them in a major beer market, and grow your brand? All without the financial burden required to open up a place of your own? That's the dream of Pilot Project Brewing, a Chicago-based brewery incubator helping minority-owned businesses "pilot" their brands.
Does it sound too good to be true? (Spoiler alert: It's not)
Founded in August 2019 by Dan Abel and Jordan Radke, Pilot Project has helped launch thirteen beverage alcohol concepts. Like South Asian-owned Azadi Brewing Company, women-owned Luna Bay Booch, and Black-owned Funkytown Brewery.
Touted as the first space of its kind dedicated to the brewing community, Pilot Project strives to support folks in underrepresented communities in a predominantly white, male brewing industry with high barriers to entry.
What Is the Origin of Pilot Project Brewing?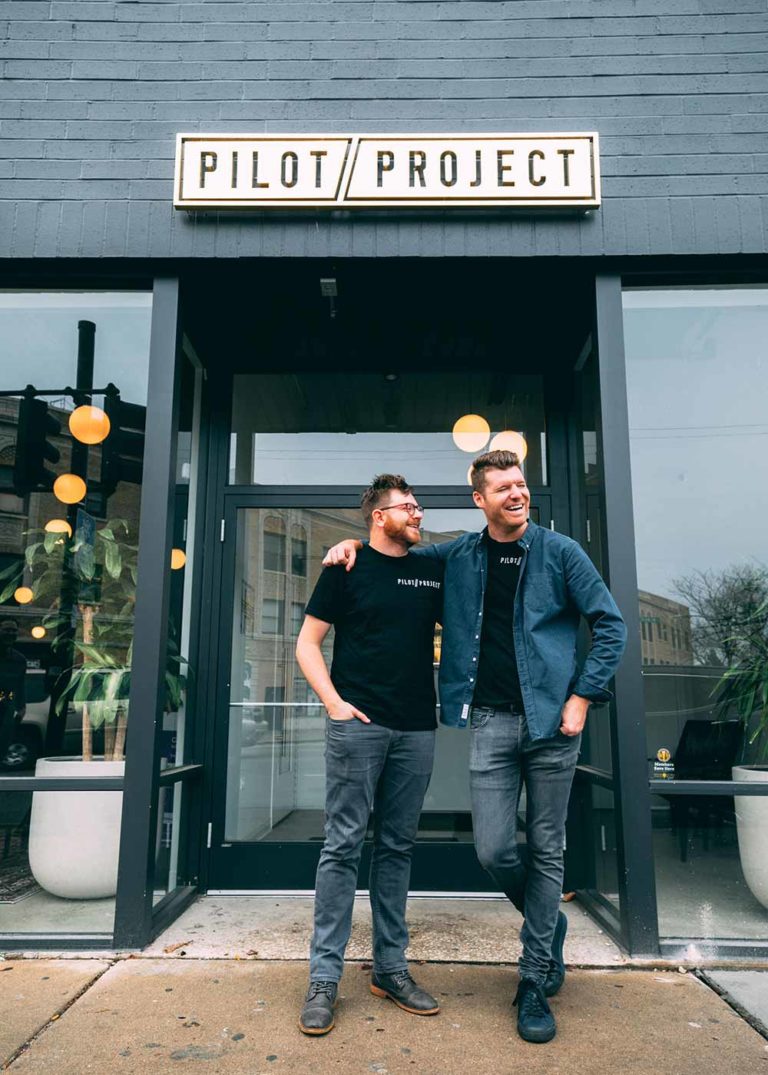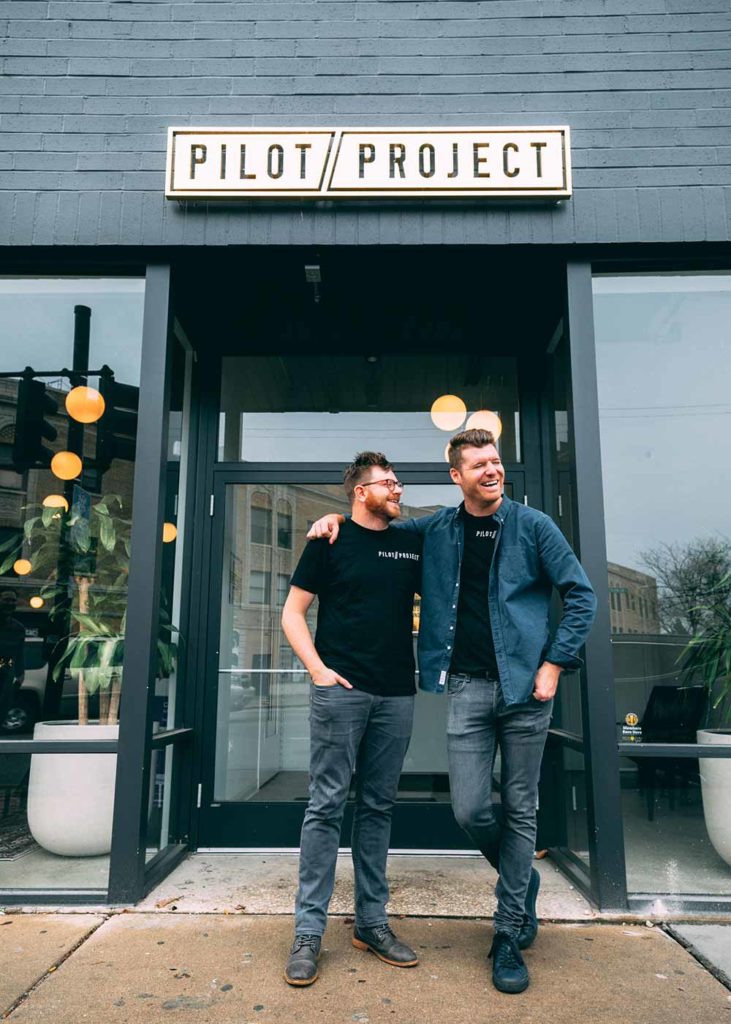 Friends from an early age, Abel and Radke started Pilot Project to marry their entrepreneurial spirits with their passion for craft beer. It's an interest both had since the two attended college together at the University of Wisconsin-Madison.
"We'd always go to the liquor store and buy Keystone Light for whoever was coming over and a couple of 6-packs of something fun and different for ourselves," says Abel.
After graduation, Abel headed off to Los Angeles to pursue a career in music. He bounced around to YouTube before eventually landing back in Chicago to work as the Head of Marketing for Reverb, a marketplace of sorts for musicians.
"In all these roles, I was working in an industry that was giving resources to creatives to help lower the barriers to creating music," says Abel. So he thought: Why doesn't the craft beer industry offer something similar?
A Brewery Model Based Off the Music Industry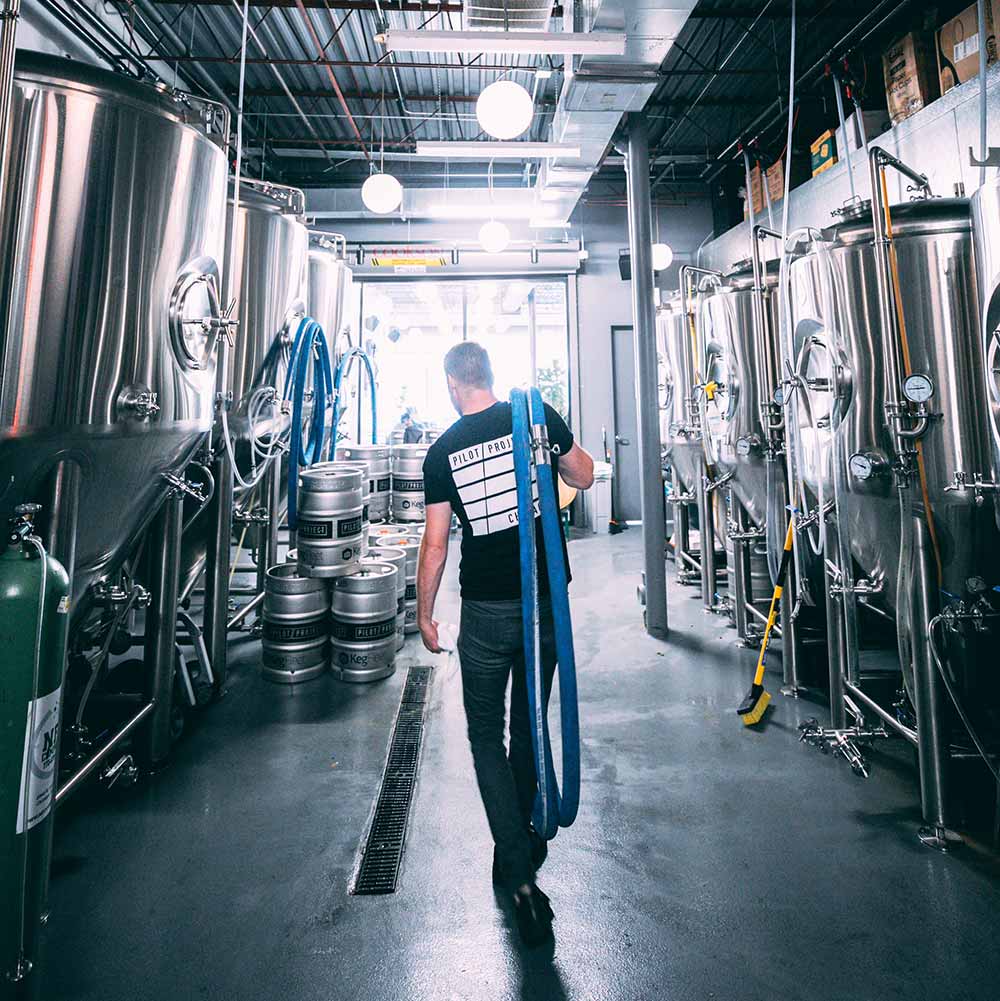 If you're a musician interested in making an album, what do you do? According to Abel, you go to a studio, meet with a sound engineer, and produce a song. You don't go out and buy your own recording space.
It's a model that Pilot Project has leveraged for the brewing industry.
"In our instance, a brewery comes and auditions for our incubator program," says Abel. "We learn about their aspirations for the brand and we trial their products."
The sound engineer in this case is Glenn Allen. A former brewer at both Revolution Brewing Company and Goose Island, Allen works with accepted brands to professionally scale their recipes.
Similarly, once a musician is ready to distribute their album, "It's not like you can just go out and throw around CDs and MP3s," says Abel. Instead, musicians typically partner with an independent label to give them credentials and help spread their music.
It's exactly the same at Pilot Project. Just with beer.
Abel and Jordan built their own tasting room, "Which is almost like a record store where we market-test all our different products," says Abel. With over twenty-four taps available, Pilot Project's tasting room features up to five different beverages from each of the five brands in the project.
Better yet, Abel and Jordan have also developed sales, marketing, and hospitality teams to help distribute a brand's products in Illinois and beyond. Which is kind of like a band manager gearing up a musician for a tour, right?
Currently, Pilot Project works with over 300 accounts across the state.
Overall, the incubator offers businesses–and especially minority-owned ones–access to the resources they need to build their company without the financial burden typically associated with opening a new brewery.
How Can a Brewery Apply to Join Pilot Project?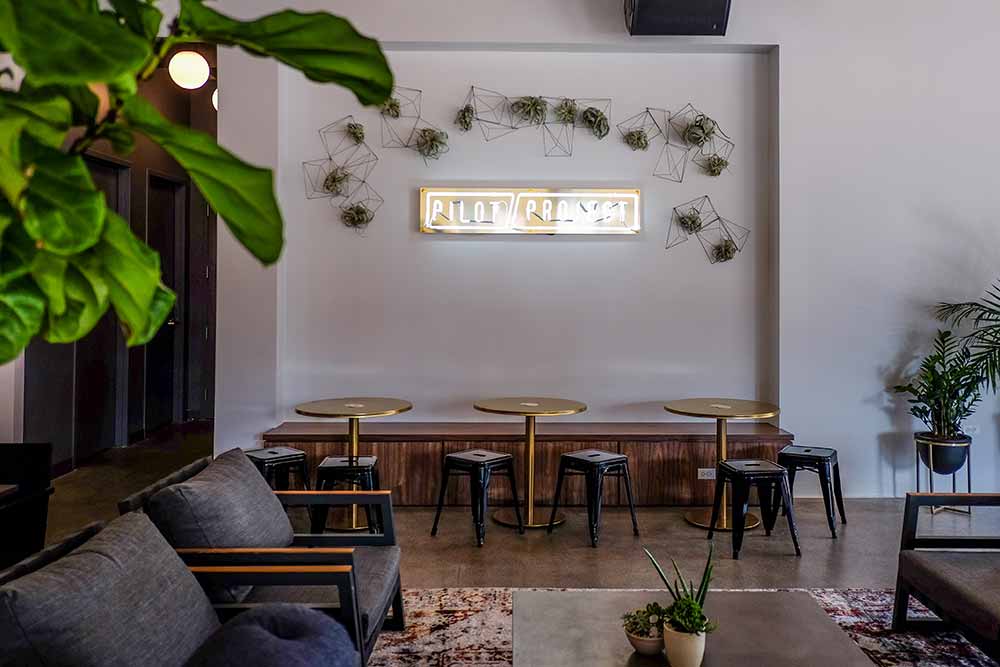 If you're a brewer or homebrewer interested in taking that next step, you can apply to be a part of the Pilot Project incubator.
According to Radke, Pilot Project typically hosts quarterly or biannual auditions where they invite select participants to pitch their business.
"These auditions are like Shark Tank meets American Idol," says Abel, noting that while they've had about 315 to 320 applicants since they first opened, only thirteen concepts have made the cut–nine of which were from professional brewers.
To become a part of Pilot Project's incubator program, you must have a distinct point-of-view.
"Are you bringing a fresh idea to the table?" asks Abel. "Are you pushing the envelope in one direction or another?"
For instance, Luna Bay Booch, the first brand Pilot Project ever accepted into the program, "came to us as two women with a badass idea to take over the world with kombucha," says Abel. "We didn't even have to taste their kombucha to know they were going to do something great".
Women-Owned Luna Bay Booch Launches at Pilot Project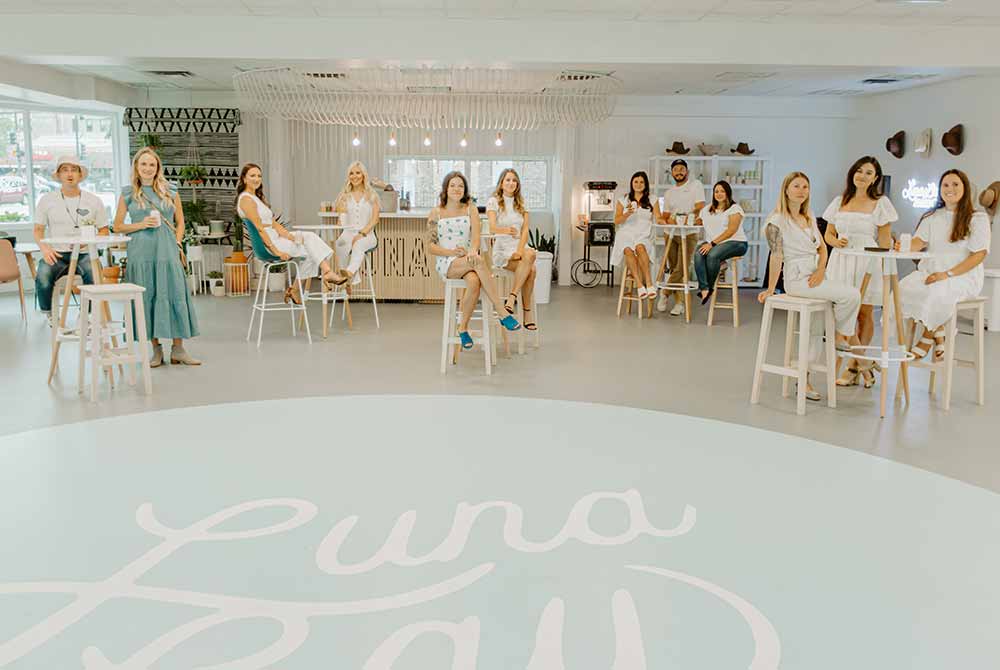 After living in California and Australia, Luna Bay co-founder Bridget Connelly saw an opportunity to bring a better-for-you alcoholic beverage to the US market.
At the time, a hard kombucha didn't exist in Chicago. So Connelly and her business partner, Claire Ridge, brought Luna Bay Booch to the metro area. But as two women with a new product, they had trouble getting themselves and their brand taken seriously.
"It's pretty cutthroat," says Connelly. "It was challenging for us to just get going and to learn to have thick skin."
Until they found Pilot Project.
"I admired that Pilot Project was open to–and on the forefront with–new types of alcohol," says Connelly, whose yerba mate-based hard kombucha is low sugar, vegan, gluten-free, and uses all non-GMO ingredients.
It's a distinct approach that helped Connelly and Ridge stand out.
In fact, Abel and Radke were so impressed with Luna Bay Booch that they knew they wanted to work with Connelly and Ridge nine months before Pilot Project even opened.
At Pilot Project, Connelly and Bridget had the opportunity to test recipes, scale their production, market their brand, build relationships, and expand their reach through the company's network of accounts, distributors, and consumers. And since its launch, the first brand in the incubator's portfolio has soared.
After about nine months in the space, the first female-founded hard kombucha company in Chicago outgrew Pilot Project's capacity. While they're no longer in the incubator program, they've opened two new breweries — one in Colorado and one in Southern Illinois — and expanded their distribution to eleven states and counting. Plus, they'll be launching a new taproom in 2022 (at the time of publication, Connelly couldn't share the location).
Indian-Owned Azadi Brewing Company Launches at Pilot Project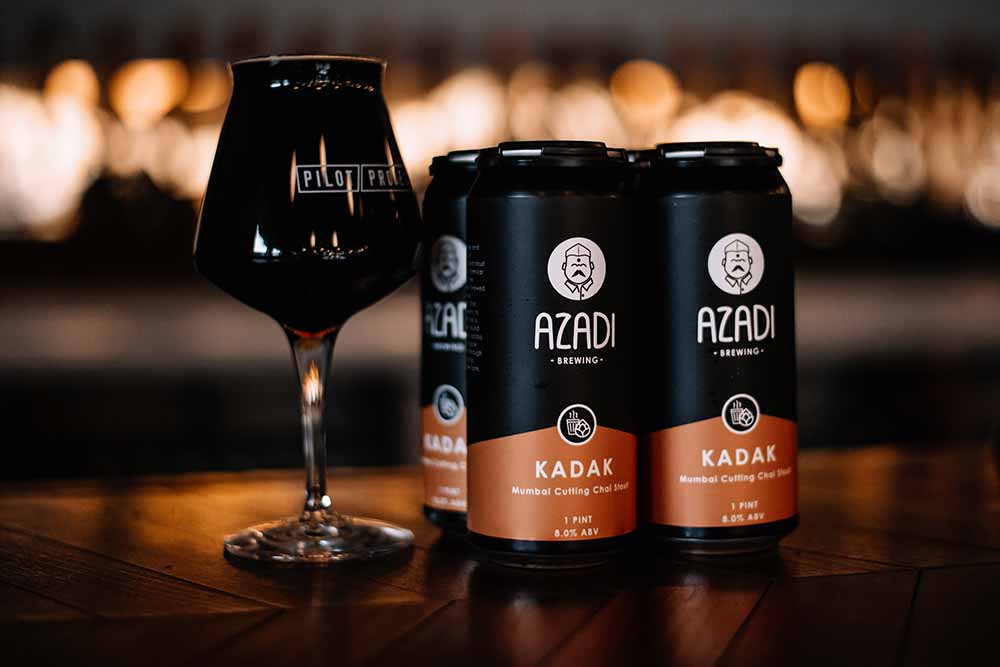 Azadi Brewing Company came to Pilot Project with an innovative idea: to use beer as a way to share authentic Indian flavors.
Born in Mumbai, Azadi co-founder Bhavik Modi immigrated to the United States but frequently traveled back to India for work. There, he was amazed how brewers incorporated local ingredients into beer.
So he decided to introduce the American craft beer world to Indian concepts, teaming up with his best friend and Madtree Brewer Ray (aka "Gator") Schrand to bring the brand to life.
As the duo looked to open a space in Chicago, they discovered Pilot Project.
"It has been a blessing for a brewery like ours," says Modi. "So many talented brewers out there don't have the capital to start; it's incredible to think about all the ideas left on the table because they couldn't get financing."
Pilot Project gave Azadi a safe space to bring innovative new beers to market.
This includes beers like Kadak, a Mumbai chai stout that pays homage to, "the fuel that powers India," says Modi, who worked with a tea seller in India to procure a 100-year-old recipe for chai spice.
Or Gir, an IPA inspired by the kesar mango, a vibrant orange fruit native to India.
The concept caught fire. According to Abel and Radke, when Azadi launched in November 2020, "They exploded overnight". As one of the fastest-growing brands to ever participate in the incubator, Azadi's first drop sold out within ten days.
"People who have never been to India have fallen in love with these beers," says Modi.
Azadi has fifteen more beers planned at Pilot Project this year. Eventually, Modi and Schrand hope to open their own brewpub focused on pairing Indian food and beer.
Black-Owned Funkytown Brewery Launches at Pilot Project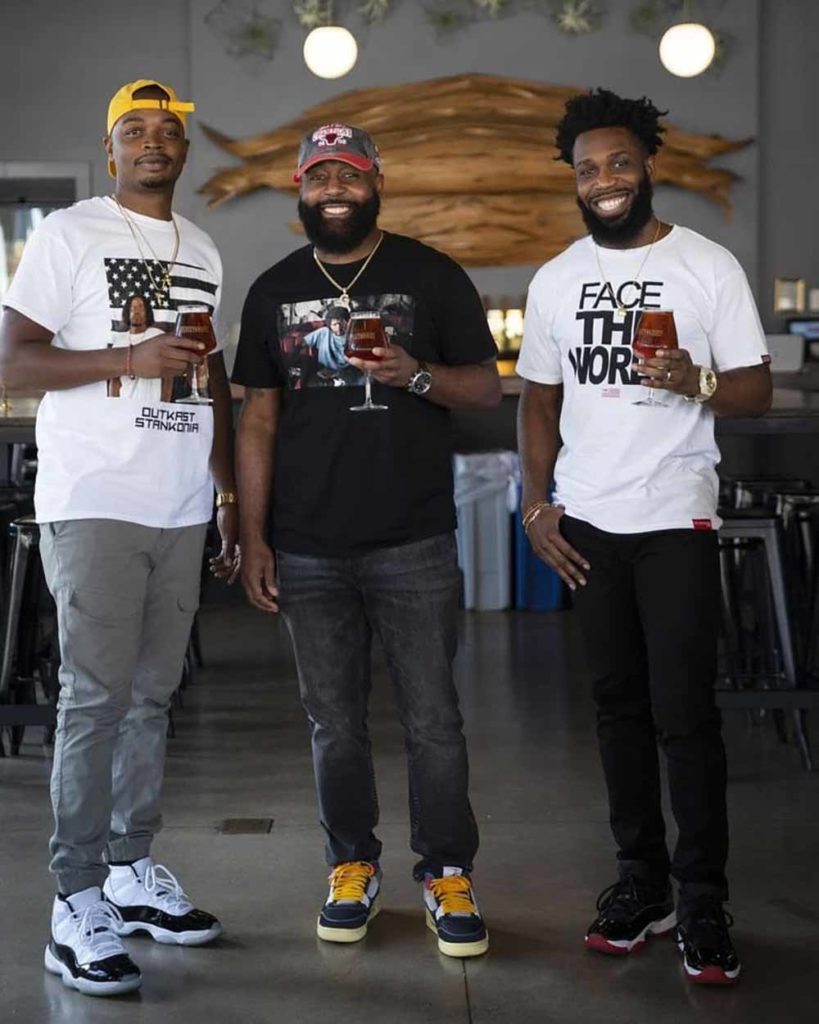 Created to bring a Black perspective to beer, Funkytown is the brainchild of friends Richard Bloomfield, Gregory Williams, and Zachary Day.
When the trio decided to open a brewery, they had a hard time finding advice.
"The space is so white that we didn't know any black brewers to reach out to," says Bloomfield.
And finding financial support? Even harder.
"We always thought we had a great idea… so we figured we'd just go to a bank and get a loan," says Bloomfield.
But that wasn't realistic. Instead, the trio found Pilot Project.
The partnership has helped the three–who also all have full-time jobs–scale-up recipes, distribute beer, and get their names into the market.
Most importantly, the incubator helped the second Black-owned brewery in Chicago achieve their vision to bring 90s hip hop culture into craft beer. Like with their flagship pale ale Hip-Hops and R&Brew, or amber ale Woo-Wap-Da-Bam.
"They let us come in being unapologetically ourselves," says Day. "And in a space where we've been left out… it's a match made in heaven."
When Funkytown launched at Pilot Project in November 2021, over 200 people showed up, and the beer sold out within only four days.
It's validation for the Funkytown team, who also recently won the 2021 Brewbound Pitch Slam Competition.
Funkytown hopes to release three or four new beers in 2022, with their own interpretation of Black Is Beautiful dropping this week.
Eventually, Bloomfield, Williams, and Day hope their experience at Pilot Project will be a launching pad to opening their own brewpub one day.
"There are no limits to Funkytown," says Williams. "That's something we take pride in moving forward."
Pilot Project's New Model Should be the Future of Craft Beer
With thirteen successful brands under their belt in just about two-and-a-half years, Pilot Project hopes to be a model for the craft beer industry moving forward.
"I don't think Jordan or I realized that by lowering the barrier to entry, we'd be able to create this tidal wave of diversity that came knocking on our doorstep," says Abel. "The second you get rid of the front door on the Boys Club, other people will join. We were pleasantly surprised with how quickly we were accepted in that sense, especially since we're two white dudes that look like any other brewery owner."
The pair may have that stereotypical look, but Pilot Project is anything but traditional.
What's Next for Pilot Project?
After proving their concept in Chicago, Able and Jordan really want to soar to new heights with Pilot Project.
"We're not just creating diversity at a base level," says Abel. "We want to help catalyze those starting at the bottom and grow them that much faster by helping them build a network."
They're already planning to expand their incubator to new cities both nationally and internationally. At the time of publication, no plans have been finalized, but Abel and Radke mentioned wanting to bring their concept to cities like Miami, LA, Austin, London, Tokyo, and Berlin.
What Are Some Beverages I Can Try from Pilot Project Brands?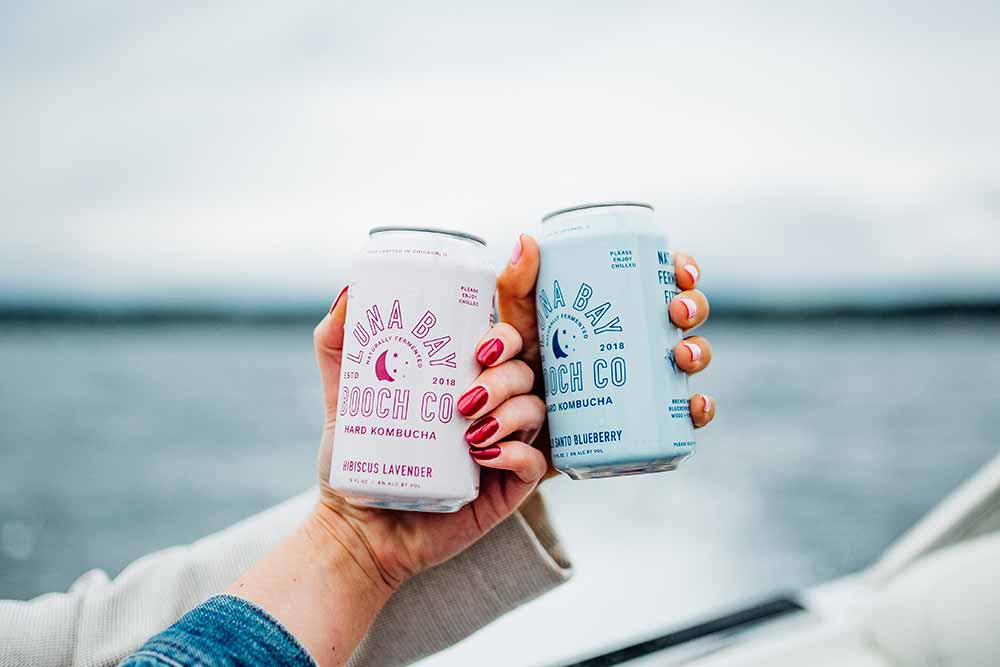 Palo Santo Blueberry — Luna Bay Booch
Chicago, IL,
Hard Kombucha – The inspiration for Palo Santo Blueberry came to Connelly and Ridge in the kitchen. While burning Palo Santo wood to stay calm, the duo thought, Why not put some of that same wood in the tank?
"Palo Santo Blueberry has a smokiness from the wood and the blueberry has a fresh fruit-forward flavor," says Connelly. "Together with the yerba mate tea base, Palo Santo Blueberry has an almost coconut-y aftertaste."
Hibiscus Lavender– Luna Bay Booch
Chicago, IL,
Hard Kombucha – "My personal favorite product we make is hibiscus lavender because it has the perfect amount of lavender and hibiscus flowers," says Connelly. Luna Bay Booch soaks real flowers in the tanks and uses champagne yeast for a hard kombucha that's very floral, very light, and very effervescent. So much so that–according to Connelly–some people refer to this one as having an almost rose-like flavor.
This is a great recommendation for someone trying hard kombucha for the first time.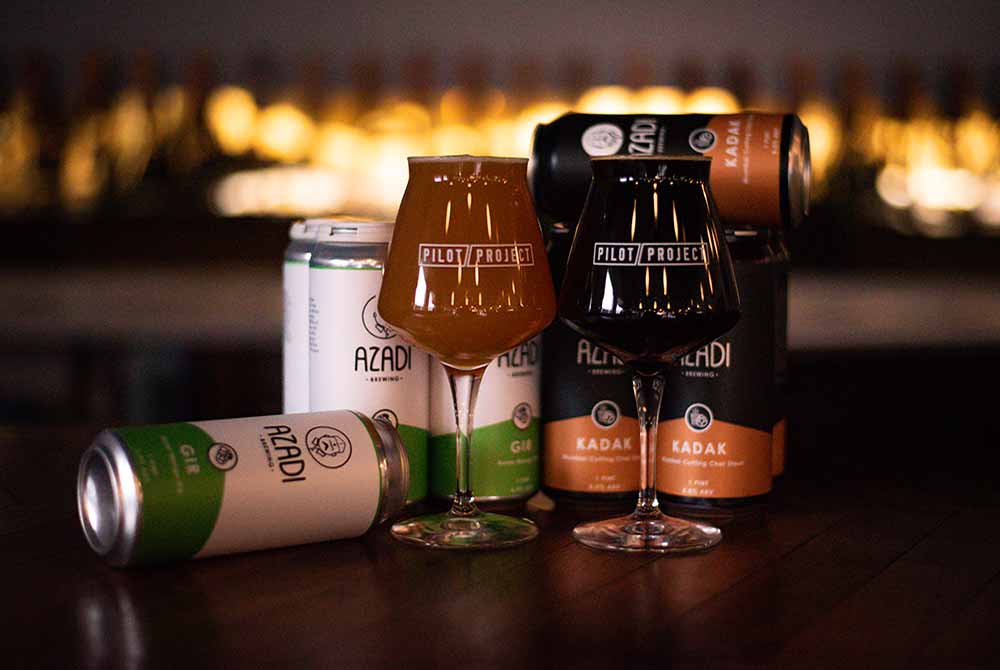 Kadak — Azadi Brewing Company
Chicago, IL,
Imperial Milk Stout – "Kadak is probably one of our favorite beers and one of the most popular," says Modi. The "cutting chai" stout really packs a punch by featuring a 100-year-old chai recipe.
"Cutting" refers to the size of the cup that chai is sold in. As Modi explains, in India vendors on the street will cut the quantity of chai into small pieces so you can have a few throughout the day.
"It's like taking shots of chai," says Modi. "We tried to recreate that feeling in a dark, warm, full-bodied stout."
On the nose, you'll get plenty of that classic chai spice. But overall, despite its 8% ABV, Kadak is very drinkable.
Gir — Azadi Brewing Company
Chicago, IL,
American IPA – Another one of Azadi's very popular beers, Gir showcases the kesar mango. The vibrant orange mango is very popular amongst Western Indian families.
"Every time people have that beer it reminds them of their mother's cooking or being back in India in the summer," says Modi. "There's some nostalgia associated with it."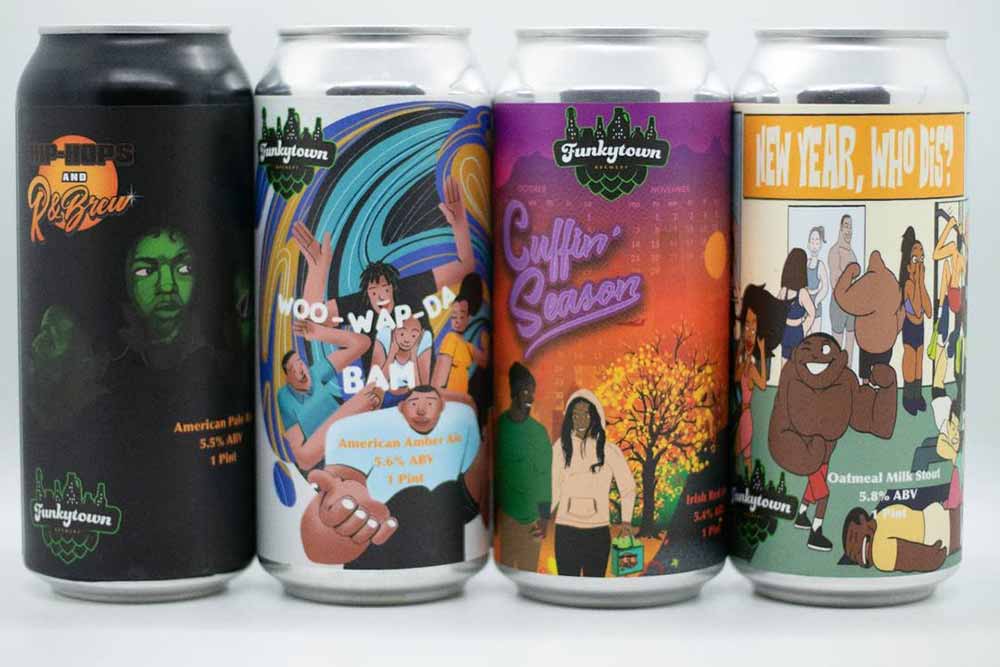 Hip-Hops and R&Brew — Funkytown Brewery
Chicago, IL,
American Pale Ale – Funkytown's flagship American pale ale, Hip-Hops & R&Brew, is a crushable, approachable beer.
"We call it our baby," says Day. Thanks to the Citra and Mosaic hops you get plenty of citrus notes. However, there's nothing overpowering.
"The taste isn't bitter and it doesn't sit on your tongue too long," says Day. "We made sure it goes down smooth."
At 5.5% ABV, this is a beer that's balanced, smooth, and tasty.
Black Is Beautiful — Funkytown Brewing
Chicago, IL,
Stout – According to the co-founders, the newest beer in Funkytown's lineup should be released this week. Featuring Madagascar vanilla and blueberry, Funkytown's interpretation of Marcus Baskerville's nationwide collaboration to bring light to racial injustice is very special to the brewery.
"During the protest last year, when we saw the community participate in that campaign, we knew we'd do it once we went pro," says Bloomfield. Funkytown will donate proceeds from its Black Is Beautiful beer to The Gray Matter Experience, a platform for African American teens to create their own businesses.