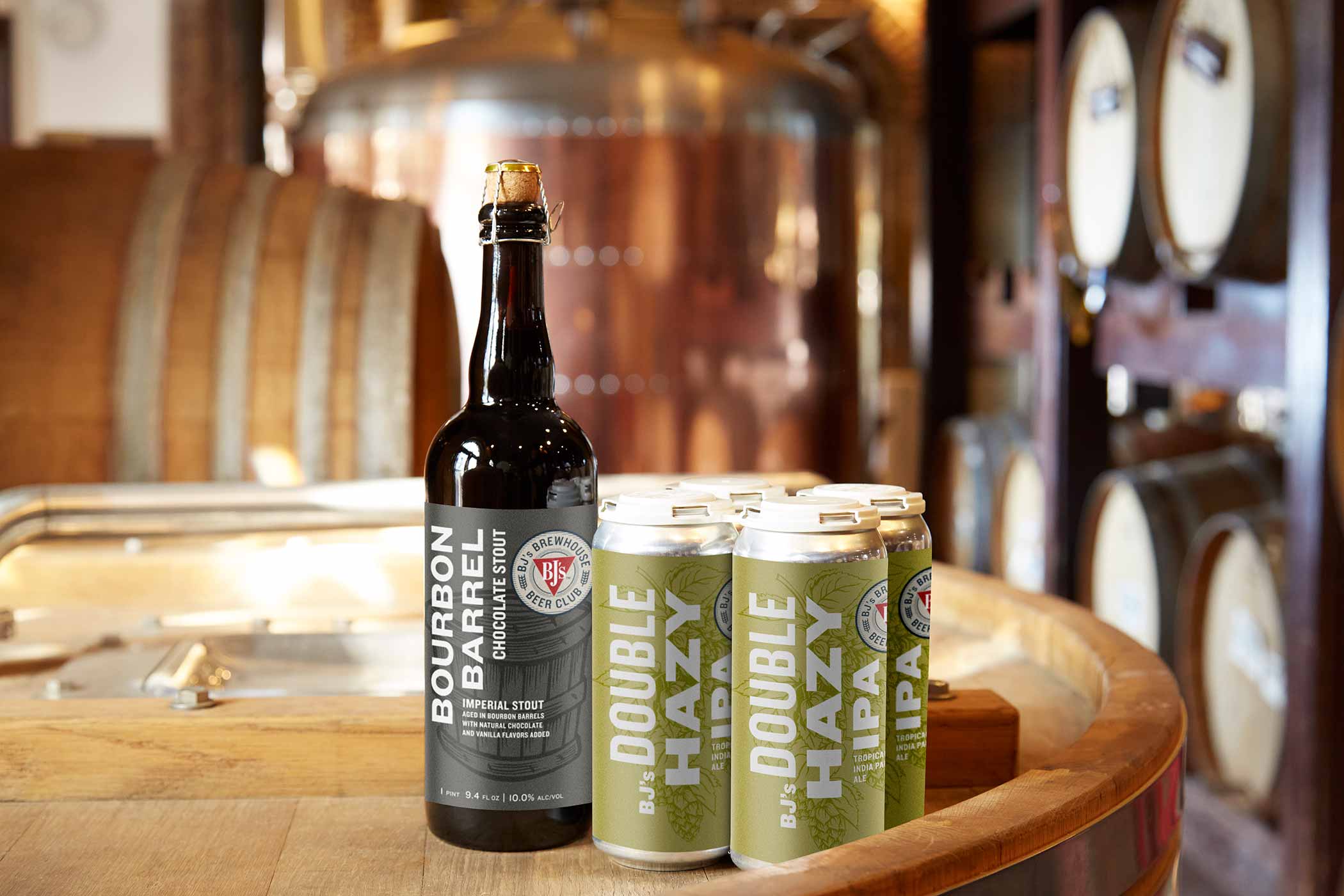 Photography courtesy of BJ's Restaurant Brewhouse
We love bottle societies, brewery memberships, and beer clubs. Yes, they give us a chance to nab some pretty exclusive, experimental beers from some of our top-of-the-line breweries. But beyond the great liquid, most of them also offer us opportunities to connect in person, get access to some behind-the-scenes events, and connect on a deeper level with a brewery and its fans. Nowadays we think one of the best ways to get to know a brewery a little better is by signing up for its bottle society or beer club.
And while some of our favorite smaller breweries such as The Bruery, Cellador Ales, and Humble Sea started membership clubs, it's far less common to see some of the bigger breweries in the game open up their doors to beer clubs. So we were interested when BJ's Restaurants and Brewhouse, one of the most award-winning yet approachable brewpubs with 214 locations across the United States, shared with us that they started a beer club during the pandemic.
Although currently only available at fifty-seven BJ's locations across California, BJ's has plans to eventually expand its Beer Club to its other restaurants in other states in the near future. So we thought we'd take a deeper look at what makes BJ's Beer Club one of the best bangs for your buck we've seen in a beer club…anywhere.
Why Did BJ's Start a Beer Club?
Launched as a test in only five restaurants in Sacramento in Sept. 2020, the BJ's Beer Club proved so successful that the popular West Coast-born brewery expanded to most of California in March 2021.
BJ's Beer Club started as a way for fans to connect and create memorable moments during a time when socializing was at an all-time low.
Essentially a VIP experience for patrons, BJ's Beer Club also lets its brewmasters flex their creative muscles behind the scenes to brew these incredibly special small-batch beers.
Afterall, this is called a beer club.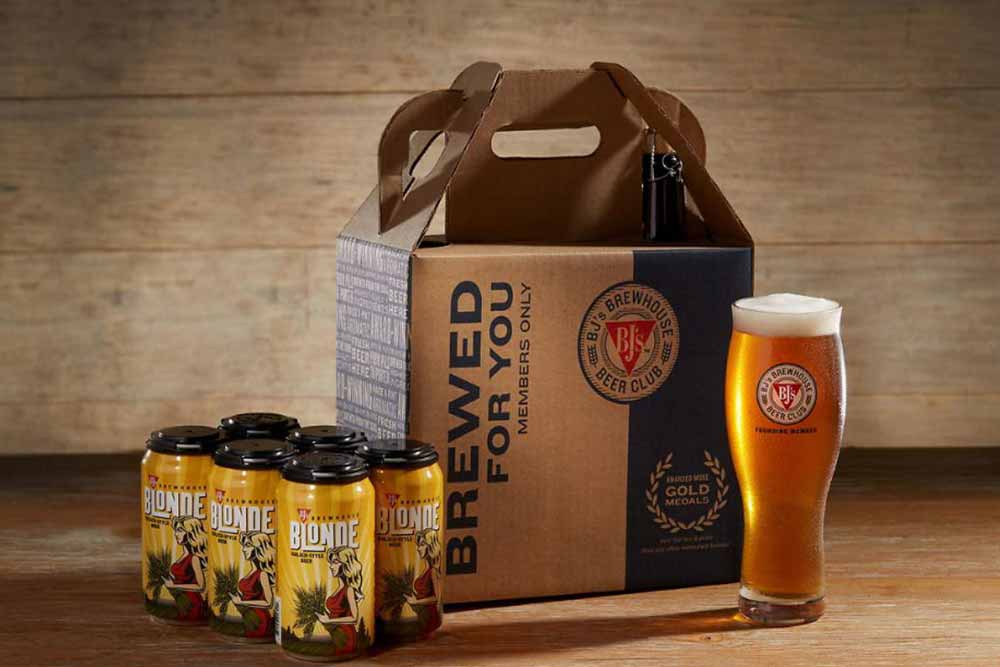 What's Included in BJ's Beer Club
Called a "beer club" for a reason, this particular brewery membership definitely starts with the beer (although we will say there are some incredible events and food perks we'll tell you about too).
"If you like beer, if you want to explore the world of beer and the different styles, we have that," says Alex Puchner, SVP of Brewing Operations at BJ's Restaurants. "If you're into IPAs, we have plenty of IPAs; if you like sweet, fruity beers, we have plenty of those too; we have strong, extreme beers of all kinds and very sessionable low-alcohol beers too…or if you just want very well-made classic beer styles, we have those too."
For starters, any new sign-up to the Beer Club immediately gets what's called an Intro Pack. Included in the pack are a 6-pack of any BJ's Handcrafted Signature Beer of your choice, a 20oz Founding Member Pint Glass, and a 750mL bottle of BJ's Imperial White Ale.
If you're a craft beer nerd, the Imperial White Ale is the star here.
"We take the concept of a basic Belgian witbier and intensify it," says Aaron Stueck, Brewer Director of R&D at BJ's, who has won thirty-seven medals in various competitions, including the World Beer Cup and Great American Beer Festival, for beers he's brewed at BJ's. "What makes this beer unique and special is that it's not just a witbier, it's an imperial witbier and I don't know anybody that has an imperial witbier. We use almost double the ingredients, add more intense flavors, and make the alcohol higher."
According to Stueck, while most traditional Belgian witbiers fall in the 4-5% ABV range, BJ's Imperial White Ale sips closer to 8.5% ABV.
"Basically, it's a witbier on steroids," laughs Puchner. "It's hard not to like this beer. In fact, we initially thought the founding beer would change every year, but this one has been so popular that after two years we're maintaining it as our Founders Beer."
An experimental beer like Imperial White Ale is just the beginning. Every two months, BJ's releases a limited-edition 750mL bottle and 4-pack of 16oz cans available only to beer club members. Plus, you also get one large take-home pizza, one dine-in Pizookie®, the brewpub's uber popular deep dish cookie served with two scoops of ice cream, and one dine-in appetizer. You could potentially reap the benefits of this beer club just from the food perks.
But we will say the beer makes the club just as worth it.
In the cans you'll find more approachable, relatively sessionable, lower-alcohol beers.
But in the bottles you'll find something pushing the boundaries of beer. Typically from the ingenious mind of Stueck.
Beers like a pomegranate porter (yes, you read that right).
Or a fresh wet hop IPA with 400 lbs of fresh-picked El Dorado hops "picked in the morning and added to our beer in the afternoon," says Puchner. "This beer is absolutely fantastic!"
Also a wee heavy, a s'mores stout, a barleywine ale, and a mole stout to name a few.
"We thrive on getting together, letting the creative juices flow, and designing new beers," says Puchner. "We enjoy drinking the fruits of our labor as much as we enjoy creating these beers, so there are a lot of fun beers, a lot of creativity here, and a lot of beers to look forward to."
A Peek Inside the Most Creative Beers in BJ's Beer Club
Led by Stueck and his team, BJ's R&D brewery in Boulder, CO, consistently churns out innovative recipes for BJ's Beer Club.
A highly creative individual who writes and records all his own music, plays a wide variety of instruments, paints, and carves his own wood sculptures, Stueck taps into all his artistic ingenuities to develop these beers.
In the past, Stueck has engineered beers like a quadruple pale ale ("When's the last time you've heard of a quadruple pale ale?" he says. "Probably never because I made it up!") and a cardamom coffee porter.
"The key to being an innovator is to follow your own path and come up with innovative ideas that sets yourself apart from everyone else," says Stueck. "Typically, if I say something and people go, 'oh, I don't know if that's going to work,' then I know I'm on to something."
For instance, with BJ's Amber Pils, lesser known German malty pilsner.
BJ's Amber Pils
Stueck will be fashioning Amber Pils based off a trip to the Franconian region of Germany.
"It has the hop character and the dry crispness of a German-style pilsner, but with more of a malt backbone," says Puchner.
Folks can expect this hoppy, crisp, super drinkable amber pils to show up as one of the 16oz 4-packs in the beer club early next year.
BJ's Wee Heavy
Another trip to Europe inspired this Scottish-style beer. When Stueck was in college he studied abroad in Scotland, trying a variety of what he calls "cool, malty beers."
To recreate the experience, Stueck plans on brewing a Scottish wee heavy for the beer club's January 750mL bottle release. Traditionally a stronger, malty beer, wee heavies aren't seen very often in the United States.
But this beer style had such a lasting impression on Stueck, he wants to share it with Beer Club members.
Check out everything included in the BJ's Beer Club here.
Beyond Beer: Pizza, Pizookie, Appetizer, Events Included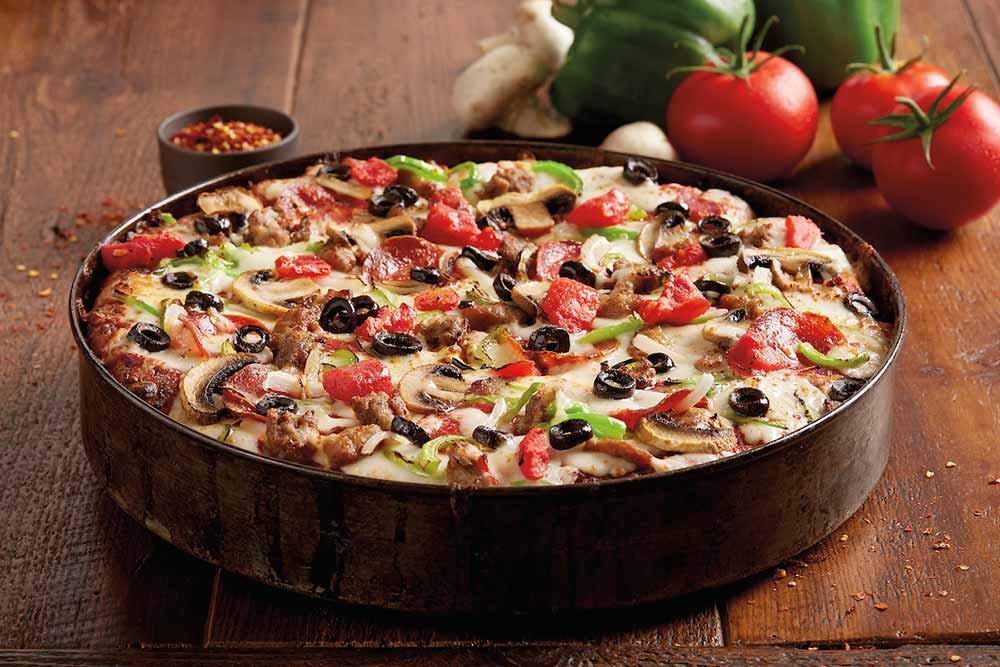 For many bottle societies, the beer itself will make joining worth the investment.
Which is certainly the case here. But what truly sets BJ's apart from other beer clubs out there are the perks beyond the beer.
"If you're a regular BJ's guest or fan of not just BJ's beer but BJ's food, you'll want to take full advantage of the perks," says Puchner. "The membership investment is worth it just for the perks themselves."
For instance, every time a BJ's Beer Club member visits a BJ's, no matter if they sit in the dining room or at the bar, they only need to say the words "Beer Club member" and any 16oz BJ's Handcrafted Signature beer they order will be upgraded to a 20oz beer for free.
"You get an extra 4oz every time you order a beer, so that will pay for itself in no time if you're a BJ's regular," says Puchner. This is an unlimited upgrade. Every single time you visit a BJ's, you can take advantage of this perk.
On top of that, with every new exclusive small-batch beer release (every two months), you get a take-home pizza, a dine-in appetizer, and a Pizookie.
Perhaps the biggest perk of the entire BJ's Beer Club: If you join the beer club, you get a take-home deep dish or tavern-cut pizza every two months. That perk in and of itself pays for the entire membership.
According to BJ's Restaurant's Director of Subscription and Member Services, Alex Hamm, this is one of the most-redeemed perk in the entire program.
Of course, because who doesn't love pizza and beer!?
You'll also get any BJ's Signature Beer 6-pack to go for only seven dollars and any BJ's Seasonal Beer 6-pack to go for only $8, and you'll be automatically enrolled in BJ's loyalty program, receiving $10 for every $100 spent.
Plus, BJ's has started hosting both virtual and live events just for beer club members.
For instance, on a recent Sunday in Burbank, club members enjoyed a "Sunday Funday" tap takeover where Stueck sent eight kegs of R&D beers he's working on to take over the taps at a local restaurant.
"It was such an incredible experience," says BJ's Beer Club member Joseph Orrante, who noted he brought two of his buddies with him and one of them signed up that day because he enjoyed himself so much. "Every single person there was really cool, really nice, and really friendly. I enjoyed talking to the brewers themselves and getting information on the history behind the beers; it was a really good experience."
And isn't that what BJ's Beer Club is all about?
The Bottom Line on BJ's Beer Club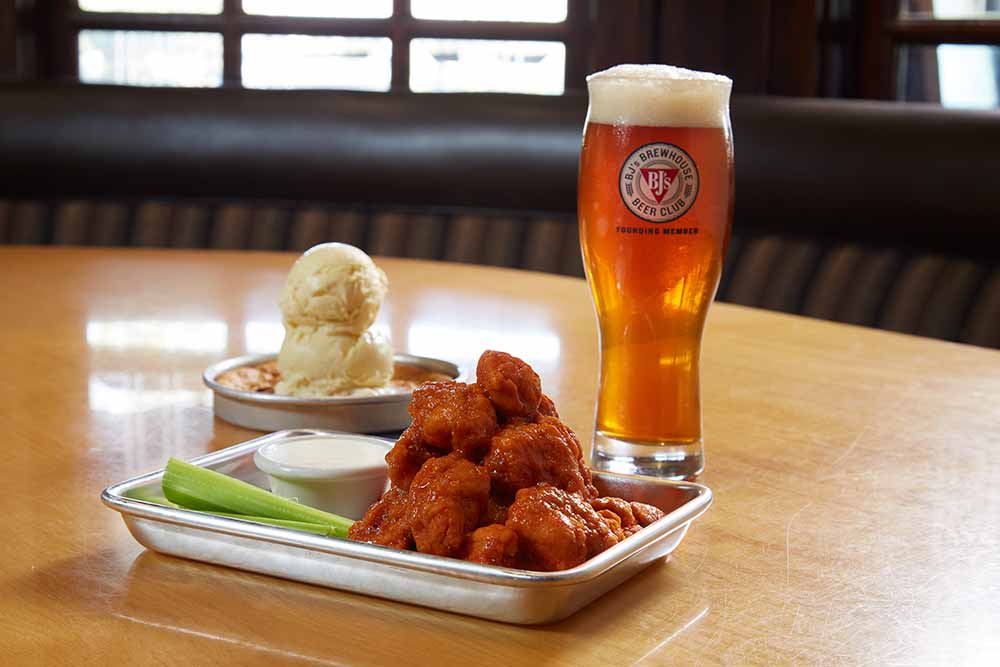 Only setting you back $30 every two months, BJ's Beer Club is one of the most affordable programs we've seen out there. Breaking down all the beer and perks, you're getting a $75 value for just three ten dollar bills every other month.
And this is all intentional.
​​The Beer Club is meant to be a great deal for everyone whether you're a food fanatic, a first-time craft beer drinker, or a craft beer nerd.
"The Beer Club is a unique opportunity for BJ's patrons to explore different flavors and different beer styles they normally wouldn't be able to explore at our restaurants," says Stueck.
What impressed us most is the incredible value you get for signing up with both the beer and food perks.
And if all that isn't enough, you'll also get exclusive access to members-only events.
All in all, we've seen and participated in a lot of bottle clubs out there, and BJ's Beer Club simply gives us the most bang for our buck.
At the moment, the BJ's Beer Club currently runs in fifty-seven BJ's locations across California, but Puchner says they hope to keep fine-tuning things and launch nationally in a few more states soon.
If you like great beer, great food, and great people getting together to all enjoy what they love, we'd say the BJ's Beer Club is probably for you.
SIGN UP FOR BJ'S BEER CLUB NOW
Plus, get fifteen percent off a Beer Club membership through the end of the year! With the holidays right around the corner, give the gift of the BJ's Beer Club to the beer lover in your life!