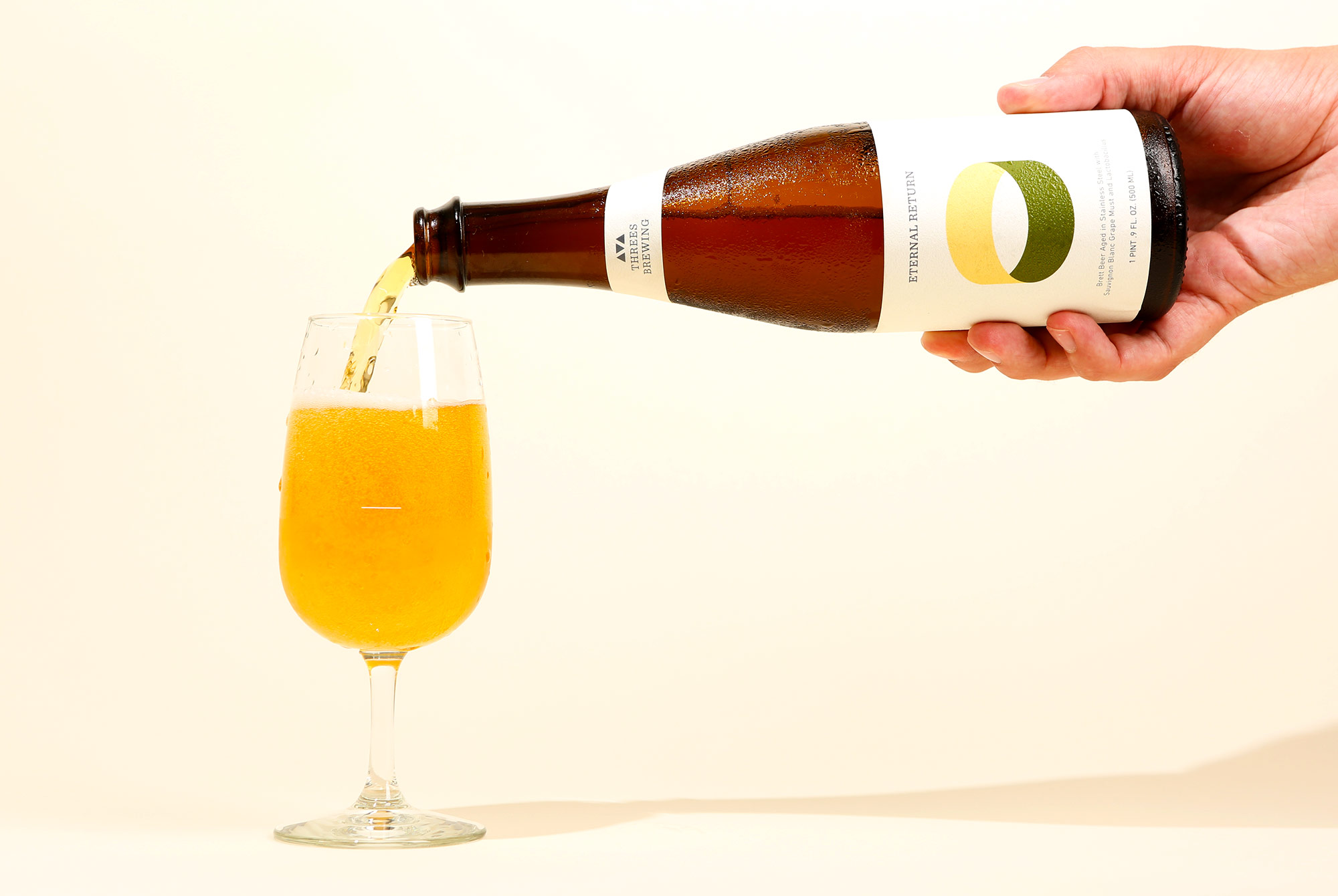 Photography by John A. Paradiso
Editor's Note:
Catch Threes Brewing at Spooky Brews Craft Beer Fest & Halloween Party in Boston on October 26th. More info and tickets can be found here.
Eternal Return: Sauvignon Blanc 2015 Harvest (Champagne Vintage) at a glance:
Eternal Return is a long-running series from Threes. Each edition is aged in barrels and has a fruit addition.
Eternal Return: Sauvignon Blanc 2015 Harvest (Champagne Vintage) is a 7.8% ABV Brett Beer aged with Sauvignon Blanc Grape Must and Lactobacillus and then conditioned with Champagne yeast for 12 months in the bottle. Yeah, you heard that correctly.
This beer is sold out of the Threes Brewing taproom in 500ml bottles.
Why you should care:
Eternal Return: Sauvignon Blanc 2015 Harvest (Champagne Vintage) is part of a larger series of barrel-aged beers, all of which feature a fruit addition. Some past examples include Apricot, Chardonnay, and Raspberry.
"The name Eternal Return comes from a Nietzche theory that the universe and all existence and energy has been recurring in a self-similar form an infinite number of times across space and time," shared Threes founder Josh Stylman. "We were inspired by that in the context of what we're doing with this project." Heady stuff.
The end result is a lot less philosophical. This iteration, which is a companion to the Brett Vintage released earlier this year, is refreshing, lightly sour, and dry — owing to the 12 months of Champagne yeast bottle conditioning. It's a breeze to drink, like a soft white wine at a summer picnic, and only thought-provoking in being a beer masquerading as a Sauv-Blanc.
Some of the best breweries in the country are playing with wine grapes and techniques used in winemaking to craft crossover hits, and to create drinks that both beer fans and wine enthusiasts can geek out over.
"Similar to winemakers, at Threes we are interested in seeing how locality, terroir, and harvest environments impact the end product," explained Matt Levy, head brewer at Threes. "We plan on putting out these beers annually using different grape varieties and harvests to explore the interplay of grape variety, crop year, and fermentation to capture a time and place in a bottle."
So maybe it is a little heady.
"Our brewers are obsessed with pushing the elements that these ingredients offer while also deploying various techniques that will allow the flavor profiles to evolve over time," Stylman adds.
"Though our Eternal Return wine beers have some funk and tartness to them," Levy says, "we do try to learn the lesson from the wine industry to keep the natural essence of the grape variety as front and center as possible so as not to distract from Mother Nature with a heavy-hand in the cellar."
Eternal Return isn't heavy-handed; this beer/wine hybrid is subtle, flavorful, and accessible to all drinkers.
What Eternal Return is like:
Crisp, white head that dissipates soon after pouring
Tart grape skin and must on the nose.
The beer is soft and very dry, much like Champagne. It's sour but in a wine way rather than a sour beer way.
Strong grape must and funk that lingers. There's a slight orange taste and maybe a little spice.
This beer is extremely refreshing, hides the 7.8% ABV, and perfectly captures a beer that would please wine drinkers.
Where to get it:
A limited amount of 500ml bottles of Sauvignon Blanc 2015 Harvest (Champagne Vintage) are available from the Threes Brewing taproom in Gowanus.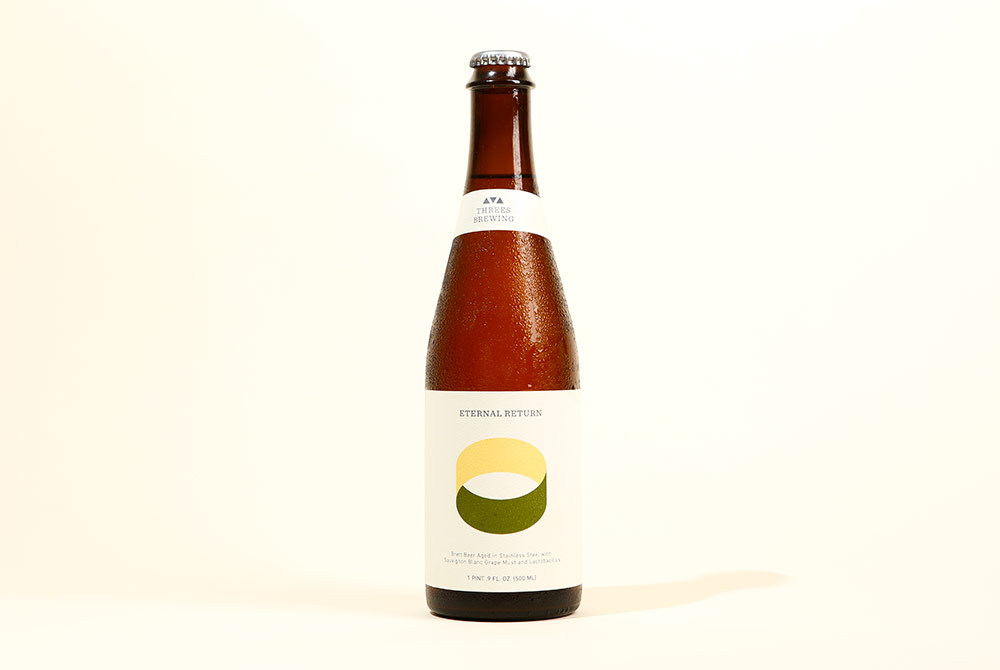 Bottom line:
Threes Brewing is making some of the best beer in New York City. They've managed to pump out well-balanced hazy IPAs alongside a robust lineup of classic styles like Saisons, grisettes, and some of the best pilsners we've had this year. The Eternal Return project demonstrates that the team at Threes is looking to push the limit of what beer can do.
Liked this article? Sign up for our newsletter to get the best craft beer writing on the web delivered straight to your inbox.