A few years ago, Hop Culture joined the Next Glass family, which includes, among other brands, BeerAdvocate and Untappd, the world's largest craft beer social networking app. With a mountain of data at our fingertips, we've started a new bi-weekly series on Hop Culture.
The "Top Rated" section of Untappd is one of the coolest features of the community. Here, the app ranks the highest-rated beers based on check-in data (the number of times people mark they've enjoyed a beer).
You can search under any of the over 250 styles (including cider, mead, and non-alcoholic) to find which rated the highest over the entire twelve-year history of Untappd.
For example, say you wanted to celebrate IPA day on the first Thursday of August in style with an elusive quadruple IPA (Yes, they do exist!), but you're not sure where to start.
What's a good version of the style to try? Where can I find it? Who even makes one? What's the top-rated version of all time?
Well, we can tell you.
Often when we're looking for folks to talk to for pieces or beers we'd like to try to include on our favorite lists, Untappd's Top-Rated Beers is a great place to start.
So without further ado, let's break down Untappd's All-Time Top-Rated Quadruple IPAs.
Wait, First, What Is a Quadruple IPA?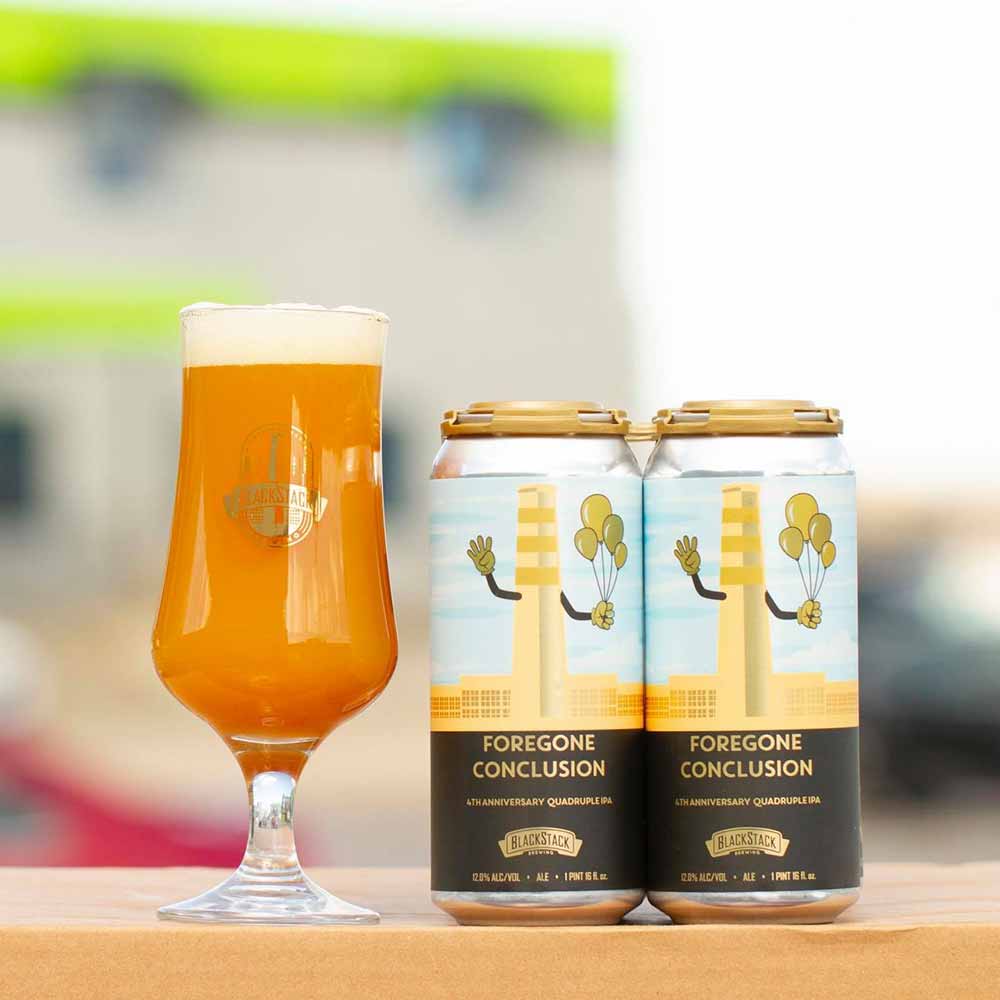 You won't find a category for quadruple IPA at the Great American Beer Festival. And you won't find a specific definition for a quadruple IPA from the Beer Judge Certification Program.
But that doesn't mean these beers don't exist.
Each brewery probably follows its own guidelines, but loosely we can group double IPAs (DIPAs) somewhere between 7.5%-8.5% ABV, triple IPAs (TIPAs) from 8.5%-10% ABV, and then quadruple IPAs north of 10% ABV. But again, these numbers are pretty fluid. Since they aren't codified, you could see breweries making DIPAs in the 9% ABV range or TIPAs above 10% ABV.
"Beers between 7.5% and 8%, 9.5% and 10.5% become almost like a no-man's land," says Murphy Johnson, co-founder and director of creative and product development at BlackStack Brewing in St. Paul, MN. "Some people think they're not truly a double or triple IPA. For some people, it is, and for some people, it isn't. For us, where we draw the line—anything from 6%-8% ABV is an IPA, and then that 8%-9.5% ABV are double IPAs, 10%-12% are triple IPA region, so it mostly has to do with alcohol, and the hop load."
We listen to Johnson because BlackStack's MURK MERCHANTS (retired now) still ranks as the second-highest quadruple IPA on Untappd.
Generally, what you can rely on when it comes to quadruple IPAs is that they have an extreme amount of hops (anywhere from seven to over ten pounds per barrel) in them, and they're going to hit in a very high ABV range.
At BlackStack, Johnson says the lowest they've ever gone was 7.5-8 pounds per barrel to a little over ten pounds per barrel. "It's pretty comical," he says.
For that reason, balance is the utmost name of the game with this style. How does one walk this tightrope between throwing in a copious amount of hops and dry hopping and creating a beer that doesn't completely blow your brain to the bitter moon?
"You're trying to pull different strings and get into a place where [the beer] is large, feels full and nectarous, and hopefully, at least for our preference, gets a lot of tropical fruit, creamy citrus, and juicy," says Johnson. "But it's very easy to get hopped or cloying and sickly sweet."
It's a tall task to find that sweet spot.
Mainly because these beers are "comically expensive to make," says Johnson, and yield only a tiny amount thanks to the heaps of hops.
Johnson says a typical BlackStack IPA goes through three turns to fill a 60-bbl tank. "With a quad, we do four turns and fill 15 bbls per turn because it is so hard to get it to ferment the sugars," he says. "It's a huge pain in the ass; it's a labor of love, but when it comes out, it's so satisfying!"
Johnson loves seeing people's reactions when they drink one of BlackStack's quadruple IPAs.
"A lot of the fun … when they come out, and someone goes, geez, tastes like 7% ABV and now it's 12.5% ABV. Holy shit … holy buckets, man," says Johnson, noting he always wants a quad IPA to be a visceral expression of the hop varietals they use without being cloying or tasting too alcoholic. "That's always really satisfying … hiding that alcohol in a pleasant way."
Although he does caution, "I hope people aren't drinking more than one!"
For that reason, you'll often see quadruple IPAs only made around a celebration like an anniversary.
Johnson says BlackStack puts out about one to three IPAs a week, so having something "bigger, badder, or more out of the box for people gets them excited," he says. "Anytime we go extra, extra overboard, we tend to see a lot of people line up for it."
It's also why, if you see one, you should know this is a unique, special beer. You should get your hands on one as quickly as possible, especially if you're a hophead.
Accordingly, you should pay attention when you see a quadruple IPA pop up on your radar.
Untappd's All-Time Top-Rated Quadruple IPAs
Tread – Monkish Brewing Co.
Torrance, CA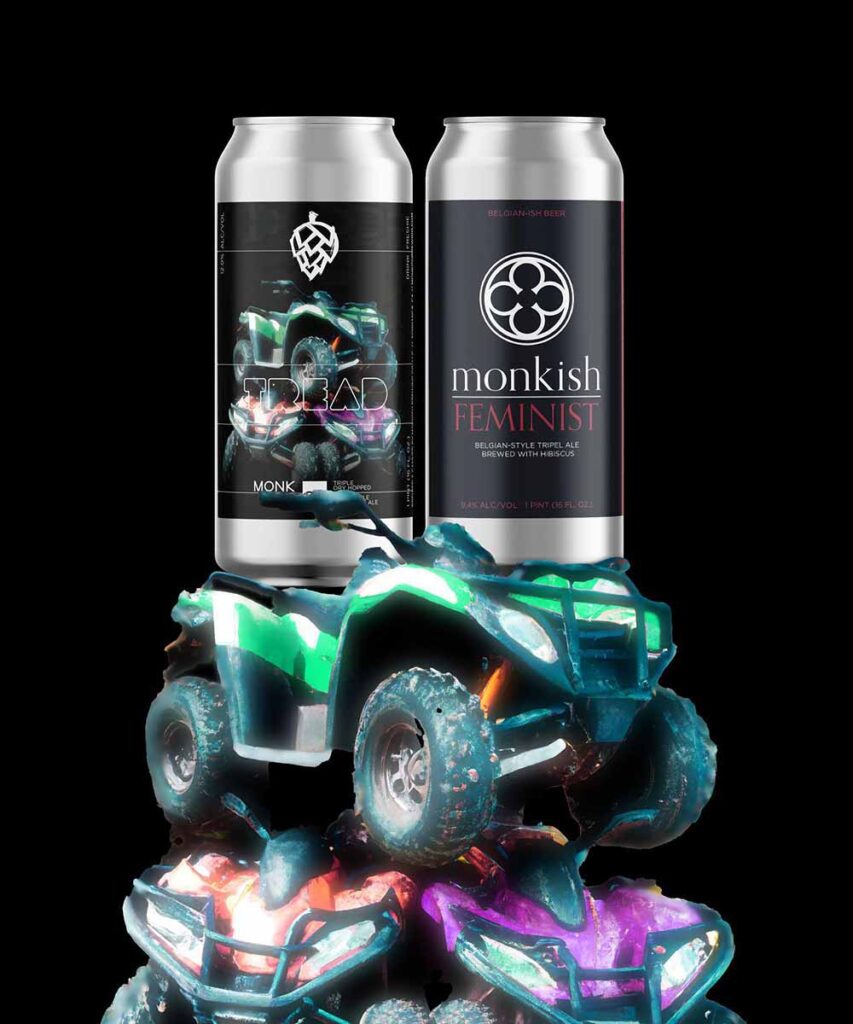 A triple dry-hopped quadruple IPA, Tread certainly doesn't tread lightly on your tastebuds. With Citra and Motueka, Tread clocks in at 12% ABV, leaving a monster footprint on your tongue and mind. Super-saturated with hops, Tread earns its mark as the highest-rated quadruple IPA on Untappd.
MURK MERCHANTS (RETIRED) – BlackStack Brewing
St. Paul, MN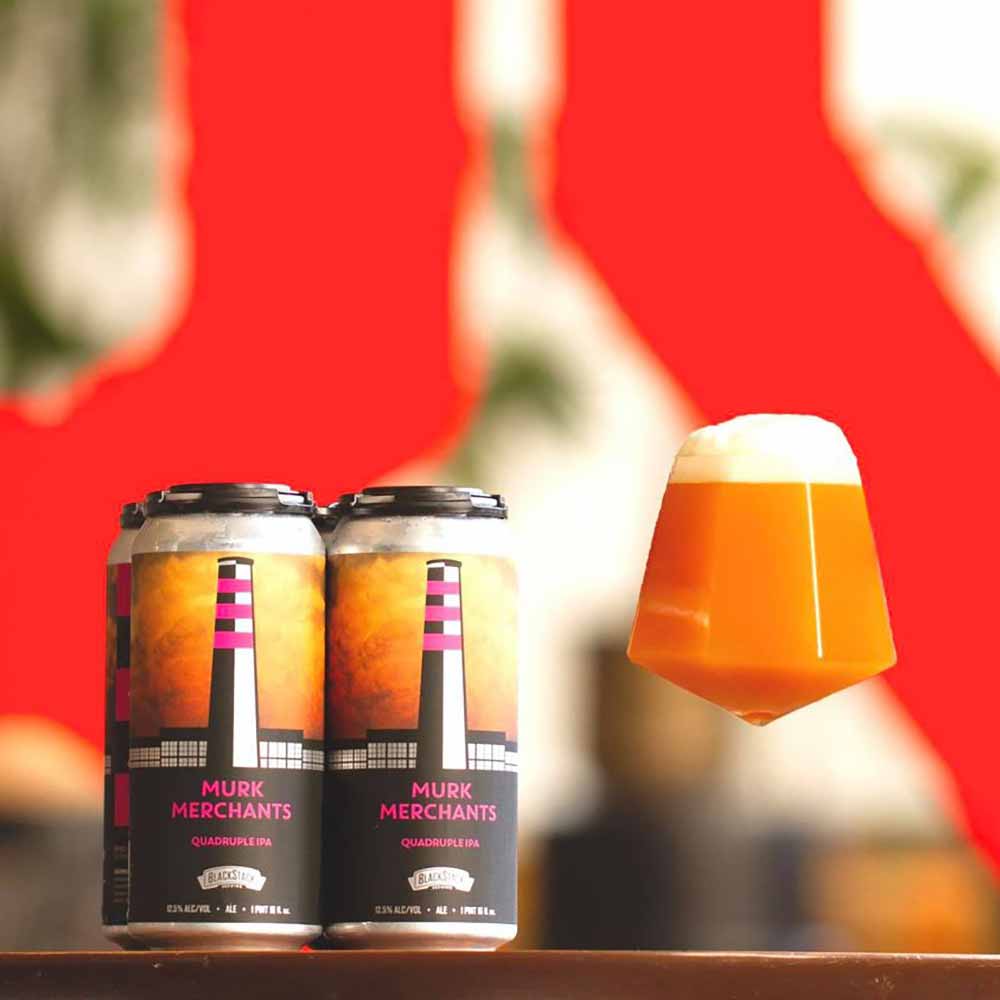 Although officially retired, MURK MERCHANTS is the quadruple IPA Johnson feels like BlackStack first hit out of the park. Johnson says for this beer, the brewery starts with 69% Briess pils malt, 15% malted white wheat, 8% malted oats, 5% unmalted wheat, and 3% dextrose. The boosted base then gets the ultimate hop injections—Citra, Strata, Mosaic, Mosaic Cryo, Simcoe Cryo, Cashmere Cryo, Talus, and Australian Galaxy.
For those who've been counting, that's nine different hops!
Celebrating BlackStack's 500th batch and third anniversary, MURK MERCHANTS filled every nook and cranny of your mouth with hoppy goodness.
While we're sad this beer came and went, BlackStack continues to pump out extraordinary versions. If you ever come across a quad IPA from this Minnesota-based brewery, buy it. Thank us later.
Hyper Cube – Salikatt
Stavanger, Rogaland, Norway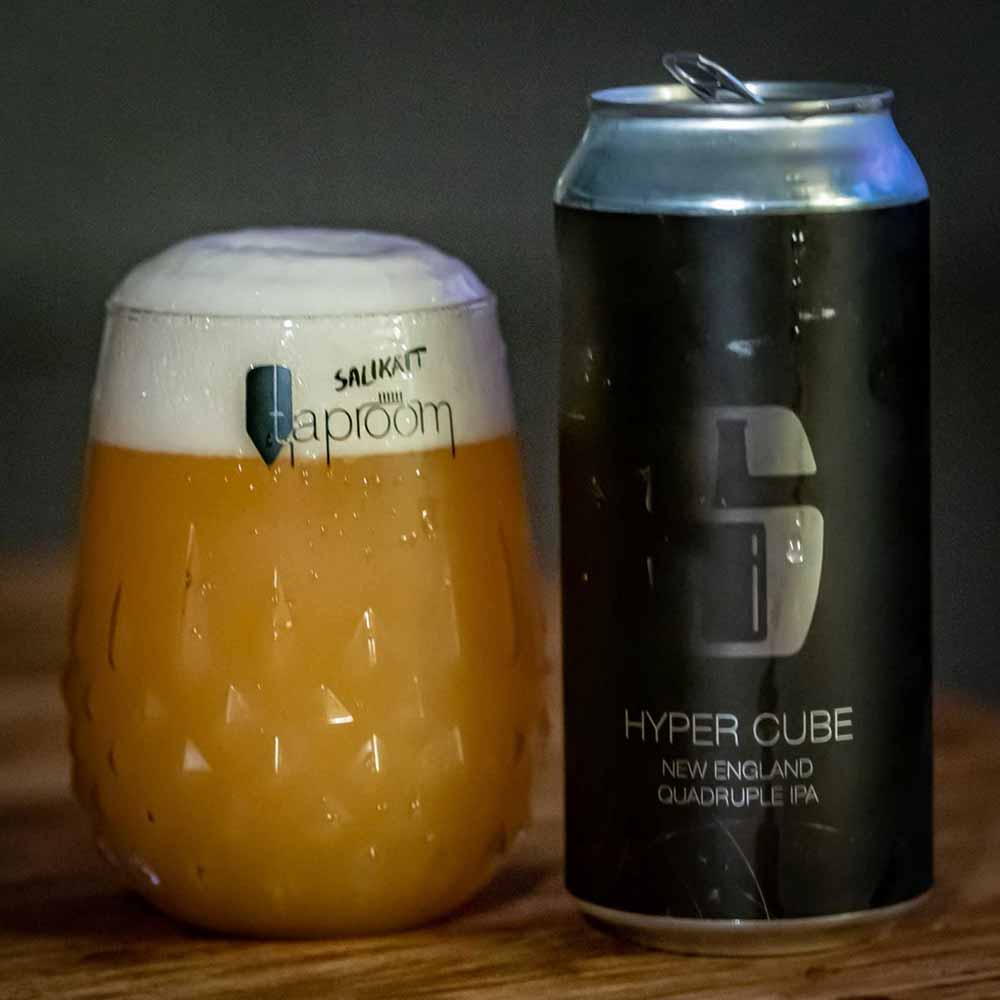 We'll admit that we don't know much about the Norway-based Salikatt. So we'll leave it to Hyper Cube's Untappd description for this one: "[Hyper Cube] is our attempt to bring IPA to the fourth dimension! This IPA is probably as big and intense as our IPAs ever will be. Brewed with light-colored malts, oats, and seriously dry hopped with Citra, Azacca, and Vic Secret."
Sounds like a winner, and it looks like folks agreed. The beer's third-place ranking on this list speaks for itself.
Plane Over Car Over Train Over Boat – Trillium Brewing Company
Canton, MA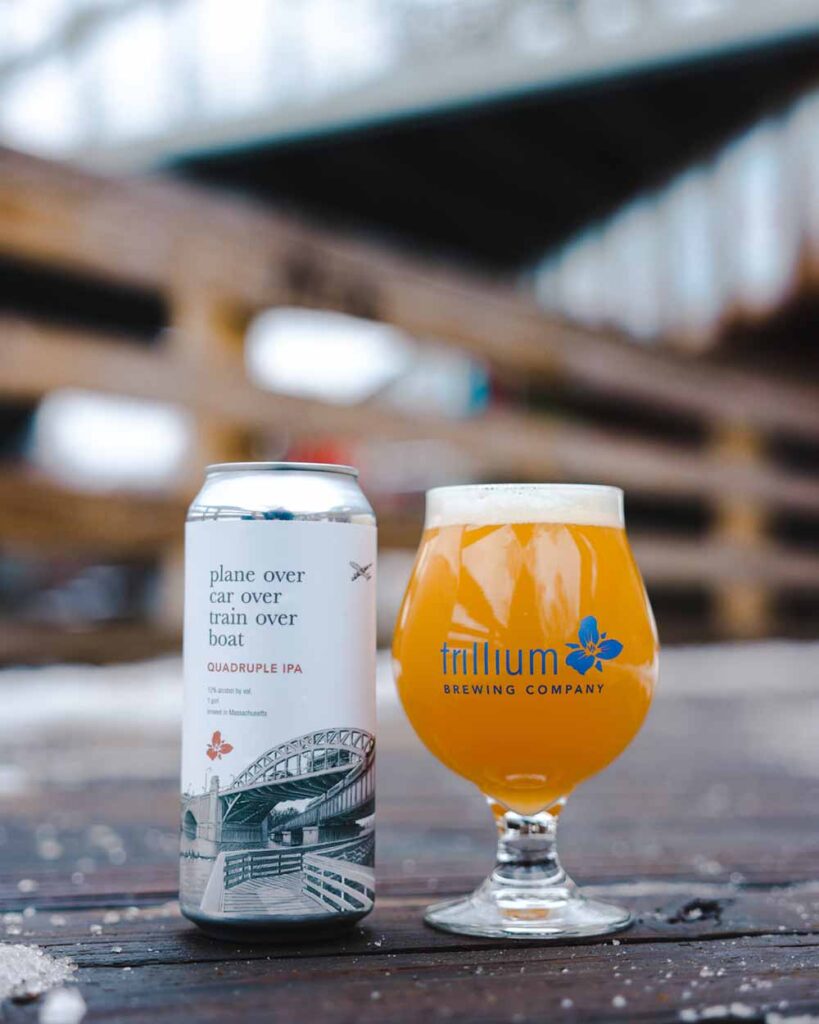 While Trillium's version of a quadruple IPA falls to fourth on this list, Plane Over Car Over Train Over Boat kills everyone else on the sheer number of ratings—9,512. Says a lot that over 9.5k ratings kept this beer's average at 4.32 on Untappd, don't you think?
Trillium's first quad IPA pays homage to a short span on the Charles River in Boston where a plane can fly over a train that rides over a car that drives over a boat. A representation of its fair city, PoCoToB has a massive grain bill and hop load, including Citra, Mosaic, and Galaxy.
When the beer came out, Trillium said PoCoToB had its highest hopping rate to date.
Expect a beautifully orange creamsicle-like beer with notes of luscious guava, citrus push pop, and mango soft serve. Pine does cut through all the tropical fruit but expect this quad IPA to finish with a smooth bite.
The Spell of the Sorcerer's Skull – North Park Beer Company
San Diego, CA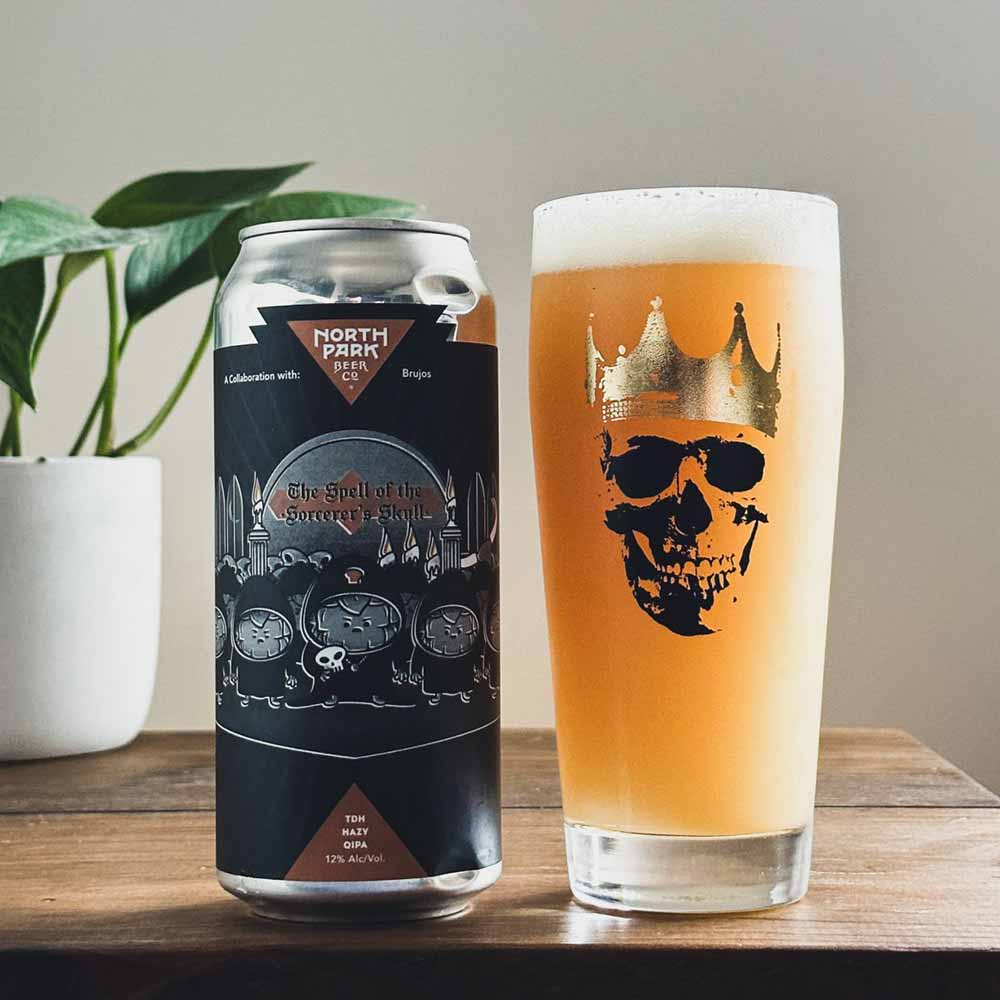 From the brewery known for whacky over-the-top pastry stouts comes an equally magical quad IPA. Brewed in collaboration with Brujos Brewing, North Park's The Spell of the Sorcerer's Skull is a triple dry-hopped hazy quadruple IPA knocking on the door at 12% ABV. Hopped up with Citra, Galaxy, and Rakau hops, The Spell of the Sorcerer's Skull gives off potion-like clouds of peach, apricot, and passion fruit.
Fourth Anniversary Ale – Burlington Beer Company
Burlington, VT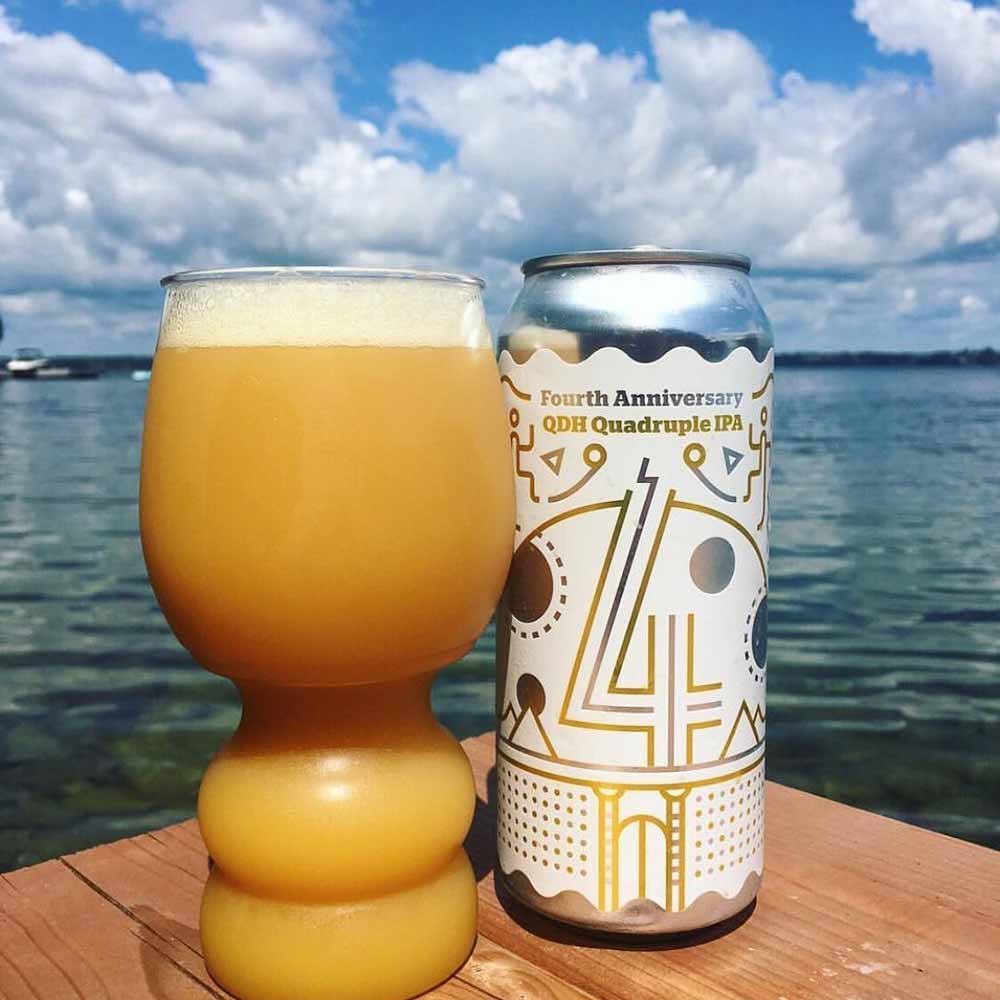 Brewed for Burlington Beer Company's fourth anniversary, the eponymously named Fourth Anniversary Ale features a quadruple dry hop. 🤯 Need we say more?
OFS024 – Northern Monk
Leeds, West Yorkshire, England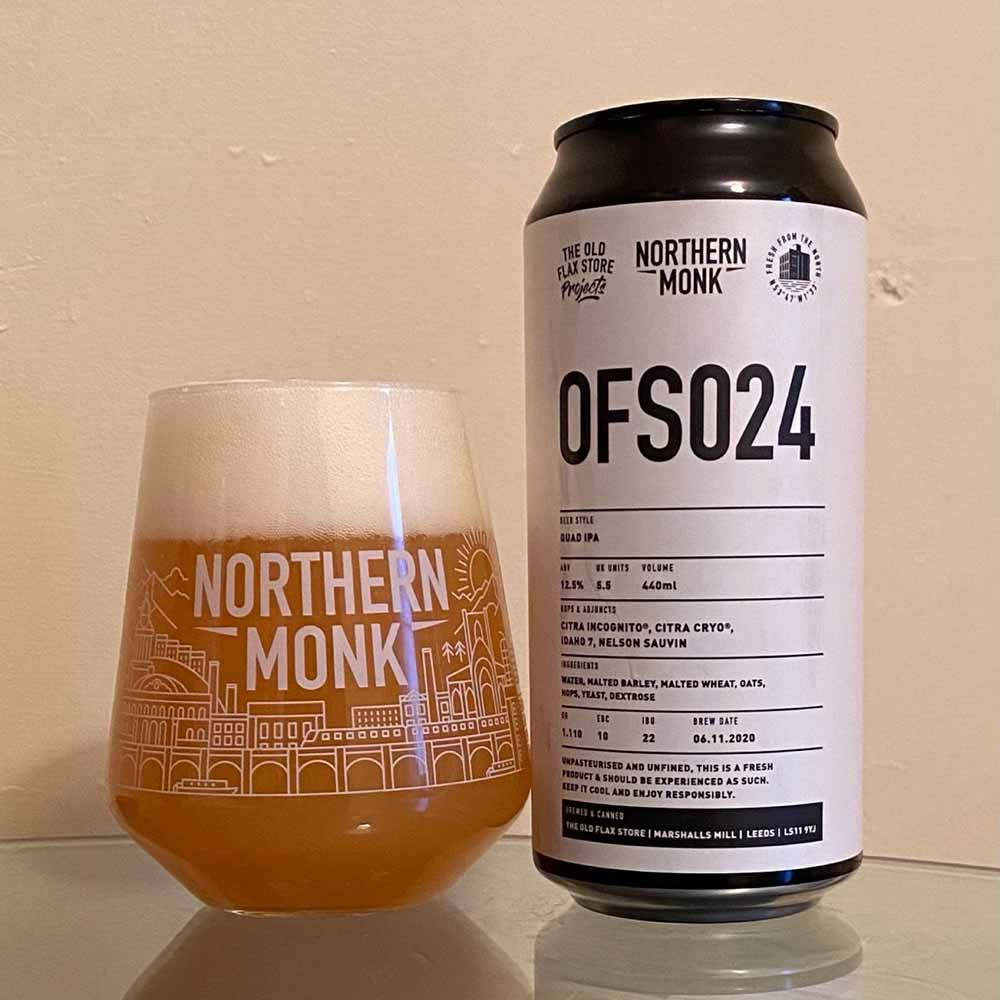 As we mentioned, quadruple IPAs are tough to brew, needing a hefty grain bill and plenty of hops. For that reason, we often see them here today, gone tomorrow. So while Northern Monk no longer produces OFS024, the beer made a big impression on the Untappd community.
The biggest IPA Northern Monk brewed, OFS024 included a double mash of oats and wheat for that silky mouthfeel. For hops, Northern Monk added a heavy dose of Citra Incognito, Citra Cryo, and Idaho 7 in the whirlpool, followed by a dry hop of the same. Northern Monk describes this quadruple IPA as a "beast of an IPA, dripping in sweet orange and ripe pineapple, finishing with a lime zest zing."
NNNN – Wax Wings Brewing Company
Kalamazoo, MI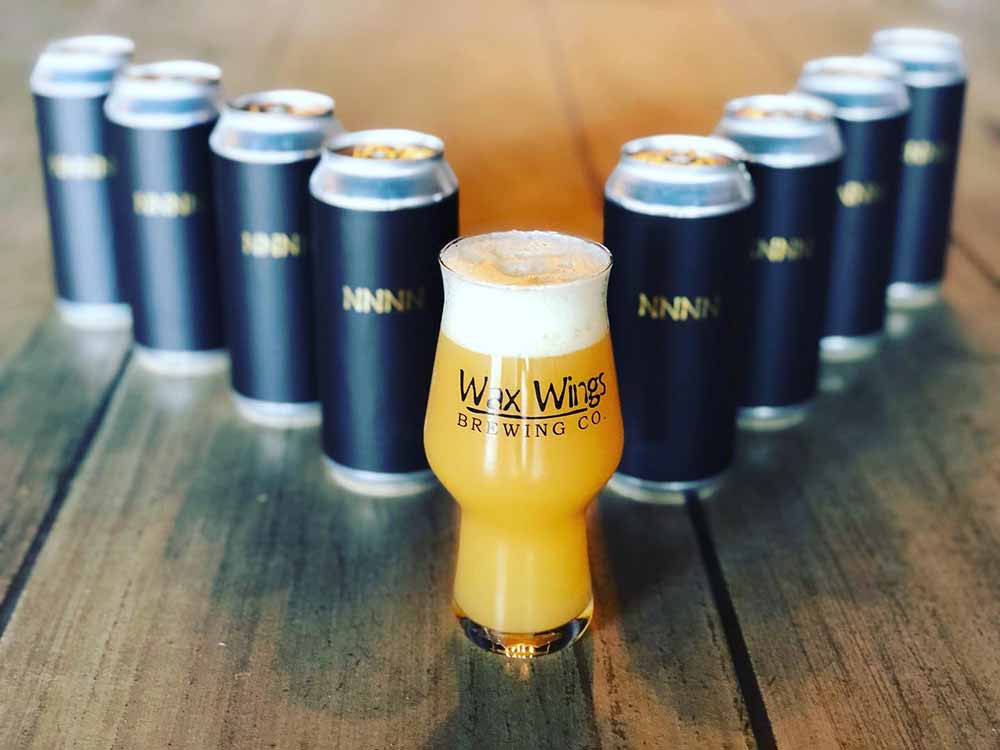 A 10.5% ABV quad IPA from Wax Wings Brewing Company in Kalamazoo, MI, NNNN pours full-on sunset yellow with notes of clementine, tangerine, and fat, juicy peach. Drinking deceptively smooth for a quadruple IPA, NNNN could have you soaring, so drinkers, beware!
Nuclear Option – District 96 Beer Factory
New City, NY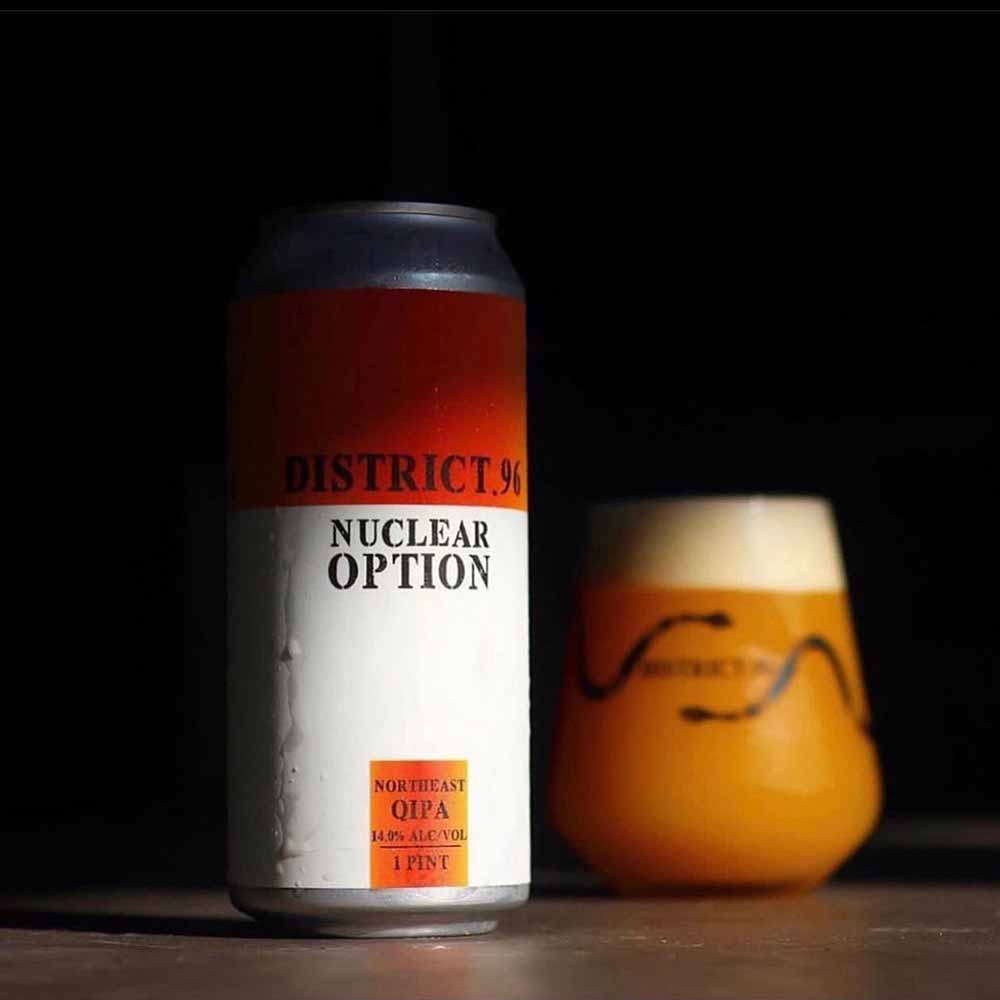 One of our best breweries in the Hudson Valley, District 96 considers Nuclear Option a Northeast quad IPA. Double dry hopped with Citra, Citra, and a bit more Citra, Nuclear Option "explodes with white peach, pineapples, snake fruit, and cotton candy," according to the beer's Untappd description.
Oh yeah, and this one blasts off at 14% ABV. Can you say hoppy juice bomb!?
A Cheeky Beer – Cloudwater Brew Co.
Manchester, Greater Manchester, England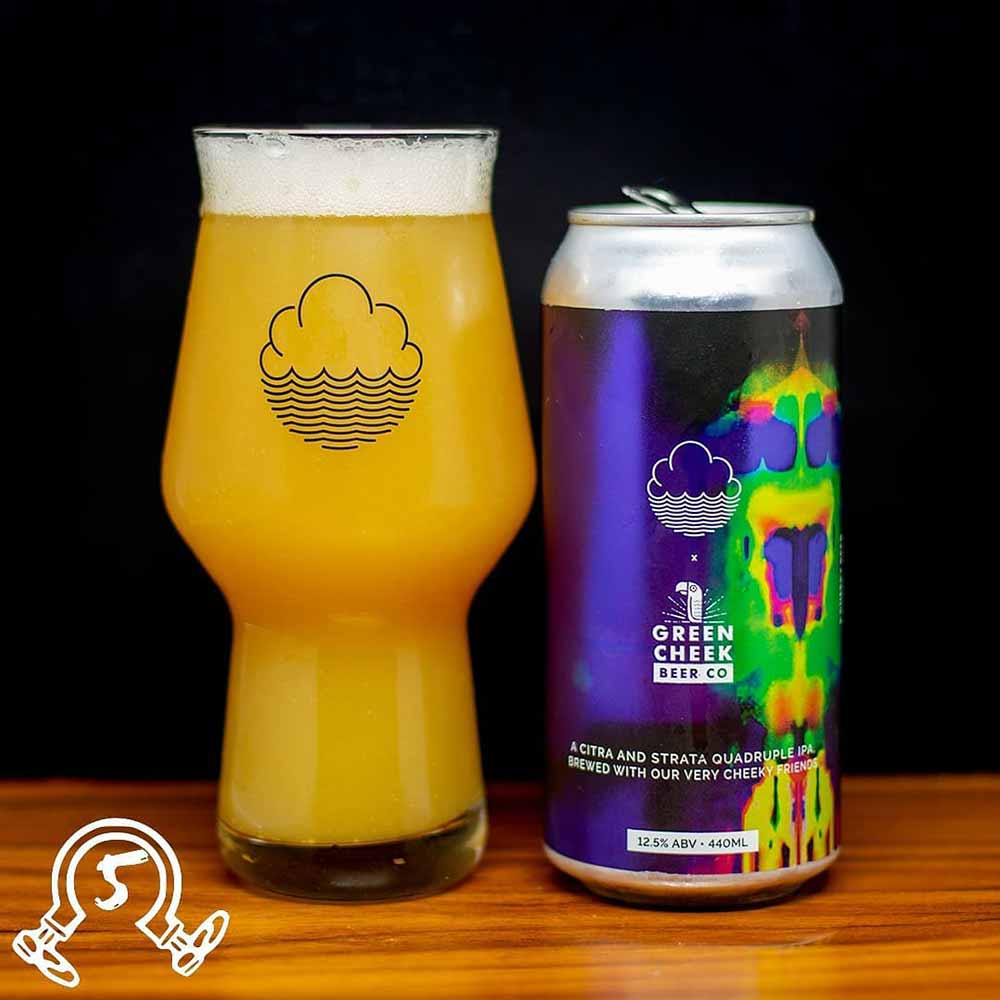 A collab with Green Cheek, Cloudwater's A Cheeky Beer plays off the idea of making the cheekiest beer. What could better fill this brief than a quadruple IPA? This collab across ponds includes mounds of Citra and Strata hops for a beer that's a mouth-puncher and a head-scratcher at 12.5% ABV. How did they get so much flavor into this quad IPA while keeping it so smooth? Those cheeky little buggers!
Looking for more?