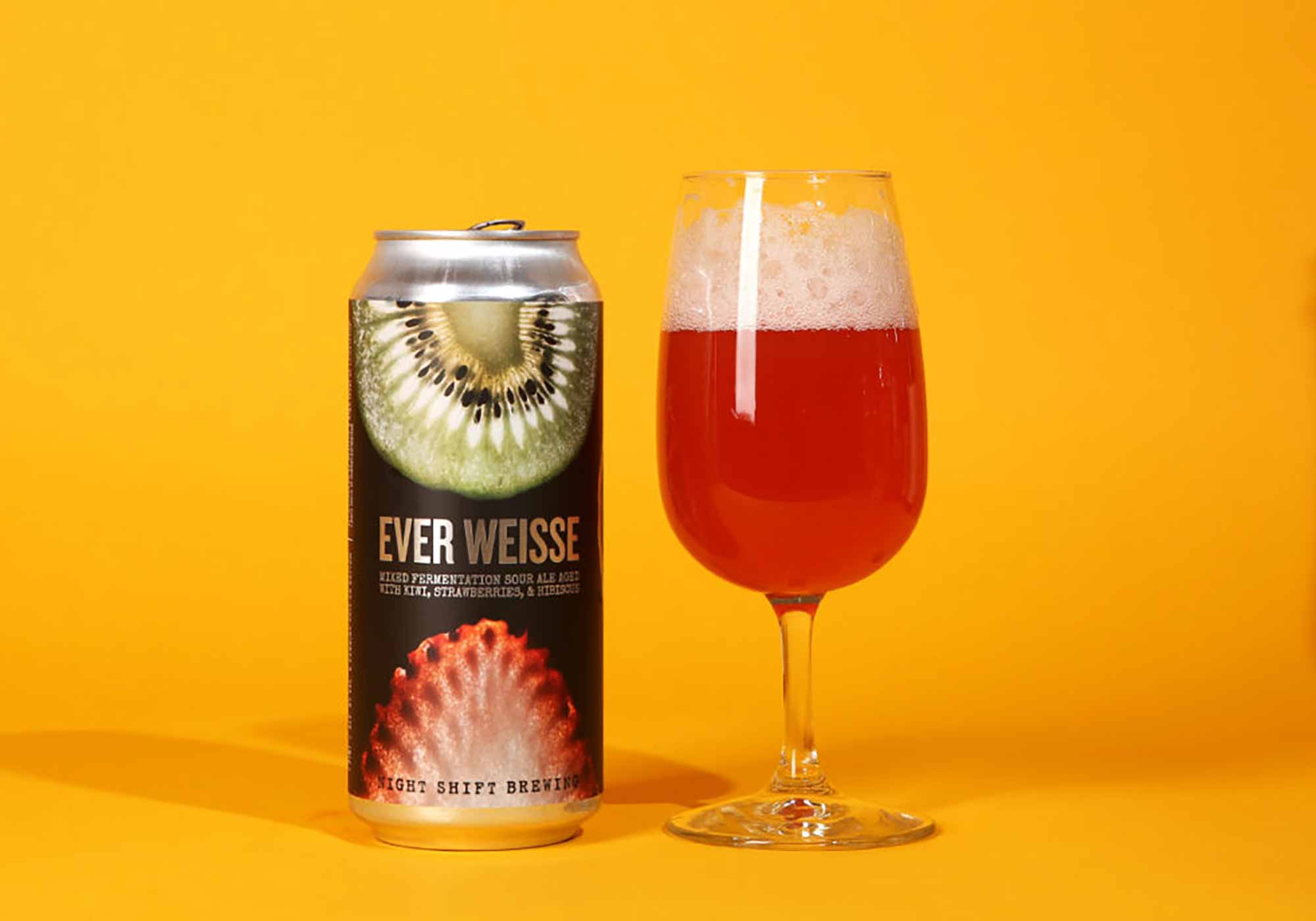 Photography courtesy of John A. Paradiso
Light, golden, zippy, and zingy, the Berliner Weisse beer style earned the nickname "Champagne of the North" from Napoleon's troops. But what exactly is a Berliner Weisse? We've got the answer to that, and more.
Originating in Germany, the Berliner Weisse was incredibly popular in the early 19th century, when more than 700 German breweries produced the style. Today, however, only two or three breweries in Germany regularly bottle Berliners. The recent popularity of the tart and effervescent beer is actually due to American brewers, many of whom have added their own twists to the traditional German style.
To better understand the Berliner Weisse, we took a deep dive into its history to see where it comes from, how it has changed, and where it's going.
A Brief History of the Berliner Weisse
Originally, the Berliner Weisse developed in the region around Berlin, Germany (hence the name!), in the 17th century.
"It's a very, very old German style, perhaps 500 years plus," says Adam Beauchamp, Brewmaster at Creature Comforts Brewing Company. One of their popular Berliners, Athena, has become one of the brewery's best-selling brands. "Think of it as the Champagne of the North. The French and Italians have sparkling wine, while the northern part of Europe has sparkling and refreshing beer."
Although the style's exact roots are a little hazy, a few different theories exist as to how the beer was born.
Some folks believe that the French immigrants who settled in Berlin developed the style, implementing brewing techniques they picked up from Belgium as they traveled through the region.
Others point to the simple fact that wheat beers were popular in Berlin during the 17th century. At the time, instead of adding hops into boiling wort, many brewers would boil hops with water and then blend it into the mash. Oftentimes, since the wort wasn't boiled, local microflora and fauna wound up in the beer, giving their beers an unintentional dose of naturally-occurring acidity–a hallmark of the Berliner Weisse style.
So What Exactly Is a Berliner Weisse?
Essentially, a Berliner Weisse is a tart wheat beer that includes two key ingredients.
First, weisse in German means wheat. Typically, a brewer will use around fifty percent wheat in the grain bill of a Berliner Weisse.
"Obviously the inclusion of the word weisse refers to wheat, meaning there is usually a heavy component of wheat in the malt bill," says Michael Oxton, Co-Founder of Night Shift Brewing, which opened in 2012 with a Berliner Weisse in its portfolio.
According to Oxton, the wheat adds a certain level of body to the refreshing beer. It also gives the beer its characteristic cloudiness and helps play off the tartness that comes from the style's other main component: Lactobacillus
The naturally occurring bacteria known as Lactobacillus gives the Berliner Weisse its classic acidity.
"Lactobacillus is a bacteria thats primary function is to eat a little bit of sugar and make a whole lot of lactic acid," says Beauchamp. "It's the same organism that typically gives tang to yogurt."
According to Beauchamp, it's that hit of acid that gives the Berliner Weisse its complexity.
"The intrigue of Berliner Weisse often comes from what the yeast does in a really acidic environment," says Beauchamp. "It comes up with some fun cider, sauvignon blanc, passionfruit, funky tropical-ness, which makes this style super interesting."
So what is a Berliner Weisse? Functionally, it's a wheat beer with a touch of sparkling acidity from the Lactobacillus.
What Are Some Common Characteristics of a Berliner Weisse?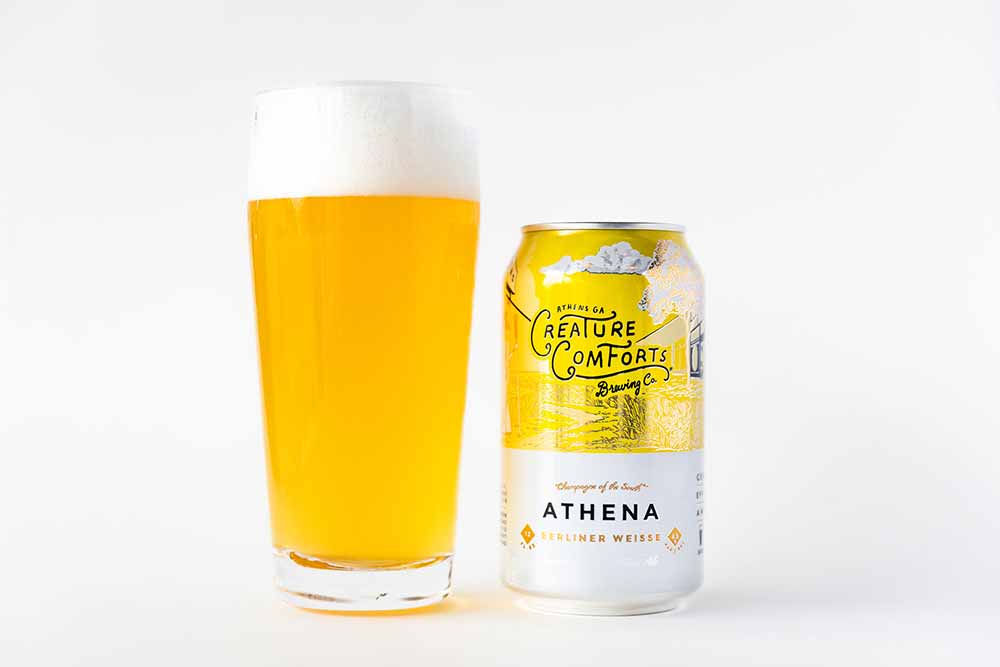 When looking at traditional, unfruited Berliner Weisses, you'll typically find some common characteristics. "[Berliner weisses] are low ABV with a wheat-forward profile that's tart, dry, and refreshing in the hotter months," says Chris Kinast, cellar manager and brewer at Perennial Artisan Ales.
A light, sour wheat beer, Berliner Weisses typically fall somewhere between 3% and 5% ABV. Visually, most Berliner Weisses tend to fall somewhere in the straw gold to light yellow range, and most have a slight haze that comes from the wheat.
On the nose, aromas vary. "It's an interesting and inviting aroma," says Beauchamp. "At first, I usually get apple cider, followed by some sauvignon blanc funk edging on passion fruitiness and some white cracker. If you're familiar with this beer [style], you expect [the aroma] to be a little zesty with some funkiness in there."
When it comes to the palate, Berliner Weisses tend to be a beautiful balance of sweetness and acidity.
"It's not a wine, but it moves in the direction of a wine profile," says Oxton. "It's complex, it's fun, and it's something to talk about. I don't ever crack a Berliner Weisse without talking about the experience."
How to Brew a Berliner Weisse
As the name suggests, crafting a good Berliner Weisse starts with the wheat.
At Night Shift, Oxton and his team use mostly 2-Row malt and wheat. At Creature Comforts, Beauchamp makes Athena with thirty percent Canada Malting White Wheat and seventy percent Canada Malting Superior Pilsen, plus a dollop of acidulated malt to help create a good foam. And at Perennial, their Berliner Weisse, Poolside Breeze (formerly known as Hopfentea), starts with fifty percent American grown pilsner malt, twenty-five percent unmalted wheat, and twelve-and-a-half percent of both flaked wheat and malted wheat.
If a good Berliner Weisse starts with wheat, then it ends with Lactobacillus. At Creature Comforts, Beauchamp and his team tested a matrix of six different Lactobacillus strains and four different ale strains, conducting blind sensory with every combination before settling on two Lactobacillus strains they liked best: White Labs delbrecchi and East Coast Yeast brevus.
Interestingly, Beauchamp repitches the same yeast over and over again into new batches, which has resulted in something unique: the commercial delbrecchi and brevus Lactobacillus strains have combined to form a new species.
"The lab is working on getting them a unique species name like lactocreature comfortus or something," jokes Beauchamp.
Similarly, Night Shift uses a unique Lactobacillus culture for its Weisse series. Oxton and his team developed the recipe over time, eventually settling on mixed fermentation yeast strain that includes Lactobacillus and Saccharomyces, another species of yeast often used in beermaking.
The Traditional Way to Drink a Berliner Weisse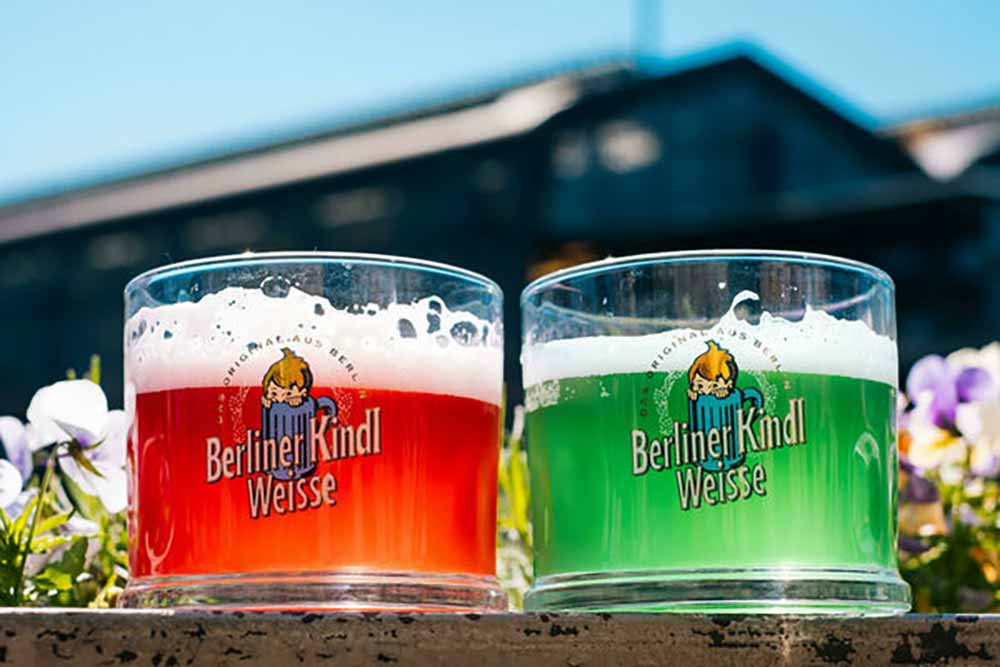 In Europe, Germans often play off of the Berliner Weisse's funky sourness by adding what is called a schuss, or syrup, directly to the beer. In Berlin, when you order a Berliner Weisse, the waiter will often say "rot oder grün?" Which simply means "red or green?"
The colors refer to the type of syrup you'd like to add to the beer. Red is usually a sweet raspberry syrup. Green is a more traditional grassy herb known as woodruff.
In Europe, a beer can only be considered a Berliner Weisse if it's produced within the city limits of Berlin. Today, however, there are only two full-scale commercial breweries in Germany that produce Berliner Weisse (Berliner Kindl and Schultheiss), and the name is often used in the United States to refer to Berliner Weisse-style beers.
Innovation on the Berliner Weisse
Whereas Germans commonly add syrups to their Berliner Weisses, Americans put their own twist on the style by adding different combinations of fruit.
"Our process [for creating Berliners] goes very much like this," says Oxton. "Take a Berliner Weisse base and come up with some interesting combination of fruits to add."
Night Shift's original Berliner Weisse, Ever Weisse, included strawberries, kiwis, and hibiscus.
"That was us on the cutting board chopping up strawberries, scooping out kiwis, and adding hibiscus," says Oxton.
Since that original beer, Night Shift's Weisse series has included everything from Orchard Weisse–featuring apples–to Picnic Weisse, which highlighted peaches and apricots.
At Creature Comforts, Beauchamp and his team built on the success of the original Athena by introducing a rotating lineup of fruited versions, a series that's collectively called Athena Paradiso. Versions include one with tart cherry, raspberry, and cranberry, another with passion fruit and guava, and a third with blackberry and black currant, to name a few.
The Popularity of Berliner Weisses in the United States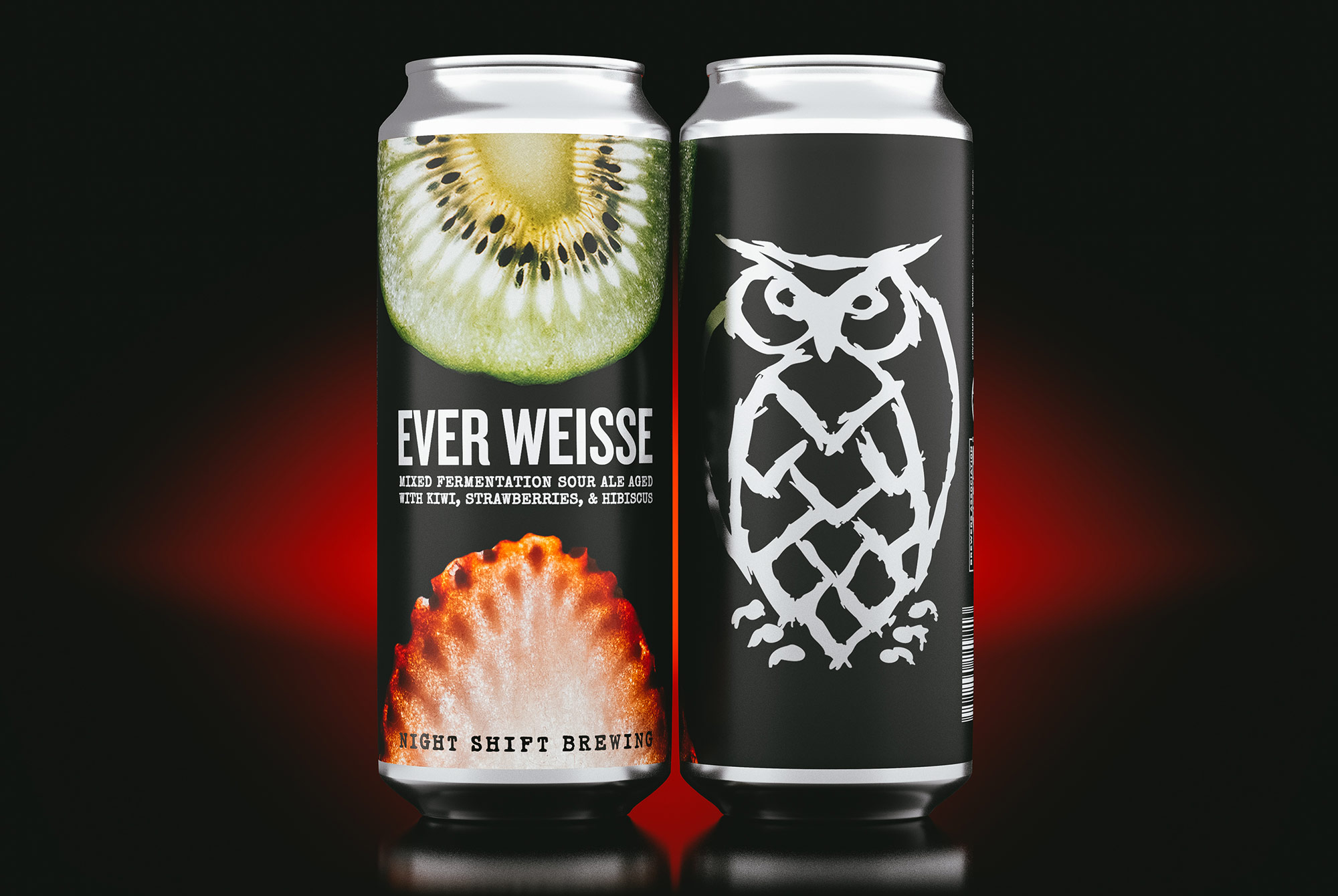 Over the last decade, the Berliner Weisse style has experienced tremendous popularity in America. But in the early 2010s, Berliner Weisses were still fairly new to American palates.
When Oxton launched Night Shift in 2012, Ever Weisse caused polarizing reactions. In fact, when Oxton tried to sell the beer to local bars, many people were angry. "They'd say, 'Hell no. That's not beer. Get that away from me. Something is wrong with that beer,'" says Oxton. However, enough people liked the beer that the brewery kept making it.
Beauchamp, who released Creature Comforts' first Berliner Weisse around the same time as Oxton, says the timing helped with the success of the brand. Back in 2014, sour beer was pretty hard to find, especially at an affordable price. Well-known sour beers like Cantillon were often rare. And if you did find them, they'd often be exorbitantly expensive.
"We were hopeful to bring acidic, balanced beer to consumers at a price point they could drink as often as they wanted and not just on a special occasion," says Beauchamp.
Berliner Weisses Defy Expectations With Americans
When Creature Comforts released Athena, they weren't sure what to expect.
"We thought it would be a tiny fraction of our main production," says Beauchamp. "It ended up being our second-best brand for the first several years."
According to Beauchamp, Creature Comforts currently brews between 6,000 to 7,000 barrels of kettle-soured beer across both the Athena and Athena Paradiso brands.
Similarly, Night Shift's Berliner Weisse took off almost immediately.
"That one beer put us on the map locally," says Oxton.
The success of that first Berliner Weisse helped Night Shift build up the entire Weisse series.
"To this day, if you look at the IRI scan data in Massachusetts, our Weisse series is the number-one selling SKU within the 'other' category," says Oxton. "It outsells a bunch of other ones because we've grown the brand and people still want to drink sour, fruited, funky beer."
What's Next for Berliner Weisses?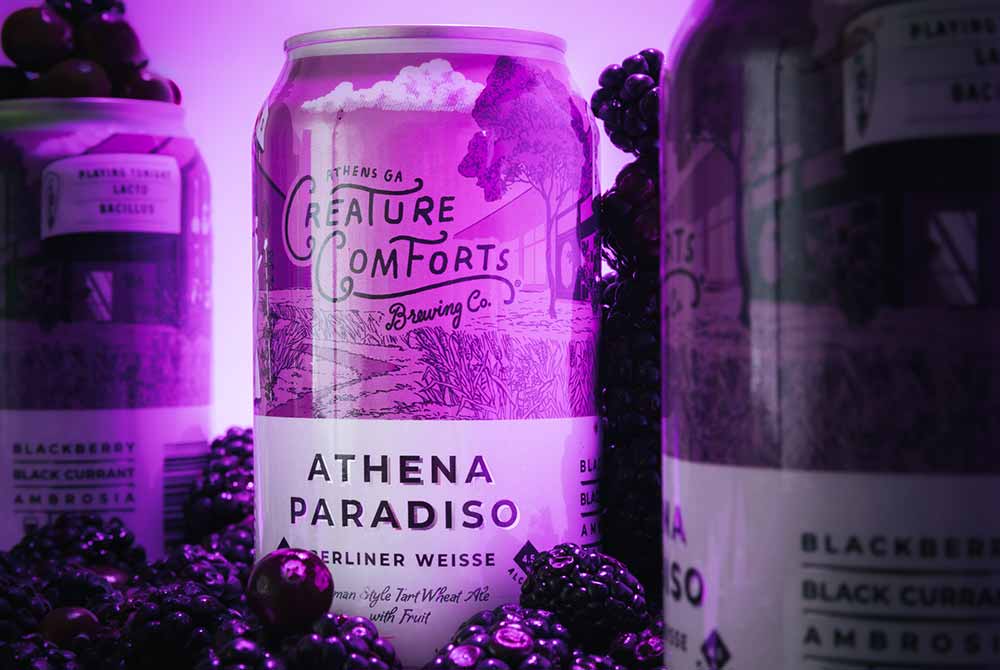 As with most styles, modern American brewers seem intent on pushing boundaries. Later in 2022, Creature Comforts will be launching a line of Imperial Berliner Weisses, which will be available as a very limited release at the brewery.
"People are very interested in fruited versions having something that's a little stronger," says Beauchamp.
Oxton agrees, saying, "People are going to push the limits and do 10% to 11% ABV Weisse beers. In this country, we have enough breweries that people will always push the limits and see how far they can bring it."
After brewing Berliner Weisses for almost ten years, Oxton says that 2022 will be the first year Night Shift is doing something different with their Weisse series. This year, Night Shift will release four completely new Weisses, each featuring different combinations of three fruits. And all will bump up to 6% to 7% ABV.
"We're trying to add a little complexity to the series," says Oxton.
The shift will start with Granita Weisse, a Q1 release from Night Shift that'll include blood orange, guava, and pineapple.
On the other end of the spectrum, since unfruited Berliner Weisses are naturally a low-abv, low-calorie beer, they could start to be marketed as an option for those interested in exploring the "better-for-you" lifestyle.
"Maybe the future of Berliner is to compete with seltzer," says Beauchamp.
Whatever happens, our prediction is that the endless combination of fruits available to brewers gives this style a lot of room to grow.
What Are Some Good Berliner Weisses to Try?
Granita Weisse – Night Shift Brewing
Everett, MA
"The color pours sunset orange and we're getting aromas of grapefruit and orange juice," says Oxton. "Once you take a sip, you'll pick up more grapefruit, mango, orange, and sweet wheat bread, but you also get that sweetness from the wheat. The mouthfeel is clean and crisp with a tart finish."
Athena – Creature Comforts Brewing Company
Athens, GA
"Athena has a sweet and acidic balance, but it's not overly acidic," says Beauchamp. "It's meant to be quite crushable and balanced."
With a medium body, Athena has a great mouthfeel and a good balance between sweet and sour. If you're looking for a classic version of the style, grab one of these.
Poolside Breeze (formerly Hopfentea) – Perennial Artisan Ales
St. Louis, MO
"Poolside Breeze pours with a gorgeous deep pink hue and a light pink head," says Kinast. "Aromas of hibiscus, rose petals, lemongrass, and tropical fruit couple with a sturdy, but nimble malt profile. Tropical fruit and tea dominate the palate, but finish with a clean lactic bit that invites another drink."
Festina Pêche – Dogfish Head Craft Brewery
Milton, DE
Dogfish Head calls Festina Pêche a "neo-Berliner Weisse." The Delaware-based Dogfish Head first released their Berliner Weisse in 2007 as a sessionable beer to drink during the summer. And it's still a classic today. Super zesty and zingy, the peach-infused Festina Pêche hits that perfect balance of sweet and tart.
Daily Serving – Trillium Brewing Company
Canton, MA
If Trillium is known foremost as an IPA machine, its reputation as a brewer of terrific sours comes a close second. Daily Serving is arguably the most stripped-down sour in their repertoire, a rotating series of Berliner Weisses that are each designed to highlight a variety of fruits. These range from the classics (a'la raspberry) to those less familiar to U.S. soil (a'la guava). The thing about making simple beers, as with simple food, simple music, or simple anything, is that simplicity leaves you little room to hide. But Trillium doesn't have anything to hide. Rather, they have everything to share with Daily Serving.
Spots – Off Color Brewing
Chicago, IL
Named after the spots on a jaguar, Spots is a sleek, tiki-inspired version of a Berliner Weisse. Intense passion fruit and grapefruit back a dancing acidity. Soured entirely with Lactobacillus, Off Color ferments its Berliner Weisse with a farmhouse ale yeast and adds grapefruit peel to the boil and actual passion fruit post-fermentation, all of which give the beer a colorful, tropical character.
Hint of Tart Cherry & Raspberry – Grimm Artisanal Ales
Brooklyn, NY
As the name implies, Grimm adds a touch of cherry and raspberry to its traditional, unboiled, mixed culture Berliner Weisse for a slightly funky, very fruity rendition.
Riot Juice – Hidden Springs Ale Works
Tampa, FL
For a Berliner Weisse that expresses the playfulness of modern American craft brewers, try Riot Juice. Featuring blackberry, lime, vanilla, and lactose, this beer is highly untraditional, but extremely delicious.