Photography courtesy of Oskar Blues Brewery
Click for more in our "Available in Most Stores" series:
Simple on the outside yet complex on the inside, pilsners are a humble lager first produced by Bavarian brewery Josef Groll in Plzeň, Czech Republic, in 1842. Technically, the word pilsner actually means "from Pilsen (or Plzeň)" in Czech.
Fast forward over a century and half and in 2021, Untappd's Top Styles list of the year welcomed the modest pilsner to its yearly rankings for the first time, cracking the top ten with over one million check-ins on the world's largest beer social networking app.
Considered a lager that uses bottom-fermenting yeast, pilsners need a longer, colder fermentation period to let the yeast eat those unfermentable sugars. As a result, these beers turn out cleaner and crisper.
For that reason, pilsners (and lagers in general) can be more fussy for brewers to make. That's why industry folks love tasting a brewery's pilsner. Because it's often considered the unofficial mark of a dedicated brewer—you can be sure that someone who took the time to perfect their pilsner recipe has put a lot of effort into making that beer.
In other words, the juice is worth the squeeze.
Czech, German, American, and Italian Pilsners, Oh My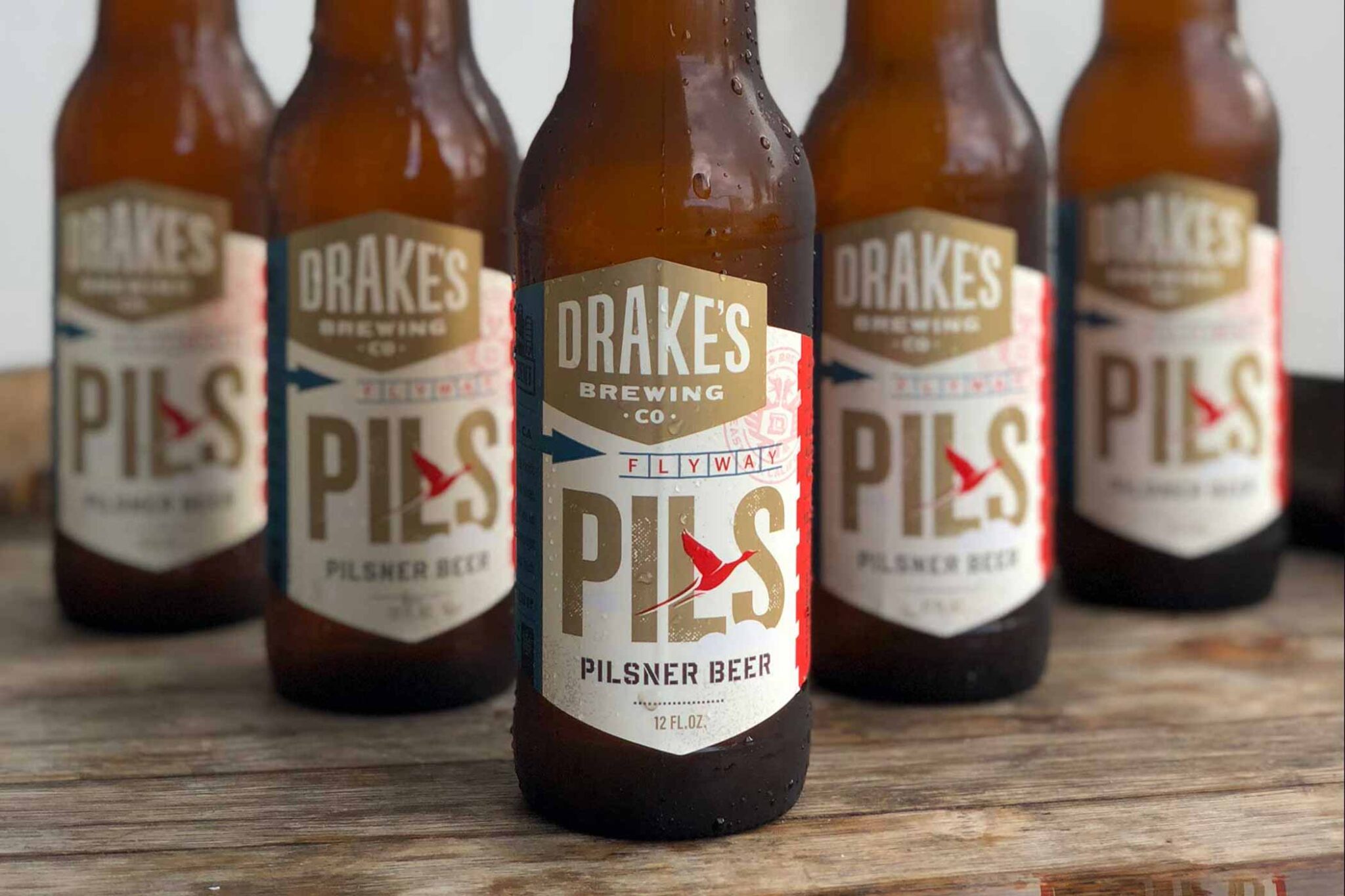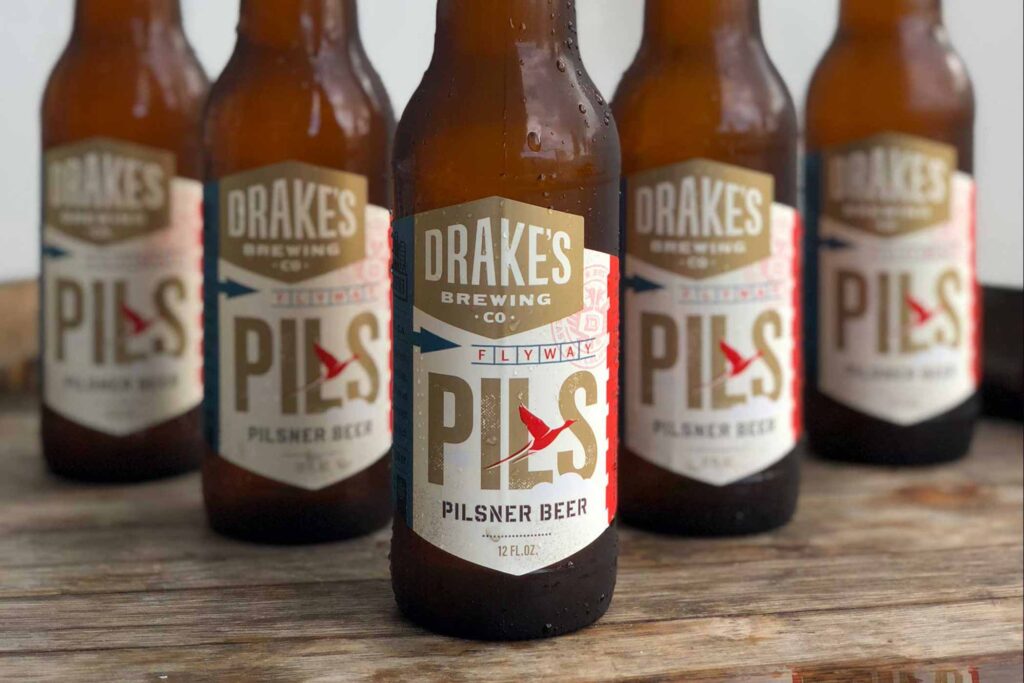 The addition of Saaz hops truly differentiates a traditional Czech pilsner from its brethren. Those aromatic little cones gave pilsner its distinctive personality. Oh, and if you're a purist, that oh-so-soft water from Plzeň. The beer pours a straw yellow with its low to medium hop character supported by a bready finish. Today, Pilsner Urquell is still one of the most popular and ubiquitous versions of the style in the Czech Republic and worldwide.
But other countries have put their fingerprint on the pilsner. For instance, German, American, and even Italian pilsner). Each with its own distinctions.
German pilsners, often called 'pils,' tend to be a bit drier and crisper. Adapted to suit Germany's water, pils also feature German hops, giving these beers a bit more of a bitter edge.
American pilsners sprung up when German immigrants arrived in the United States in the 1800s. Macrobreweries bastardized the style, often brewing with up to twenty-five percent corn in the grain bill and placing less importance on the hops. As a result, these early versions were often leaner, less flavorful, and less bitter than their European counterparts.
But more recently, craft brewers have reclaimed the American pilsner, with many breweries across the country executing excellent versions.
The newest variant of the style, Italian pilsners include a dry hop, imparting even more European hop character.
Below, you'll find a mix of all versions of pilsners on this list. The common thread is that you can find any of these accessible pilsners in a store near you.
Hop Culture's Picks for the 12 Best Pilsners Available in Most Stores Right Now
Brewery Ommegang Idyll Days Pilsner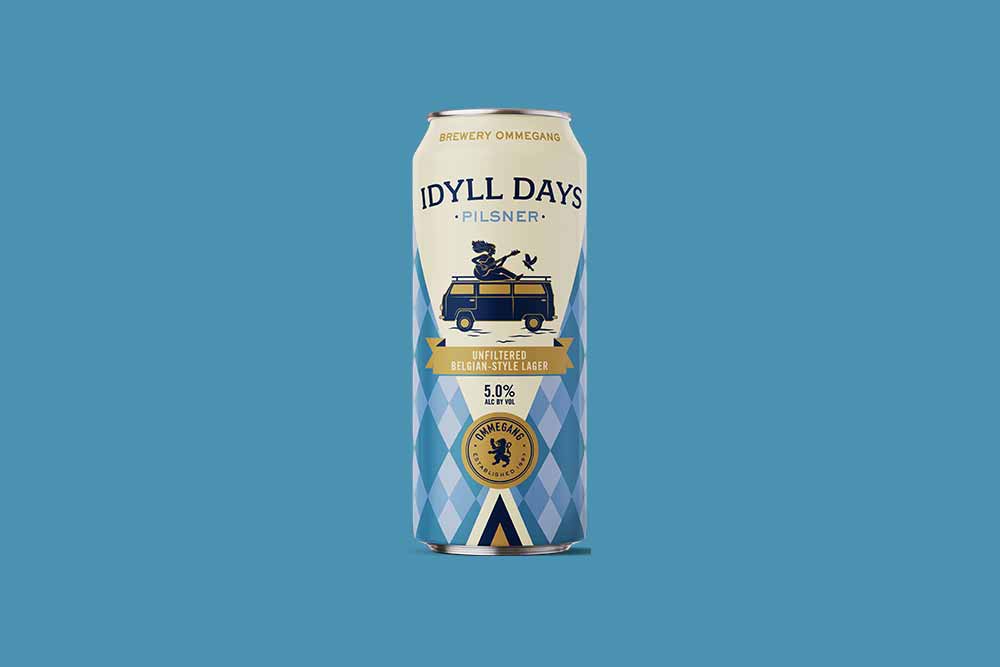 Belgian-Style Pilsner — A Belgian-inspired brewery, Brewery Ommegang puts its Belgian twist on this deceivingly complex beer. Brewed with floor-malted barley and flaked corn but fermented with Belgian yeast, Idyll Days has a much fruitier ester character than a typical pilsner. Still, Idyll Days gets a handful of Czech Saaz hops for a pronounced herbaceousness. Teetering between different cultures, Idyll Days is a unique interpretation of the rustic pilsner.
You can find Brewery Ommegang's beers in forty-seven states. Use Ommegang's Beer Finder to get this beer into your fridge.
Bell's Lager of the Lakes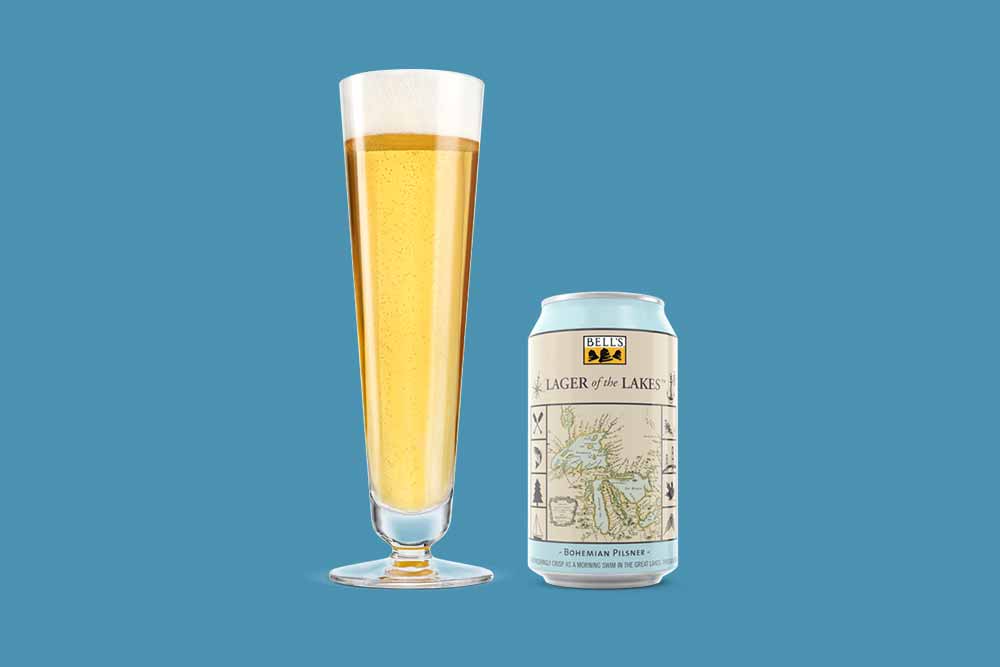 Czech-style Pilsner — Modeled after a Czech pilsner, Lager of the Lakes is a pretty crispy beer with a snappy bitterness and pronounced floralness that drops off sharply with each sip.
According to Bell's, "Lager of the Lakes is as refreshing and crisp as a swim in the Great Lakes." Actually, we've done that, and we have to say that's pretty true, but we might go one step further. Bell's Lager of the Lakes is like running off the dock and doing a cannonball into one of the Great Lakes.
And the best part? With its latest expansion into the Pacific Northwest and Utah, Bell's beers can now be found in forty-nine states plus Puerto Rico. Use Bell's Beer Finder to locate a Lager of the Lakes near you.
Drake's Flyway Pils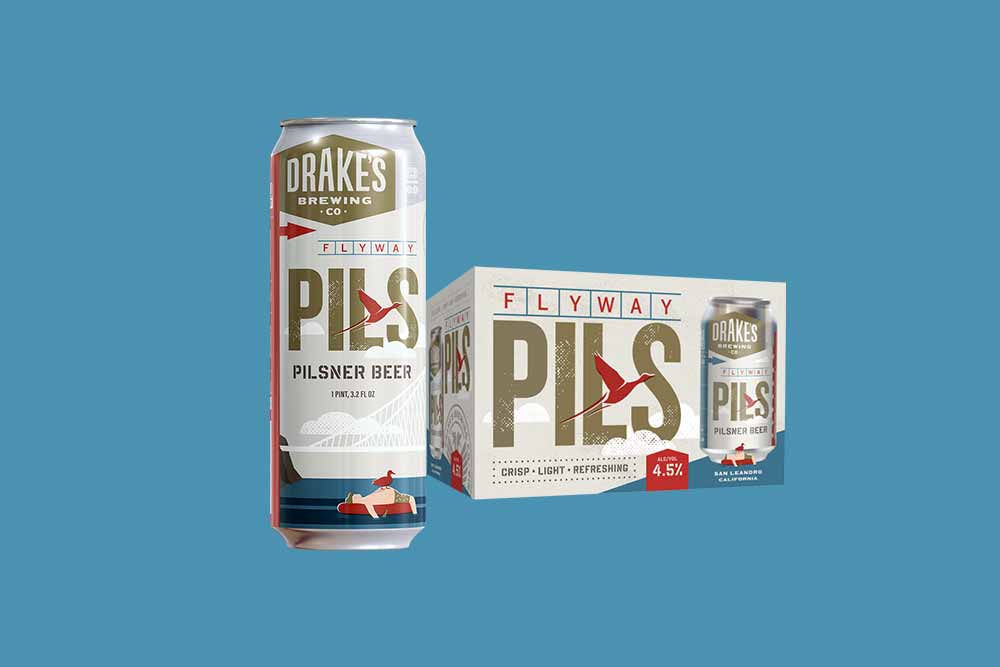 German Pilsner — Drake's calls this a North German style thanks to its higher hopping rate. Drake's starts with a base of extra premium pale German pilsner malt and American flaked maize, the latter of which helps create a nice, dry body for the beer. For hopping, Drake's picked Vanguard, a noble-style American hop. Presenting with a distinct floral spiciness, Flyway Pils finishes with some light red berries but mostly a clean, crisp body that repeatedly encourages the next sip.
In February 2023, Drake announced it would join forces with Bear Republic, buying the brewery's recipes, formulas, and intellectual property. For this reason, we're including the brewery's flagship pilsner on this list. Because while Drake's only currently distributes to California, Arizona, and Nevada, Bear Republic distributes to twenty-three states. So while it hasn't happened yet, we predict Drake's footprint will expand. At the moment, though, use Drake's Beer Finder to locate a Flyway Pils near you.
Firestone Walker Pivo Pils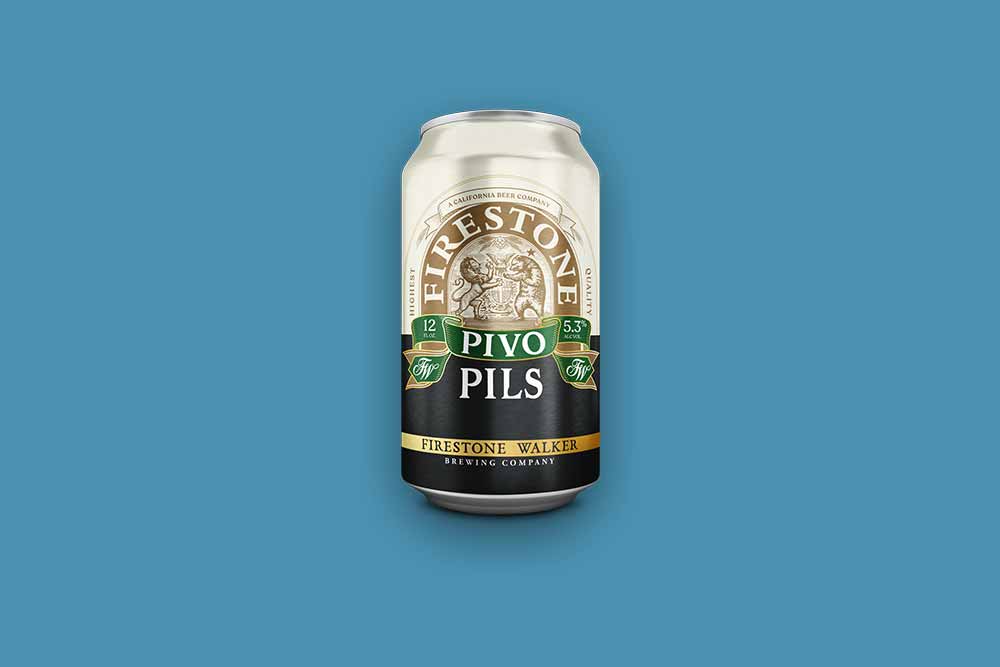 Italian Pilsner — A newer version of this style, Italian pilsner has a light body with an additional dry hop, imparting a subtle European hop character. Firestone Walker Brewmaster Matt Brynildson is credited with bringing this version of a pilsner to America, developing Pivo Pils after trying the original Tipopils at the European Beer Star (EBS) competition.
With Pivo Pils, Brynildson put his spin on the style. He adds a touch of dry hopping with Saphir, about a third of a pound per barrel, to differentiate it from other Italian pilsners.
"Saphir in Germany is a very noble hop, no doubt, but it has a little lemongrass note which is a cool, distinctive twist," says Brynidlson.
Trying this is a must to pay homage to the style. It's a beer that's been around for over ten years and has won numerous medals.
Pivo pours beautifully bright and clear with a hefty head of foam and the primary aromas of lemongrass and noble hops.
"When you go to drink Pivo, it's all about being really crisp and clean," says Brynildson.
Pivo Pils is the perfect pilsner that you can find in twenty-five states, including AZ, CA, CO, DC, HI, IA, ID, IL, IN, KS, MD, MN, MO, MT, NC, NE, NJ, NM, NV, NY, OR, PA, TX, VA, WA. Use Firestone Walker's Beer Finder to track down Pivo Pils near you.
Half Acre Pony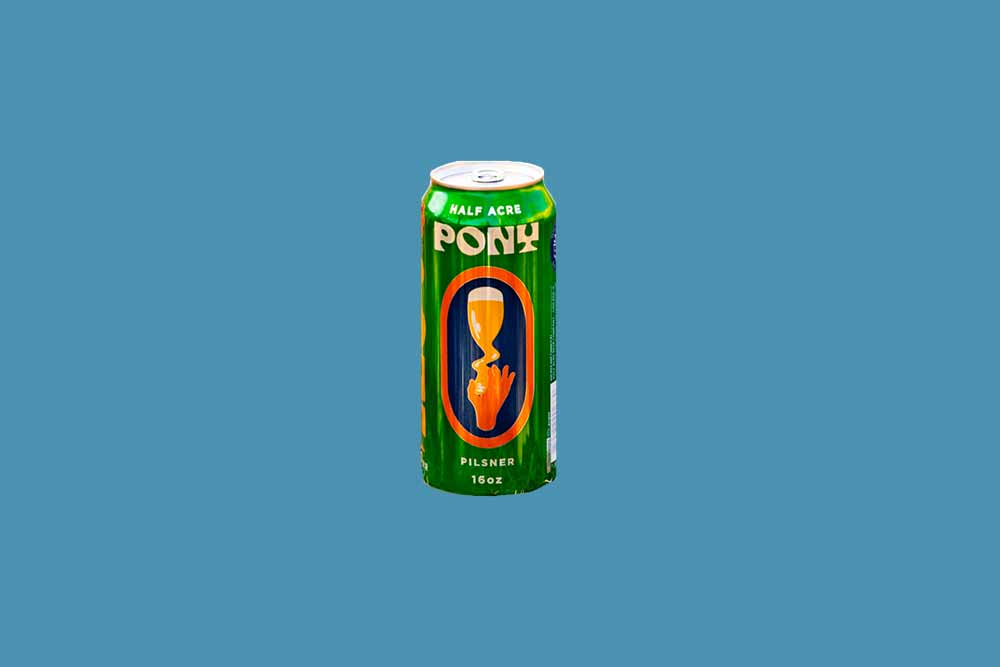 German Pilsner — "Pony Pilsner is a firm take on the classic German style aimed to quench the masses," writes Half Acre in the beer's Untappd description. "German hops and malts are braided together to release the crisp awakening your summer self need."
For a brewery known for making a damn fine pale ale, IPA, hazy pale ale, and premium lager, Half Acre can now add pilsner to that list.
Half Acre currently distributes in twelve states: AZ, CA, CO, FL, IL, IN, MN, NJ, NY, OH, PA, and WI.
Oskar Blues Mama's Little Yella Pils®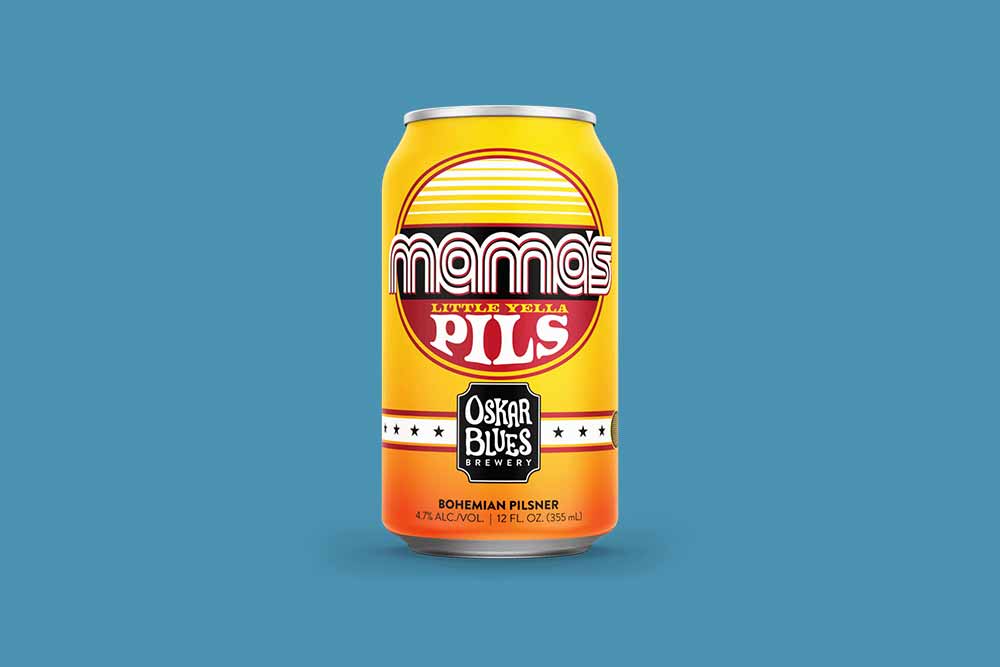 Czech-Style Pilsner — Brewed with pilsner and honey malts and a blend of Saaz and Aramis hops, Mama's Little Yella Pils® drinks as a Czech-style pilsner but reads as a mountain pilsner. The beer's 4.8% ABV means you can take this full-flavored, sessionable pilsner anywhere you adventure—up the mountain or down. "It's a damn good, crushable beer," writes Oskar Blues. "Take two and call us in the morning."
You can get your hands on this crushable pilsner across Oskar Blues' entire footprint, which includes all fifty states. Check out Oskar Blues' Beer Finder to find a Mama's Little Yella Pils near you.
Revolution Rev Pils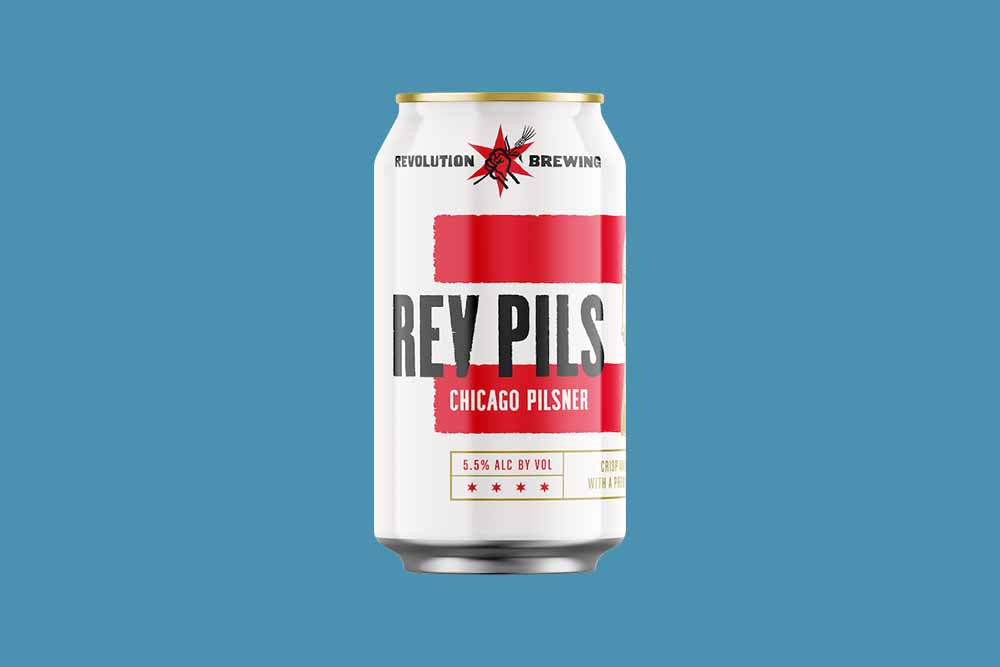 German Pilsner — Part of its City Series, Revolution calls Rev Pils a Chicago Pilsner. But think of this beer more like a bridge from the brewers of Bavaria to those of the Windy City. In other words, Rev Pils includes all-German ingredients brewed the American way, i.e., in Chicago. With its incredible drinkability, Rev Pils is the staff beer of choice at Revolution, according to the brewery. But there's no reason why it can't be your favorite beer at the end of a workday.
Revolution currently distributes in nine states: IL, IN, OH, MA, MI, NJ, NY, TN, and WI. Use Revolution's Beer Finder to nab a Rev Pils in your neighborhood.
Threes Brewing Vliet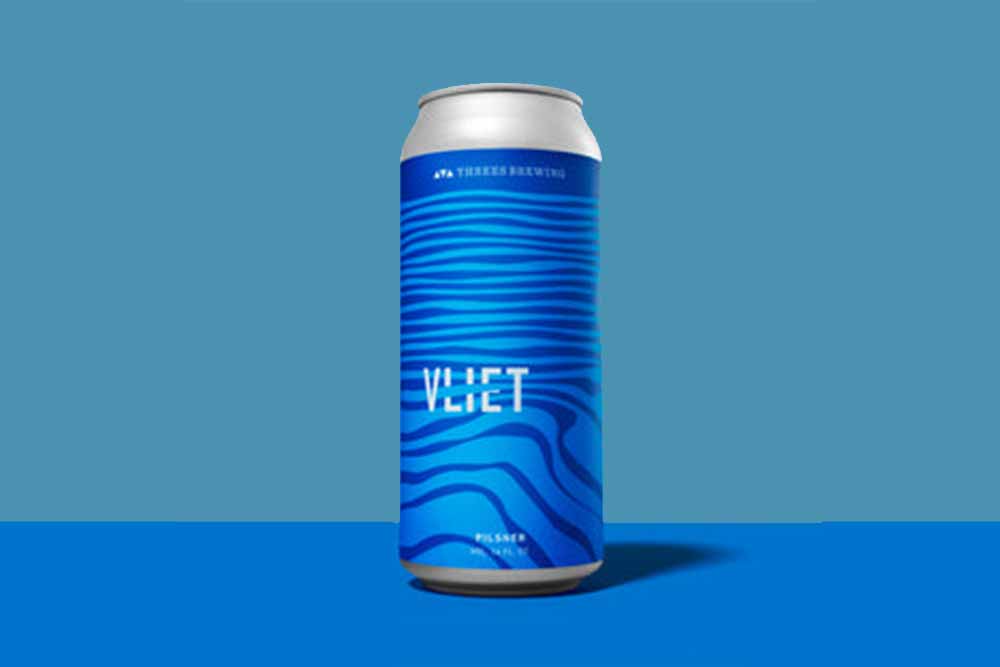 German Pilsner — A word that means "minor stream" in Dutch, Vliet is Threes' nod to the Gowanus canal near the brewery's home in Brooklyn. Technically a Czech and German pilsner mashup, Threes includes German pilsner malt with Saaz and Spalter Select hops.
In 2017, Threes' interpretation of the pilsner won gold at the New York State Craft Beer Competition (the country's second-largest state beer competition behind only California).
Clean is the prevailing way to describe Vliet. Fragrant with notes of straw and herbs, Vilet drinks with an herbal bite for a complex, crisp award-winning beer.
Although Threes started in Brooklyn, their distribution expanded to include six states: CT, MA, NJ, NY, PA, and VA. But even if you don't live in any of these states, you can still order Threes beer at shop.threesbrewing.com; the brewery ships to over twenty states.
Tröegs Sunshine Pils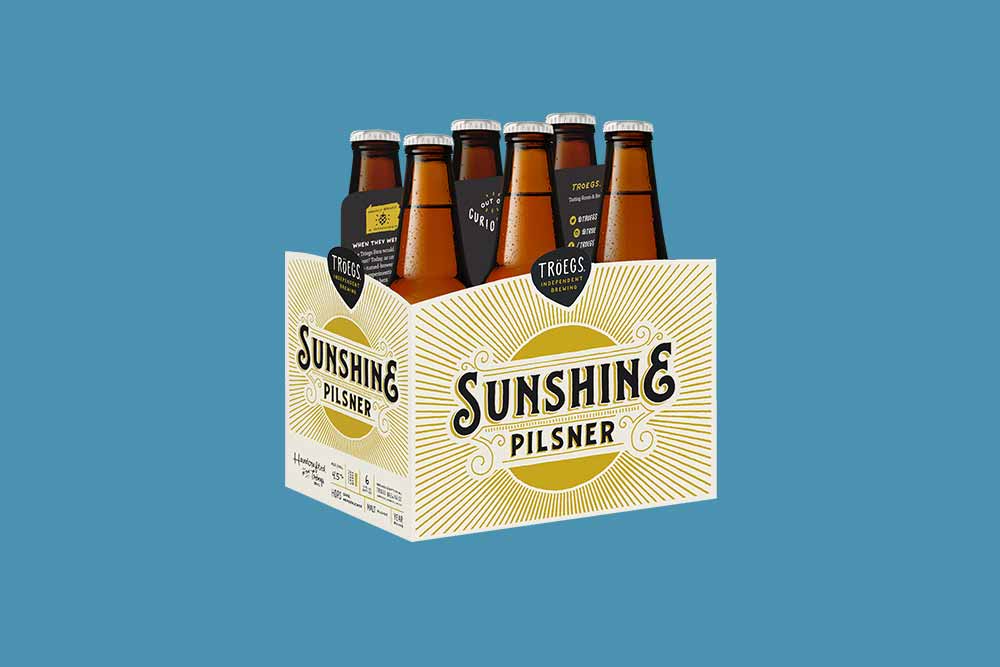 German Pilsner — Full of two-row barley and Saaz and Hersbrucker hops, Tröegs Sunshine Pils gets its characteristic crispness from a secondary fermentation, developing natural carbonation. Drinking Sunshine Pils fills your mouth like the sun in a garden with a slight undertone of freshly cut grass, freshly squeezed lemon, and lightly baked bread. This beer just makes us smile.
Tröegs currently distributes to the following states: CT, DC, DE, MA, MD, NJ, NY, OH, PA, and VA. To find the nearest store that carries Sunshine Pils in the U.S., head over to Tröegs' Brew Finder.
Two Road's Ol'Factory Pilsner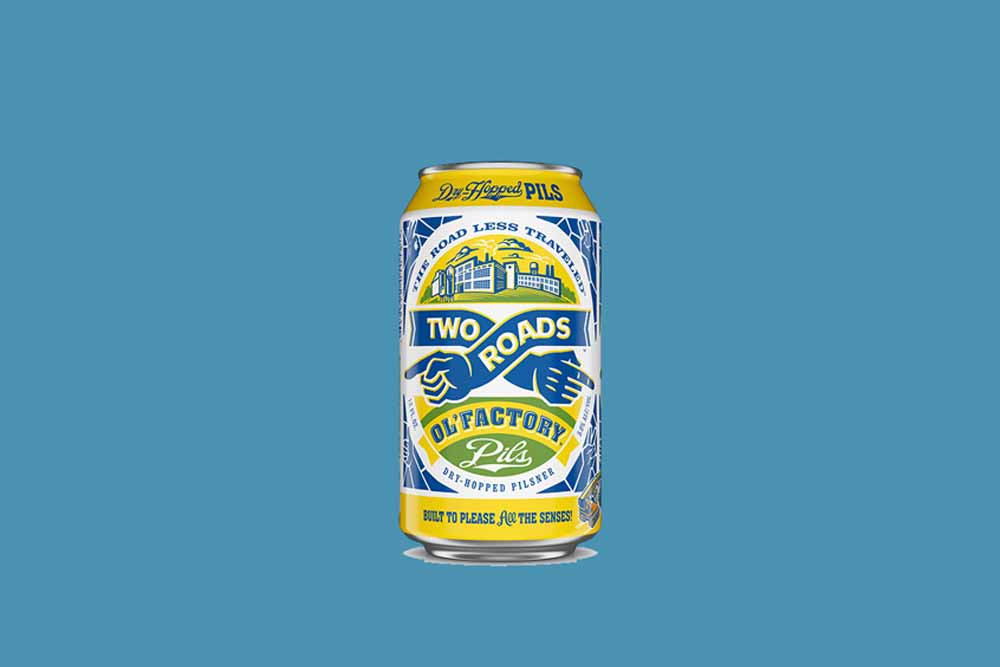 German Pilsner — Two Roads brews beers that follow the road less traveled. So while Ol'Factory starts with the classic German hops, Two Roads also adds some American varieties for a refreshing yet refined pilsner. Winner of a 2015 Great International Beer Festival medal in the "Continental Pilsner" category, Ol'Factory gives a contemporary twist to an old-world style.
Two Roads currently distributes in twelve states: CO, CT, DE, MA, ME, NH, NJ, NY, PA, RI, VT, VA, and the UK. Use the Two Roads Product Finder page to nab an Ol'Factory Pilsner in your neighborhood.
Victory Prima Pils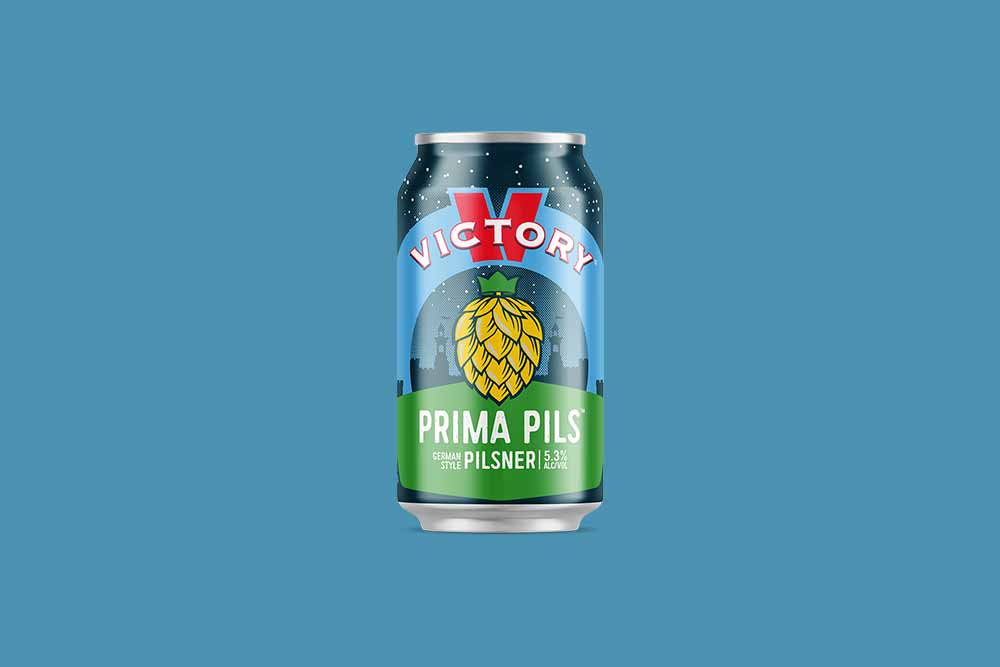 German Pilsner — An elite exclamation, Prima lives up to its name, boasting hand-picked German hops such as Tettnang, Hallertau, Spalt, and Saaz. Around since 1996, Victory's version of a German pilsner has set the standard for widely available pilsners for the twenty-seven years.
A backbone of just pilsner malt creates a blank canvas for those European hops to shine, bringing notes of delicate lemon balanced with a floral flourish.
At 5.3% ABV, Prima Pils is the crushable, easy-drinking pilsner you can turn to again and again.
Thankfully, in 2016, Victory joined Artisanal Brewing Ventures, a group that now includes Sixpoint Brewing and Southern Tier Brewing, gaining access to its distribution footprint. Find Victory beers in the following markets: CT, FL, GA, MD, NJ, NY, NC, OH, PA, VA, and WI. To grab a Victory Prima Pilsner near you, check out Victory's Beer Finder.