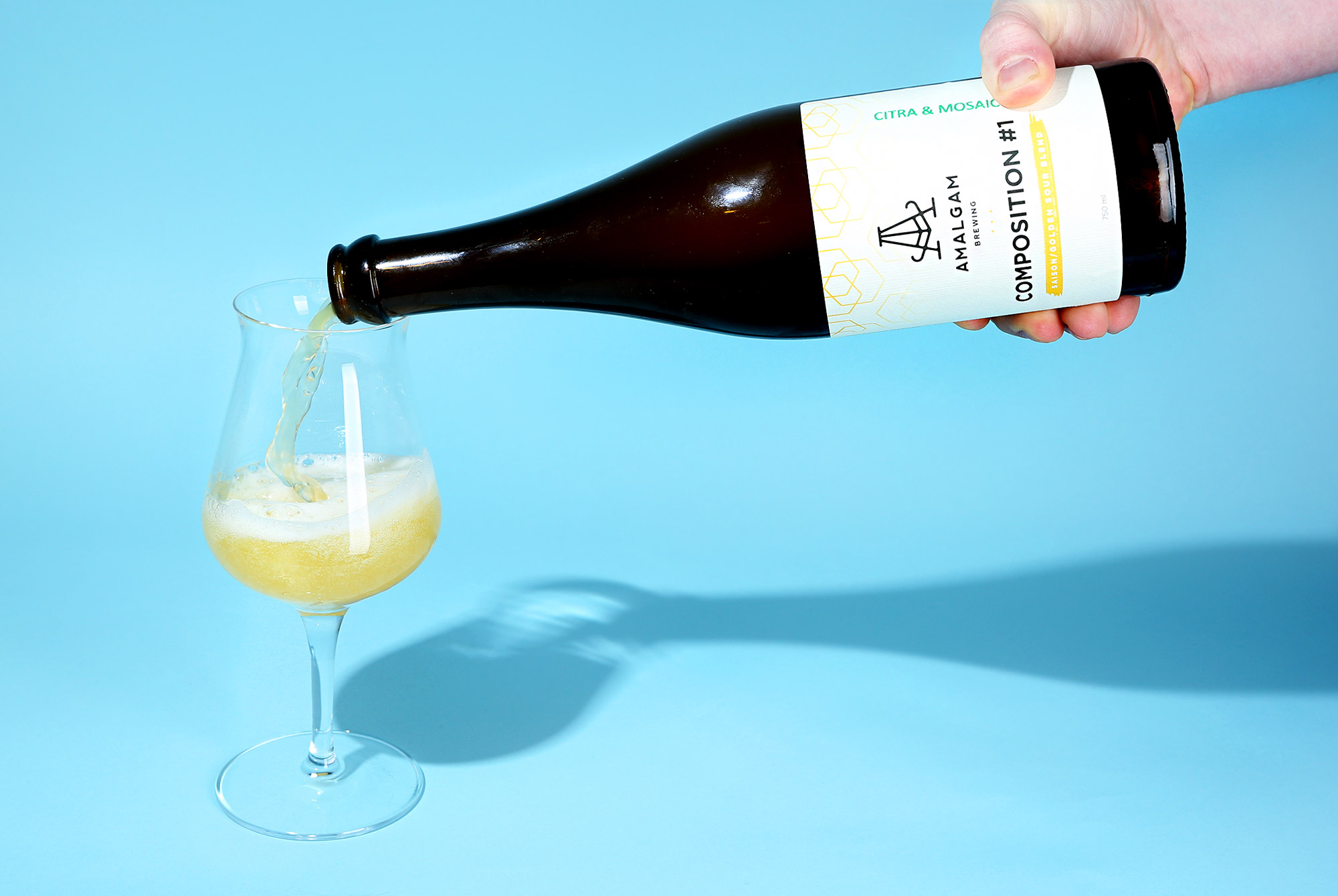 The longevity of the craft beer industry depends on drinkability. It depends on craft beer replacing Big Beer as the release that millions of Americans grab for at the end of a long day. But right now, that's not what it needs. It needs to build. It needs to be focused on reaching ever outward, latching onto that next thing. At times, it needs to be a little excessive and indulgent.
This doesn't come without detractors. People loudly decry the addition of lactose to beer, and the overuse of double dry hopping, and making IPAs sour and making stouts more akin to a cake than a beer. I sympathize, but I think that's a conversation for a later date.
The list below reflects this idea. I'll drink Palatine Pils until the sun sets and rises again, but I'm more interesting in the types of beer that confuse people. When I hand my Bud Light-drinking friend a great, nuanced pilsner, they'll taste a better version of the beer they love. But then they'll realize it's more expensive and harder to get. And the conversation ends. They only drink Bud Light to get a buzz on anyway, thank you very much.
But when I hand my Bud Light-drinking friend an outlandish, over-the-top sour IPA brewed with essence of cactus and some fruit they only grow in Nepal, they say "Damn."
That's the point. Show them something they've never seen before. Then let them explore around a bit. After a while, that same Bud Light drinker will get tired of all the hops and pastry stouts and reach for a Palatine Pils, having long forgotten the taste of Bud Light.
Here are the beers I had in 2017 that made me stop and say, "Damn."
50/50 Bar
by Aslin Beer Company ft. Graft Cider
I'm embarrassed to admit that Aslin wasn't even on my radar until early this year. I have no idea why; they're a triple threat. Great taste, great design, great people. While many Aslin beers could've taken the spot, I wanted to highlight this popsicle-inspired collab with a cider company (that we love), which not only showcases the industry's creativity, but also its ability to collaborate.
Composition #1 (Citra & Mosaic)
by Amalgam Brewing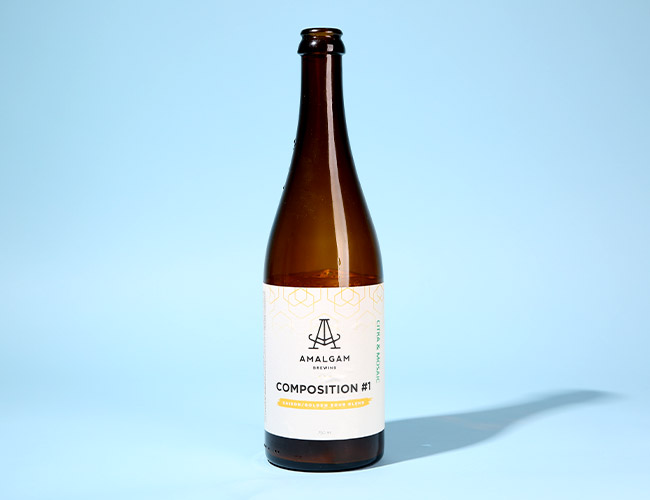 The side project of Phillip Joyce, who works full time at Powder Keg Brewing, and Eric Schmidt, Amalgam entered a sour and wild dominated market — Black Project, Casey, TRVE, and Crooked Stave, to name a few — and managed to grab attention. However, finding Amalgam beer isn't easy; you have to be in the right Denver bar at the right time. Luckily, Composition was released during GABF, which is how we scored a bottle. After fermentation and aging in oak barrels, the beer is blended with Amalgam's golden sour base to make it more tart. The result is a low ABV, lightly tart (yet highly drinkable) saison with notes of white wine grape skin — truly a fantastic beer. Keep your eyes peeled for a future release, along with the version (pictured) dry hopped with Citra and Mosaic.
Photo by: @hopculturemag
Double Lustra
by Dancing Gnome Beer
Andrew Witchey's beer is improving so quickly you can almost watch it. When we first met, he was breaking in his new space in Sharpsburg, PA. Less than a year later, he's traveling to New Jersey and Virginia to collab with Magnify and Triple Crossing, respectively, and making waves in trading communities across the internet. Every beer he makes is better than the last, so it only makes sense that my pick was canned in October, just after he celebrated his one year anniversary. If you haven't already, add Dancing Gnome to your wishlist for 2018.
BA Imperial German Chocolate Cupcake Stout
by Angry Chair Brewing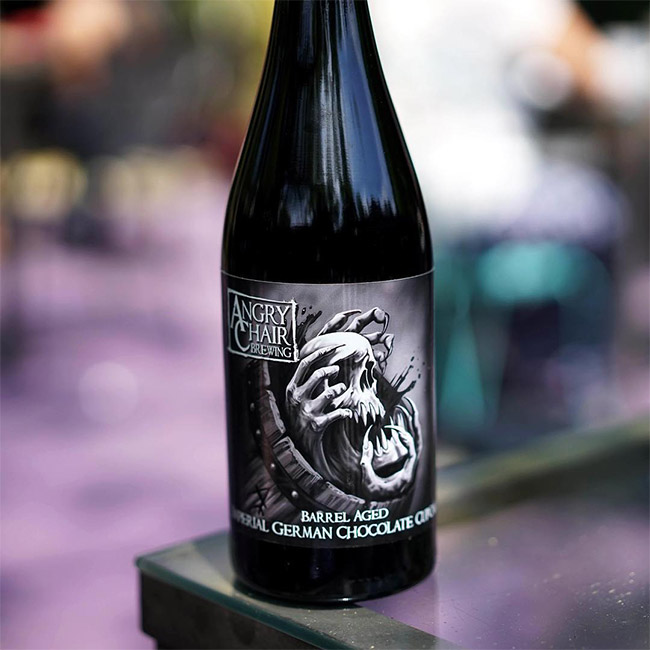 Allow me this pastry stout. Angry Chair — along with Civil Society, Cycle, and J. Wakefield Brewing, among others — is blowing up the Florida scene. Their Imperial German Chocolate Cupcake Stout is one of those beers so rich and flavorful that you can't finish it, even though you want to. Expect cake batter, with a bit of bourbon coming in from the barrel.
Amorphia
by Hudson Valley Brewery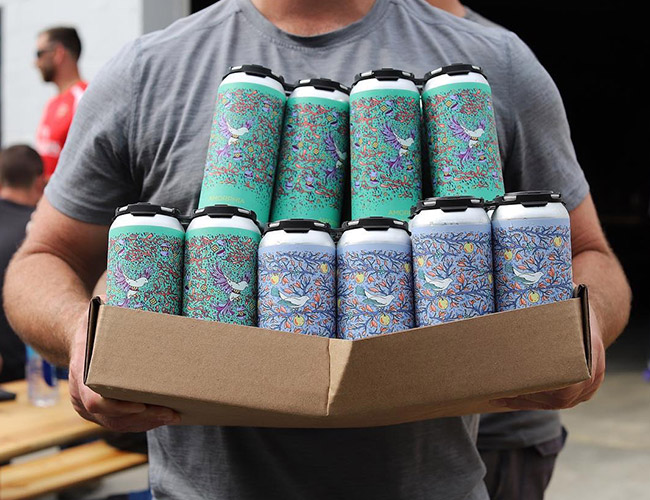 It's no secret that we're fans of Hudson Valley. I tried Amorphia, a sour IPA with milk sugar, strawberries, and vanilla beans, during Hudson Valley's tap takeover at Beer Street, and it destroyed my ability to taste for the rest of the night. Everything else was water. The skill in pulling this beer off isn't in nuance, but in taming some of the most bold flavors you can dump into a can. It's loud, in your face, and a middle finger to everyone who hates the trend of lactose, sour, and over-hopped IPAs.
Three Cranes (2017)
by Mystic Brewery
If you want a snapshot of the evolution of American craft brewing, look no further than Mystic. From a quiet corner of an industrial building in Chelsea, MA, they opened their doors in 2011 with a focus on funk and tradition. Their Saison Renaud and Table Beer are riffs on traditional farmhouse beers that pair well with any situation, any meal, any time of day.
They remained relatively insulated from the pulls of the market, until they finally said, "Screw it," and made hazy IPAs. Their taproom traffic doubled essentially overnight, and the rest is history.
Now, they're making hop bombs that rival nearby Trillium's, while still having an undercurrent of some of the best saisons and sours in the area. This year's vintage of Three Cranes was truly something to behold.
Double Berry Cherry J.R.E.A.M.
by Burley Oak Brewery
Brewers with whom I'd most want to hit Vegas? Burley Oak. Beer that could replace your morning glass of Tropicana? Double Berry Cherry J.R.E.A.M. When the J.R.E.A.M. series first hit the ether at the end of 2016 with Berry Cherry, life changed. I first sampled the beer at the 2017 Extreme Beer Fest, and I remember pandemonium. Who are these guys? I thought. Where is Berlin, MD. How do I get there? Burley Oak has since brewed almost three dozen iterations of J.R.E.A.M., and I wholeheartedly endorse going to whatever lengths necessary to snag a can. It's basically juice.
Nordic Saison (2017)
by Hill Farmstead Brewery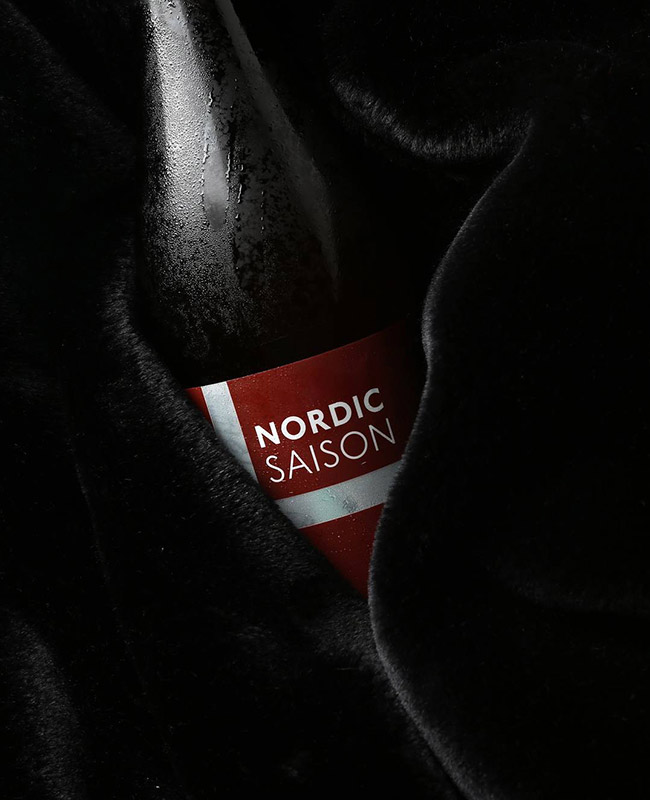 Around 2014, Danish brewer Anders Kissmeyer visited some of America's best brewers to brew up a Nordic saison, which riffs on the farmhouse beer with ingredients like honey, heather flowers, yarrow, rose hips, rhubarb, and sea buckthorn. The 2014 Hill Farmstead release, which was a collab with Kissmeyer and Will Meyers of Cambridge Brewing, left such an impression on Hill Farmstead that they've released their own version each year since. It's nuanced and rustic and a nice break from some of the other beers on this list.
STARGATE²
by Black Project Spontaneous & Wild Ales
We wrote a lot on this beer when it was released, so I'll only paraphrase. Stargate was originally released over-carbonated (bottles were bursting and leaving beer stalactites on the ceiling). Black Project took a tip from Belgium's Gueuzerie Tilquin and poured every single bottle back into the barrels, releasing it at the proper carbonation. Call it a testament to the determination of American brewers. Or, call it delicious. Your choice.
Strawberry Rhubarb Sour
by Scratch Brewing Company
Marika Josephson wrote the book on using foraging techniques, and plenty of botanicals, to make beer that bends the very definition of what beer is (and doesn't rely on hops to create incredible flavors). Her Spring Tonic, which popped up around New York City bottle shops this year, is more cocktail than beer, and the Strawberry Rhubarb Sour forgoes hops — inline with a traditional gruit — for primary fermentation on wild house culture and then re-fermentation on strawberries and rhubarb from nearby farms.
Who'd Like To Hold My Clipboard w/ Peach
by Hoof Hearted Brewing
Hoof Hearted is a fart joke. Its beers are often based on dick jokes. Its brewers show up late to craft beer festivals, and when they do it's in '80s wrap around sunglasses, mullets, and neon colors. However, despite appearances, they make some of the most flavorful, most out there beer in the great state of Ohio. Who'd Like to Hold My Clipboard with Peach smells (and tastes) exactly like biting into a wet peach, with all the hoppiness you'd expect from a Hoof beer.
God, I love these guys.
100 Ft North Vintage
by Suarez Family Brewery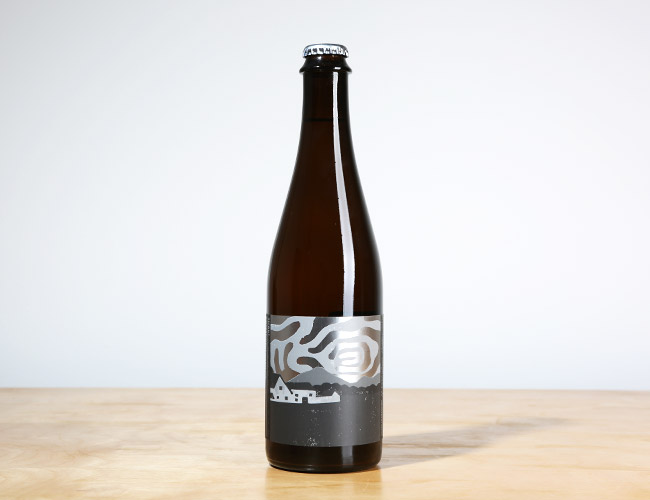 Dan Saurez has quite the resume. His culinary obsession began at Murray's Cheese in Greenwich Village before he left to study under Shaun Hill, the legendary founder of Hill Farmstead. Then he opened Saurez Family Brewery with his wife (and baby) and started making only the beers he wanted to drink. It's the trajectory of someone so well respected that they become free from any kind of market pressure. This comes through in his beers, which are all low ABV and created to be drank, not fussed over. (You won't see a can release line at Suarez.) Plenty has been written about Saurez, but 100 Ft North Vintage made the list for employing the same techniques of whiskey distillers — blending the best barrels of a batch together to create something truly special.