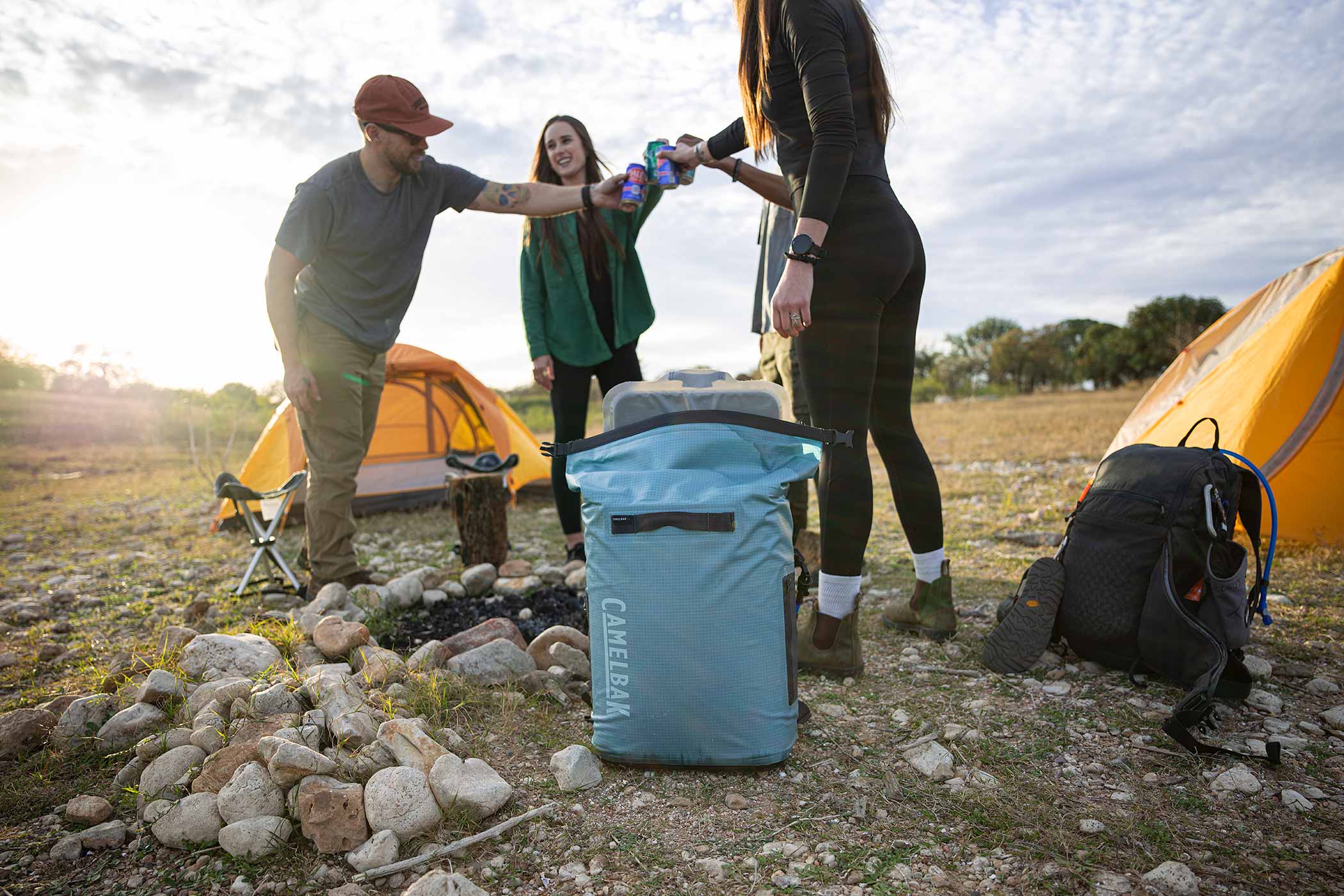 Photography courtesy of CamelBak
We're bringing this piece back! We thought last year that we'd pretty much covered all the best beer coolers for the last few years, but this year proved us wrong.
Not only are we seeing well-known brands like YETI, Pelican, and Coleman continue to innovate with new products, but we're also finding breweries design their versions of ways to keep your precious liquids pristine and cool.
Because if you're going to treat your coveted beer well at home with high-quality beer fridges, why wouldn't you do the same when you take your beer on the road?
From the simple and durable to the small and easy-to-carry to the tricked-out, loaded-up, bells-and-whistles best, we've selected the best coolers for your cold ones in 2023.
Hop Culture's Best Beers Coolers of 2023
CamelBak ChillBak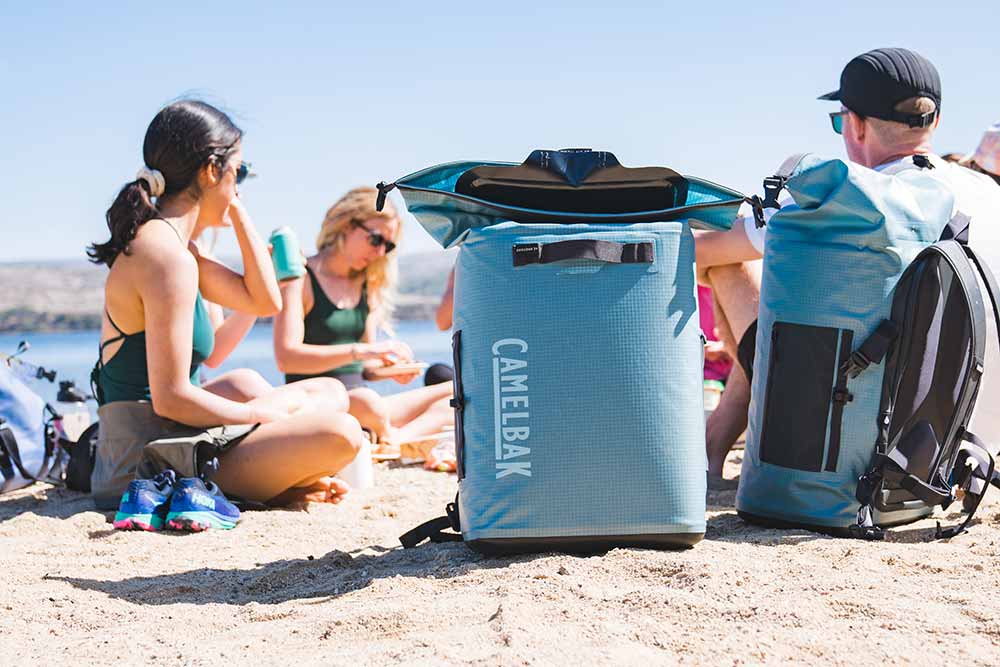 When CamelBak released its own beer-focused cooler backpack last year, the idea was simple: Provide craft beer drinkers with a comfortable, durable way to take their favorite beers into the wild, whether that's the forests of Oregon or the urban jungles of New York.
But CamelBak has put an entirely fresh spin on the beer coolers category. One that completely suits their style and brand.
"We felt we had something to add to the cooler space, world, and story," Tony Vontz, director of product management, soft goods at CamelBak told us. "When you go to the beach or any activity, most people bring a ton of water. What if we could remove the water and have space for the fun stuff like beer?"
So CamelBak set out to create this all-in-one adventure tool. This backpack cooler includes space for up to twenty-four cans of your favorite beverage (plus fifteen pounds of ice) that will stay cold for up to seventy-two hours…
…but also a separate reservoir for up to six liters of water.
"It's that après experience that got the ChillBak going," says Vontz, who recently took a trip to Bend, OR, with his family to put the ChillBak into action. "I saw that in real life, people were out riding in the Deschutes National Forest all day but then ended up down by the river drinking beers; that's where the ChillBak will live."
With the ChillBak, CamelBak has seamlessly integrated its trademark technology into a pack proven to be dependable for all your adventures.
We might even go so far as to call this our top pick for one of the best beer coolers in 2023.
Dimensions (WxDxH): 19.49" x 15.75" x 11.02"
Weight: 4 lbs 9oz
Capacity: 24 cans
YETI V Series® Stainless Steel Cooler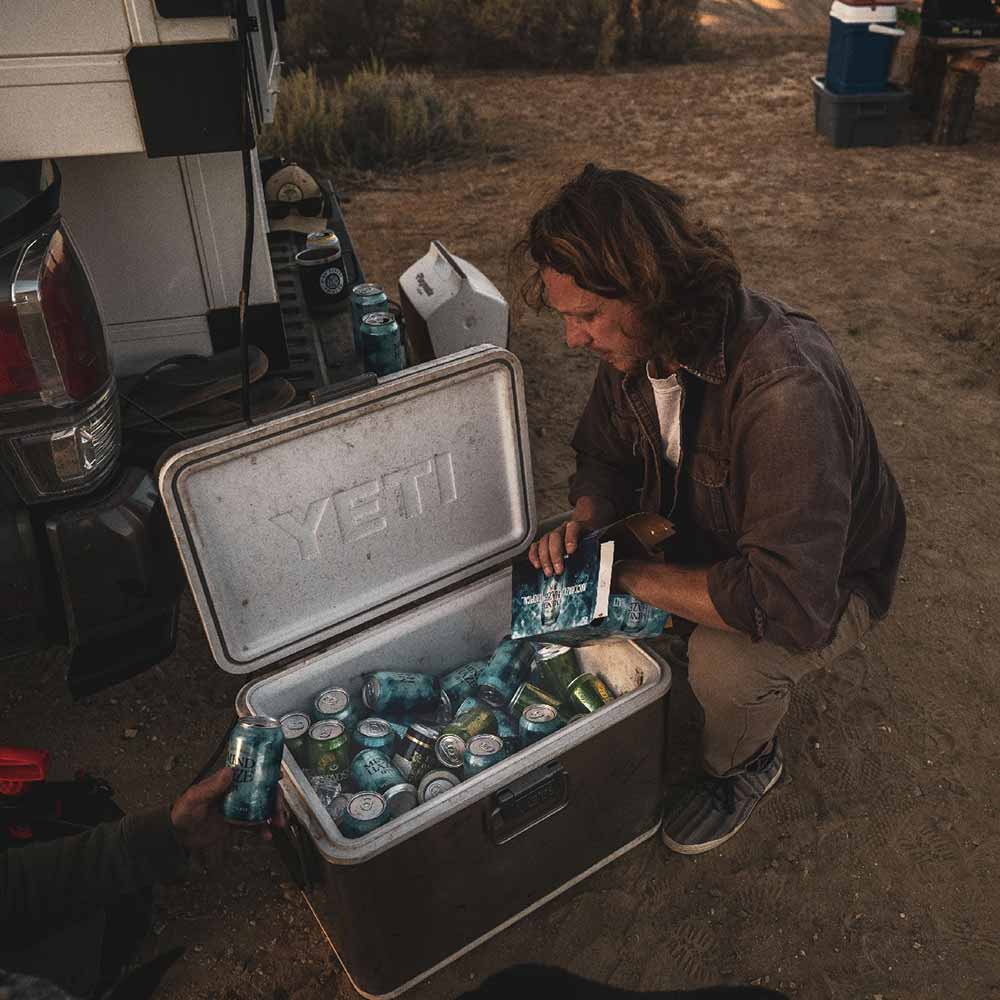 If it's good enough for the pros, it's beyond good enough for us.
We noticed this cooler featured often on Firestone Walker's Instagram, so we thought we'd check it out.
Combining two of YETI's best qualities—keeping liquids cold and pretty kickass designs—the YETI V Series® Stainless Steel Cooler reminds us a bit of a throwback. But don't get it twisted; this isn't a throwback in functionality, simply in the design.
Vacuum-insulated panels on the lid, all four sides, and bottom provide temperature protection for all of your beer from all sides, literally.
Durable, leakproof, reliable, and built to last, the YETI V Series® is probably the only beer cooler you need to purchase in your lifetime.
Plus, it's just retro-cool. In YETI's words, this cooler "takes our legendary insulation to the next level in a look that's a classic nod to the past, but built with downright futuristic technology."
Dimensions (WxDxH): 24.8" x 16.7" x 17.4"
Weight: 34.4 lbs
Capacity: 96 cans without ice or 50 cans with ice or 64 lbs of just ice
Pelican™ Dayventure Sling Cooler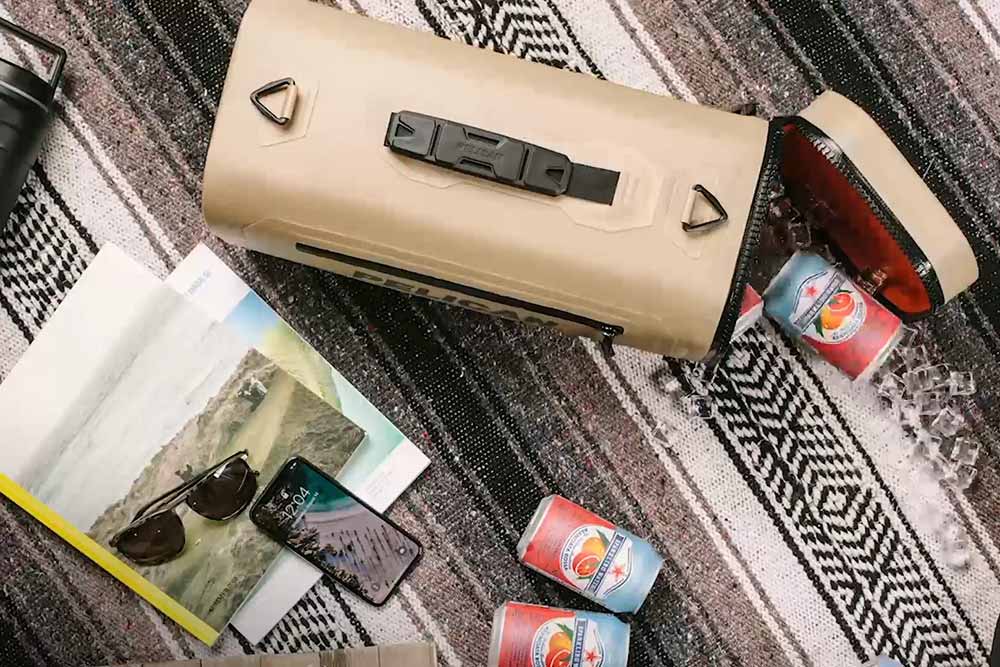 Now that we're all mostly comfortably situated in our 30s here at Hop Culture, we have firmly ensconced ourselves in the practice of day drinking. An afternoon where we can have a couple of beers and be back home in time for dinner and a movie later at night is the ideal way we like to drink.
So, while a YETI cooler might be a little big for our needs, this Pelican™ Dayventure Sling Cooler is perfect.
Water-resistant and durable, the cooler slides comfortably over our shoulder while housing up to twelve cans or four wine bottles (a total of 8.5 liters).
High-density closed cell foam adds that extra insulation to keep these drinks cold all day long, whether we're day drinking at the beach, in the park, or even just in our backyard.
Dimensions (LxWxD): 18.3" x 7.5" x 7.5"
Weight: 7.9 lbs
Capacity: 12 cans + ice or 4 wine bottles
RTIC 45QT Hard Cooler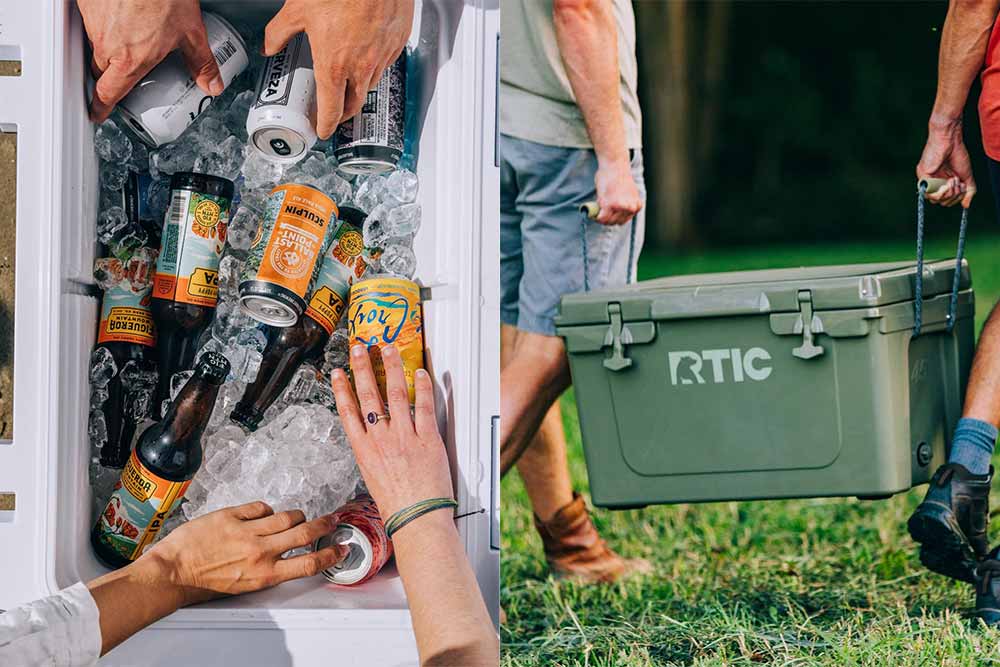 RTIC coolers look pretty similar to YETI, which has gotten them in some hot (or cold?) water in the past. But they make similar hard coolers that, while not necessarily cheap, often net out more affordable than some of the other options on this list.
The RTIC 45QT Hard Cooler touts three inches of closed-cell foam insulation to keep beer (or other drinks) cold no matter where you go.
Capable of holding up to fifty-eight cans or thirty-five pounds of ice, the RTIC 45 QT Hard Cooler also has some extra fun features that you might not find on other coolers.
For example, two drainage holes instead of one for faster draining and a bottle opener on the side.
Thinking back to our twelve-festivals-a-year days, we always needed a bottle opener and somehow always forgot to bring one. If you're like us, it won't matter with this version of RTIC's heavy-duty cooler.
Also, if you find the 45QT too big for your needs, RTIC also makes a 20QT version.
Dimensions (WxDxH): 26" x 10.5" x 15.5"
Weight: 26.6 lbs
Capacity: 58 cans. 45qt (11.25 gals) of water. 35 lbs of ice.
Canyon Coolers Nomad 20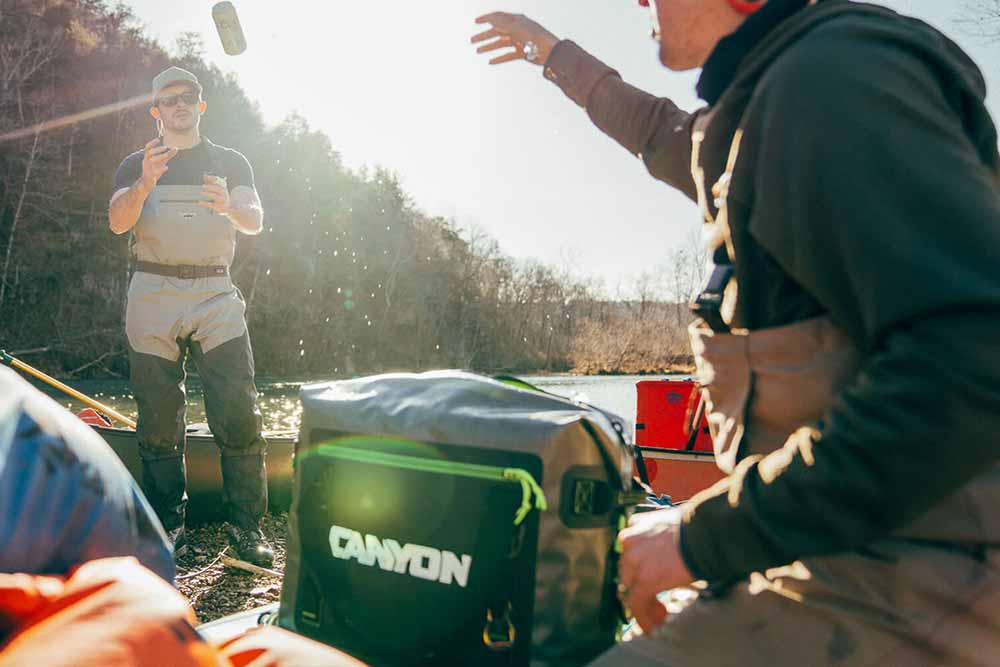 Canyon Coolers calls its Nomad 20 "built to roam just like you are."
One of the lightest (in weight) coolers on this list, the Nomad 20 clocks in at a featherlight 4.5 lbs. But just because this cooler weighs little doesn't mean it can't handle the pressure.
Holding ice for somewhere between two to four days, the Nomad 20 is perfect for longer outdoor adventures like camping, hiking or fishing trips, or long car rides.
Plus, and this is a key feature, Canyon Coolers come with a lifetime warranty, guaranteeing that if something breaks, Canyon Coolers will replace your container—no matter what life throws at it.
Dimensions (WxDxH): 18" x 10.5" x 15.5"
Weight: 4.5 lbs
Capacity: 18 cans
Firestone Walker Heritage Cooler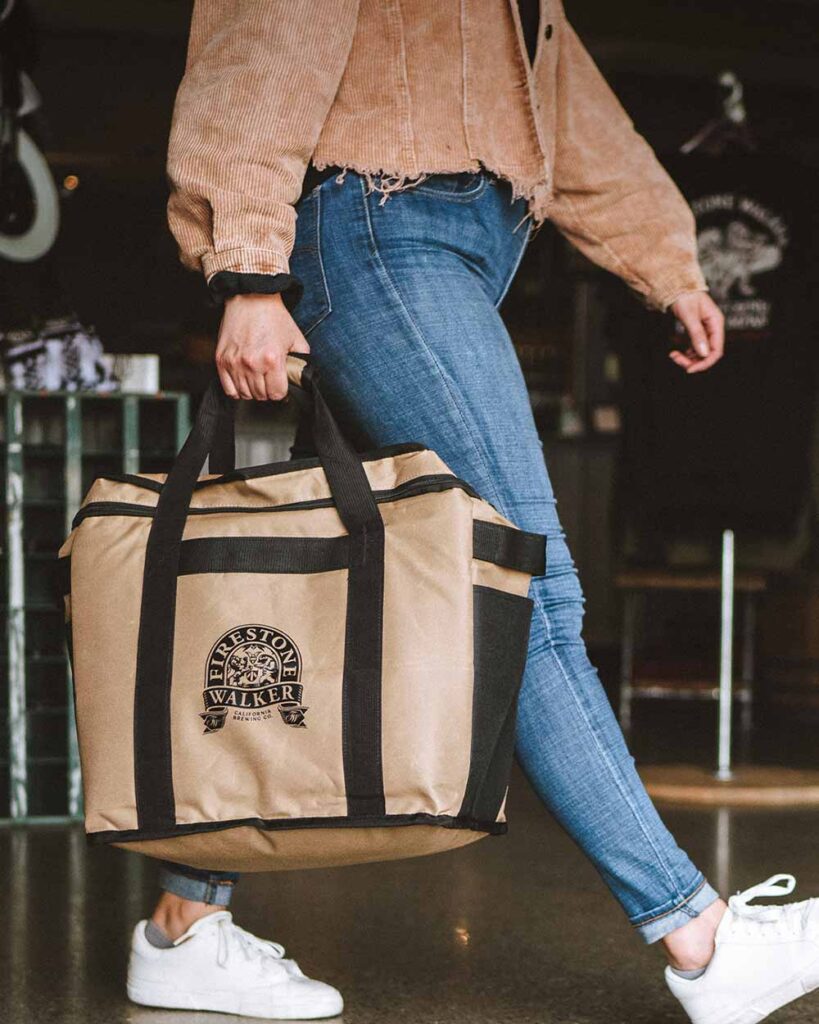 Early this year, Firestone Walker was kind enough to send us one of their Heritage Coolers. We've already used the roomy, water-repellent, insulated soft container to take Firestone Walker's Tropical Hazy Mixed Pack to picnics by the lake and barbecues in our friends' backyards.
Does this have all the bells and whistles of some of the coolers above? No! Will it get the job done without any frills? Yes! And at a fraction of the cost.
Dimensions (WxDxH): 15" x 12" x 15"
Weight: NA
Capacity: NA
Dogfish Head x Igloo Playmate Cooler Elite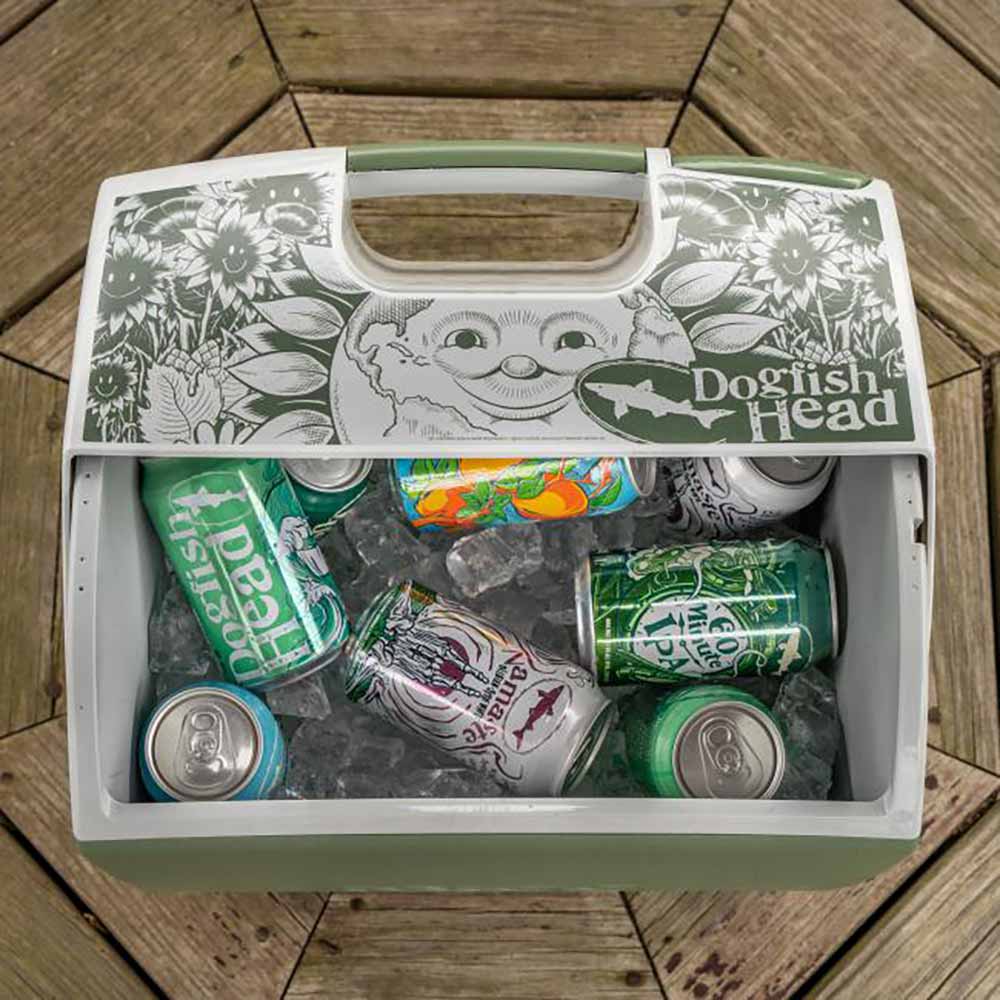 Look, there is nothing wrong with giving into nostalgia and buying this Igloo Playmate and Dogfish Head collab.
With its iconic swivel lid, this Igloo Playmate can sneakily fit thirty cans (although less if you want ice in there, too).
One of the most affordable options on this list, we also enjoy Dogfish's subtle yet impactful "Mother Nature Let's Do This!" design. Made from post-consumer recycled materials, including recycled resin that saves discarded plastic yogurt cups and milk jugs from landfills, Dogfish's eco-friendly cooler also makes a tangible impact on the environment.
Dimensions (WxDxH): 15.88" x 1019" x 14.88"
Weight: NA
Capacity: 30 cans
Brooklyn Brewery Patio Cooler Cart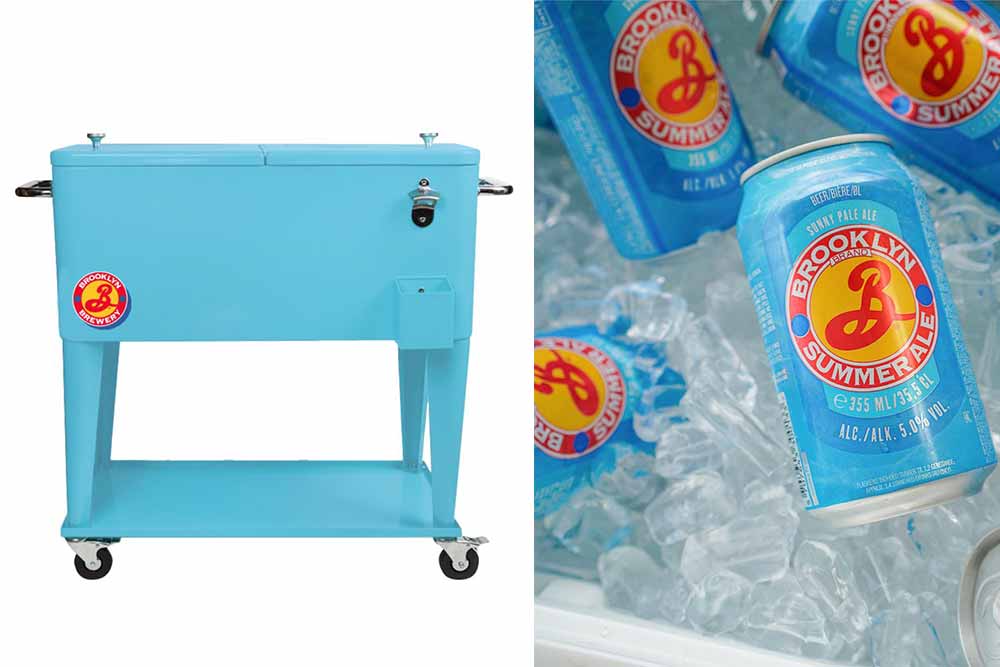 There always has to be a statement piece… This is it.
This isn't the cooler you take to the beach or camping. This is the patio cart you're parking on your deck or backyard. Giving off so many retro '70s vibes, Brooklyn Brewery's Patio Cooler Cart looks great and performs well, holding up to fifty bottles or cans in an insulated refrigerator space.
Quirky touches like a bottle cap opener and cap collector ensure you won't find zillions of popped tops all over your patio.
We included this cooler because we think it's cool, and we always want to up our backyard barware game.
Dimensions (WxDxH): 32" x 15" x 35"
Weight: NA
Capacity: 50+ bottles or cans
Tree House x Coleman Cooler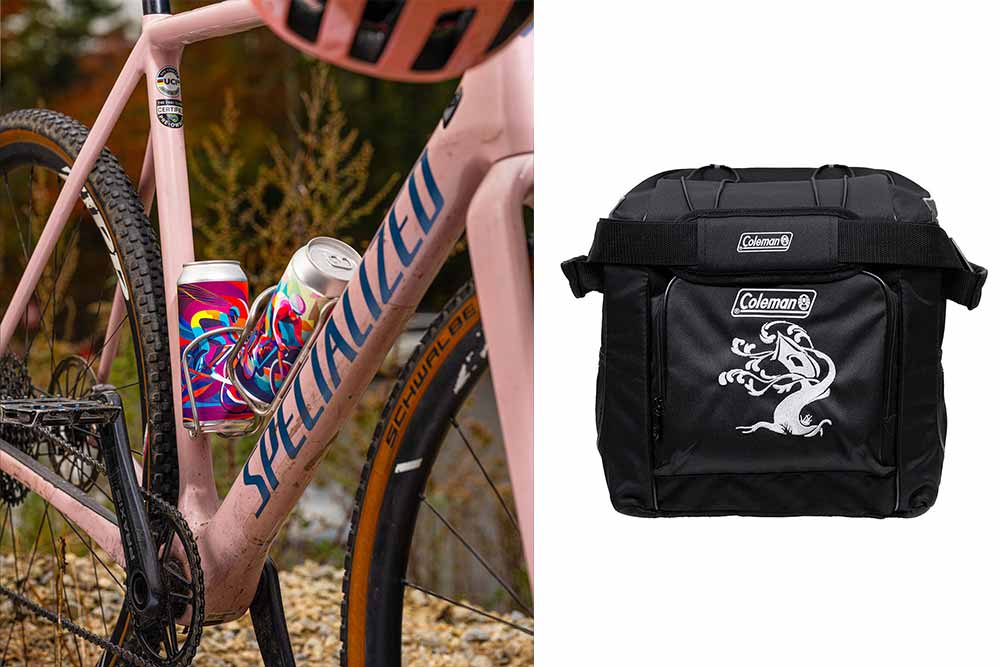 Known for making reliable, heavy-duty, large coolers, Coleman teamed up with the legendary Tree House to make more of an on-the-go plush beer-storing container. Consider this one great for picnics or more of those daytime treks.
Holding thirty 12oz cans or sixteen 16oz cans plus ice, this Tree House x Coleman cooler has plenty of room for your King Juliuses, Alter Egos, and Greens.
An extra zippered pocket in the front means you can also carry some essentials on the side.
Dimensions (WxDxH): 13" x 13" x 11"
Weight: NA
Capacity: 30 12oz or 16 16oz cans
Allagash Picnic Cooler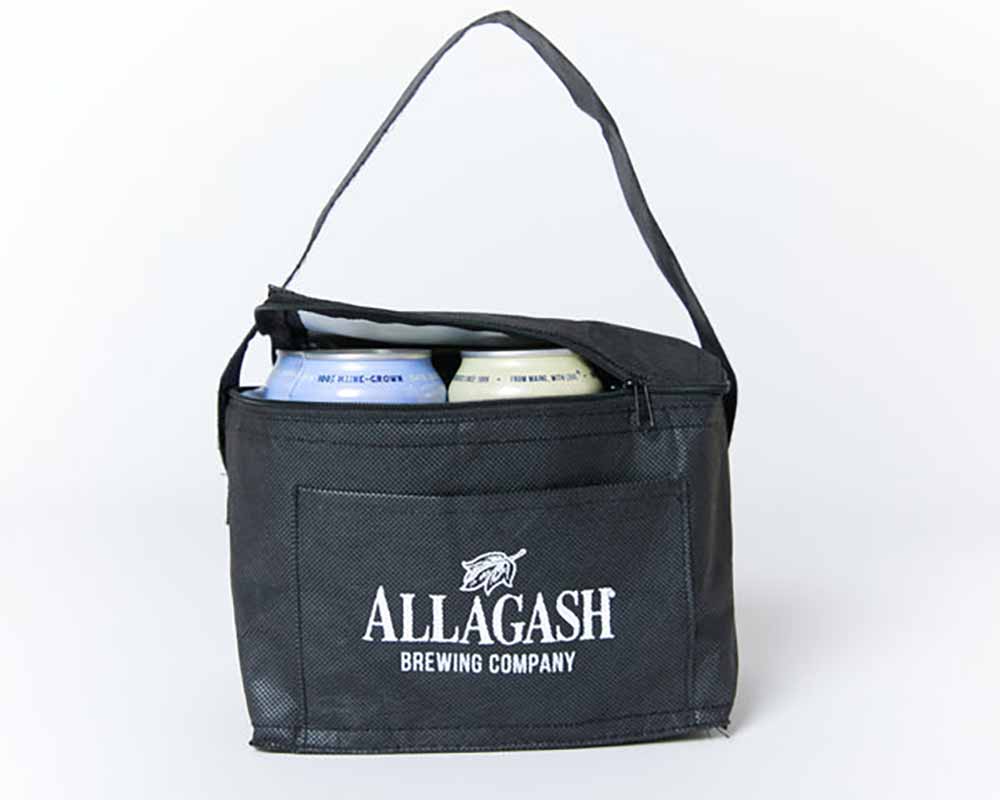 The smallest cooler on this list, this Allagash Picnic Cooler should just be like your good 'n steady. Big enough for a six-pack, Allagash calls this one "great for a picnic on the beach, in a park, your backyard, or your best friend's living room floor."
No frills, no spills, just chills!
Dimensions (WxDxH): 8" x 6" x 6"
Weight: NA
Capacity: 6 cans