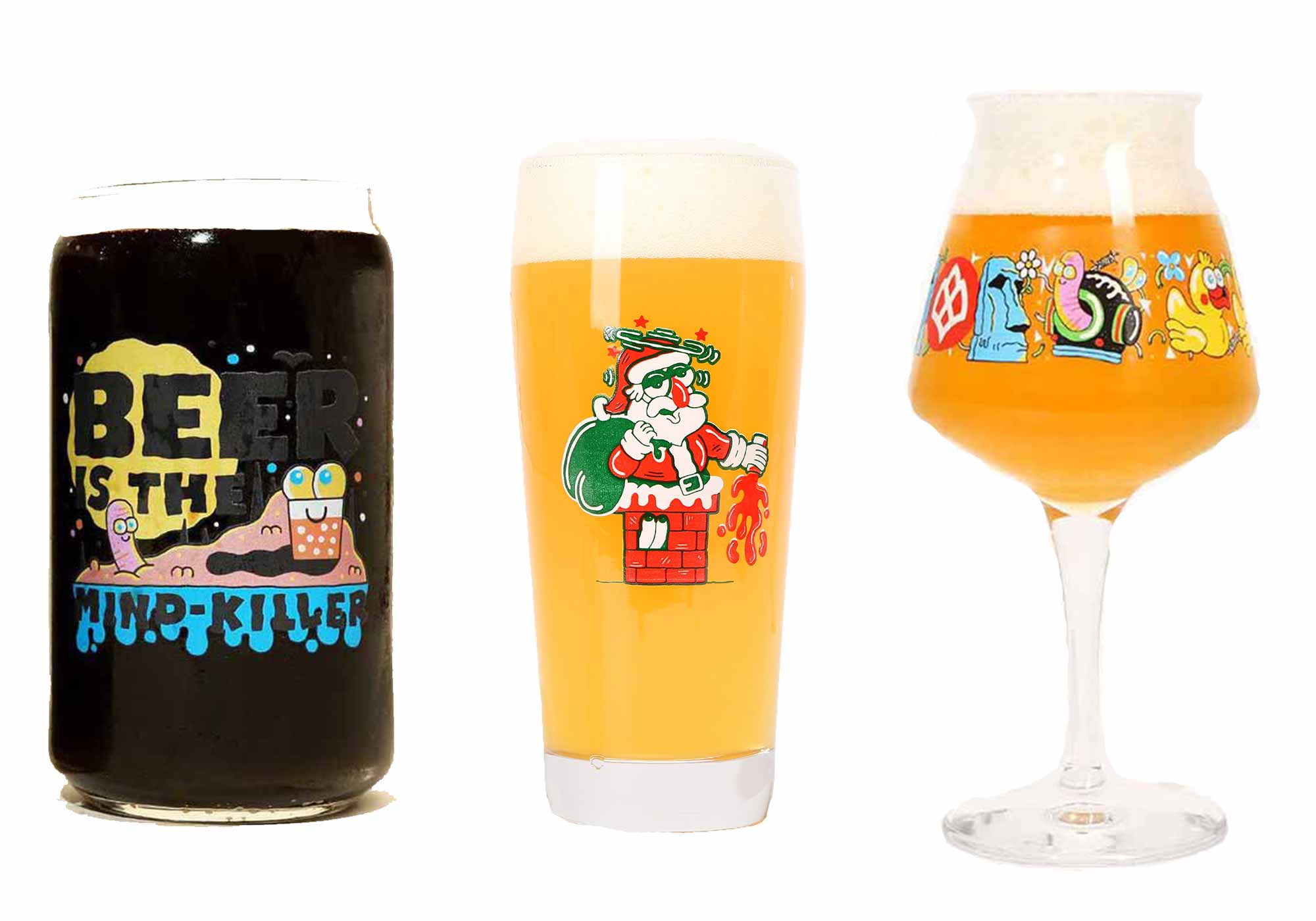 Glasses are some of the most collectible items in a craft beer fan's repertoire. Hop Culture Managing Editor Grace Weitz used to have a cabinet full of upwards of one hundred glasses! Some from different breweries she'd visited. Others from Hop Culture festivals or collabs. The best beer glasses capture a memory, a unique illustration, or a pop culture moment.
In some cases coveted teku releases and branded tumblers have become as special as the beers they're meant to hold.
Today beer glasses run the gamut with creative collabs, handmade designs, and custom artwork. Meaning glassware has become as much a part of a brewery's identity as the beer. With that in mind we rounded up the seventeen best beer glasses to buy right now. Whether it's for the beer lover in your life this holiday season or just to add to your own collection, we won't tell.
Hop Culture's Picks for the 17 Best Beer Glasses Buy Right Now
Hand Blown Custom Glass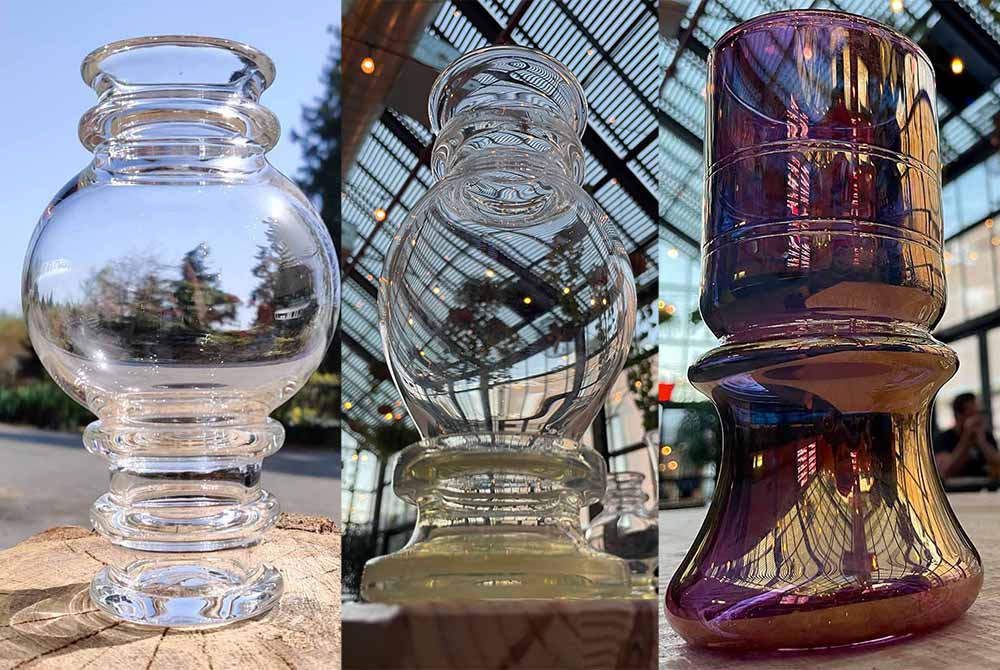 Thicc Bois – Are your minds blown by these absolutely bonkers glasses? A collective of incredible glassblowing artists, Thicc Bois Glass brings you glassware as unique as it gets. All of their pieces are handblown by artists such as Wizard Glass, Bronx Glass, Professor X, Rad Glass, and more. These beautiful vessels will not only suit all of your heady craft beer needs, but also turn all those heads. Quite simply you won't find anything else like these out there.
Rastal Harmony Tumbler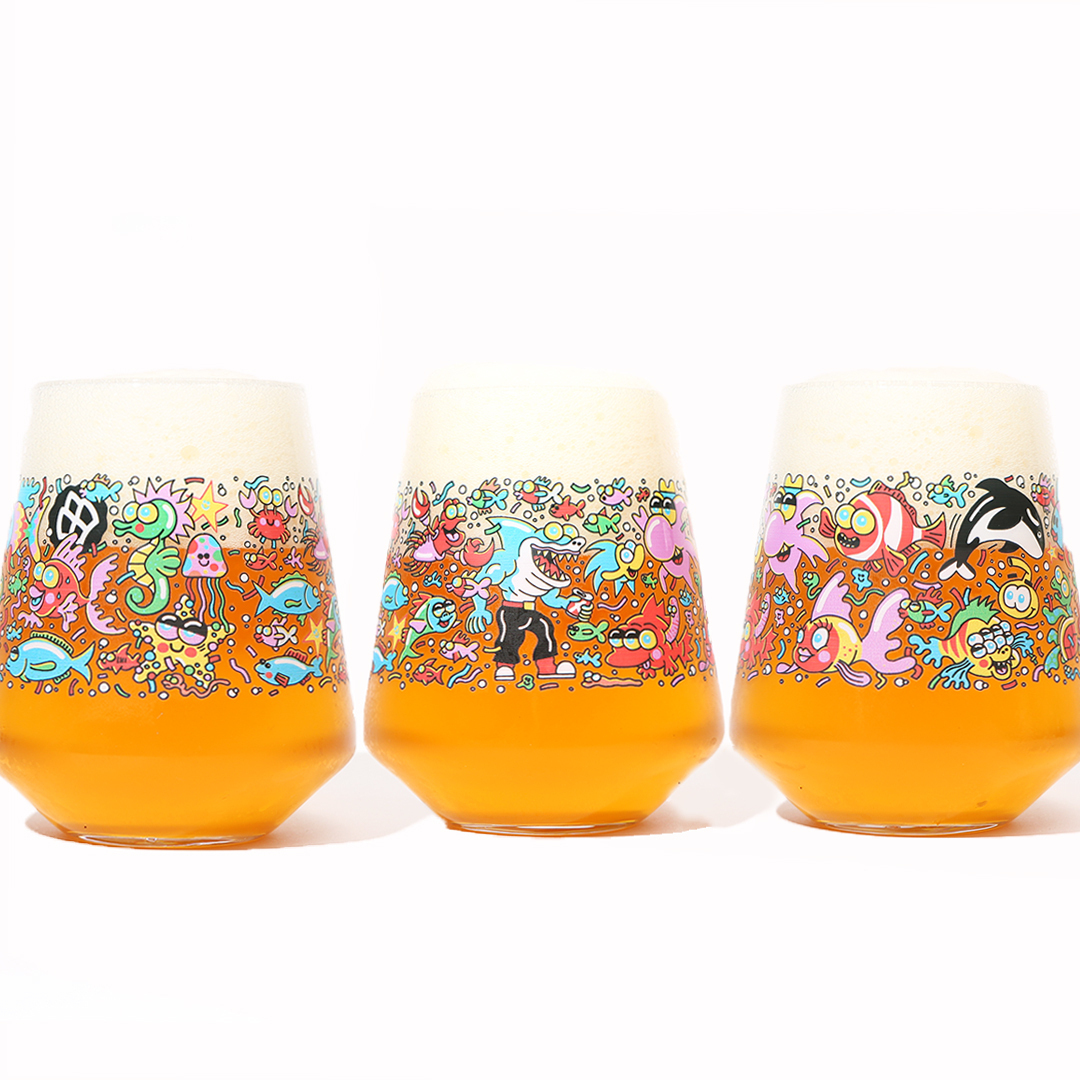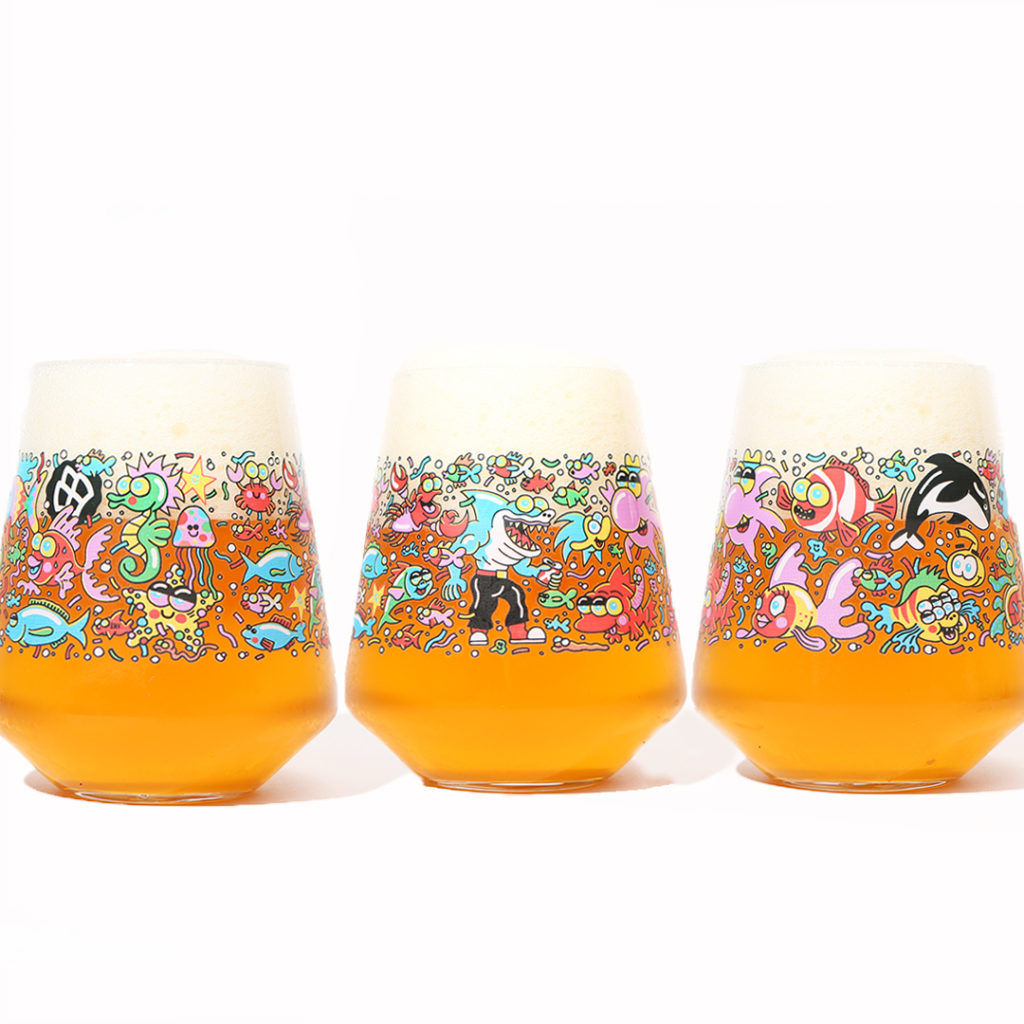 Hop Culture Weird Fishes Tumbler – The Rastal Harmony Tumbler is technically a wine glass, but we love it for bright, vibrant sours and farmhouse ales. The curved walls and slightly smaller mouth result in concentrated aromatics. So you can savor the fruit acidity of a kettle sour or the oak characteristics of a barrel-aged stout. Choose from one of the more stylish designs below.
You can order our new Weird Fishes Tumbler or choose from one of the other stylish designs below:
Buy Hop Culture's Weird Fishes Tumbler: $18 Buy Hop Culture's Collective Arts Queer Beer Tumbler: $12
Buy Outer Range's Mural Glass Tumbler: $10
Buy Bearded Iris' Rollout Tumbler: $9
Buy The Drowned Lands Hand and Tree Tumbler: $10
Buy Untappd's Pseudodudo Holiday Tumbler: $17.99
Rastal Teku Beer Glass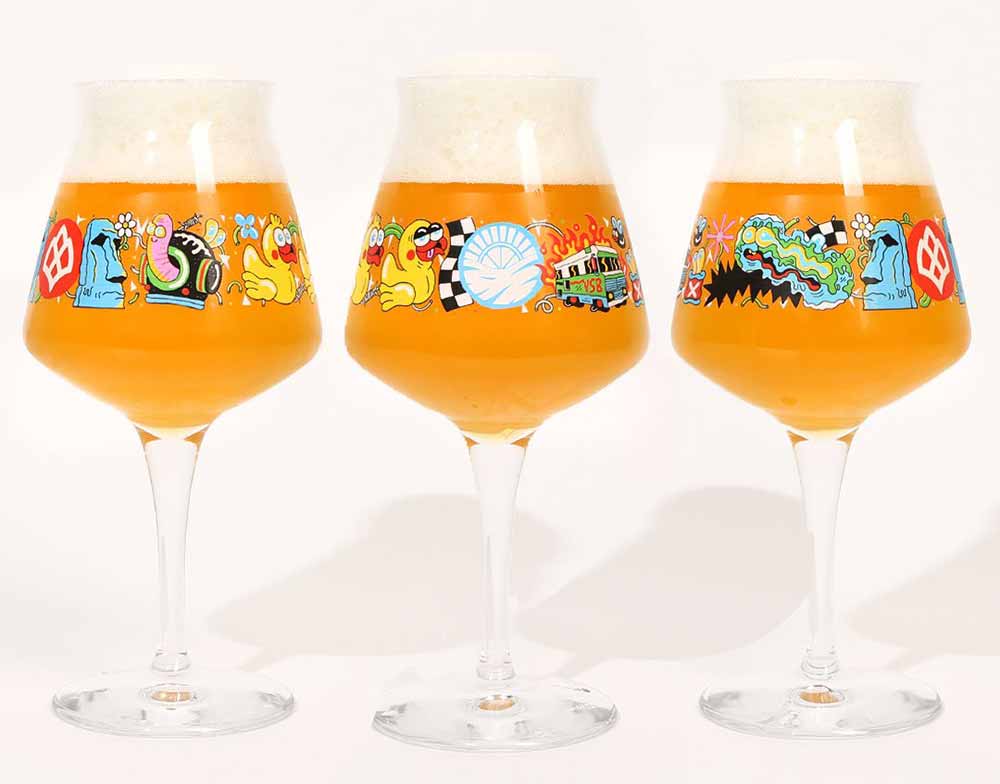 Vitamin Sea x Hop Culture Teku – The tried and true teku should be on every beer drinker's shelf. True, this glass isn't as buzzy as it used to be a few years ago. But, it's still an elegant, functional beer glass that could be used for your favorite hazy IPAs, fruited sours, rustic farmhouse ales, or really anything with a pronounced aroma. The shapely sides of the teku help accentuate the fragrant smells of any beverage. Plus, the Rastal teku doubles as a very capable wine glass.
Almost every brewery worth their salt has produced one of these at some point. We've certainly run the gamut of this glass style including this collaboration with our top brewery of 2019, Vitamin Sea.
Find a few more of our favorites from other breweries below:
Buy Hop Culture's Vitamin Sea Teku: $25
Buy Bearded Iris' Fade to Stack Teku: $10
Buy Fremont's Black Heron Project Teku: $10
Buy Untappd's Pints and Panels Teku: $19.99
Willi Becher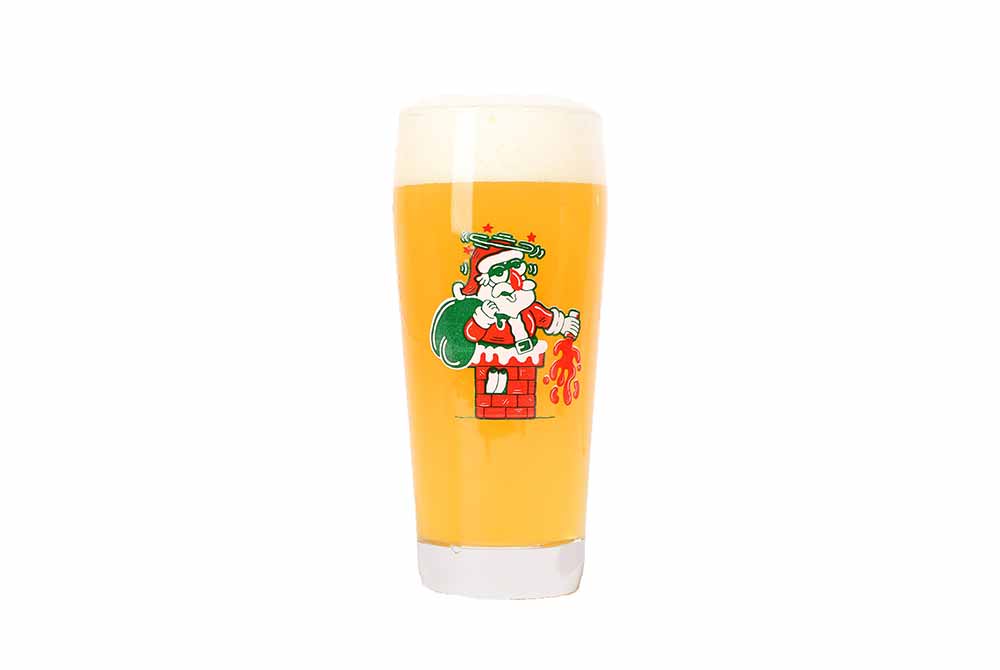 Hop Culture Santa Willi Becher – If Tekus were the kings of the beer glass world five years ago then the Willi Becher is now the queen. Originally designed by Willy Steinmeier, who worked for German glass company Ruhr Glas in 1954, the Willi Becher gets its name from its roots. Becher literally translates to cup in German.
This style of glassware has popped up at more and more breweries across the country including Equilibrium, Hudson Valley, and more. Probably because the versatility of the glass makes it perfect for a variety of beer styles. The glass flares out two thirds of the way up before curving back toward the top, promoting excellent head and aroma. Use a Willi Becher for kölschs, pilsners, Italian pilsners, helles, and pretty much any lager. But an IPA wouldn't be off limits in this glass either.
We've thrown our hat in the ring with various versions over the past couple of years. At the moment the only one we have left in the Hop Culture store is our Santa Willi Becher. Perfect for the holidays this glass depicts everyone's favorite jolly gift-giving trying to fit down a chimney. Bit gut, small chimney right?
We also enjoy the Willi Becher designs from these breweries:
Buy Hop Culture's Santa Willi Becher: $9
Buy Equilibrium's Gold Halo Willi Becher: $10
Buy Hudson Valley's Pillow Hat Willi Becher: $12
Libbey Wine Taster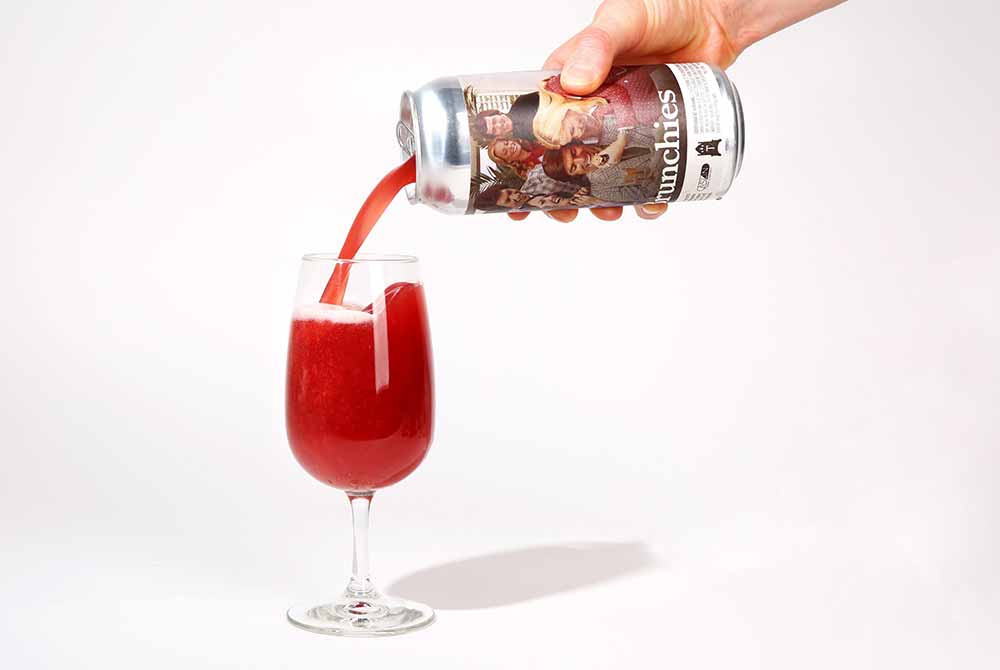 Libbey Wine Taster – A few years ago we made the claim that the Libbey 10.5 ounce wine taster was the only beer glass you needed.
Bold.
But we stand by it. The understated, humble, and frankly small glass is ideal for cramped cabinets. And, while it doesn't offer the same wide-mouth, aroma-enhancing features of a teku, it is appropriate for just about any beer or wine. It was made to be used as a tasting vessel for restaurants. We've used this glass for a couple different designs and they've all sold out. Right now this type of glass can be a bit more difficult to seek out.
We don't currently have any in our store, but we did spy a couple versions out in the wild from renowned farmhouse brewery Jester King along with Threes Brewing.
Buy Jester King's Natural Union Taster: $7
Buy Threes' Morse Code Taster: $12
Bormiollo Bodega Beer Glass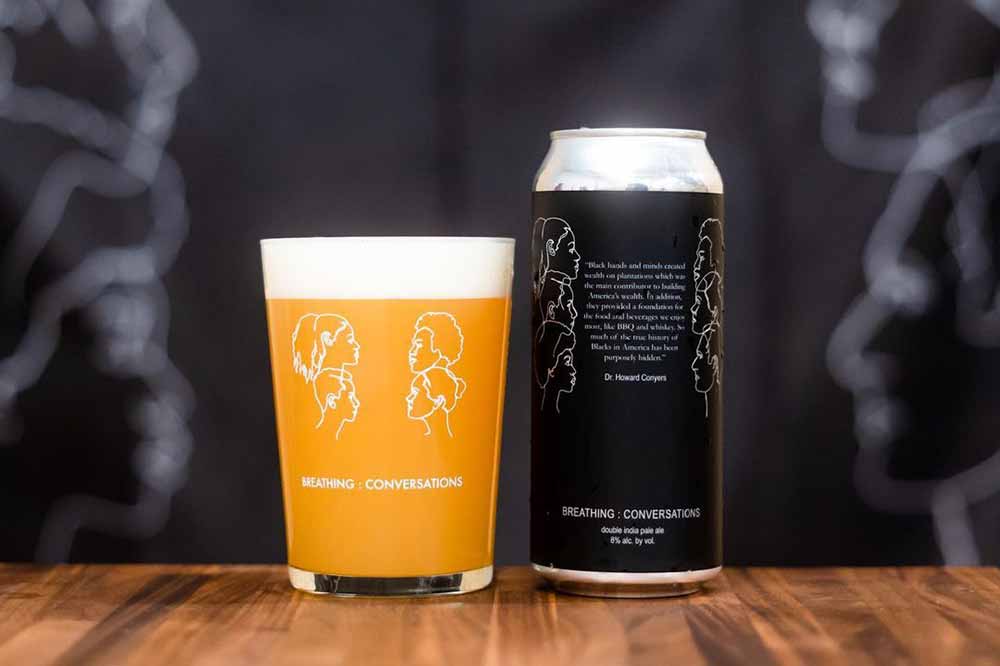 Finback Breathing Conversations – The Bormiollo Bodega glass is like the chameleon of beer glasses because it's a versatile, storable, cleanable beer/wine/cold brew/whatever glass that still offers a touch more class than the boring old shaker pint. This humble bodega glass does it all.
Many of the most reputable beer brands have adopted them. Such as Finback, who choose this glass to brand its incredibly important Breathing Conversations, an initiative aimed at creating dialogue around racial and social equality. The campaign invited those that participated to join the call for change. The first step? Having an internal candid conversation with your own team. After making the 8% DIPA breweries were encouraged to add those notes, thoughts, and words from their discussions directly onto the beer label. We love the lasting image of four folks talking to each other on this glass.
Other places where we've spotted these beauties include:
Buy Finback's Breathing Conversations: $11
Buy The Plain Bodega Glass: $17
Buy Collective Arts' Artist Series: Jon Janzen: $12.95
16oz Beer Can Glass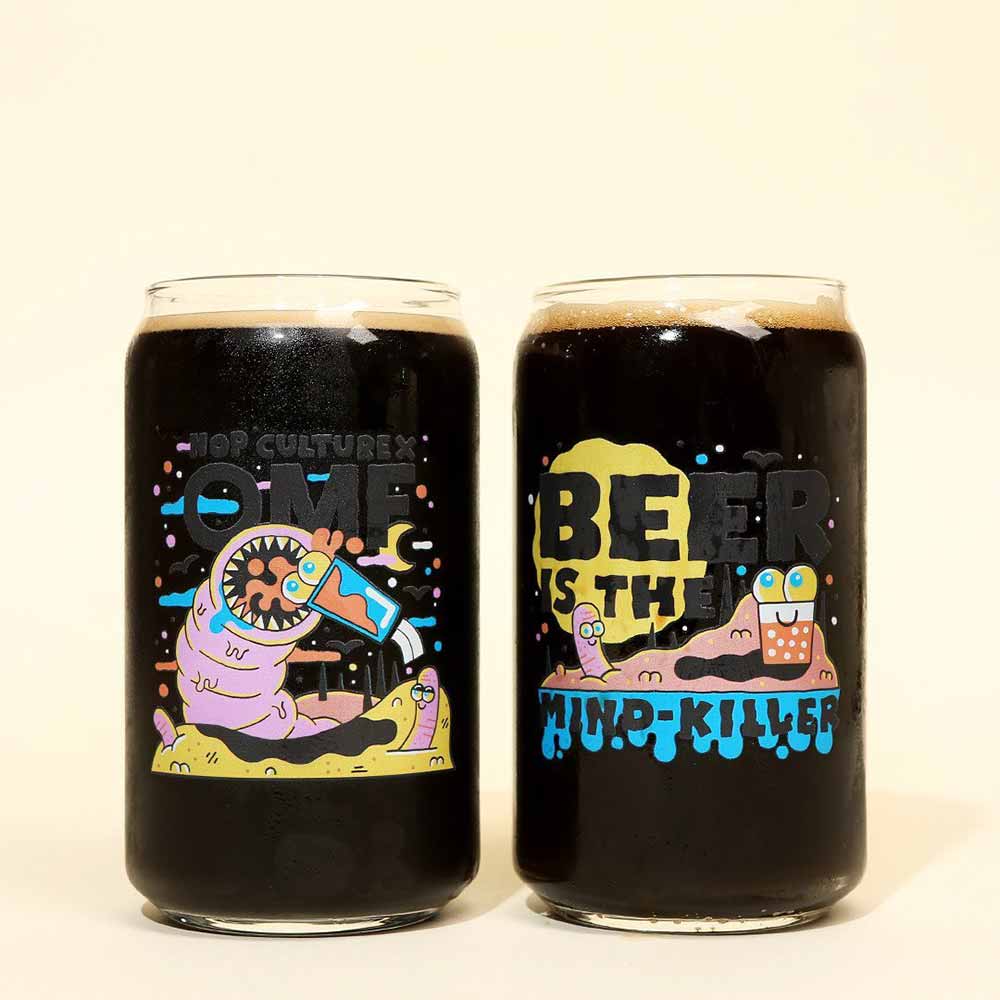 Our Mutual Friend x Hop Culture Gift of Arrakis – The beer can glass is just fun because there is so much surface area to slap on creative or pop culture-inspired designs. Take for example our new Gift of Arrakis collab glass with Our Mutual Friend. We played off our team's love of science fiction novels with a deep cut into Dune by Frank Herbert. Lovers of fantasy will immediately want to add this glass to their collection. While our Gift of Arrakis collab was a one off during the Craft Brewers Conference this year you can find plenty of rad versions of this glass from some of our favorite breweries across the country including:
Buy Hoof Hearted's Party Wolf Can Glass: $15
Buy Long Live Beerworks Black Cat Can Glass: $8
Buy Jackie O's Who Cooks For You Can Glass: $8
Buy Keever Can Glass: $20+
Buy Equillibrium's Beakerscope Can Glass: $8
Buy Bearded Iris x Granola Can Glass: $13
Buy Hop Culture's Beers With(out) Beards Can Glass: $12
20-22oz Tall Boy Glass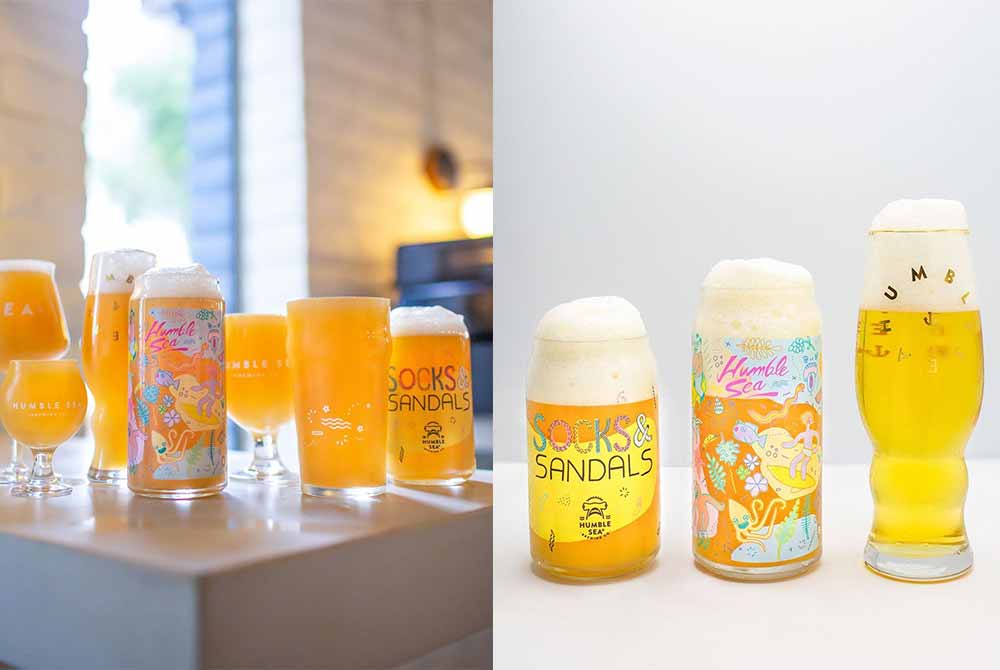 Humble Sea Humble Village Tall Boy Glass – Like the above Beer Can Glass just bigger! The tall boy version of this vessel give even more space to talented artists and designers.
Driven by talented Co-Founder Frank Scott Krueger, who is also the Creative Director at branding agency Good Knife, Humble Sea's line of labels and merch takes inspiration from the beach and pop culture. Think beer names like Not Your Dad's Pale Ale, Chiller Whale, and Gnarcholas Cage, which earned a place on our top craft beer labels of 2020.
The Humble Village tall boy glass takes many of these quirky Humble Sea characters and sticks them all on one glass. It's just the ultimate tribute to the brewery. If you're a true kook (literally what Humble Sea calls its fans) you need this glass for your collection.
You're more likely to find a 16oz Can Glass than it's taller cousin, but here are a few we found:
Buy Humble Sea's Tall Boy Glass: $14
Buy The Score Glassware's Kobe Hops Tall Glass: $18
Pilsner Glass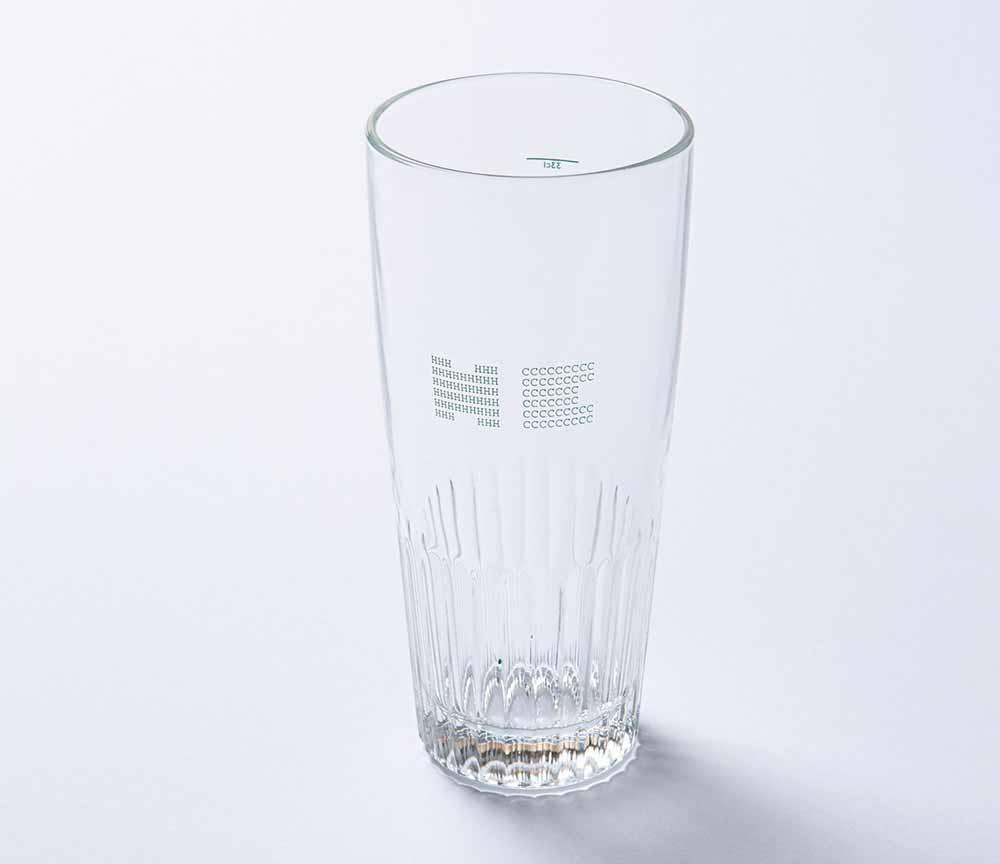 Halfway Crooks Pilsner Glass – As we've said many times we believe this is the year of the lager. And one of our favorites is the humble pilsner. We'd gladly drink through thirty pilsners to find the best of the best (oh wait, we already did).
To unlock the best of this beer style a pilsner glass tends to be slimmer and taller, helping to retain a pilsner's crucial frothy head along with those volatile aromatics. Let the clarity and cleanliness of your pilsner shine through.
Halfway Crooks makes some of our favorite merch on the market, so it's no surprise they're giving their pilsner glass a bit of a twist. Here the cylindrical shape holds 33cl of your favorite pilsner plus ridges on the bottom offer a sturdy grip. This is an exquisite piece of glassware.
For more traditional versions of a pilsner glass check out the following:
Buy Halfway Crook's Pilsner Glass: $6
Buy Aslin Bird Leaf Pils Glass: $10
Buy Bissel Brothers Pilsner Glass: $9
Buy Bierstadt Lagerhaus' Slow Pour Pils Glass: $10
Buy Crowns & Hops' 8 Trill Pils Glass: $20
Kölsch Glass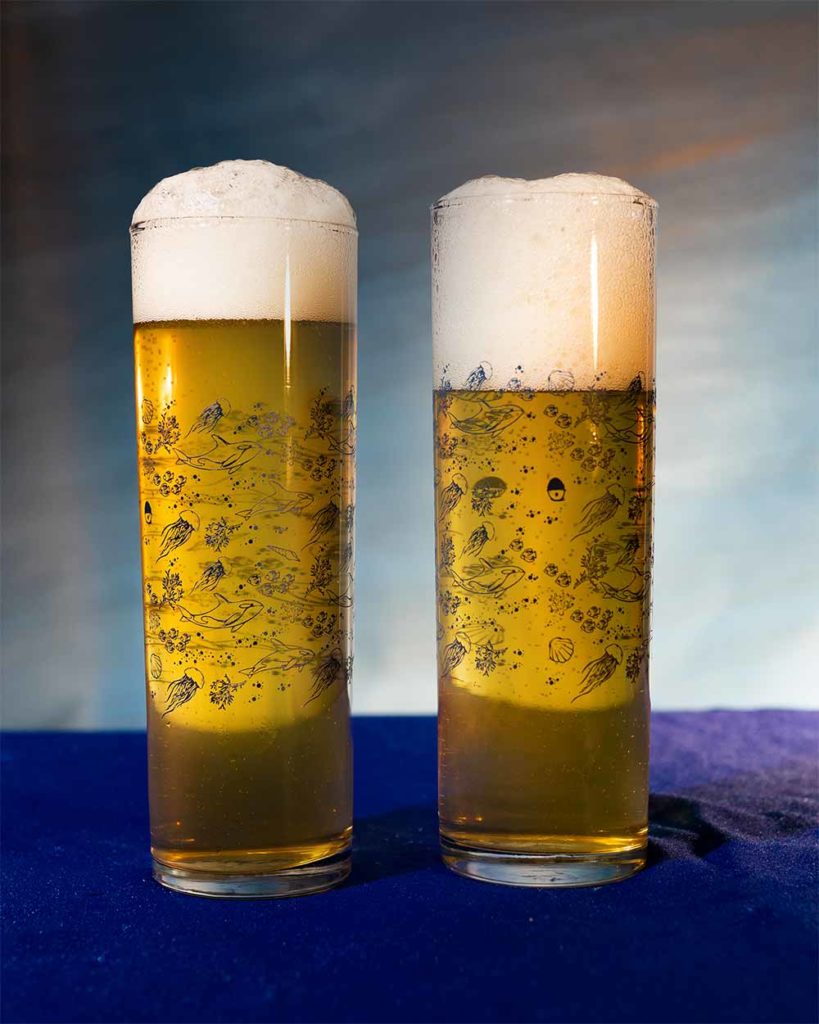 Tripping Animals Killer Kölsch Glass – Technically called a stange, a kölsch glass has a tall, narrow body to present the clarity and light carbonation of this beer style. Much like the pilsner glass above, a kölsch glass' slim body also helps retain the style's signature delicate head. This version from Tripping Animals is a head above the rest with its killer under the sea graphics.
Here are a few more to check out:
Buy Tripping Animals Killer Kölsch Glass: $10
Buy Definitive's Kölsch Glass: $7
Buy Evil Twin's Payphone Kölsch Glass: $12
Buy Hoof Hearted Livin' Outside the Fire Glass: $10
Buy Hudson Valley's Green Silouhette Glass: $12
Buy Green Cheek's One More Kölsch Glass: $8
Sustainable and Eco-Friendly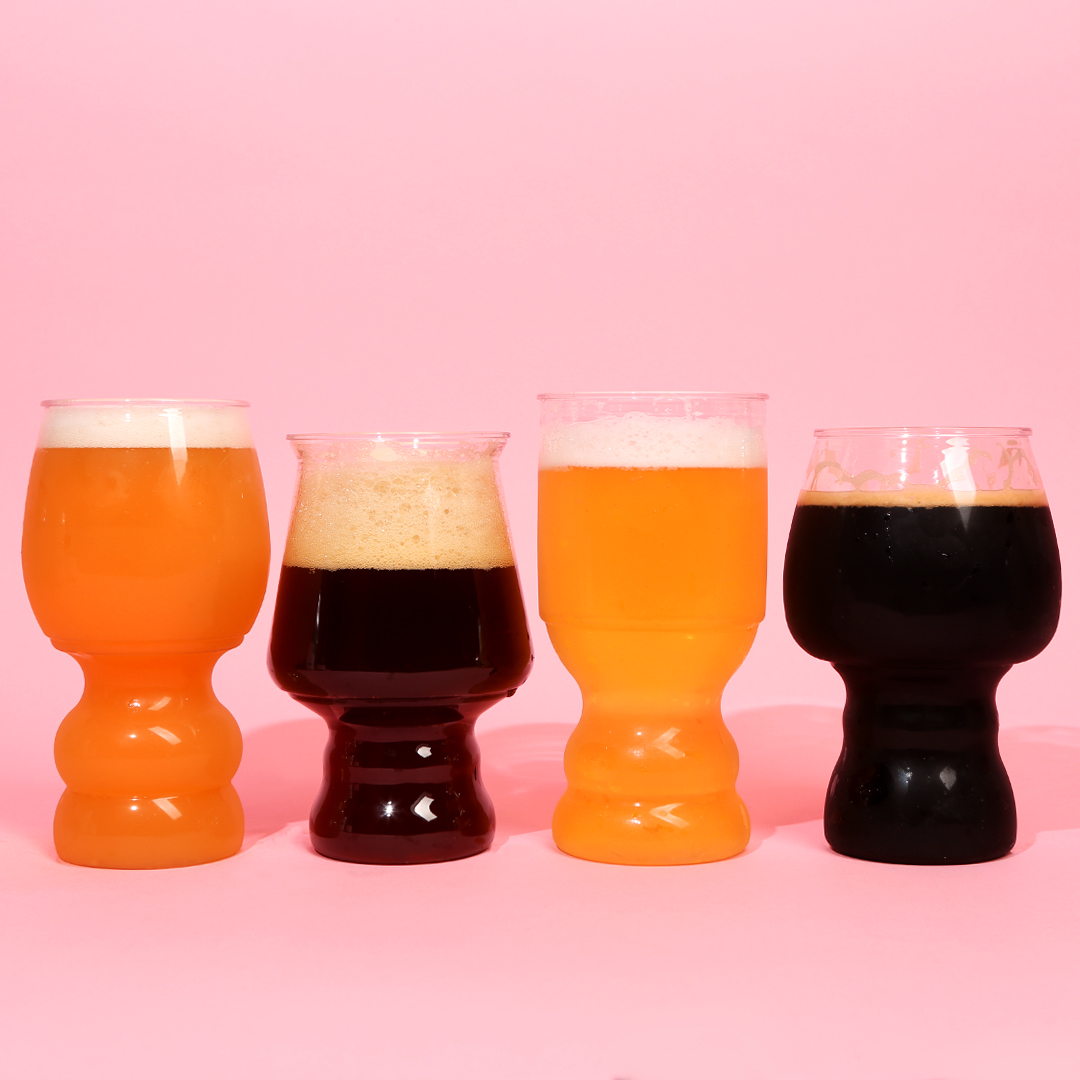 Fermented Reality B-Cups – We've written about Fermented Reality's eco-friendly, outdoor b-cups in the past. But, we're back to recommend the recyclable, BPA-free cups as a stellar holiday gift. With styles of cups (Funk, Lager, IPA, and Stout), you'll find a vessel for your favorite beer. Fermented Reality makes drinkware with the great outdoors in mind so bring these with you on your next adventure.
Ceramic Mug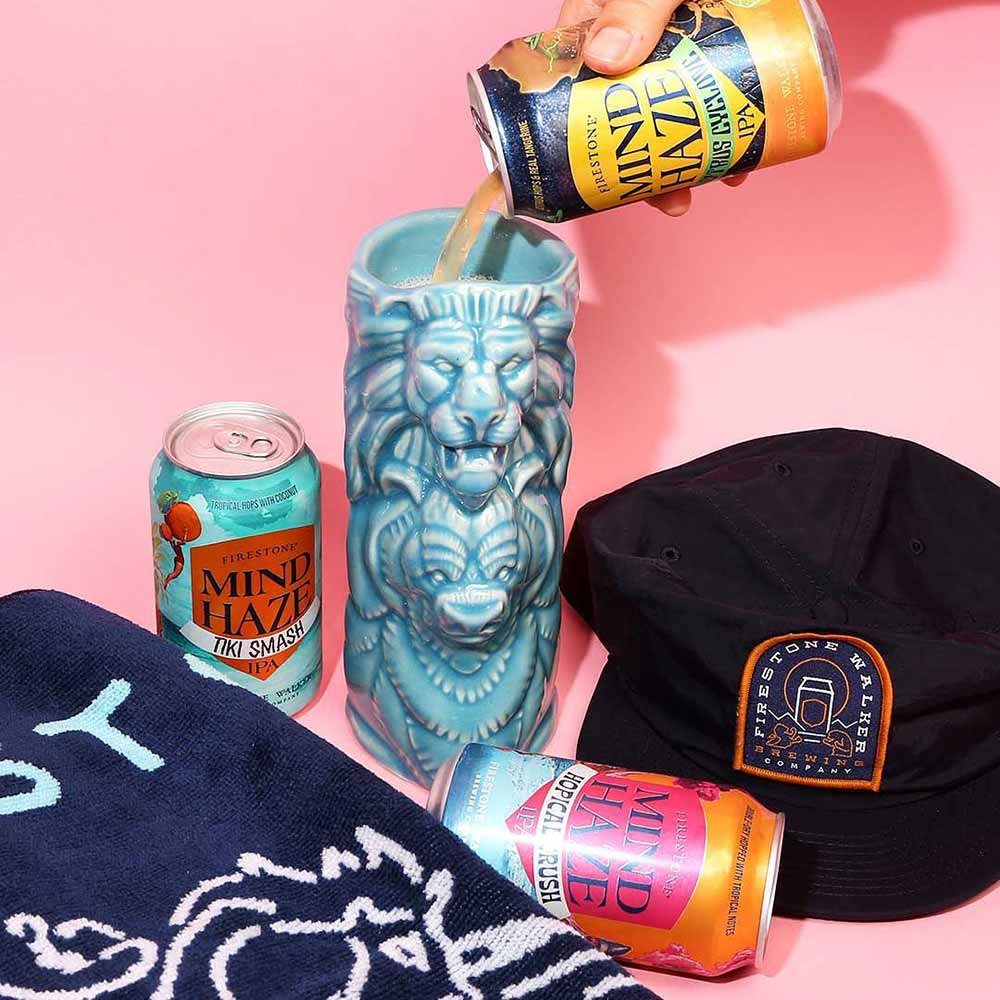 Firestone Walker Ceramic Mug – Craft coffee has become as much a part of our lives here at the magazine as craft beer. And breweries seem to have the same feeling with many embracing their own coffee roasting program. This means that many breweries are putting out unique coffee mugs alongside their standard beer glassware.
Ceramic versions are often stunning and sturdy – perfect to hold that morning cup of Joe. Firestone Walker released this limited-edition version to promote their new Mind Haze Tropical Hazy Mixed Pack.
But many other breweries are partnering with local artisans and crafters to bring you the perfect vessel for your morning brew.
Buy Firestone Walker's Ceramic Mug: $30
Buy Tröeg's Handcrafted Stoneware Mug: $26
Buy Night Shift's J.G. Clay Handmade Night Shift Mug: $38
Buy Nguyen Coffee Supply's Stackable Ceramic Mugs: $65
Buy Two Tides Ceramic Cofee Mug: $12
Buy Cellarmaker's Coffee & Cigarettes Mug: $10
Buy Limited Edition-Dragon's Milk Drippy Pot Coffee Mug: $60
Glass Coffee Mug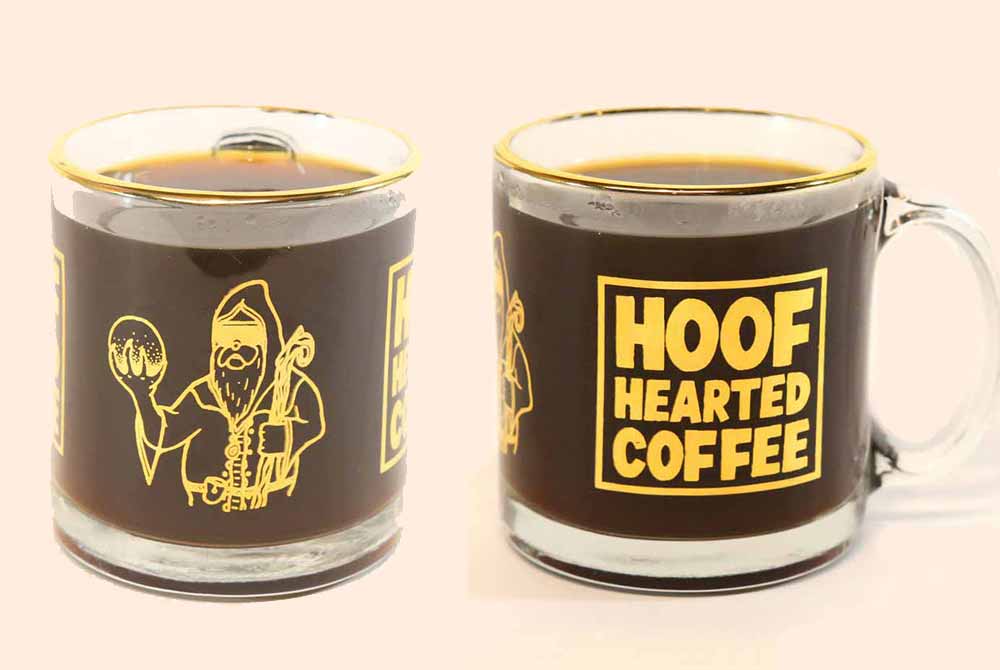 Hoof Hearted Coffee Glass Mug – "Glass and coffee" doesn't really have the same ring to it as "coffee and cigarettes" or "coffee and donuts". But we've seen a few of these glass versions pop up over the past year. Think of these mugs as melding the best of the beer and coffee worlds.
Hoof Hearted has been sourcing it's own whole beans for a while now. These little single-origin pods from all over the world – including Africa, Indonesia, and South America – are packed to the gills with flavor. And caffeine. These are first class beans and only a first class gold rimmed glass coffee mug is appropriate to hold the Ohio-based brewery's own coffee.
You really won't find too many of these vessels out there. But Phase Three Brewing in Chicago, IL makes an exquisite glass mug as well.
Buy Hoof Hearted's Glass Coffee Mug: $15
Buy Phase Three's Glass Coffee Mug: $10
Camp Cup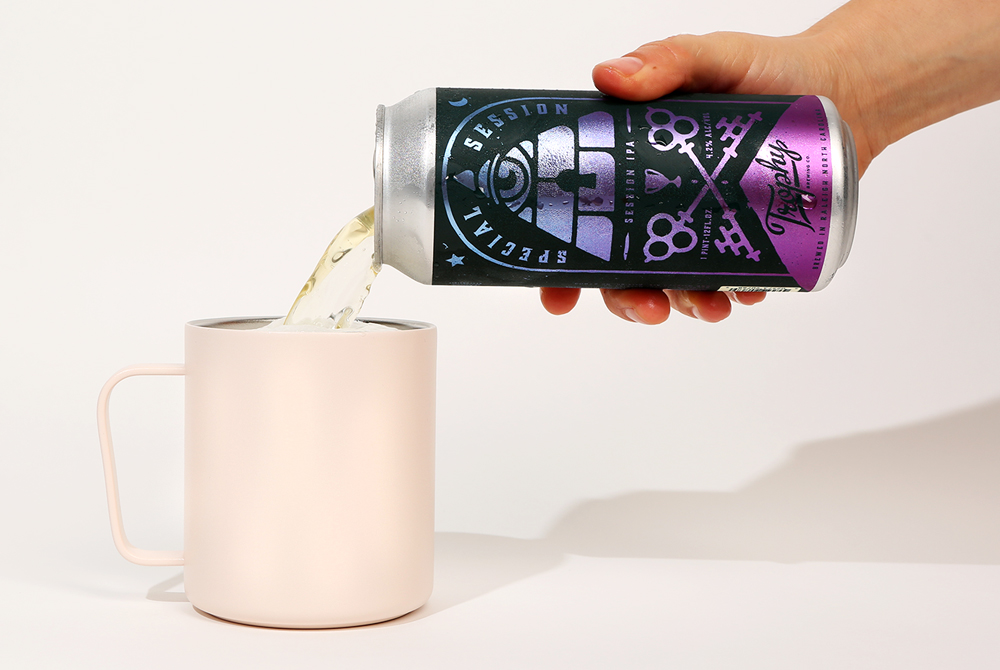 MiiR Camp Cup – Speaking of the great coffee, no backpacking trip is complete without some camp coffee. And, if you're consuming coffee (or beer, or wine), you'll want a lightweight, insulated cup. Enter the Camp Cup from MiiR. Not only does MiiR make excellent adventuring gear, but the company also donates funds from all of its products to giving projects. So, with every purchase of a MiiR product, you can feel like you're making a difference for cleaner water, a healthier environment, and stronger community.
In addition to their own collection of camping mugs MiiR often partners with breweries across the country to create custom lines.
Iconic Portland-based Allagash Brewing made a lovely set that harkens to the outdoors. They did have mugs available in green, blue, and red, but it looks like the red mug with adorable mittens is the only one remaining.
And Bent Paddle Brewing Co. in Duluth, MN also adds nods to its Northern Minnesota terroir with a MiiR Camp Mug full of trees, lakes, and clouds.
Buy The Original MiiR Camp Mug: $25
Buy Allagash Brewing Company x MiiR's Camp Mug: $20
Buy Bent Paddle x MiiR's Camp Mug: $25
Buy Austin Beerworks' Beer Drop Pattern Enamel Camp Mug: $14
Buy Trillium's Cobalt Camp Mug: $12
Stainless Pint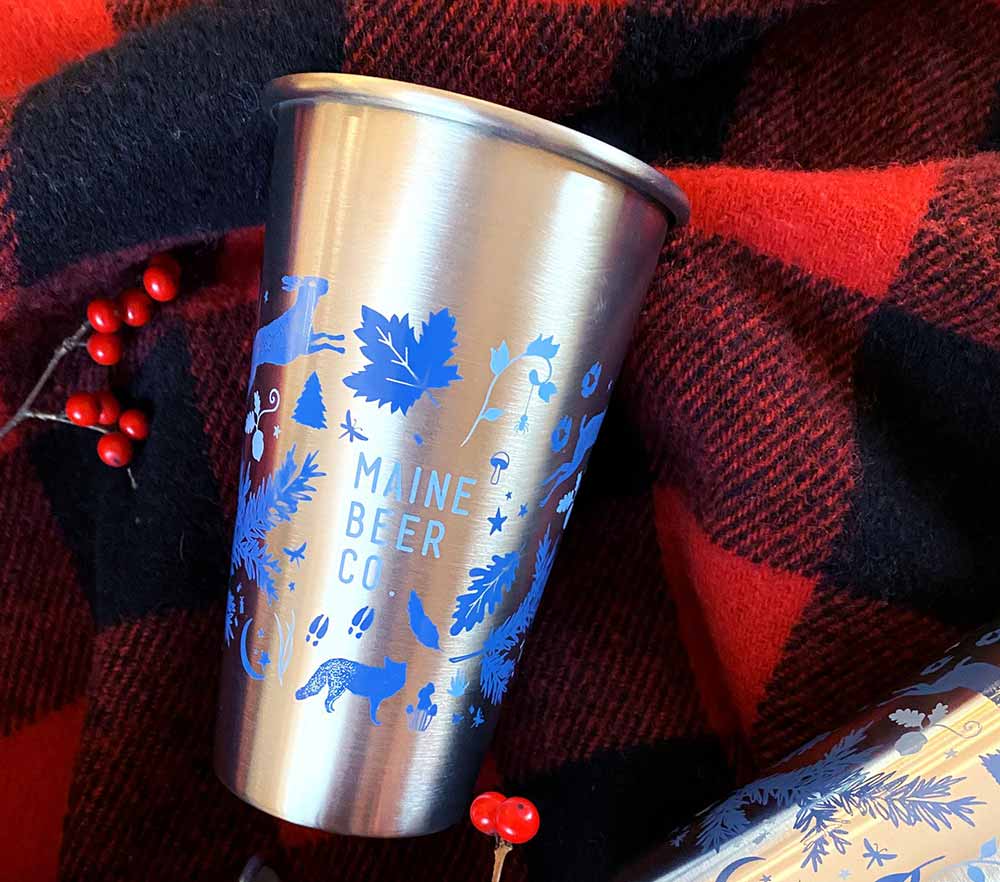 Maine Beer Company x MiiR Stainless Pint – For those who love adventuring and the outdoors carrying around a glass just won't cut it. In fact, you'll probably cut yourself. Recently, breweries (especially near the great outdoors) have invested in crafting gear with the hiker, biker, canoer, camper, and more in mind.
Maine Beer Company partners with the aforementioned MiiR for this new BPA free, stackable, easy-to-clean stainless steel pint. With a stunning scene, this cup is simultaneously endearing and enduring.
We're just starting to see this stainless steel vessel gain steam, so it's not available everywhere. But here are a couple options:
Buy Maine Beer Co's Stainless Pint: $12
Buy Tröegs Stainless Steel Resort Pint: $20
Glass Cup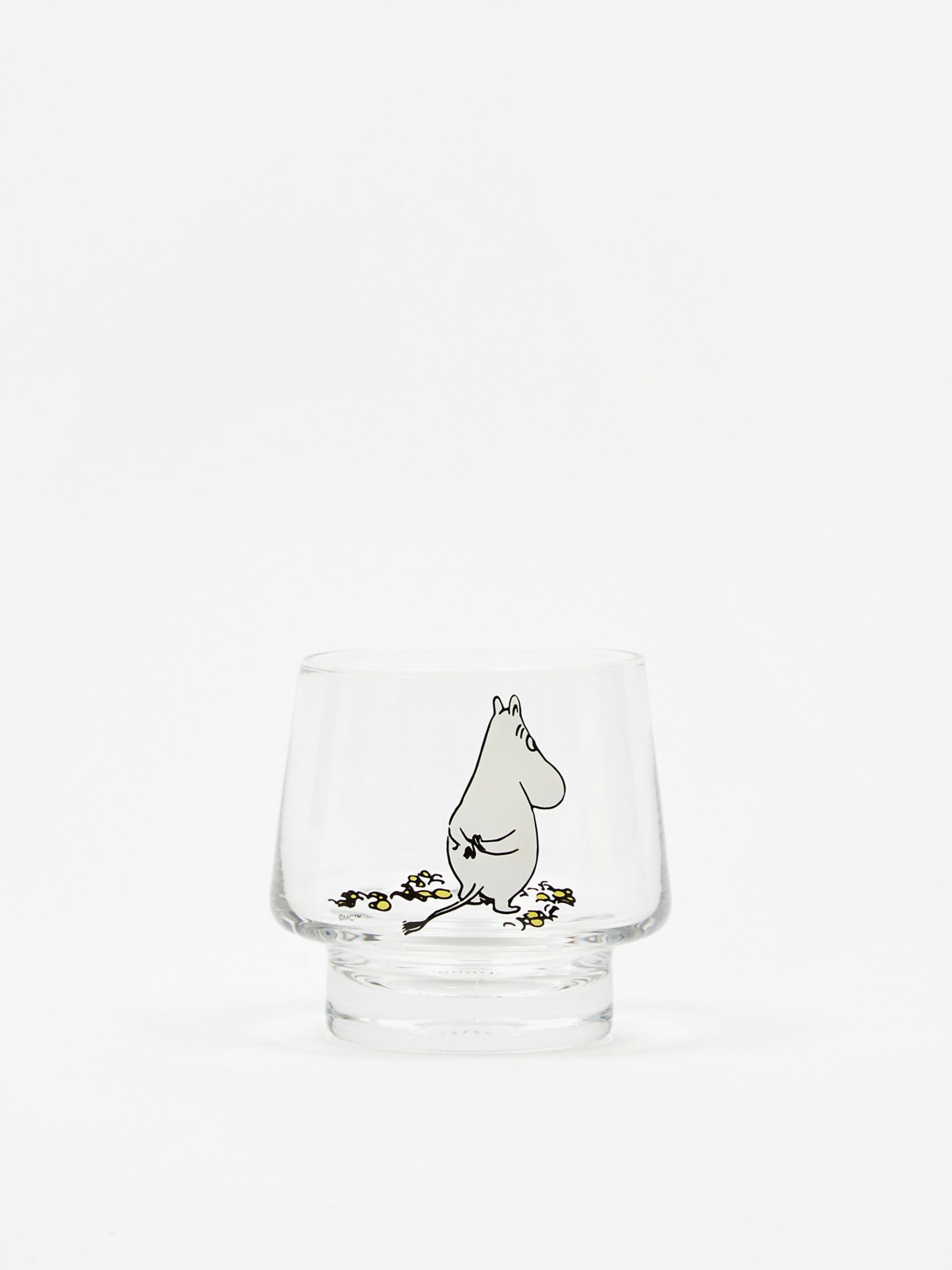 Moomin Glass Cup – Previous Hop Culture Managing Editor (and golden boy) John A. Paradiso discovered this line of Moomin glassware and immediately fell in love. Using original illustrations from Tove Jansson, the whimsical, delightful glasses can double as a decorative element holding a candle or tealight. Perfect for juice, iced tea, kombucha, or a floral beer, add the Moomin cups to your collection.
Corgi Butt Glasses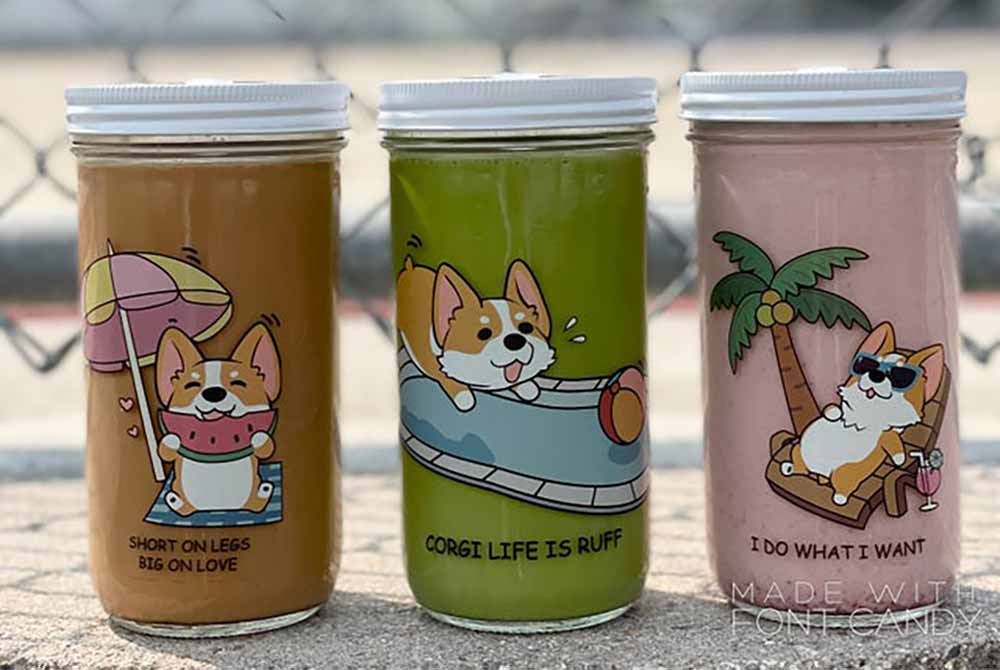 Boba Pup Corgi Butt Glasses – Similarly, current Hop Culture Managing Editor Grace Weitz fell in love with these absolutely adorable corgi butt glasses when stopping for a boba tea in Santa Clara before the Minnesota Vikings vs San Francisco 49ers game at Levi Stadium.
These kitschy cups are sweeping the Bay Area. The collectible cups are offered at a new bubble tea shop called Boba Pup. Just order a drink and add on the cup for two dollars extra to take one home. You can also just buy straight from the series online, but where is the fun in that? Available in so many designs from wiggly corgis doing bench presses and sit ups to those on skis and dressed up in Santa hats. This fad has a Pokémon, "gotta catch 'em all" feel to it. They're just plain fun.