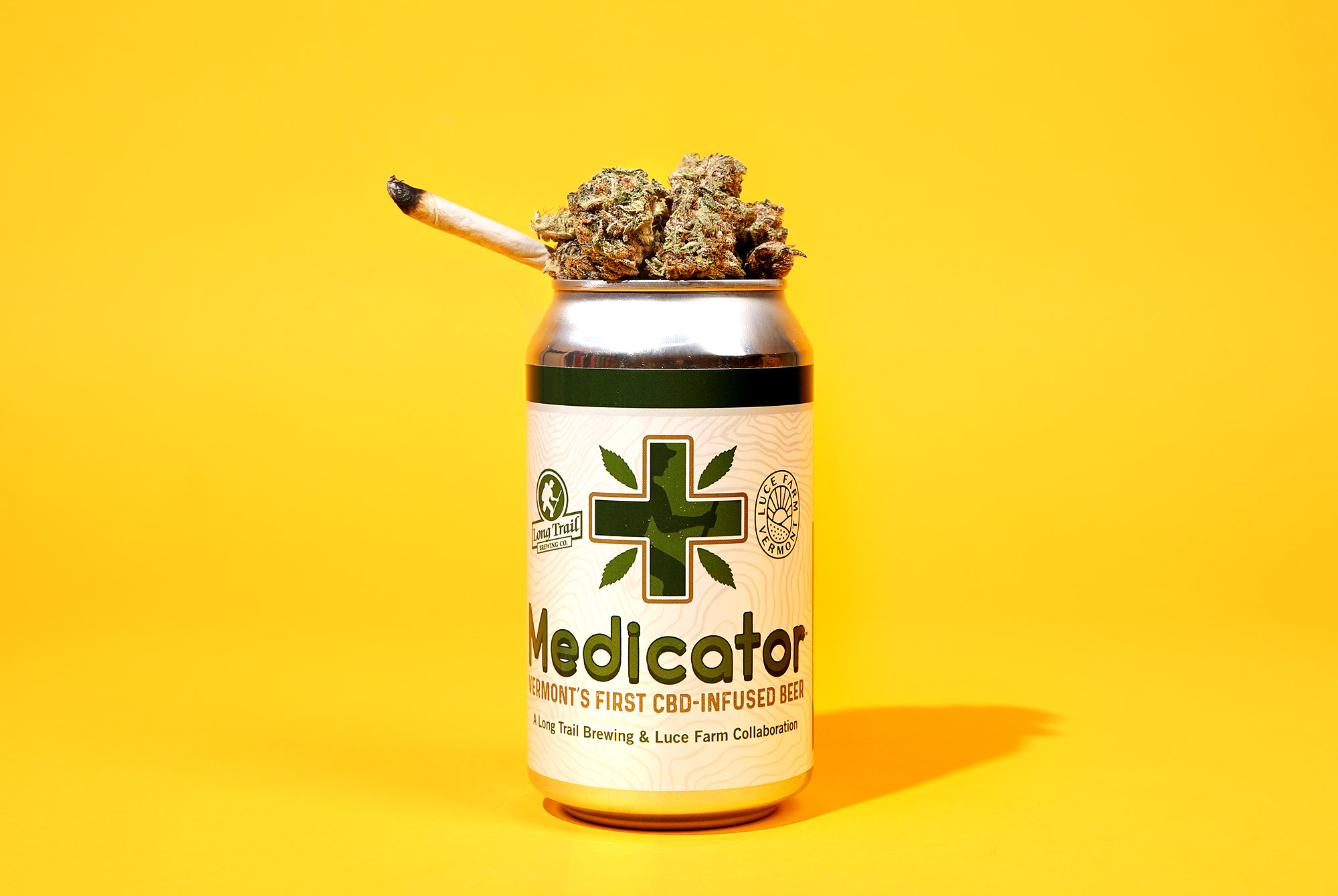 Photography courtesy of John A. Paradiso
How will you be celebrating 4/20 this year? Perhaps we can suggest you enjoy 4/20 a little differently by indulging in a CBD-infused beer or beverage in 2022.
But what exactly is CBD? And how can breweries actually add it into beer or other beverages? Plus, what are some amazing versions to try?
Don't worry, we have the lowdown on these highly regarded CBD-infused drinks.
First, What Is a CBD-Infused Beer or Alcoholic Beverage?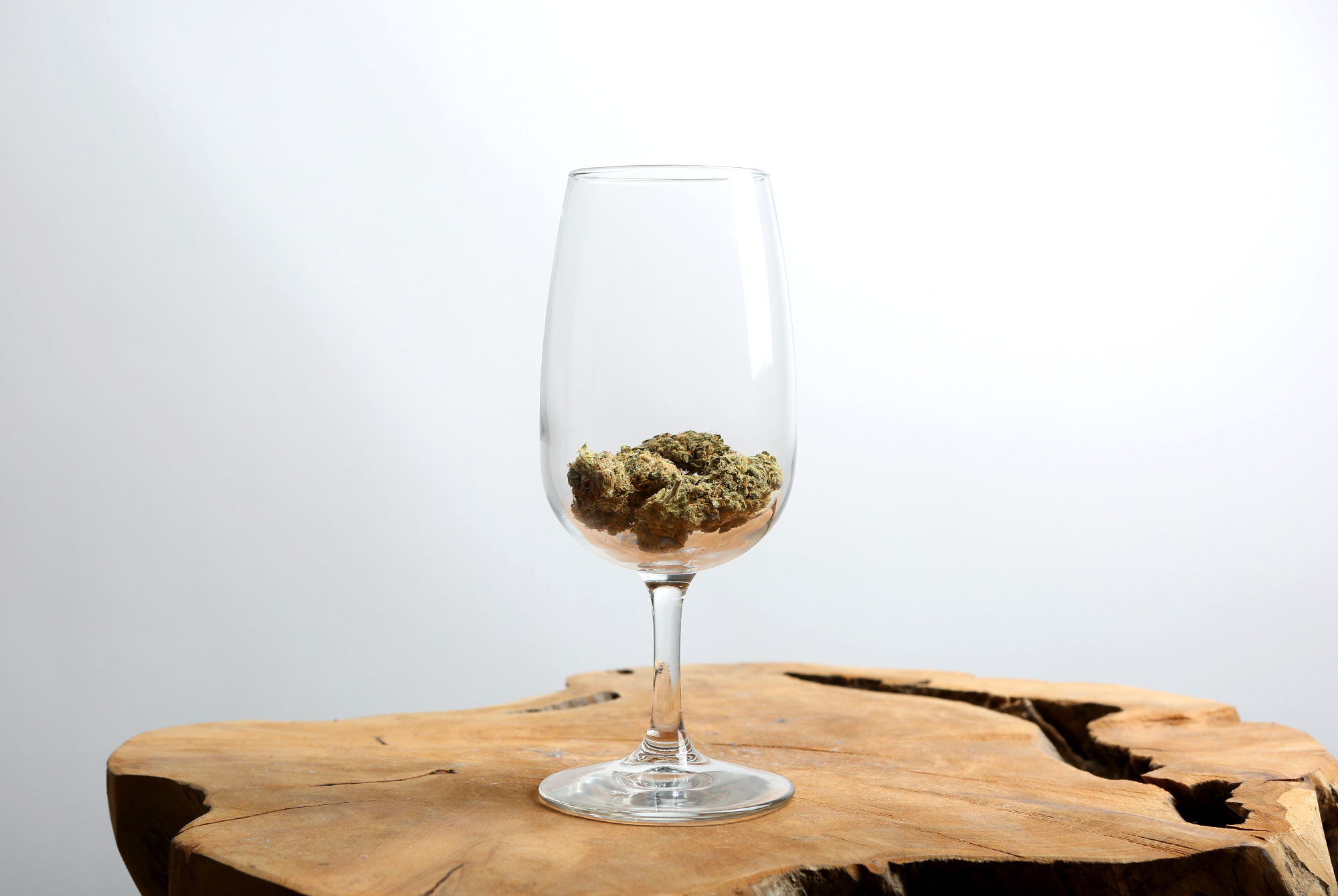 Cannabidiol, aka CBD, is one of the active compounds found in cannabis plants such as hemp or marijuana.
Unlike THC, a psychoactive property found in marijuana, CBD does not actually get you high. Rather, CBD creates mild relaxation and helps with pain relief. For that reason, hemp-derived CBD is federally legal.
In fact, the 2018 Farm Bill actually legalized the production of hemp, so companies can create products with hemp (such as gummies, coffee, etc.) as long as they contain less than 0.3% THC by weight.
Here's the catch: The DEA still views CBD as a schedule 1 drug, meaning brewing beer or other alcoholic beverages with CBD can be a bit of a challenge. Which is why breweries in the past often needed to cancel their CBD-infused beers.
But that just means that breweries have adapted. Today, many beers made with CBD in the United States have little to no alcohol.
And in this still-emerging space, enterprising businesses have created other high-quality non-alcoholic beverages with CBD, including seltzers, still waters, and even sparkling tea and juice.
So Why Exactly Are CBD-Infused Beverages Popular…Even If Some Have No Alcohol?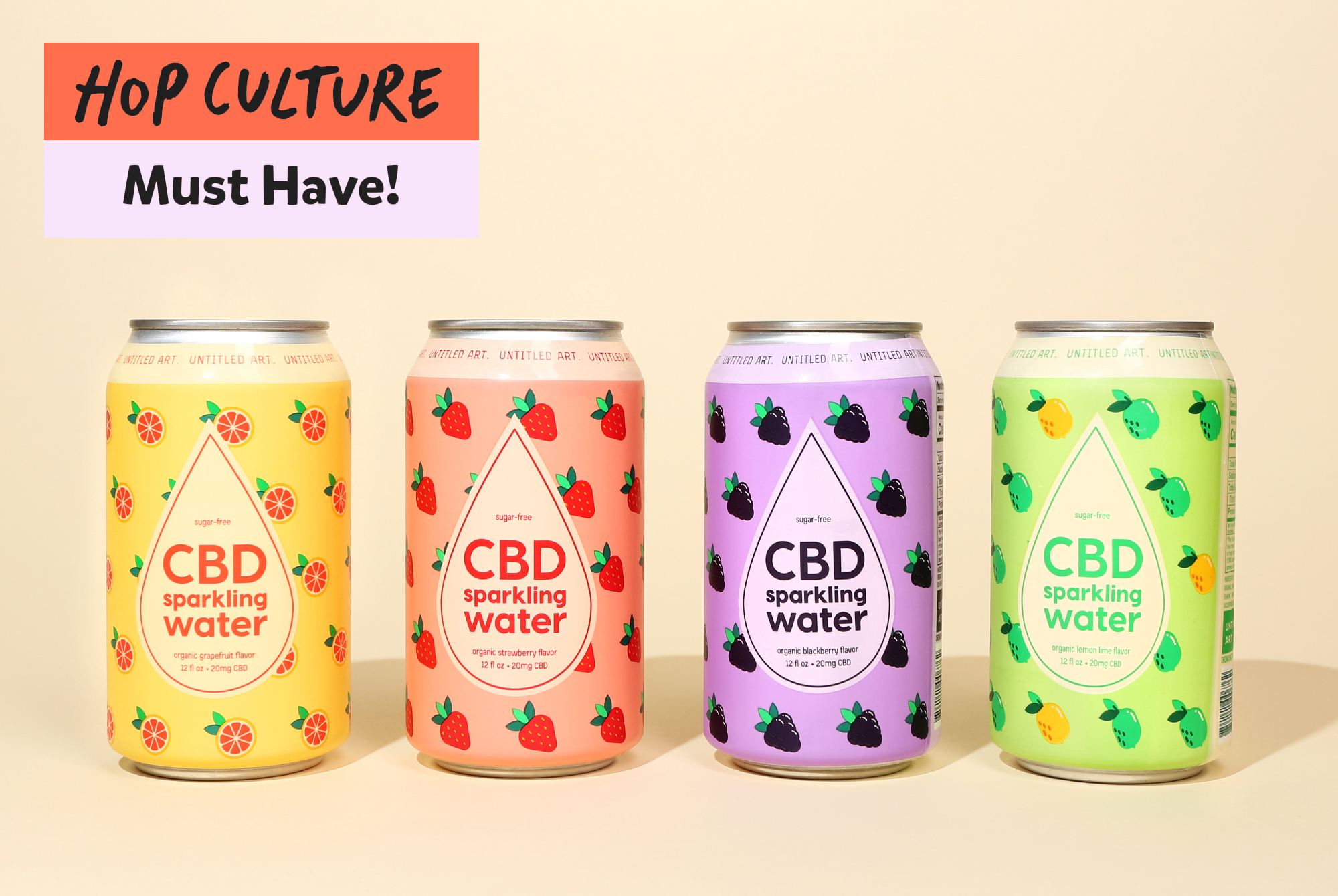 Brewing CBD-infused beverages requires a dealcoholization process similar to what homebrewers use, except the alcohol is taken out and the cannabis extract is put in. The flavor is similar to an alcoholic beverage or even a well-crafted non-alcoholic beer. All while still keeping a familiar flavor and fizz.
Bottom line: There are some kickass CBD-infused beverages on the market that taste incredible while providing that nice mellow, relaxing ride.
You just need to know where to look.
Thankfully, we've done all the searching for you.
Without further ado, here are our seven best CBD-infused beers and beverages to enjoy on April 20th, 2022.
The 7 Best CBD-Infused Beers and Beverages of 2022
Hi-Fi Sessions – Lagunitas Brewing Company
Petaluma, CA
Cannabis-Infused Hoppy Sparkling Water – "It takes a lot of good weed to make great beer," says Tony Magee, founder of Lagunitas, on the brewery's website. In 2017, in order to merge those two loves, in 2017 Lagunitas worked with AbsoluteXtracts, a homegrown California cannabis company. Together they created Hi-Fi Sessions (formerly known as Hi-Fi Hops), a hoppy sparkling beverage with zero calories and zero carbs, infused with top quality THC and CBD from locally grown cannabis.
The team mastered the art of creating zero-alcohol, CBD-infused drinks by using water-soluble THC and CBD in Hi-Fi Sessions. This process lets the THC and CBD enter the bloodstream without needing to be digested. Instead, those properties are absorbed through the mouth and the stomach before making their way through the rest of the body.
With 18 mg of CBD and 1 mg THC, Lagunitas made an IPA-inspired drink that will grant you serenity with each sip.
With three unique flavors to choose from—Cloudberry, Hoppy Chill, and Hoppy Balance—you'll be sure to find the best tasting, chillest drink for you.
At the time of publication, Hi-Fi Sessions is only available in dispensaries in California and Colorado.
Indiewave West Coast IPA – Ceria Brewing Co.
Arvada, CO
CBD-Infused Non-Alcoholic Beer – Keith Villa, creator of Blue Moon, also founded Ceria Brewing Co., an alcohol-free brewery. Ceria's proprietary brewing method to make NA beer sets this brewery apart along with high-quality malts, hops, and spices. Ceria is determined to offer healthier alternatives compared to traditional craft beer.
A dealcoholized cannabis beer, Indiewave IPA is a West Coast-style IPA brewed with light caramel malts and Cascade, Citra, and Amarillo hops. A smooth citrusy IPA, Indiewave contains 10 mg of THC and CBD per 12oz can.
If you like your hops and your CBD this is the beer for you.
CBD Pilsner – Untitled Art
Waunakee, WI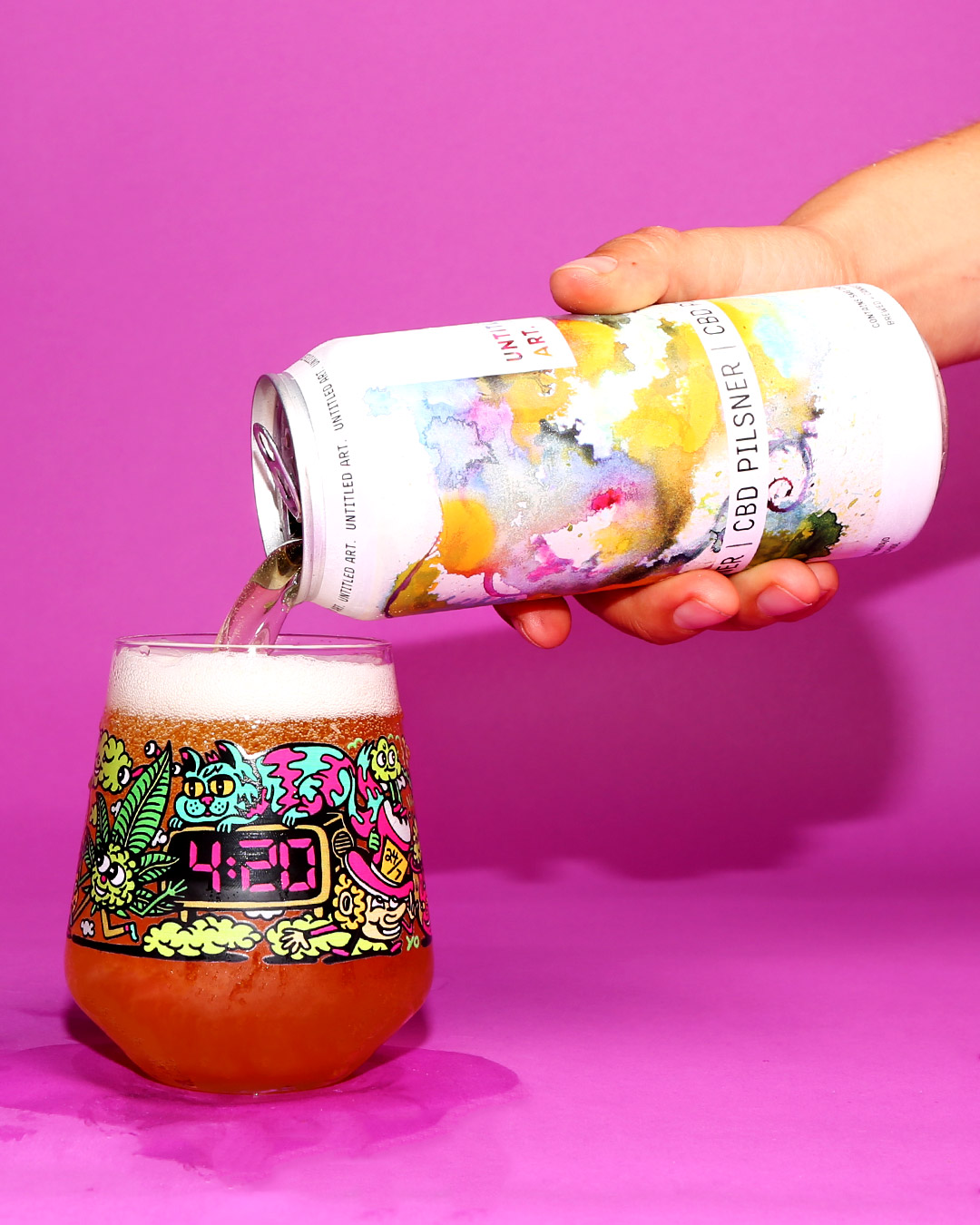 CBD-Infused Pilsner – We haven't really seen any other CBD-infused pilsners on the market, so we're really excited by this wacky version from Untitled Art. Super crushable with that nice earthy minerality you often find in pilsners, CBD Pilsner isn't necessarily dank, but it is tasty and cool.
CBD Pale Ale – Gilgamesh Brewing
Salem, OR
CBD-Infused American Pale Ale – Brewed with BRU-1, Mosaic, Idaho 7, and Citra hops, CBD Pale Ale from Gilgamesh Brewing in Salem, OR, has a little extra surprise. Five milligrams of what the brewery calls "highly absorbable nano CBDs" make their way into every 12oz can, meaning this subtle pale ale also gives you a gentle chill. According to the beer's description on Untappd, "this is the perfect combination to relax both the mind and the body."
Medicator – Long Trail Brewing Company
Bridgewater Corners, VT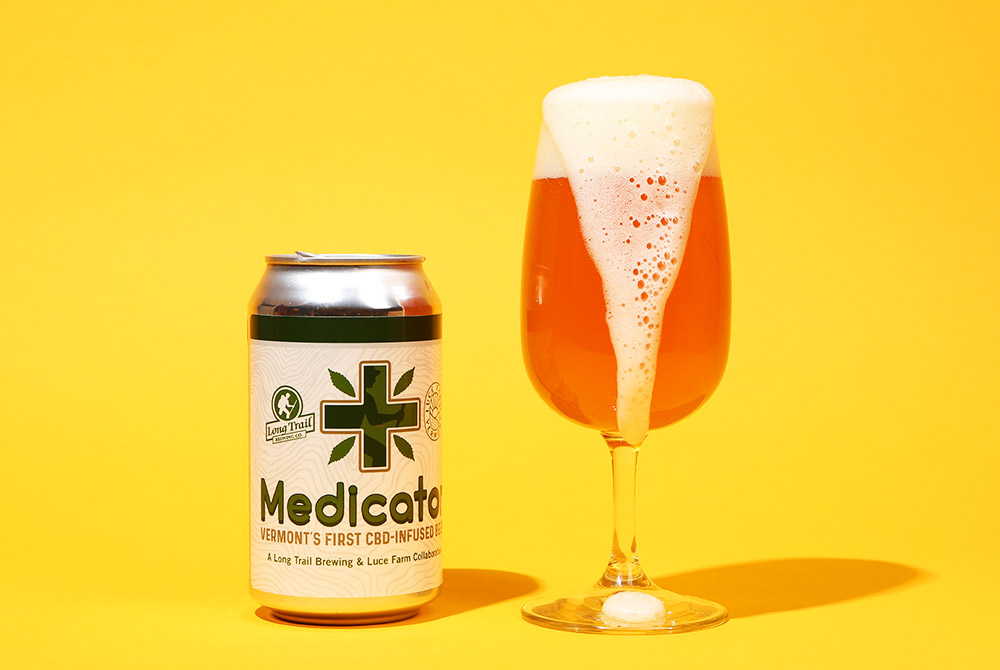 CBD-Infused American IPA – Once brewed in Vermont, Long Trail Brewing Co.'s, Medicator probably falls under the category of a banned CBD-infused beer. Unfortunately, a few years ago Long Trail pulled the beer from shelves. We're only adding it here in case it does make a reappearance because we had the chance to sample it and it was a truly fantastic CBD-infused beer!
Considered a hybrid between a pale ale and an IPA, Medicator has what is described by Untappd as a "hemp-forward flavor and aroma." Truly unique and revolutionary, Medicator should be considered the epitome of CBD-infused beer.
At the moment in the U.S. CBD is barred from being used in alcoholic drinks, so we can only hope that a change in CBD legislature reform will one day revive this CBD-infused beer.
Smokey Hazy Hemp – Humboldt Brewing Company
Arcata, CA
New England / Hazy IPA – In 1987, this coastal California brewery made its mark on the craft beer scene by being one of the original craft breweries and the first to use hemp in commercially available beer. In 1999, Humboldt's Hemp Ale won a gold medal at the California State Fair Craft Brewing Competition.
Humboldt's Smokey Hazy Hemp is exactly what it sounds like: a golden smoky hemp hazy IPA. Roasted hemp seeds, beechwood smoked malt, and pearl malt with flaked oats make this a smoky beer to get toasted with. Just kidding, the hemp in this beer won't do that. Instead, it'll give the beer a cool, herbal character. As will the Eureka and Simcoe hops with their citrus and pine aroma and flavor.
Sparkling CBD Teas and Juice – Collective Project
Hamilton, ON, Canada
CBD-Infused Sparkling Teas and Juices – Highlighting independent artists and musicians through beers, Collective Arts expanded from craft beer to non-alcoholic CBD-fused sparkling teas and juices. Now under a new brand called Collective Project.
The CBD-infused beverages are described on the website as "well-balanced in both flavour and dose using emulsions that are all natural, gluten-free and produced with non-GMO ingredients." Sparkling tea flavors include Lemon Pear & Schisandra Green Tea and Raspberry & Hibiscus Rooibos Tea. Each with 20 mg of hemp based CBD.
Similar to the CBD tea, the juices also contain 20 mg of hemp-based CBD. The two CBD juices are Mango, Pineapple & Coconut and Cucumber, Lemon & Lime.
CBD Sparkling Water – Untitled Art
Waunakee, WI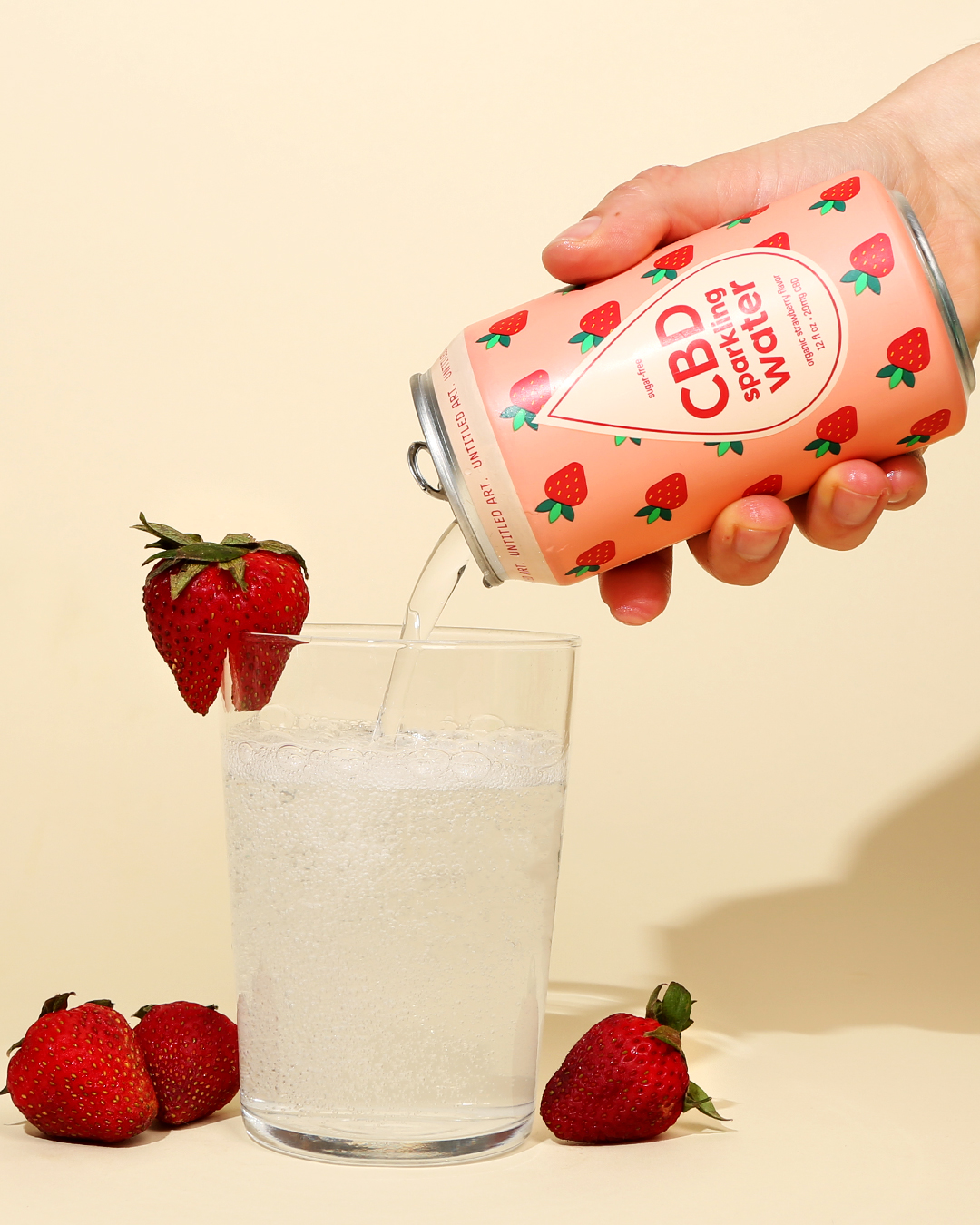 CBD-Infused Sparkling Water – With four varieties of CBD-infused sparkling water, Untitled Art's beverage line has real organic fruit flavors. For example, blackberry, lemon lime, strawberry, and grapefruit. Plus, each contains 20 mg CBD.
This feel-good sparkling water is free of caffeine, carbohydrates, gluten, and sugar, making it an ideal drink for many.
Additionally, Untitled Art's fresh take on non-alcoholic beverages also supports a diverse range of artists. Either by working with liquid artists who invent new and exciting drinks, graphic artists who design the labels, or photographers who snap all the photos.