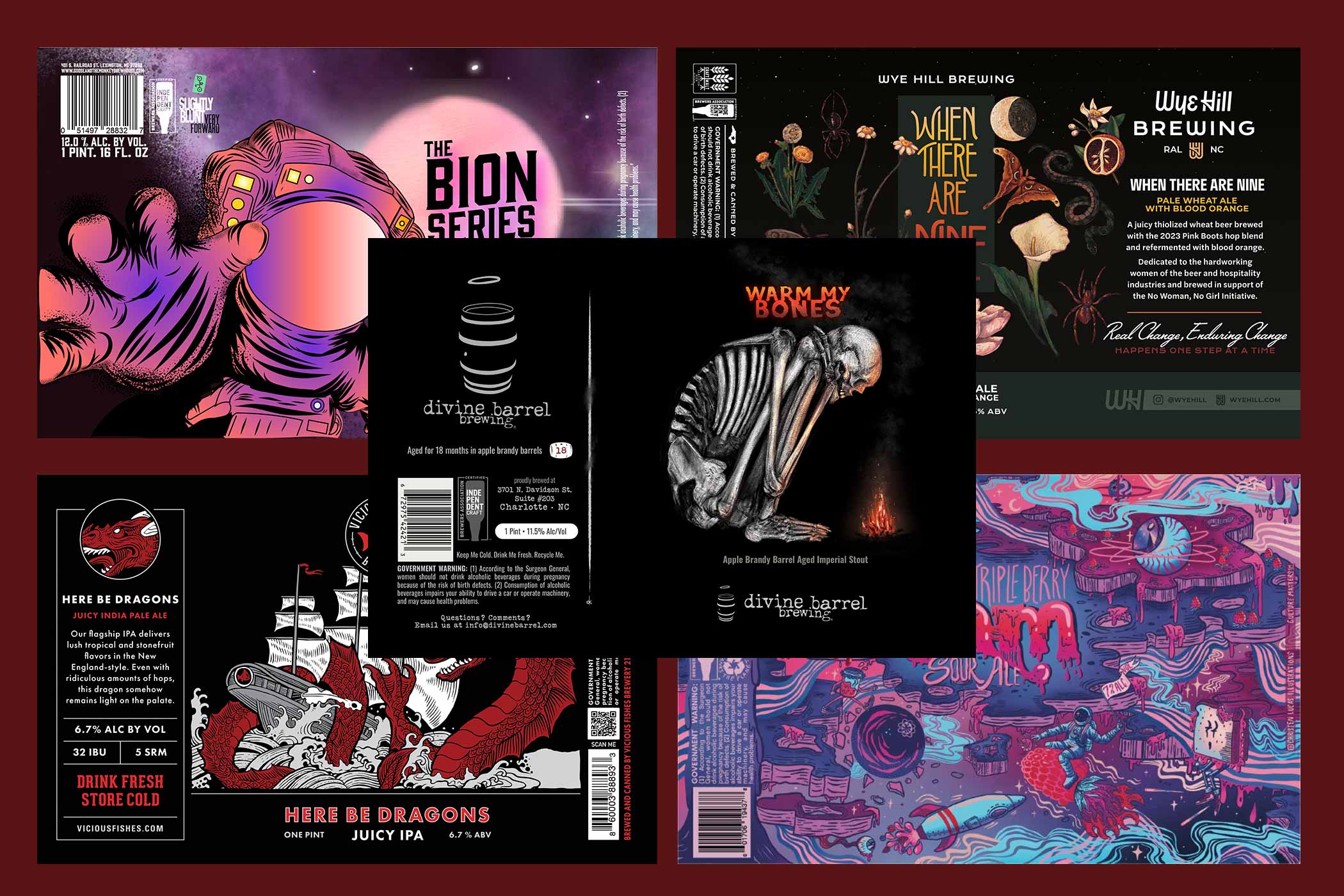 Labels courtesy (l to r clockwise) of Goose and the Monkey Brewhouse, Divine Barrel Brewing, Wye Hill Brewing, Lenny Boy Brewing Company, and Vicious Fishes
For the last three years, we've covered the North Carolina Craft Brewers Guild's Label Insanity Competition, and each year, the craft beer labels get more insane, if that's even possible!
Fashioned after March Madness bracketology, the annual tournament pits local North Carolina breweries against each other as they vie to win an award for the most creative, beautiful, and insane labels.
Over the years, we've seen can labels transform into an art all its own. Today, breweries need to dedicate as much time and attention to what's outside the can as inside of it.
In the Label Insanity Competition, this is true liquid art.
Once again the best labels of the year in each category went to some fantastic North Carolina breweries, including DSSOLVR, Divine Barrel, and Flying Machine. But we also saw a lot of newcomers to the list: Goose and the Monkey Brewhouse, Edit Beer Co., and Hatchet Brewing, to name a few.
Editor's Note: Full transparency, I did participate in one of the group rankings for this year's label competition, but only in the "Spiced, Vegetable/Herb, & Seasonal Beers" category.
How Are Labels in the Label Insanity Competition Judged?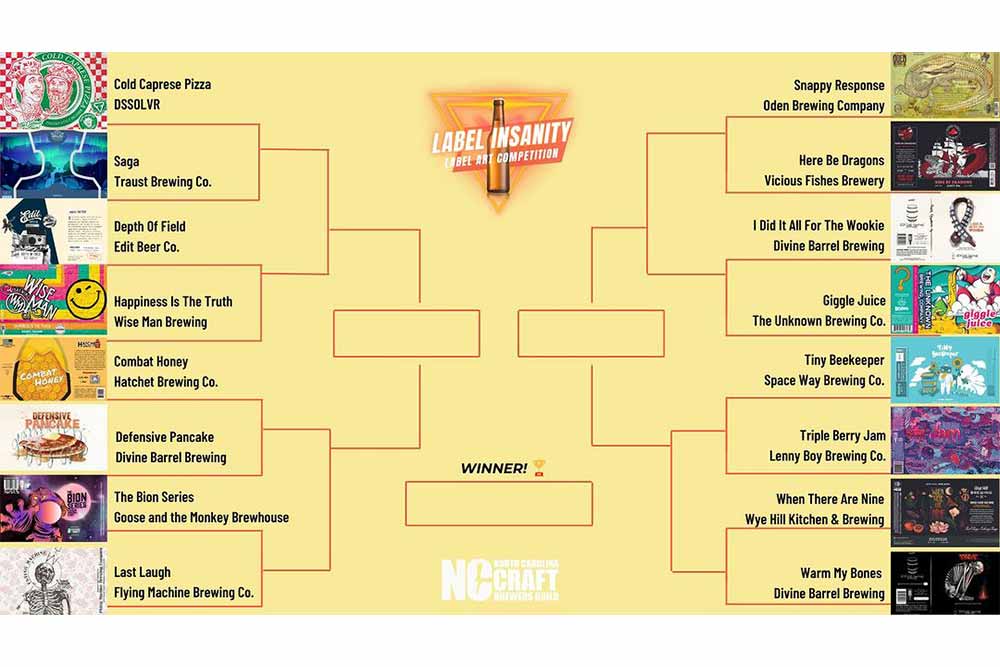 The two-part competition began with a panel of judges, evaluating 260 entries from over 50 North Carolina breweries in 16 different beer style categories. Judges selected their favorite first-, second-, and third-place winners based on the following criteria:
Visual Interest – Did the design effectively capture interest and engage?
Creativity – Did the design show innovation and originality?
Craftsmanship – Was the design technically well executed?
Overall Impression – Was the overall design composition clear and appealing?
For the second part, the Guild lets fans vote. The first-place winners in the sixteen different beer style categories are pitted against each other bracketology-style.
How can you participate? It's easy. To cast your vote, just head over to @ncbrewersguild on Instagram and vote daily in their IG Stories to help your favorite designs win. Or check out everything you need to know here.
We're huge fans of celebrating both art and beer, often rounding up our favorite can label designs of the year. We didn't have a chance to recount our favorite labels of 2022 yet, so in lieu of that, we're taking a look at the Sweet Sixteen First-Place Finalists and telling you why we love them so much.
NC Craft Brewers Guild's Top 16 Most Insane Craft Beer Labels of 2023
Light Lagers & Blonde Ales
Winner 1A*: Cold Caprese Pizza
DSSOLVR – Asheville, NC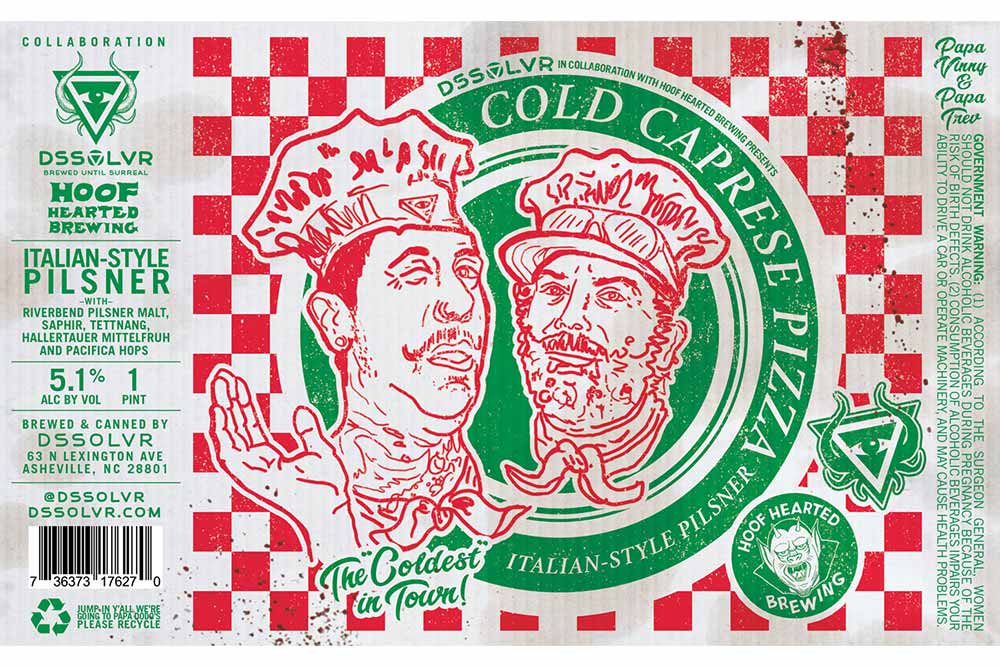 Art By: @death_shakes
At DSSOLVR, you'll see a commitment to both exciting beer and engaging artwork. Plus, you'll consistently find labels on their beers to be both surreal and quirky. In fact, we named DSSOLVR's Thank You For Existing one of our "Best Beer Labels of 2020."
Pretty lucky then that DSSOLVR Co-Founder Mike Semenec (@death_shakes) has a background in design and animation.
With Cold Caprese Pizza, Semenec brings out some old-school American-Italian red sauce-joint vibes. The craft beer label itself reminds us of so many "morning afters," opening up the pizza box you bought at 2am, peeling off the last slice from its grease-soaked slumber, and enjoying a breakfast of drinking champions.
Winner 1B*: SAGA
Traust Brewing Company – Mount Holly, NC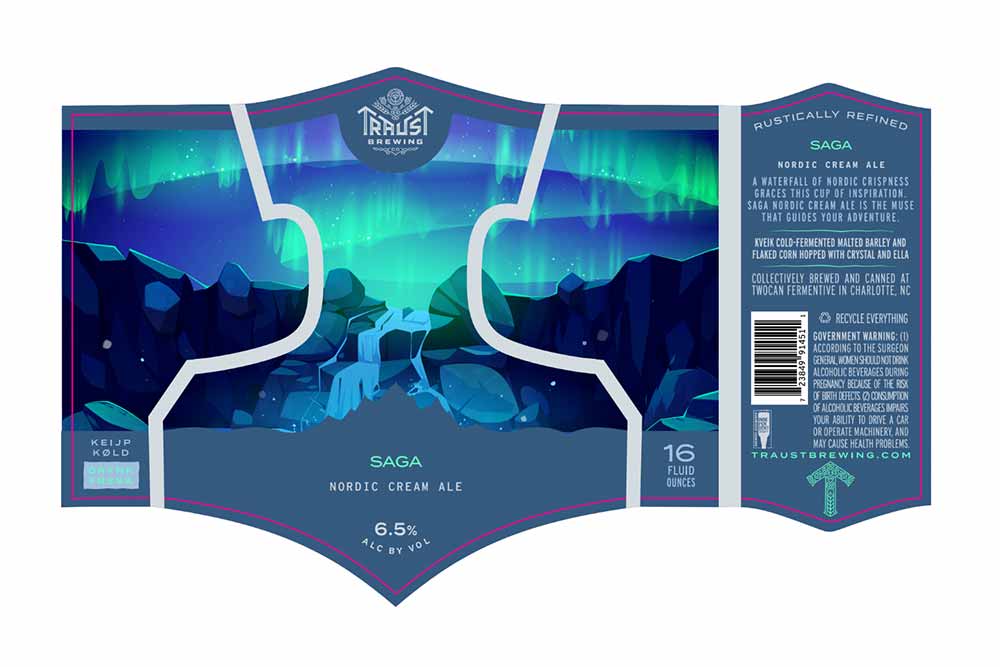 Designed By: Eric Stevens
"Saga is the first tale told by Traust Brewing with the quest of finding the perfectly balanced cream ale, we have perfected the balance of malt, adjunct, hop schedule, and clean kveik yeast ester for that elevated, easy drinking moment in time," writes the brewer in the beer's Untappd description.
Somehow, on this label, Eric Stevens captures the journey one must take, often to cold, far latitudes, to get a glimpse of the mysterious Northern Lights, an elusive, sought-after natural phenomenon.
Similarly, much like a cream ale may seem like a simple beer, the style has little to hide behind. You need to sand down all the corners perfectly to make these ingredients dance and pop and sing.
Editor's Note: The NC Brewers Guild split the "Light Lagers & Blonde Ales" category this year because they received so many submissions for it. With that in mind, there were two winners this year: 1a) Dssolvr Cold Caprese Pizza and 1b) Traust SAGA.
Malty, Amber, & Dark Lagers
Winner: Depth of Field
Edit Beer Co. – Raleigh, NC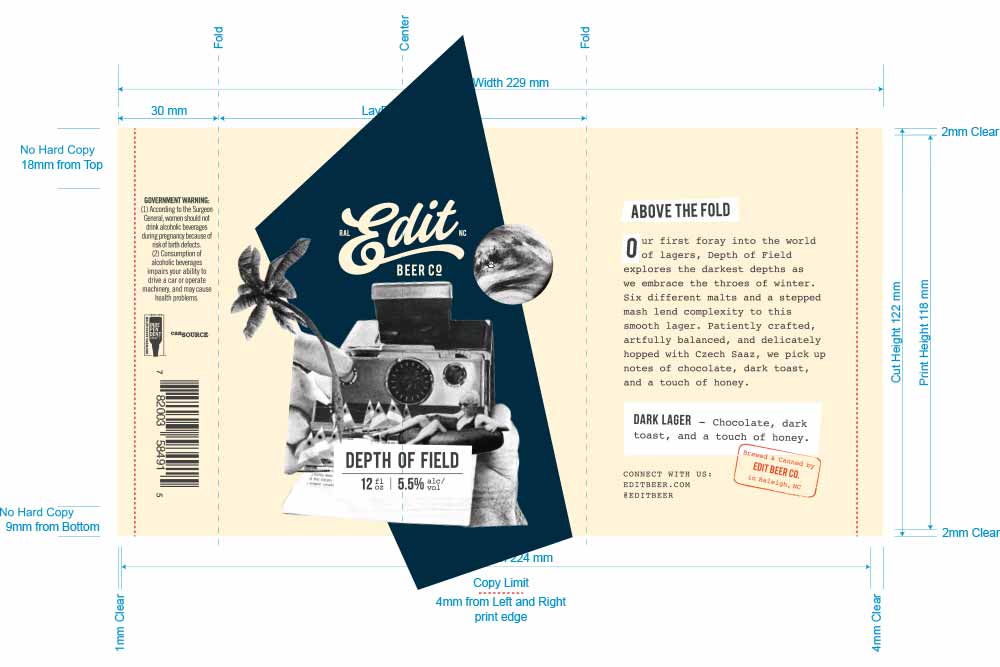 Art By: @atlassbranding
Working with Atlas Branding, Edit Beer Co. wanted its branding to evoke the process of editing with all its rough drafts, frayed edges, erased pencil marks, and red-marked lines. In Depth of Field, we see exactly what it looks like to create this art behind the scenes. We find Edit Beer Co.'s approach poetic and practical. After all, brewing itself isn't always a perfect science; you need to brew a recipe again and again and again to perfect it.
Although Depth of Field is only Edit's first foray into dark lagers, we can imagine that this will be a style they'll brew again and again and again until it's perfect.
Wheat Beers
Winner: Happiness Is The Truth: Mango
Wise Man Brewing – Winston Salem, NC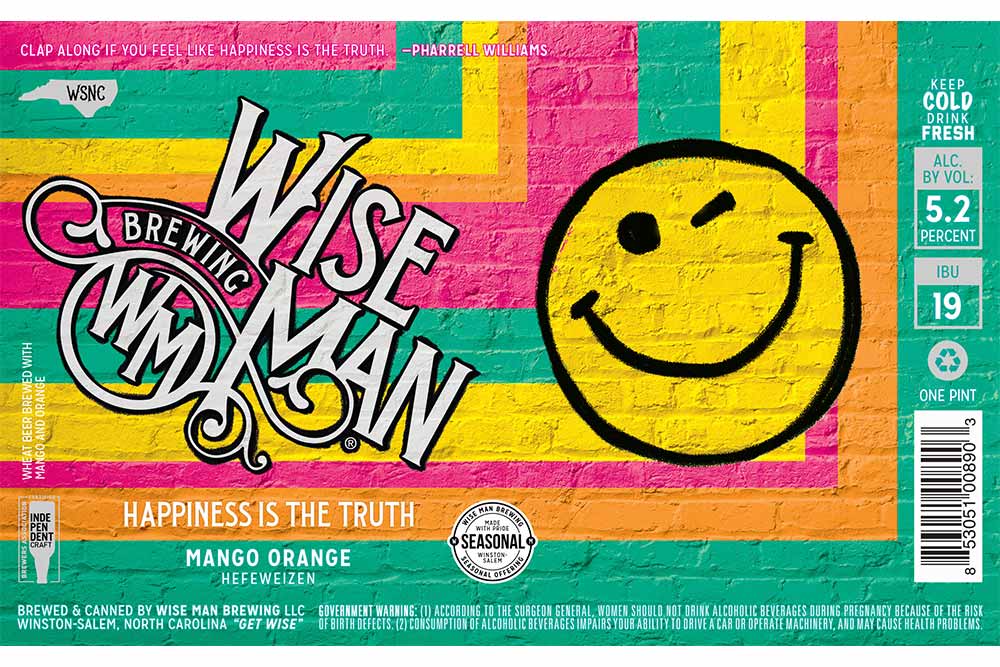 Art By: @bigbridgedesign
Wise Man has made a bit of a name for themselves with eye-popping, brightly colored labels. The brewery's Tropical Shirts wheat beer won the award in this same category two years ago. With Happiness Is The Truth, Wise Man strikes again this time with a punch-you-in-the-face color palette of teal, orange, bright pink, and yellow.
We imagine if you made a mood board labeled "happiness," it would look something like this craft beerlabel. All seem to playfully speak to the brewery's mango-orange version of a hefeweizen. We can't help but smile when we see this label—we imagine the same will happen once you drink this beer.
Amber & Red Ales
Winner: Combat Honey
Hatchet Brewing Compay – Southern Pines, NC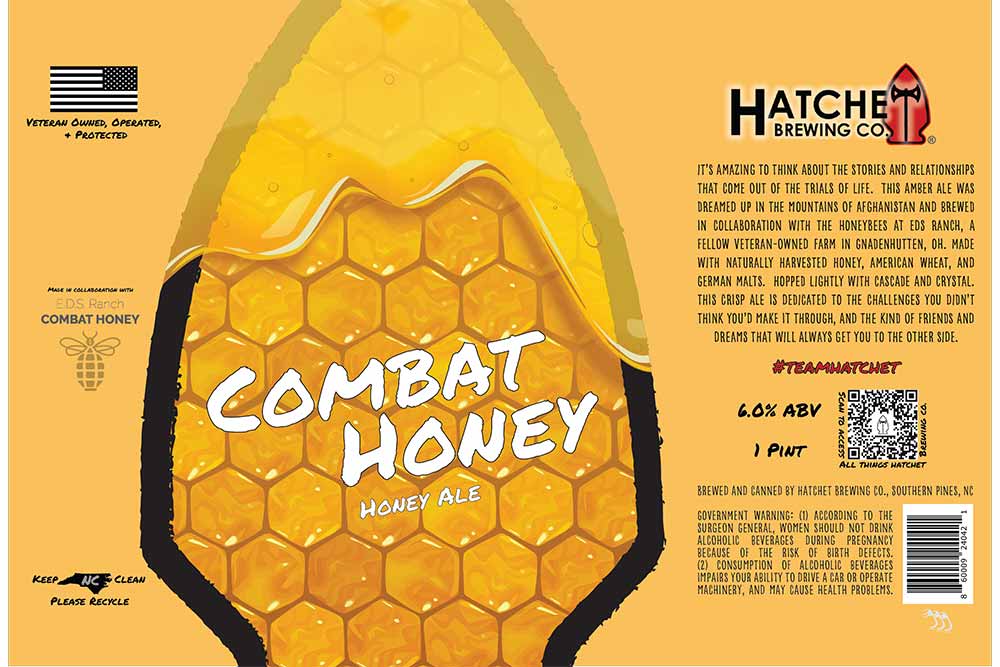 Designed By: Greg Walker
You can't look at this craft beer label without thinking about honey. What we love about it though is the movement Hatchet Brewing Company Co-Founder Greg Walker evokes.
Beer is a liquid and this is true liquid art, telling a story that spans thousands of miles.
Started by two veterans who bonded over homebrewing while stationed together at Fort Bragg, Walker and Mike Carey first dreamed up this beer while on tour in Afghanistan. Years later, they teamed up with another veteran-owned business, EDS Ranch in Gnadenhutteh, OH, to brew this amber ale.
EDS Ranch supplies the honeybees, who make the naturally harvested honey.
Did we mention there is honey in this beer? But that is the story with this bee…we mean beer.
It's a sweet honey ale that belies a courageous (and also sweet) story. And you know that as soon as you read the label.
Porters & Brown Ales
Winner: Defensive Pancakes
Divine Barrel Brewing – Charlotte, NC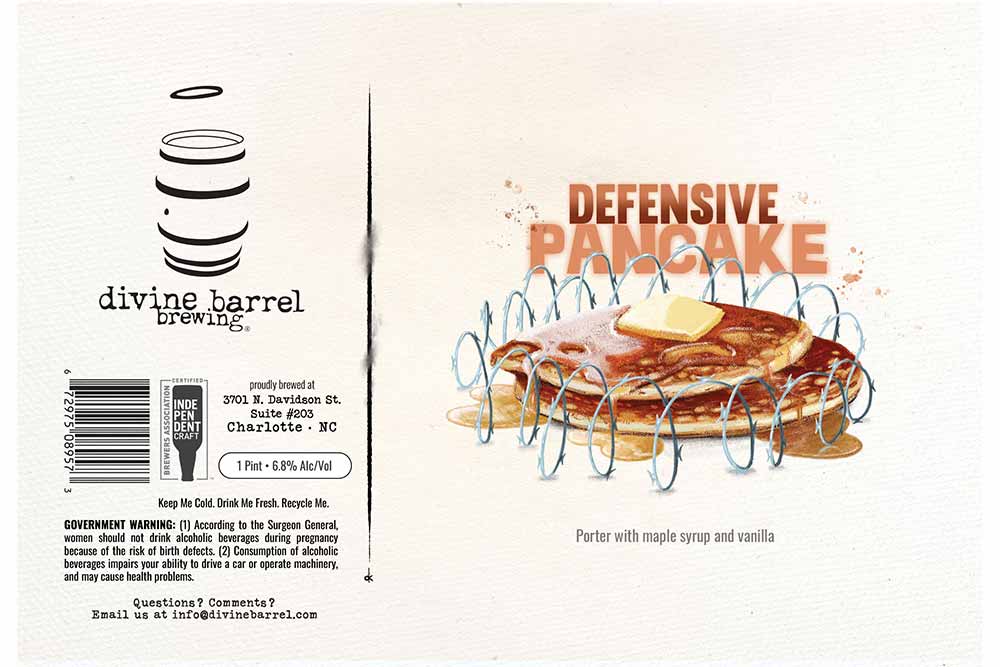 Art By: Dave Kaminsky (@decay_design)
We're not surprised at all to see Divine Barrel topping the list. Dave Kaminsky's goosebump-inducing artwork medaled in the Label Insanity Competition for the past two years! And we named one of his labels to our best-of beer label list in 2021. Spoiler alert: You'll see his work a couple more times here as well.
We love everything about this craft beer label from the name to the simple yet effusive design. Kaminsky is widely known across North Carolina for drawing alluring illustrations with a hint of wit or nostalgia.
With Defensive Pancakes, Kaminsky simultaneously makes us hungry, thirsty, and sentimental. We're envisioning Saturday mornings, pancakes cooking on the griddle, whiffs of maple syrup in the air.
Nailed it!
Stouts & Imperial Stouts
Winner: The Bion Series: Russian Imperial Stout
Goose and the Monkey Brewhouse – Lexington, NC
Art By: @calebjoshuagray
Check out more of Caleb Joshua Gray's (@calebjoshuagray) illustrations and you'll find a love of characters, cartoons, and animated personalities. With The Bion Series: Russian Imperial Stout label, Gray seemingly breaks the fourth barrier, much like a cartoon character can.
Unearthly hands reach out from space to grab us, dragging us down into the black-hole-dark depths of this Russian Imperial stout.
Part eerie, part psychedelic, and part cosmic, this craft beer label gets a lot of love from us.
Strong Ales & Imperial (Double/Triple) IPAs
Winner: Last Laugh
Flying Machine Brewing Company – Wilmington, NC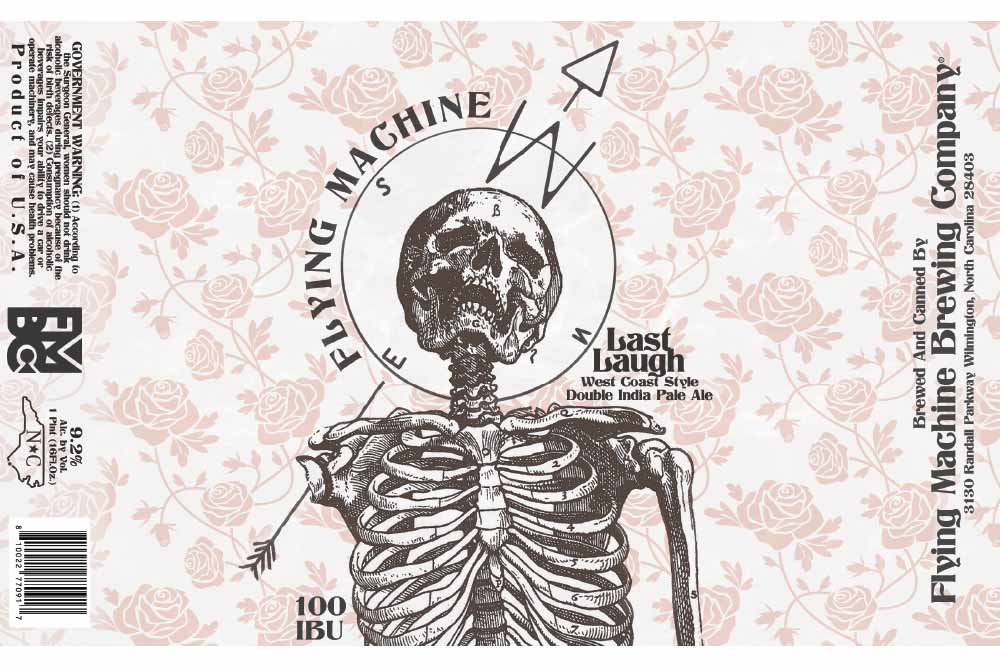 Art By: @matty_at_hotmaildotcom
Flying Machine Creative Director Matt Wiley (@matty_at_hotmaildotcom) seems to be having a laugh with us. After all, he who laughs last laughs best, right? Even the last person on Earth?
When you drink this beer it might be Flying Machine having the last laugh. At 100 IBUs, this double West Coast IPA could blow the flesh off your face, but in the best way of course.
While this beer won't kill ya, it'll definitely bring you face to face with your own skeleton.
Pale Ales
Winner: Snappy Response
Oden Brewing Company – Raleigh, NC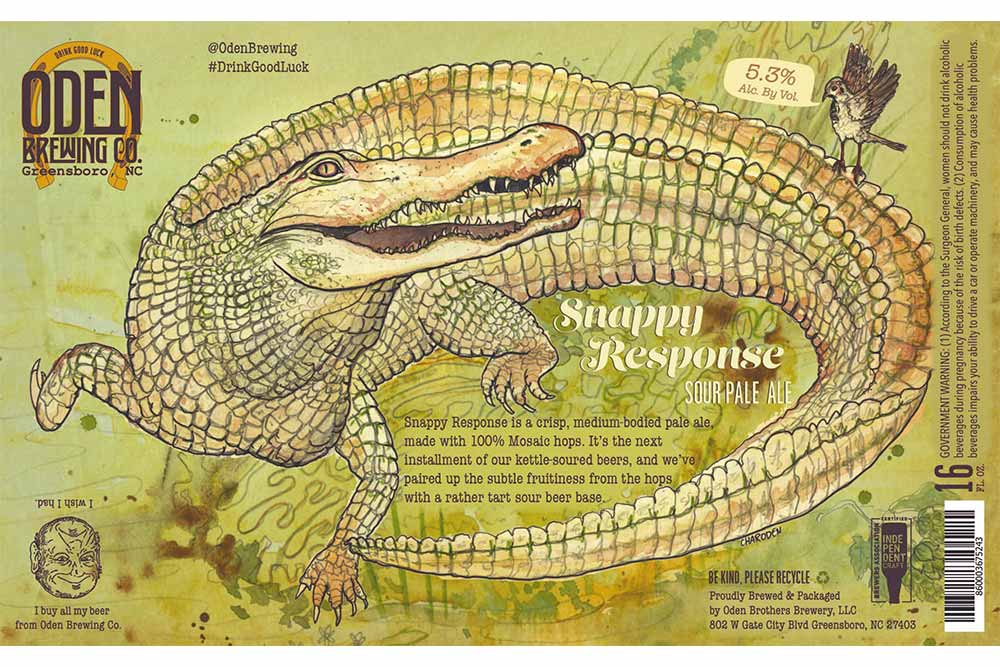 Art By: @charoden & Mary Garner Oden
A pale ale with a snappy bite? We don't find many medium-bodied crisp ales kettle-soured. Just like we don't often see many alligators or crocodiles. But you don't scare us off! We're down to try this slightly off-kilter style.
The artists here managed to capture all those elements perfectly with an almost pre-historic depiction of one of mother nature's most majestic reptiles.
IPAs
Winner: Here Be Dragons
Vicious Fishes Brewery – Rocky Mount, NC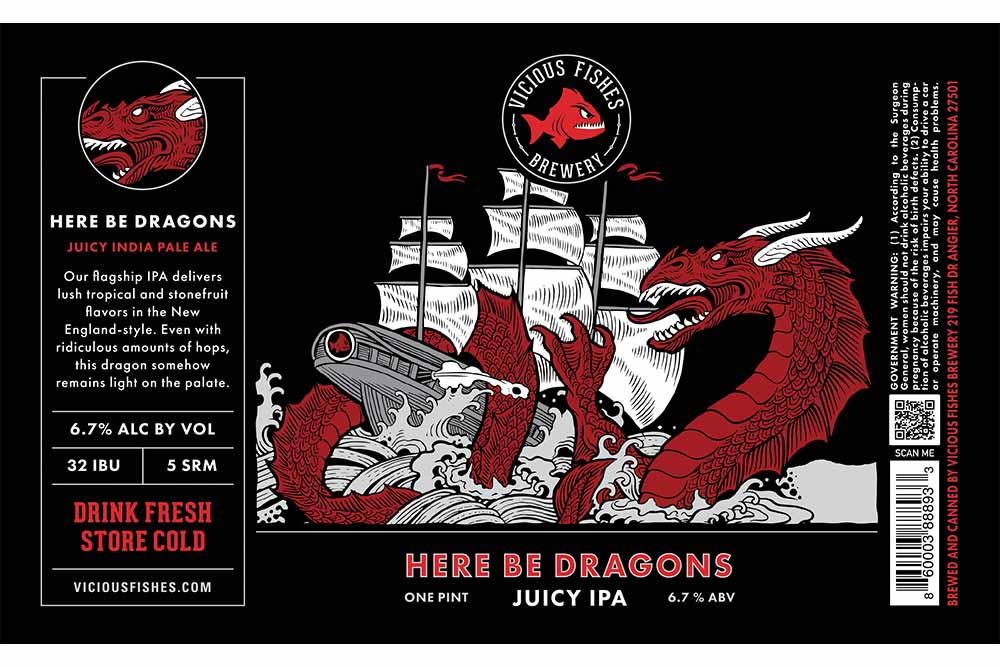 Art By: @samparkerartist & @bigbridgedesign
Winning last year for a bone-chilling depiction of the abyss, Viscous Fishes returns to the podium once more for an equally epic Game of Thrones-esque craft beer label.
Fitting to find that Viscious Fishes' flagship IPA delivers a mythical amount of Amarillo, Simcoe, and Citra hops for a liquid that transports you to other worlds.
Just beware on your journey to an uncharted island, you don't want to end up eaten by the fire-breathing dragon.
We can sum this craft beer label up in one word: dracarys!
Specialty IPA (black, rye, fruited, brut, etc….)
Winner: I Did It All For the Wookie
Divine Barrel Brewing – Charlotte, NC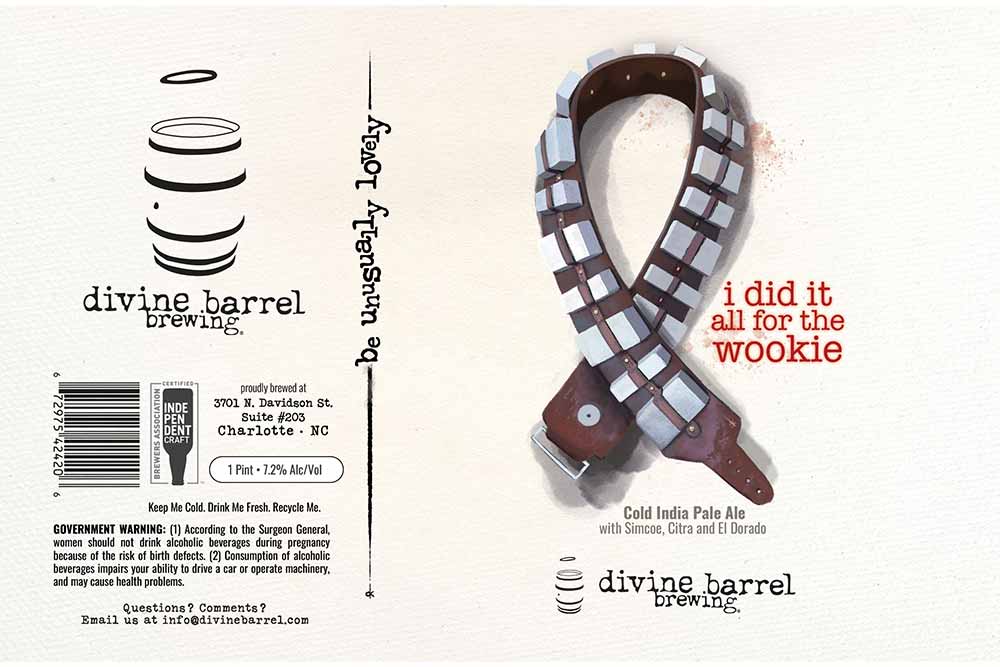 Art By: Dave Kaminsky (@decay_design)
We told you Kaminsky and Divine Barrel would show up here again. And for good reason. Kaminsky's playful banter beautifully shines in an homage to Chewbacca's iconic utility belt.
The famous Star Wars Wookiee, a fictional humanoid alien native to the forest planet Kashyyyk, plays a huge role in the series, co-piloting the Millennium Falcon alongside Han Solo.
Now, it could just be that Divine Barrel is made up of a bunch of Star Wars fans. Or they could be trying to tell us something here.
Cold IPAs have become like co-pilots to American IPAs, driving an entirely new trend in the style.
Divine Barrel's version strikes back with an adjunct-lager base of rice followed by a blaster slash of Simcoe, Citra, and El Dorado full of mango, passion fruit, and pine.
Rrrruuuurrr!
New England & Hazy IPAs
Winner: Giggle Juice
The Unknown Brewing Co. – Charlotte, NC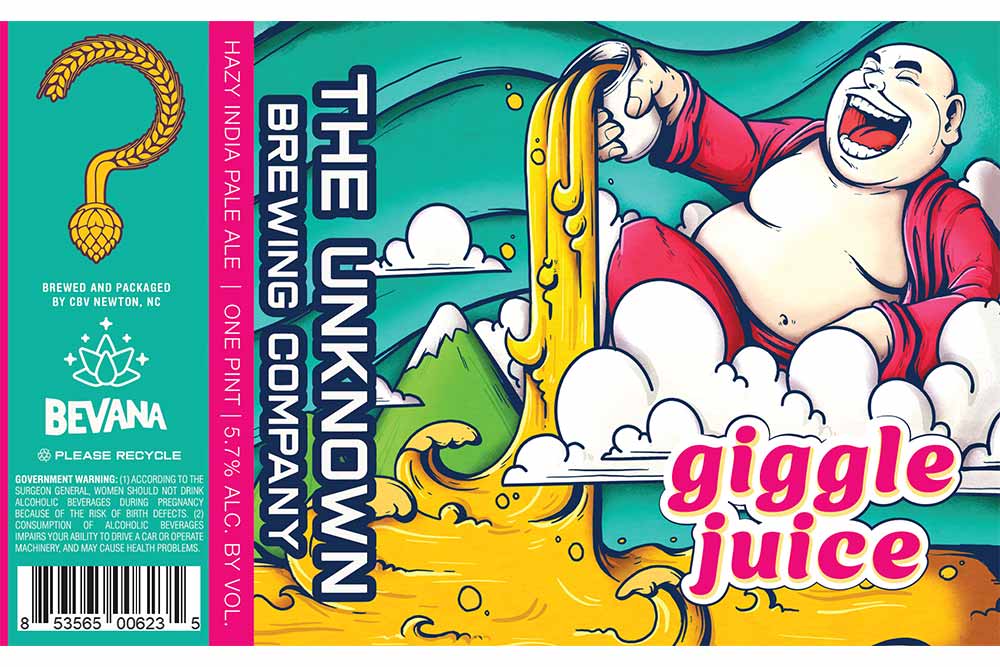 Art By: @keith_m_phillips
We'd giggle too if you told us this hazy IPA gets an infusion of guava and milk sugar. Honestly, you can't look at this label and not feel good vibes.
The Unknown Brewing Co. asks you to venture into the unknown with them, giving a New England-style IPA with some quirky ingredients a try.
Belgian & French Ales
Winner: Tiny Beekeeper
Spaceway Brewing Company – Rocky Mount, NC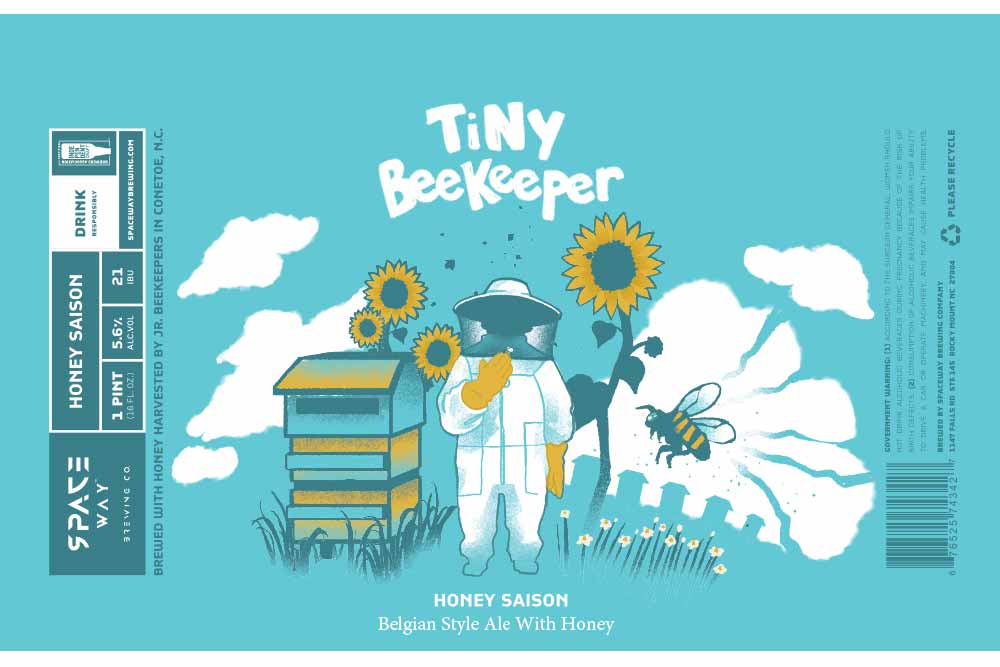 Art By: @leximalp
Last year, Spaceway picked up a win for its Don Dada label. These two could not be more different. Where Don Dada looks like Daft Punk on a beer label, Tiny Beekeeper could be an updated version of Goodnight Moon.
And these two beers are very different. Don Dada, a cardamom stout, and Tiny Beekeeper, a Belgian-style ale with honey harvested by junior beekeepers in Conetoe, NC.
Which shows the breadth of the BIPOC-owned Spaceway Brewing in both artistry and brewing.
Translating to season in French, saison is a traditional, pastoral ale origination in the French-speaking region of Belgium.
With Tiny Beekeeper, @leximalp's design depicts a field of sunflowers with bees lazily buzzing around, transporting us not only to another place but also to a different time.
I mean is anyone else getting Michael J. Fox in Back to the Future vibes from the beekeeper?
Sour, Brett, Mixed, & Wild Ales
Winner: Triple Berry Jam
Lenny Boy Brewing Company – Charlotte, NC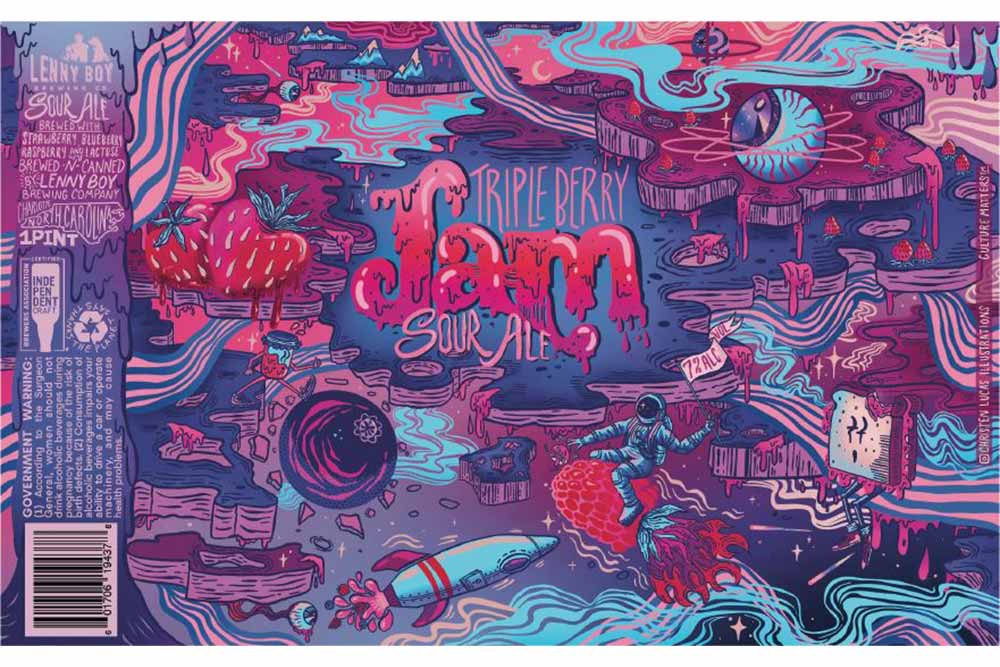 Art By: @christenlucasillustrations
Taking your tastebuds on a totally tubular ride through a Willy Wonka Chocolate Factory of gallons of jammy thick blueberry, strawberry, and raspberry, Triple Berry Jam drenches you from head to tongue to toe.
@christenlucasillustrations's psychedelic design had us hypnotized before we even picked up the can. They say we eat with our eyes first, well if we drink with them too, Triple Berry Jam has us hooked.
Spiced, Vegetable/Herb, & Seasonal Beers
Winner: When There Are Nine*
Wye Hill Brewing – Raleigh, NC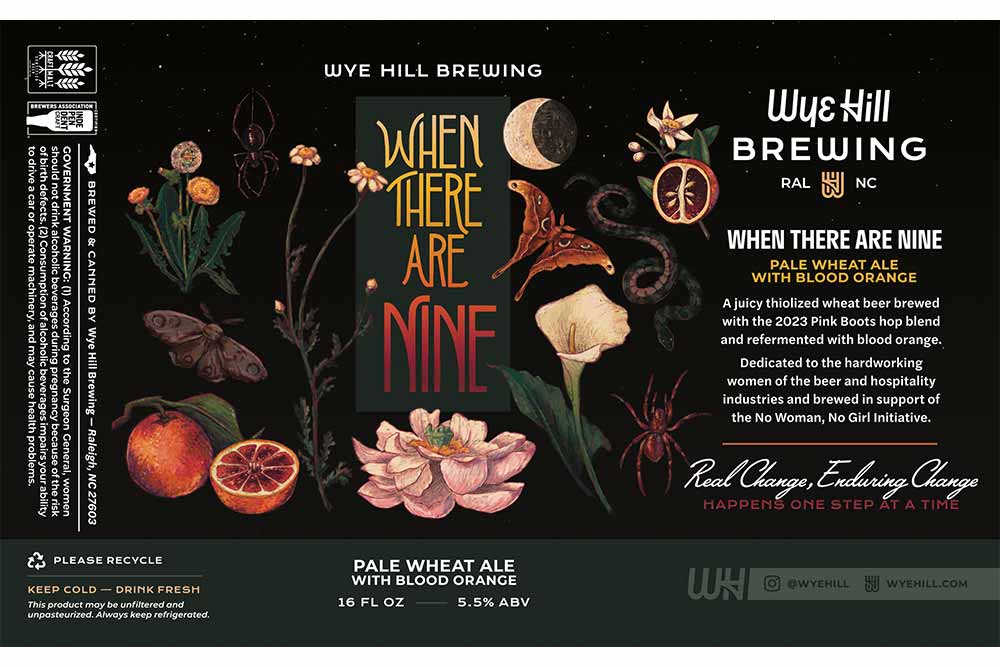 Art By: @_sadiet
This craft beer label by @_sadiet reads like a page out of a farmer's almanac or an exhibit you'd find in a nature museum. It's gorgeous, evoking the flora and fauna used to make this beer.
Brewed with the 2023 Pink Boots hop blend, When There Are Nine celebrates femme-identifying folks in the industry and supports the No Woman, No Girl Initiative.
It's a beautiful label for a beautiful beer.
*Editor's Note: I participated in this judging category and rated When There Are Nine as the highest out of a group of ten labels.
Barrel-Aged (Wood) Beer
Winner: Warm My Bones
Divine Barrel Brewing Company – Charlotte, NC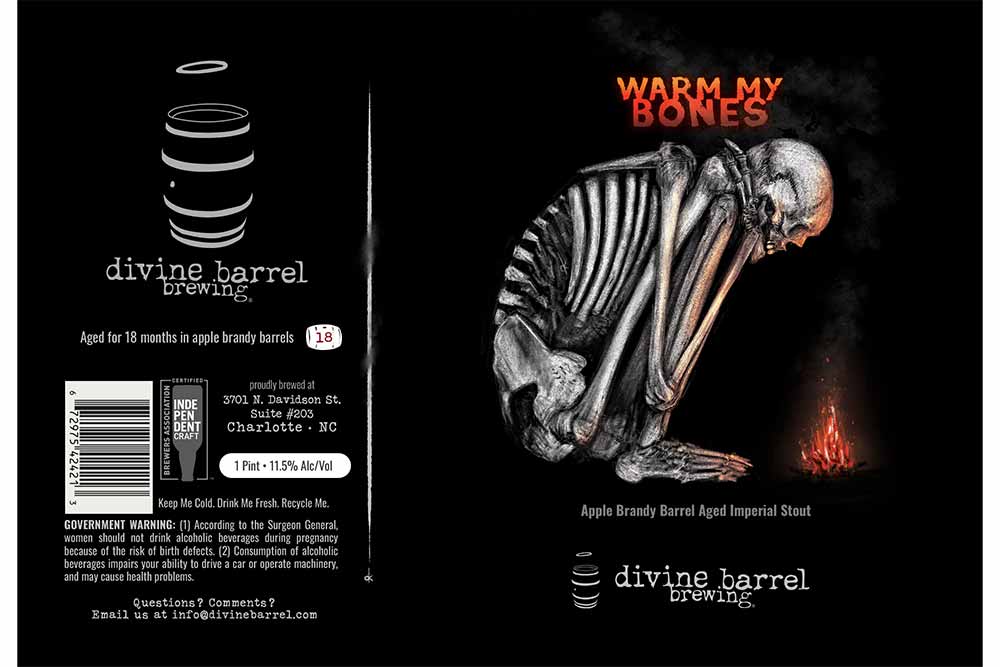 Art By: Dave Kaminsky (@decay_design)
We end this competition as we closed it last year—with another one of Kaminsky and Divine Barrel Brewing's labels.
Kaminsky's designs always stretch our brains. Now, this one seems pretty self-explanatory—a skeleton warming his bones by the fire, and yet it still haunts us.
This apple brandy barrel-aged imperial stout will certainly warm your bones, but we aren't skeletons, and the big difference between us and them is that we have souls. And Warm Your Bones will seep into your soul.