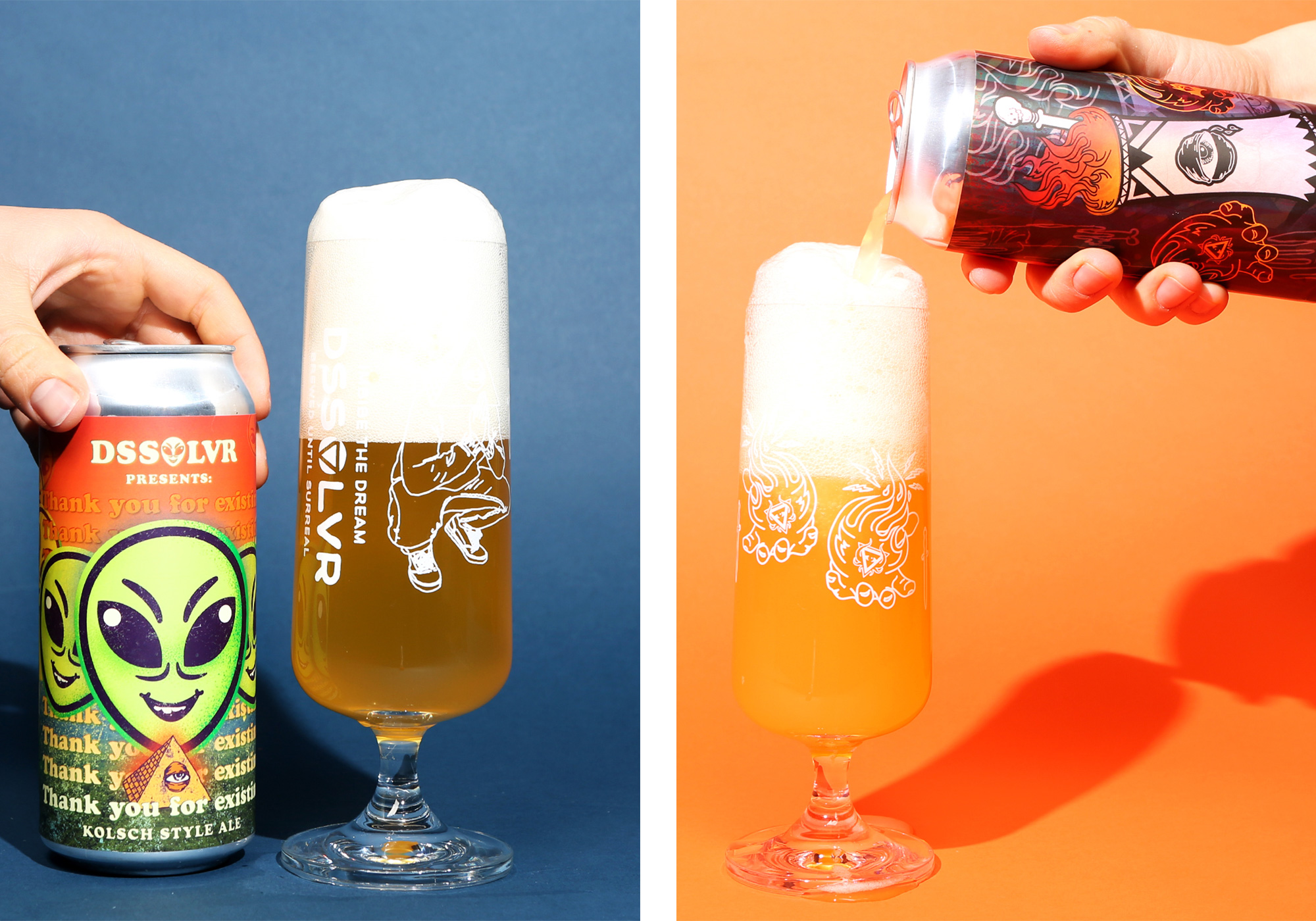 Late last week, we shared our picks for the best brewery websites of the year. And now, with our list of the best brewery Instagram accounts of 2020, we're continuing to shine a light on digital spaces by calling attention to 20 of our favorite brewery Instagram accounts.
Over the past few years, Instagram has emerged as one of the most important platforms for a brand to market itself, establish its identity, advertise, build an audience, and / or sell products. For breweries, it's become the premier place to announce events and beer releases and keep their customers up to date on pertinent info. The only thing a brewery can't do on Instagram? Sell beer. (For now… and until then, you can buy beer online)
So, in a year when folks really haven't been able to interact in person, digital spaces have become invaluable. And many craft breweries have managed to shape unique and authentic digital spaces via social platforms — Instagram being chief amongst them.
Below are twenty of our favorite brewery Instagrams of 2020. These are the accounts worth following for their gorgeous eye-candy but also for their engaging storytelling and helpful information. If you read our list of the best brewery websites of the year, you might notice some crossover. Perhaps it's no surprise that the best brewery websites were run by folks who also happened to be able to communicate very well in a visual medium.
The accounts are presented below in no particular order except for DSSOLVR, which we're naming the best brewery Instagram account of 2020.
The Best Brewery Instagram Accounts of 2020
DSSOLVR
Asheville, NC
@dssolvr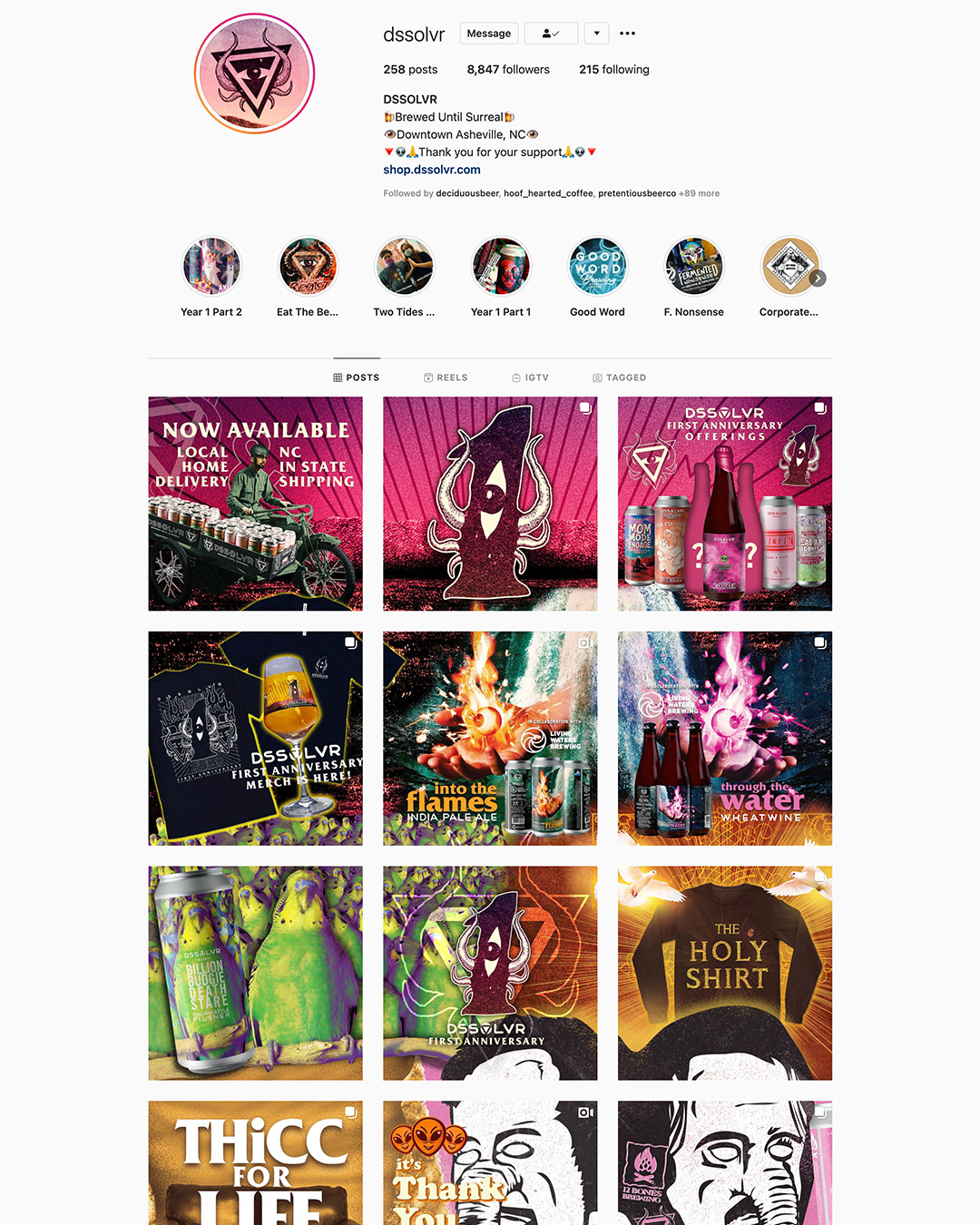 At a quick glance, the DSSOLVR account is utter chaos. Surrealist, meme-worthy visuals with contrasting colors create a bizzaro landscape that befuddles the mind. But take a closer look and you notice the detailed planning and organization that goes into managing such a complex web.
Personally, I'm never that interested in Instagram accounts that prioritize the grid. For the most part, the images that look connected in grid view feel disjointed on their own. But that's why DSSOLVR's account is so impressive. As discrete images, each post makes sense. Then, when you return to the grid, you realize that elements from that first post carry over into the next one, creating an epic (and definitely cursed) tableau.
We've long been impressed by DSSOLVR's work creating delicious beer and compelling can designs. But, if you want a single distillation of the minds behind DSSOLVR, head to instagram.com/dssolvr.
Allagash Brewing Co.
Portland, ME
@allagashbrewing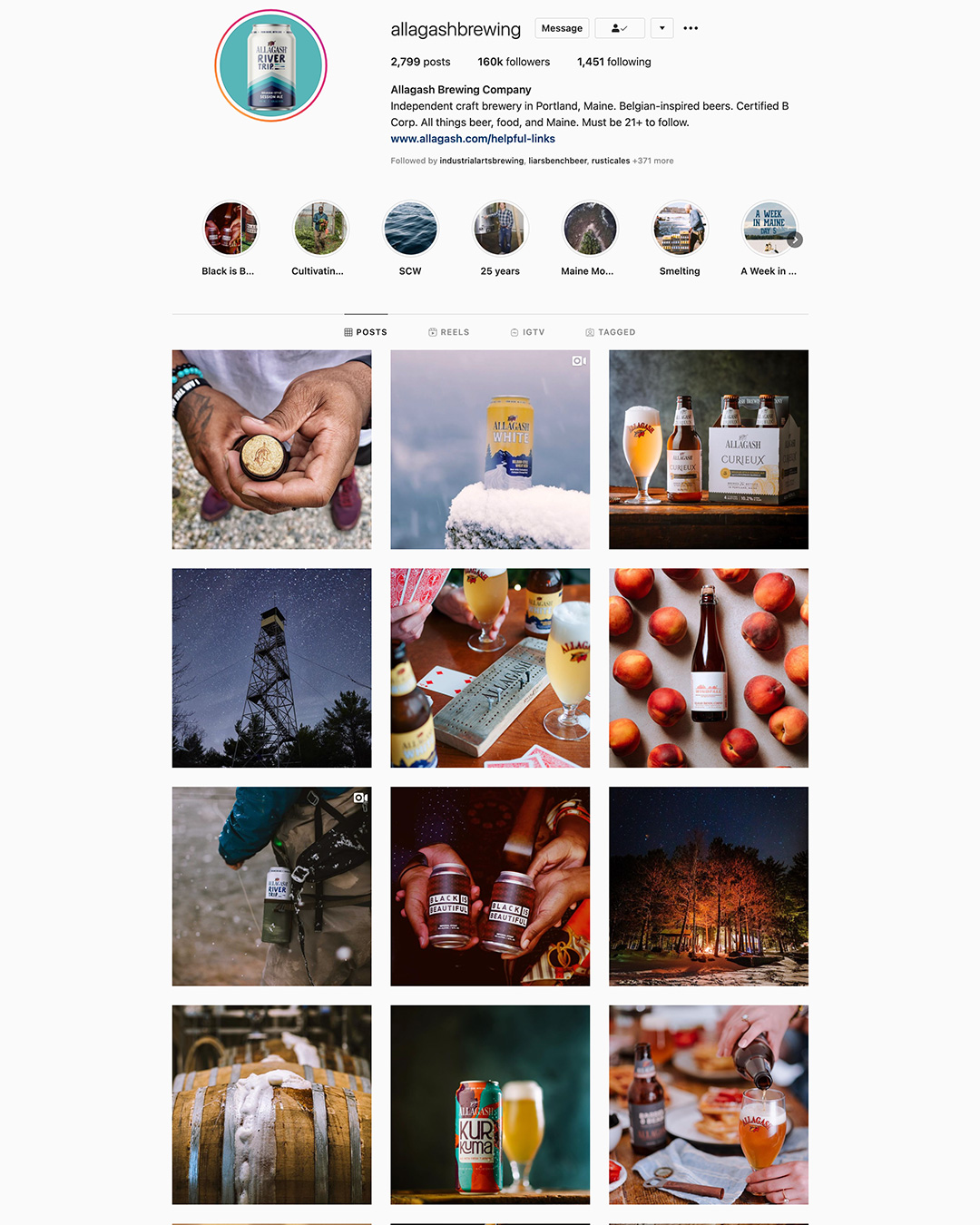 One of the strongest criticisms of Instagram is the FOMO it produces. But when it comes to Allagash, we don't even mind.
Now, it should be noted that one of the country's best craft breweries isn't purposefully trying to exclude you from the sweet times in Vacationland. In fact, Allagash works hard to actively invite everyone into the good times. Rather, the FOMO is an unintended consequence of the feed's award-worthy shots from Maine. Each bucolic shot feels like a painting you could step through to crack open an Allagash White alongside the brewing team.
With their stunning shots that rival those of Instagram's best nature photography accounts, Allagash easily maintains one of the best brewery Instagram accounts, and I highly encourage you check them out.
Homage Brewing
Pomona, CA
@homagebrewing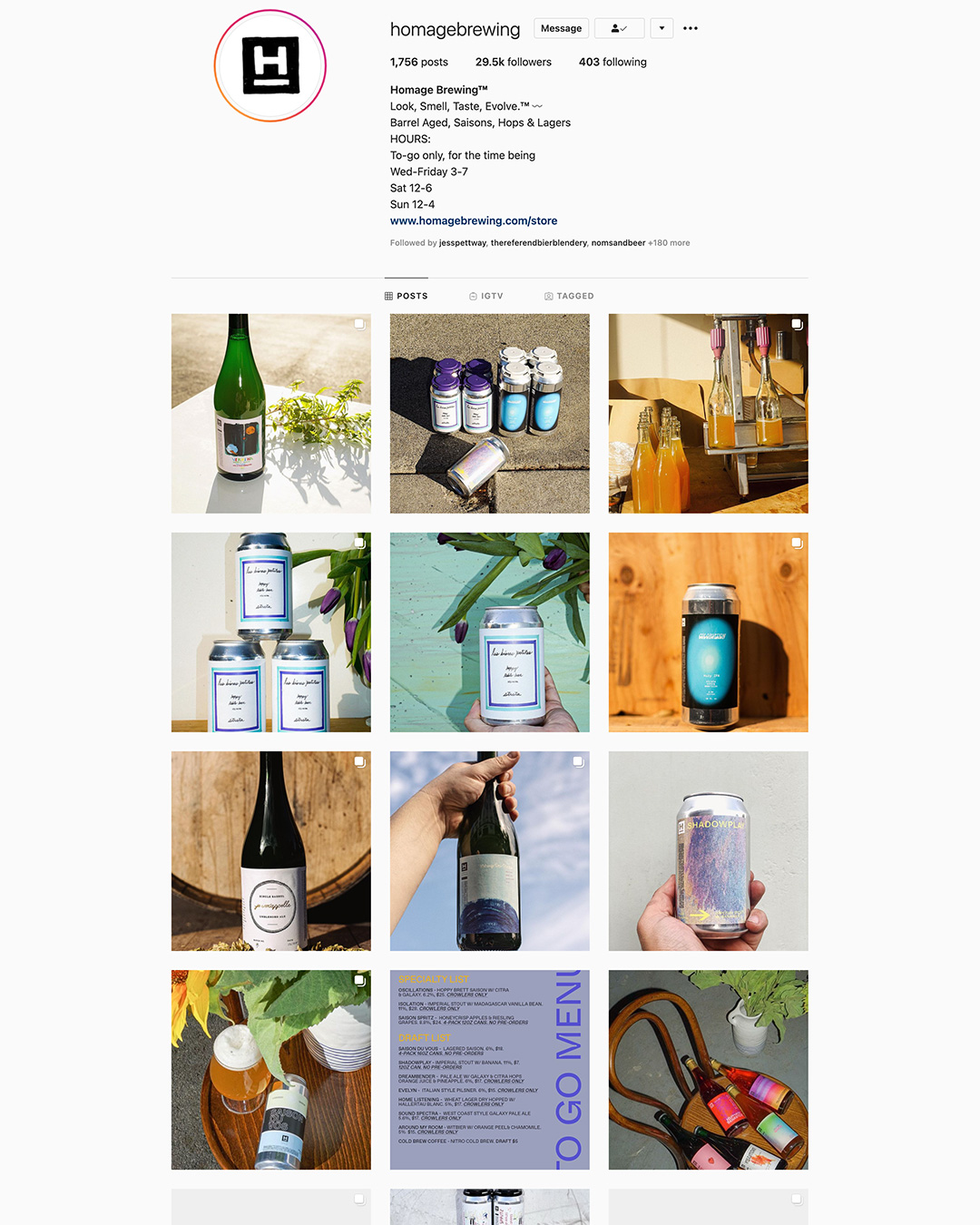 As I mentioned in our article on the best brewery websites, Homage's founders have a keen eye for design. And that aesthetic vision carries through in the brewery's Instagram account.
The photos are styled and shot by the husband and wife founding team of Matt and Lauren Garcia. The photography is bright, highlighting the vibrancy and dynamism you might find while drinking a Homage beer.
Ultimately, Homage's Instagram account is an inside look at the vision and style of the brewery itself.
Halfway Crooks
Atlanta, GA
@halfwaycrooksbeer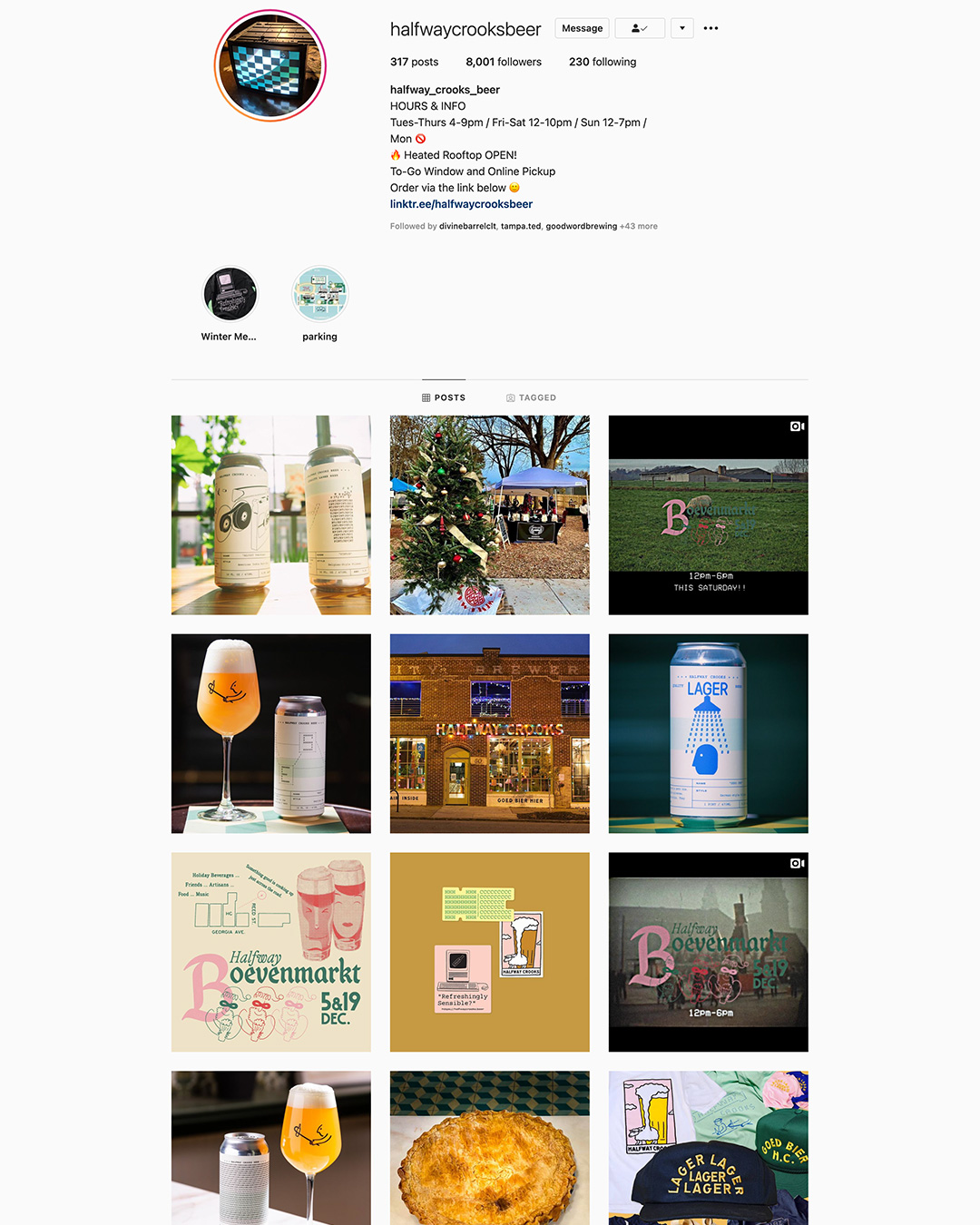 It's only fitting that the tech wizards at Halfway Crooks should be featured in this list. While the photography might not be as stylized as that of Allagash or Homage, the Halfway Crooks Instagram experience is just as special.
Unlike many breweries on Instagram, Halfway Crooks has created a unique narrator for their feed. Read a few of the captions and you get the sense that they're written by an AI attempting to pass as a real, oxygen-breathing human. It's subtle and cheeky, but speaks to the ethos of Halfway Crooks. Give them a follow and enter the world of blips and bloops. And sheep.
Revel Cider
Ontario, Canada
@revelcider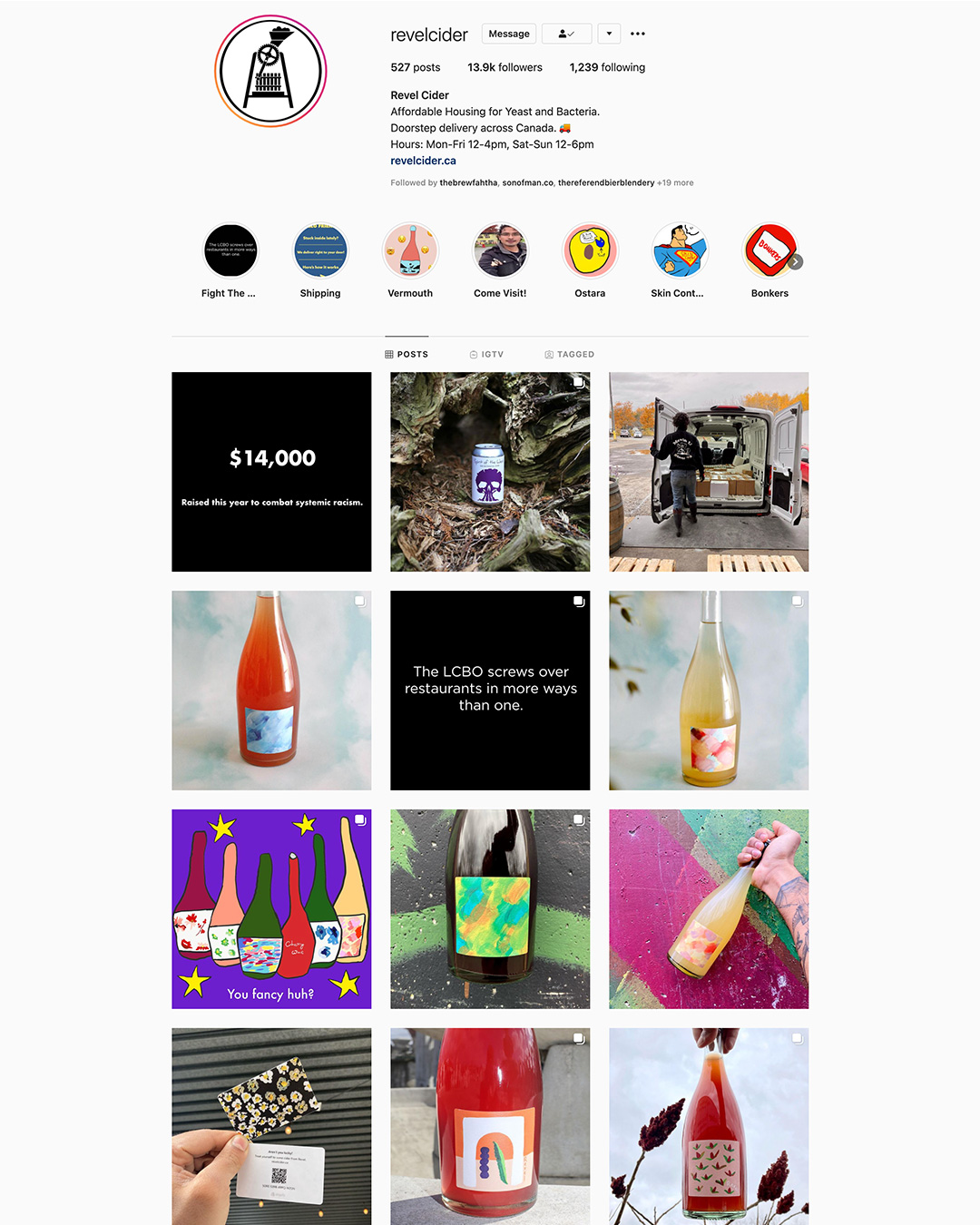 How do I know Revel Cider's Instagram account is successful? I immediately wanted to try some of their colorful, vibrant cider.
If I had to sum up Revel Cider based on its Instagram account, it'd be in one word: color. Those bright bottles of fermented apple juice are adorned by beautiful and artistic labels. However, the cider itself does the talking. Follow @revelcider and join me in wishing I could reach out and grab a bottle… and then lament as you realize they don't ship to the United States.
Troon Brewing
Hopewell, NJ
@troonbrewing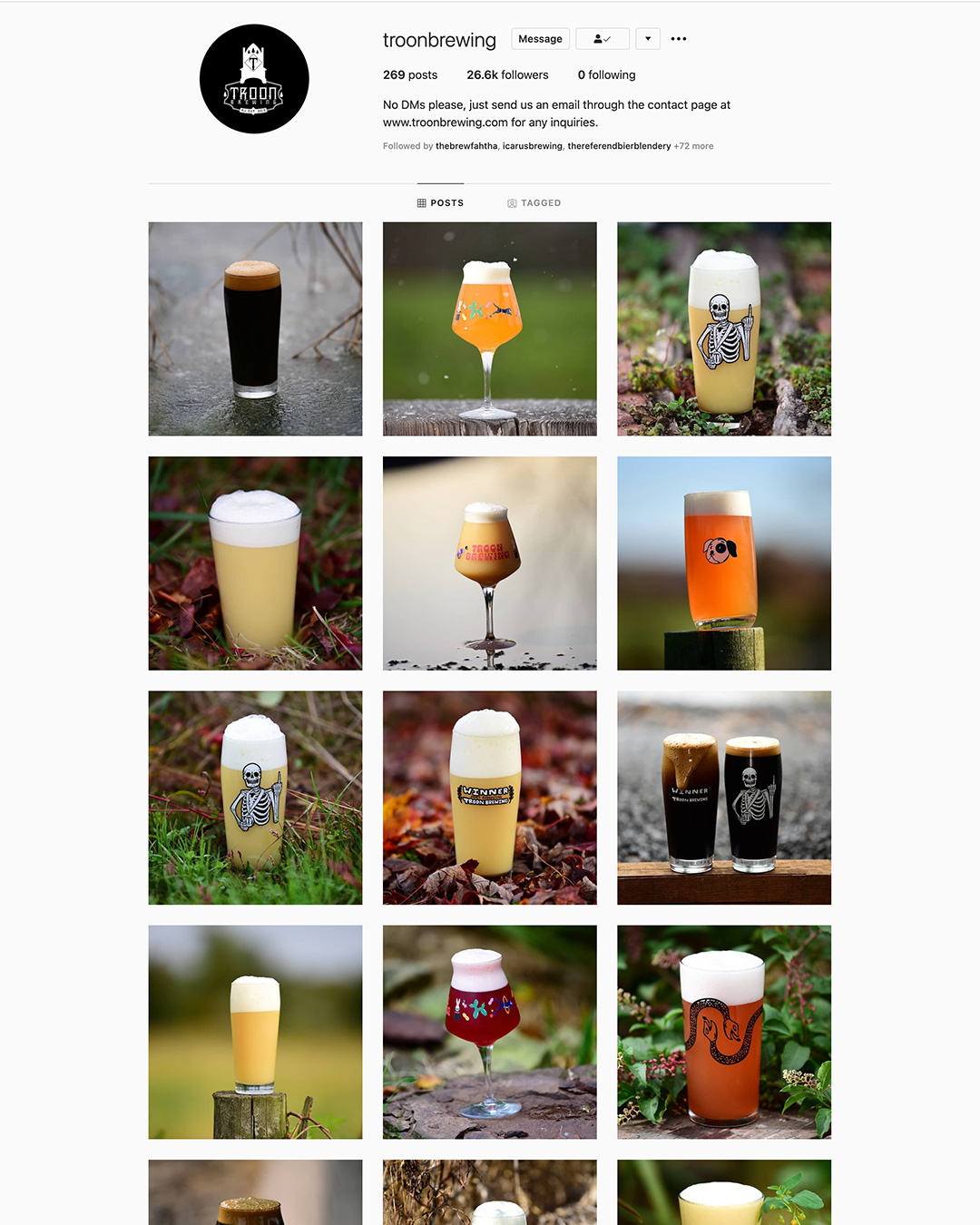 This is the only Instagram account for which I have notifications turned on. And that's because following Troon's Instagram is really the only way you can get your hands on their coveted beer. And even then, it's not guaranteed.
Troon Brewing makes some of the best beer in New Jersey, and arguably some of the best beer on the East Coast. For this reason, it happens to be amongst the most in-demand beer in the country. As a result, there's quite a bit of hype and myth surrounding Troon's beer. The brewery is tiny so there's necessarily a very small quantity of beer produced each batch. To mitigate some of the furor that "fans" inevitably fling his way, founder Alex Helms announces each release on the brewery's Instagram page. The result is that within minutes, you can find out if a beer is available or not.
To be clear, I've only once had the chance to visit the brewery and purchase beer because of the Instagram post alert. In most cases, Helms updates the caption mere minutes after posting to let you know the beer has sold out.
It's an extremely fascinating example of modern craft beer culture. Oh, and it also helps that Troon does an excellent job photographing its delicious beer.
Alvarado Street Brewery
Monterey, CA
@alvaradostreetbrwery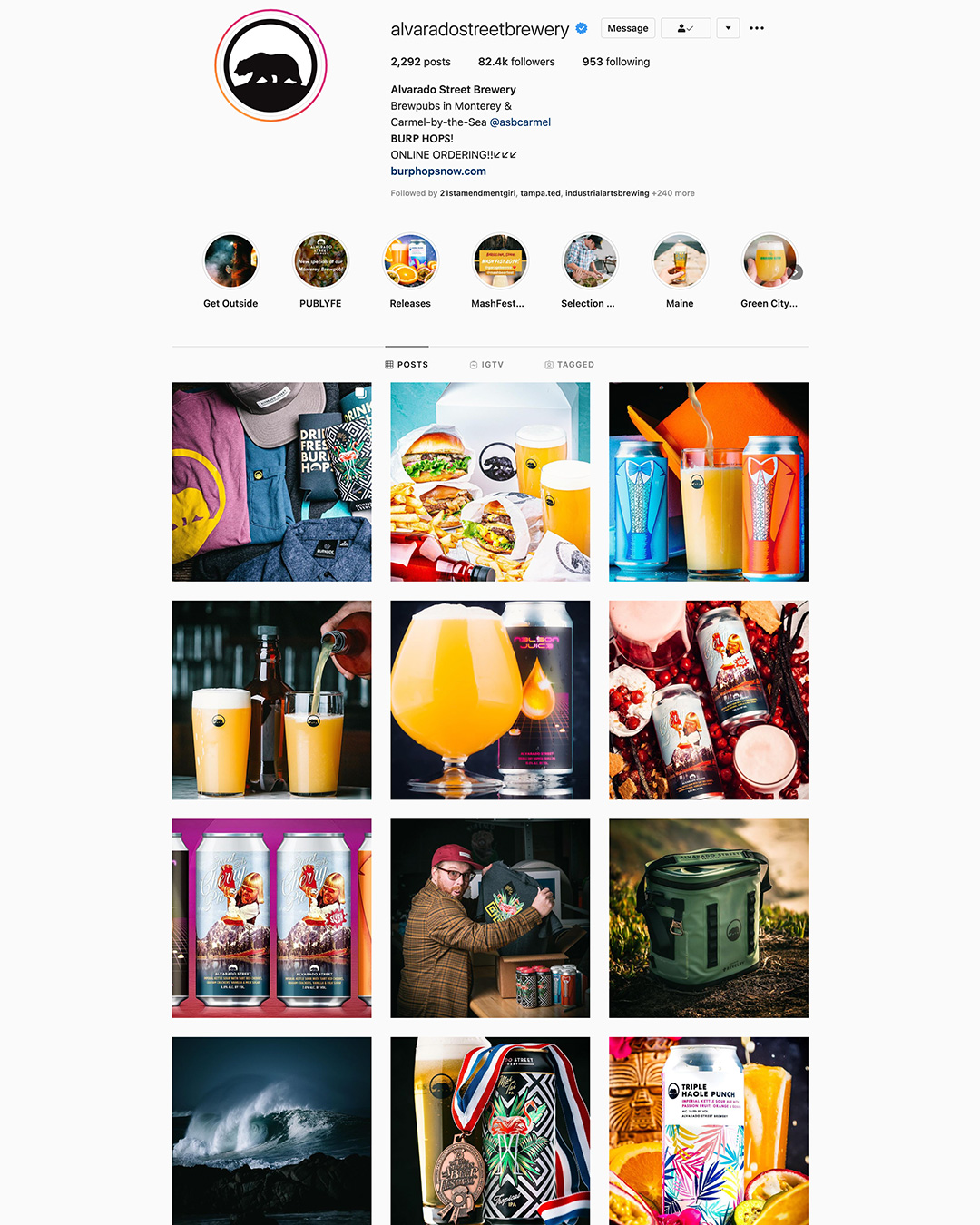 With skilled editing and quality photography, Alvarado Street's Instagram posts burst with life. Each shot contains delicious beer, energy, and fun.
Alvarado Street's Instagram account is a highly effective marketing tool for the brewery's beer. But it also brings you into the brewery's zany world of inside jokes and nostalgia trips. The photography is professional but the vibes are casual, making this an easy choice for the list.
Strange Brewing
Buenos Aires, Argentina
@strangebrewin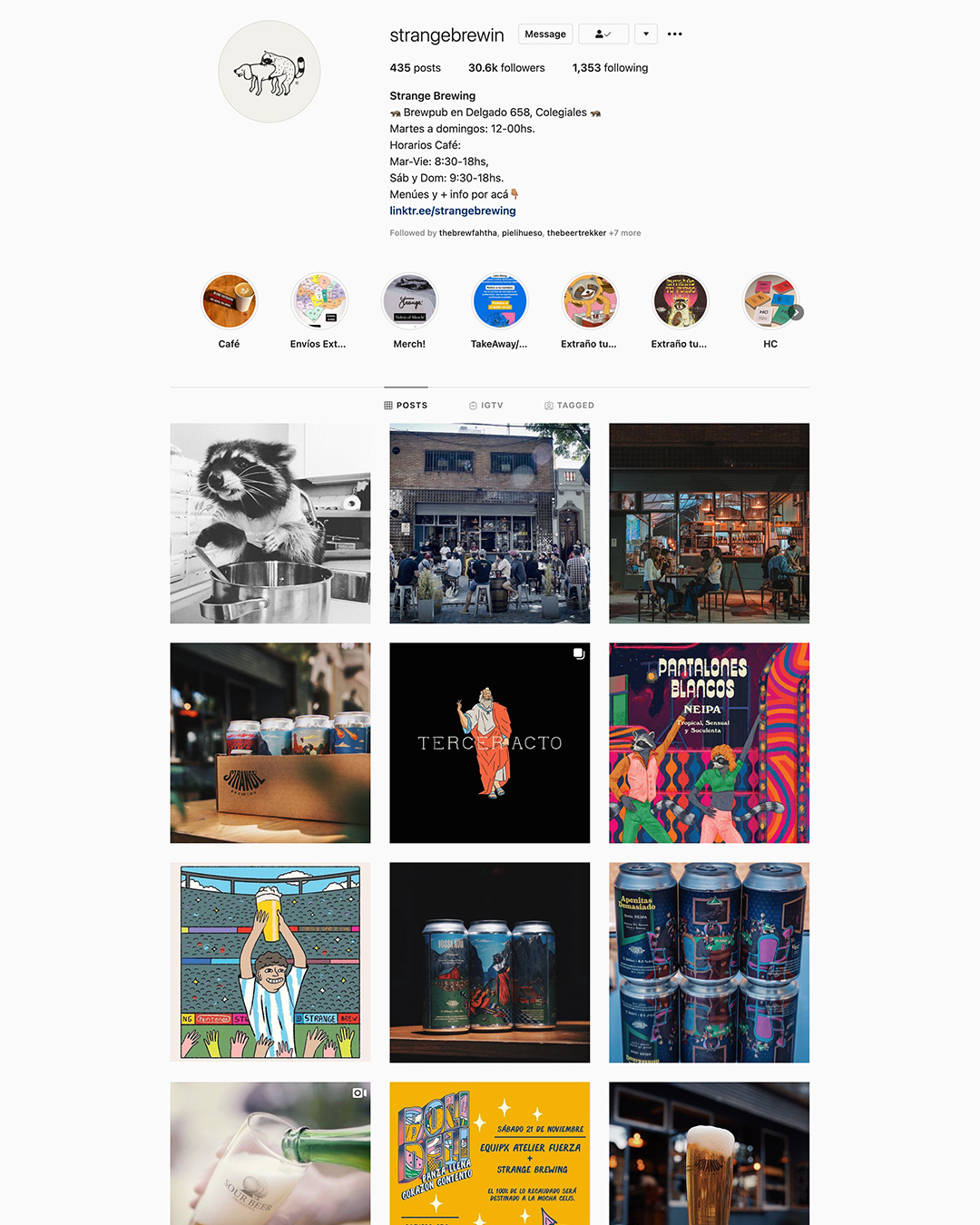 Most of the breweries on this list are American — or at least North American — but we wanted to include one of our favorite South American breweries. Strange Brewing, based in Argentina's capital, is a celebration of the weird and wonderful. Take a look at their logo and you'll immediately understand their wild sense of humor. Then check out their tap list: nearly all of their can designs feature a raccoon. So, a good chunk of their Instagram posts are simply photos of raccoons.
The consistent voice and humor give you a great sense of the brewery. And in my opinion, this is the best type of marketing. It feels authentic to the folks at the brewery. And, memes aside, there's some seriously spectacular photography on display.
Give them a follow for the weird raccoon shots and stick around for the beautiful beer pours.
Hudson Valley Brewery
Beacon, NY
@hudsonvalleybrewery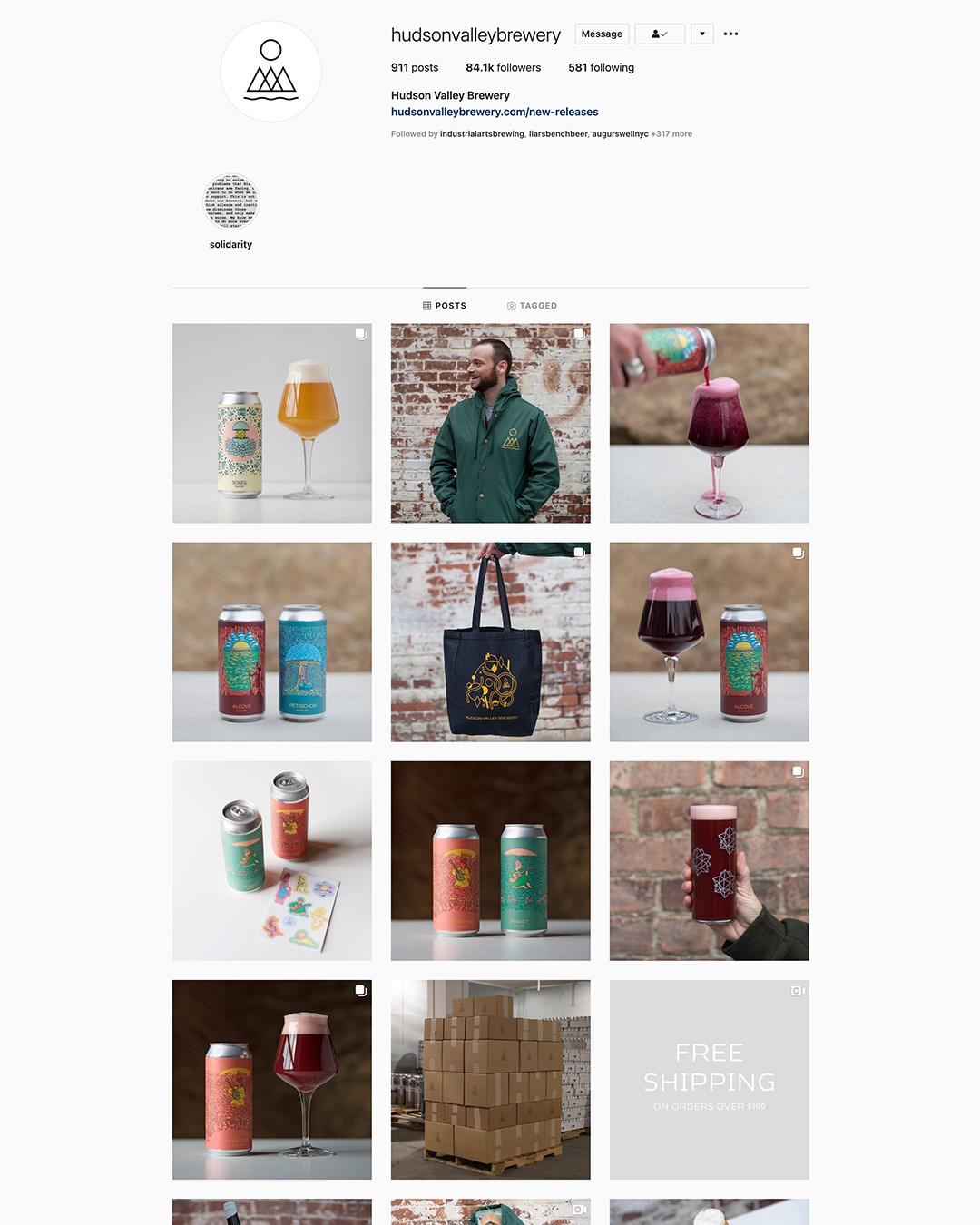 In many ways, you could argue Hudson Valley Brewery popularized two things: sour IPAs and cohesive, elegant design. That's not to say there weren't other breweries placing an emphasis on their branding and marketing programs before Hudson Valley. But the brewery — with the help of their artist Evan M. Cohen — codified the idea of using each label design to tell a story that extended beyond the can.
Releases often featured one-off merch items that pulled different elements from the labels. Pieces of the labels continued into subsequent beer designs. There was a sense of intricacy and planning that demonstrated the brewery cared about the way it presented itself.
In the past, we've used Hudson Valley as a beer design case study, and we continue to believe that good design is important to the craft beer community. So, it makes sense that Hudson Valley's Instagram presence reflects that care and precision on display in the brewery's labels. Stylish photography places the emphasis on those labels and tells a story across multiple posts.
Flying Machine Brewing Co.
Wilmington, NC
@flyingmachinebrewing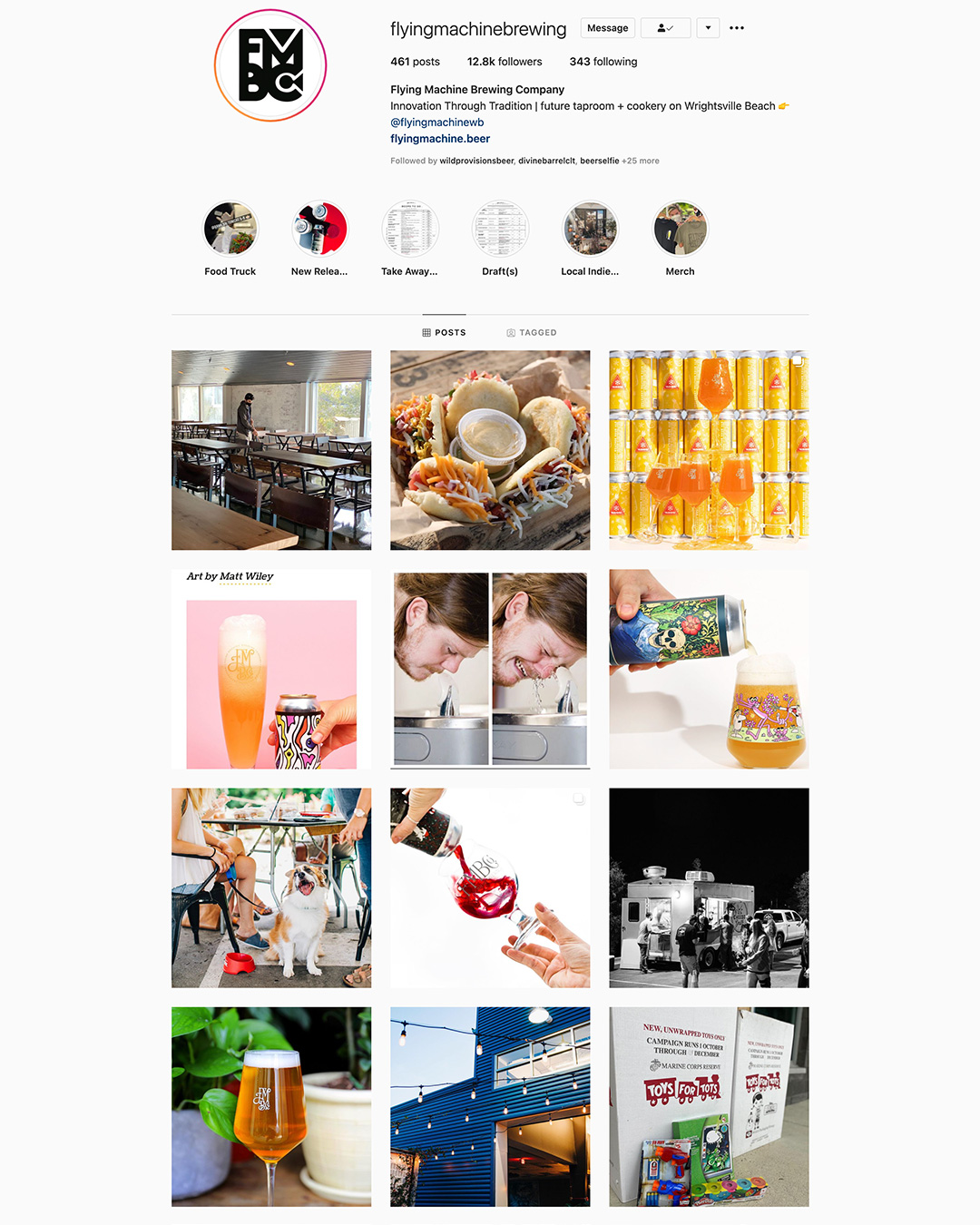 Speaking of highly stylish Instagram accounts, Flying Machine has some of the most artful and evocative photography in the game.
While the brewery doesn't necessarily commit to a planned out grid or ultra-cohesive posting schedule, the focus is on the brewery itself. Many of its posts are informational. But even then, the photos are professional.
Frankly, however, we included Flying Machine because of their creative shots. Bursts of liquid, zoomed-in detail shots of stunning label art, and everything in between create a sense of pure joy.
Wunderkammer Biermanufaktur
Albany, VT
@wunderkammerbier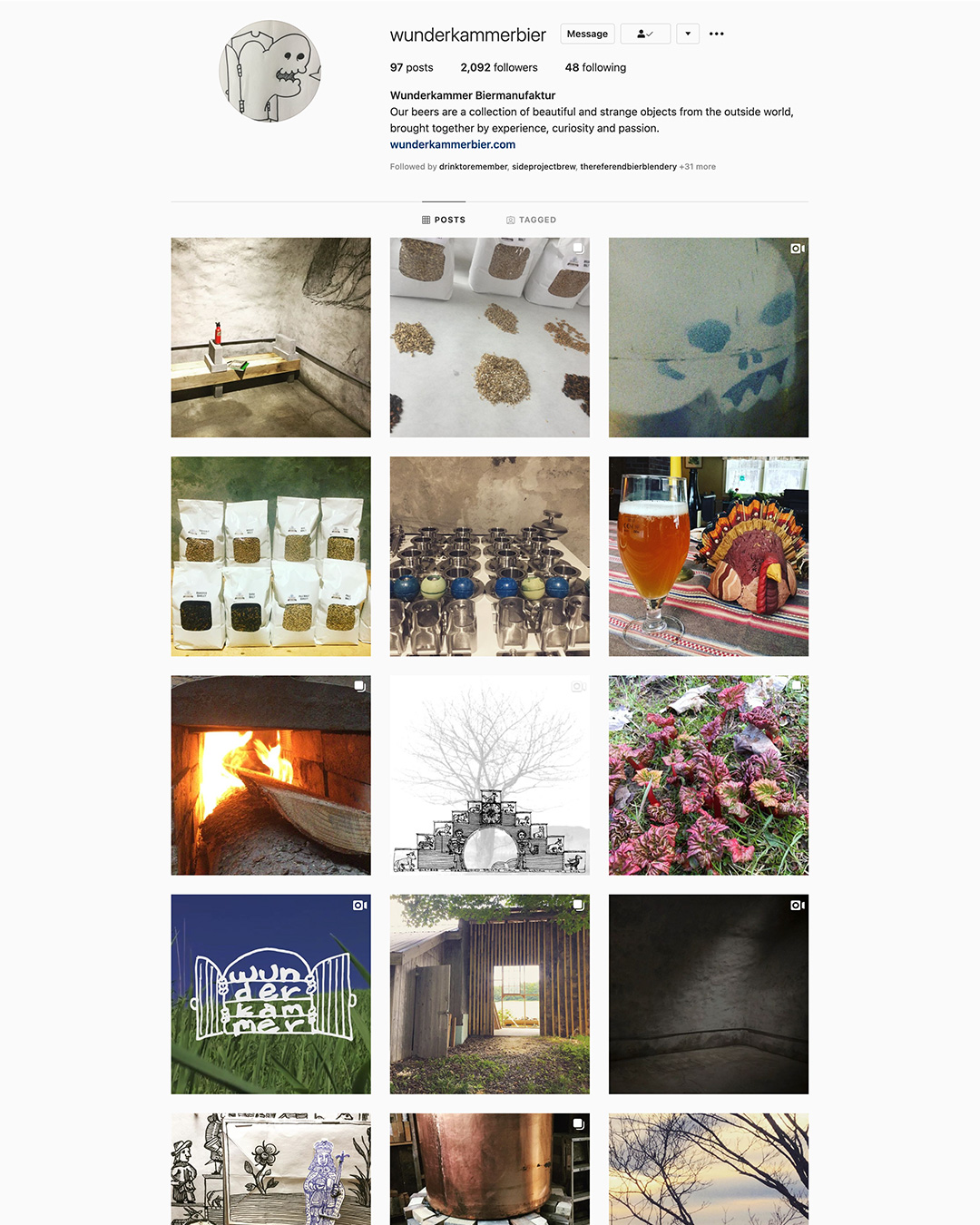 We're going to set aside stylized, glitzy beer photography for a moment and focus on authenticity.
Wunderkammer is one of the most special projects in craft beer right now. If you want, you can read more about Wunderkammer beer here but the reason I praise the brewery so much is that founder Vasilios Gletsos is such a kind, warm, thoughtful person. And he happens to be making unique and delicious beer. And now, I can add that he maintains a terrific Instagram.
I'll spare you my preaching, but if you have any interest in Wunderkammer, I encourage you to follow the brewery's Instagram account for an unadulterated peek at "The Gletsos Process." The account is very much a space for Gletsos to share some raw photography of Wunderkammer and, like the good old days, blog about his progress.
Zero Gravity Craft Brewery
Burlington, VT
@zerogravitybeer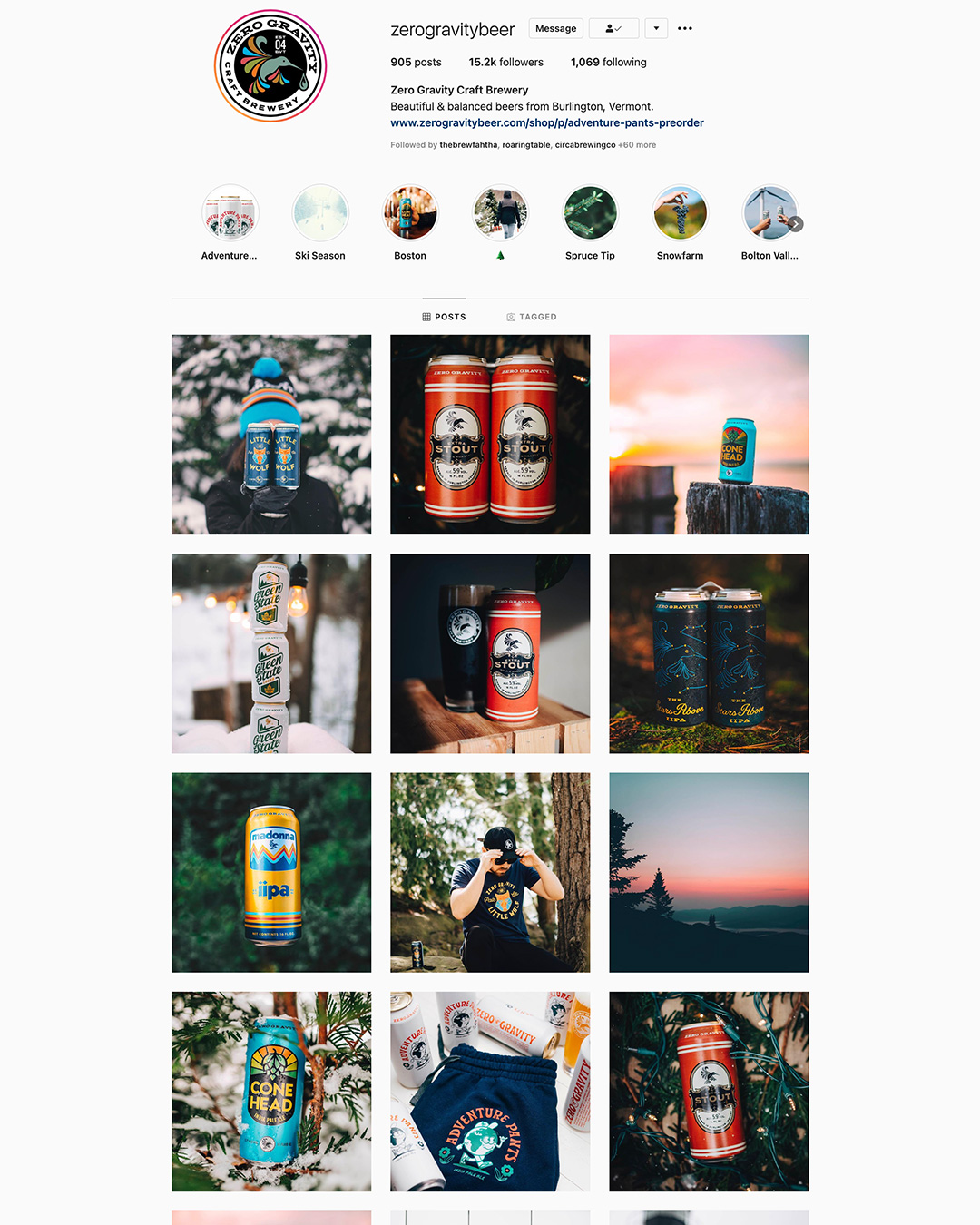 As long as we're visiting Wunderkammer in Vermont, let's jump to their neighbors: Burlington's Zero Gravity. Much like Allagash, Zero Gravity's Instagram account is basically a love letter to its home state. The brewery's account could definitely serve as a Vermont travel guide, with some beer sprinkled throughout.
The beer is lovingly shot and Zero Gravity's Instagram page helps tie the brewery to its natural surroundings. Which makes sense, considering the brewery has kicked off several sustainability initiatives.
Humble Sea Brewing Co.
Santa Cruz, CA
@humblesea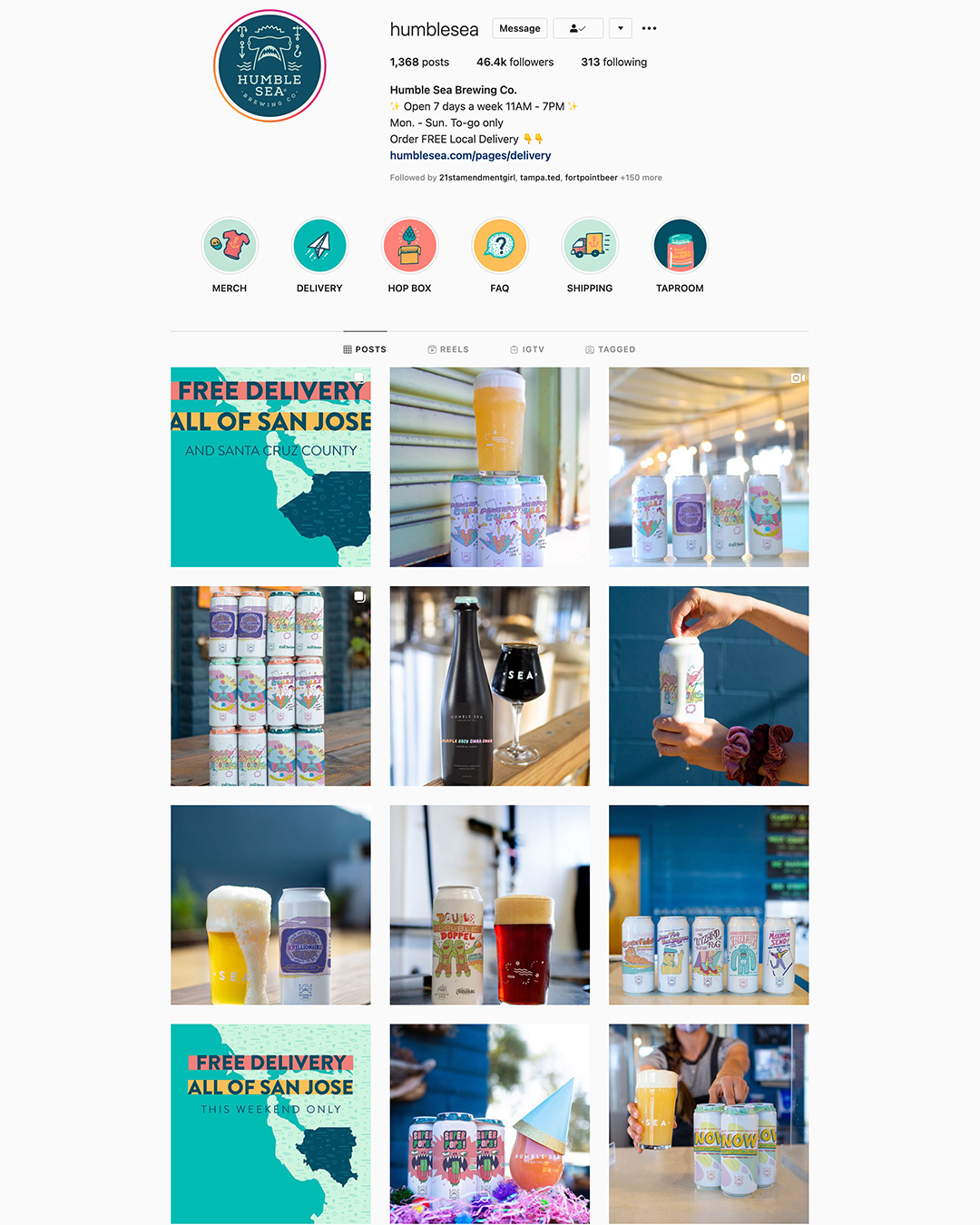 If you want to get a sense of how Humble Sea operates, take a look at their Instagram account. The brewery eschews overly curated content for stylish photography and a genuine sense of fun. Most of Humble Sea's beers are groan-worthy puns, and that "dad humor" is front and center on the brewery's Instagram account.
Plus, while Humble Sea is clearly — and rightfully — proud of their beer, they don't take things too seriously. That's why you'll find gratuitous overpours, neon green beer, silly beer names, and so much more.
Boss Rambler Beer Club
Bend, OR
@bossramblerbeerclub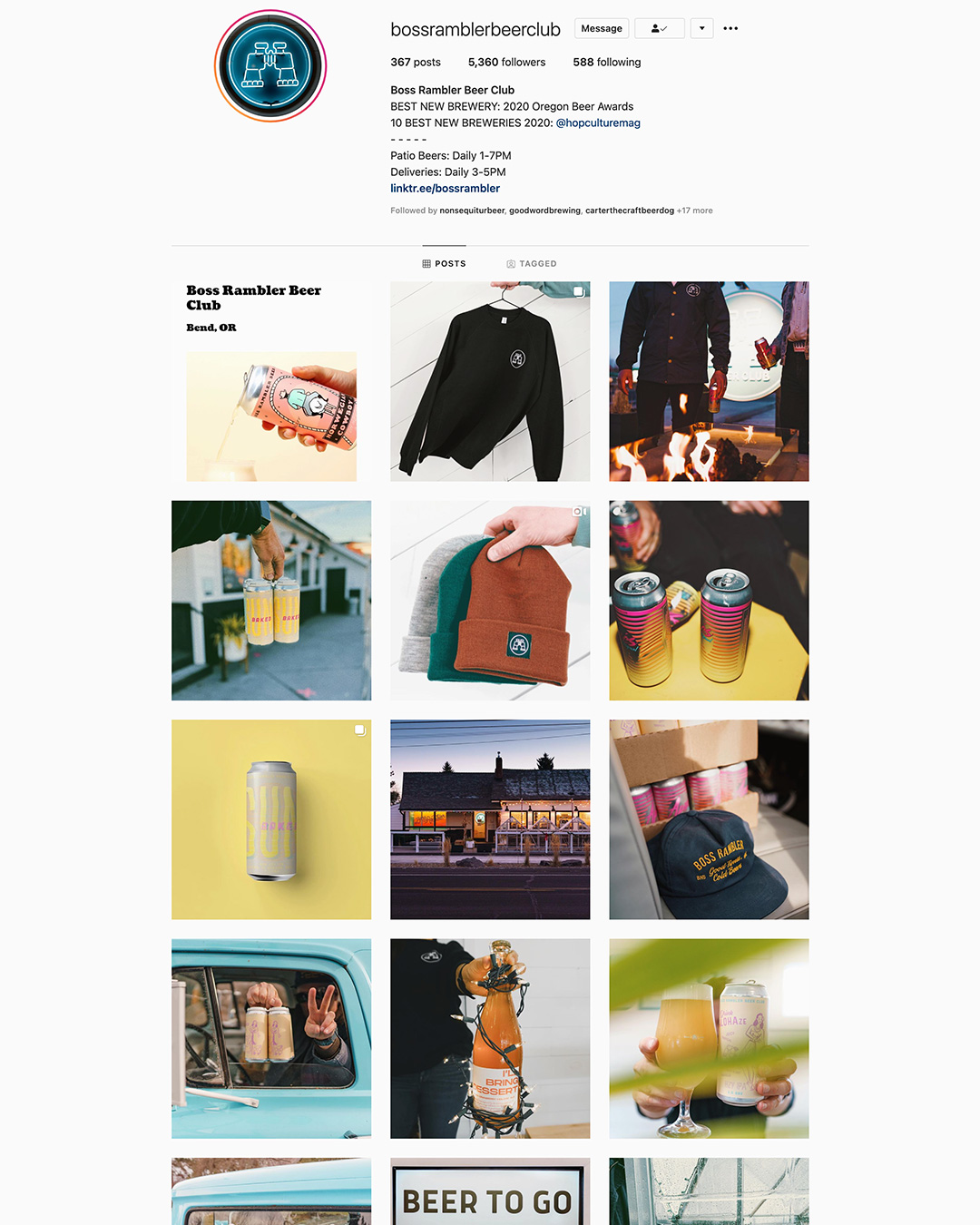 We named Boss Rambler Beer Club one of the best new breweries of the year. And our first introduction to the Bend, OR-based brewery was the visuals on its Instagram.
Boss Rambler plays into nostalgia with postcard-worthy can designs and a loving sense of the past. The pastel colors, softly textured photography, and old school merch are both fun and help tell the story of the brewery.
While we do really love Boss Rambler's beer, the brewery recognizes that beer is just a means to an end. There's nothing particularly fussy or sacred about a Boss Rambler beer; it's just a vehicle to fun. And a quick glance at the brewery's Instagram account makes that message abundantly clear.
Four Points Brewing
Charleroi, PA
@fourpointsbrewing
Four Points Brewing is a relatively small operation but they've gained quite a passionate following in Western Pennsylvania for their terrific contemporary styles. That being said, we should also mention that the brewery's "traditional" offerings are just as delicious.
Located in Charleroi, PA, the brewery uses its Instagram feed to highlight its excellent beer in professional-quality photographs to followers all across the country. Word travels fast on the interwebs so it's likely Four Points has eager fans far beyond their Pittsburgh suburb.
Mindful Ales
Jersey City, NJ
@mindfulales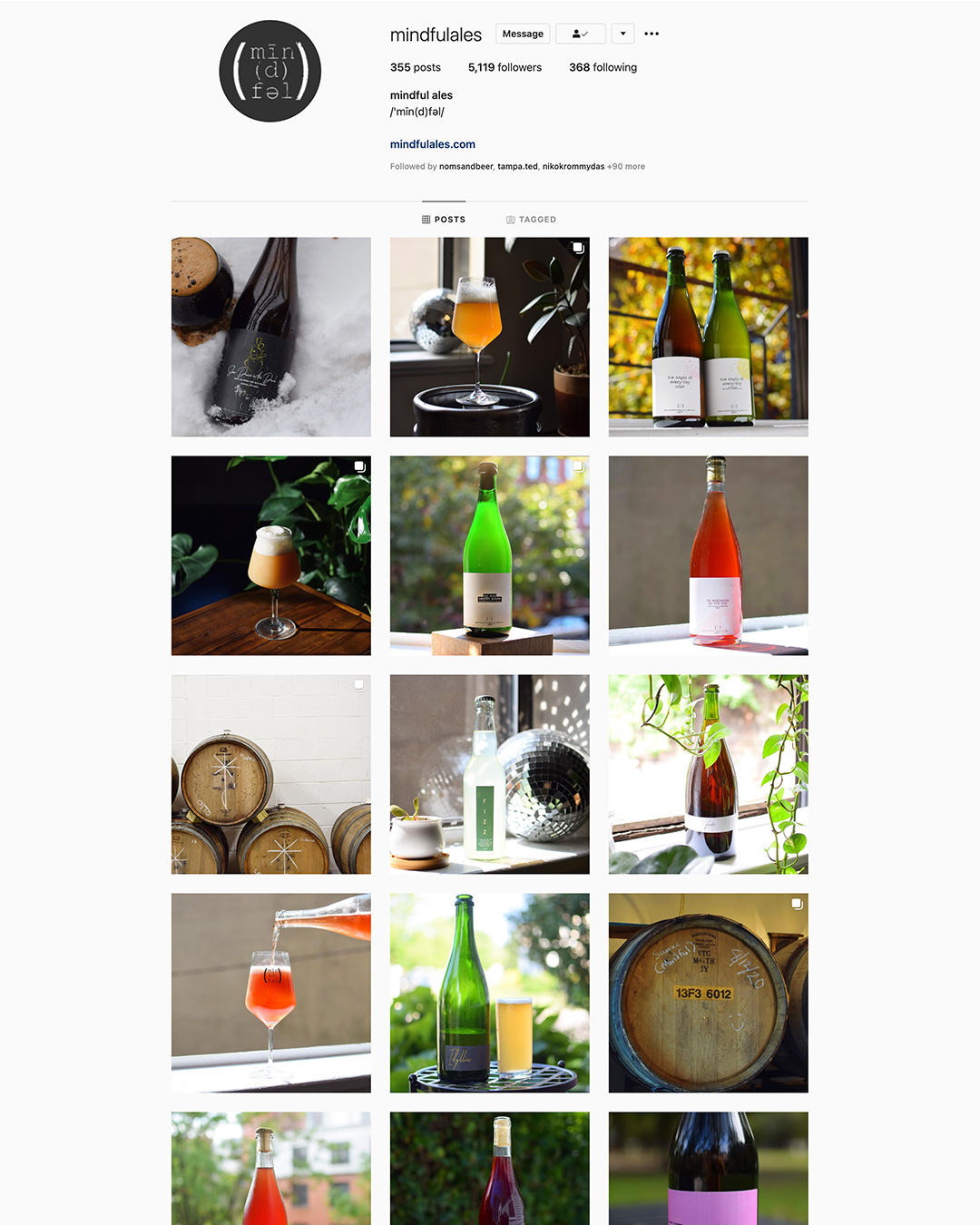 At the time of publication, Mindful Ales is a brewery in planning or "a brewing adventure," as founder Dave Martin explains. Martin is an accomplished homebrewer and is making some of the most delicate, delicious beer in the Garden State. He also happens to be a talented photographer.
So, the Mindful Ales Instagram serves as one of the few glimpses into Martin's project. With stunning photography, followers have a chance to dream wistfully about one day trying a Mindful Ales creation.
Goodfire Brewing Co.
Portland, ME
@goodfirebrewing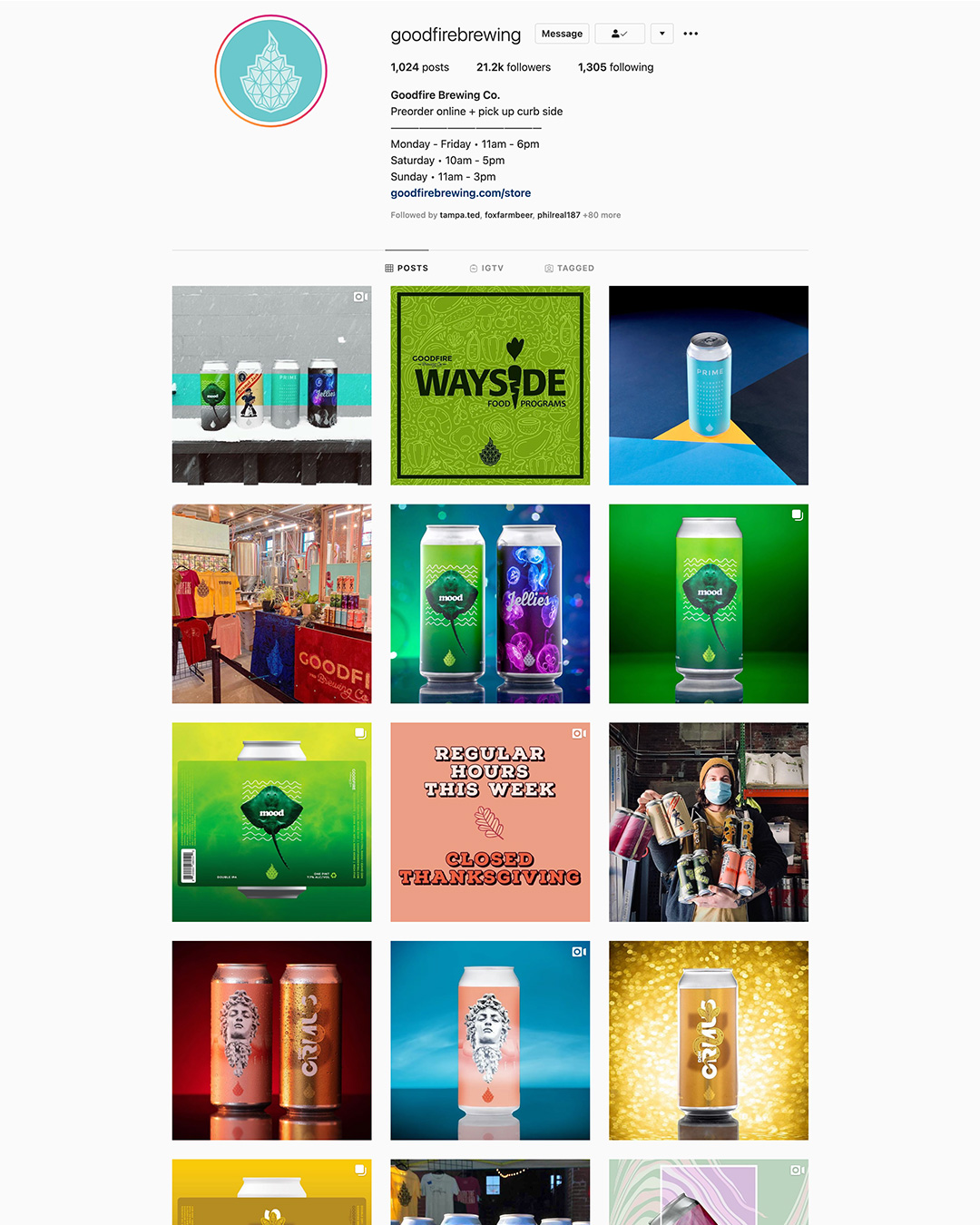 While their brewery neighbors Allagash highlight the natural beauty of Maine, Portland-based Goodfire focuses on the beauty of their products. And why shouldn't they? Goodfire's can designs are stylish and gripping. And the photographic edits boost the images with playful edits and bold colors.
Visit for the label pics but don't overlook the lifestyle shots. A peek into this terrific brewery is always a good time.
Jester King Brewery
Austin, TX
@jesterkingbrewery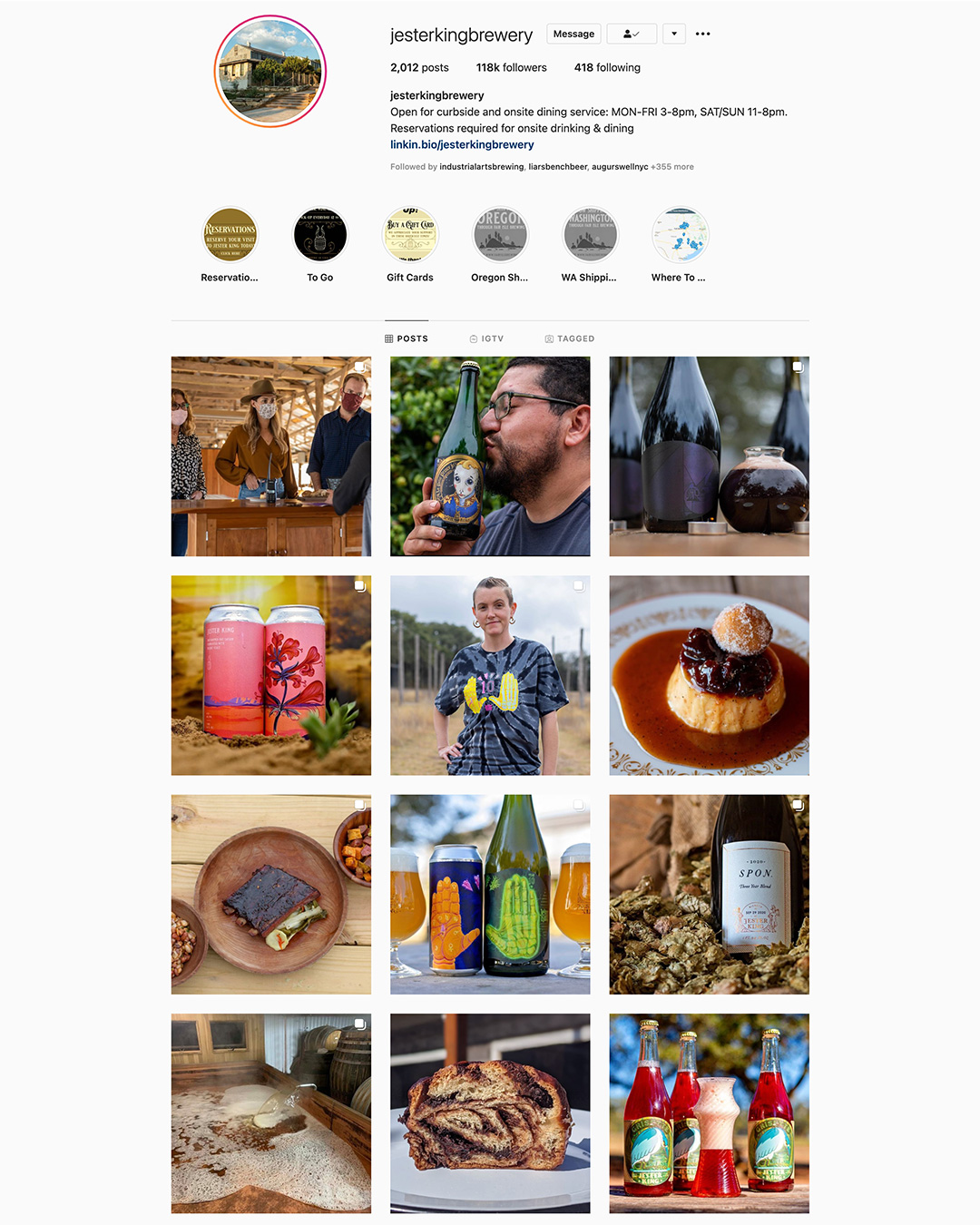 Jester King has one of the most picturesque breweries in the country, and the brewery's Instagram account offers a virtual window into their lifestyle.
Like every other brewery on this list, Jester King takes well-lit, engaging photos of its beer. But, the bonus is *farm content.* We're talking photos of freshly-baked bread and pizza, as well as snapshots of visitors to the farm. The rustic vibes alone make Jester King an instant-follow for us.
Garage Beer Co.
Barcelona, Spain
@garagebeerco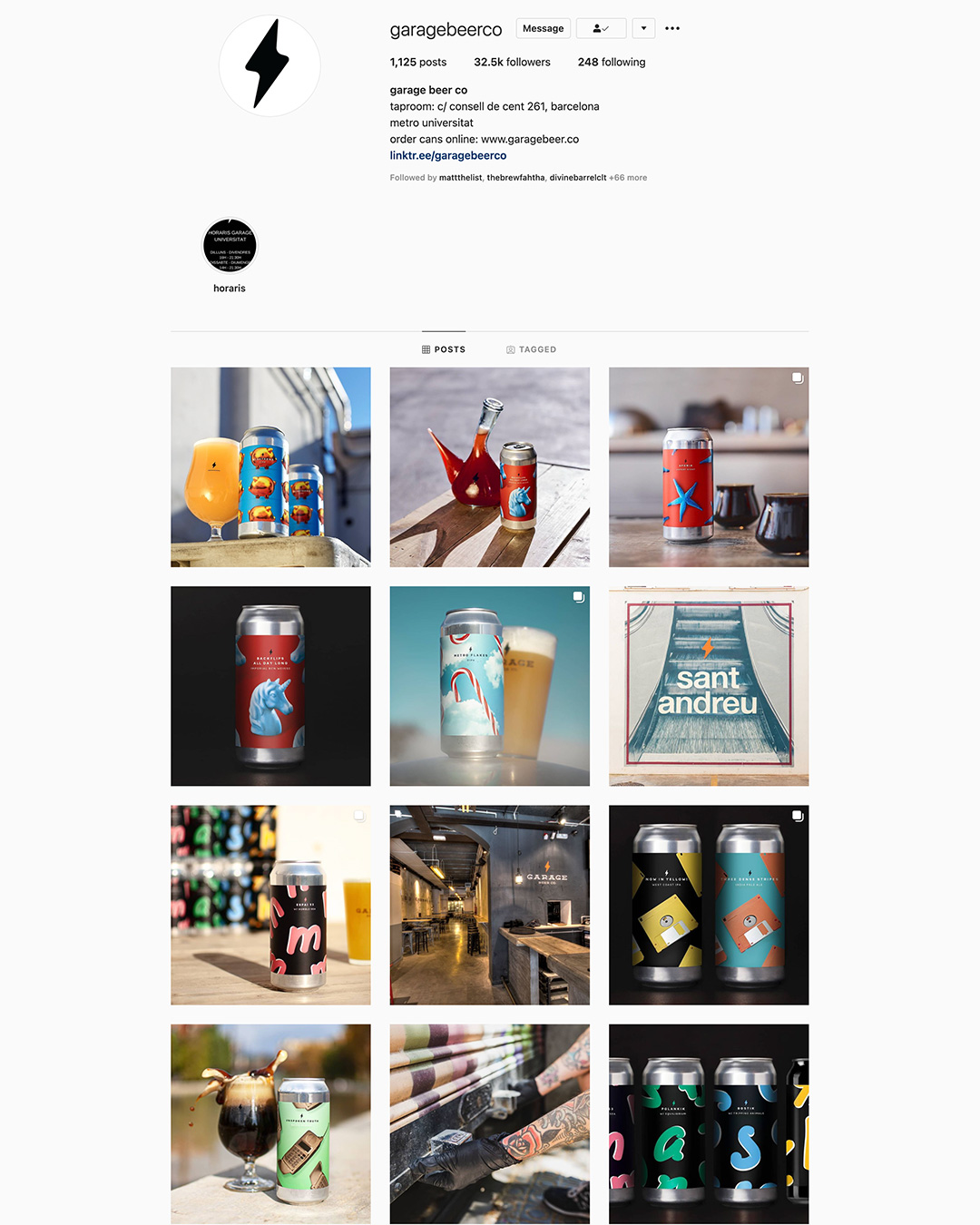 Another international feature, Garage Beer Co's graphic can art works perfectly for Instagram. Head to their page to watch folks from around the world comment "ISO" on recently released beers.
The photography is dramatic but also fun. I mean, the beer-filled porrons should tell you all you need to know about this brewery. So if you're looking for a new account to follow, this should be one of them.
Cloudburst Brewing
Seattle, WA
@cloudburstbrew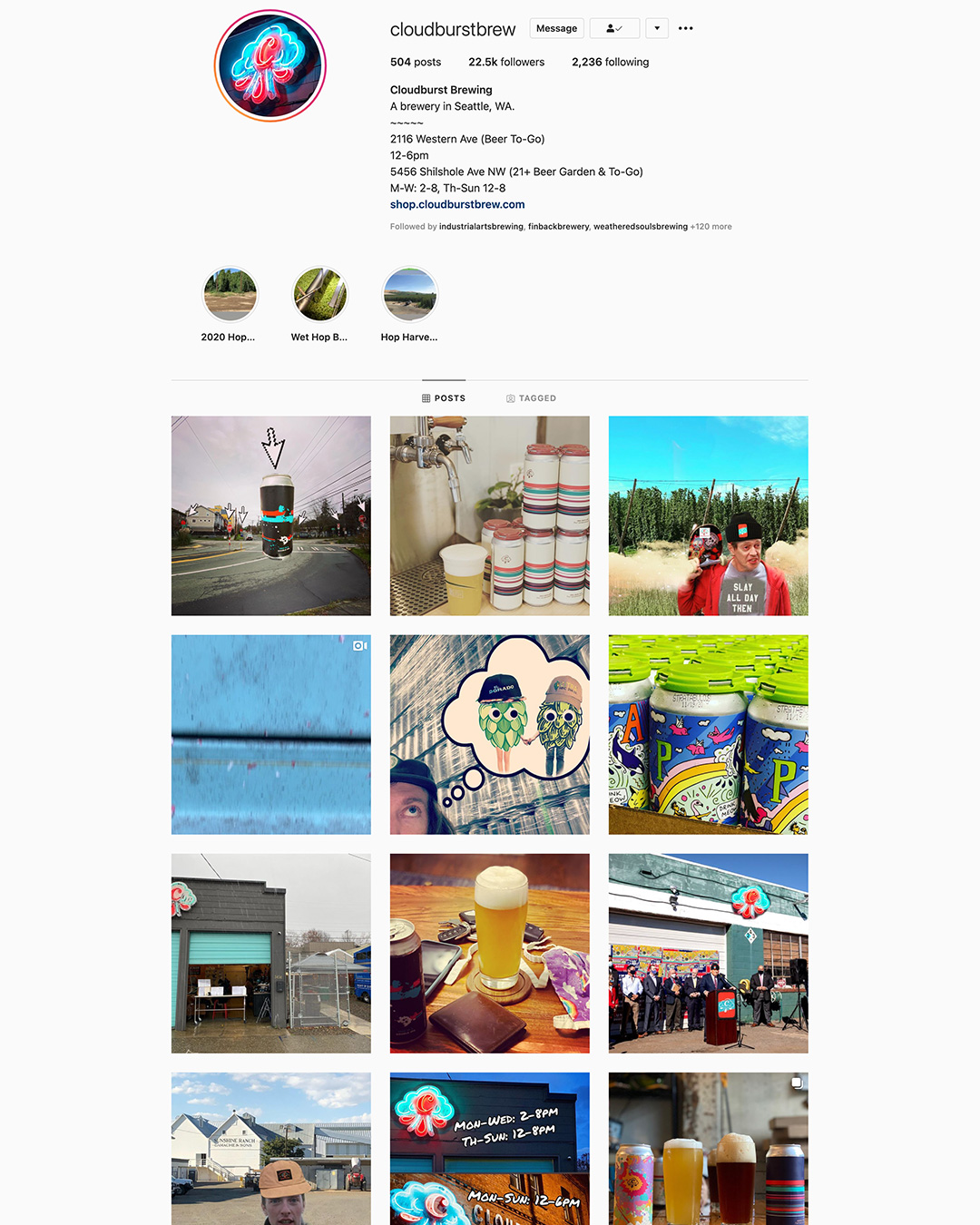 Whereas most of the other breweries on this list feature high-quality product shots, Cloudburst's page is a chaotic example of Photoshop run amok. In the best way possible.
The low-res photos and personality pics are an authentic representation of Cloudburst Brewing. It tells the story of a team that doesn't take things too seriously. But, still wants to give you a flavorful, fun product. So give Cloudburst a follow and get to know these wild, wonderful Washingtonians.
Liked this article? Sign up for our newsletter to get the best craft beer writing on the web delivered straight to your inbox.