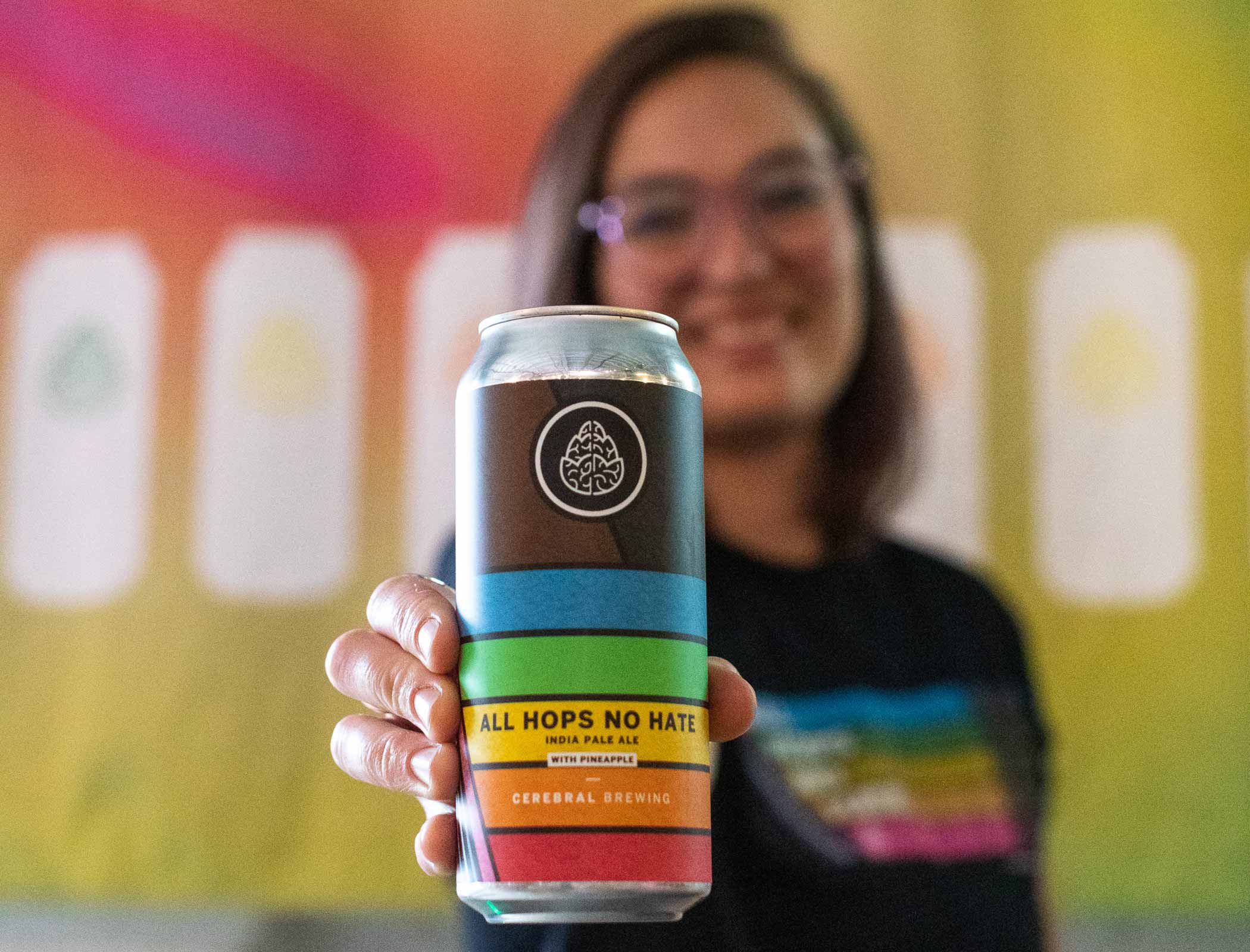 Photography courtesy of Cerebral Brewing
Editor's Note:
Find Cerebral's Rare Trait along with 11 other beers in Hop Culture's newest 2023 Queer Beer Box!
Get Hop Culture's newest beer box here!
We've always known the award-winning Cerebral in Denver's Congress Park neighborhood for its methodical scientific approach to brewing. Started by co-founders Sean Buchan and Dan McGuire in 2015, Cerebral focuses on imaginative IPAs, foeder-fermented lagers, and barrel-aged beer, among other styles.
The brewery's pin-point-precision approach garnered them awards across the board. Most recently, they picked up a 2023 World Beer Cup Silver in the "Juicy or Hazy Pale Ale" category for Muscle Memory.
But while awards give Cerebral fantastic public recognition, behind the scenes, the brewery has worked hard over the last few years to become one of the most inclusive breweries in Colorado (alongside their neighbors such as Lady Justice and Goldspot).
Primarily driven by Cerebral Brewing Director of Operations Anne Abrahamson, who identifies as Queer, Cerebral has started living a mantra and, coincidentally, the name of the brewery's 2023 Pride beer: All Hops No Hate.
From the West Side of the Pacific to the Mountain West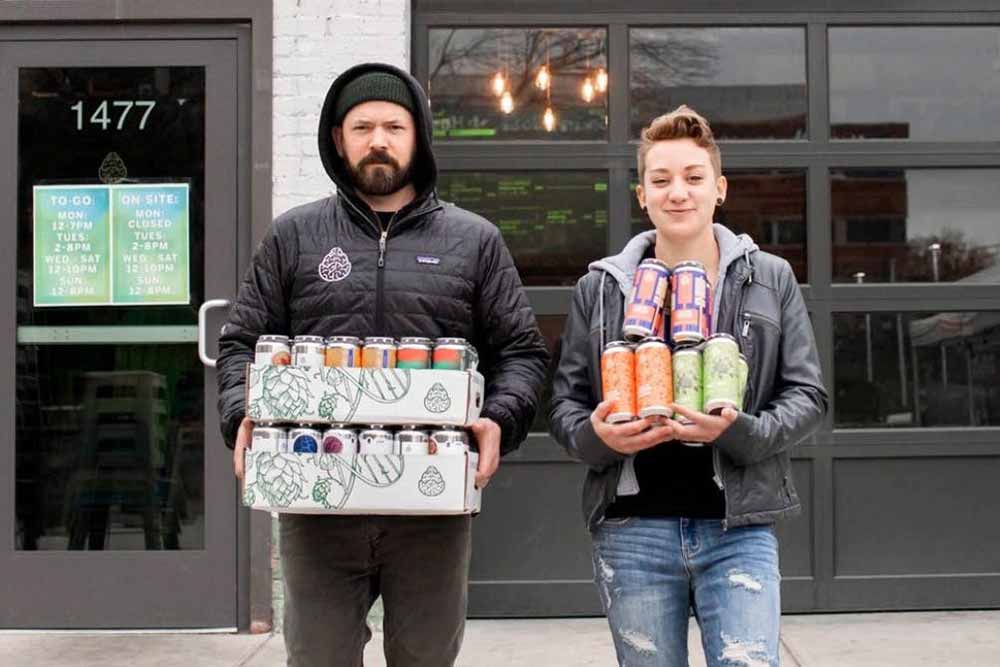 Abrahamson has followed a slightly less traditional path into craft beer, drinking her first as a nineteen-year-old in Japan. Abrahamson's dad worked as a disk drive engineer, so his job sent the family to Yokohama, right outside of Tokyo, during Abrahamson's sophomore year of high school.
Although she came back to the States for college at U.C. Berkeley, Abrahamson flew back home for the summers, finding a part-time job working for an e-commerce startup called Craft Beer Trader.
"I totally caught the bug and learned everything about craft beer," Abrahamson told Hop Culture, sharing that her first-ever craft beer was a Hitachino Nest White Ale. (Although she admitted, "When it's hot in the summer, even a nice Kirin tastes great!") "I was obsessed with working for a brewery … [so] every project I did [at school] was about beer."
After graduating, Abrahamson worked at Pine Street Brewery before signing on as a production intern at Drake's Brewing in San Leandro, CA.
Now a four-year-veteran at Cerebral, Abrahamson has left a distinct imprint on the brewery, managing day-to-day operations while helping the brewery give a voice to the local Queer community.
Cerebral Creates Queer Beers Night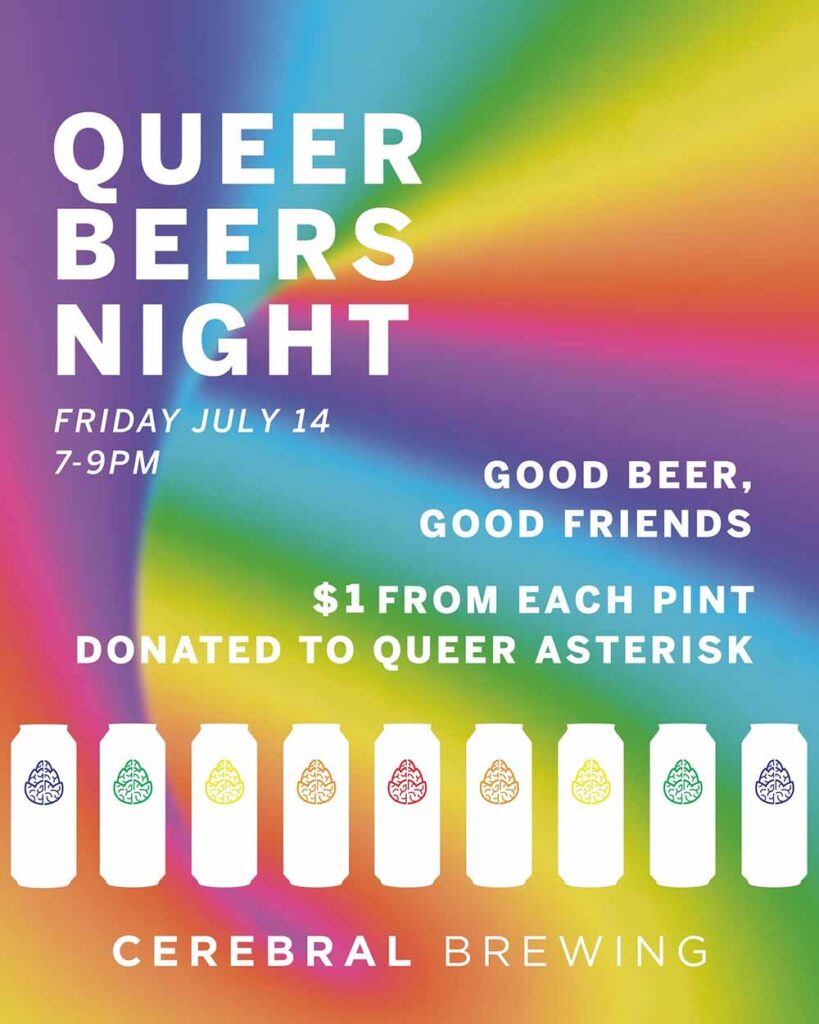 In May 2021, "shit hit the fan in the craft beer industry," says Abrahamson, referring to an Instagram post that caused shockwaves around the discrimination and harassment of women and minorities in craft beer. "Everybody was talking about the treatment or the mistreatment of women, nonbinary folx, and minorities in general in the industry."
While Abrahamson emphasizes Cerebral has always been a safe workplace, she says the team started to think about what else they could do to create a more inclusive environment.
A former Oakland resident, Abrahamson recalled an event called Queer First Fridays at Temescal.
The party, held on the first Friday of each month, brings together Queer musicians and drinkers to celebrate a night uniquely Queer. The event gained popularity in the area for crafting a safe space for Queer folks to hang out with friends and listen to great music while enjoying incredible beer.
These vibrant, often wild nights were the brainchild of then-bar manager Theresa Bale, who planned the inaugural Queer First Fridays as her birthday party. Without a place precisely for the Queer community to congregate outside of late-night clubs, none too concerned with craft beer, Bale created her dream Queer party that married the two. And the Queer community took notice, with over 500 people showing up to dance and drink at the first Queer First Fridays.
The first weekend after my wife and I drove across the country from New York City to Oakland in early 2020, we visited Queer First Fridays. It was the last public gathering we went to before the global pandemic forced breweries and taprooms to shut down.
I remember marveling at the unbelievably welcoming vibes we felt, connecting with the Queer community in a new place 3,000 miles from our old home.
Although Abrahamson had been in Denver since 2019, "I felt like I hadn't really found my community yet," she says.
She wanted to recreate that environment at Cerebral.
Abrahamson designed Queer Beers Night as a monthly event for everyone. Yes, this is an event created by and for the Queer community, but the idea is to make Cerebral "an intentional space to gather,' she says. "Obviously, you're always welcome in this space, but this is the night we want to celebrate the Queer community."
Queer Beers Night launched as a happy hour: Come get a dollar off your beer during this time.
Abrahamson recalls that, for the first one, they couldn't get a DJ in time, so she came up with the playlist. "I tried to keep it a mix of '90s hip-hop and Queer anthems," she laughs. "I just invited a lot of people I knew in the community."
Fearful Queer Beers Night would flop, Abrahamson wasn't sure what to expect. "Are we going to be busy? Will anyone care? Is it going to take off?" Abrahamson says all those thoughts flew through her head.
But that first night, people came out big time. "People cared and showed up for it, and it was a different vibe than our typical taproom," says Abrahamson. "It was really rewarding because even coworkers of mine who don't identity as Queer commented, 'Hey, it was nice to see people in here who we don't normally see.'"
According to Abrahamson, you could feel the difference.
Queer Beers Night took off, morphing from a simple happy hour to a night with purpose.
Now, instead of a dollar off your drink, a dollar from every beer sold goes to a local Queer nonprofit.
Abrahamson says they switch up the organization quarterly.
"It's hard with a recurring event to keep it from getting stale," says Abrahamson. "But I know I would go out if I'm like, 'Hey, I'm making a difference by going and having a beer with my friends.'
Last quarter, Cerebral partnered with Envision:You, a local Queer mental health network. And this quarter, they'll collab with Queer Asterisk, another local organization focused on providing therapeutic services to Queer youth.
Over the past three years, according to Abrahamson, Cerebral has raised over $16K for various local organizations.
And while Queer Beers Night started as just a happy hour, today, you'll find an expanded lineup of events like the brewery's most recent Queer trivia held during Pride.
Pouring Out All the Pride at Cerebral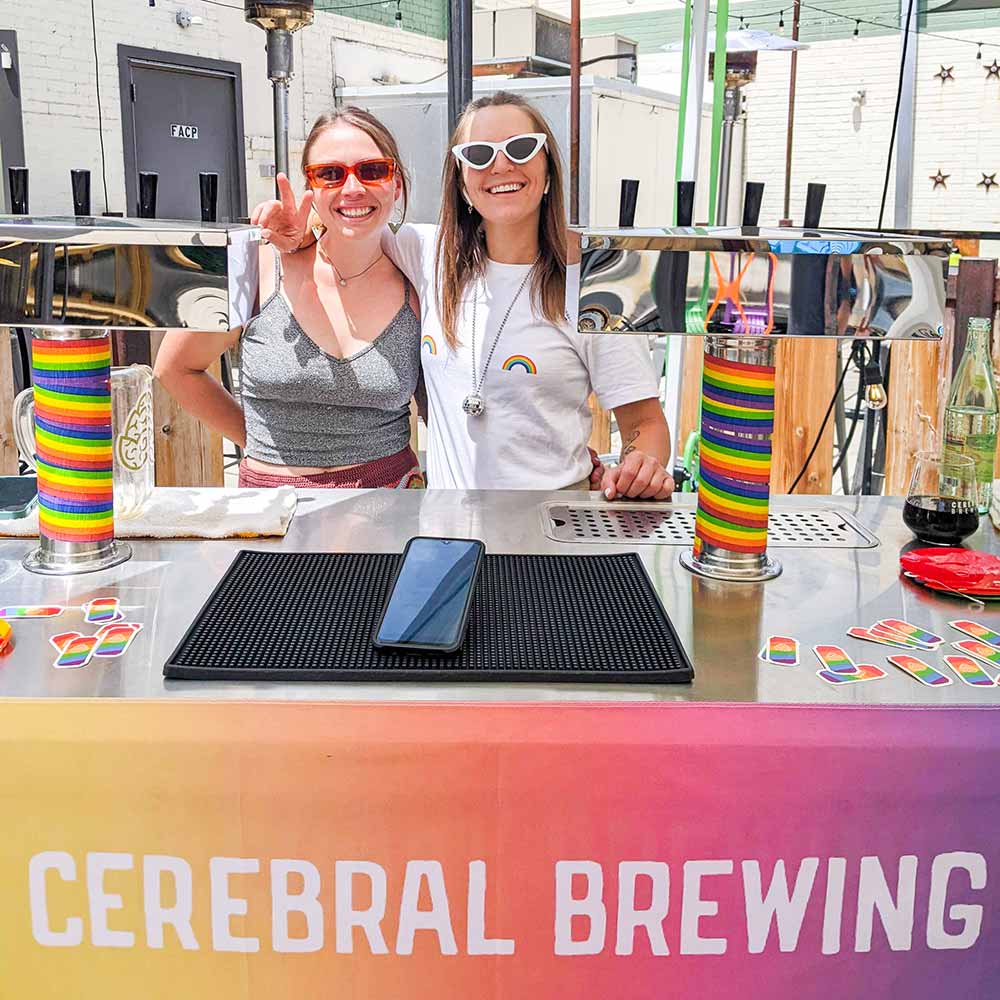 In addition to starting Queer Beers Night, Abrahamson helped drive Cerebral's robust Pride programming. For the last four years, Cerebral kicked off the first weekend of June with a huge Pride party.
"The first year I put it together, everyone was giving me s**t because it also happens to be around my birthday," laughs Abrahamson. "They were like, are you just throwing yourself a birthday party!"
This year, Cerebral hosted the aforementioned Queer trivia and a Queer comedy night and partnered with Queer-owned Lady Justice to create a punch card promo: Grab each brewery's Pride beer, punch a card, and turn it in to enter to win a Pride swag bundle from both breweries.
The goal, says Abrahamson, is to make Pride at Cerebral a little more approachable and laid back.
"A lot of times in Queer culture, Pride tends to be about clubbing," says Abrahamson. "[But at Cerebral] this can be just a place to have a casual beer with friends and enjoy being in a Queer space."
All Hops, No Hate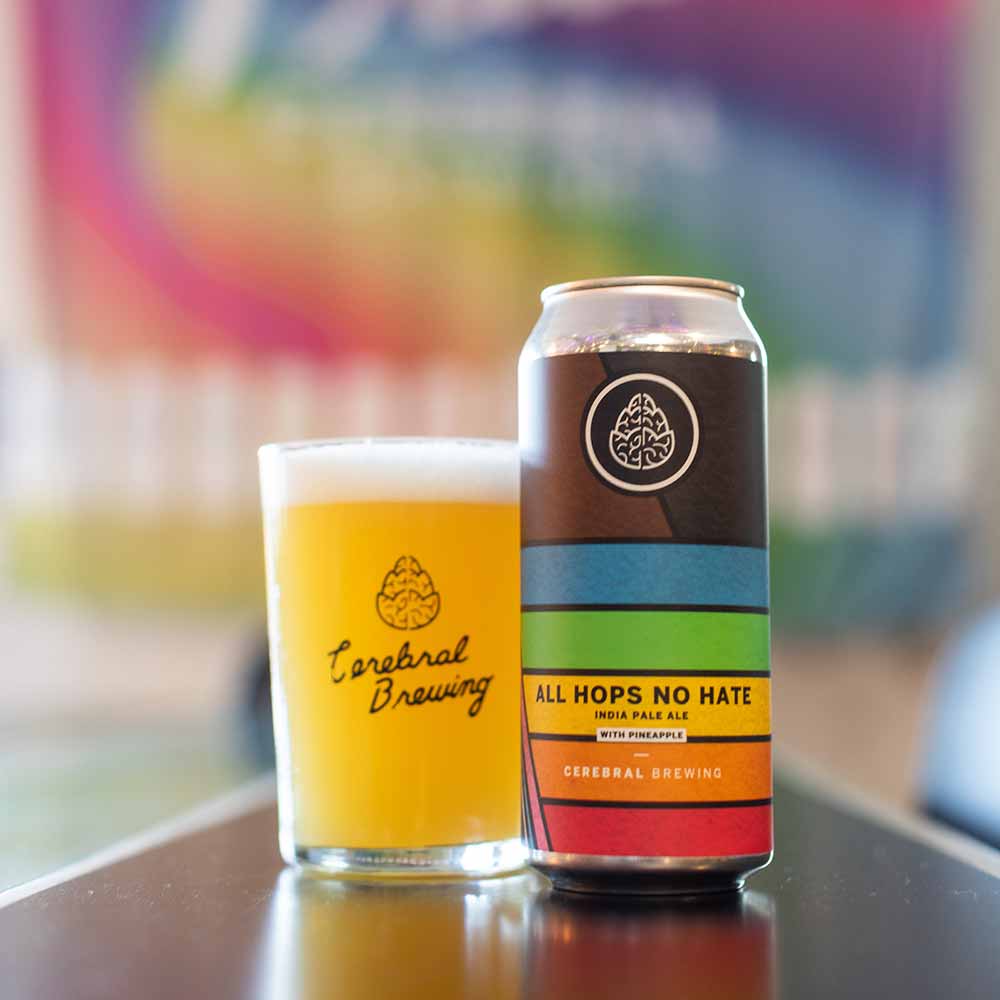 For the past two years, Cerebral has brewed a fruited IPA for Pride with the aim to raise money for a local organization.
"I didn't want to brew like an amber or a brown or something that wouldn't sell very well because the goal is to raise as much funds as we can," says Abrahamson. "We just thought, 'What do we want to drink in the summertime?' It's always a lower, more sessionable IPA with fruit added."
In 2023, Cerebral's newest brewer, Lily Shulz, who also identifies as Queer, designed the recipe. A 6.5% ABV IPA hopped with Azacca, El Dorado, and Sabro, All Hops No Hate also gets an injection of pineapple for the ultimate summer crusher.
In fact, Shulz cited piña coladas as inspiration.
"This year, I geeked out on Sabro hops," says Schulz, who recently spent time as the head brewer at Right Proper in Washington, D.C., before moving to Denver. "Pairing that with pineapple, I thought, brought piña colada energy toward a tropical IPA."
According to Schulz, they use Sabro Incognito and Azzaca on the hot side before dry hopping with Azzaca, El Dorado, and Sabro.
The pineapple gets added during fermentation, which Schulz says dries out this IPA more than others, but the beer is still plenty hazy and sweet.
"Pineapple is the driving aroma and flavor for sure, [while] coconut is more of a support [note] from the Sabro," says Schulz. "The Azzaca and El Dorado come through as well with citrusy, pineapple, and orange."
Schulz says if the brewery had to nail All Hops No Hate down to three buzzwords: pineapple dole whip.
In addition to being Queer-made and Queer-brewed, All Hops No Hate also features branding from a Queer artist.
Abrahamson says this is the first year they've partnered with a local designer because they "wanted to find other ways to make this more about the Queer community."
Putting a call out to their staff, Cerebral connected with Cameron French (@thefrenchdipdesign), who started The French Dip Design.
French presented the idea for a beer called All Hops No Hate at their first design meeting. "We immediately fell in love with it," says Abrahamson. So much so that Abrahamson says, "We might just stick with that name because we love it so much."
Branded like a retro VHS tape, All Hops No Hate has this cool, colorful pattern that's hard to miss.
"To have every part of [this beer] touched in some capacity and designed for Queer people and to benefit Queer people was cool to see," says Schulz. "I've done Pride beers in the past where we brewed beer and donated money or brewed with people who are Queer, but nothing that was 360, very intentional."
Cerebral donated all proceeds from the beer sales this year to Envision:You.
Cerebral Supports the Queer Community All Year Long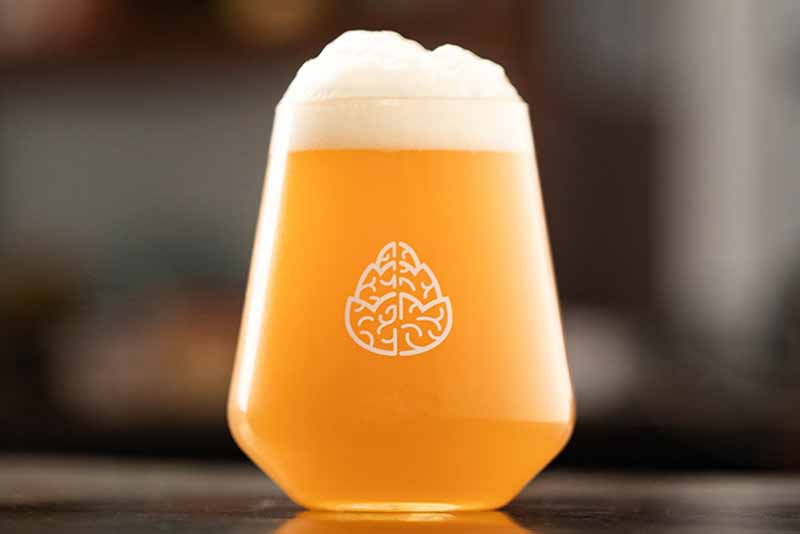 While the brewery certainly shows up and out during Pride, Abrahamson's work has helped cement Cerebral as a company that supports the Queer community all year.
In fact, Shulz cites that as a reason she wanted to work for the brewery.
"We're 360, all-encompassing," says Schulz. "A lot is driven by Anne, for sure, but everyone is in support. It just shows how important it is to have Queer leadership because then that perspective is always considered."
On the horizon, Cerebral will be participating in Hop Culture's 2023 Queer Beer Box.
"We're honored to be a part of it," says Abrahamson.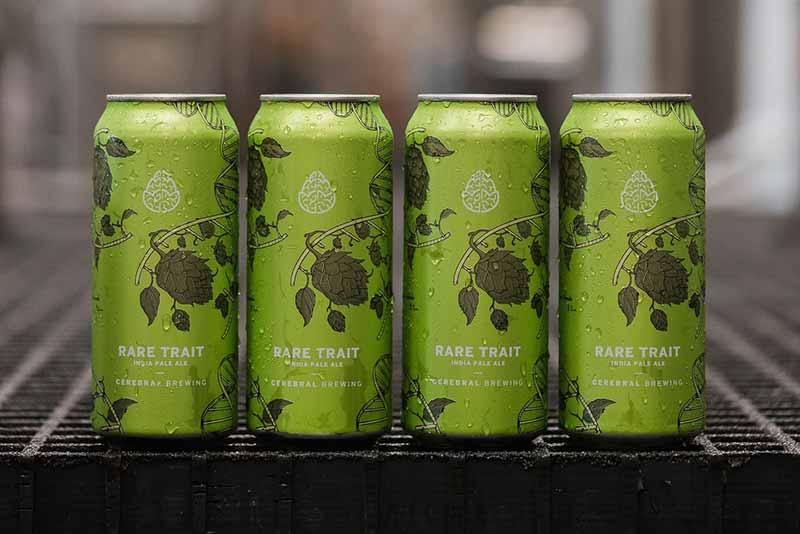 Inside, you'll find Cerebral's crown jewel IPA Rare Trait, a house hazy with Citra, El Dorado, and Mosaic that hits a 4.02 rating on Untappd.
"We were one of the earliest breweries in Colorado to start doing hazy IPAs," says Abrahamson. "[Rare Trait] is like peach rings in a nice, sessionable IPA.'
And you can expect more Queer Beers Nights (one a month) for the foreseeable future.
"Fundamentally, we are a neighborhood brewery; that's our core and our ethos," says Abrahamson. "At the end of the day, it's about being in our local community and using our craft to give back … be positive, change, and make an impact."