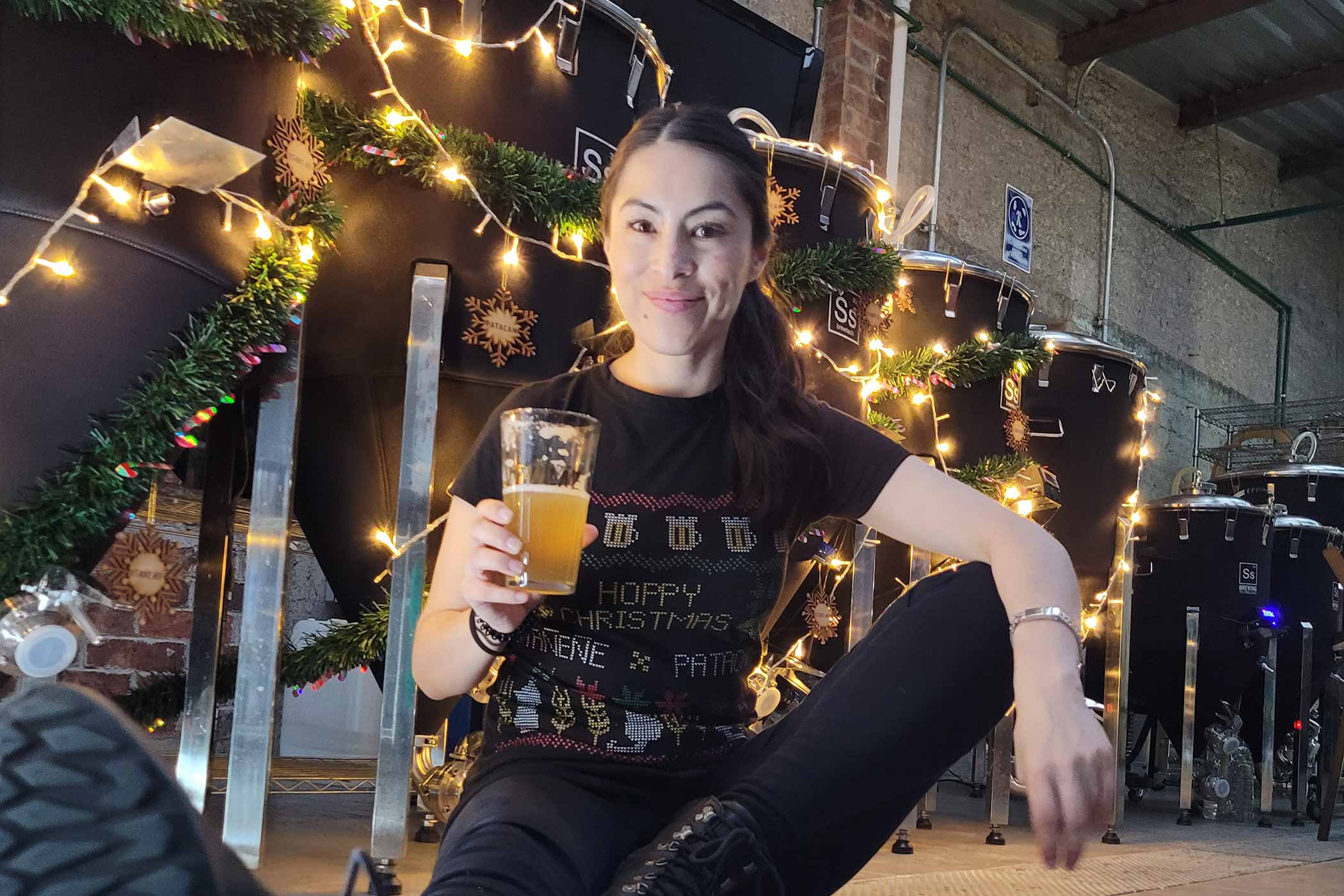 Photography courtesy of Cerveceria Itañeñe
Lucía Carrillo considers herself a witch. The head brewer and founder of Cerveceria Itañeñe in Mexico City finds comfort in that identity for many reasons. Her outward appearance of long, black hair, a preference towards black clothing, and her pet cat reflect that persona to most who meet her. But inwardly, Carrillo says no reason speaks to her more than overcoming the challenges she faces in the industry. "This industry in Mexico is very male-dominated, maybe even more than in the United States," she says.
People don't immediately think of Carrillo as the person milling the grains and cleaning the fermenter. "Some people think that I am the salesperson, or the image, the brand," she says.
To combat those labels, she turned to education, saying, "For me, I always feel I need to study more, to change that perception, for people to see me as a professional."
In ancient times, Carrillo says that witches were the women who knew how to help themselves and others. People were scared of that knowledge since it equated to power. "For me, a witch is a person that takes care of herself, in this case, and wants to grow strong," she says. "Since I was a child, I wanted to be stronger; I wanted to be different."
Carrillo initially found it challenging to consider herself a strong woman in education. "It was more like, if you are a woman, here are your labels. If you are a man, here are your labels."
Carrillo originally had an interest in wine. However, the combination of multi-year schooling that would be too expensive and less opportunity on the creative side gave her pause. "Unlike the wine world, in the brewhouse, I can wear jeans and sneakers," she says.
Trying different styles totally blew away her perception of beer. She recalls tasting a barleywine. "I said, woah, what is this? This is not the beer that I think it is." The world of beer opened up to Carrillo, and she wanted to learn more.
Winning Her First Homebrew Competition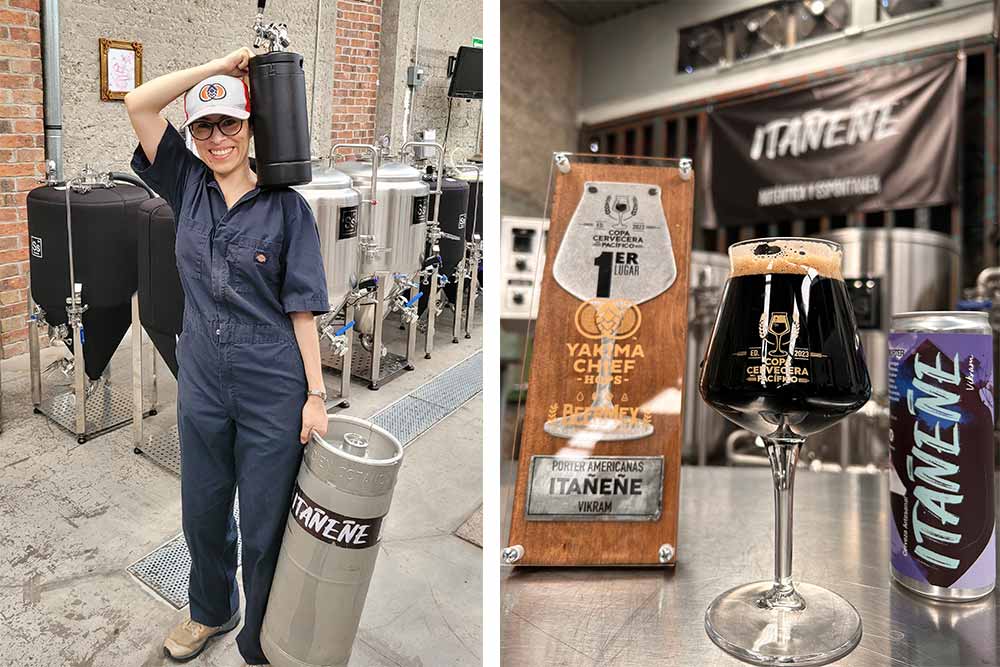 Carrillo previously dreamed of becoming a chef, taking classes related to food chemistry and baking with her business and personal partner, Rodrigo Romo Michelena.
When she began homebrewing, the crossover felt natural.
Carrillo's teacher quickly encouraged her to enter a homebrew competition in Mexico City, where she won a bronze medal for her Belgian dark strong ale. It was only the third beer she'd ever brewed.
Several years later, she entered the professional category in the same competition. She wasn't a professional but wanted to start her own brewery, so the organizers allowed her to compete with other breweries. It also didn't hurt that she'd won several more medals since that first achievement. Carrillo would go on to win against the pros, this time for an American brown ale that would eventually become Braun at Itañeñe.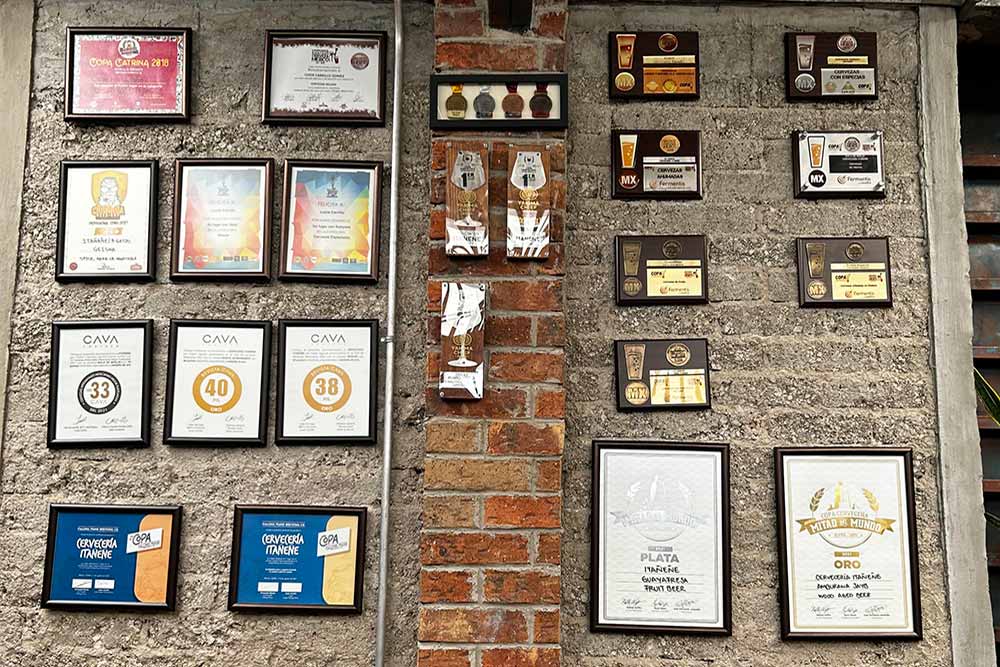 After a stint working for a brewery in Querétaro, Carrillo transitioned to Itañeñe, a name inspired by an Aztec-era blood flower.
At first, Carrillo and Roma brewed five-gallon batches in Roma's apartment. But after partnering with several investors, they moved into their current space on the Northwest edges of Mexico City.
Set in an industrial area (one of the partners owns the warehouse), the brewery only opens for private events, like the Mash Homebrew Club, where Carrillo can teach aspiring brewers in the working brewery. They also host special events monthly, like beer and cheese pairings, especially during celebratory days like Valentine's Day or Mother's Day.
How Cerveceria Itañeñe Makes Mexico City's Most Creative Beers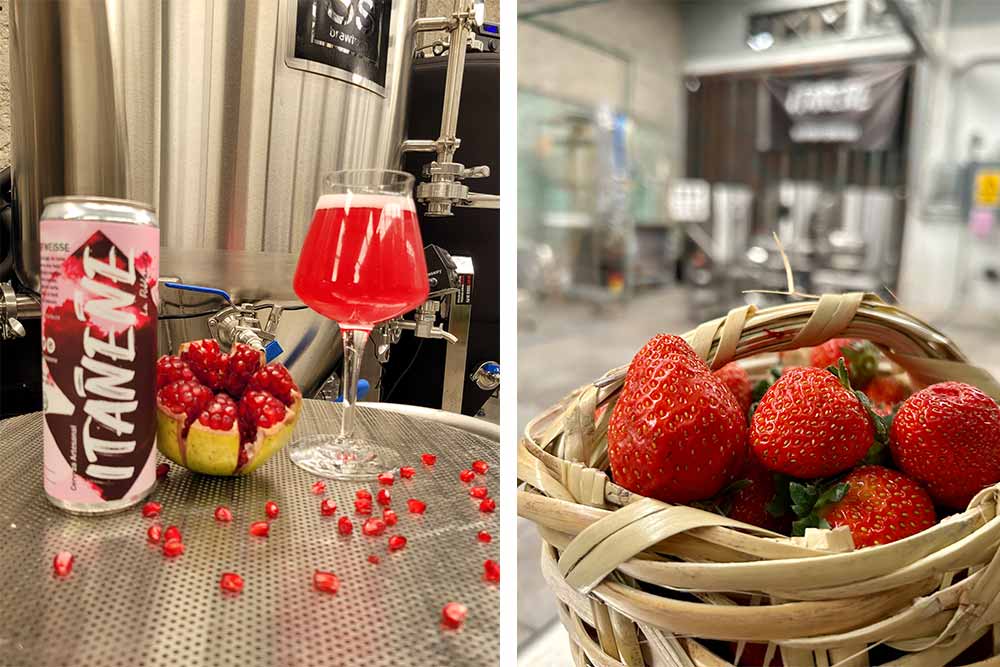 Carrillo's self-proclaimed connection to a witch also rings true in her creative approach to brewing.
In Itañeñe's portfolio, you'll find a range of beers, from unique ones made with ingredients like chapulines (grasshoppers) to the more straightforward ones like a Vienna lager.
Carrillo makes the Vienna under her Patacan label to more clearly differentiate the beer to a different type of consumer. "There are two types of people who drink beer here," she explains. "The ones that are very classic, and those that want to drink all different kinds of beer."
Like a strawberry and guava Berliner weisse inspired by Carrillo's own childhood memories. "It's based on GuayaFresa, a beverage that I used to drink in high school," she says. Some of her favorite moments are when customers smile and tell her the beer takes them back to childhood.
"It's about the experience, not the business," says Carrillo, who enjoys brewing with many exciting ingredients, especially fruits, in her beers.
"I only want to use fresh, seasonal Mexican fruit," she says.
Carrillo talks with the local merchants on Mondays to formulate a plan on which fruits to buy during the Wednesday street market, only two blocks from the brewery. All the fruit at the market is local and "very fresh," according to Carrillo.
However, Carrillo isn't just mindlessly working with local ingredients. For her, it's really all about the quality. "We sometimes use Mexican grains when the quality is good, but it can be challenging," she says. She has difficulty finding clean grains locally and sometimes even finds stones in the grain, which can break the mill or cause a long delay in the brew day.
Carrillo relies more on imported grains from quality maltsters around the globe, like Weyermann, Simpsons, and Briess. She imports quality hops from Washington's Yakima Valley as well.
But Carrillo's dedication to quality intertwined with unique local ingredients has her beers resonating in Mexico City. Even at some of the city's most well-known restaurants.
Right Ingredients, Right Path, the Future for Cerveceria Itañeñe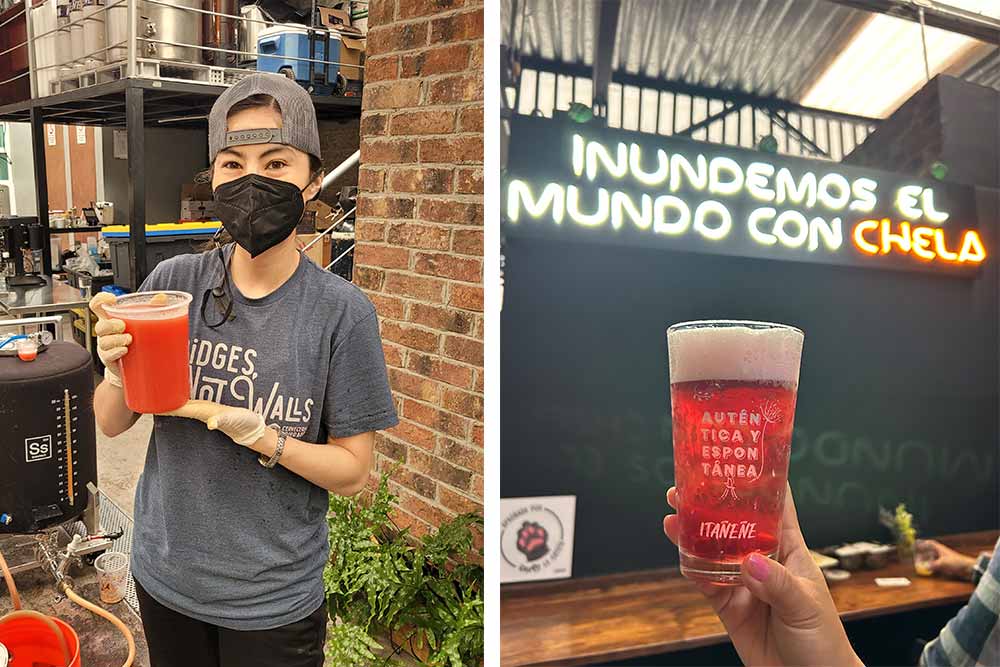 At Pujol, named the best restaurant in Mexico City by the Wall Street Journal, world-renowned chef Enrique Olvera serves Itañeñe's beers such as the brown ale.
While many bars and restaurants in Mexico City balk at paying extra for kegs with exotic and expensive ingredients, others embrace it.
For instance, standout chef Elena Reygadas, who serves Itañeñe beers at her famous Rosetta restaurant in the popular Roma Norte neighborhood. "The chefs understand the beer a little more, and the customers want to try different things," says Carrillo.
This allows Carrillo to produce beers like Garambullo Roja, a brut IPA with garambullo, a cousin to the banana known also as the bilberry cactus. Carrillo combines the fruit with Nelson Sauvin hops. The beer comes out a gorgeous rose color. And the flavor is a complex mix of citrus, almost juicy fruit-like, that combines with a dry finish to leave you wanting another taste.
Ingredients like garambullo can be expensive. The plant only produces fruit if the conditions are right. "If it rains too much or not enough, you won't get fruit," says Carrillo. For her, it's about finding the right partners, like Olvera and Reygadas.
The support of the creative chefs of these restaurants gives Carrillo the confidence that she's working with the right ingredients and on the right path.
Currently, Itañeñe only produces about 200 barrels a year, but it is growing. And Carrillo has big dreams. She wants to open a brewery tap room and restaurant, one focused on fermented foods, in a more restaurant-focused neighborhood in Mexico City. "I can see it in my eyes," she says