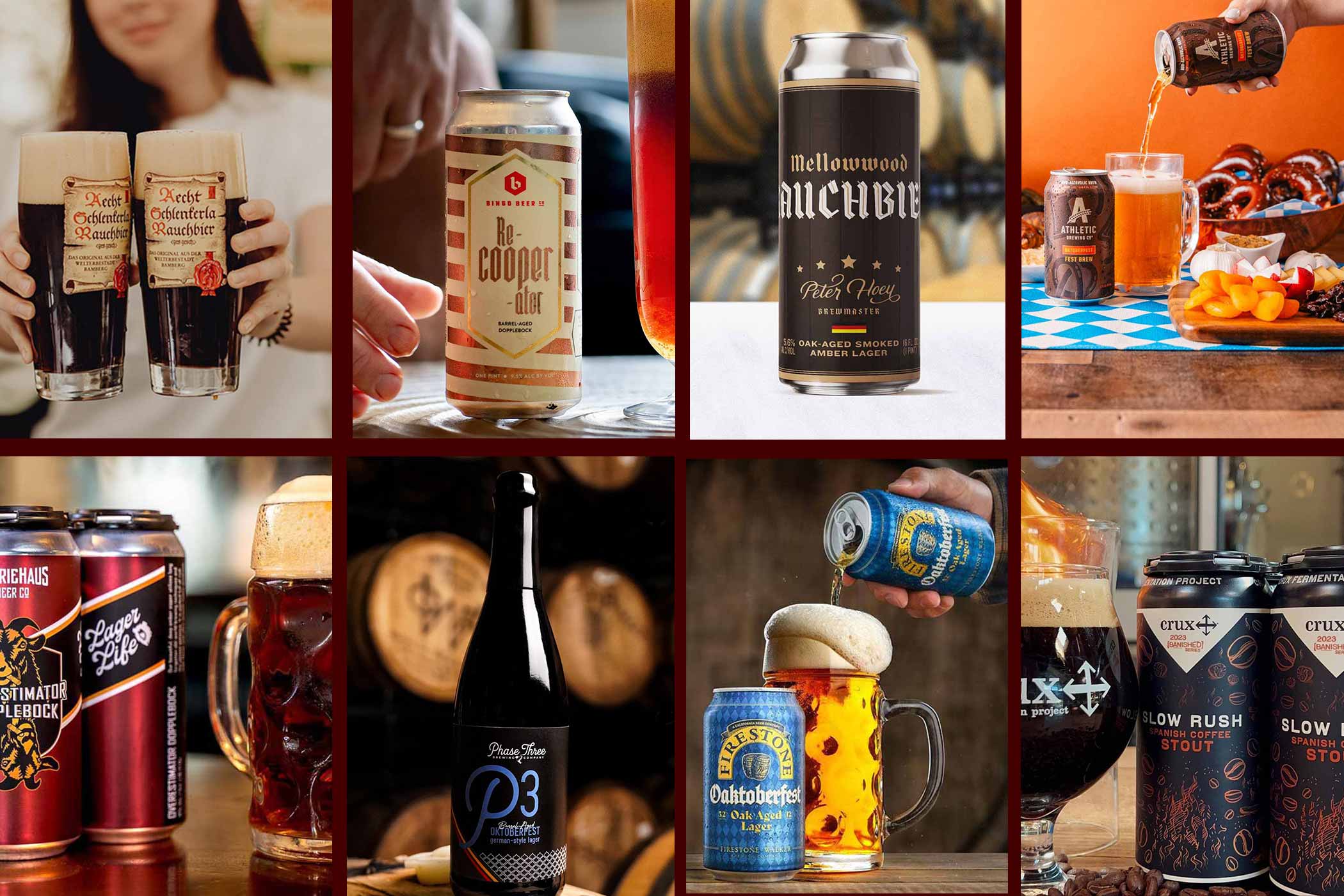 Don't Miss Our Other Seasonal Beer Lists:
To us, drinking the best beers in fall follows the changing colors of the leaves, starting with green fresh hop jewels from the recent harvest, transitioning out of straw-colored pilsners, blondes, helles, kölschs, and hazies into golden Festbiers, orangy pumpkin ales, deep garnet ambers, Oktoberfests, and Märzens, and into coffee brown porters (and eventually stouts).
By far, autumn is our favorite season.
🧶Sweater weather
🏈NFL season opener
🔥Campfires
🍎Apple picking
🍁Hop harvest and autumnal harvests
🍻Fall holidays like Oktoberfest and Halloween
Quite frankly, we've never understood why the deep doldrums of December are the most wonderful time of the year. To us, autumn and all its goodies give us the warm fuzzies, especially when we pair the season with fantastic beer.
As always, this list includes a mix of local brewery launches and some more widely accessible beverages. As a friendly reminder, our guide to the best fall beers should merely serve as a blueprint. If you can't find a specific beer we include, ask your local brewery if they have something similar.
The beers are presented below in alphabetical order by the brewery.
Our Best Beers for the Fall of 2023
Oktoberfest
Athletic Brewing Company — Milford, CT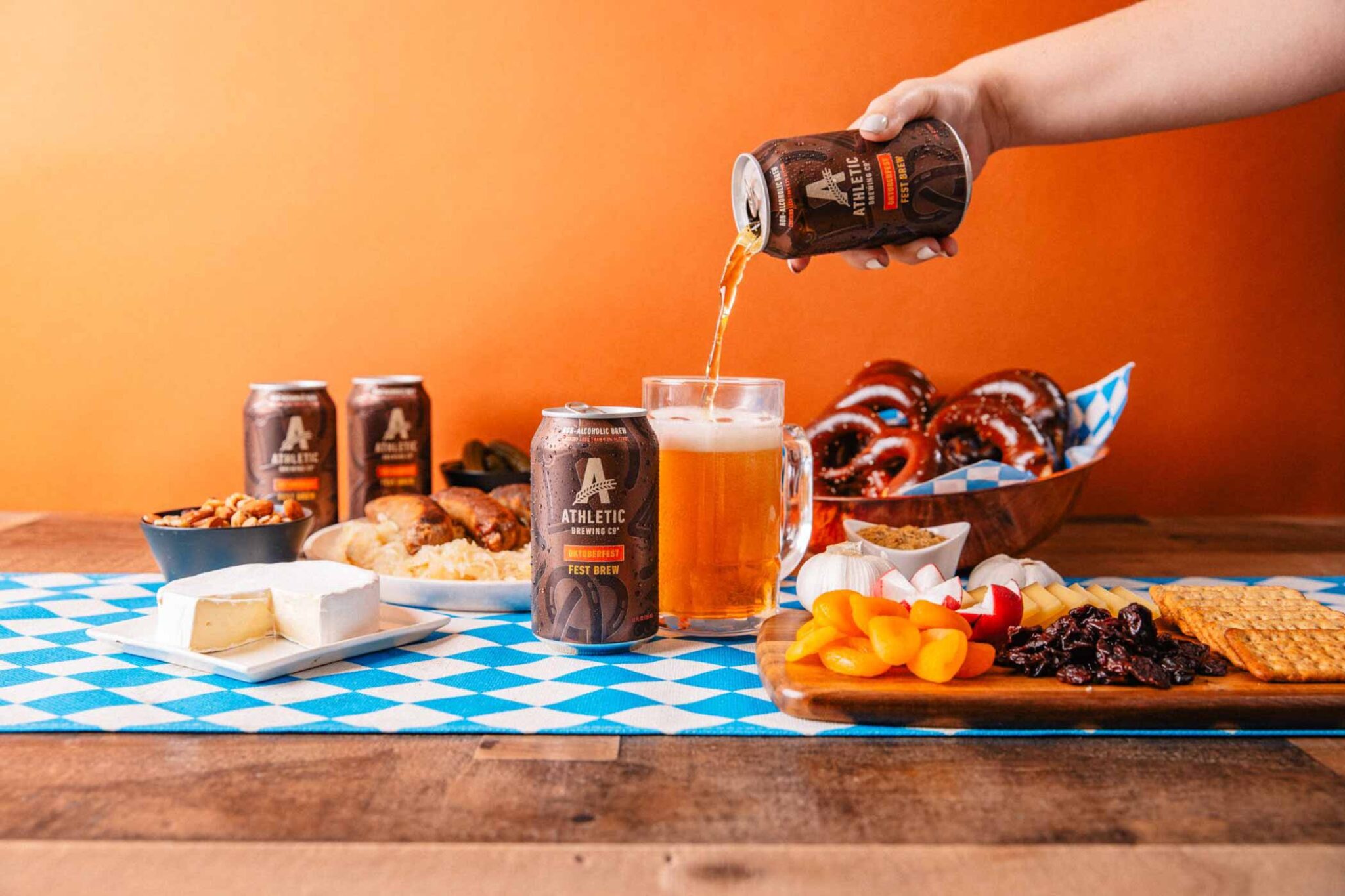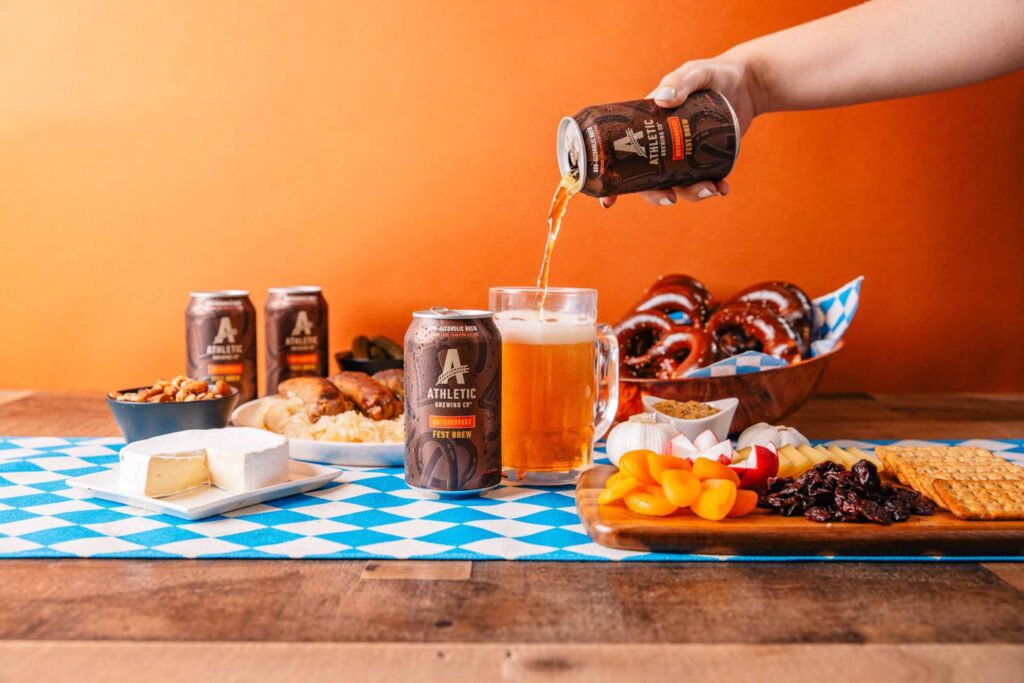 Non-Alcoholic Oktoberfest — Yes, we're kicking off this list with a non-alcoholic beer because who says you can only drink non-alcoholic beer during Dry January? We'll admit we've never tried a non-alcoholic version of a Festbier, and we wholly enjoyed it.
Pouring a burning gold, Athletic's Oktoberfest hit us first with some nice floralness on the nose from the Hallertau Mittelfrüh hops. First sips detected a strong malt backbone courtesy of the Vienna and Munich malts that stood up nicely to the hoppy zing. Slightly sweet but mostly floral, this NA Festbier finished incredibly refreshing.
Athletic Brewing Company Co-Founder and Chief Product Officer John Walker recommended pairing this beer with a variety of dishes, including Bavarian pretzels, hearty meals with sausage, pork, chicken, and strudel.
Oktoberfest beers in particular, Walker says, "are great palate cleansers because they aren't too sweet or bitter, but they still have a complex flavor that can perfectly accompany bready appetizers, hearty main courses, and sweeter desserts alike."
Find more of our favorite Oktoberfest food pairings by hitting the button below.
Overestimator
BarrieHaus Beer Co. — Tampa, FL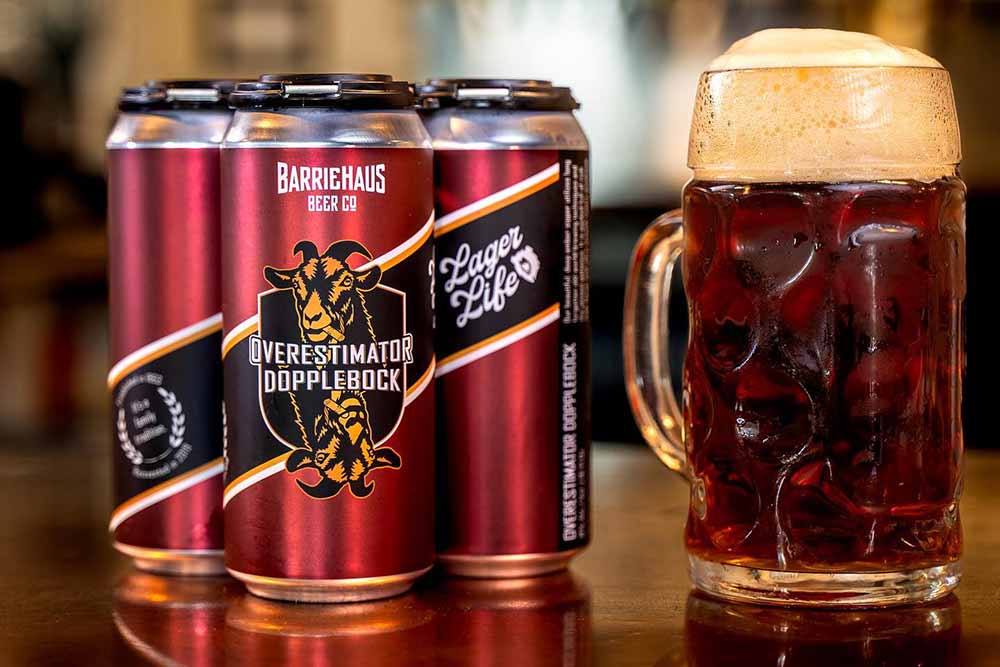 Doppelbock — Our new Social Media Manager, Magic Muncie, who has spent time working at breweries across South Florida such as Odd Breed and 3 Sons, suggested this doppelbock from lager-centric BarrieHaus.
A doppelbock, Overestimator drinks smoothly but boldly at 8% ABV and 35 IBUs. Expect brash malt-forward breakfast tones like Raisin Bran and golden delicious toast with mixed berry jam. Those dark fruit notes dominate, complemented by a floral, peppery spiciness to tingle through your fingers and toes.
Re-cooperator Port-Barrel Barrel-Aged Doppelbock
Bingo Beer Co. — Richmond, VA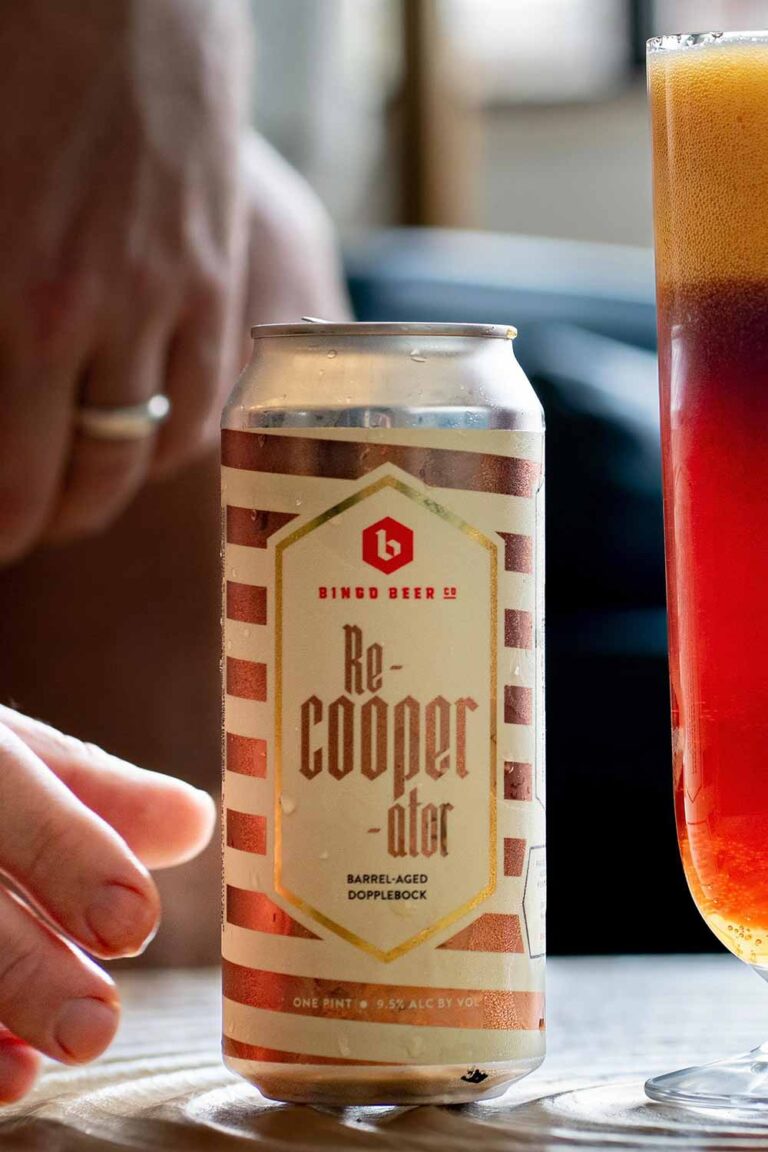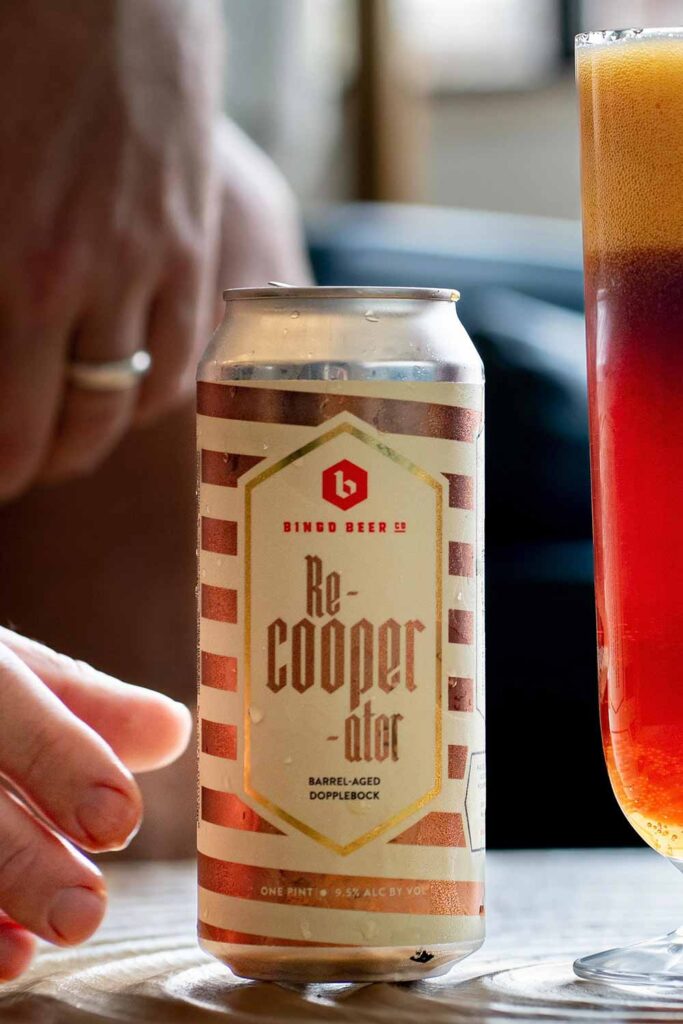 Doppelbock — One of our 10 Best Stops on the Richmond Beer Trail, Bingo Beer sent us a bunch of beers that would be great for fall, including Costa Chica Mexican-style amber. But Re-cooperator port barrel-aged doppelbock stood out for many reasons.
First, the color reminded us of deep amber to rich brown aged leaves just about to fall off the tree. A light coffee whip head belied sonorous notes of golden raisin, dried apricot, and port wine beneath the surface.
Re-cooperator might be the beer you drink next to the fire in your smoking jacket as you tuck into a good mystery and put your toes up to warm against the grate. You know, if you're into that kind of cozy thing.
We recommend this one for late fall when the temperatures turn a bit chillier.
Mango Apricot Pineapple J.R.E.A.M
Burley Oak Brewing Company — Berlin, MD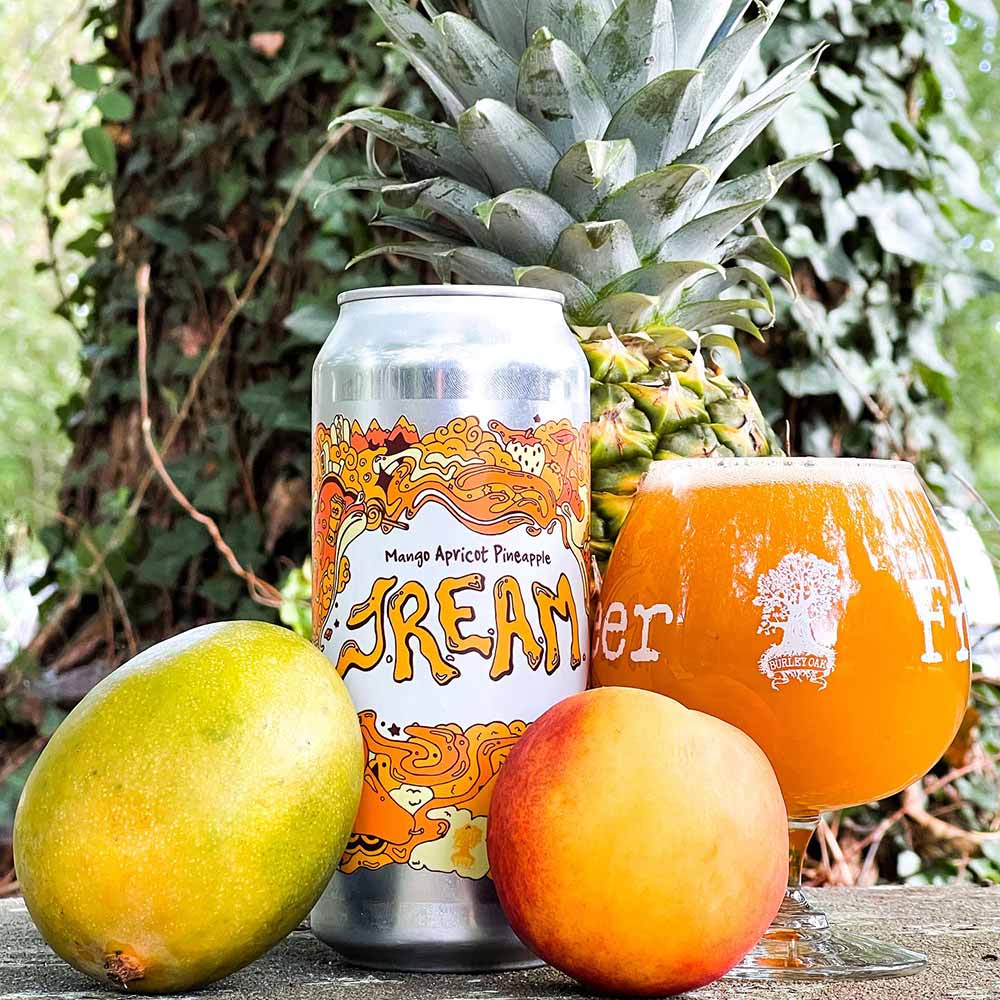 Fruited Sour — Look, you can't go wrong with any beers in Burley Oak's legendary J.R.E.A.M. sequence. Need evidence? Six of the top ten beers on Untappd's All-Time Top-Rated Fruited Sours list belong to this mouth-bending sour series. See, we're not the only ones wowed by the jam-packed, equally puckering, and smoothly sweet (thanks, lactose) sours.
Burley Oak's late August drop, Mango Apricot Pineapple, had us lapping up the last golden waves of summer before we turned our full attention to fall. But give our piece a read to find out which J.R.E.A.M. beers made it onto the elite list. 👇👇👇
Brass Boots
Cellarmaker Brewing Company — San Francisco, CA
Extra Special Bitter (ESB) — Hop Culture Senior Content Editor Grace Weitz loves ESBs. Like really loves them. To her, they're a humble beer style with a great English tradition but rarely appreciated in the States. Which she finds just fine because that means all the more for her. Almost whenever she finds one on a menu (which isn't often), she'll order it.
So imagine her surprise when she stopped by Cellarmaker's new taproom in Berkeley (one of our "14 Best Breweries in Oakland") in early September, stumbling upon Brass Boots.
Look, Extra Special Bitters aren't keg pushers, so one might say it takes brass balls to brew one. At Brass Boots, it certainly makes an understated statement. Wait, what?
What we mean is this ESB isn't flashy, but if you love malt-focused beers, you'll get a real kick in the butt from this ale with English Maris Otter, dark crystal, and honey malts.
This beer makes us think of toasted cinnamon raisin bread with a dusting of brûléed brown sugar.
Some boots take time to break in, but these Brass Boots fit us like a glove (yes, we realized this is a mixed metaphor; just roll with it).
Tmavé Specíalní Pivo
Cohesion Brewing — Denver, CO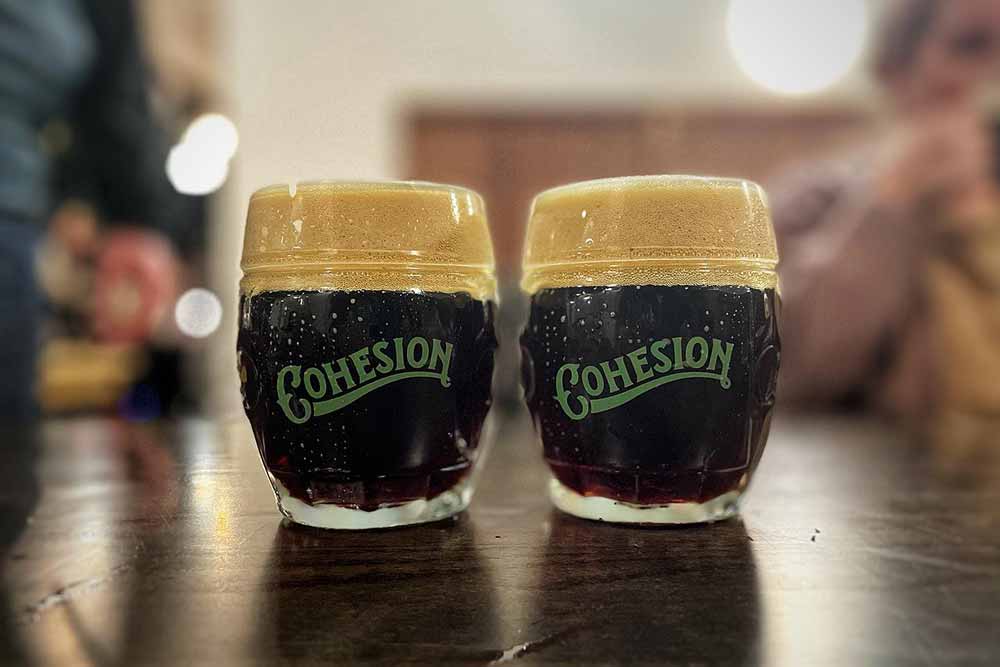 Czech Dark Lager — For what's arguably the best of the best among American-made Czech dark lagers, you have to fly to Denver, one of the country's best beer cities, and then Uber to Cohesion for a pour of Tmavé Specíalní Pivo.
If you travel to the Czech Republic and drink tmavé pivo, it probably tastes something like this. Tmavé Specíalní Pivo suggests scale without clocking in at a high ABV; sweet plays with bitter, with sweet coming out on top, but the beer exhibits traces of both while avoiding the trap of overdoing either ingredient. Cohesion's tmavé pivo personifies the pleasures of Czech dark lager by finding great depth out of simplicity.
Slow Rush
Crux Fermentation Project — Bend, OR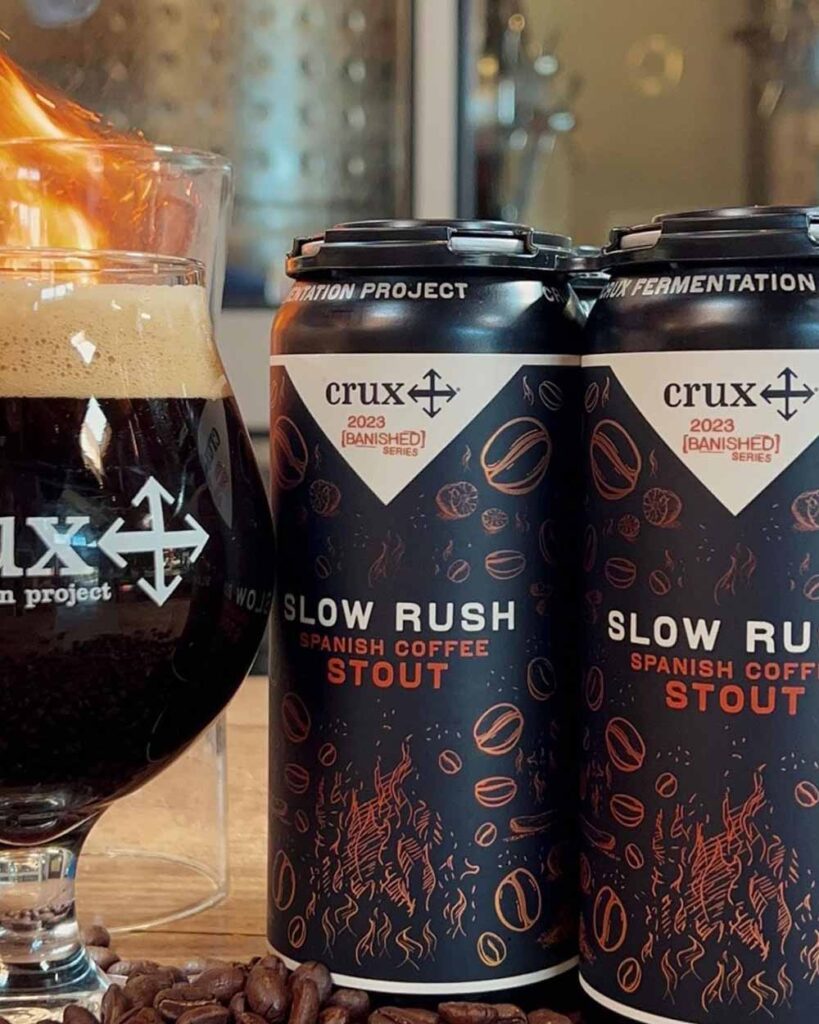 Imperial Spanish Coffee Stout — Crux Fermentation's [BANISHED] series has always awed us. The Bend, OR-based brewery takes certain beers, banishing them for months in oak barrels to let flavors mingle, meld, and mellow. The process often results in deep, rich, complex stouts.
So we were stoked when they sent us a can of Slow Rush, an imperial stout with Spanish coffee.
Based on the coffee-based cocktail, Slow Rush pours out like cola but immediately hits you in the nose with roast, like you just opened a bag of coffee.
The foam snaps, crackles, and pops like it's alive, a testament to the aging process that keeps these beers humbly bubbling.
First, you'll notice this 11.4% ABV BA stout doesn't drink like a booze bomb. Instead, the BA beer reminds us of maple syrup pouring over griddled pancakes. That molasses, treacle, and a touch of licorice snap back at us on the finish.
We recommend taking your time with this one, which is genuinely what the [BANISHED] series and this Spanish coffee stout are all about. With the dark days setting in, take a breath, slow down, and settle in for the night with Slow Rush.
Oak Aged Denogginizer
Drake's Brewing — San Leandro, CA
Oak-Aged DIPA — You may think we're breaking the fall rules here with a DIPA. But the key here is what pushes this Drake's classic into the autumn territory: oak-aged. Next Glass Executive Vice President of Product and Northern California local Kyle Roderick told us he's been crushing on this version of the East Bay's famous DIPA rested in oak. A normal beast of an imperial IPA, Denogginizer's rough edges sand down with some time in barrels, smoothing things out like a sail in the autumnal wind. Oak Aged Denogginizer offers a unique, sensuous iteration of a classic.
Everyone
Everywhere — Orange, CA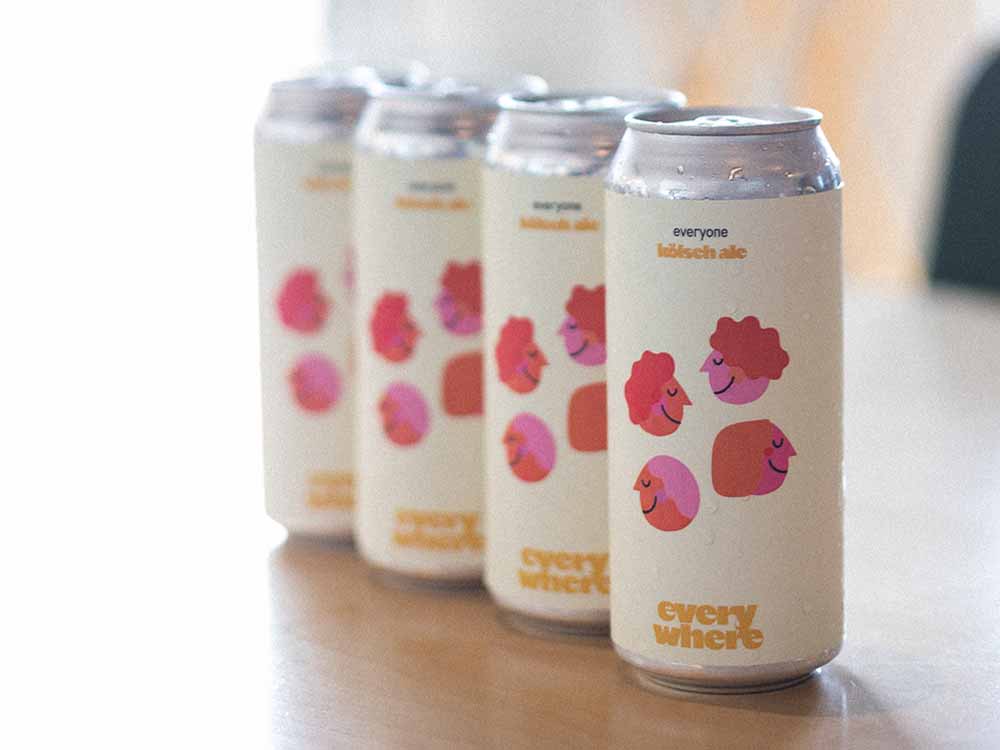 Kölsch — Almost like a perfect bridge between the dog days of summer and the first chilly ones of fall, a kölsch is a crisp, light-bodied, refreshing beer. What makes this style great for transitioning between seasons also makes it great for kölsch service, a serving tradition from Köln, Germany, that brings you small, fresh servings of kölsch until you say stop.
Everywhere in Orange, CA, started its own version of kölsch service with its Everyone kölsch. Made with 100 percent German ingredients, Everywhere's kölsch includes German-grown and malted barley and some Barke® Pilsner malt that "just adds a little bit more richness," Everywhere Founder and Head Brewer Stefan Weber told us. "We also use some wheat to give it a bit of breadiness."
Featuring Perle hops ("We go pretty heavy with them," says Weber), Everyone drinks a bit more assertively. "It's not bitter … [but] it gives a little more balance to me, making it more drinkable," says Weber.
While we haven't yet made it to Everywhere for kölsch service, the brewery sent us a batch of Everyone, one of the only beers they've rebrewed based on its popularity. We fawned over this kölsch. Crisp and refreshing, yes, but also almost creamy and velvety, which we imagine comes from adding wheat. The word that comes to mind for this kölsch: lush, making it even more perfect to usher us into the cold days ahead.
Oaktoberfest
Firestone Walker Brewing Company — Paso Robles, CA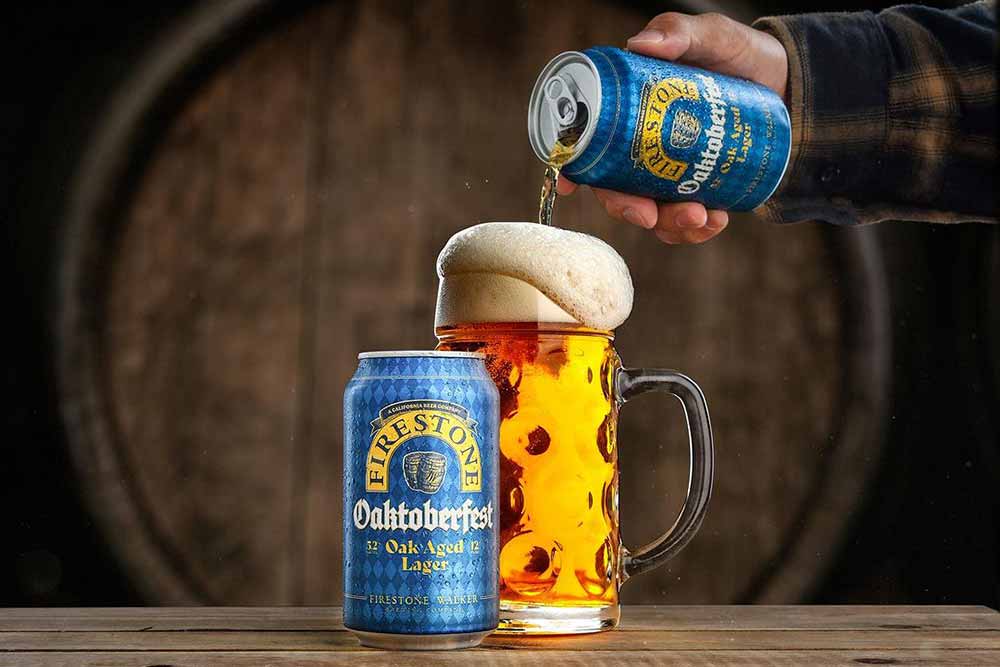 Oak-Aged Märzen — With Oaktoberfest, Firestone Walker takes the threads of traditions and weaves in its own heritage. So yes, you'll find all that caramelly goodness you love in an Oktoberfest from Weyerman Pils, Vienna, Munich, Cara Hell, and Cara Red malts. And yes, you'll find a nice crisp bite from the Noble Tradition and Spalter Select hops.
But then, Firestone Walker injects its DNA, partially lagering Oaktoberfest in neutral oak barrels. After all, Adam Firestone and David Walker started the twenty-seven-year-old brewery as an exclusively barrel-fermented brewery! As a result, the finished beer has a soft caress of French oak that makes this one of the most approachable, balanced Märzens on the market.
Firestone Walker calls this one "a classic German Fest Bier with a hint of West Coast hoppiness."
For all these reasons, we named this beer to our list of the "Best Oktoberfests Available in Most Stores Right Now." Hit the button below to see which other Märzens and Festbiers made the list. 👇👇👇
Strata – Fresh Hop IPA
Holy Mountain Brewing — Seattle, WA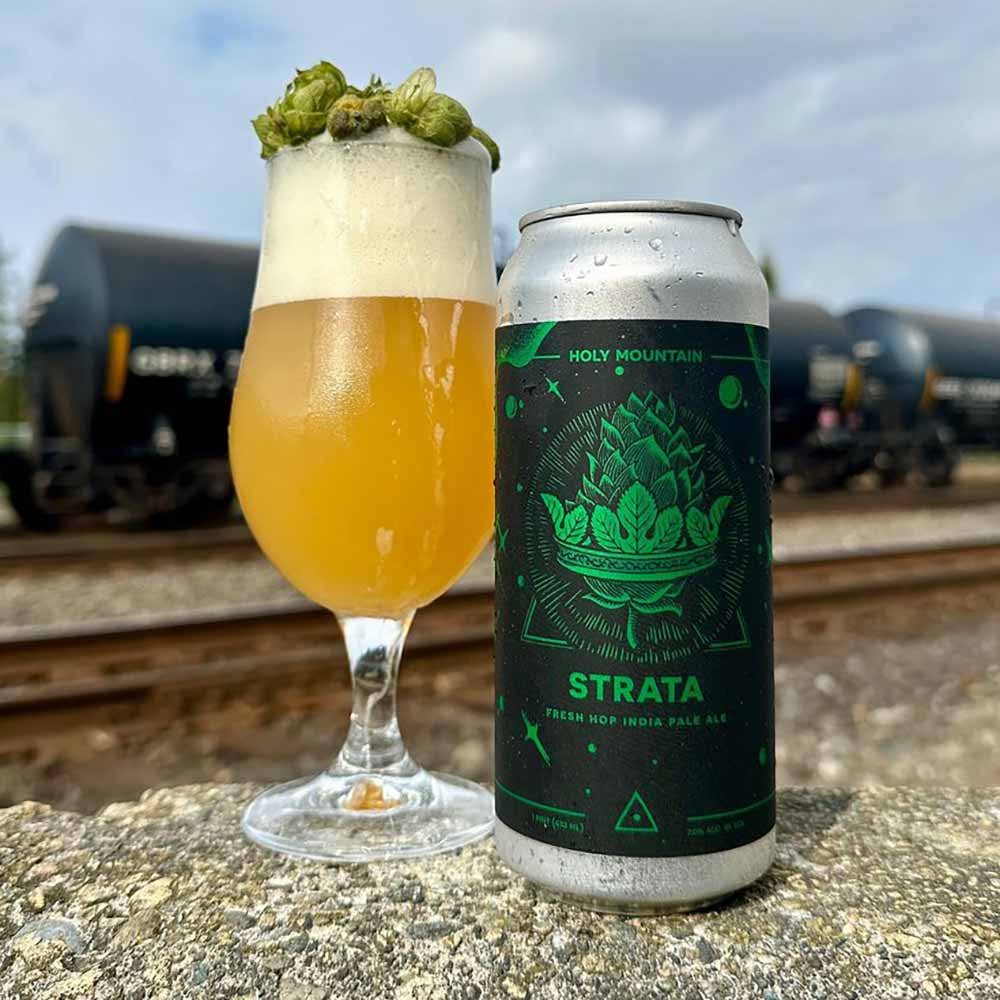 American IPA — One of the gems of the fall season is fresh- or wet-hop IPAs, when a brewery harvests whole-cone hops and literally gets those puppies into the kettle as quickly as possible to maximize the freshness of those flavor-salivating oils. These beers scream harvest. If you've ever tried Sierra Nevada's iconic Celebration Ale, you know what we're talking about.
For his current favorite fresh-hop beer, Muncie suggests Strata – Fresh Hop IPA from Holy Mountain in Seattle, WA. Green, green, and more green. Holy Mountain's first fresh-hop beer of the season drinks as dank as walking through a Yakima Valley hop farm as the cones get picked off the bine.
A simple base of pilsner and two-row malt ensures the full flavor of the Roy Farms Strata shines through here.
Super simple, super special, super awesome.
Kōkua
Maui Brewing Company — Kihei, HI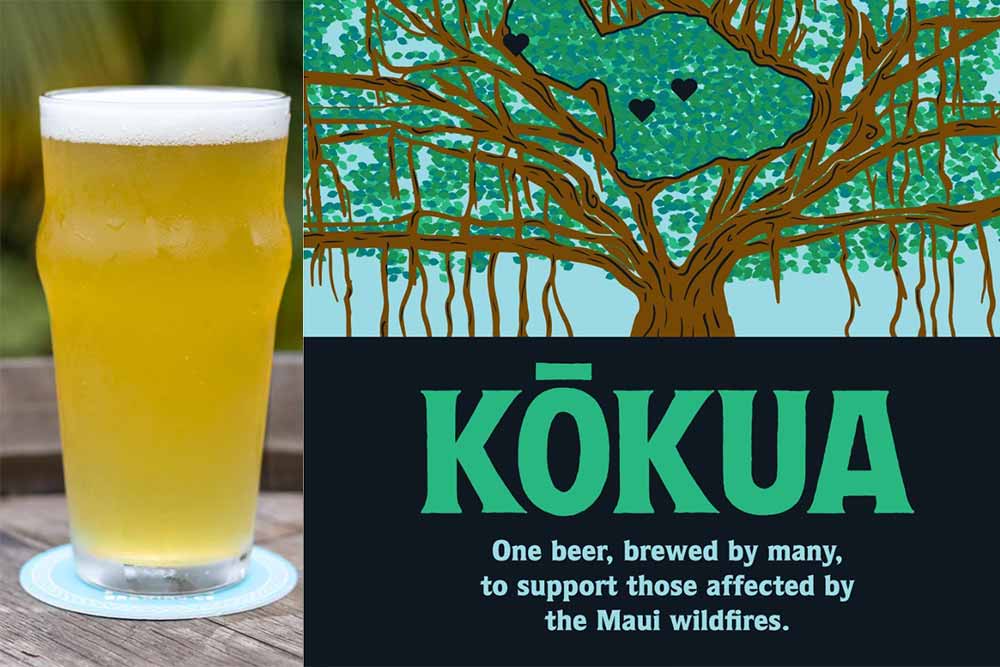 Session IPA — Founded in Lāhainā, HI, the site of the recent devastating fires, Maui Brewing Co. started the Kōkua project to raise money to assist those on the ground in Maui. The collaborative beer recipe akin to Sierra Nevada's Resilience project or Weathered Souls Black Is Beautiful encourages breweries across the country to participate, donating one hundred percent of the proceeds to organizations such as Legacy of Aloha, Makai Foundation, and Maui Brewing Co. Fire Fund.
One of Hop Culture's freelancers who lives in Hawaii stopped by Maui Brewing to taste the Kōkua beer and learn more. Read the full story here.
P3 Oktoberfest + Barrel-Aged P3 Oktoberfest
Phase Three Brewing — Lake Zurich, IL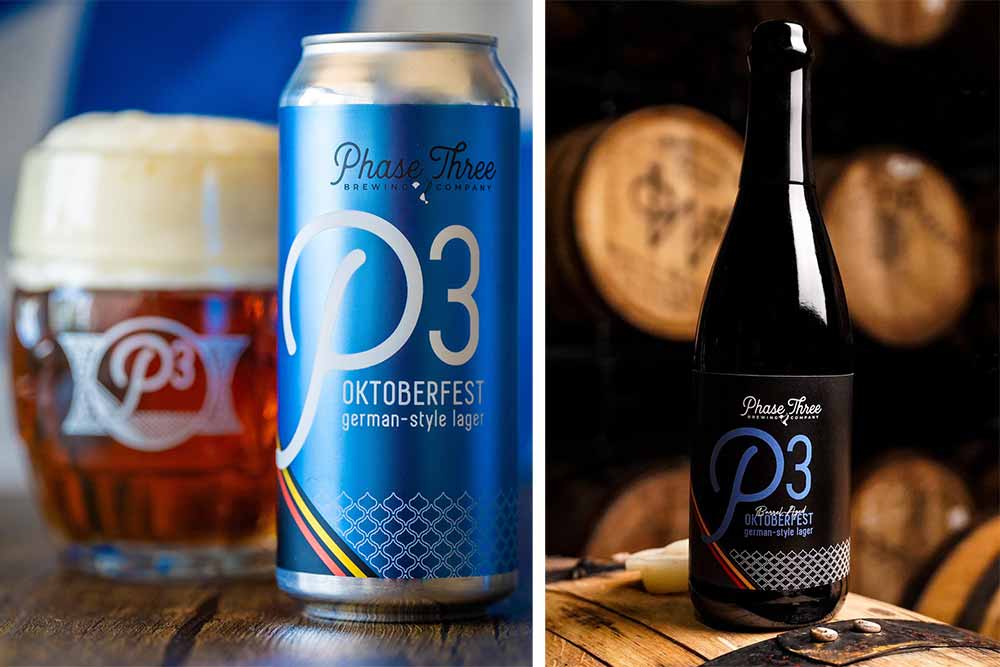 Märzen — Every year, when the nights turn cold and the days darken early, Phase Three brews P3 Oktoberfest. Made with one hundred percent German ingredients from malt to hops to yeast, Phase Three's Märzen lagers for eight weeks, creating a copper-colored beer robust in hops and malt.
An imperial version of Phase Three's P3, Barrel-Aged P3 Oktoberfest naps in Rabbit Hole bourbon casks for an entire year, hitting a high-octane 15% ABV. Märzens are known for being relatively middling in alcohol content (6-6.5% ABV), so it makes sense that a barrel-aged version at over double the strength knocked heads to get to the number one spot on the list of Untappd's All-Time Top-Rated Märzens.
You get all the maltiness and roastiness you love from a Märzen but a bit of barrel and char character from the casks. You can't drink many of these, but that's not the point when you drink a Märzen this stunning.
Aecht Schlenkerla Rauchbier – Märzen
Schlenkerla — Bamburg, Bayern Germany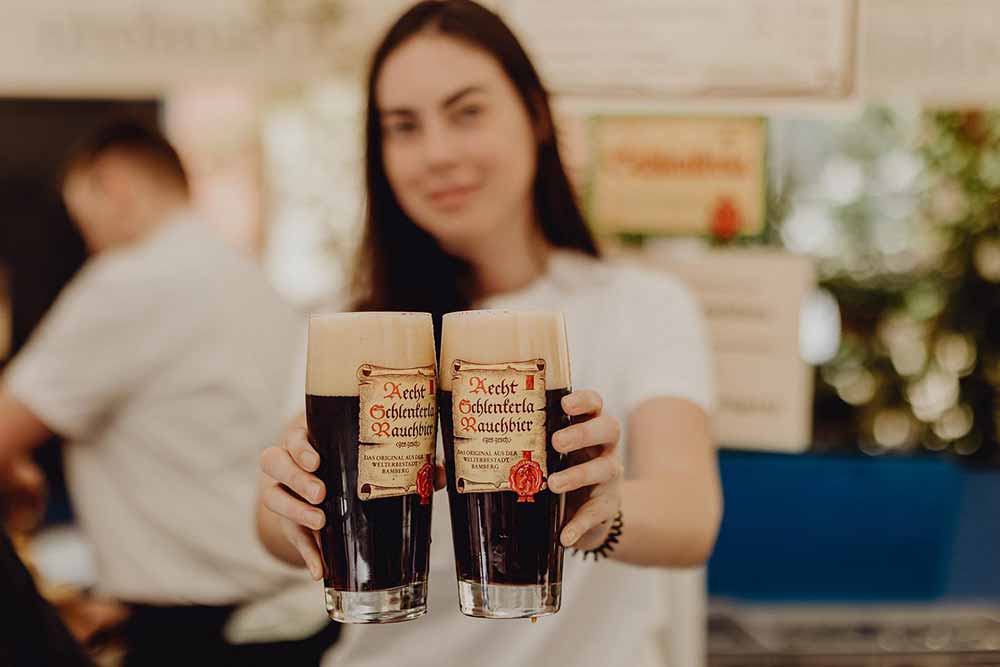 Rauchbier — A beer Roderick always reaches for in the fall, Aecht Schlenkerla Rauchbier is an oldie but a goodie, right? A classic we feel people have forgotten about or pass over a bunch, this genuine German smoked beer epitomizes Bamberg's regional masterpieces. Brewed with Original Schlenkerla Smokemalt from Schlenkerla Maltings, this rauchbier gets traditionally tapped from gravity-fed oakwood casks. Firmly smoky, gently oaky, and a bit chocolatey, this smoked beer firmly lands in the camp(fire) of "Best Beers to Drink in the Fall."
Oktoberfest (2023)
Sierra Nevada Brewing Company — Chico, CA x Kehrwieder Kreativbrauerei — Hamburg, Germany
Festbier — Sierra Nevada does Oktoberfest differently. For the past nine years (minus a two- to three-year break during COVID), one of the most iconic breweries in the world teamed up with a different German brewery, collabing on an Oktoberfest that bridges continents.
This year, they partnered with Kehrwieder Kreativbrauerei, an up-and-coming Hamburg-based brewery with more than forty international awards "leading the way in shaking up the beer scene," says Sierra Nevada Innovation Brewmaster Scott Jennings, who met Kehrwieder Brewmaster and Co-Founder Olli Wesseloh when he attended a German brewing school.
Together, the two brewed Sierra Nevada Oktoberfest Festbier that blends the best of both breweries' iconic beers—Pale Ale for Sierra Nevada and PROTOTYP for Kehrwieder that's essentially a "helles on steroids," according to Wesseloh.
"When we designed the recipe, we tried to combine something that speaks to [Kehrwieder's] origins and what they are known for, and also something that speaks to our origins" says Jennings.
To that end, Jennings and Wesseloh added a bit of C-10 crystal malt, pale malt, and Carapils.
Hop-wise, "We straddled the fence on traditional Festbier and Sierra Nevada beer," says Jennings. They included German hops—Hersbrucker, Tettnang, and Tradition, plus a new one called Ariana—and Cascade, of course.
One part Sierra Nevada, one part Kehrwieder, and one part traditional Festbier—all blended for a bready, citrusy seasonal lager.
"If I had a choice, I'd get a schnitzel right now, I'd get a Festbier to go with it, and oh my gosh, I'd be so happy," says Jennings.
Mellwood Rauchbier
Urban Roots Brewing and Smokehouse — Sacramento, CA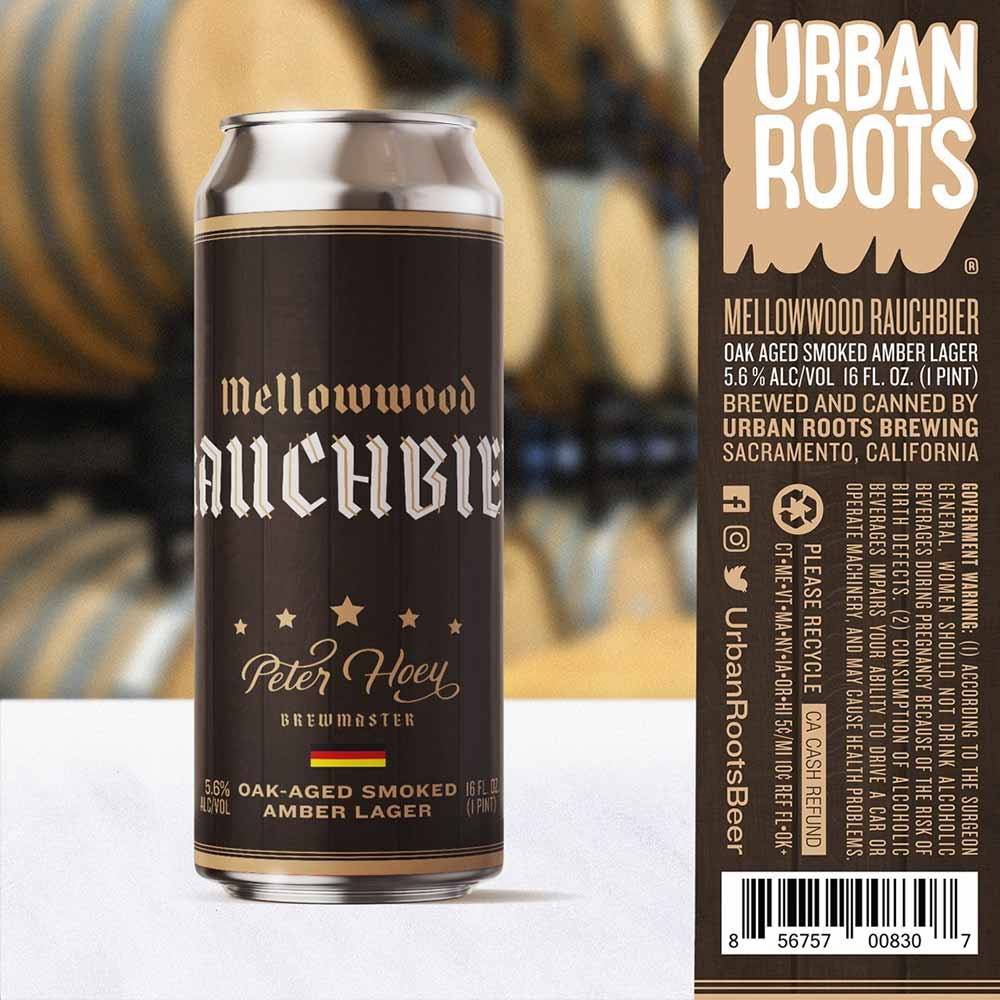 Rauchbier — If Aecht Schlenkerla Rauchbier is old school, then Mellwood Rauchbier from one of our "Best Breweries to Visit in Sacramento" is, well, still old school. But it comes from a new-school brewery—Urban Roots Brewing and Smokehouse
Smoke and sizzling meat are the two things this brewery kills at above all else. This oak-aged smoked lager impressed Hop Culture Social Media Manager Muncie enough to end up on our list.
If you don't tell him, we will: Thank you!