Photography courtesy of Firestone Walker Brewing Company
More From Firestone Walker
Firestone Walker's Brewmaster's Collective is one of the most fantastic brewery bottle societies in the entire country.
There, we've said it. Seriously, this is one razzle-dazzle brewery membership club.
Over twelve months, members receive seasonal collections spanning twenty-one beers developed from the ingenious minds of both Firestone Walker Brewmaster Matt Brynildson and Vintage Barrel Program Manager Jordan Ziegler, who selects the amalgam of barrels for aging the beer.
"We're supposed to be doing the most special things we possibly can," says Brynildson. "We're taking all our beers from our dream board, condensing them into these releases."
Now is your chance to get in on the action with the 2024 season of the Brewmaster's Collective. Sign ups to the public go live on Thursday, October 5, 2023.
Incredibly, this year, Firestone Walker dropped the price to $399 for a prepaid annual membership 😱 or offers a five-payment installment plan of $85 ($425 total) if you want to spread things out.
Released in quarterly drops with five beers a piece, plus a welcome kit, corresponding tasting events, inventive merch, and a host of other exclusives, the Brewmaster's Collective brings an elevated experience to the typical bottle club.
Coming up on its fourth year, the club has grown immensely popular.
"The community coming out of this club is absolutely astounding," says Micaela Yeo, club & specialty brands manager. "We're not just a subscription program shipping beer on a cadence. These people are so involved and care so much about the product, the beer, the community, and our stories."
Because each beer in the Brewmaster's Collective tells a narrative.
These aren't your regular, run-of-the-mill releases. They're not even your regular beyond-run-of-the-mill releases.
These beers are Firestone Walker's way of experimenting in ways they never normally can, "pushing the boundaries on what we can to get the highest-gravity beer in the brewhouse," says Ziegler.
Most importantly, many of the beers offered in the Brewmaster's Collective are only available to those in the club. And the ones you get, you may never find anywhere ever again.
Such as beers aged in various unique, personally sourced barrels, mega collabs with breweries from across the globe, and over-the-top, out-of-the-box ideas.
Despite this already stratospheric premise, somehow, Firestone Walker found a way to go even higher this year. From a barleywine collab with the kings of the style—Revolution Brewing—to an imperial stout collab with Omnipollo aged for an entire year on real hand-cut vanilla beans to a pistachio and vanilla-adjunct imperial aged stout in barrels from a burned-down distillery.
Yeah, so there's that.
Lucky for you, the brewery gave us an insider's look into some of the devastatingly dazzling, spectacularly striking, unbelievably brilliant bottle-aged beers you can expect in next year's Brewmaster's Collective.
Plus, everything you need to know on how to sign up.
Editor's Note: And since the Brewer's Collective only opens to 1,250 members, with existing members getting first dibs, you'll want to tune in on how you can become a part of this incredible club.
The Best Beers in the 2024 Brewmaster's Collective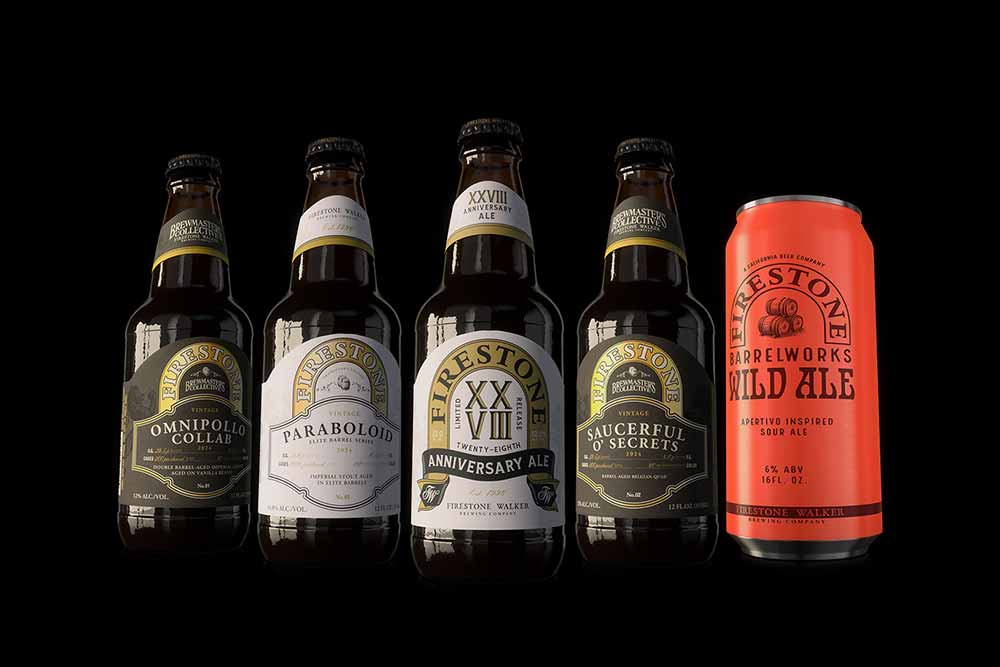 Of the twenty-one small-batch barrel-aged beers in the Brewmaster's Collective, highlights include four Parabola variants, three throwbacks, and five epic collabs. Seriously, the roster reads like the starting lineup for the Super Bowl-defending Kansas City Chiefs, i.e., stacked—Omnipollo, Revolution, WeldWerks, and Frau Gruber.
"The collaborations are always the most exciting piece for me because that's the moment we learn something," says Brynildson.
According to the Firestone Walker brewmaster, for 2024's collabs, he approached the conversation a little differently. "I told them I want you to give us a recipe," he says. "That way, we're basically taking the recipe that you've developed, sticking it into our kit, and seeing the result."
Brynildson says this is "the coolest way to do a collab [because] … we'll make something very different."
Omnipollo Collab
For instance, Omnipollo CEO, Founder, and Brewer Henok Fentie came up with a crazy recipe Brynildson says he never would have even entertained.
"[Henok] is fearless when it comes to these crazy additions," says Brynildson. "He just can't help himself; everything he does has a little hook."
In this case, aging the double barrel-aged imperial stout on real vanilla beans for the entire year.
"We hand-cut all the vanilla beans, so you have the little caviar fluffed up and in the barrel," says Brynildson. "I'm really excited for that beer."
Ziegler agrees that Omnipollo's penchant for whacky adjuncts sets this beer apart, but also their process. "Omnipollo is such a great company, and they love doing adjuncts, so the idea they brought was to age a stout on a whole vanilla bean scored and slit up during the maturation process," says Ziegler. "We normally add adjuncts post-aging. … [This is] something new and fun we've never done … so I'm curious to see how it plays out."
Revolution Collab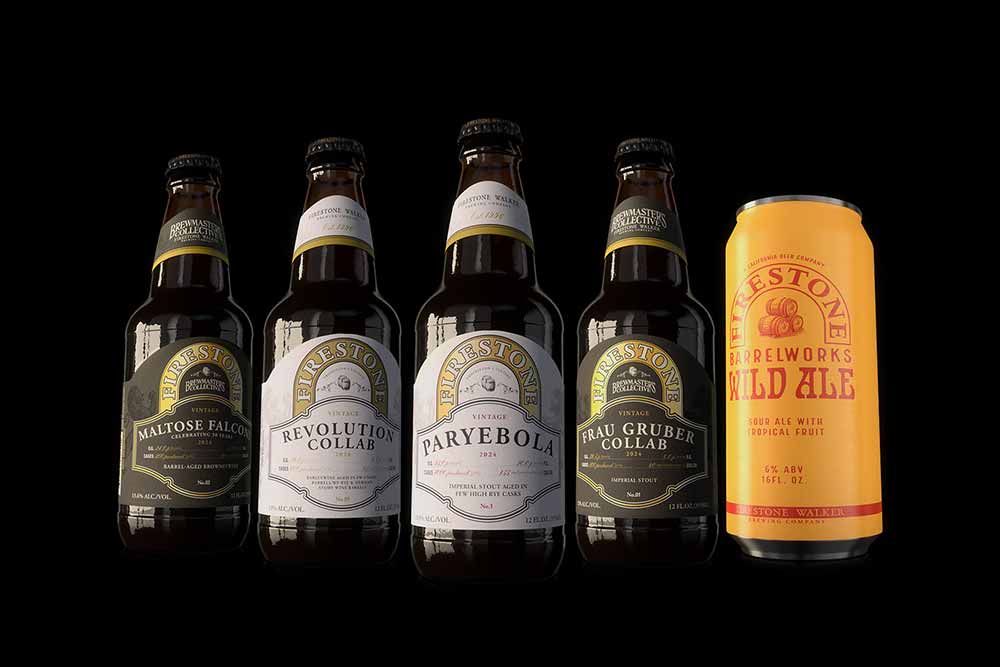 The collaboration with Revolution "probably took the most meetings and discussions and might be the most complicated on paper, but will end up being the most elegant beer," says Brynildson.
Especially because this beer has a backstory, harkening to Brynildson's past.
In the mid-1990s, Brynildson met now-Revolution Brewmaster Jim Cibak during his first job at Goose Island. "He and I grew up together in the beer biz," reflects Brynildson, noting he also hired Revolution Founder Josh Deth as a cellarman at Goose Island "way back in the dark ages."
Known for its barleywines and barrel program, Revolution went all out for this beer, deciding to age in three different barrels.
"Rev are the kings of barleywine," says Ziegler. "So we did a traditional barleywine, and to take it to the next level, it's triple oaked."
Brewed separately in both Paso Robles and Chicago, this barleywine will spend time first in Firestone Walker Union barrels from the West Coast before Whistle Pig rye barrels from the East Coast, finishing in red wine barrels from local winemaker Herman Story Wines, where Revolution's Barrel Program Manager Marty Scott spent a sabbatical participating in a grape harvest.
"We finished the last little bit in red wine barrels to give an extra layer of complexity," says Ziegler. "We've never done a red wine barrel barleywine, so I'm very intrigued."
Brynildson agrees, saying, "It's going to be a really beautiful beer when it's finished."
WeldWerks Collab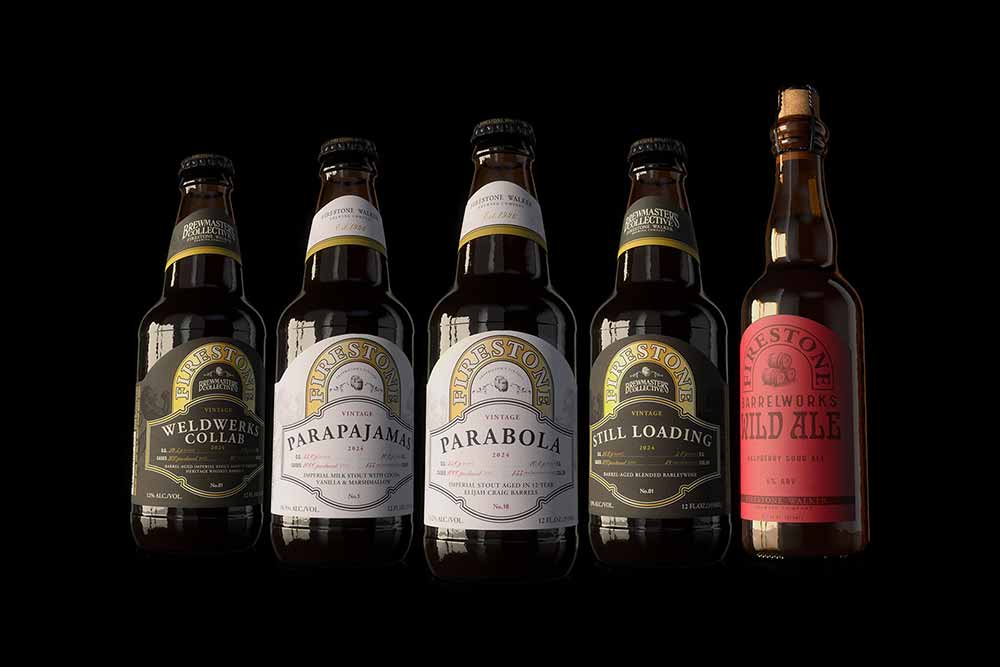 In the past, the Brewmaster's Collective collabs aged up to a year before release.
For 2024, Brynildson says two breweries insisted on aging longer, preferably two years.
For instance, WeldWerks, who came up with a barrel-aged imperial stout aged in Parker's Heritage Whiskey Barrels. (Just think about that: Firestone Walker invests so heavily in its Brewmaster's Collective that it started planning some of these beers two years ago!)
WeldWerks Founder Neil Fisher makes barrel-aged beers that are "out there," says Brynildson. "He is always pushing the outer limits, has a really good palate, and uses adjuncts tastefully."
For this beer, Firestone Walker and WeldWerks used a technique called parti-gyle. Popular in large English brewhouses in the 1800s, parti-gyle involved doing massive mashes with super long run-offs, siphoning the first, strongest wort to one kettle and a second weaker wort to another kettle. This way, you could make two different beers (potentially even more) from one massive mash.
"You end up separating your first wort, holding it, and making a big beer, and then you take all the second wort you collected and make a second beer," says Brynildson.
For the Brewmaster's Collective collab, Brynildson and Fisher mashed in twice to hit the original gravity target. "I don't remember exactly, but it was thirty-eight Plato or something crazy!" says Brynildson.
The first wort became the bottle club beer, while the second ended up as a small bonus beer released to the general public.
Aged closer to two years, this first wort imperial stout will approach 12% ABV. "It's just such a delicious, gorgeous, lush, giant beer," says Brynildson.
Maltose Falcons (50th Anniversary)
The oldest homebrew club in California, the Maltose Falcons teamed up with Firestone Walker to release a beer to celebrate its fiftieth anniversary.
"A fifty-year homebrew club—isn't that crazy," says Brynildson. "That's like the '70s, right? Was Charlie Papazian even homebrewing then!"
Actually, first brewed for the homebrew club's fortieth anniversary in 2013, Brownie Wine has nothing to do with the American dessert. "No brownies were killed or harmed in making this beer," laughs Brynildson. Rather, he says the classical designed imperial brown ale includes some more traditional English grains, like brown malt.
"Everybody's memory of that beer was just so delicious," says Brynildson. "It's obviously put together by a bunch of really accomplished homebrewers and a well-thought-out recipe we wanted to rebrew."
Saucerful o'Secrets
Brynildson calls this beer another throwback that's "kind of a secret still forming."
So while he wouldn't divulge too many details, Brynildson did share that this will be a collab with Home Brew Chef Sean Paxton, whom the Firestone Walker brewmaster made a beer with "years and years ago" when the accomplished chef was heavily involved in the Northern California homebrew scene.
"We both shared a love of Pink Floyd, so it was kind of an homage," he says. "But it's a recipe he came up with that's pretty crazy—it's basically a Belgian quad that's barrel-aged."
That's pretty much all we can share for now. Although Ziegler did drop another hint: "I'm pretty sure everything but the kitchen sink as far as adjuncts and sugars—all the dry malt extracts, brown sugars, Belgian candi sugars, you name it, [went into this beer]," he says. "It's going to be a big, thick, sticky beast of a beer."
And Yeo mentioned something about Thanksgiving and a recipe for turkey. 🤷‍♀️🦃
Guess you'll have to sign up for the Brewmaster's Collective to learn more. 😉
Darker Ray
A play on the Brewmaster's Collective first-ever release called Dark Ray, a blended barrel-aged stout with vanilla, toasted coconut, and cacao nibs, Darker Ray amps everything up.
"It'll have a little bit more ABV, a little bit more oomph," says Yeo. "So, that'll be a really fun one that people will be excited about."
Parabola Variants
Don't worry! Firestone Walker includes the regular Parabola in its Brewmaster's Collective. But like we said, this bottle society isn't even your beyond-the-run-of-the-mill releases.
They went all out, devising three different variants of Parabola.
Parapajamas – A new variant, Parapajamas reads as just pure home-spun fun. "We've always wanted to name a beer 'pair of pajamas,'" says Yeo. "So the only thing we could think of that would stand up to that within the theme was a hot cocoa feel." In this 10.5% ABV imperial milk stout, you'll find cocoa, vanilla, and marshmallow, which Yeo says Firestone Walker has never done before. "When we do our adjuncts, we kind of stick to the straight shooters," she says. "So, that's a little out of the box for us."
PaRyebola – Another new addition to the club, PaRyebola, ages in rye casks from FEW Spirits in Chicago, IL. But these aren't just any old barrels. These are straight rye vessels. According to Ziegler, seventy percent of rye went into the distiller's mash. "Normally, bourbon has fifteen percent, and rye has something like twenty-five to thirty percent," he says. "This had seventy percent, so it was super expressive, super spicy, and just something unique to bring to Parabola.
Paraboloid – A third-year beer in the club, Paraboloid imperial stout aged in Elite barrels this year.
Bendy Foldies
Inspired by Firestone Walker Co-Founder David Walker, Bendy Foldies references the term Walker uses for hundred dollar bills. "We always thought it would be fun to ask: What kind of crazy stuff could we put into a beer like that?" says Yeo. "Well, let's stop talking about it and make it."
Starting with a blended barley wine base that's mostly Double DBA, an ESB, mixed with Bravo, an imperial brown, Bendy Foldies builds from a rich caramel toffee base. But then things get crazy.
If you ordered a dish with caviar, lobster, and uni, this might give you an idea of the goal for Bendy Foldies.
"We're going to probably throw the most expensive adjuncts at it like pistachios or vanilla," says Ziegler.
And the beer doesn't stop at just the high-end ingredients.
For barrel aging, Ziegler sourced ten thirty-year-old casks from a Heaven Hill warehouse that burnt down in 1996. These barrels survived the fire. "It's kind of a piece of history, having barrels filled in a distillery [warehouse] that burnt [to] the ground," shares Ziegler. "We're taking [this beer] to the next level by double oaking it in thirty-year-old casks, so that's a fun one."
For Yeo, Bendy Foldies perfectly encapsulates the Brewmaster's Collective. "Before we had the club, if we were to get our hands on those ten barrels, those would likely just be blended into a bigger mass production of Parabola or something like that, and they wouldn't have their own story. … They wouldn't be able to speak for themselves," she says, "[Now], we do these small batch beers that we can't scale up and utilize those really special products we can get our hands on to make these beers."
Tell Me About the Brewmaster's Collective Perks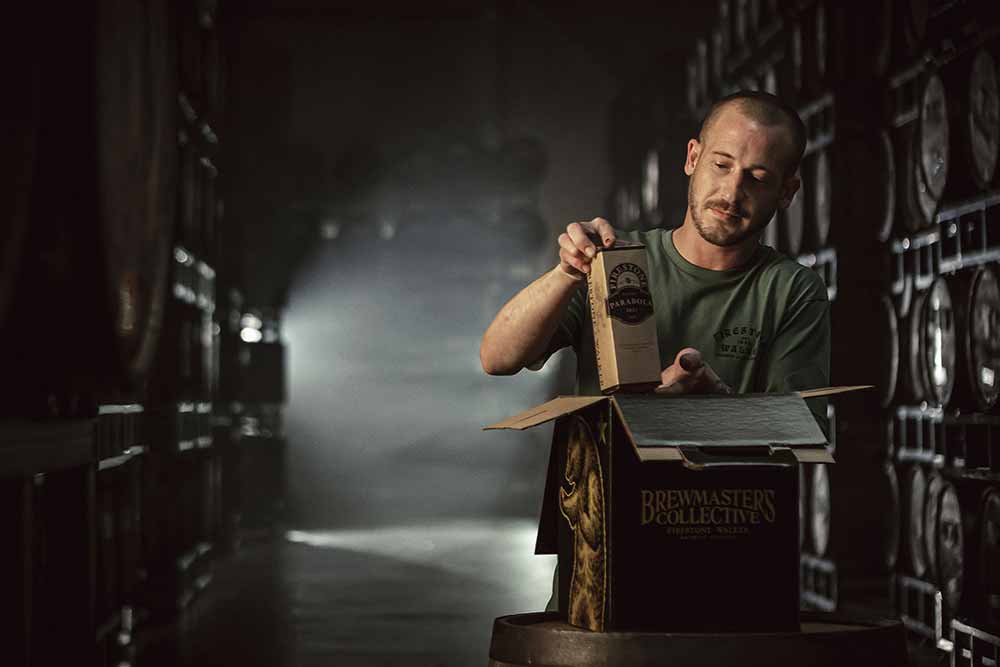 Obviously, the beers make the Brewmaster's Collective incredible. But all the meticulously well-planned and thought-out details beyond the beer push this bottle society over the top.
Exclusive Events
Every quarter, the brewery hosts a complementary collection tasting at all three of its locations, and approximately two weeks later, they'll do a ticketed event at one location that dives deeper into all the beers in that drop.
Library Access
For many exclusive beers Firestone Walker makes, they'll keep a little extra and put it in their "library." Periodically, they make these allotments available, and Brewmaster Collective members will also have access to those and vintage products.
Magical Merch
Firestone Walker thinks very intentionally about the goodies paired with each collection. "We're not trying to throw tchotchkes at everybody," says Yeo. "We know everyone has a lot of glassware and normal brewery merchandise. … So we're trying to make intentional things that make sense with the experience we're putting together."
Yeo wasn't ready to give us details on this year's items, but you can bet they'll be inventive and unique.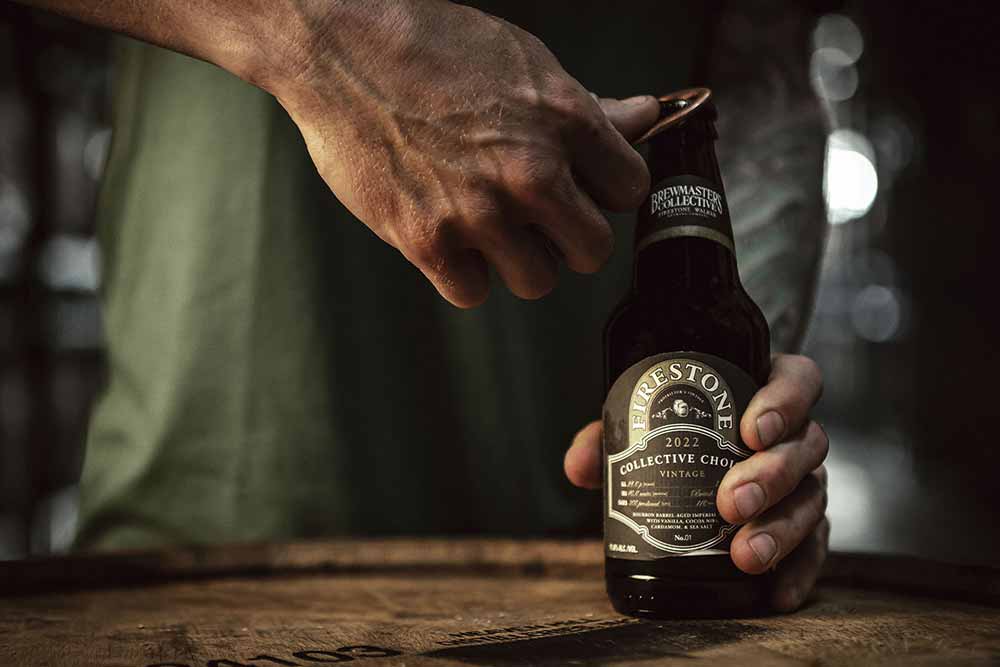 Collective Choice
The opportunity to vote on which adjuncts will go into the welcome kit stout.
Discounts
A fifteen-percent discount on anything purchased online and at all the Firestone Walker taprooms. You also get complimentary tours at all locations.
Front of the Waitlist + Invitational Lottery
This one may seem small, but it has a significant impact. You can jump to the front of the line at any Firestone Walker taproom, which Yeo says is especially helpful at the super busy Venice location.
Plus, you get lottery access to the Firestone Walker Invitational, one of our favorite beer festivals of the entire year!
"Every year, a majority of, if not all, members who've tried to get tickets have gotten them!" says Yeo.
How Do I Sign Up for the Brewmaster's Collective?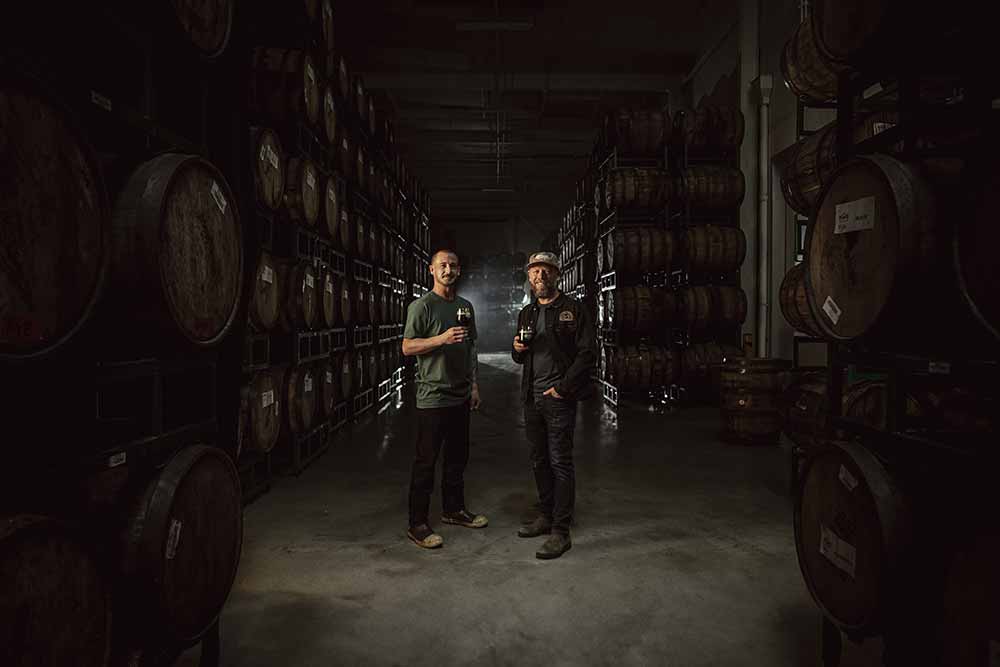 Ready to join the Brewmaster's Collective? We certainly are!
Signups to the public go live on Thursday, October 5, 2023.
Incredibly, this year, Firestone Walker dropped the price to $399 for a prepaid annual membership 😱 or offers a five-payment installment plan of $85 ($425 total) if you want to spread things out.
Plus, they're opening up more slots to add more members.
According to Yeo, the brewery has a couple thousand folks on the waitlist, so this is a hot-ticket item.
If you want to grab one when memberships open on Thursday, October 5, 2023, learn all the information you can on how to sign up here.
Seriously, this is one brewery membership society you want to join.